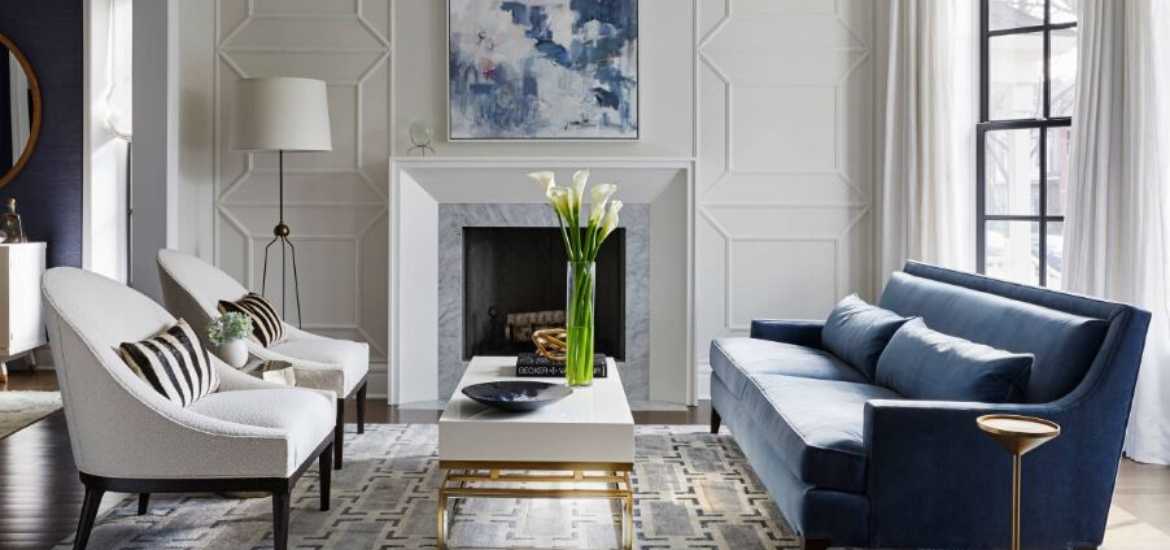 It's astounding how the color blue is able to transform the feel of a space. A light blue ceiling copies the day sky, making an immense feeling of space. A deep navy blue can elicit the comfortable feeling of sitting under the night's stars. You can additionally receive the nautical beach house appearance when you select the proper shade of blue for your living room. In case you are caught somewhere in the middle, you don't have to worry. We've compiled 17 blue living rooms, from room paint ideas to decor options, to allow you to select the proper color.
EVERYDAY LIVING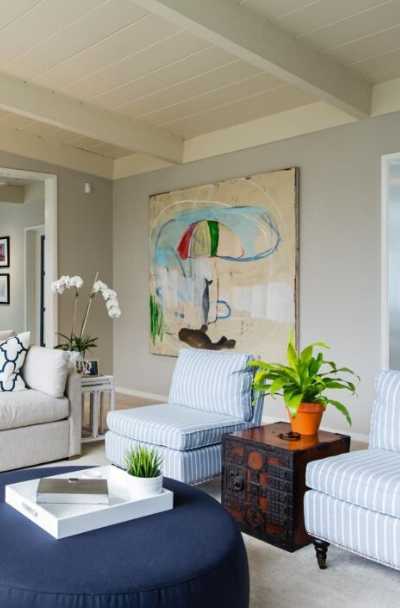 Having this living room design would make you extremely happy! This design by JL Interior Design is fantastic in every way. Any family will like this open-concept living area with its blue and green accents.
Such a living room with a midcentury motif. In this Gallas Design creation, everything seems so warm and sunny. A colorful window valance with a green design complements the deep blue accent wall and the blue velvet seats.
ECLECTIC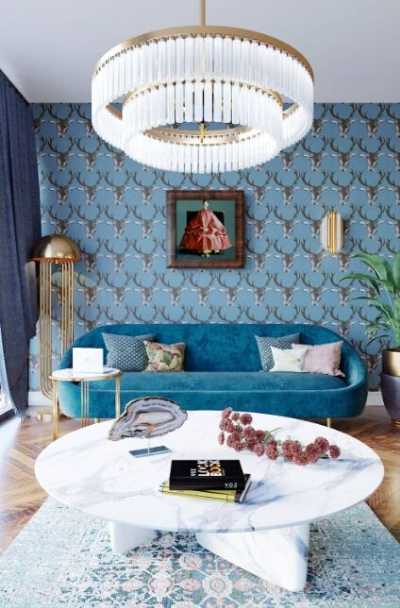 Want to experience the atmosphere of a classic 1950s film? You'll feel as if you're in a movie thanks to this Vadim Maltsev Design creation! Amazing wallpaper and a sizable marble coffee table will liven up your home.
CALMING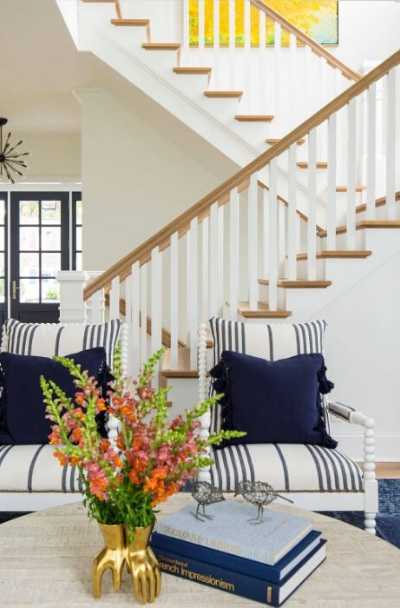 This Martha O'Hara Interiors living room decor, exudes such serenity. Your visitors will feel at home if you invite them here. This room will be relaxing thanks to the light wood flooring, dark blues, and sunny yellows.
PELICAN BAY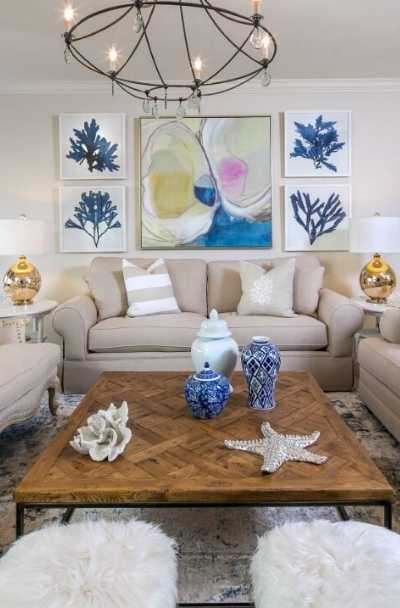 Everything in this bay-themed living room decor looks pretty energizing. The living room design by Stone Breaker Builders is very stunning. By using art and furnishings that reflect the surroundings of your room, you can bring the outside in.
MODERN HIGHRISE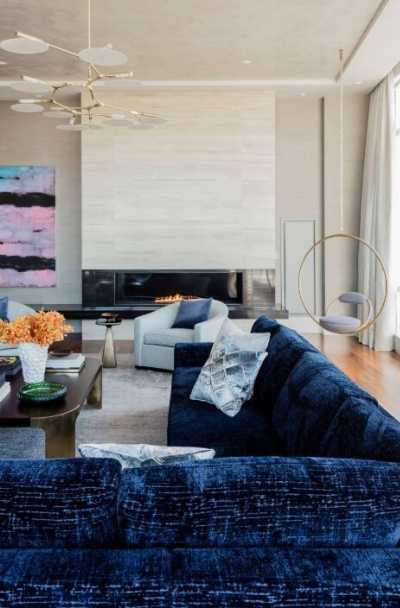 Such a sleek, contemporary living room decor with a touch of class. The slab stone fireplace and the dark furniture hues complement the living room's neutral tones. What a work of art from Elms Interior Design.
Benefits Of Blue Living Room
Today, most people have some understanding of how shades on the color wheel affect your mood. Warm colors, such as orange and red, energize and dramatize some space you place them in, even in the bathroom or kitchen. Meanwhile, cool colors, including green and blue, calm and relax your room. Although it could be great to get an area that is cheerful and bright to motivate productivity and creativity, you possibly do not want your entire home to be fraught with yellows and reds.
Thankfully, blue is essentially a neutral color nowadays, so while becoming a cool color, it's hard to go wrong with a blue color scheme, particularly in your family room. A light blue living room will certainly immediately relax you and welcome you home.
When you are planning to decorate with blue, the apparent thing to perform is to paint. Blue walls are very calm and refreshing. Since painting is often a task you have to get supplies for, it is instead an economical choice since you can perform the job yourself on a free weekend.
If perhaps your house features an open concept, it is crucial to think out your blues. Otherwise, your entire home will wind up with blue walls. By painting specific spaces blue, you can separate areas of your residence with color or even blend them, whichever style you are going for.
It seems crucial to mention that blue walls can complement nearly every style a living room has. A dusty blue color is ideal for that conventional living room. Regardless of whether you are attempting to create your house feel like an English country cottage or even just a cozy abode, a blue accent wall will help you get there.
COASTAL
Would you want a living room in your home that is bright and relaxing blue? This family room mixes organic components with sumptuous textures and eye-catching designs. Jules Duffy Designs created this seaside living room design.
FRENCH MODERN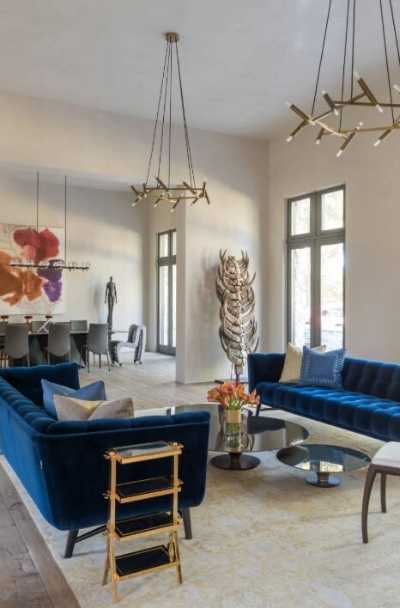 There is no denying that this living room is so wonderful that you won't grow bored with it—a well-balanced combination of antiques and modern French furnishings. Bankston May Associates did a great job designing this living area.
Blue Living Room Decor Ideas
Blue living room will permanently be a favorite lounge room color scheme, and the chameleon hue has an assortment of vibes. A moody dark blue is often utilized to create a big living room feel much more personal while a punchy royal blue family room channels a contemporary aesthetic. Or you will find much more toned-down versions that are just as notable. Where would we be without a traditional white and blue bedroom color palette that immediately evokes thoughts of beachy holidays or maybe a duck egg or light blue room which offers the best country look?
What about dark blue walls? For way too long, blue walls have had an undesirable track record. They had been regarded as uninviting and cold. Not someplace to cozy into on a chilly winter's night. This particular image is, fortunately, now redundant. The people have spoken, and the point of view has changed.
When you look at the contemporary perspective of how much the color blue symbolizes, it provides stability and depth. Have you thought about why banks generally select bluish as their base color? It's because of trust and stability.
Coming from a decor perspective, there's a psychological benefit. The style blue is regarded as tremendously helpful to the body and the mind. It's a really relaxing color which is related with calm seas and skies.
Nevertheless, if done correctly, they are able to generate a magnificent effect. Warm, inviting, and extremely trendy. Combine them with natural materials, copper, and golds, and you're in for an extremely individual, yet trendy space.
MASTER RETREAT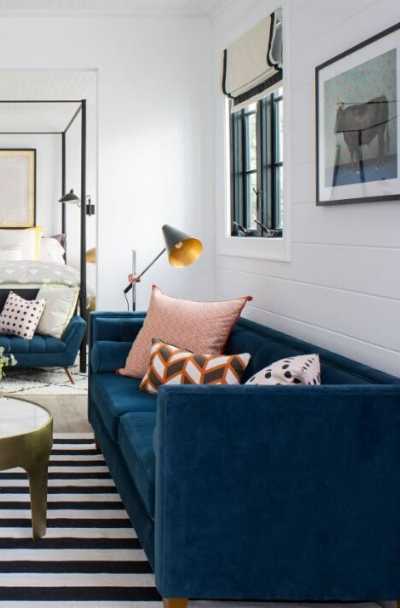 What a great living room layout that resembles a farmhouse. Enjoy your favorite program while admiring the distinctive decor on this deep blue sofa. In Breeze Giannasio Interiors' living room design, everything looks fantastic.
LEATHER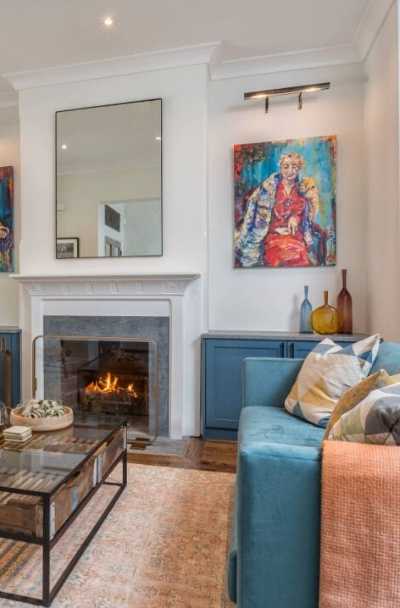 This leather-accented living room decor is excellent. Everything is both lovely and cozy at the same time. What a fantastic creation by Design Haus 24. For an eclectic look, add leather accent seats to your living area.
Blue For The Mind And Soul
The color blue is believed to symbolize numerous good attributes, like trust, respect, truth, wisdom, confidence and intelligence, heaven, and faith. Blue is believed to be good for the brain, as well as the body, as it makes a soothing effect, which is also said to slow down human metabolism. When mild colors leave you cold, dark blue is related to depth and stability. With all this in mind, it looks quite a terrific color option for an area used for relaxation. We also think so, so we have put together 17 of our favorite blue living room decor schemes to help you relax your soul, body, and mind.
Year after year, blue is among the most preferred shades amongst homeowners for a very good reason. Blue is reminiscent of distant seas and fresh summertime skies. The color blue is soothing, cooling, and dreamy, ideal for establishing a peaceful tone in your living room.
Blue and its assortment of shades are able to lend itself a bunch of design schemes and decor styles. Regardless of whether you like rustic country styling in shades of true blue, upscale in shades of royal blue, or even in a coastal design in nautical navy blue, any shade of blue is able to produce the desired effect inside your living room.
Even though blue has useful style possibilities, you can still find several do's and also don'ts for homeowners to check. In order to enable you to go over the style issues effectively and get the most out of your home makeover, we have come up with a couple of our preferred navy living room suggestions, and answers to several of your most often asked questions.
Popular Color Schemes
Excessive blue can begin to feel repetitive or flat. So how can you stay away from being excessive? Just make sure to balance with accent colors. Brown, orange, and yellow are warm counterpoints, incorporating a burst of contrast while complementing the blue color scheme.
Blue And White
Warm-up this great color palette with natural wood shades in light or even moderate tones. For a dynamic look, produce a contrast with dark wood hues against white. What colors go with navy blue? Pale blue and cream provide a much more feminine, romantic look, while navy and white offer a coastal feel.
Choose your patterns wisely, as they additionally help express style. Ikat or dip-dyed patterns seem contemporary. On the other hand, damask and trellis are conventional patterns. Also, rope designs and sea life motifs lend a coastal vibe. Make use of the complete spectrum of blue shades—dark midnight to brilliant azure to baby blue—for a well-rounded appearance. Produce visual interest with a small color pattern with texture: a shag or maybe sisal rug, weathered wood finishes, or even wicker seating.
Whether your decor design is modern or coastal, this traditional color combo works in your house. White and blue may take on a number of looks, based on the shades. Our preferred pairings are dark navy and bright white, light blue and cream, and saturated aqua and off-white (a vibrant take on this conventional palette). Work with a huge punch of blue on seating or an area rug, making it the standout color. To get a subtle appearance, sprinkle blue around the home on pillows, accents, curtains, and more.
Grey And Blue Living Room
It's not hard to fall in love and have a color pattern comprised of the world's favorite color and the trendiest brand new neutral that's been topping charts for many years now. Blue has headed continuously the list of the most widely used shades for decorating an interior. Whether it is a baby's nursery, the kids' room, bedroom, living room. Using it with the fashionable panache of gray takes its cool element a notch higher! Smart, soothing, and chic, blue and gray is the ideal color mixture for the elegant contemporary living room.
Enhance Your Blue Living Room
Blue is America's favorite color; therefore, it is a no brainer for the living room, which takes everybody together. A blue family room features a soothing, stabilizing effect on your house. There are lots of appealing shades of blue, and almost all go best with neutrals like cream and brown. But if your living room features hardwood floors, blue is a particularly classy option. Tiffany blue rooms appear to be orderly and clean without sacrificing color.
The blue color instantly instills a peaceful vibe inside a room, so it makes good sense that blue living areas are one style trend that has withstood the test of time. All things considered, when you are hosting visitors or simply relaxing in your own personal space, you like everybody to feel at ease.
Blue evokes the ocean and skies and also brings comfort and style that is collected, calm, and clean. It is not surprising that blue is our most requested color for those room types! It adds color and contrast but also can cool things down, similar to a neutral.
The blue color, regardless of how dark or pale, is a magnificent hue known because of its unmistakable soothing, dramatic, and cooling effects. It's additionally among mother nature's favored shades from the attractiveness of both early morning & evening atmosphere to stormy ocean waters. With regards to enhancing a living room, there's a great shade of blue for every design and mood you want to evoke. And so whether your preference is modern or nautical, these beautiful blue living areas will aid you in recognizing your new fave shade.
Choose Blue For A Calming & Soothing Effect
The blue color is among the most universally appealing shades on the spectrum. It's a versatile color that, in its many shades, can indicate a broad range of feelings or emotions. Lots of people find blue to be a soothing or calming color; some sense it inspires imagination while others think that it helps you to indicate trust. It's astounding that much can be said with just one humble color. Blue is frequently connected with intelligence, coolness, calmness, and also aloofness or absence of emotional response. This widely mixed interpretation of color simply goes to show the mental power which color has on our lives and minds.
When asked what happens to mind whenever they see the blue color, a lot of individuals claim they connect the color with words like dependability and trust, and much more. Don't hesitate to use blue in your living room as it will change the way you view your home in an instant.
This is an image roundup post, curated to showcase and promote other reputable contracting companies' and their amazing work. To have any of the images removed, please reach out to us and we would be happy to do so.
Other Great Articles to Read: