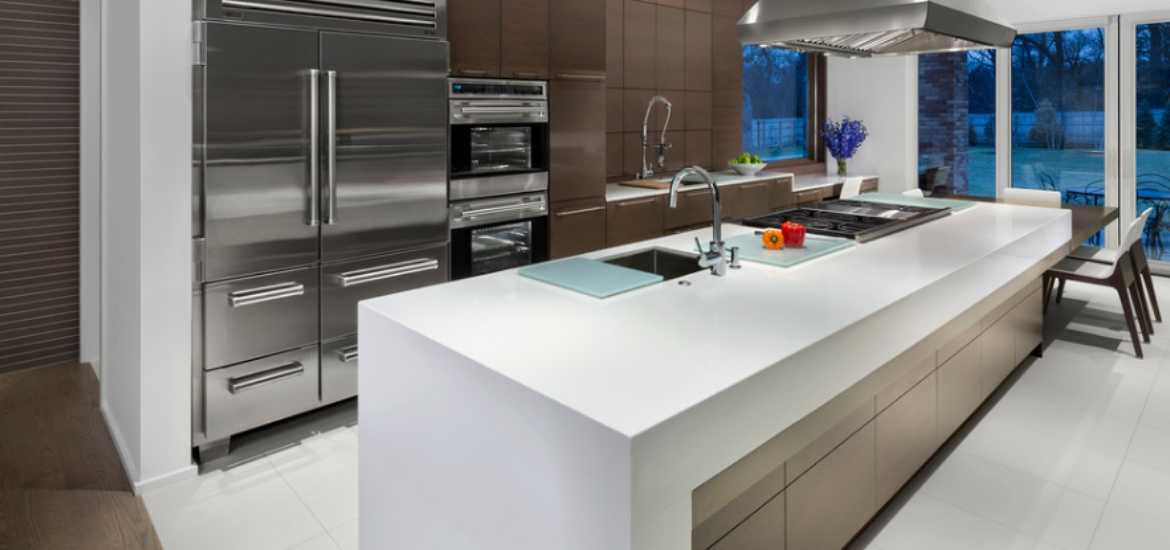 It's safe to state that kitchen cabinets nowadays serve several purposes and are not merely for storage anymore. Modern-day individuals choose kitchen cabinetry designed to fit their style and appear just as classy, fancy, and fashionable. When you are planning to perform a remodeling of your home, then walnut kitchen cabinets may be the vital component that will have everything together and also change an average space into one that you could be truly proud of. Many people choose minimalism; others would like something innovative, and something which will instantly attract attention. The walnut kitchen cabinet, as you will witness in these 17 walnut kitchen cabinet ideas, are all about history, legacy, and sophistication.
MINIMALIST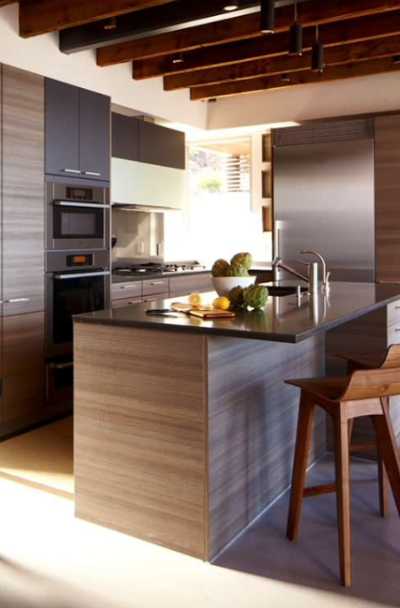 This kitchen's layout seems both simple and inviting. In this minimalist kitchen design by Narofsky Architecture + ways2design, everything appears so contemporary and chic. Gorgeous simple flat-paneled modern kitchen in New York.
MIXED
This modern kitchen design exudes an air of organization and sophistication. This kitchen design by Kitchen Design Concepts has a light and warm atmosphere. Such a lovely blend of warmth and brightness this modern kitchen brings.
INEXPENSIVE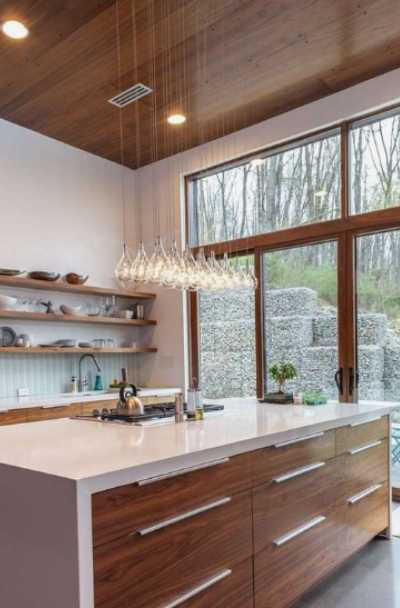 Who says you need a lot of resources and money to have a kitchen that looks very expensive? When it comes to this kitchen, simpler is better. Everything in this Stace King-designed kitchen with a superb cabinet appears incredibly classy and cozy.
Why You Should Choose Walnut Kitchen Cabinets
First, kitchen walnut cabinets are going to introduce a retro and "royal" element to your kitchen area. Brown walnut is great as a basic element of the interior: it is going to allow you to make use of something such as stainless steel and glass to help make the kitchen area appear modern and bright. Versatility is exactly what walnut is about. True, it can additionally be pretty pricey, but it is certainly worth each penny. Regardless of the relatively vintage vibes, walnut goes amazingly well with virtually each and every material out there.
Just before we go and have a look at our best 17 cabinet ideas, let us talk a little about the advantages of walnut. To begin with, this material is acknowledged for its durability and that classic, deep, "expensive" appearance. It is well worth talking that with regards to customized kitchen cabinets, walnut is one of the most respected and popular woods. That is since it appears and feels amazing. As we stated earlier, it does not actually matter what decor type you are going for: walnut usually finds a means to incorporate itself into nearly every style, whether it is contemporary, stylish, or classic. Those lines, as well as the wavy texture, make it appear a lot more appealing.
Additionally, walnut is a sturdy wood, which could mean it is going to serve you for numerous years, if not decades after decades. Moreover, walnut is a lighter wood and will not be quite difficult to hold or cut, that is a huge trouble with various other retro style materials. The warm, deep, luxurious look usually means these kitchen cabinets do not require some staining. Plus, each and every cabinet made from walnut is different (which holds true for each tree in the world). Lastly, it's 100% all-natural, and you will not need to be worried about the potential unwanted effects that it might have on both you and your family over time.
TUXEDO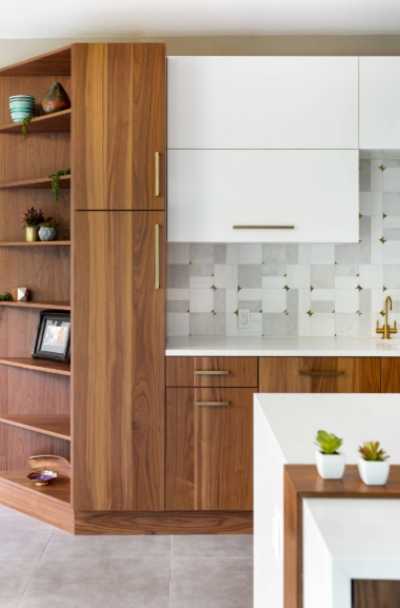 Do you desire a well-designed, functional kitchen with plenty of storage space for all your items, including books, displays, and cooking-related articles? This kitchen design by Kitchen Design Concepts is excellent. In this wonderful walnut and white kitchen, making the most of every inch of space is crucial.
BLENDED
Can you achieve the ideal balance of brightness and coziness using this combination of materials? This one has such a clean, homey look all at once! The theme colors of brown and white seem to go well together. Even the kitchen cabinet is nice. This design by Kitchen Design Concepts is amazing.
Pros and Cons Of Walnut Kitchen Cabinets
When you like to modify your typical home into something rustic, a country almost, then walnut is going to be an excellent pick. You will find much more than sufficient shades to select from— from light brown to dark walnut cabinets or even black chocolate. Generally, individuals prefer this particular wood over others when they are planning to bring warmth to the interior. For whatever reason, many people think that walnut is cheap, though it is not. At exactly the same period, because of the ever-growing competition in the market, you are able to obtain the material for an essentially inexpensive price tag.
In the past, just rich people could pay for walnut, and also it was utilized to cover libraries, wine cellars, and other places deemed "expensive." However, these days, you are able to discover walnut doors, tables, chairs, as well as floors, and in this post, our concentration is on walnut kitchen cabinets and the most effective ways you are able to utilize the material to improve your kitchen for the better. Walnut looks absolutely amazing; the grain patterns suggest this wood is of the highest quality (you will not find patterns that are very similar in more affordable wood). We can actually say that in the 21st century, walnut is gradually, but steadily getting a cost-effective and popular alternative for kitchen cabinets.
Clearly, no material out there is 100% perfect—it's the same for walnut. Thus, let us go on and take a better look at the drawbacks that you will need to think about. It is usually far better to know ahead of time what you should expect from it instead of to be forced to send back your cabinets and attempt to get a refund. Today, we did mention that walnut is drastically cheaper nowadays that it was once. Although that is nonetheless true, when compared with birch or pine, it's significantly costlier, which can (and also often is) a huge turn off for the potential customers.
To begin with, that is since it is harder to obtain this particular wood; secondly, it requires more fine-tuning to buy it right into a good shape. On the bright side, as we previously learned today, walnut is definitely special and lasts for a long time, which may be a money-savior in the long haul. An excellent option might be an engineered wood with a walnut cover, which is going to make the kitchen cabinets appear like the actual item. They will not be durable, but at the very least, you will get to enjoy the stylish appearance of this costly material. That is all for the drawbacks of selecting walnut kitchen cabinets.
Is Walnut Expensive?
You'll find, basically, three "wood" types utilized in furniture—solid wood, MDF or particleboard, and plywood. Within these groups, you can find high quality and lower quality versions that ultimately will influence the long term durability of the cost and the furniture. Solid wood is an all-natural resource that we come by naturally instead of by way of a manufacturing operation. Solid wood could be whether softwood or hardwood. Absolutely no surprise, hardwoods have better density and stronger than softwoods.
Standard hardwoods seen in high-quality wood furniture are oak, cherry, maple, walnut, birch, and ash. Standard softwoods are pine, poplar, acacia, and rubberwood. Hardwoods grow at a reduced rate and tend to be more fire-resistant than softwoods, which makes them far more limited to harvest and more inviting for excellent goods. Softwoods are in many pine drawer boxes which could help to make the price more affordable.
An additional element in the cost of hardwood originates from the simple fact we're just making use of the most effective parts of the tree – the heartwood – the main center of the tree where rich color tones and core strength come from. Within these hardwoods, you will find tiers of price also. Walnut is much more costly as it's a tad rarer on account of natural limitations like size.
Ash, maple, along with cherry, are definitely more plentiful as they develop larger but have very sought after appearance in the grain that makes them more affordable compared to walnut but more costly compared to some hardwoods. Birch is somewhat less than all these because the natural tones in the wood grain aren't as even. Birch is great to use for stained or maybe colorfully painted furniture.
Care For Walnut Kitchen Cabinets
Maintaining a walnut cabinet in great shape is not difficult to do. Dust them often with a dried out lint rag, which has zero cleaner on it at all. The majority of the time, simply wiping it across the counter is sufficient to eliminate a covering of dust. When you have to, you are able to include some water on the rag to wipe away dust, along with other discolorations. At most, when cleaning more heavy stains, you are able to add a gentle detergent to the water solution to help you eliminate stains. You do not need to be concerned about waxing the cabinets or perhaps treating them with any unique products, and doing this can, in fact, lead to harm as well as an undesirable yellowish tint over time.
Walnut cabinets are generally sold since they are perfectly astounding to look at, especially black walnut kitchen cabinets and also Persian walnut. They're fine-grained in look and also have a deep color with swirls of intricate grain patterns and color, which you will not come across in less expensive woods. It is a cool looking wood which is going to bring character into your kitchen area. It is a wood that lots of people came to love and want wherever they are able to obtain it in their houses.
Walnut is extremely dense and long-lasting. It is not the hardest wood available, though it is adequately hard to stand up to normal use while staying away from common difficulties and dents which you may go through with soft pine wood. It is additionally more resistant to water compared to several porous wood selections like birch. This means that you are able to wipe the cabinets down with no fear of causing impurities or water damage. This will make the cabinets simpler to keep clean and in great shape over time.
How To Pair Walnut Kitchen Cabinets With Your Countertop
Your countertops & cabinets are an effective kitchen design duo. They both handle the most daily wear, cover the most surface area, and also set the tone for your design. In effect, they are a smart spot to begin when narrowing down your vision when you are going to remodel your kitchen. You will want to ensure you invest in high-quality materials that pair well together. A combination we like is wood cabinets with white countertops—it is timeless, versatile, and there are numerous strategies to allow it to be more personal and unique to your style.
Wood cabinets add natural textures and rich, earthy tones, which makes them a terrific choice for just about any home style from farmhouse to seaside to contemporary. White quartz countertops pair nicely with almost any species or shade of wood. The movement and depth of the natural stone complement the tone and surface of wood cabinetry, while a selection of cream hues contrast the cabinet to visually expand and brighten the room. White countertop designs like marble offer no maintenance, producing a stylish blend of materials when combined with wood cabinetry.
Whichever way you prefer, walnut kitchen cabinets are great for your kitchen, and they will offer class, elegance, and sophistication to your kitchen. They are timeless, and although they can be more expensive than other cabinet materials, their ability to transform your kitchen remarkably is invaluable.
This is an image roundup post, curated to showcase and promote other reputable contracting companies' and their amazing work. To have any of the images removed, please reach out to us and we would be happy to do so.
Other Great Articles to Read: