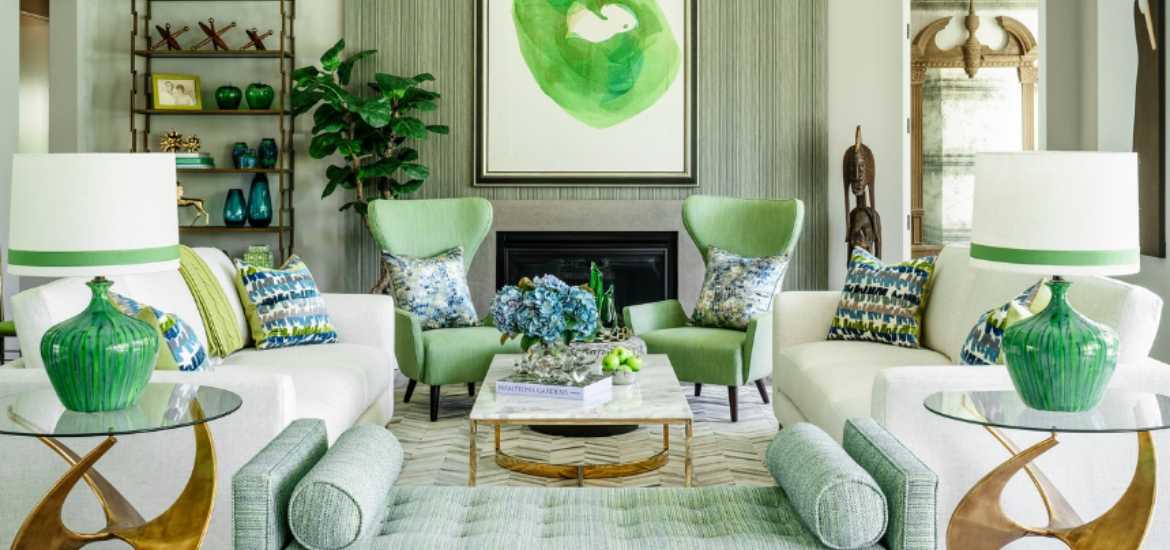 Thinking of a green living room has that automatic refreshing feeling that is commonly associated with almost all shades of the color green. This color has a soothing effect on the eyes and is mainly the reason why the relaxing feel is always its equivalent. Using different color schemes that resemble nature are the most common living room color ideas that will show up whenever you do research about the things you need to do when wanting to create a tranquil room.
The abundance of greens in nature affects the way we perceive this color. It has the ability to invoke calmness and balance. Imagining yourself surrounded by the comfort of your living room with rich natural tones will be a simple motivation for you to proceed with the interior project. Aside from the fresh feel to it, a green room also offers enough warmth to make you feel more welcome every time you open your door. This shade will not only be fitting for your living but also in most rooms of the house. Although it is most common to use the color on your living room walls, there are a lot of other ways to introduce this shade to the room. Listed below are some of the ways on how you can use the verdant color scheme in your home.
VICTORIAN CLASSIC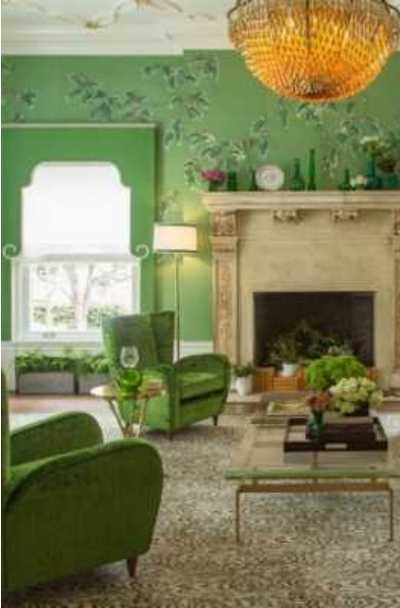 The bright green walls in this living room captured by Margot Hartford Photography are complemented by neutral furniture and natural wood accents, creating a modern and fresh look.
TEA FOR TWO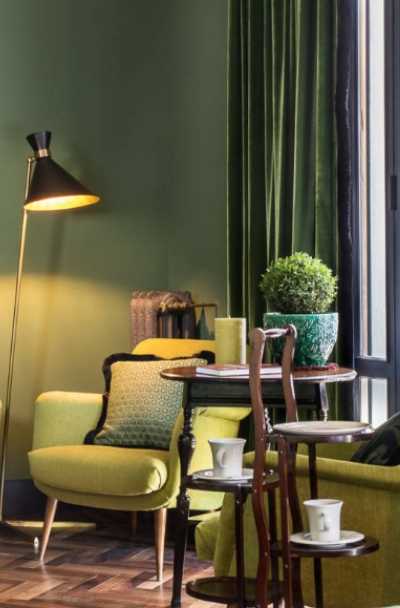 The dark green walls in this living room by Francesca Pagliai Studio Fotografico create a dramatic backdrop for the leather sofa and bold artwork, while the white trim and ceiling keep the space feeling bright and open.
SOUTHERN BEAUTY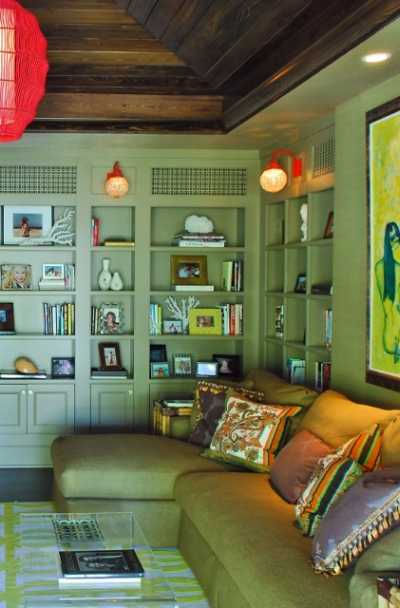 The combination of sage green walls and wood accents in this living room by Phillip Smith General Contractor, LLC creates a cozy and rustic vibe, while the pops of blue and pink add a playful touch.
TROPICAL LURE
The green velvet sofa in this living room by Materialised adds a touch of elegance and glamour, while the natural wood accents and plants bring warmth and texture.
SCANDINAVIAN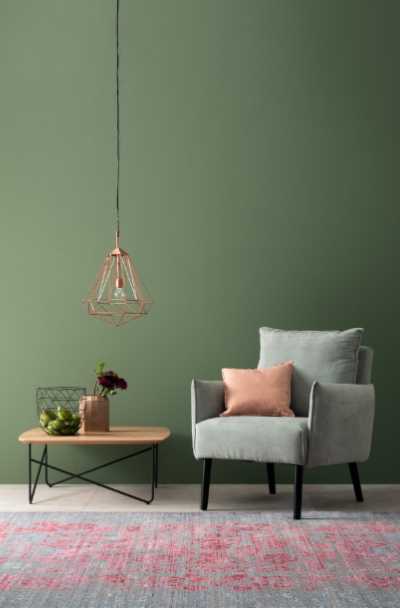 The combination of green walls, white wainscoting, and natural wood furniture in this living room by SCHÖNER WOHNEN-Farbe creates a classic and timeless look.
GRACE OF GREEN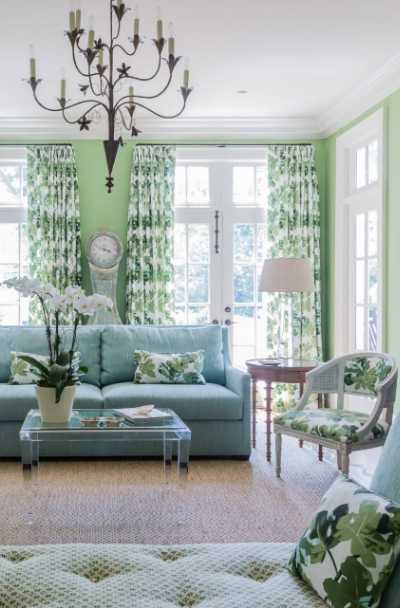 This bright and airy living room captured by Catherine Nguyen Photography features a mix of green and blue hues, creating a fresh and coastal-inspired look.
NATURAL INSIGHT
The olive green walls and bold geometric rug in this living room by Deanna's Interior Designs create a stylish and trendy look, while the neutral furniture and wood accents keep the space feeling balanced.
Tips When Designing Your Living Room in Green
Once you have decided to introduce the green color into your living room, you must also need to find creative ways on how to do it because you might end up with too much. Consider the elements which you need to really transform and leave out some accents that will balance out the interior. You can also try to combine green with other shades and colors that will perfectly complement it.
Mixing complements of green and pink
This color combination will create a lovely contrast that balances the entire interior plan. As opposite colors in the color wheel, these two are perfect complements of each other. When your interior involves a green wall paint, you can easily create the pink contrast by choosing it as a color for your couch or the area rug. The comfortable chairs will surely be great accents to your room as they pop and screams for attention against the green background.
Mild and subtle touches of green
When you don't want to change your walls but you still want to utilize the colors of nature to create a more relaxing living room, the best way to do that is to infuse subtle hints of green into some decorative elements. You can start by using fabrics with fern prints to cover some of your throw pillows. Changing the curtains into lighter shades of green can also help. This will give you a more relaxing room especially when your furniture pieces are made from natural wood. That natural feeling also translates to elegance if you have brass and metal furniture. Frond and fern printed fabrics are very common, so you need to be more selective if you will use them to accentuate your house. Expensive fabrics will give exquisite results to your living room interior compared to the cheaper ones.
Use one color tone for your walls and furniture
The continuation of space that is achieved by using the same colors on your walls and furniture creates a great illusion of making your living more spacious than it actually is. This makes a seamless interior and does not make your furniture pieces unnecessarily stand out. Using this technique will be very helpful if you want to make your sofa or tables less imposing. As you are making a more relaxing visual room designing, keeping the highlights into a minimum will be very much needed.
POLISHED GEM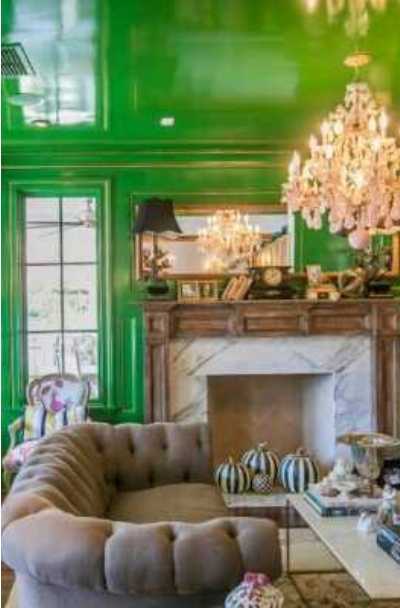 This living room by Brooks Custom Homes features a bold green accent wall and an eclectic mix of furniture and accessories, creating a playful and bohemian vibe.
PUNCH OF PIZZAZZ
The dark green velvet sofa in this living room by MBID International creates a luxurious and elegant look, while the mix of neutral and metallic accents adds a modern touch.
Using a green sofa for statement
A chic and fancy sofa is one must-have item in most elegant living room ideas that you can see in magazines. Utilizing this in your interior plan for a great looking "green" living room might just be your best idea. When you do not want to change a lot of elements in your room, getting an elegant looking sofa or a green couch for your living room might just complete your home enhancements. A comfortable deep green hue sofa sitting in the middle of your living room wouldn't get unnoticed. This will be a focal interior piece of your dark green house interior that will create a pleasant character for relaxation in your room which is the perfect reason why that sofa should be chosen with comfort in mind.
Interior patterns and other classic looks
Aside from monochromatic colors, other brighter hues for interior plans seem to fade out of trend that is why most designers encourage incorporating timeless patterns. A nice classic interior pattern can serve as your ticket to save more money on renovations for your living room. The next thing you need to be sure of is picking pieces of furniture that will get along well with the patterns of your new interior. Pulling off a relaxing classic interior with this kind of setting is a great opportunity to showcase a timeless patterned light green aesthetic that a lot of people can get inspiration from.
Experiment with a Modern botanical Interior
A mixed shade of green can be introduced into your design plan by a display of fake or real plants as accent wall ideas for a small living room. This creates a necessary breath of freshness into your room especially when your walls are painted in plain white. Contrasting your botanical themed decorative pieces on a plain background brings the accents into a spotlight of attention. Being more detailed in picking your furniture will be needed when you want to use it as an extension of the focal highlight brought about by the botanical wall accents. Installing plant themed window curtains will also help you unify the whole theme for the living room.
Mix light green with denim
This combination will be perfect for homeowners who want to create a cool vibe on the premise of a refreshing interior. Denim and spearmint or the lime green aesthetic interior theme will bring out your desired feeling of vibrancy. The relaxing nature of the green color affects the tough exterior of the denim fabric. In the presence of another, both colors and fabric create an effortless combination of a less strict interior in a lively tone setup.
Try to make use of Art Pieces
Art pieces look great as an all-around focal point highlight, even when used for your dining room accent wall. There are a lot of great looking pieces that showcase the refreshing hues of green that you can use for your remodeling project. Dark green nature painting and even emerald vases will surely look wonderful against your plain vast living room walls. Layering a painting featuring great natural sceneries over the sage green house walls livens up your space. Using art pieces in addition to your furniture highlights will make it easier for you to switch the interior color scheme when it gets boring in the long run.
FINAL THOUGHTS
Creating a green living room remodeling for your house is not a hard task. You have a lot of options available in order to make that refreshing living space for everyone in the family. If you are worried about the costs of a full renovation, introducing the green shade in more subtle ways will be a more feasible solution for your interior enhancement. A more drastic approach of changing the living room walls into your desired green shade will still be a cheap option but you might need to consider the compatibility of your existing furniture pieces to your newly chosen wall paint. There are more ways to do it and incorporating some of the tips we mentioned in this article will help you find a unique way as to how you will introduce a shade of vibrancy and tranquility into your new project.
For most people, a badly needed breather inside the privacy of your own house is what pushes them to search for relaxing design inspirations. Most of the inspirations featured in this article appear luxurious while others are very simple, you can pick one within your budget and recreate it on your own. Do not pressure yourself into keeping the similar design elements, you can try things that will work out for your own space. Keep in mind that you can always be creative. You can also find your own effective ways as to how you can make use of the refreshing hues of green to liven up your otherwise boring living room.
Other Great Articles to Read: