Featured Image Source: Dkot
In case you're somebody who uses their extra time in DIY projects, these workshop ideas are for you. If you are into carpentry, metalworking, and automobile and electronics repairs, you know the worth of a comfortable, devoted workshop. However, putting up such a workspace in the house isn't always simple. Particularly, space constraints and worries over privacy and how much chaos and noise you'll make can smother your motivation to tinker, fix, and build.
There are approaches to plan a flexible workspace that gives you a chance to appreciate quality time with your creative projects. These garage workshop ideas will get your space composed, looking extraordinary, and help build your home's value.
In case you need to make a devoted work territory in the garage or basement, you must have enough space to work with. However, single vehicle garages don't give a lot of free space in the event that you need to leave your car inside. Indeed, double vehicle garages enable more space, but free space will likewise be an issue when you need to park two of your vehicles in the carport.
With regard to making more accessible space in your garage, a slatwall storage system is one of the best workshop storage ideas. In addition, utilizing slatwall panels and accessories that use your carport's wall space, you'll have the option to clean the mess off your carport floor and hang up your tools. Ultimately, this makes more space for your work area, parking your cars, and just for the most part, working a lot simpler in the garage.
FARMHOUSE SHED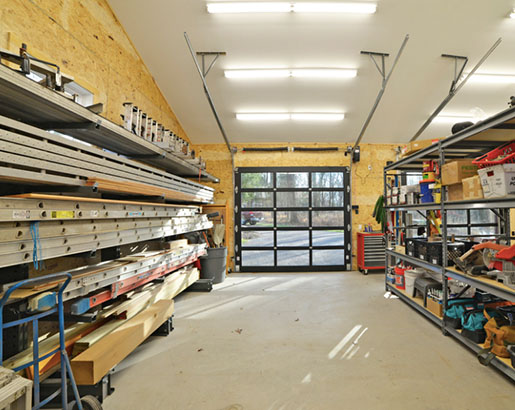 Organize your tools and materials on this spacious workshop storage.
LOG HOME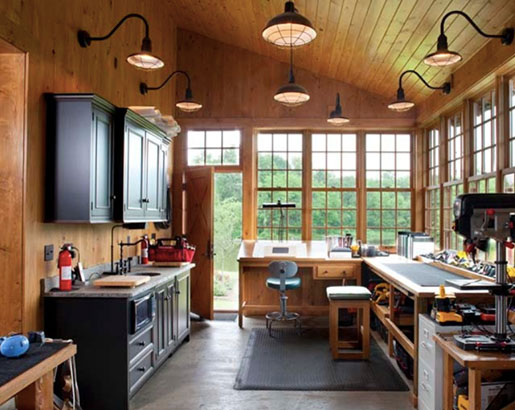 A huge workshop room with rustic walls and plenty of natural light.
CRAFTSMAN
This room is a craftsman's playground.
MAN CAVE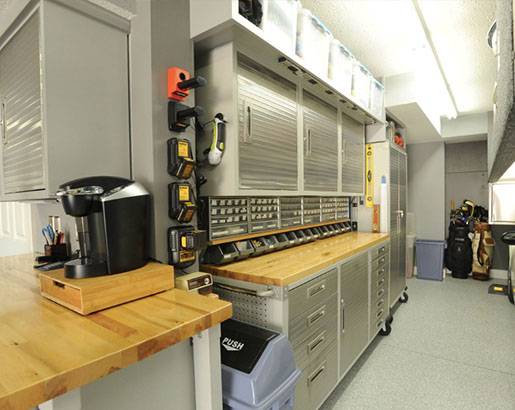 Sturdy storage cabinets from Seville Classics.
CARRIAGE DOOR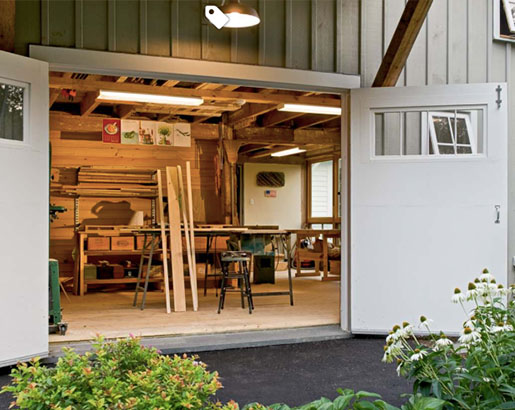 This farmhouse shed features a lovely carriage door.
DIY SHED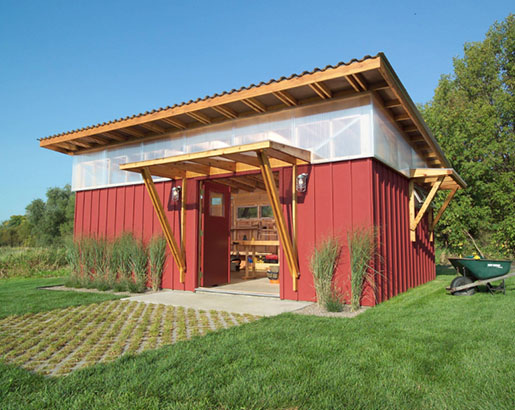 Build it yourself with this DIY workshop shed.
BARN
Rustic garage turned into a workshop and creativity space.
GARAGE STORAGE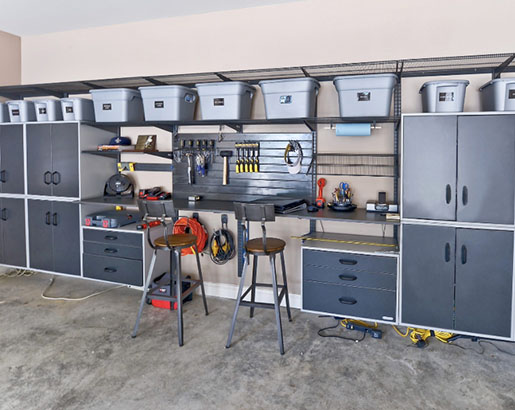 An adjustable garage storage system that you can change without any tools.
TRANSITIONAL
Be inspired when doing small and big tasks in this traditional workshop area.
INDUSTRIAL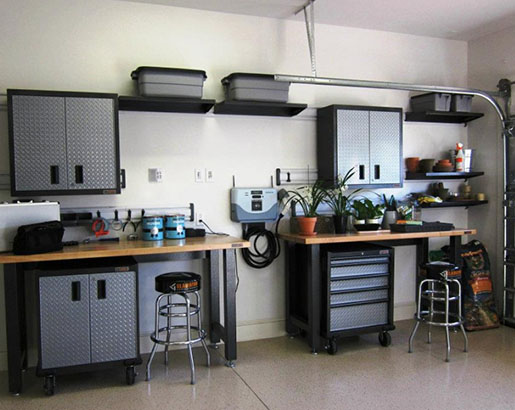 The mobile cabinets are convenient when you are working on a project.
7 Inspiring Garage Interior Design Ideas
If you're the type who spends a ton of time in the garage, then you cannot afford to let it look like a mess. Making sure that your garage is organized and looking good will make whatever project you are doing easier. Instead of a dark and sad garage, you now have a fun garage that you'd like to spend more time in.
Aside from that, a garage with a nice interior will also add bonus points to your home. It is an investment that will increase the value of your home. If you are looking into selling your home in the future, then redesigning and remodeling your garage can give your property an extra bump in value.
There are tons of things possible that you can do with a little creativity. Here are some ideas that you can use to inspire you to innovate and decorate your garage's interior:
1. Consider Garage Use: This is something that you should think about before doing anything in your garage. Interior design should be based upon the use of your garage. Is this mainly for storing sports equipment and gardening tools? Are you doing projects and handiwork in the garage? Will you and your family be using a portion of the garage as a game or entertainment space? If so, then you should incorporate these activities into the design. This will guide you in redesigning your garage so it meets your family's needs. Set a space where you can work on your DIY projects if this is your goal. A movable desk for your crafts or some personalized storage for your sports equipment will also work well.
2. Play With Tiles and Flooring: Most homes have cement flooring for their garages. Although this is completely usable, going for an upgrade will add extra oomph to your space. Play around with checkered tiles for added interest. This can be a point of interest in your garage. Have fun with the colors and choose those that match with your home or with the general theme that you're after. Pick the flooring that will match your use and just make sure that it is practical and safe to put on top of cement flooring.  If you will be working with oils, then it might be best to have your floor coated with concrete epoxy paint for easy cleanup.  Another great option is add a garage heater.
3. Think Storage: The organization in you