MyQ Smart Garage Hub
The MyQ Smart Garage Hub model MYQ-G0301-D comes with specific measurements and features that are unique to the product. While compatibility is its biggest selling point, there are also a variety of specifications that make this model a worthwhile choice on the market.
Product Specifications:
Dimensions: 6.25" L x 6" W x 4" D
Weight: 1.15 lbs
Warranty: 1 Year Limited Warranty
Brand Compatibility: Most major garage door opener brands with Photo Eyes, including brands such as Linear MegaCode, Stanley SecureCode,
LiftMasterⓇ, and many more.
WiFi Requirements: 2.4 GHz signal
Additional Features: Extremely quiet, easy to install, partner platform compatibility, HomeKit compatibility, additional accessories
The Hub has been cited as an easy-to-install feature which can be accessed from anywhere via your smartphone. It also comes with flashing lights that signal the opening and closing of the garage doors, as well as a red-lighted sensor that indicates when the security measures are in place.
Some sounds will emit as safety requirements when one or more actions have been programmed into the device.
A smart garage door opener is a fairly new yet widely successful device that has gripped the industry with a breadth of garage door conveniences. The MyQ Smart Garage Hub, in particular, is a groundbreaking development which can be used to keep your garage door securely locked, while being able to open and close it remotely.
The 21st Century has been dubbed the "smart" era. This is because developments in smart technologies have truly taken off to include a variety of household items, mobile devices, vehicles, monitors, and much more. Smart devices help us operate on a quicker and more efficient level, offering more convenient choices from the comfort of a button or a screen. This is very much the same for garage door openers.
If you are installing a new garage door or renovating your home, consider investing in a smart garage door opener to update the technologies of your residence. You can benefit from being able to secure your garage door even when you're not at home. Our review of the MyQ Smart Garage Hub opener, as well as a highlight on the brand and compatibility; can give you a glimpse into why a smart garage door opener is something you will definitely want to consider for your home.
What Is a Smart Garage Door Opener?
What exactly determines whether or not a technology is smart? Does it require Bluetooth capacity, or perhaps the ability to be remotely controlled?
In essence, a smart garage door opener is defined as a device that can be accessed and controlled through an app on a smartphone. Whether you've got an iPhone or an Android, you should be able to remotely access most connected garage door opener devices as long as they're equipped with smart technology.
The MyQ Smart Garage Hub includes a download to the MyQ app, which is compatible with most mobile devices and includes all of the features you need to control your garage door at any time, in any place.
Sale
Features of the MyQ Smart Garage Hub
The MyQ Smart Garage Hub is the best smart garage door opener for a variety of needs. Whether you own a more traditional garage, or you've upgraded your home with security features and extra technologies, you can be sure that your smart garage door opener will fit right in.
Some of our favorite features of this particular model include:
Compatibility with the MyQ App. This allows you to play around with core features that include turning garage door lights off or on, setting lighting and opening schedules, opening and closing your garage door, locking and securing your garage door, connecting with other smart devices, and working with other housing security platforms like Nest.
Quick and easy installation. You can install this device in a manner of minutes, allowing you to connect to your home's WiFi as long as it is in range. Once connected with the signal, you can program the device to open and close your doors, control lighting, and much more.
Connectivity with older garage door openers. You don't have to throw out your older garage door opener – in fact, the MyQ Smart Garage Hub allows you to connect with any garage remote, even with openers that are as old as a 1993 manufacturing date. As long as your current garage door opener has safety sensors installed, you can use it in compatibility with the MyQ Smart Garage Hub.
Complete smartphone control. You don't need to be at home – or even in the neighborhood – to be able to control your garage door settings. With a successful installation and download of the app, you can use your mobile device, such as your iPhone, Android, or even your iPad, to quickly take control of your garage door and input settings that will make you feel secure that your main port of entry is being protected.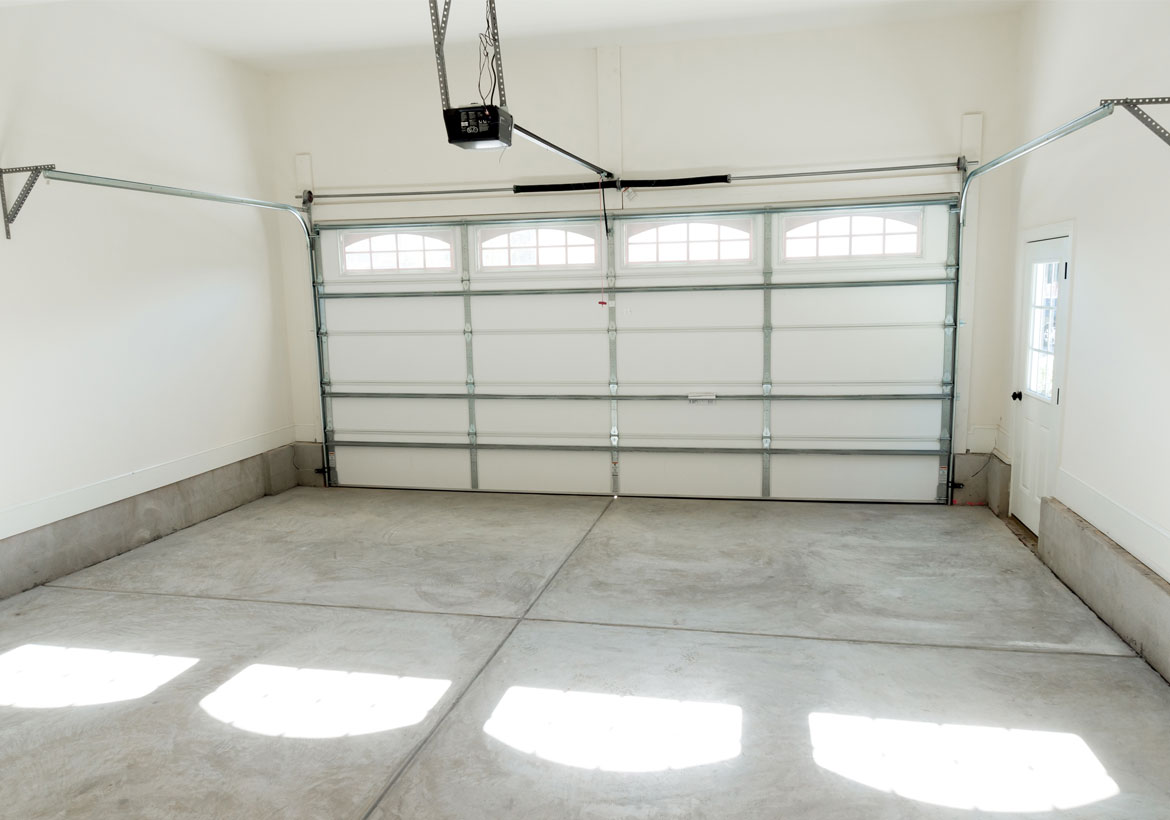 Genie B6172H Wall Mount Smart Garage Door Opener, DC Motor Lifts up to 14ft high 850lbs, Black
COMPACT SPACE SAVING: The Genie Wall Mount Garage Door Opener directly mounts to the side of the garage doors tube spring saving space on the ceiling. Great for garages with vaulted ceilings, storage on ceiling, or attic access points
STRONG, POWERFUL DC MOTOR: The Genie Wall Mount Smart Garage Door Opener is equipped with a 24v DC motor provides quiet but powerful performance to lift up to 850LB Sectional Residential Garage Doors
SAFE-T-PULSE INTERNAL SLACK CABLE MONITOR: Ensures safe door travel by taking measurements and checking for slack in the cables electronically, pulsing the garage door prior to closing
SIZE & OUTLET: The Genie Wall Mount Garage Door Opener is Compact design measuring 6.8 in. wide x 14.5 in. tall x 9 in. deep making the Genie wall mount garage door opener the smallest available, Proper installation requires a standard outlet within 6 ft. of the wall mount garage door opener
INCLUDES: (1) 3 Button Pre-programmed Remote, Battery Backup, Wireless Wall Console, Aladdin Connect Wi-Fi Smart Technology, Automatic Door Lock
Who Exactly is ChamberlainⓇ?
ChamberlainⓇ is the brand manufacturer of the MyQ Smart Garage Hub; has been developing essential safety home products for DIY enthusiasts and security buffs alike. The company is geared towards the development of new smart technologies, which will adapt to older home devices and make the house a more cohesive unit.
The ChamberlainⓇ Smart Garage Hub series features a number of models and accessories that can be equipped with garage door openers to make the process of opening and closing the garage a more seamless and simple activity. Plus, there are many safety measures built into each and every device to help you feel confident when you lock down your home to prevent entry.
Genie 7155-TKV Smart Garage Door Opener StealthDrive Connect - Ultra Quiet opener, WiFi, Battery Backup - Works with Alexa & Google Home,Black/White
Genie Smart Garage Door Openers Work with Amazon Key In-Garage Delivery: Genie smart garage door openers now allow you to choose to have Amazon packages or groceries delivered inside your garage with the Aladdin Connect App and Amazon Key In-Garage Delivery
STRONG AND QUIET: The 1 1/4 HPc DC Motor on the Stealth Drive Connect smart garage door opener is paired with a steel-reinforced belt drive making this garage door opener perfect for garages that are attached to bedrooms and/or nurseries
SMART GARAGE SYSTEM WORKS: The Integrated Aladdin Connect smart technology allows you to monitor, open and close your garage door from anywhere with your smartphone. You can also open and close your garage door with voice control, and have packages left in your garage with In-Garage Delivery
BATTERY BACKUP INCLUDED: The Stealth Drive Connect smart garage door opener, has an integrated battery backup that allows for this Genie garage door opener to be used when the power is out
EASY TO INSTALL: This smart garage door opener features a strong 5-piece rail system that snaps together for easy installation. It's lightweight with no added hardware needed. Plus, this smart garage door opener works with BILT intelligent 3D interactive instructions, for extra easy assembly
MyQ App Benefits
The MyQ App is very convenient when it comes to handling your smart garage door opener. You can use it to control not only the MyQ Smart Garage Hub, but other essential security platforms as well. ChamberlainⓇ has designed apps to be equipped in the home and around the house for the purposes of security, safety, monitoring, and the ability to perform important functions remotely.
Using a smart garage door opener on Nest, which is one of the security apps provided by ChamberlainⓇ, will add increased benefits to your MyQ Smart Garage Hub and its consequent features. In fact, the Nest Cam is designed to help you monitor your home through a clear camera lens, which can give you a wide scope of what's going on.
Having the MyQ Smart Garage Hub in coordination with the Nest Cam can give you a powerful combination of visual and physical control. Watch what's going on in your home at all times while keeping your finger on the MyQ app to close your garage door if needed. There's a reason these two features work well together!
Related: Smart Thermostats: What to Choose to Cut Down on Your Energy Bills
Stay in Touch with Smart Products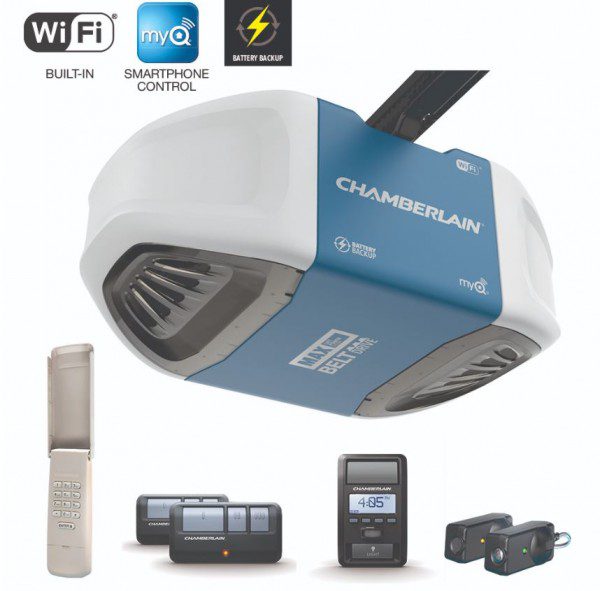 The world is rapidly evolving to include smart capabilities with many different products. The MyQ Smart Garage Hub is one of the best smart garage door opener options on the market today, and there's a good reason for it. It gives you full control over your garage door, its lights, and its safety measures without you needing to lift a finger.
Immersion with the MyQ app is essential, as it offers a wide range of control benefits to help you and your home stay secured at all times. With easy installation, easy WiFi connection, and easy app compatibility, this is a device that can remain in your home for years to come.
Sale
2 for Chamberlain LiftMaster Craftsman Garage Door Opener Remote 893LM 893Max 971LM Universal
Work with LiftMaster, Chamberlain, and Sears Craftsman garage door openers manufactured from 1993 to the present, it is a convenient and versatile option for adding an extra remote to a household with multiple vehicles or replacing a lost or broken one.
Safe & Reliable - It features latest Security+2.0 rolling code technology that significantly reduces radio wave interference and rolling code protects against intruders by generating a new security code every time the remote control is used on your garage door opener.
Long Distance Remote – CreaCity garage door opener remote works within 120 feet from the garage door opener for "no waiting" roll-in access.
Multichannel – 3 button design allows control of up to 3 garage door openers at once, which eliminating the trouble of carrying multiple remote.
Comes in a pack of two - We prepared two garage door opener remotes for you so that you can still get "no waiting" roll-in access even if you lose one; You can also give one of the remotes to your family, when you take away the remote from home and your family is going to enter the garage, another remote will give them a hand.