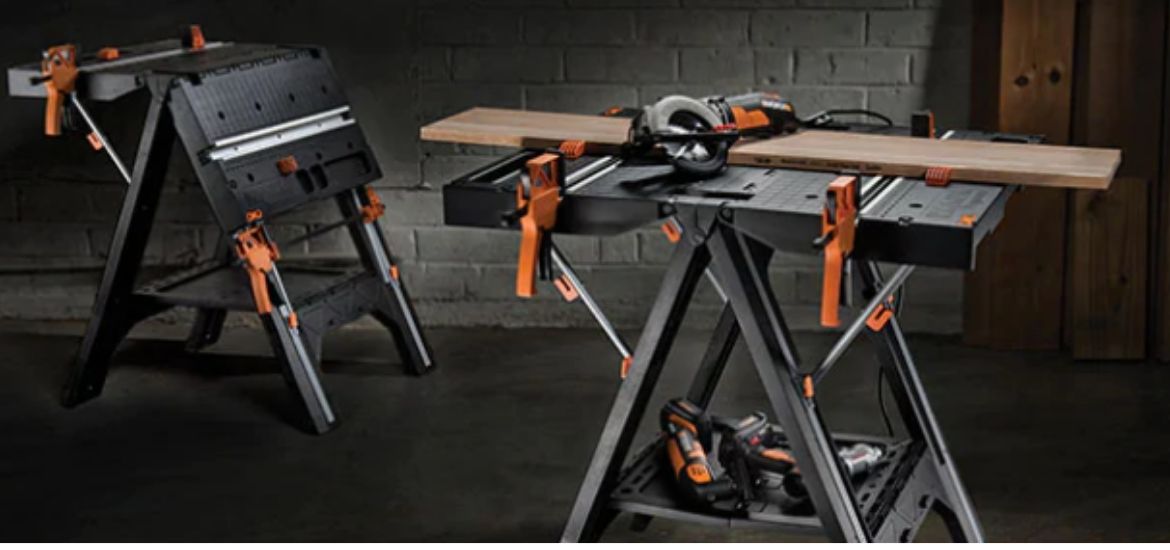 Featured Image: Lowe's
We owe a lot to the person who invented the portable multipurpose workbench. Thanks to this type of workbench, creating a lovely shelf or a table your family will use for years is easy.
Most of the modern workbenches are compact, lightweight, and mobile. There's no need to haul a heavy wooden table from one part of the job site to another when you have one at home or job site. And because it can be folded down, you can conveniently store it behind a shelf or just have it lean on a wall in your garage.
Whether this is your first time buying a portable workbench or you just want to replace your old and wobbly folding workbench, you'll definitely find this review helpful.
In this article, we're going to rank the best portable workbenches available online. We're also going to discuss their pros and cons, as well as give you some tips on how to buy the best folding workbench online.
Portable Folding Workbench Basics
Workbenches are some of the most indispensable objects in any workshop or job site. It is used in gardening, art, and general repair. It is also used by laboratory technicians, machinists, watchmakers, and jewelers.
But there is a certain type of workbench that is essential in woodworking, and that is the multi-purpose or portable folding workbench.
The portable folding workbench is a relatively new invention. It was not until the late 1960s when the first workbenches (such as this Black & Decker Workmate) appeared. During its early stages, it was difficult for the inventor of the modern workbench to market an innovative product like it. But the workbench soon became popular, and the rest is history. The product became widely available and ubiquitous in hardware stores and even online.
What makes portable folding workbenches different from ordinary workbenches?
This type of workbench is usually compact and light. Tabletops are usually made of plastic or wood, while the base is typically made of metal or plastic.
They are smaller workbenches but they are just as useful as full-sized ones. They are collapsible, so you can store them behind a shelf or simply have it lean on a wall in your garage.
Their size and portability make them ideal for small workshops. They are also perfect for workers who don't have permanent work sites.
Some have built-in clamps, while others have clamps that you have to attach to the table first before working on a piece of wood.
Portable folding workbenches can support loads of anywhere between 100 lbs and 1,000 lbs (depending on the size and construction of the workbench).
Portable Folding Workbench Buying Guide
The most important thing to consider when buying a portable folding workbench is its stability and strength.
If you've ever tried cutting a piece of wood clamped on a flimsy and wobbly workbench, then you know how frustrating it is. It is also dangerous as the wobbly workbench could topple over while you're hand planing or cutting a piece of wood. When buying a portable workbench, look for something that looks and feels solid and sturdy.
The tabletops are usually made of wood, but some are made of plastic. Choose the material that best suits your tasks.
Check the legs of the workbench and ensure that they are stable.
The legs are usually made of heavy-duty steel with rubber feet that keep them stable and ensure that they will not move around while you're sawing or hand planing something.
Check the features of the workbench, and make sure that they match your needs.
The design of the most basic portable folding workbenches is simple. There are two panels of wood that serve as vices. They have cranks at the side that helps you tighten and loosen the vices' hold on the piece of wood.
The panels/tabletops sometimes come with integrated clamps and dog holes that woodworkers frequently use. Some even have holes drilled into the rails for extra tool storage.
Some plastic workbenches have slots on the table leaves where you can store tools, such as a screwdriver, a drill, or a circular saw. Some even have recessed containers where you can put some nails, screws, and other small tools.
If you want extra storage, then choose a workbench with a bottom shelf.
You can put additional tools on the shelf to keep them within reach while you're working. But the most common issue with the bottom shelves is that they seem flimsy and cannot seem to hold up a lot of tools.
Remodeling your bathroom or kitchen? Then check out our blog to get some fresh ideas, product reviews, and more!
Portable Workbench Frequently Asked Questions(FAQ)
Q: Which workbench brand is the greatest on the market?
A: The greatest and most dependable brands for workbenches are Black+Decker, Keter, and Worx.
Q: How tall is a standard workbench?
A: The working surface on most benches is between 33′′ and 36′′ high. If you are of average height (between 5'9″ and 6'0″), that is often a comfortable height.
Q: What wood should I utilize for a workbench?
A: Douglas fir, oak, ash, poplar, beech, and hard/delicate maple are all suitable. You'd probably choose softer wood for hand tools because it's easier to hand plane level and less likely to damage your job.
Conclusion:
So, what's the best portable workbench on the list?
In my opinion, the best portable folding workbench is the WORX Pegasus Multi-Function Work Table and Sawhorse. It's not as popular as the Keter portable workbench, but it can hold its own against the competition.
What makes this product stand out?
What I like most about WORX Pegasus is its solid construction. The tabletop is wide and sturdy, and transforms from ordinary workbench to a sawhorse in a heartbeat.
The legs, unlike other folding workbenches in the list, are not made of flimsy steel. It is made of solid plastic and the feet are wide. Even at first glance, you'll know that wobbling is kept at a minimum.
The workbench is already assembled, so you don't need to whip out your screwdriver and other tools when you take it right out of the box.
The clamps are stored underneath the tabletop, and the clamping dogs are already included in the package (they can be stored at the sides of the bottom shelf).
Plus, there are slots for drills and screwdrivers, as well as a recessed container for nails, screws, and small tools.
You can also expand this workbench by attaching it to a second WORX Pegasus folding workbench using a link lock.
No product is perfect and while the WORX Pegasus WXO51 has its shortcomings, but it's overall design and features are nearly perfect.
There you go. I hope you've enjoyed our rundown of the best portable workbenches, and the review has helped you purchase the right product. Happy shopping!
Other Great Articles to Read:
To view our Amazon Associates Disclaimer, please click here.