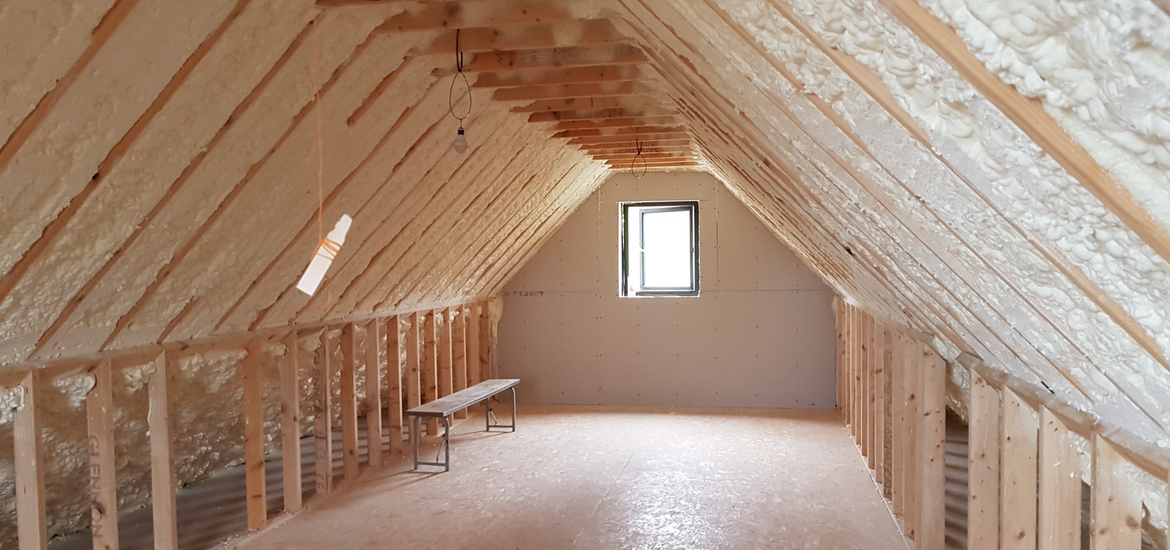 Featured Image Source: U Value
If you are wondering how much does spray foam insulation cost, you have come to the right place. In essence, there are many variables that add up to the cost of spray foam insulation. Also, in recent years, development in technology has made spray foam the top insulation available in the market. In this post, we will discuss how much does spray foam insulation cost.
First of all, you might be thinking that it's challenging to get a precise figure on the costs to insulate your home without having a surveyor round. Though we cannot blame you since it's not easy to put together the cost considering the size of the job. In general, there are extra factors that contribute to the cost of spray foam insulation.
The amount of material required
Kind of material utilized (i.e., open-cell or closed-cell spray foam)
Time needed to do the job
Work required (additional tasks like membrane fitting, fiberglass removal)
The location of the property
Two types of spray foam insulation exist, namely open cell and closed cell. Open-cell spray foam costs typically $0.75 to $1.25 per board foot and closed-cell spray foam ranges from $2.00 to $2.25 per board foot. In this case, the typical expense of spray foam insulation installation is $3,128. On average, most homeowners pay somewhere in the range of $2,463 and $3,926. In addition, costing relies upon the parts of your home you want to insulate and to what thickness. Keep in mind that these prices have been fluctuating significantly year to year, so make sure to check with your local insulation company to get accurate pricing.
Some people feel scared by the cost and commitment of using spray foam insulation in their homes. Without knowing the advantages that spray foam insulation can offer their home and family, you can undoubtedly ignore this choice.
In reality, spray foam insulation beats other kinds of insulation by amazing degrees.
Benefits Of Spray Foam Insulation
Touch N Seal 4004520300 Home Sealing Low Density DIY Insulating Foam Kit 300 BF
SPECIAL NOTE! Due to state regulations, this product is not currently available for use in CA, CO, MA, NJ, NY, VT, and WA. Signature required at the time of delivery. Theoretical Yield: 300 board feet or 300 square feet using a 1" layer (1 board foot = 12" x 12" x 1")
Open-cell, non-structural air sealing and insulating foam, Increases R-value and sound reduction
Reduces energy loss, No Ozone Depleting Chemicals or formaldehyde, Dries in one minute
Ideal for flash & batt applications (air sealing), Class 1 fire-retardant
Kit Includes: Foam cylinders, fan and conical spray nozzles, applicator gun, and 15' hose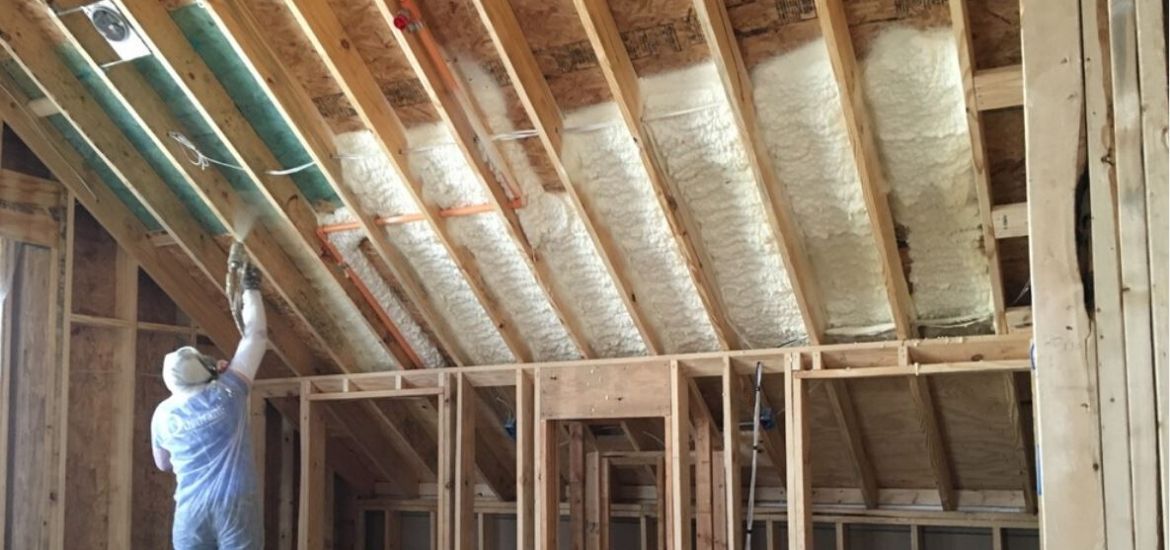 Spray foam is often utilized in new homes, although you can also use it for existing structures. Notably, you can witness the significant savings in your energy bills, with the vast majority having savings of up to 40 percent. Moreover, probably the most compelling motivation to utilize it is its air-sealing and moisture barrier properties. Also, it grows 40–100 times its initial size, sealing all crevices and cracks.
Usually, buildings have cold spots and holes that can make your home vulnerable to cold draughts, mold, and condensation. These cost you more than they should. Indeed, even with conventional insulation like fiberglass, you won't be able to prevent these issues, nor accomplish a completely insulated property.
As a matter of fact, we lose up to 50 percent of heat through air spillage points, with most of it getting away through inadequately insulated rooftops. A roof enhances insulation and needs to be as watertight as possible. Achieving this might requires calling a roofing contractor to place a protective cover made from insulating material to keep water and ice out.
Be that as it may, there's no compelling reason to stress. As mentioned, spray foam insulation increases in size up to 100 times, sealing each one of the holes and cracks even in difficult to reach places. Hence, making a sealed warm rooftop structure that leads to a reduction of high electricity bills, heat loss, and avoidance of condensation issues. Indeed, this insulation technique truly lives up to its expectations.
If you are wondering if the spray foam insulation in existing walls cost generates savings, the answer is a resounding yes! Contingent upon your present insulation, insulating your house with spray foam insulation will significantly save you up to 50 percent on your electricity bills. In this case, property owners can pay back the original investment in an average of three to four years. Thus, it's safe to state installing spray foam insulation is an easy decision when it comes to savings, advantages, and return on investment.
Types Of Spray Foam Insulation
There are two types of spray foam installation, namely open-cell and closed-cell spray foam insulation.
A soft low-density material, the open-cell sprayed-in foam insulation is commonly utilized for interior applications like wall cavities, attics, the underside of roof decks, basement walls, and crawlspaces. In addition, the open cell structure of low density foamed insulation enables for moisture permeability to assist in bi-directional drying of the wall assembly and moisture management.
Moreover, the advantages of open-cell foam insulation include:
Enables bi-directional drying
Can adapt to long haul creep and seasonal movement
You can install it at a lower cost for spray foam insulation and target the equivalent determined R-value
Isn't viewed as a food hotspot for mold
Offers sound dampening characteristics, perfect for media or theater rooms
Lower average cost of spray foam insulation per square foot
On the other hand, closed-cell spray foam insulation, a hard medium-thickness material, can be utilized in exterior applications like continuous insulation installations, along with interior applications. In fact, this kind of foam insulation has a higher R-value per inch. Thus, it is also reasonable for little areas that require the highest conceivable R-value to comply with building code requirements.
While open-cell foamed insulation has numerous advantages over conventional insulation types, closed-cell sprayed-in insulation goes beyond to provide extra benefits. Albeit closed-cell sprayed insulation foam has a higher average cost of spray foam insulation per board foot, there are advantages that the material offers, including:
Capacity to reject mass water
Can be applied at exceptionally low temperatures (as low as 5°F)
Includes wall racking strength, along with impact resistance
Higher R-value per inch – simpler to put up high R-value prerequisites in smaller spaces
Lower vapor permeance
Higher tensile and bond quality
Spray Foam Insulation: Where Should It Be Used?
Spray foam insulation can be used in a variety of locations throughout the home to create an effective air barrier. Closed cell foam can also be utilized to create a vapor barrier. Here are a few applications for spray foam insulation:
HVAC*
Basements and crawl spaces
Electrical and gas penetrations
Securing landscape block walls
Water feature fillers
Where the siding and the foundation meet
Wall joints in garage ceiling
Near vents and exterior faucets
Stone wall repair
*Isolating HVAC pipes, condensers, floor registers, and ductwork improves the efficiency of your heating and cooling system.
Cost Of Spray Foam Attic Insulation
Spray foam insulation for an attic costs roughly $2,200. For added protection, contact an attic insulation professional to see if you may add insulation to the ceiling and the walls.
Expanding Foam For Basement Walls Price
Before labor, installing expanding foam in the walls of a 1,000-square-foot basement costs around $2,140. Spray foam basement insulation aids with mold prevention.
Crawl Space Insulation Using Polyurethane Foam
Before labor, adding polyurethane foam insulation under a house or in a crawl space costs around $80. Areas larger than a 2×10 will be more expensive.
Spray Roof Insulation
Before labor, the typical cost of spray foam roof insulation is roughly $1,650. On most roofs, closed-cell insulation works well. Consult a roofing professional to determine which material is best for your space.
Rim Joists
Spray foam is an excellent material for insulating rim joists and sealing cracks. Rim joists, otherwise known as band joists, are used to hold the ends of floor joists. The cost of this project differs depending on the number of rim joists in your home, but it will be significantly less expensive than larger tasks like insulating an attic or basement.
Garages
Spray foam materials will cost between $335 to $1,140 to insulate the walls of an 18 by 20-foot garage. If you insulate your garage walls, you should also insulate your garage door, which includes weatherstripping the bottom edge and adding polystyrene panels on the rear side of the garage door.
Pole Barns Or Other Detached Outbuilding
Materials cost $740 to $2,540 to spray foam insulate a 30 by 40-foot pole barn with 12-foot ceilings. Spray foam insulation applied to a metal building can increase its R-value.
Cost Distinction Between New And Existing Homes
Installing foam insulation in a new home is far less expensive than doing the same in an older home.
New homes are easier to insulate because installation companies can design the insulation for the best soundproofing, heat transmission, and utility costs, and they can apply the spray foam when the walls, crawl spaces, and roof deck are easily accessible.
When renovating in older homes, professionals must work around existing insulation, drywall, and structures, which adds time and money to the project.
Instead, for older homes, undertake weatherization or engage an energy inspector to help pinpoint exactly where you need to firm up your insulation.
Spray Foam Kit II-205 Class 1, 41 lb
Price For: Each Container Type: Two Cylinders Flash Point: 240 Degrees F Substrates: All Except Polyethylene, Polypropylene, Silicone, Oils, Greases, Mold Release Agents And Similar Materials Standards: UL-94 Rated, ASTM E-84 Class 1 Includes: 9-1/2 ft. Hose and Initial 8-pk of Nozzles Item: Insulating Spray Foam Sealant Color: Yellow/White Size: 41 lb. Specific Gravity: 1.2
Application: Multipurpose Application Time: 30 to 60 sec. Insulation Value: R-6 to 7.2 Expansion Ratio: 4:1 Number of Components: 2 Indoor/Outdoor: Indoor/Outdoor Sealant Application: Insulation Performance Temp. Range: -200 Degrees to 200 Degrees F Coverage: 17 cu. ft., 205 Board ft. Application Temp. Range: 40 Degrees to 100 Degrees F Full Cure: 1 hr. Country of Origin (subject to change): United States
Spray Foam Insulation Cost Vs Fiberglass
Overall, spray foam attic insulation cost is two to three times the cost of fiberglass insulation. Fiberglass insulation usually costs around $0.40 per square foot. On the other hand, spray foam can be progressively costly, but can offer more significant savings on cooling and heating costs. At the present time, the spray foam insulation cost per square foot, with a thickness of 3 inches, is around $3.
Because of the complexity of the installation procedure for spray foam insulation, the expense to install it is also higher than fiberglass.
Spray foam, in any case, lasts a lifetime and can be installed in crannies and nooks that are not suitable for fiberglass. In addition, with its lower energy bills and higher energy efficiency, the compensation time frame for offsetting the higher expense of spray foam insulation is somewhere in the range of 5 and 7 years for colder climates.
However, some of the primary ingredients in spray foam are isocyanates. In that case, these substance mixes are irritating to the eyes. When cured, spray foam is non-toxic and inert. In any case, during the curing procedure, the foam discharges a gas that can cause respiratory discomfort and obscured vision. In the event that the spray foam components did not mix in the correct extents, the foam could discharge this gas permanently, even after the curing time.
Meanwhile, fiberglass insulation contains glass wool fibers that are purportedly carcinogenic. In fact, some fiberglass products caution of potential cancer hazard by inhalation. Because of its materials, fiberglass disturbs the eyes, skin, and respiratory system. Also, possible symptoms include irritation of skin, eyes, nose, dyspnea, sore throat, cough, and hoarseness.

How Spray Foam Insulation Is Installed
Two separate parts make up the spray foam insulation. They mix as you spray them. One barrel is isocyanate (the A side), while another barrel is resin (the B side). One of the materials in the B side barrel is the fire retardant. The contents in this barrel should be appropriately agitated before use, so the fire retardant blends well with the whole resin. Also, you need to warm each barrel to around 70°F before starting the application.
Transfer pumps remove the product out of each barrel and transfer it to the proportioner. Moreover, the proportioner controls the quantity of product drawn from each barrel and warms the products to the suitable spray temperature. On the other hand, a hose (which actually has 3 hoses) comes from the proportioner to the spray foam gun. In addition, there is a blending chamber in the gun head where the isocyanate and resin blend and immediately sprayed and applied.
It's important to realize that two-part spray and injection-foam combinations need the correct proportion of the A and B parts for an appropriate chemical response to happen and for the insulation to be of good quality.
Indeed, there are a lot of factors that can influence the proportion and the blend. However, you can address this with the right equipment. For around $5,000 to $10,000, you can outfit foam rigs with a "fault-interruption ratio." In particular, the rig shuts down when the blend goes off proportion. Also, a temperature screen will make printouts as evidence of an appropriate ratio.
An expert should, at all times, install spray foam insulation. This video shows how professionals install spray foam insulation:
Is Spray Foam Insulation Worth It?
If you are considering to build your dream house, that dream can immediately turn into a nightmare in the event that it is not comfortable and energy-efficient.
Although spray foam insulation costs more than customary alternatives, but after some time, it pays you back in energy savings. After all, you can't generally put a cost on the comfort of your family.
Spray foam insulation is the only insulation type that will offer you a total air seal to keep your home comfortable all year. In effect, that comfort gives excellent energy efficiency.
Regardless of if it's the dead of winter or the long stretches of summer, spray foam insulation will keep your home comfortable. In particular, it keeps the air you are paying intact inside while the elements remain outside where they belong.
While you can't put a cost on comfort, you can put a price on your heater or air conditioner not running continually. Also, this lessens your carbon footprint, in addition to keeping your monthly energy bills in control.
Meanwhile, fiberglass and cellulose can help to hinder a portion of that cold or warm air from getting inside, but it doesn't stop it totally. Moreover, the odds are great that you will still be facing high energy bills and an inconvenient home.
Ultimately, conventional types of insulation don't have a similar air seal abilities as spray foam, so air and toxins can still go through it.
When insulating your home with foam insulation, you are hoping to save between 15 to 50 percent on monthly energy bills. Hence, this can indicate a huge number of dollars in savings over the life of your home.

How Long Does Spray Foam Insulation Last?
In case you're considering having your home treated with spray foam insulation, you're most likely pondering to what extent it will last. Or possibly whether you'll have to replace it at any point in the near future.
Spray foam is actually an inert polymer. What precisely is that? A polymer is a material like elastic or plastic. Poly signifies "many" and "mer" signifies "part," so a polymer is numerous pieces of molecules kept together to make a sturdy product. In case you're familiar with rubber, spray foam is like that.
Spray foam, plastic pens, and rubber balls are produced using "inert" polymers. "Inert" simply means that they don't change. They don't decay like wood, rust like metal, or turn sour like that food in the back of your refrigerator. In the event that you put a toy Lego in the attic, and recheck it after ten years, it would be the same toy you put there. Likewise, spray foam is much like numerous rubber or plastic things produced using inert polymers. They don't separate by themselves alone.
So, how does spray foam insulation last?
The obvious answer is simple. Spray foam insulation will generally last for the lifetime of your home. Whenever done appropriately by a professional company, you won't need to replace it.
This is beneficial for you since:
Lessen your home energy bills up to 50 percent
Decrease the potential for mildew and mold
Take out a decent amount of outside noise
Make walls of your home sturdier
Your home will have a higher resale value
So you will get all of these advantages and more for a considerable length of time. The best part is that you won't need to stress over replacing your insulation at regular intervals.