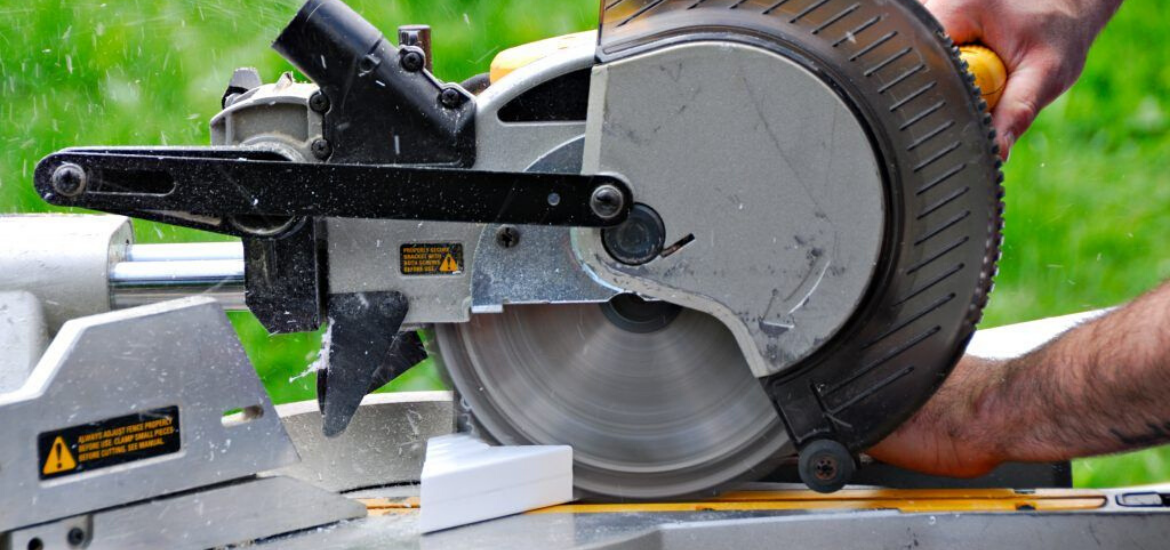 Featured Image Source: Pinterest
Any weekend warrior knows that a miter saw is a key tool to have for a number of DIY projects. But almost as important as a miter saw is a miter saw stand. The right stand can save you from having a number of problems with your saw. When I was first starting out with my in-garage construction projects, I had a good quality saw – but the stand was subpar. This made the saw shaky and wobbly, preventing me from being able to cut straight.
Plus, having a wobbly saw is dangerous. You never know how it's going to shake or which direction the saw is going to move in. Knowing what is the best miter saw stand for your project can not only help you avoid these dangerous problems, but can increase your precision and boost your project's success.
When it comes to your DIY or professional woodworking projects, having a sturdy and reliable miter saw stand is essential. A quality miter saw stand provides a secure and stable platform for your saw and enhances your cutting accuracy and efficiency, making your woodworking tasks a breeze. With so many options & features available on the market, finding the perfect miter saw stand can be a daunting task.
To help you make an informed decision, we have carefully curated a list of the five best miter saw stands currently available. These stands have been chosen based on their durability, stability, portability, and additional features. Whether you're a professional carpenter or a DIY enthusiast, these miter saw stands offer outstanding performance to meet your woodworking needs.
In this comprehensive review, I will dive into the unique features of each miter saw stand, highlight their strengths, and discuss any potential drawbacks. My goal is to offer you with valuable insights to assist you in selecting the perfect miter saw stand that suits your specific requirements and budget.
So, without further ado, let's dive into the world of top-notch miter saw stands and discover the ones that can elevate your woodworking projects to new heights of precision and efficiency.
1.
Sale
DEWALT Miter Saw Stand with Wheels, Collapsible and Portable, Holds Up to 300 lbs (DWX726)
Easily adjustable mounting rails of DEWALT miter saw stand adapt to nearly any miter saw
Miter saw stand with wheels featuring wide rubber grip provide easy jobsite mobility
The rolling miter saw stand features three-position pneumatic assisted raising and lowering for the ultimate in flexibility and ease of set up
Durable tubular steel construction allows for a 300 lb maximum weight capacity
Compact vertical storage option maximizes workplace efficiency and ease of transport
2.
Sale
Bosch Portable Gravity-Rise Wheeled Miter Saw Stand T4B
ADJUSTABLE: Featuring a Bosch-exclusive, patented Gravity Rise System designed for rapid set up and easy breakdown, taking the toughest jobs to the next level
CAPACITY: The Bosch T4B Gravity-Rise Miter saw stand has up to 18 feet of material capacity, the highest capacity among fully portable units
PORTABLE: Built with 8-Inch pneumatic wheels for ease of transport over jobsite terrain with even the heaviest miter saws attached
UNIVERSAL: Featuring Rapid Release tool mounts - for use with most major competitors miter saws. Adjustable out feed -up to 12 inch in height
DURABLE: Equipped with adjustable leveling feet for stability and durability on uneven surfaces. Material - Steel
3.
Sale
4.
Sale
5.
BORA Portamate PM-4000 - Heavy Duty Folding Miter Saw Stand with Quick Attach Tool Mounting Bars Orange 44 x 10 x 6.5 inches
A cut above - The Bora Portamate PM-4000 is the best, most practical, hassle-free stand you'll find for miter saws or chop saws. Constructed of tubular steel with a powder-coated finish, This rugged yet lightweight saw stand can support up to 500 lbs. And is compatible with Miter saws up to 12 inches, including compound sliding saws.
Cut out for convenience - setup is quick and simple, as the folding legs swing Under the center portion and are secured by pins that snap into position. Stand folds up for easy transport, storage and carrying from your vehicle to the worksite. Folded size is 43. 5" W x 20" D x 6. 5" H and Weighs only 30 lbs. Without a saw.
Switch gears & mount add tools - quick-attach saw mounts allow for easy mounting of your saw, as well as other tools which you can switch around, set up and take down quickly – hardware is included. Additional mount sets sold separately offer a wider variety of tools that you can use with your PM-4000 stand.
Makes the cut – our PM-4000 saw stand was specially designed to provide the ideal ergonomic working height of 36 inches, so professional contractors and day's can work safely and comfortably while making cuts with absolute precision and secure stability.
What To Look For In The Best Miter Saw Stand
The first step is understanding what type of miter saw stand you are looking for. The common types of miter saw stands include:
Compound miter saw stands – this is a diverse stand made of metal that comes on two legs. They are one of the sturdiest types of saw stands available and offer unique features.
Rail miter stands – easily the most popular type of miter saw stand on the market, rail miter stands are portable due to their pull-out legs. They come on a horizontal rail and can be clamped in place literally anywhere along it.
Traditional miter saw stands – this is the standard workbench that offers simplicity and durability together. It comes on a solid plank of wood connecting sawhorses which give you a good range of mobility.
Table saw stands – the best choice for your tabletop saw. They are one of the most durable on the market, offering both legs and wheels for portability.
The type of miter saw you already have can determine what kind of saw stand is best for you. Each type of stand comes with its own purposes, functions, and advantages.
Among the reviews, there are some familiar names you may come across: DEWALT and Bosch, for example. I typically rely on these brands because they are consistently top-rated each year and continue to produce quality products that I would bet all of my money on.
Check out my top five picks for the best miter saw stands available today.

Features To Consider
Since each type of saw stand includes its own set of features and advantages, it's critical to look at why each feature is important. That way you'll know what features matter most to you for your DIY project.
I would recommend paying special attention to these features:
Durability
Will your miter saw stand hold up to the amount of work you're doing on your project? There's no point in spending money on a new miter saw stand if it won't give you your money's worth. The worst thing that can happen is your stand collapses underneath you while you're in the middle of an important job. A durable stand should last you many years.
Weight Capacity
This goes hand in hand with durability. If your miter saw is unable to hold a lot of weight, it probably won't work well in the long run. Make sure to look at the standard weight allowance of each particular product to see how much weight each stand can hold. You should be able to put a lot of weight on your stand without it being an issue.
Versatility
Some miter saw stands have the capacity to hold a variety of miter saws. If you are a DIY expert, you likely have different saws for different projects. Rather than having to spend tons of money on a number of different stands, you can get one miter saw stand that will hold everything. Portability should also be taken into account; the best portable miter saw stand is one that can not only accommodate different saws but can be easily moved without breaking.
Who Makes The Best 12" Miter Saw Stand?
There are plenty of reliable brands and manufacturers that make sturdy stands for saws measuring 12" or under. Below, I want to review my top five favorite miter saw stands, and I will give reasons why each product and brand is reliable. It's understandable that trying to find the best miter saw stand can be an overwhelming experience if you aren't sure where to start looking. That is why I created this guide, to help you find the best miter saw stands that the market has to offer.
Among the reviews, there are some familiar names you may come across: DEWALT and Bosch, for example. I typically rely on these brands because they are consistently top-rated each year and continue to produce quality products that I would bet all of my money on.
Check out my top five picks for the best miter saw stands available today.
Top Pick
Out of the five miter saw stands presented today, I recommend the BORA Portamate Heavy Duty Miter Saw Stand. It comes with enough extra features and patented functions to make any kind of job comfortable. Plus, it can hold between 400 and 500 pounds, making it a pure beast. Its slim design and lightweight material construction make it the best portable miter saw stand, although it does not have wheels to roll.
Looking for durability as one of the key features of a good miter saw stand will certainly give you enough reason to enjoy this pick as well. While its brand name may not hold up to the same level of recognition as DEWALT, it can actually really make a name for itself. Plus, I've found the above DEWALT models to be lacking in a few areas that this particular saw stand makes up for. For example, there are never any problems with clamping or mounting. Plus, you don't need to purchase anything additional to start using this saw right away.
If you want something that is affordable, easy to use, stable, portable, and quick to mount your saw on, then this is a solid choice. I would recommend all five saw stands on this list for those who are looking to up their DIY game.
A miter saw is only as good as its miter saw stand, and starting off with these options on the market will help you narrow down your choices to something that is top quality and highly recommended.