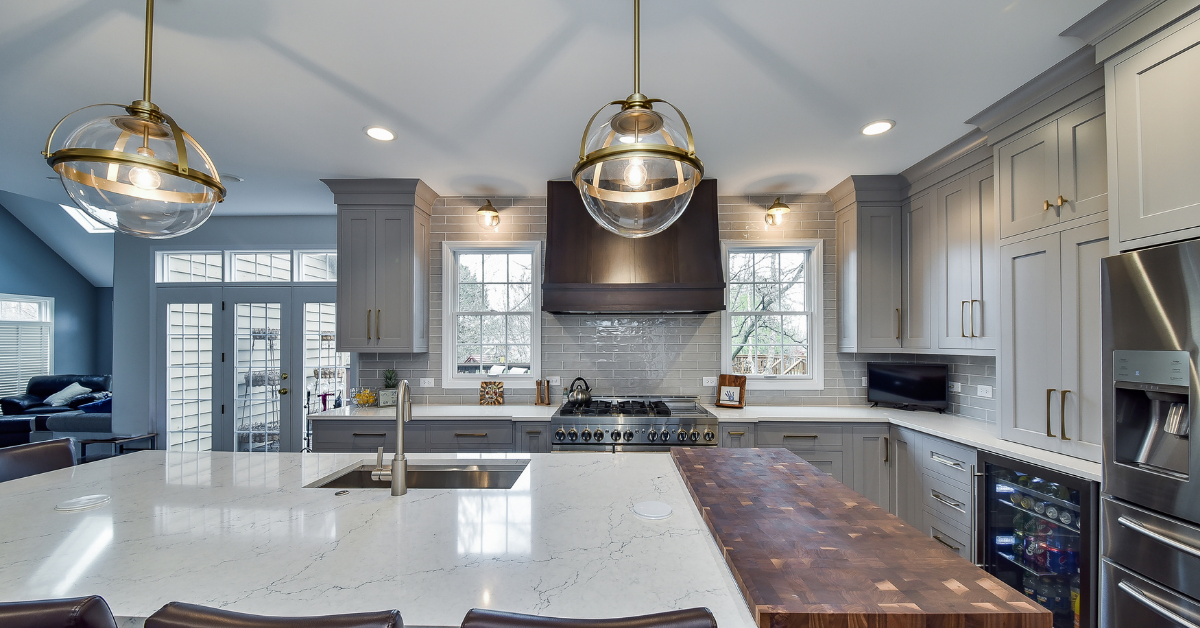 You don't want to forget anything vital when remodeling your kitchen, yet it's difficult to remember everything when it comes to kitchen remodel products. There is so much to consider, such as cabinets, floors, kitchen appliances, backsplashes, and the list goes on and on.
When designing a kitchen that works for you, it's critical to focus on increasing the efficiency of your cooking space. If you are looking for what you need for a kitchen checklist, here are some of the most significant kitchen remodel products you should not overlook. We've also listed the five kitchen accessories for which homebuyers are ready to pay more in their DIY kitchen remodel checklist.
Work Station Style Sinks
Workstation sinks are among the most recent and inventive sinks on the market. They are more than just sinks, as the name implies. This workstation includes a normal stainless steel sink or two and a ledge where the chopping board and drying rack rest. Some larger workstation-style sinks have a basin, a colander, and a bottom grid to keep blades and other sharp objects from scratching the bottom of the sink.
Meal preparation can be more fun with the Ruvati RVH8350 33-inch 50/50 Double Bowl Workstation. Because of its 50/50 double bowl design, this huge sink can easily make meal preparation and dishwashing. One side of the sink may be used to soak dirty dishes or pots, while the other half can be used to wash or soak materials for your meal.
See our Best Workstation Sinks review here.
Docking Drawer Outlets
Clutter is something you're attempting to eliminate in your home. You despise having power cords, phones, e-readers, tablets, and other devices strewn around on your desk or the top of your chest of drawers. Whether you're a fervent KonMari practitioner or want everything in your home in its proper location, with no power cords strewn about where they shouldn't be, you might want to consider installing an in-drawer outlet, such as the Docking Drawer.
You despise the look of clutter, particularly electronics and cords clogging the top of your chest of drawers or bathroom vanity. If clutter bothers you and you're seeking ways to eliminate it in your home, the Docking Drawer Style Drawer 21 Blade Duo In-Drawer Powering Outlet could be the solution.
See our Best Docking Drawer Outlets review here.
Kitchen Faucet
Faucets are among the most hardworking kitchen fittings. Meal preparation is nearly impossible if you don't have a functioning faucet. Although having a dishwasher at home is convenient, some food residue must be removed by hand and under running water.
However, selecting the best kitchen faucet is not as simple as one may think. You must examine the type of faucet you and your family require, as well as if it is appropriate for your kitchen. There's also the issue of water use, your budget, faucet material, design, and other factors to consider.
Check out our recommendation:
This Moen 7882SRS Genta Pull-Down Kitchen Faucet may appear to be an ordinary and unremarkable faucet at first glance, but don't dismiss it. It has a traditional gooseneck style with a high arch, making it ideal for filling or washing a large pot. Its pull-down configuration is intended for precise cleaning. Do you have a greasy-cornered plastic container? Pull down the faucet and use hot water to blow the grease away. Do you have a huge pot or wok that is tough to clean with a standard faucet? Then this faucet provides a new method of cleaning them.
See our Best Kitchen Faucets review here.
Kitchen Garbage Disposal
There are numerous advantages to owning a garbage disposal device at home. When one is installed under your kitchen sink, it dramatically reduces the amount of trash your household contributes to the landfill. Clogs and leaks are also reduced, minimizing your need to hire a plumber regularly. The procedure of disposing of kitchen waste is also sped up.
If you enjoy preparing meals at home daily, consider the Waste King Knight A1SPC Garbage Disposal. This machine has a 1 HP motor that can deliver up to 2800 RPM. The machine's powerful engine and stainless steel grinder ensure that it can easily ground fruit peels, small chicken bones, stringy veggies, and other materials.
See our Best Kitchen Garbage Disposals review here.
Farmhouse Sink
It's wonderful to have a farmhouse sink in the house. This sort of sink is adaptable, allowing you to use it in both a farmhouse-inspired kitchen and a modern minimalist kitchen. Farmhouse sinks are spacious, allowing you to stack plates, glasses, and silverware if you wish to tackle them later. They also have an uncovered apron front, which gives them a more homey and classic appearance.
One excellent option for the best white apron farmhouse sink is the KOHLER Whitehaven Smart Divide Farmhouse Sink. This sink is made of porcelain-enameled cast iron and will last a long time. It is long-lasting and heat-resistant, so you can place a somewhat hot pan or baking sheet in the sink without fear of it cracking. It has an abrasion-resistant and stain-resistant glossy enamel that protects the cast iron underneath.
See our Best Farmhouse Sinks review here.
Water Filtration System
When looking for a reverse osmosis process, there are several factors to consider, including plumbing requirements, drinking water output, the number of air filtering phases, and installation requirements. The abundance of alternatives available makes selecting the best reverse osmosis system even more difficult.
Check out our top recommendation:
With the addition of the APEC Ultimate 6 Stage Reverse Osmosis Water Filter for Sink, you may drink clean, fresh water. This reverse osmosis system is incredibly simple to install beneath the sink and receives great scores for simple installation and excellent customer service. You only need to change the filters once a year to enjoy safe and pure water every day with maximum capacity filters.
See our Water Filtration Systems review here.
Homebuyers Will Pay More For These 5 Kitchen Accessories
Here's our ordering products for kitchen remodel advice: If you intend to sell your home in the future, you should plan your makeover with resale value in mind. Here are the top five kitchen items that prospective homebuyers are ready to spend more for:
Appliances made of stainless steel
Buyers are willing to pay $1,850 extra for a property with all stainless steel appliances on average. Stainless steel appliances are considered "extremely important" by 23% of individuals aged 35 to 54. However, keep in mind that stainless steel does not necessarily last the longest, is prone to stains, and requires a lot of cleaning.
Forty-eight percent of homebuyers are ready to pay an extra $1,370 for a property that includes a kitchen island. Overall, there is an intense desire for a kitchen island.
If a home has granite countertops, 55 percent of buyers are willing to pay an extra $1,620 for it. Granite contributes to the high-end, elegant appearance that customers expect from kitchens.
Future purchasers may notice if you redesign your kitchen but leave the same old appliances, and not in a positive manner. Sixty-nine percent of purchasers are willing to pay an extra $1,840 for a property with new or nearly new kitchen appliances.
Eat-in Kitchen
40% of homebuyers are ready to pay an extra $1,770 for a property with an eat-in kitchen. Kitchens that are separated from the dining and living areas are generally unattractive. After all, the kitchen is supposed to be the heart of the house.
Conclusion:
Even if you can't afford to rebuild your entire kitchen right now, you can definitely invest in a few kitchen remodel products that not only look good but can also make your cooking life a lot easier. We've compiled a list of kitchen remodel products above and some of the most inventive kitchen goods available right now, so no matter what your problem is, there's certainly something on this kitchen renovation checklist that can solve it.
Many homeowners regard learning how to renovate a kitchen as a rite of passage, as it is the most trendy remodeling job after bathrooms. When remodeling a kitchen, there are critical measures to consider, which demand careful preparation and patience. We hope this list of kitchen remodel products will help you on your project!
Other Great Articles to Read:
To view our Amazon Associates Disclaimer, please click here.