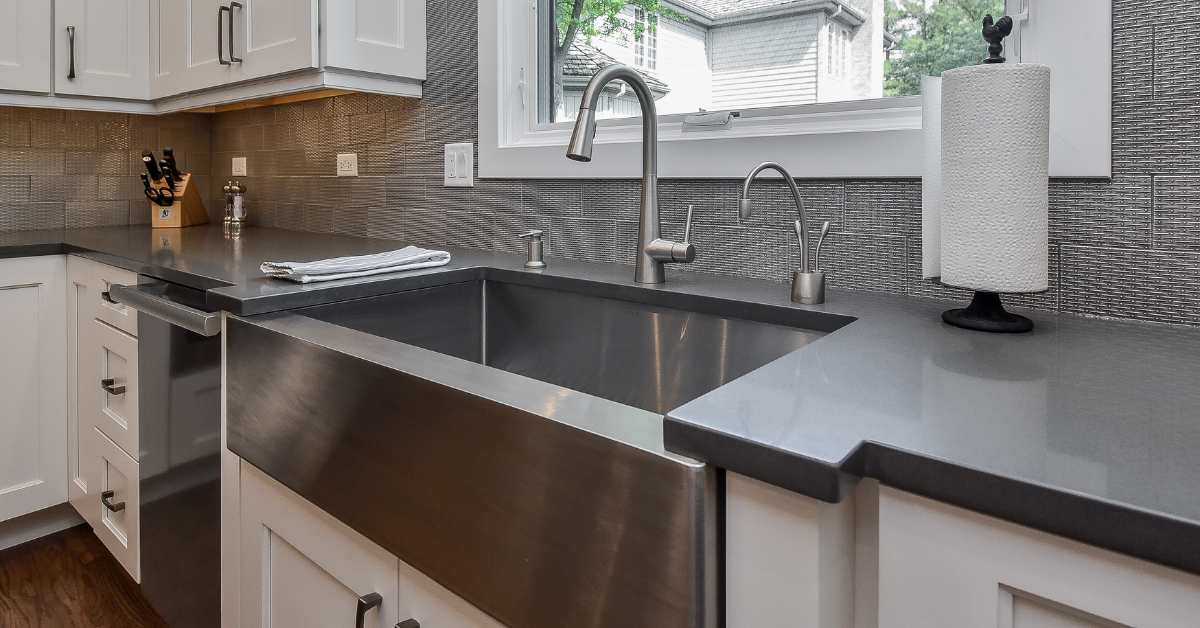 Farmhouse Sink Styles
Also called apron-front sinks, farmhouse sinks are a favorite among homeowners. While it is associated with traditional and country house decors, it has also found its place in modern and contemporary abodes. It is loved for its deep capacity, practical convenience and charming style.
If you are planning to install a farmhouse apron sink, there are several styles you can choose from depending on your needs, budget and taste. Below, we provide a rundown of the various options available in the market. We also have a guide on how to choose the right one as well as a brief primer on farmhouse sink installation.
DOUBLE & DEEP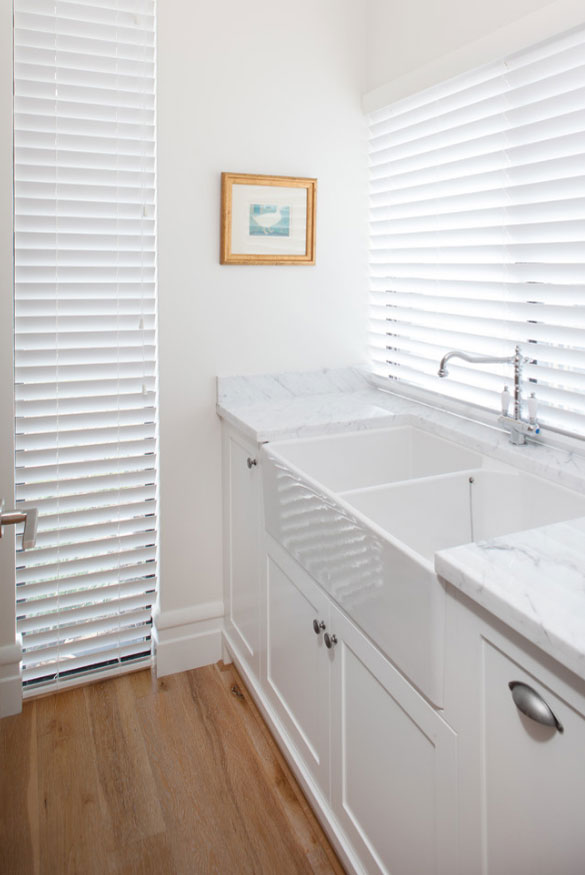 So, you're thinking of getting a new white kitchen sink for your kitchen, and you want it to seem nice and clean. Deepness is not an issue with this double Belfast Butler sink. There's no question that the bigger size could manage just about everything. Kitchen Capital WA outdid itself with this one.
COPPER CLASSIC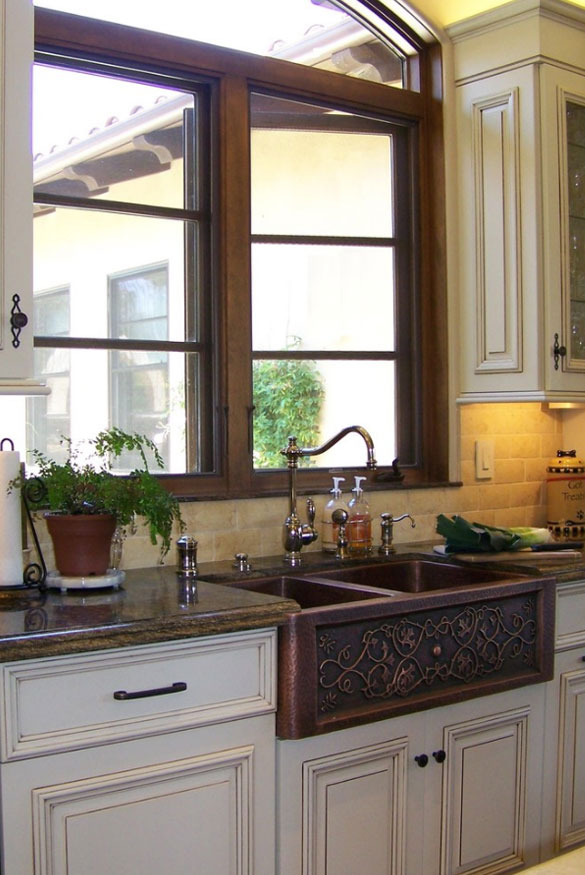 Everyone would concur that this kitchen design is very conventional and timeless. This one has a more classic appearance. This copper farmhouse sink has exquisite details. Amazing work by Design Moe Kitchen & Bath on this design.
TRADITIONAL APRON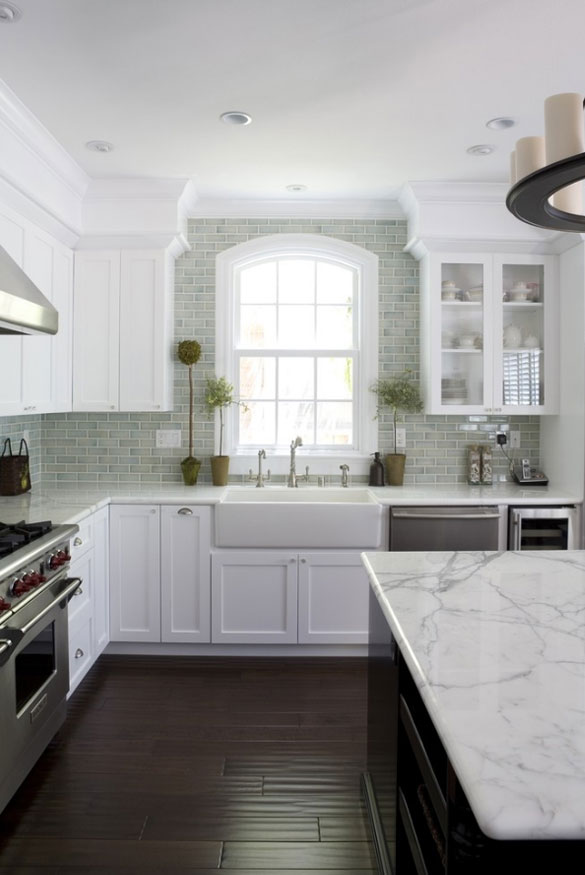 You can agree to don a conventional and elegant apron in this type of kitchen. The stark contrast of dark and light elements in this kitchen, including a sizable white farmhouse/apron sink, will be loved by everybody. Excellent work, Fiorella Design.
HONED BLACK SLATE
Beautifully warm and inviting kitchen in Portland, Maine designed by Whitten Architects. You do not see the honed black slate farmhouse-style sink and countertop every day. The Antique Heart Pine floors and warm-toned cabinets are just so comforting. Sherwin William's "Topsail" on the beadboard walls is a nice soothing color choice.
CUTE KIDS BATH
Wow, what a lovely and practical bathroom layout for your two daughters! What a sweet design for a youngster's restroom! Z+ Architects LLC did a fantastic job with the lighting and decor in this adorable bathroom.
Types of Farmhouse Sinks
Farmhouse sinks come in different materials which differ in durability, strength and look. The most common materials you will come across are:
1. Fireclay
Fireclay sinks have a certain traditional flair that can give your kitchen a unique look. It is made by firing clay and glaze together in temperatures up to 1600 degrees, creating a very hard almost iron-like material. This gives fireclay sinks a relatively high level of durability and makes it resistant against scratches.
One major problem with fireclay sinks is chipping. Considering that this is a farmhouse sink, it is likely that you will be washing heavy pots and pans in it. The bang and clutter leaves the sink vulnerable to chipping. Only consider fireclay if you don't plan on washing or placing heavy utensils in it or if you are buying a sink for your bathroom where the stress is less.
COZY CORNER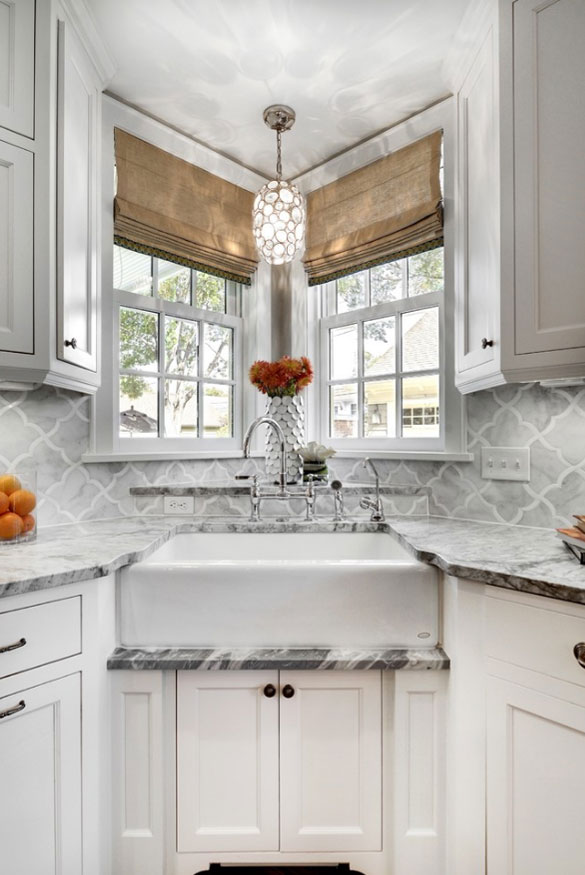 Everyone will concur that this kitchen design is extremely tasteful and makes excellent use of the available space. This design by Great Neighborhood Homes is just amazing. Everyone will adore how they concealed this sink in the kitchen's attractive nook.
WHITE ON WHITE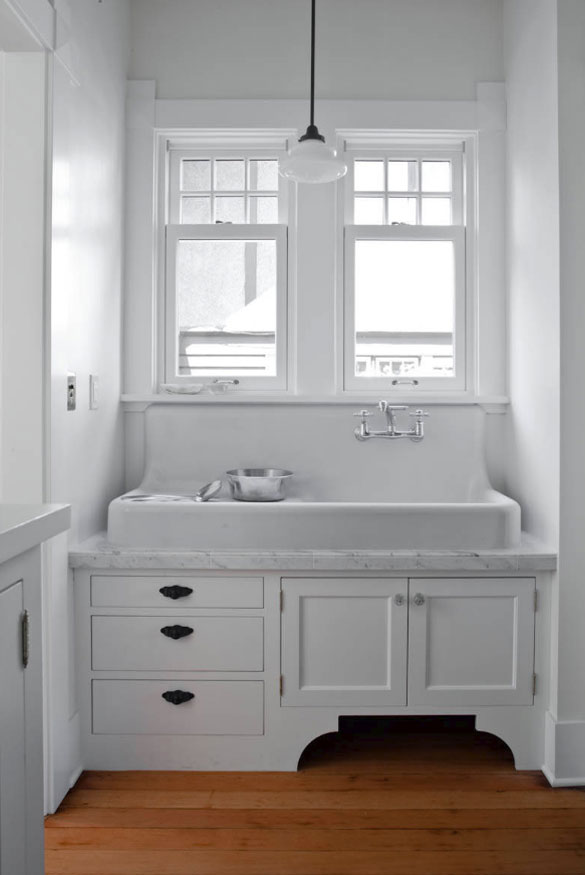 Want a distinct kitchen layout that seems both bright and white at once? There will be unanimity that this is so distinctive! Even though it resembles a bathroom sink more than a kitchen sink, Gaspar's Construction's kitchen design nonetheless looks amazing.
WARM UPSCALE
Do you want a kitchen with a clean, white, and bright design? Everything appears cozy and friendly in Sebring Design Build's bathroom and kitchen design. There are several slicks and uncluttered lines that contribute to the elegant appearance.
2. Cast iron
Cast iron is one of the most popular farmhouse sink materials. It is extremely durable and will stand up to essentially anything including the heaviest pots and pans. When shopping for cast iron farmhouse sinks, try to find enamel cast iron ones. Brands like Kohler have a wide variety of them.
Enamel cast iron sinks are coated with a layer of enamel, which protects the iron from rust, scratches and chipping. Such a sink will easily last for decades without losing its shine. If you are looking for a farmhouse sink that is practical yet stylish and will keep going for years without requiring much maintenance, go for enamel cast iron.
COLORFUL KIDS BATH
This kids' bathroom decor has such a vibrant, colorful aesthetic! The adorable lighting looks great and sweet all at once. The Phillip W Smith General Contractor, Inc. design has everything looking so vibrant and brilliant. This children's bath is really lovely!
BOATHOUSE BATHROOM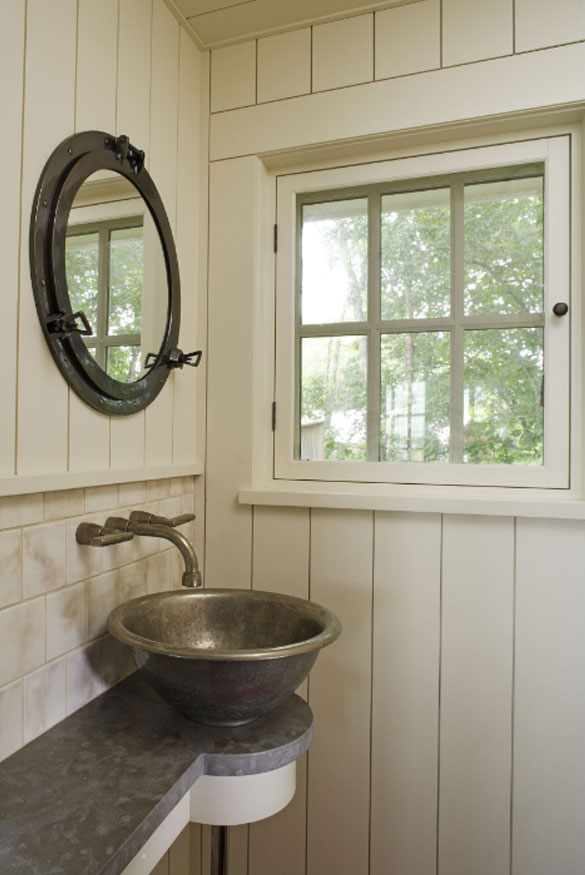 Want a conventional yet gorgeous bathroom sink that is both modern and retro simultaneously? Everything about this bathroom by LiLu Interiors seems refined and sophisticated. What a fitting appearance for a boathouse!
3. Enameled steel
Enameled steel is somewhat of an offshoot of enamel cast iron. As enamel cast iron got highly popular, cheaper versions that consisted of steel emerged. In fact, you will likely confuse one for the other. Both feel hard and look quite tough. But under normal kitchen conditions, a farmhouse stainless steel sink does not hold up very well. While it will not rust, steel is not as hard as iron and will likely chip and scratch with time. Consider enamel cast iron instead. It may be pricier, but it is worth it.
TURQUOISE WONDER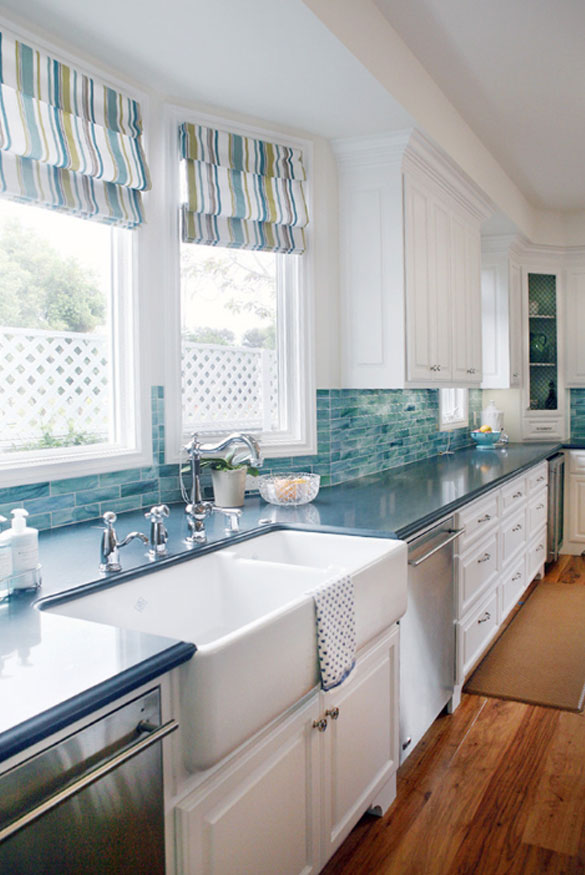 Do you desire a kitchen design that is both lovely and calming? This is such a great illustration of it. The hue is just gorgeous—aqua/turquoise! The farmhouse sink's size is ideal for gatherings with family. This design by Noelle Interiors is excellent.
TRADITIONALLY RICH
Do you want to have a traditional kitchen design that is both elegant and inviting? Everything in this classic kitchen is very beautiful. While cooking in this area, you could consider getting a drink. This kitchen from Bench Made Woodworking is really beautiful.
4. Acrylic
Acrylic is a much cheaper option for someone who wants the fireclay look but finds it too pricey. Acrylic is not the best choice when you are looking for a high-durability farmhouse sink. Too much abuse from pots and pans can cause chipping.
On the upside, acrylic sinks are very easy to clean thanks to their high-gloss finish. They also come in a much wider variety of styles and sizes, thanks to the malleable polycarbonate plastic they are made out of.
5. Copper
Copper was one of the earliest materials used in manufacturing farmhouse sinks. Though they are not as common today, there are still those who love them for their warm traditional look and elegant aging. Copper sinks are durable, do not stain easily and are naturally anti-bacterial. On the downside, a copper farmhouse sink is quite pricey and is more complicated to install, check out when the right time to add a copper sink to your kitchen.
6. Other materials
Other materials that are used in farmhouse sinks include porcelain, concrete, stone and fiberglass among others. Some sinks feature a combination of materials such as steel and stone.
Number of Bowls
Here there are two main varieties: single bowl and double bowled. Each has its pros and cons. A double bowl allows you to wash dishes in one and rinse them in the other or stack dirty dishes in one and leave the other one free for use. Proponents of the single bowl praise the large unobstructed space that allows you to clean large pots with ease.
How to Choose the Right Sink
The most important thing to consider when choosing a farmhouse sink is how it will fit in with your needs. In other words, how practical will it be? If you have heavy pans, an enamel cast iron sink is best. If you want something to fit your oversized pots, a single bowl sink is ideal.
Also consider the aesthetics. Do you want a modern or traditional look? Copper or stone sinks are best if you want a warm farmhouse feel while materials like porcelain and fiberglass carry unmistakably modern aesthetics.
Budget is also a major factor. Decide how much you are comfortable spending before you start shopping around. In the lower range you will find porcelain and acrylic farmhouse sinks. Steel sinks tend to be in the mid-range while enamel cast iron and copper sinks are a bit pricier.
Related: 10 Transitional Kitchen Elements for Those Seeking a Different Style
Installing a Farmhouse Sink
There are some sinks that you can attempt to install yourself, but generally it is highly recommended that you hire a professional contractor to do the installation for you. This will ensure that it is done right and safely. Remember that farmhouse sinks, especially metal ones such as cast iron, are heavy and could easily injure you during installation.
Farmhouse sinks can be installed in several positions. The traditional one is to have it sit slightly in front of the surrounding countertop. Another popular method is to install the sink slightly below the countertop level (under mount), making it easy to wipe water from the countertop into the sink. Alternatively, you can have the sink at the same level as the countertop (flush), letting the two seamlessly integrate. Another option is a top mount farmhouse sink, where the lip goes above the countertop level.
Even decades from now, we predict that farmhouse sinks are still going to be very much in vogue. Their classic style may be from an earlier time in history but their convenience is timeless.
This is an image roundup post, curated to showcase and promote other reputable contracting companies' and their amazing work. To have any of the images removed, please reach out to us and we would be happy to do so.
Other Great Articles to Read: