Charming and minimalist kitchen with plenty of storage space.
Minimalism may be the perfect style for your kitchen, where cleanliness, efficiency, and organization would be the holy trinity. It enables clear, clutter-free surfaces, and stylish and sleek materials—what more would you ask for? And minimalism certainly does not have to appear dull or unfinished. With the correct strategy, minimalist kitchens will nevertheless be filled with style & personality. Check out these 23 designer approved minimalist kitchen design ideas.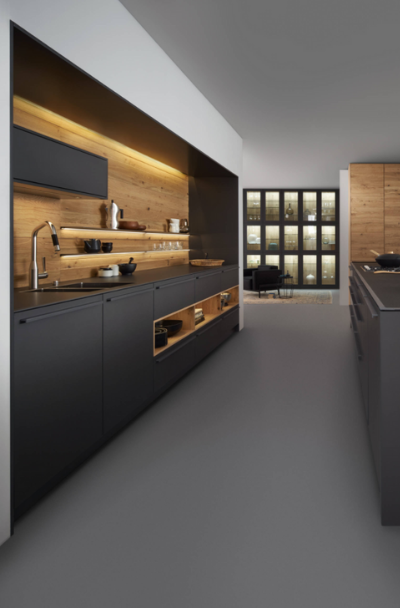 Have you ever seen a minimalistic kitchen design that looks sleek and uncomplicated? This kitchen design by Leicht Westchester-Greenwich is amazing. Stylish and functional kitchen with loads of storage space.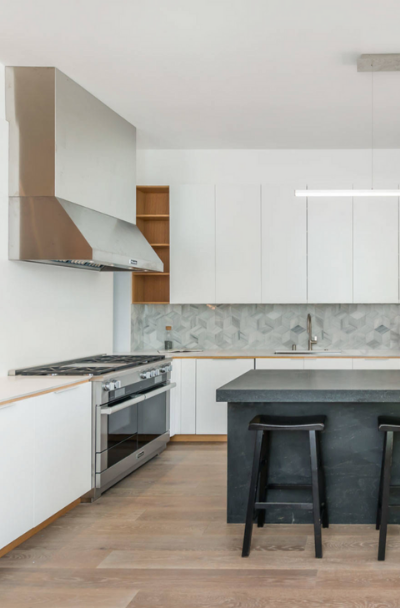 A newly renovated open kitchen with a black island and white cabinets. Everything in this kitchen design seems very cozy and welcoming. You must admit that this interior appears to be of Italian design. The kitchen design by Christopher Design is amazing.
This kitchen's layout is gorgeous and exudes a cozy, natural vibe. This kitchen has contemporary farmhouse sensibilities and features. This design by Cabinet Plant looks fantastic because of its use of gray, white, and brown hues.
SOUTH BEACH
With a white and gray color scheme, this kitchen design appears contemporary and sophisticated. This kitchen by T. Jerulle Construction, LLC is well done. A modern kitchen with a white and gray color scheme has a classic appeal.
ORGANIC MODERN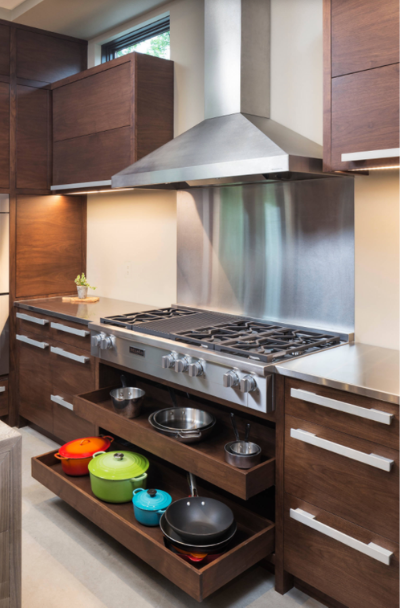 Everything appears to be both organic and contemporary in this kitchen design. Custom horizontal grain Walnut cabinets can be found in this kitchen. Despite having a fashionable design, the kitchen's materials give it a cozy feel. This kitchen by John Kraemer & Sons is fantastic.
Why Go For A Minimalist Kitchen
Paring down your cooking room has absolutely nothing to do with skimping on function or style. In reality, preparing a minimalist kitchen means various things for various people. For many, it's all about getting lots of concealed storage, so countertops are totally free of things. Other folks embrace minimalism as being a visual decor punctured by plain, flat front cabinetry and magnificent stone waterfall islands. We believe that the concept is about having an uncluttered & modest room with budget kitchen essentials. Even those preoccupied with maximalist style have their very own distinctive take on the simplified kitchen area. But don't allow other individuals' choices to confuse you. We're right here to sort out a broad range of styles that encapsulate the minimalist kitchen area.
Minimalism is not just around the number of kitchen items you have. It really is about paring down with the kitchen essentials and discovering contentment in having less. This is applicable to each aspect of your life, for instance, your closet, the things in your bedroom, as well as your home. Practicing minimalism in the kitchen area does not call for sacrificing your skill to produce extraordinary meals. In reality, having much less clutter in the room really helps make it much easier to go around and cook up something great. Simplifying right into a minimalist home usually begins with taking out the utensils and appliances you are not using and do not have. This means your home could be decluttered extremely cheaply with just a bit of time and considerate consideration.
Minimalist home decor usually gets a terrible rap, but there is a distinction between a room decorated with discipline and one that just lacks character. The real key to learning this particular style in the home is usually to experiment with structure and subtle color variations. If you put in way too many textures, substances, and surfaces of various styles, the effect will certainly be headache-inducing. At very best, minimalist kitchens are smooth, advanced, and enhanced—at worst, they are cold and appear incomplete. Discover ways to tread this good line by referencing interiors that perfect the trend. Below are the top tips we learned from the greatest.
DETAIL & TEXTURE
This kitchen is a study of contrasting textures and intricate detailing. d2 interieurs did a fantastic job with this kitchen. The floor in this kitchen is made of pale wood, and the counters and backsplash are marble with gold highlights.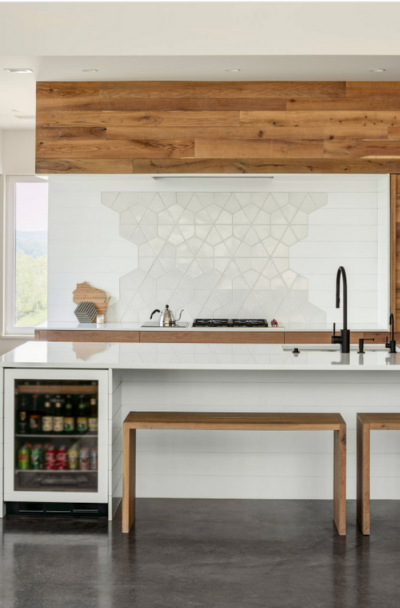 Everything looks fantastic in this sophisticated and natural-feeling polished concrete kitchen design. In this Aldo Partners kitchen design, everything looks amazing. The small refrigerator is a fun addition. You'll always need refreshments.
Tips For Keeping It Minimalist
When you do not ensure that it stays in check, your home will gather many clutter each day. Sort of like flypaper, elements find a way in and get stuck here. But for a kitchen area to operate smoothly, you cannot suffer through chock full kitchen cabinet or overflowing drawers. You want a clean kitchen area with space to breathe—enabling you to store everything you need without being forced to dig, reach, and unstack. To maintain a minimalist kitchen, you need to be very strict. First, you should not have any more dishes than you will need. In case you frequently host dinner parties, you may be a 12-place setting family. But if you have a tiny kitchen, see if you can pare down your collection into half. You should only have the dishware you have used during the last six months. Needless to say, you require whatever bowls, glasses, and plates you frequently make use of in your home. But with regards to special salad or maybe soup bowls or the mugs which came together with your dish set which you never ever, ever use, it is time to think about donation. 
Next, you should keep your kitchen storage scared. Only keep what you are using in the kitchen. That means serving other entertainment items, and platters must be saved someplace else, if possible. You should also stay away from uni-taskers. Equipment that may be utilized for just one job needs to be uncommon in your home, or you will wind up with drawers consisting mostly of kitchen items, which are mainly worthless. For example, a cherry pitter just makes good sense in case your family eats a good deal of cherries often. Part of keeping a minimalist aesthetic is cleaning regularly. A messy home invites clutter because the mess merely blends into the mess. But in case your home is thoroughly clean, something that is out of place usually sticks out. In case you experience it, you will cope with it. Have your counters clean. Do not set conditions atop your kitchen counters only since you cannot find another place. (And do not permit anybody else to get it done, either.) Find different rotating or permanent houses for mail, keys, papers, and small trinkets and toys that you do not feel like putting away. Clear countertops are the bedrock of a minimalist kitchen area.
Keep your refrigerator clean and purge it once a week. Going through everything in your refrigerator not merely keeps your fridge thoroughly clean, but additionally, it informs your food shopping, and so you simply purchase exactly what you are needing. You should not keep duplicates. The sole duplicates you are permitted to hold on to are all those using at exactly the same time, frequently. So two or more serving spoons are good, but four salad tongs are almost certainly not. A minimalist home features a pantry with no French onions, which expired three years back and seven bottles of hot sauce shoved in the nook. Have everything you want available in your house, nothing much less, nothing more. You should not keep "to-go" or disposables. The clear plastic kiddie glass from Happy Meal, the paper-wrapped wooden chopsticks, as well as the packets of soy sauce & ketchup—not one is agreeable with a minimalist kitchen area. When you do get a take-out dinner, inform the joints when you are ordering, you do not need disposables.
BEACH HOUSE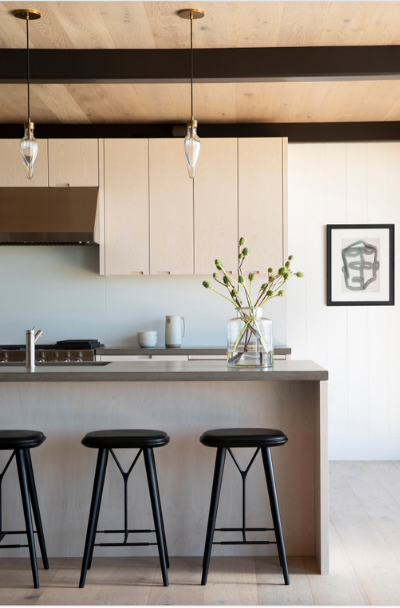 This beach home kitchen is a breath of fresh air with its all-natural decor. Although the kitchen is cramped, it always feels different because of its practical layout. Designed by Niche Interiors, this kitchen is the epitome of contemporary minimalism.
STUNNING GREY
This kitchen design is quite wonderful, with its modern and elegant aesthetic. ROSE ARCHITECTURE AND CONSTRUCTION have done an amazing job with this kitchen. White and gray are classic color combinations that will always seem fresh and contemporary.
ARTISAN APPROACH
In this kitchen design, everything seems very elegant and contemporary. In this navy kitchen design by Anne Rae Design, the blue and white color scheme looks very lovely. The patterned tiles, gold hardware, and navy blue cabinets scream a lot of personalities!
NATURAL LIGHT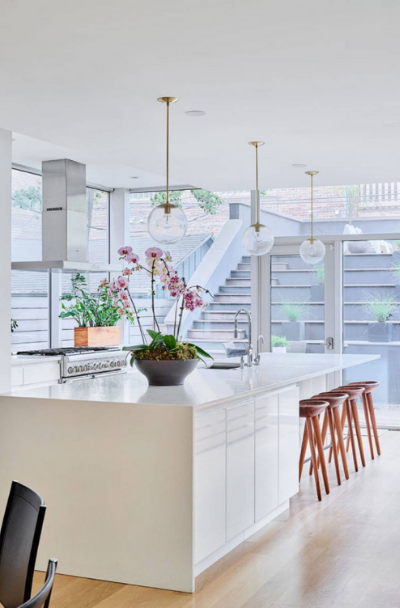 Everything in this kitchen design, which works nicely with natural light, appears bright and natural. This Hufft kitchen design has such a cozy feel about it. The all-white paint and exquisite lighting make this kitchen appear luminous and enchanting.
COUNTRYSIDE
Need an attractive kitchen layout for your rural home? This all-natural kitchen by Cornerstone Architects is a breath of fresh air. The design and execution of this contemporary kitchen are both sleek and polished.
What Is A True Minimalist Kitchen
As the title indicates, minimalist kitchens are about scaling things again and carrying out more often, with much less. Whether through using wood, cement, or granite, minimalist kitchens are identified by smooth practical lines, frameless cabinetry, integrated appliances, and also the unexpected pop of color. As the earth begins moving far from extra, you may have considered going minimal with your new home. A kitchen area filled with essentials—everything required and also nothing more. But how can you start deciding what this particular kitchen would look like? This post may be an excellent starting place. It seems there are lots of views about what constitutes a true minimalist kitchen.
For much more clarity on the issue, we have to obtain a "feel" for minimalism, rather than to principle. To do that, it is time to search through the images where we present 23 minimalist kitchens. Let these pictures motivate you to remove the unnecessary in your space and embrace the necessities in life. When you would like a minimalist cooking area, you should declutter. This is particularly true the smaller sized your home is. Small kitchens simply do not possess the room to keep extras; therefore, you have to simplify it to items you use often. 
Once you have decluttered, you will discover that your small kitchen area has much more room than you originally thought! Then, you are able to organize what is left. When you do not, everything you have will simply wind up cluttering the countertop. Be sure to maintain these minimalist kitchen tips in mind that will help you manage your home.
KITCHEN + BAR
Nothing is more contemporary than a kitchen with great wood accents and a white and gray color scheme. The kitchen design by Drewett Works is simply amazing. A home bar and dine-in area on the opposite side of an open kitchen design.
2-TONE
Everything in this brown and white kitchen decor seems very calming and inviting. This kitchen design by Kitchen Design Concepts is excellent. Traditional and modern elements were successfully blended and combined by the designer.
Practical Ways To Keep A Minimalist Kitchen
Look for storage for your must have kitchen items. This is the most crucial tip for a minimalist kitchen area. You will have to ensure all items have a permanent home to keep when you are not using it. You will have significantly more storage space now that you decluttered, so that causes it to be less difficult to reorganize your kitchen area. Attempt to locate the very best locations for where things ought to go, making certain to optimize each nook and crannies.
Remember, everything needs to have someplace to go back to! The counter itself doesn't count as a place. Put everything away as soon as possible. If all things have a house, you understand where things ought to go back to. When you have a product, placed it out immediately! It only takes three seconds to place anything away, but it is very easy to keep scissors, a can opener, and trash away over the countertop for days. Small kitchen counter space becomes used up fast. Since all things have a house, you know where you can put items out—no more "not keeping space," so it merely sits on the countertop forever.
Dedicate a cupboard for cookware. Set your appliances and cookware into one location & your dishes in another. This may include pots, toaster, slow cooker, pans, or maybe any cooking supplies you use when preparing meals.
If you run out of storage space in these places, this will be an indication that you have begun to collect an excessive amount of it, and it is time to reevaluate what you possess to find out if you really want it. Lastly, dedicate small areas for decor. Minimalism does not suggest you have a boring kitchen! Have something hanging on a candle or the wall over the dining table. It does not have to be extreme. Candles on the dining table will give you dim lighting for an easy ambiance. Be creative and follow these guidelines, and we're sure that you will rock a modern minimalist kitchen in no time! Make sure to check and save your favorites from our gallery of 23 minimalist style kitchen design ideas. We hope you'd love them as much as we do and find inspiration & ideas for your next remodeling. Don't hesitate to reach out to Sebring Design Build if you have any questions or comments. Let us know how your project goes!
This is an image roundup post, curated to showcase and promote other reputable contracting companies' and their amazing work.  To have any of the images removed, please reach out to us and we would be happy to do so.
Other Great Articles to Read: