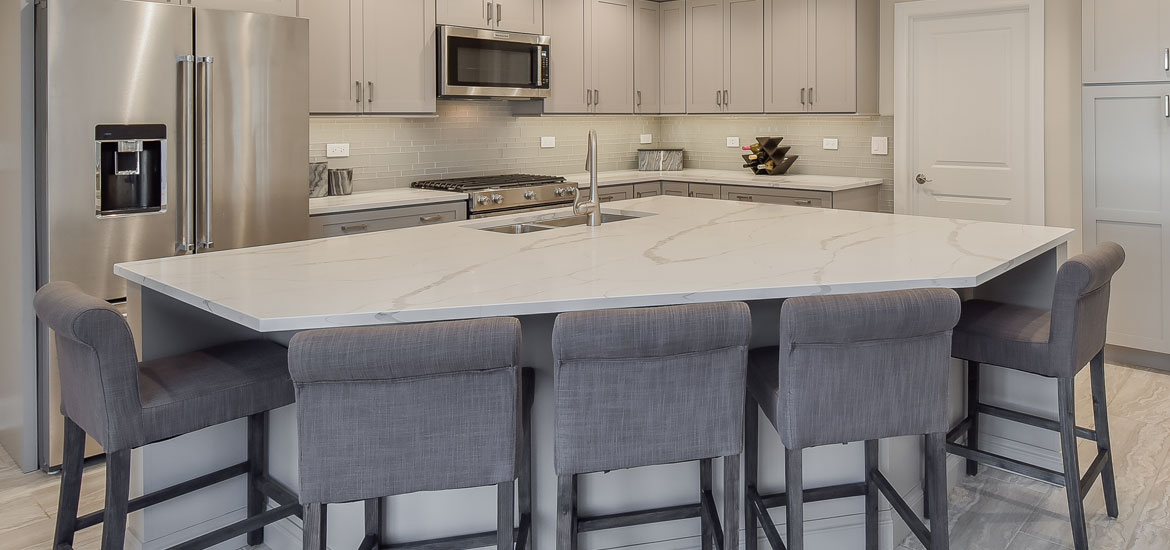 Your kitchen island is one of the main focal points of the entire room, serving as both a functional and a decorative piece.  There are so many kitchen island decor ideas to consider.  You can achieve a variety of styles and designs with your island, depending on your preferences as well as the available room in your kitchen.
Kitchen Island Decor Ideas
This roundup of the various kitchen island colors and styles will help you gain a sense of the rising trends in kitchen remodeling. This year is filled with a combination of new and old loves, and it's an exciting time to invest in a creative and unique kitchen island. Whether you're interested in something contemporary and on the edge, or you want to keep things classic with a traditional design, you will find a variety of ways to apply kitchen island colors to complete the perfect design for your kitchen.
Take a look at these exciting kitchen island decor ideas:
Make your island functional by making it a dining table.
Black Kitchen Island
Black is always stylish, and it almost never goes out of fashion. You can create a cool and calm space with a black island, as black invites depth and boldness to an otherwise neutral-toned space. Whether you have a black base with an alternatively-colored countertop or vice versa, you can rely on black islands to stay in style for years and years to come.
Black Kitchen Island with Seating
A black kitchen island is truly classy, and will always top the trending items charts. You can take your black island space one step further by adding available seating options. Having white, black, or wooden stools resting against your black island can open the space up to better functionality. Plus, it adds dimension and the possibility for more seating areas for your family and friends.
BLACK & BROWN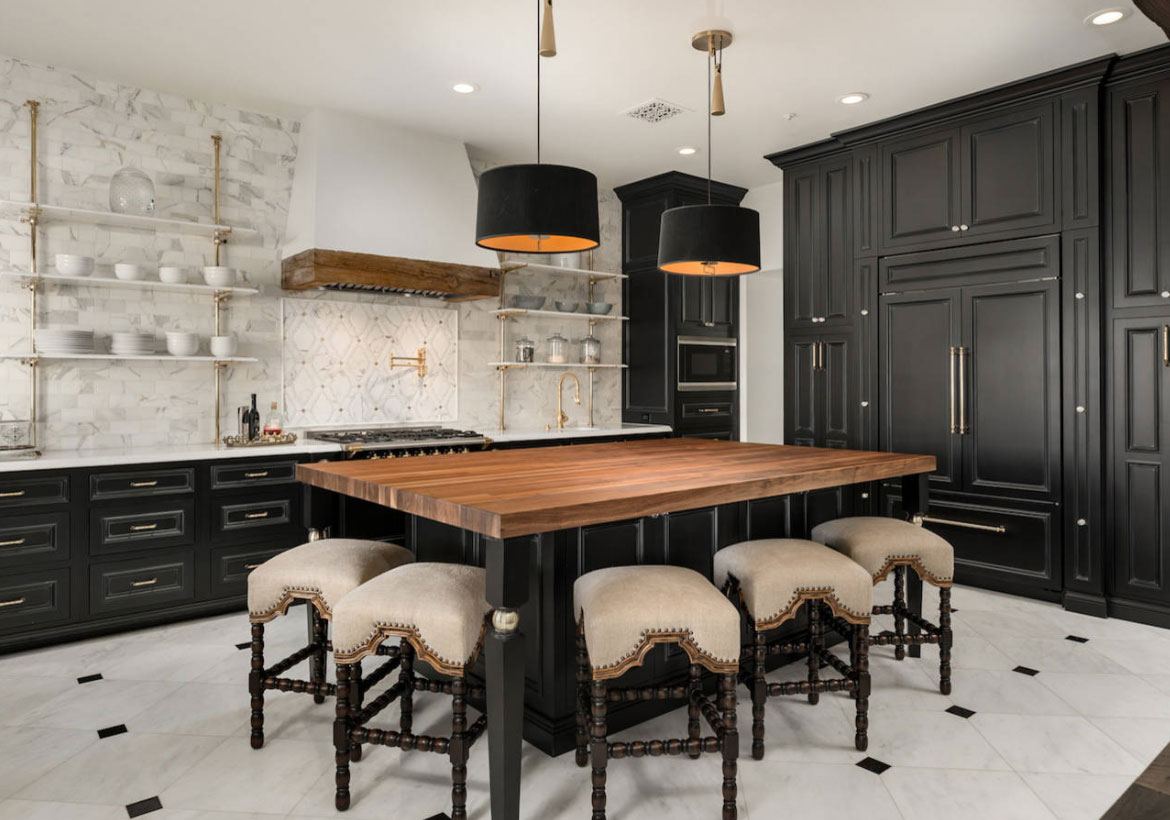 This kitchen's design is so sleek and sophisticated that it makes even the cheapest appliances appear like a steal. A unanimous vote of approval is expected for the wooden countertop. Wow, have you seen Fratantoni Luxury Estates' brown and black kitchen? This is the one!
CHERRY ISLAND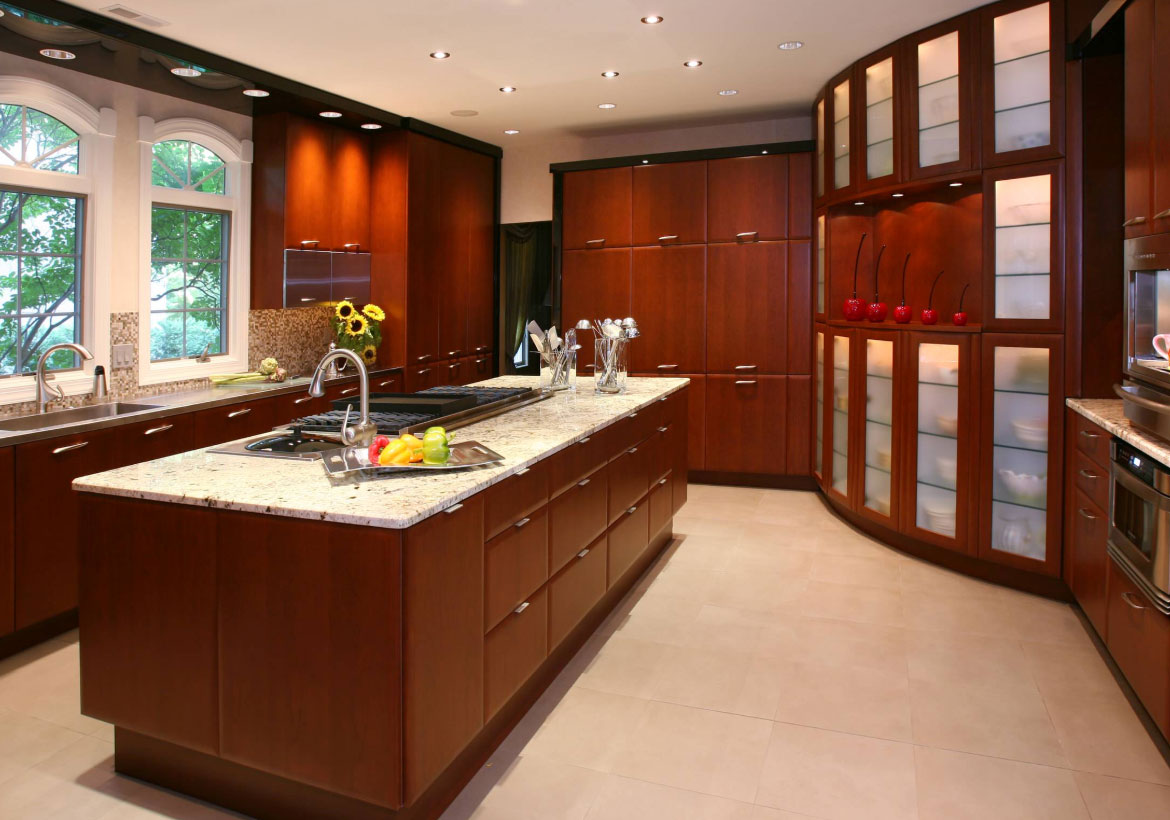 This kitchen features a cutting-edge wooden design that makes everything appear ultra-contemporary. This sleek and modern kitchen layout has plenty of convenient storage space. The giant glass cherries are a delightful flourish. Colmar Kitchen Studio did a fantastic job with this kitchen.
LIGHT CHERRY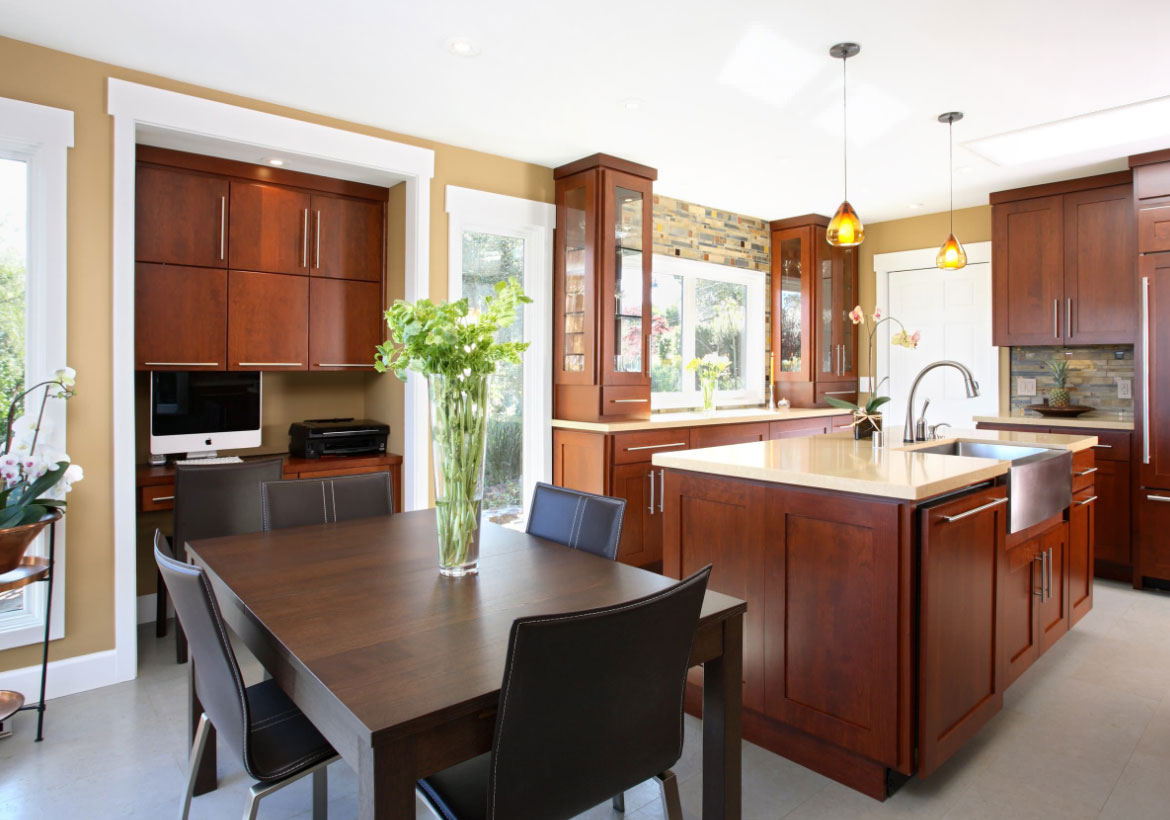 This kitchen layout is full of light and beauty. The cherry kitchen island and cabinets aren't massive, yet everything seems right for the task. The workspace is also quite pleasant. Precision Cabinets outdid itself with this kitchen.
Espresso Kitchen Island
A dark and richly red-colored brown, espresso is a great choice for those who enjoy a modern and sophisticated look. Having an espresso-colored island in your kitchen can not only invite a lot of positive conversation but a variety of bold and contrasting colors to your space as well. Plus, you'll be able to enjoy looking at it while you drink your similarly-colored coffee in the morning!
Cherry Kitchen Island
Cherry is a popular and traditional color that can bring your kitchen back to simpler, more traditional times. This is a highly sought-after wood that invites a sense of fullness and robustness to your kitchen. It is great if you have additional wooden pieces in your kitchen, as it can help to bring the colors together.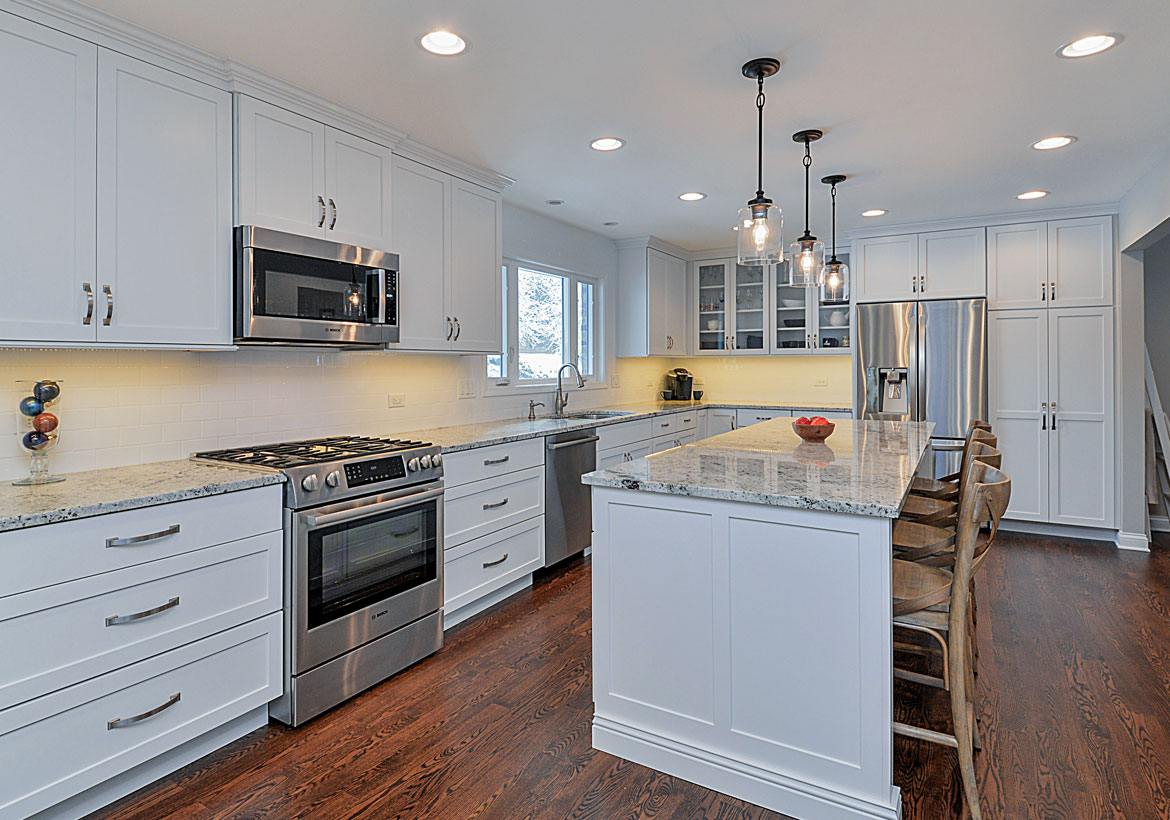 Keep it simple and sleek with white cabinets and a granite top.
White Kitchen Island with a Granite Top
Nothing says classy like a combination of dark and light. A white kitchen island with a gorgeous and cool granite top can speak volumes about the value and sophistication of your kitchen. Adding some darkly-colored handles to the cabinets below can accent the island and pay tribute to the granite slab on top. This is a great way to combine elegance and tradition by contrasting colors, without having to be too vibrant in your classy kitchen.
White Kitchen with a Dark Island
A great style choice for a transitional kitchen, white cabinetry with a dark island is a bold and tasteful addition to a kitchen of any size. This gives the illusion of an expanded space, with the cabinetry expanding the walls and opening up to invite plenty of room to move around. The dark island will be an inviting focal point, especially with some light fixtures situated above it. Your family will always gather around the island as the dark colors make it a natural space to stand around and enjoy the kitchen view.
White Kitchen with a Gray Island
If you are invested in your beautiful white cabinetry, you don't necessarily have to have a white island to match. Adding a darker neutral tone such as gray can give depth where there previously was none at all. Plus, you can enjoy the sense of cool and calm that a gray space can give.
Beadboard Kitchen Island
Beadboard is a highly textured design featuring thin vertical panels that decorate the base of your island. This is typically a popular design for contemporary or beach-style homes, and it can add a lot of depth to your kitchen. If you feel your room is too solid and smooth, you can satisfy the need for texture by adding a black, white, or natural-toned beadboard kitchen island.
Shiplap Kitchen Island
Similar to beadboard, shiplap is traditionally a type of kitchen island made from pieces of wood reclaimed and stripped from old wooden structures. You can achieve a shiplap island in a variety of ways, but typically in a modern island, you will want to apply the strips vertically with a paneled border. You can use any color for your shiplap wood, with neutral or style-matching tones being the preference.
Distressed Kitchen Island
Distressed wood gives the appearance of a vintage, rustic piece. You can make your island look like a part of history by painting it in a distressed style. You can apply this style to the base, the top, or both, in order to bring some cottage charm to your home. The beauty of distressed wood is that it matches well with anything – you don't have to worry about distressing the rest of your kitchen just to match it. It stands up well on its own!
Reclaimed Wood Kitchen Island
Reclaimed materials are highly sought after in the current market, and you can create a unique look by building an island out of reclaimed wood. While the prices of such materials may vary, it's a great way to add a sense of character to your kitchen. It's also a great way to marry the different colors and styles by adding a natural material that has so much value on its own.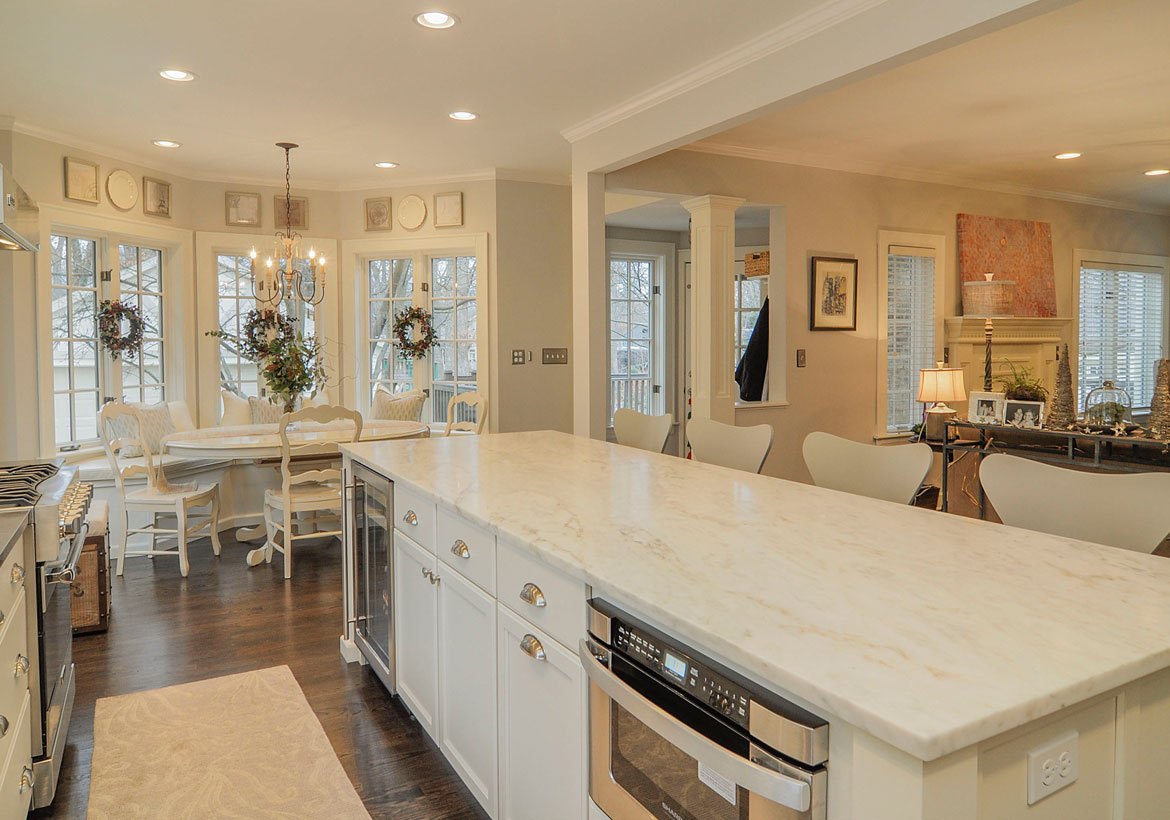 Off-white colors and wood touches make for a classic kitchen.
Farmhouse Kitchen Island
If you love the utilitarian farmhouse vibe, you'll love experimenting with a farmhouse kitchen island. Some examples of farmhouse islands are those built on wheels, so they act as portable carts that you can take with you while you prepare items around the kitchen.  Farmhouse islands look great with rustic colors, reclaimed wooden basis, or even restructured cabinets. Remember that farmers love to make the most out of a small space – so the more cabinets, the better!
Industrial Kitchen Island
An industrial island is one that not only incorporates the style but the functionality of an industrial piece as well. These islands are often made from repurposed metal, wood, and other sturdy products for a piece that looks like it can stand the test of time.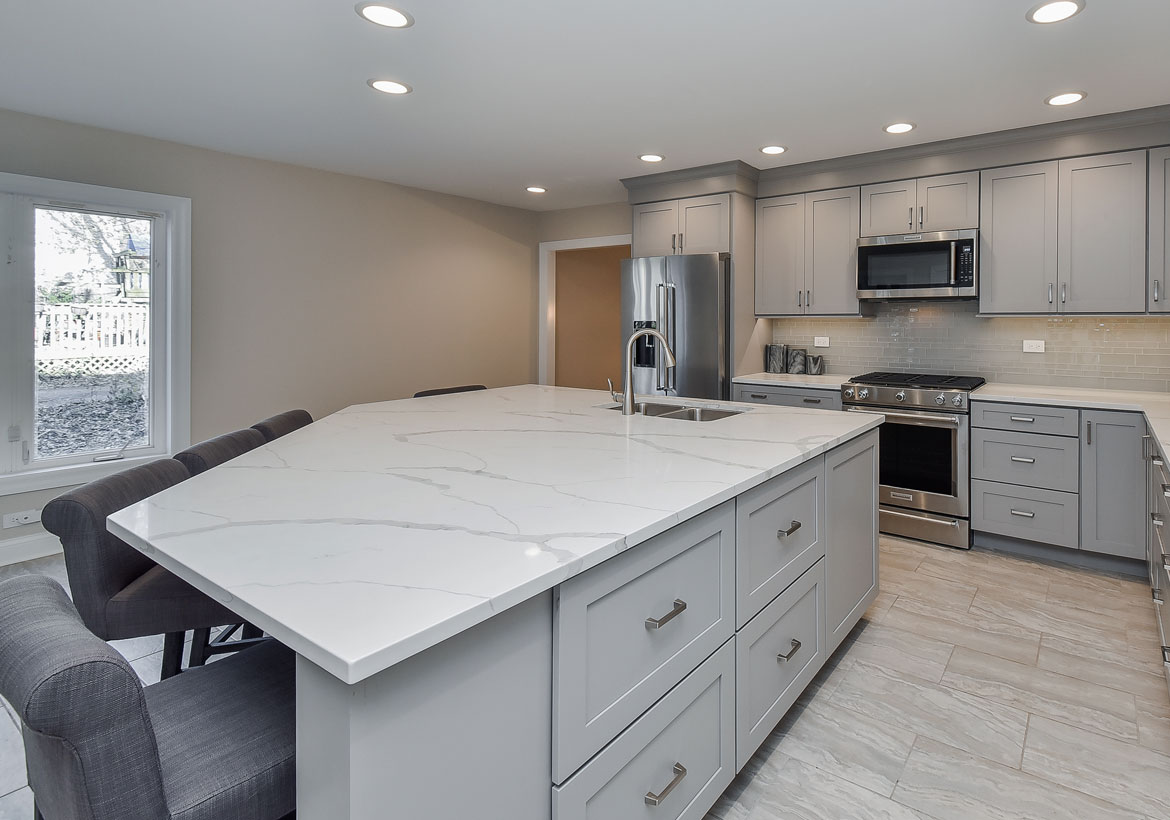 This angled kitchen island is spacious enough to eat and drink and even wash small dishes with the sink!
Angled Kitchen Island
What exactly is an angled kitchen island? This is an island that doesn't fit the traditional rectangle shape, but instead adds something unique and dynamic to your otherwise geometrically-symmetrical kitchen. Many angled islands include pointed triangular shapes, or hexagonal shapes to accommodate many seats around it. Often, angled kitchen islands double as seating areas or even makeshift bars, where stoves or grills can be installed on top. It adds a creative seating space that doesn't take away from the enjoyment of the entire kitchen.
Two-Level Kitchen Island
Take your island to the next level – literally! Having a kitchen island that works on two levels is a great way to add more function to your decorative space. A two-level kitchen island includes two countertops at two different levels. Often, the lower level can serve as a stool seating area, while the higher level can be installed with sinks or just used as a general workspace. Try incorporating granite or other natural tones to a two-level island to maximize the space and make the kitchen feel wide open.
Double Island Kitchen
If you have the space for it, then you may be able to benefit from a double kitchen island. This is largely sophisticated, and a great way to add double the amount of functionality to your dynamic space. A double island kitchen is one that is not only elegant, but busy. If you love to cook, and you have the space and the family size for it, this is an ideal option for you.
For elegance and sophistication, choose a blue kitchen island.
Gray Kitchen Island
Gray is a unique color that many homeowners love to play around with. While it comes in a variety of hues and tones, it always acts as a timeless incorporation to any kitchen, no matter how colorful or neutral. A dark gray island with a bright wooden top or a light gray island with a dark granite top adds a lot of character to the space.
Blue Kitchen Island
We take our first step away from natural and earthy tones and invite the idea of a blue kitchen island into the home. There are a variety of blue hues that can add deep levels of contrast and shifting attention throughout the space. Navy blue is one of the most popular choices, while lighter blue hues can match well with other white or pastel colors you may have decorated your kitchen with. This is a great way to make your island pop with color and stand out as a truly respectable piece.
Red Kitchen Island
While it's important not to go too overboard with a bold primary color, there's a lot that can be achieved with a little bit of red. Having bright red kitchen island cabinets can make the entire kitchen pop. You can add red accents here and there throughout the kitchen to add a vibrant and inviting look. Red will make your guests' mouths water, and they'll be more tempted to spend time in your cheerful and bold kitchen!
Kitchen Island Colors – The "Other" Colors
Now here are just a few more sensational examples of other kitchen islands to consider.
Make your island stand out by having a built-in range, oven, and sink.
Unique Kitchen Islands
Here are just a few unique kitchen islands that we came across that we wanted to share.
Sebring Design Build's Kitchen Island Decor Ideas
The Kitchen Island Decor Ideas are Endless
With the great kitchen island colors and styles ideas listed above, it is clear that there are an endless amount of ways to build a kitchen island. Some homeowners prefer to keep it traditional with a classic, rectangular-shaped island, built with a wooden base and a dark granite countertop. Others love to break the boundaries of geometry with angled islands, equipped with seating arrangements to add space and function for beloved family and guests. No matter what you choose to employ with your island, no that there is a wide range of colors, materials, and styles at your disposal.
This is an image roundup post, curated to showcase and promote other reputable contracting companies' and their amazing work.  To have any of the images removed, please reach out to us and we would be happy to do so.
Other Great Articles to Read: