You want to remodel your kitchen, but you only have enough saved to renew your countertops. After much contemplation, you've narrowed it down to either granite or quartz countertops. But you're having trouble deciding which one you really want and need. There are plenty of delusions and assumptions floating around out there about granite and quartz. This blog will tell you exactly what you can expect and sort out the pros and cons of quartz vs. granite countertops.
QUARTZ COUNTERTOPS PROS AND CONS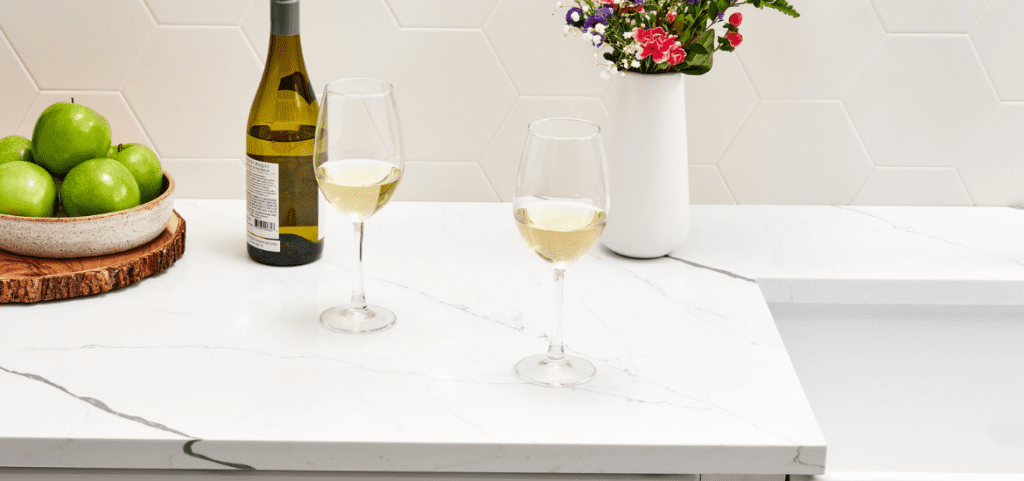 Quartz Pros
Quartz is a mineral and one of the most abundant on our planet.
These countertops are human-made.
Quartz has a wide variety of colors and patterns that show up are 100% synthetic.
Quartz countertops are made up of crushed quartz mixed with resin in a ratio of 93% quartz material to 7% resin binder and color additives.
They are manufactured in a variety of different patterns and colors. This gives you alot more options for both monotone textures or colors that have more variation.
Quartz may look like they're straight from Mother Nature—and that's the idea—yet, quartz is actually crushed and customarily blended with resin or some other kind of binding agent. The finished stone appears to be rich.
Many people are encouraged by the fact that quartz countertops don't require any maintenance. One of the biggest benefits that quartz has is it doesn't need to be sealed and it's stainless. Quartz countertops can handle oil, tomato, wine, coffee, juice and many other stainable products. Plus, quartz doesn't hold viruses or bacteria so you know that your countertops will be clean when you wipe it down.
It may be hard to believe, but quartz is heftier than granite—and that's saying a lot! When you're looking at which one chips easier, quartz is a bit more flexible so it's the stronger of the two.
Related: Silestone Countertops: The Pros & Cons.
Quartz Cons
Like granite, quartz seams are still obvious. If you select darker quartz for your countertops it's a good possibility that the seams won't show at all which gives you a great contemporary, clean look. If the chosen quartz has many patterns or colors, it could be a bit trickier to hide the seams.
Quartz has less natural beauty compared to granite. Many of the quartz manufacturers are trying desperately to come up with colors that look more like the natural look of granite, but many fail miserably. Right now Cambria, does the best job at looking like natural stone.
But how expensive is a quartz countertop? Compared to granite, quartz is generally going to cost you a bit more because it's man-made and the price in controlled by the manufacturer (as opposed to buying raw material). Typically, quartz will cost you about $70-$100 per square foot. If you are looking for Helpful Tips to Budgeting Your Kitchen check out our blog post.
Moen Brantford Pulldown Faucet
Elkey Undermount Kitchen Sink
Moen Soap & Lotion Dispenser
---
GRANITE COUNTERTOPS PROS & CONS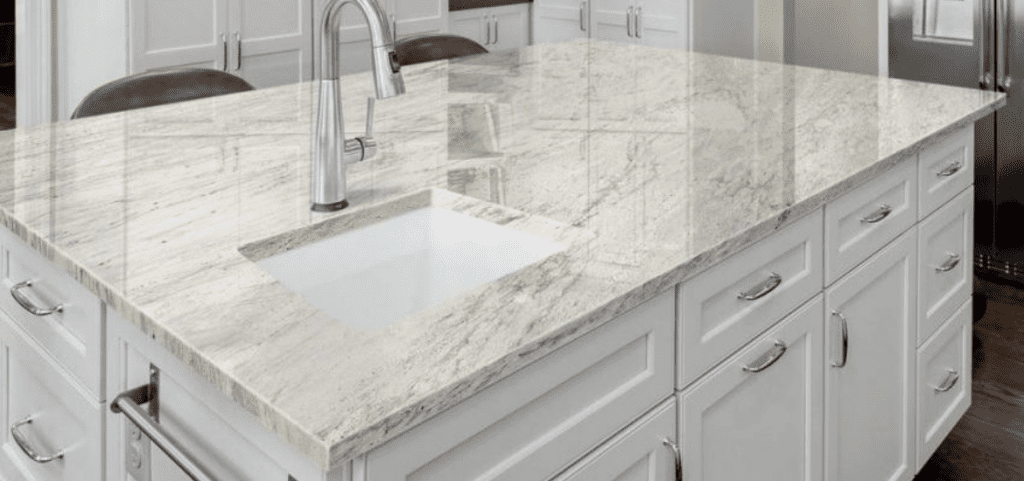 Granite Pros
Each slab of granite is totally unique. Why? Granite is mined as single, large slabs that are 100% natural stone and no two sheets are alike.
Some colors of Granite can come in jumbo slab sizes for use on large island cabinetry. This is a benefit because you don't need to put an unsightly seam in the center of your kitchen. If you have a large island or spacious kitchen, granite may be the answer to avoid seams.
There are hundreds of shades/colors of granite slabs to choose from and they're beautiful and impressive to look at; many people consider the imperfections to be what makes granite so distinctive. Take a look at our remodeling ideas page for more inspiration. It can even become the focal point of your kitchen which will blend well with your floor, walls, and cabinets.
In general, granite stands up to normal use quite well although it can dull your knife blades (although we never recommend using granite countertops as a cutting board).
Granite can be used outdoors. Because it a natural mineral granite is built to withstand the elements. It won't weather or fade because of exposure to the sun.
When granite is correctly sealed by a professional, your granite countertops won't soak up liquids and is stain-resistant.
Granite has a wide range of pricing. While your most inexpensive, low-end granite will run you about $55 per square foot, you must be careful of hidden fees. However, if you're considering exotic, high-quality granite, you could shell out as much as $150 per square foot!
Related: Cambria Quartz Pros & Cons
Granite Cons
If you're going to replace a large countertop, you'll need a few different slabs to finish the job and it'll be impossible to make the joining seams invisible. A professional will be able to make inconspicuous cuts and make the seam color correspond to the granite; yet, if you're searching for the seams, they'll be very evident.
Granite, by nature, is absorbent. If your granite countertops aren't properly sealed or left unsealed, it could end up absorbing oil, wine and juice which will create a stain that you won't get rid of. In addition, improperly sealed granite will hold bacteria. You should plan to reseal your granite countertops once a year; if you don't the countertops will quickly begin to show evidence of staining. Check out a blog we wrote about taking proper care of your granite countertops.
Granite countertops are tough and long-lasting but, while it's uncommon, if a heavy item like a frying pan is dropped on the countertop's corner the granite could chip or crack.
Granite tends to have a lot of variation in the tone and texture. Depending on your taste, you may not like this variation. In the past five years, monotone colors have become more popular which limits the use of granite in contemporary kitchens.
Take Proper Care Of Your Granite Countertops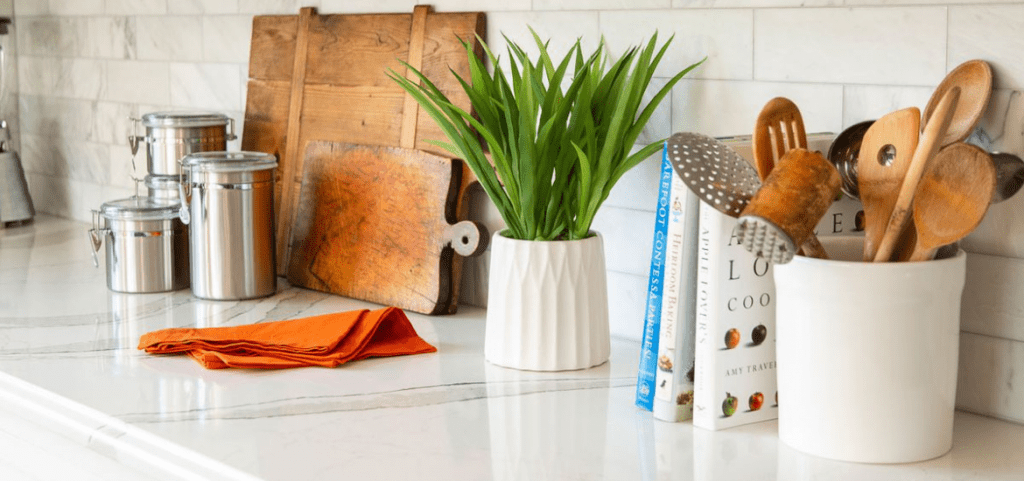 The beloved American poet, Robert Frost, certainly was on to something when he penned his famous poem "Nothing Gold Can Stay" about the fleeting nature of all things. When it comes to home improvements, some present a more lasting impression than others. If you are considering upgrading to granite countertops for your kitchen, wet-bar, or bathroom, you will be delighted in the durability of your investment. Granite is beautiful, extremely durable, heat-resistant, adds elegance to any space, and will delight the cooks in your kitchen for years to come.
Daily Care
Granite countertops can be easily maintained by cleaning them daily with a damp cloth or a granite cleaner. A damp cloth can remove any dust, crumbs, or powders that may accumulate during the course of your day. Depending on the color and make-up of your granite, dust, crumbs, and powders may blend in well enough so that unless you are looking for these tiny specks of debris, you won't even notice them.
If your granite surface is to be used for food preparation, such as in a kitchen, a daily disinfecting may be needed. As granite naturally forms in the earth, minuscule pores and crevices form. These tiny spaces are usually invisible to the naked eye, and cannot be felt. Your granite countertops appear to be an extremely smooth surface. However, bacteria and germs can make themselves at home in these tiny fissures. If the thought of these tiny microbes lurking in the surface of your countertops bothers you, fear not! To disinfect kitchen countertops, simply clean with hot soapy water. Again, depending on the color and make-up of your particular granite, you may notice a residual film left behind by the soap, which is easily wiped up with a clean, damp cloth.
Granite countertops in the bathroom can be cleaned in the same way. Residual smudges, streaks, fingerprints, grime, stray hairs, soap build-up and toothpaste smears can be wiped away with hot, soapy water. Acidic cleaners can potentially bleach or stain granite, so we recommend using a soap with a neutral ph, such as a mild dish soap.
Quarterly To Annual Care
Although granite is generally stain resistant, it is not totally impermeable to liquid. Water spilled on granite may soak into its surface if not cleaned up promptly. This water "stain" will disappear as the water dries. If an oil based liquid is spilled on the granite, it may leave a temporary stain which can be removed using a special paste that will draw the oil out of the stone. To prevent spilled liquids of all types from marring beautiful granite surfaces, we recommend properly sealing your stone. The amount of time between sealing will depend on the color, nature, and use of your counter tops. If you cook in your kitchen on a daily basis, regularly entertain at your wet bar, or if traffic in your bathroom is especially heavy, more frequent sealing is recommended. Sealer kits can be purchased at most home improvement stores and are easily applied. Most over-the-counter sealers will need to be given time to cure for proper performance.
Some homeowners seek professional assistance from a licensed contractor who has access to higher grade commercial sealing products. These commercial sealers often come with warranties of up to 15 years.
Those who decide to upgrade to granite countertops will want to protect their investment by keeping their new surfaces looking timeless. Is your home ready for an upgrade that will endure? Robert Frost is essentially correct in his assessment in the fleeting nature of all things around us, which is why it is important to invest in things that have longevity and will contribute to the beauty of the space in which you dwell.
When It Comes To Cost: Quartz Vs. Granite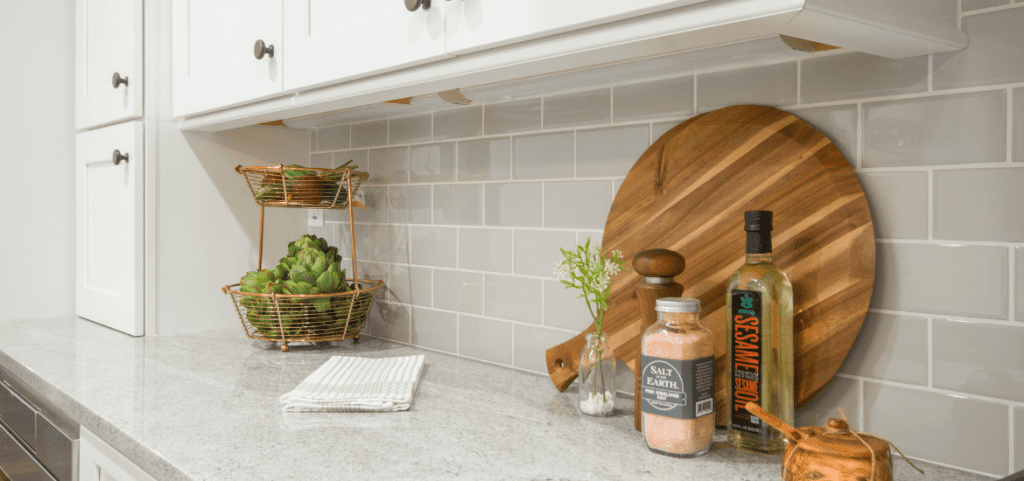 Granite is less expensive than quartz. The cost of entry-level granite is $40 per square foot, whereas quartz begins at $70. High-end granite can cost up to $200 per square foot, while quartz can cost up to $175.
There is no doubt that you'll have to delve deep into your wallet for either product. You should budget between $2,000 and $3,000 for a 28-foot-square quartz counter. Here are some additional details to help you receive a more accurate estimate.
In most circumstances, you'll pay less for granite. Prices can vary based on where the stone comes from and how uncommon it is.
Fortunately, the cost of granite countertops has decreased dramatically. Previously, granite was slightly more expensive than quartz. However, because quartz has been directly competing with granite for the last 15 years, the price of granite has declined while quartz manufacturers' costs have increased.
Overall, you may have to pay somewhat more for quartz, but the difference is unlikely to be huge unless you have a big kitchen. The most important thing is to set a budget and then try your best to stick to it.
When it comes to appearances
This is co a matter of personal preference. Don't allow anyone to tell you which one is more attractive. Quartz is made by some very attractive companies, including Caesarstone and Cambria.
If you are staring at a painting and totally adore it, and then someone comes along and tells you how horrible it is, you will still adore the painting despite the negative criticism. The same can be said about quartz and granite.
They both make wonderful countertops, and one will pique your interest more than the other. It's just human nature, and you'll have to select which you prefer.
Some people prefer the look of granite over quartz because it has a more natural, earthy appearance. Others appreciate the sleek, homogeneous appearance of quartz. The great news is that you can never go wrong with any one!
Why does quartz appear to be more popular than granite?
Granite looks like it has already gone mainstream. It was the popular material to replace laminate counters in the 1990s, and it lasted that way for at least 20 years.
However, designers, real estate agents, and especially home renovation television shows needed a hot new product to expose us to, and quartz was poised to take granite's position as the "it" countertop. Even though quartz has surpassed granite in overall popularity, granite remains the best-selling natural counter on the market. However, now that the costs of Silestone and other quartz manufacturers have risen above those of granite, things are beginning to even out.
Your home's indoor air quality
Concerns have been raised concerning the volatile organic compounds (VOCs) that may be present in quartz or granite countertops. Quartz countertops are made up of roughly 90% quartz and 10% epoxy binder (resin), and acrylic. This means that most quartz countertops have more VOCs than granite countertops. On the other hand, some granite slabs have low levels of radon. However, both alternatives are suitable for indoor use.
Increasing the value of your home
The addition of a stone countertop to your home will undoubtedly boost its value. While many upgrades will not increase the value of your property, a lovely stone countertop will have an influence on the bottom line. When you resell your property, you can expect to recoup the cost of your purchase, and adding a new counter can also help your home sell faster.
It's challenging to comprehend how much of a difference a quartz or granite countertop can make when selling a home. Some prospective house buyers are put off by laminate because they do not want to deal with the hassle of replacing it.
Granite and quartz countertops attract home purchasers like bees to flower gardens.
The effect on the environment
When upgrading their houses, today's consumers strive to make the most environmentally friendly decisions possible. In terms of countertops, quartz materials have a lower carbon footprint.
Many of these products incorporate recycled content, and the production process is more environmentally friendly. Granite must be extracted from the ground and transported around the world to the manufacturing site. While quartz is mined abroad and brought to the United States, one company undertakes its own processing in this nation.
A quartz countertop from Cambria is the way to go if you're looking for the most environmentally-friendly choice. The majority of their products are manufactured in the United States, which helps support the local economy while saving on the fossil fuels required to ship their items overseas. Their products are also Greenguard Certified, which means they do not affect indoor air quality. Cambria also recycles 100% of the water utilized during manufacturing.
When it comes down to it, both of these stone countertops need a significant amount of energy to manufacture and excavate. On the other hand, they are highly sturdy and can last a lifetime if properly cared for. In this way, they can be seen as a long-lasting countertop that might potentially last the full lifetime of the house.
Final Thoughts:
So, which one should you go with?
Most of us will only remodel our homes once, so we want to get it right the first time. We want something that fits into our hectic schedule, is low-maintenance and will leave an impression on us every time we step into the kitchen.
When it comes to the final decision, there is no wrong choice; only personal preference. My preference is granite, but if you go with quartz, you will have an excellent countertop. You cannot go wrong as long as you choose the one you adore the most.