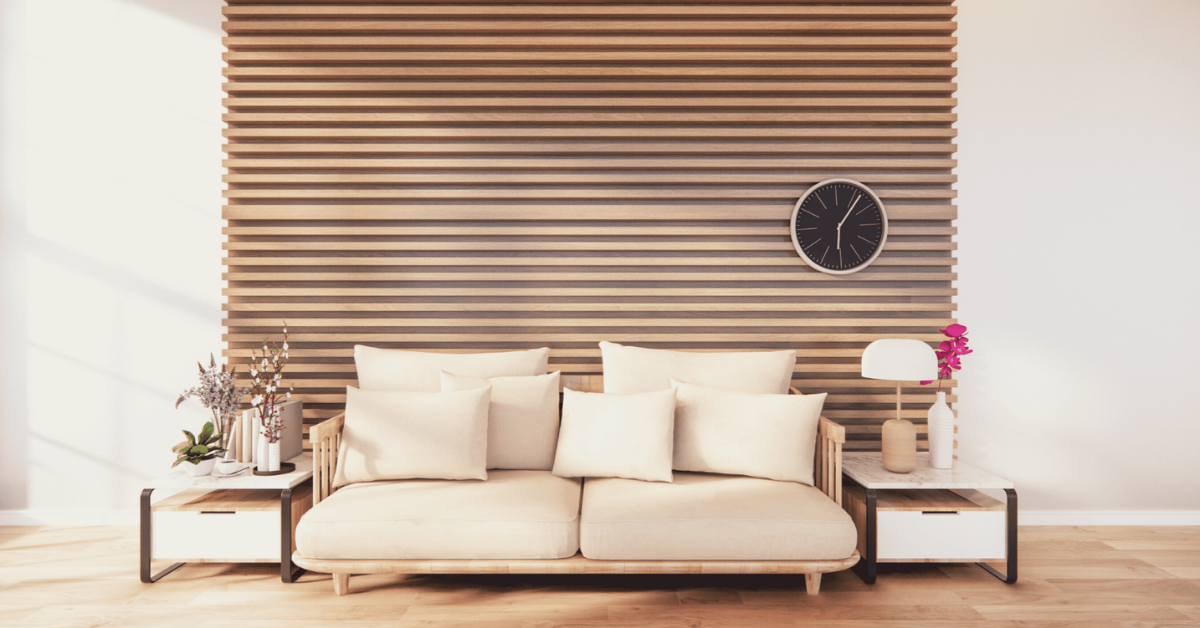 Accent wall ideas are back in 2023, and they're more popular than ever. This is a year for bold statements and outlandish ideas. Thus, an accent wall may be a simple way to make any house more fascinating and unique. It's a terrific way to bring attention to a certain region of the room or just divide the space with a splash of color.
Accent wall ideas and patterns have changed over time, and you may be unsure about what is popular this season. To assist you, we've compiled a list of accent wall ideas for 2023. Hopefully, it will help you in finding the design that best meets your requirements, so your house will look lovely in the coming months.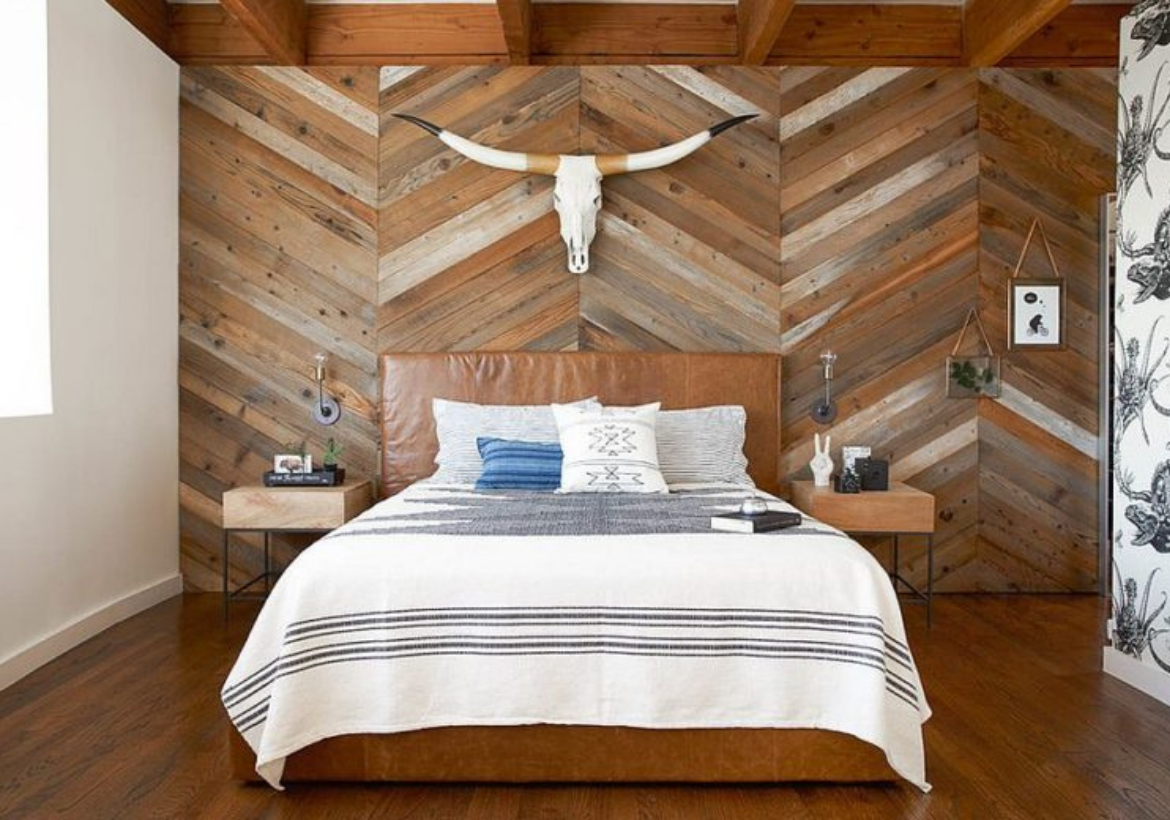 Accent Wall Ideas
1. Wood Accent Wall
There are few better solutions for making your house appear warm and welcoming than wood accent wall ideas. This style has been well-known for many years and will continue to be so in 2023. You might go with a slat wall, repurposed wood, plywood, or shiplap—the possibilities are unlimited.
You can experiment with wood patterns, colors, and textures to obtain the desired effect, and it's a great way to include depth in your house and make it stand out. You may arrange the wood vertically or horizontally to form unique shapes, or you can even construct a wooden mosaic. A wood accent wall might cost anywhere from $8 to $40+ per square foot, depending on the design and wood substance you choose.
2. Wallpaper Accent Wall
Another accent wall idea that was popular in the past and has made a big return this year is wallpaper accent walls. Wallpaper has gone a long way, and more and more people are utilizing it as an accent wall. Wallpaper accent walls may be used to enhance the beauty and appeal of any room in your house. Wallpaper accents are fantastic since there are many different accent wall designs, layouts, and patterns to pick from.
This year's most popular wallpaper features florals, geometrical, abstract, and tropical themes, but there are hundreds of other alternatives, so you should have no trouble finding the ideal wallpaper for your house. An accent wall normally costs approximately $250, but it may cost up to $2,000 depending on the design, wall size, and wallpaper type.
3. Black Accent Wall
There's something about black that pulls people in, and it's become one of the year's main trends. Black is a sleek, strong hue that can quickly change any space. Some people are concerned that using black would make their house seem gloomy, but it really has the opposite effect, making a space feel more isolated since it attracts light into the area.
This is one of the most affordable accent wall alternatives since it just needs black paint, so if you're looking for a fast method to make your home more modern, try painting one wall black, and you'll be shocked at the difference.
4. Decorative Panel Accent Wall
There are better ways to add depth and texture to your house than by adding a decorative panel accent wall. This is a more recent style that is highly attractive and works well in any setting. There are several ornamental panel alternatives for your accent wall, which come in a variety of forms and colors, allowing you to be quite creative and create a customized effect.
Decorative panel accent walls are one of the most costly accent walls, with prices ranging from $1,000 to $2,000 or more if a bespoke design is chosen. On the other hand, if you are skilled and love to DIY, you might save money by installing a decorative panel accent wall yourself.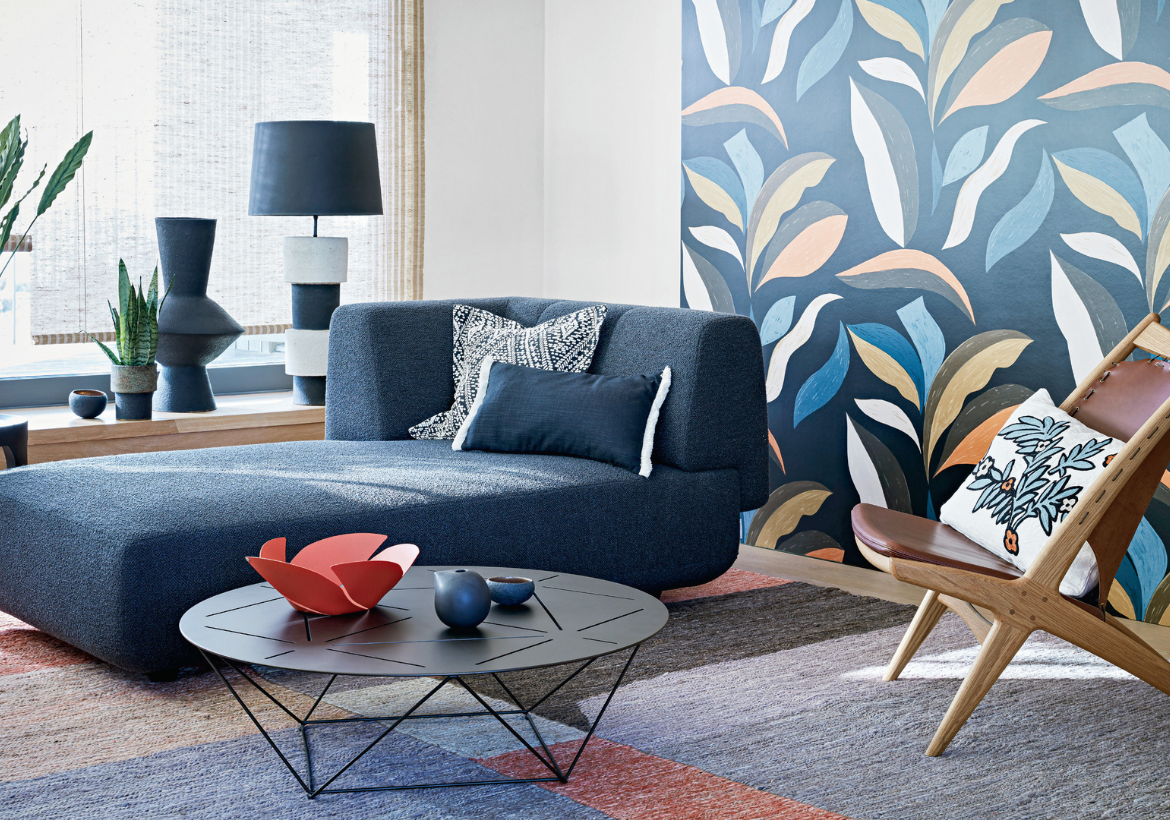 5. Colorful Geometric Accent Wall
Because both colors and geometric patterns are popular this season, why not combine the two and create a colorful geometric accent wall? This makes the wall the main point of the space and gives it a lively and visually pleasant atmosphere. Green, blue, purple, and red are some trendy hues for 2023—just make sure they go with the rest of your decor.
The room will seem larger if you pick larger geometrical patterns and forms, while it will appear smaller if you choose smaller designs. This is another low-cost accent wall option since you can perform the majority of the job yourself.
6. Mirrored Accent Wall
Try a mirrored accent wall to create a magnificent, opulent atmosphere in your home. A mirrored accent wall will brighten the area while also making it seem larger and more open. Because mirrors come in various sizes and forms, you may adorn the wall in any way you like, with a complete mirrored wall or smaller tiled mirrors. In any case, with this wall accent trend, your house will be stylish.
This approach is useful in tiny houses because it makes small areas look bigger. This accent wall may range in price from $5 to $20+ per square foot on average.
7. Ceiling Accent
This year's interior design trend is ceiling accents. It may take some practice, but making the ceiling the main point of any space will make it seem taller and larger. You may choose a single-color ceiling, distinctive patterns, wood paneling, wallpaper, or practically anything else you can think of.
It's a terrific, easy method to transform the whole area, and since ceiling accents aren't often used, they may make your house stand out. The cost of a ceiling accent wall may vary based on its size and the material/style chosen.
8. Tile Accent Wall
Tiles aren't only for bathrooms and kitchens anymore, and tile accent walls are growing fashionable. There are so many fantastic tiles to pick from, each with its own distinct shape, design, and pattern, making your accent wall really one-of-a-kind. You may let your individual personality show through your wall design by installing a tile accent wall.
Another advantage of tile accent walls is that they are low-maintenance and will enhance the beauty of your house for many years to come. The cost will be determined by the size of the wall and the tiles used, which may be very inexpensive or rather expensive.
Brick Accent Wall
A brick accent wall is a wonderful choice for people who want to make their house seem modern and industrial while yet being appealing and rustic. This is a timeless, traditional aesthetic that will work well with any furniture type, and you can also paint them to match the rest of the décor if you choose.
If you don't have genuine brick walls, you may replace them with artificial bricks that seem eerily similar. Their typical cost ranges from $10 to $50 per square foot, depending on the thickness and size of the brick.
Are Accent Walls Becoming Obsolete?
Accent walls have come and gone in the past, but they are expected to be highly fashionable in 2023. If you haven't tried anything like this previously, it's a terrific alternative for your next home improvement job.
There are several materials, colors, and patterns to choose from, and you can simply combine them into any area to make it stylish without undergoing extensive repairs and upgrades.
What Are Accent Walls Used For?
Accent walls are a quick and easy way to add color, depth, and design to any space without going overboard. It's a fast method to make your home's interior more visually pleasing and boost its overall attractiveness. Accent walls allow you to express yourself artistically on only one wall.
They may make a strong statement and, if done right, can become the space's focal point and a genuine eye-catcher. Accent walls may make a space seem larger, smaller, darker, or brighter depending on your requirements since there are many different styles.
Which Wall Should Be The Focal Point?
Accent walls are often the major focal point of the space. However, you may design an accent wall fully to your liking. The accent wall is usually the first wall you notice when you enter the room.
Accent walls may be used to emphasize a stunning region of your home or to divide two places in the same room visually. Accent walls are great for fireplaces, opposing sides of windows, or creating different areas in your house.
They are there to offer a splash of color and contrast to your space.
What Not To Do With Accent Walls?
One of the first criteria is to avoid choosing a random wall design. Consider which accent wall will make the area stand out and be a fashionable addition to the home design. Avoid designs that aren't complementary to the room—having too many patterns, or mismatched colors might seem sloppy and unpleasant.
Also, if any of your areas already have a lot going on, an accent wall is unnecessary since the area may rapidly become overloaded with details. Don't be afraid to experiment with all living room accent wall ideas and possibilities, as long as they complement the rest of the room and create a coherent, visually beautiful, and attractive atmosphere.
Final Thoughts:
A board and batten accent wall is a great way to express yourself and add new detail to your house without spending a lot of money. Because there are so many choices and methods for creating an accent wall, everyone can discover something that works for them.
There's no better time for transformation than the start of a new year, so if you want to make some home improvements, let your creativity go wild and create a magnificent accent wall in your house!
Other Great Articles to Read: