The laundry room is an area of the house where clothes are being washed and dried but this does not mean that you have to keep it drab or uninteresting. An old farmhouse laundry room might just look like how most laundry rooms appeared before but laundry rooms nowadays are becoming more than a place for clothes. They are also being designed with great looking interiors that can capture a serene feeling.
Normally installed with an automatic washing machine and clothes dryer, this room would also have other washing items like basin, ironing board and cabinets for storage of soiled clothes and detergent soaps. The typical locations for laundry rooms are basements but some modern houses situate this room somewhere near the kitchen or even on the second floor near the bedrooms for easier access.
FRESH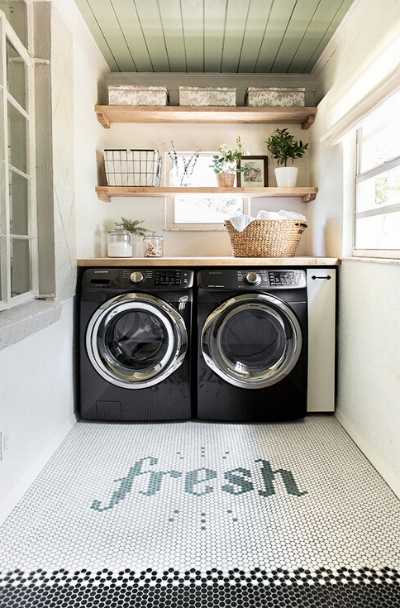 How will you describe the feeling of that crisp laundry? Yes, FRESH. Create a statement by using decorative tiles on your laundry room floor.
COMPACT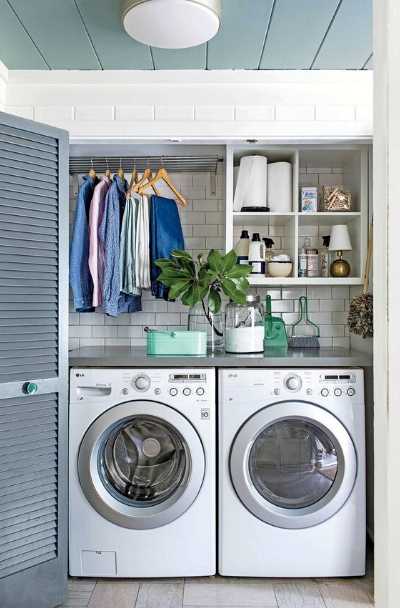 Compact yet functional! This shiplap laundry room interior design idea is a great help for homeowners with small areas dedicated for their laundry.
ORGANIZED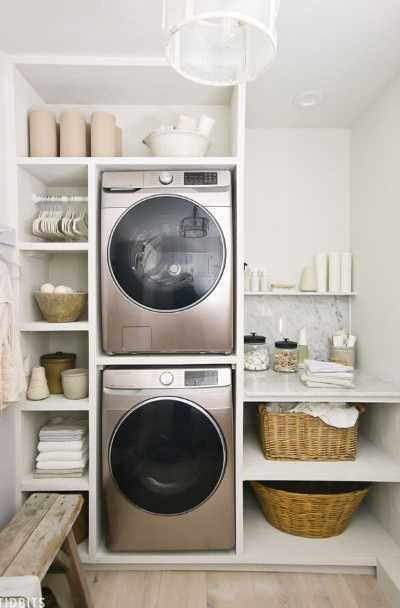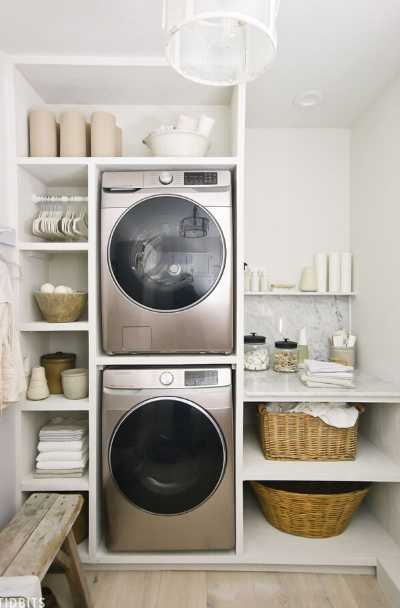 Create a bigger space for your laundry and other items through shelf organization. Adding some traditional farmhouse laundry basket will look great too.
NEAT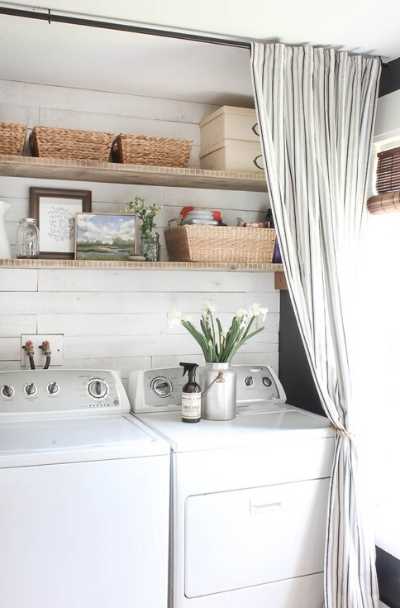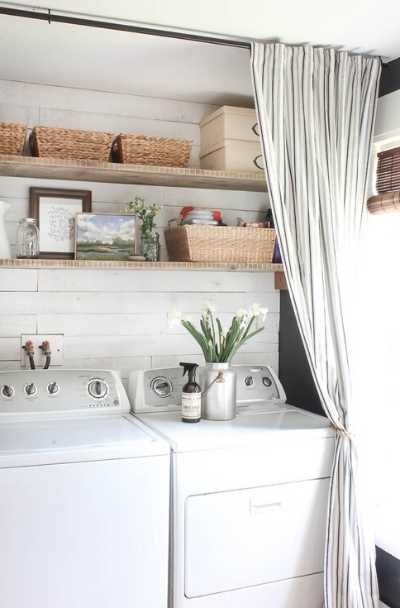 Not a fan of shiplap boards? A floor to ceiling curtain that you can put down whenever the area is not used ia a great way to hide your bulky laundry machines. 
ALL WHITE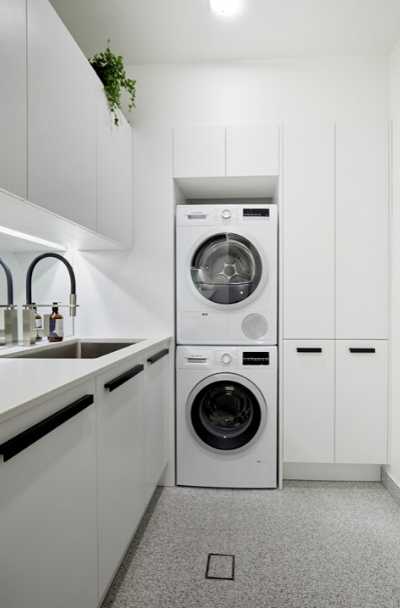 Still pushing for a room remodel even if you don't want to experiment? Just like any laundry room paint ideas which are minimalist, go for this all white design.
SPACE & SHELVES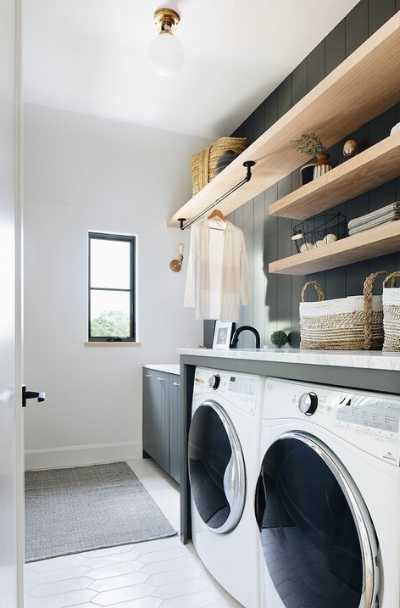 Your laundry area doesn't need to be all cabinets, take it from this design inspiration. Install open shelves and make use of charming baskets for storage.
PRISTINE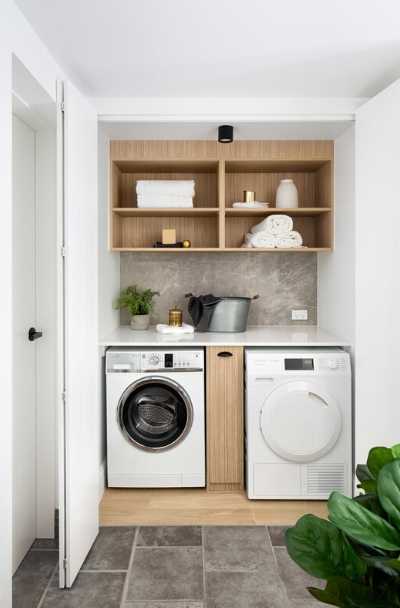 That small laundry area can be transformed into a great working space as well. Bright laundry room colors are best in making the area look less cramped up.
BLOCK COLOR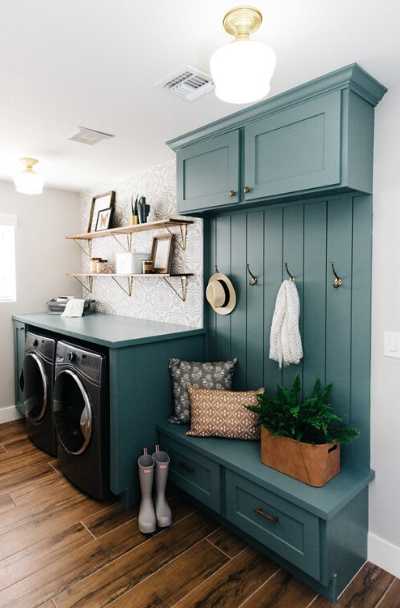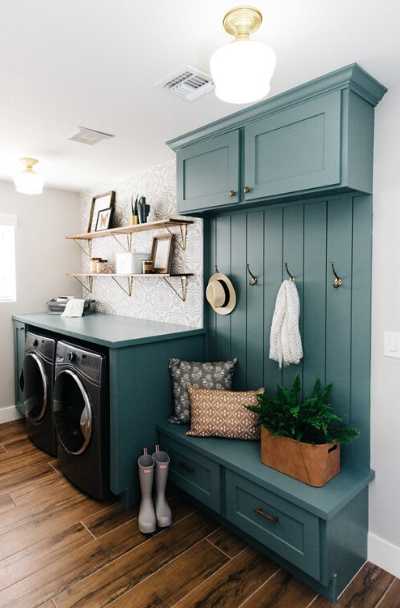 Everyone  wants a work space which can be both stylish and easy on the eye. You can always choose a great color to paint your walls or cabinets to stand out.
TRADITIONAL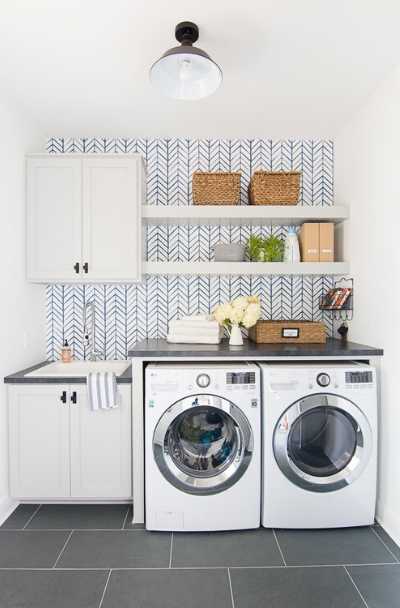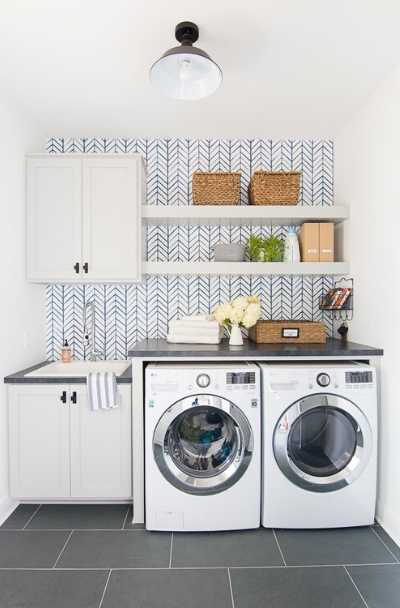 Accentuate it right! You can always keep the basic elements of a traditional laundry area and add gorgeous wallpaper to the wall that will brighten your room.
MINIMALIST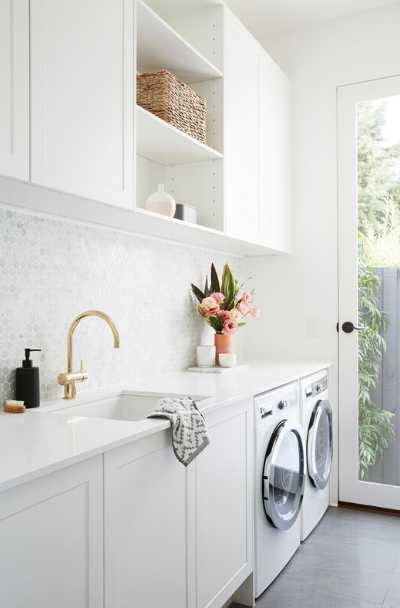 If you want to tone down with the accents for your remodeled room, keep it to a minimum. Having flowers will create warmth even for the laundry room. 
How to Upgrade Your Farmhouse Laundry Room
Before you start the process, know the reason behind this upgrade. Do you already have the space and want to re-design it or do you need to start from scratch? If it is the latter, secure the area first so that you can easily follow the following steps.
Know the activities
Your laundry room's purpose will determine all the activities that will be done inside the room. It will help you decide on what furniture and appliances to dedicate spaces to. This will also help you determine the amount of storage that you need to allocate for the counters, cabinets and hampers for soiled clothes. Having a farmhouse utility sink in your laundry area might sound appealing but you need to understand how it will be used once the room remodeling is done.
Make a list of what goes in
Complete your list of must haves. Knowing the activities that will happen in your laundry area will help you with the list of items that need to go in there. Shelves, cabinets for storage, laundry folding station, gas lines, vents, additional outlets, the list will go on if you will not establish it in advance. This