The world is not flat, and your bathroom or kitchen walls also don't need to be. In case your house is looking somewhat flat, be surprised at what addition of 3D wall tiles can bring. Suddenly, the present trend is putting the monochrome, clean-cut structure aside in exchange for quieting and natural areas decorated with small artistic features that reflect individual style and character.
Moreover, the development and improvement in porcelain and ceramic innovation have brought specialty tiles into the limelight. Also, cutting edge architectural 3D wall tiles that bring light, shadow, and texture are in trend at this moment, with numerous architects and designers leaning towards uncommon surfaces. Besides, it's a unique method to excite the senses and make an area pop. Notably, for the individuals who love geometric tiles, this is an approach to take it up a new level and create designs that give off an impression of jumping off the wall.
On the other hand, 3D wall tiles are not limited to rectangular and square tiles. In addition, they come in all shapes, which exhibits a scope of hues and sizes.
Indeed, 3D wall tiles are transforming bathrooms and kitchens into masterpieces. As a matter of fact, they offer endless design outcomes. Your bathroom, for instance, shouldn't be four white walls only. In particular, how about adding depth with 3D wall tiles? Depending on your design, this will truly make your bathroom rustic or modern, warm, and inviting.
In other areas of the house that get high foot traffic, such as the kitchen, 3D mosaic tiles certainly provide beauty and elegance.
CARVED
This bathroom's stunning design exudes a sense of sophistication and modernity. The minimalistic style of this bathroom by Allard + Roberts Interior Design, Inc is extremely elegant! Artistic Tile makes beautifully carved tiles.
BLACK TILES
This bathroom design is quite contemporary and has a streamlined aesthetic throughout. This bathroom design by Kuche & Bagno has a great black concept. With these 3D black textured tiles for this rock-star bathroom, you can say goodbye to flat walls.
Why Use 3D Wall Tiles?
In case you like elegance and impact for an accent wall, 3D self adhesive wall tiles are an incredible decision to accomplish this. Utilizing 3D adhesive wall tiles will certainly turn the wall area into a magnificent art feature. In particular, you can see hotels using this method to highlight a central feature wall in the reception area or anyplace they need to impress and get your attention. Another additional advantage of using peel and stick 3D wall tiles is a uniform appearance where the creases or edges of the tile turn invisible. Because there are limited sizes of natural stone slabs, 3D ceramic wall tiles can suit bigger areas and add sensational impact wanted in focal walls.
While 3D wall tiles can be dramatic in larger areas, introducing 3D self adhesive wall tiles in a smaller zone can also bring an alluring and appealing impact. In fact, it's ideal to utilize 3D adhesive wall tiles in kitchen backsplash or as a feature wall in your bathroom. Although it won't overpower the whole space, it will still offer the wow factor that one might be looking for.
How about when it comes to durability and ease of cleaning? In general, you need to seal all natural stones for protection. As a matter of fact, you also need to seal even the grout lines for ceramic or porcelain tiles. Similarly, you need to give the same treatment to 3D ceramic wall tiles to maintain its magnificence, particularly in areas such as the kitchen where food grease and stain is a factor.
With the expansion of design products accessible to homeowners, peel and stick 3D wall tiles are truly becoming the preferred design component to express home's sophistication and style.
WAVY
You'll concur that this looks like such a spacious, comfy, modern bathroom design! Such a cozy bathroom layout, created by Fontile Kitchen & Bath. This all-white bathroom benefits from the depth and texture of Venis's gorgeous wavy 3D wall tile.
Preparation Of Surface
First of all, we cannot overstate the significance of guaranteeing that you appropriately prepare the bonding surfaces. In partcular, the two surfaces that you will bond must be smooth, dry, clean, and free from every single surface contaminants and loose particles.
For new, non-contaminated, and smooth surfaces, we suggest that you apply an undercoat primer-sealer to create a moisture barrier, in order to form a bond. Also, make sure that you let the sealers fully cure and dry before applying the adhesive.
Meanwhile, for plasterboard, prepare the area by clearing off any loose, fine residue from the surface, or else the adhesives won't bond. In addition, you should sand any exposed holes or joins to a smooth, level surface.
On the other hand, to prepare non-smooth, bare metals, or heavily contaminated surfaces, you should first abrade the surfaces. We also prescribe utilizing abrading disks, used on an angle grinder. This is certainly a fast and efficient technique for preparing surfaces.
Also, this procedure will expel any surface contaminants like rust, oxides, solder, or harder buildups like such as old paint. You should then clear off loose particles before you clean the surfaces.
To get rid of greases, oils, and mold releasing agents from surfaces and offer a solid keying surface to the adhesive tape, we suggest utilizing uniquely mixed hydrocarbon type surface cleaners. In general, the cleaner evaporates without leaving a residue to the surface. Finally, we recommend a last wipe-down with a clean, solvent moistened cloth.
ELEGANT
This interior design will make you feel like you are in a wealthy and stylish home! Everything appears automated in this Fontile Kitchen & Bath dining room design. Elegantly designed dining area with exquisite Venis 3D feature tile.
POSH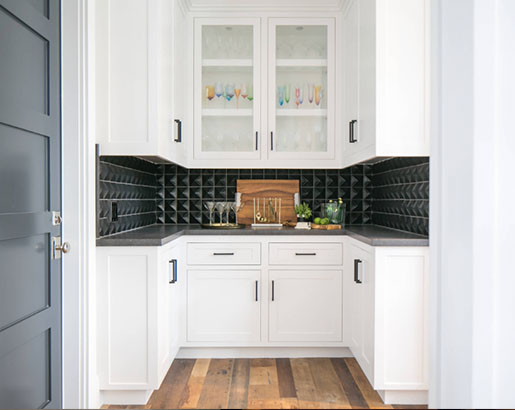 In this Brooke Wagner Design bathroom, everything appears so clean and lovely. The little area is not an issue; it still seems tidy and bright. This beach-themed home bar has magnificent 3D black tiles.
FRESH
This bathroom design is very contemporary and looks so tidy and clean. This bathroom design by Barnes Design is amazing. In this modern bathroom, stunning porcelain tile with a 3D look makes a big statement.
How To Cut Art 3D Wall Tiles
Indeed, planning and preparation for your project are essential in guaranteeing a hassle and stress-free result. For new walls, in particular, plan your wall tiling in increments according to the size of your 3D wall tiles, width-wise and height-wise. It is important to realize to allow at all times a couple of millimeters tolerance. Also, for the best outcomes, we suggest a 1-2mm space between each tile on all sides.
On the other hand, for existing walls, measure the height and width, and if not in size increments, at that point, design your wall in order to have the cut end removed from the eye view. For instance, for a wall open one end and running into an opposite wall on the other, then your cut end must be the wall end knocking into your opposite wall.
In case that height is out of increment, then you have to choose if your cut end will be at the base or at the top of the wall.
To limit cutting, pick one end (top or base) and then begin the installation. On the other hand, for a more even outcome, start the establishment at the focal point of your divider.
If the end 3D wall tiles need cutting to fit particular divider wall widths or heights, measure the width or height and cut the 3D wall tiles utilizing an edge processor. Also, utilize a 1mm grinding wheel for a better cut. Whenever required, sand down edges for a smooth and clean finish.
How To Cast 3D Wall Tiles
First, mold making or casting includes covering the item you need to duplicate in a material which will subsequently become firm enough to keep its shape when you disengage from it. This is with the goal of leaving a hollow space or negative of the item—the mold, which would then be able to hold a casting material to make a precise imitation of the shape. Also, you can have either a flexible mold making material for easy release of the original item and any casts you make from it or a hard, inflexible mold if you have flexible casts and original object.
In general, the most utilized and efficient flexible mold making material today is silicone rubber, which you can either pour as a liquid or (with the help of a special thickener) or brush as a paste on the outside of the original item. In the event that you pour it as a liquid, you should set up temporary walls of clay or cardboard around the subject to hold the liquid rubber while it cures or sets.
Moreover, you can duplicate a wide range of object in this simple method of making a block mold of silicone around them as long as they have one level side (the side you attach to a board first and hence not covered by the silicone) which at that point turns into the passage or pouring hole of the mold. In case the level side happens likewise to be the biggest area of the structure when you detach a cured block from the board and go over to take it out, you can push it out quickly by flexing the silicone.
Modern 3D Wall Tile Ideas
3D wall tiles are available in various designs and finishes, adding a one-of-a-kind touch to every space where they are installed. Aside from the appearance, it is also incredibly light on your wallet when compared to other materials. They are so adaptable that they may be used in the living room, bedroom, and bathroom. So, let us take a look at some of the many 3D tile designs you might utilize in your ideal home.
Digital Decorative Design
These designs, which are now again popular among families, attempt to strike a balance between our culture and modernization. You'll notice a lot of floral patterns with a lot of yellow, golden, brown, and sometimes shimmer. Use them as a focal point on a wall or in your kitchen.
Digital Print
There are numerous possibilities available when shopping for 3D wall tiles! You could be perplexed about which design to complete now that digital printing has opened up so many creative and design opportunities!
Fine Textured 3D Wall Tiles
Some of the best designs of these tiles, we believe, come out in a white textured shape. Because it is left white, it retains its authenticity and appears quite similar to the original piece. It appears to be really nice, polished, and clean!
3D Gypsum Panel
Gypsum 3D looks beautiful and is so versatile that it can be utilized in every area of your home, making it another popular with home buyers. Gypsum typically comes in several board sizes, so all you have to do is attach them where you need them.
This is an image roundup post, curated to showcase and promote other reputable contracting companies' and their amazing work.  To have any of the images removed, please reach out to us and we would be happy to do so.
Other Great Articles to Read: