Tiles have always been essential in home design. This is most likely due to the versatility and durability of the material. Tile can virtually be laid throughout your entire house from living room to bedroom and from floor to ceiling. If you've been thinking about doing some remodeling to add some tile work to any part of your house, we've come up with a list of tile patterns and designs you can choose from.
We help a lot of our clients with the design process, and one of our favorites is coming up with patterns that match the style of the homes we're remodeling. Here's a list of some tile patterns you can use for remodeling.
SPA DAY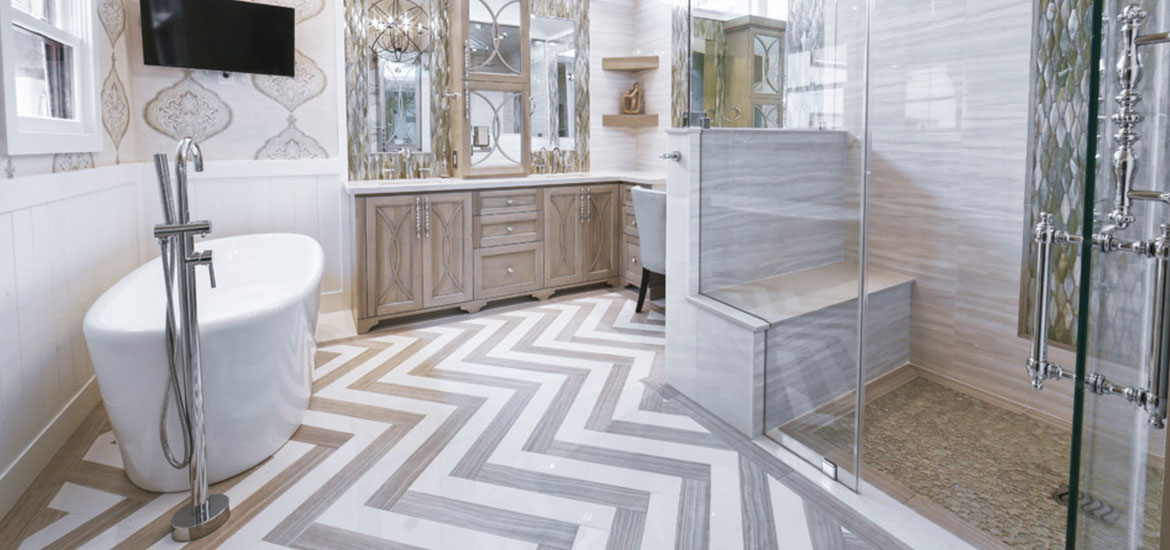 Love the look of the bathroom floor. It sets the space off so nicely.
WOOD AND STONE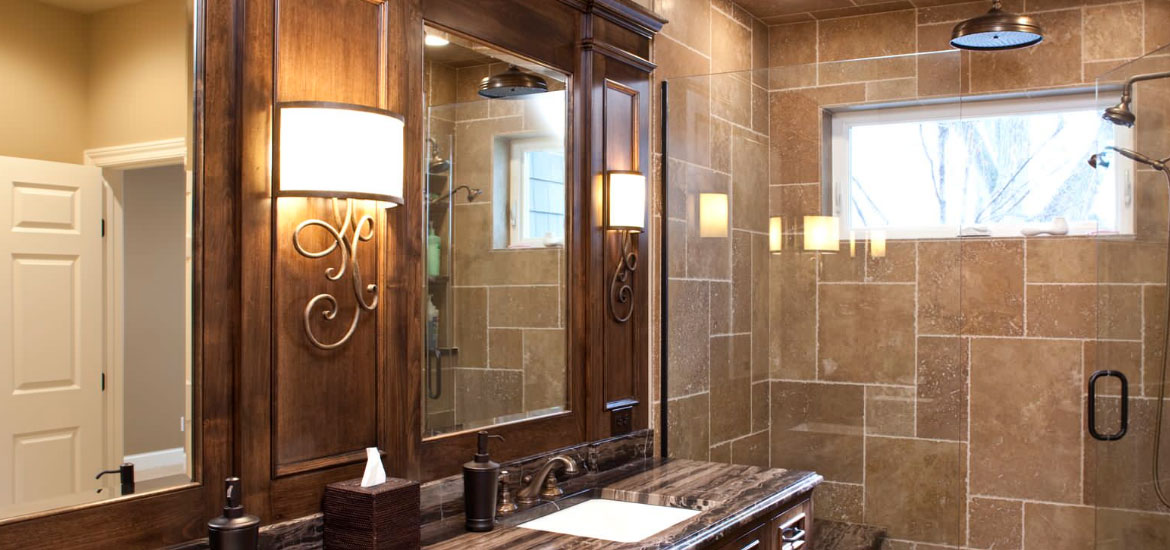 Fantastic use of multiple materials and patterns.
Chevron Tile Pattern
A chevron is simply a V-shaped mark. Laying tile with a chevron pattern is basically V's laid stacked on each other across a surface. There are many ways to achieve this look, and it can be highly personalized. You can use smaller tiles for a more elegant look or go bold with bigger V's. You can also mix and match by layering different tile sizes. The chevron tile pattern will give your floors or walls a classic look with natural tones. You can also mix in colored tiles to achieve any desired design.
French Pattern Tile Layout
You've probably seen a layout of square and rectangular tiles before and thought how randomly placed everything seems to be. More than likely, you were looking at a French pattern layout (also known as Versailles layout), and it's far from random.
The layout comprises of a number of tiles in four different tile sizes and can be used anywhere you want an interesting pattern on your floor. Just picture an old world-type flooring with natural stones such as travertine or marble. Interlocking squares and rectangles give the French pattern a mosaic feel. This tile layout is a definite classic and will give your space a timeless look.
Subway Tile Pattern
This pattern has regained popularity recently due to a slur of home renovating TV shows praising its simplicity. It's true–the subway tile pattern is all about clean lines. This pattern is typical in bathroom renovations and has the capability of completely modernizing a space as such by just the addition of the tiles. If you're thinking straight lines with a subway tile pattern, think again. There are many ways to differentiate your subway tiles from the rest. For example, you can run them vertically instead of horizontally. We've even done diagonals with subway tiles. The results were stunning and still sleek.
Herringbone Tile Pattern
The herringbone is quite similar to the chevron, but once you've noticed the difference, you really can't un-see it. Tiles are cut a certain way so they fit nicely with other tiles. In a chevron pattern, tile edges are cut at an angle just so they sit flushed together in a natural V pattern. With the herringbone pattern, the tiles are left in a straight rectangular shape, and they are laid out and stacked together to form a V pattern. The result is a staggered, interlocked look. The herringbone definitely gives a more rustic appeal when compared to the chevron, but they're equally beautiful on the floor.
Spiral Tile Pattern
This pattern also goes by target pattern, windmill or hopscotch pattern–basically a small square tile is surrounded by four larger ones. The basic pattern takes four small, exact sized, rectangular tiles and puts them together to form a square pattern with an opening in the middle. This opening can be filled with the same tile material, a different colored tile, or a different designed tile altogether. It'll be up to you to decide which end result you prefer, but there's no limit to how creative you can be with the spiral tile pattern.
Tile Backsplash Patterns
One easy renovation that can change up the entire look of a room is by changing or adding a backsplash. This is usually seen in a kitchen or bathroom renovation, and involves adding tiles to the backsplash area, the part of the wall that rises just above a countertop. A backsplash is meant to protect the wall, so durable and sturdy tiles are typically used.
As far as backsplash patterns are concerned, there are tons of styles and designs that can be applied. Any of the patterns mentioned above can actually be applied as a backsplash pattern. Some patterns can even be mixed and matched to achieve a specific look. There are literally thousands of tile color combinations that can be applied onto a backsplash design. This interior renovation may be small, but it packs a huge impact to the overall feel and look of your kitchen or bathroom.
Unique Tile Designs
There's also nothing that can stop you from doing something completely original and exciting. If you've got something in mind that you wish to add into a pattern, such as a star shape or a diamond among many others, you can certainly incorporate those into a tile layout. There's absolutely nothing wrong with wanting something that only your house will have. Many people renovate exactly to achieve that goal.
Tile patterns are useful tools that can turn your house into the one of your dreams. Tile remodeling can be extensive such as with changing the flooring of an entire house, or it can be a small project such as with adding backsplash tiles. If you're thinking about remodeling with some tile work, the patterns mentioned here are just a few of the many designs you can choose from. As versatile and inclusive as tile patterns can be, you can guarantee that you'll find a tile pattern that's just perfect for you and your home.
This is an image roundup post, curated to showcase and promote other reputable contracting companies' and their amazing work. To have any of the images removed, please reach out to us and we would be happy to do so.
Other Great Articles to Read: