Time to remodel the kitchen? You sit down with a designer, but his or her ideas don't match the picture in your mind. Sometimes what we dream of doesn't correspond to traditional design, modern or retro designs, so we have to call it something else. What you're looking for is called transitional style.
What is Transitional Style?
That means it isn't one style or another, it means whatever you want where you want it, and it means pretty much anything goes. We've compiled for your consideration 10 elements of a transitional style kitchen. We hope you find your picture here.
One:  Flooring
No new build includes highly glossed wood floors in the kitchen. However, they are trending now, but it doesn't fit your picture.  Transitioning style means you could place textured stone tiles on part of the floor with hardwood in another location or perhaps enclose the hardwood in a circle. Vice-versa would work, too. It means you might have marble tiles combined with granite tiles in a nice pattern. It's your floor; what you want goes!
Two:  Lighting
Common sense dictates plentiful lighting in the kitchen. Kids doing homework at the kitchen table or on the island, cooks prepping foods and everyone checking the pots and pans on the stove need good light to see these things. As a result, most everyone uses cans for ambient lighting in addition to pendant lights for tasks. If you want transitional lighting, carve floor to ceiling windows in a wall for natural light,  place flush-mount ceiling fixtures in a half-dozen places and place hidden lighting under the cabinets, atop the fridge, around the moldings and in whimsical places only you could locate.
Three:  Furnishings
You've inherited your great-grandmother's behemoth stainless steel stove with the six eyes, double oven and backsplash with shelves. You've always loved it, but it doesn't match anything in this modern age. So what? This is your transitional kitchen, so mix and match it with an island sporting farmhouse legs, a traditional or even modern set of cabinets along with contemporary table and chairs for a truly transitional look.
Four:  Backsplashes
Backsplashes can be made of tin, glass, tile, stone, granite and much more. Mosaic tile is trending now, but subway tile and glass tile is quite popular. Herringbone, brick-lay, mini-mosaic, continuing the counter top pattern upward with the tiles, along with custom designs in glass tiles are among the many choices you have in backsplashes. Glass can be interspersed with granite or stone tiles, the size of the tiles can be accented with mini-mosaic tiles; the possibilities are endless!
Five:  Ceilings
Ceilings are worth more than just being a repository for pendant lighting and cans. They often give a kitchen that wow! factor. Instead of flooring the kitchen in rich dark wood, place it on the ceiling. Use milled lumber stained the color you like to create a cathedral ceiling in the kitchen. Cut a couple skylights in the ceiling for a different look. Suspend a rack from the ceiling to hold copper pots. For a truly transitional kitchen, intersperse your task lighting with chandeliers in whimsical shapes (wagon wheel, sea-serpent, ship in full sail, or a skull and crossbones are just a few ideas of what's available).
Six:  Cabinetry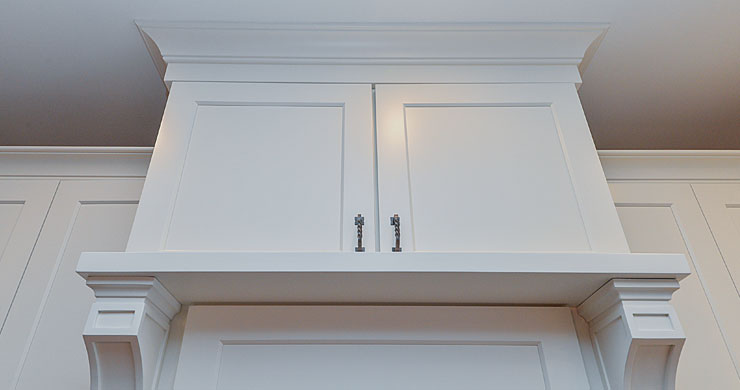 Trending now is stark white, what seems like fifty shades of gray and natural wood colors in cabinetry. What is transitional about it is often the hardware. Jazz up traditional wood cabinetry with glass farmhouse knobs. If you paint your cabinets instead of going with natural woods, then you could use contemporary hardware for a crisp look. Combining traditional cabinets with cabinets sporting glass in usually the upper portion of the cabinet gives a kitchen a transitional look. The glass portion is usually used to give the kitchen a pop of color using gaily colored stoneware, glassware or collectibles.
Seven:  Countertops
Do you miss the butcher-block counter tops of your youth? Do you prefer restaurant-quality stainless steel for your prep? Would quartz countertops suit you better? Again, the possibilities are endless. If you prep your meals on the island instead of the counter by your great-grandmother's stove, perhaps a stainless steel counter top to match the stove would be an idea. You could use for the other counters any natural material you prefer in colors that contrast the backsplash, the cabinets or the floors or to complement them.
Eight:  Accents
Mixing and matching makes a transitional kitchen, well, transitional. The use of recycled materials often brings character to the transitional kitchen. For example, using barn door hardware has been quite popular for the last few years. Framing windows and doors using barn door wood leads the eye from the past to the modern or whimsical present in cabinetry, counter tops and furnishings. Corbelling part of a wall, using moldings as frames for the cabinets and wrought-iron touches in unexpected places add up to a stunning transitional kitchen.
Nine:  The Sink
Tired of the same-old, same-old in kitchen sinks? Why not find a farmhouse sink in ceramic or stone, have it refinished and under-mounted in your transitional kitchen? For a modern touch, install contemporary hardware such as sensory faucets. Remember your grandmother's ceramic sink with built-in drain board? Add a swan-neck faucet and sprayer to it and you have a transitional look.
Ten:  Additional Touches
Kitchens are generally neutral. Any pops of color come from baskets of brightly colored fruits and vegetables, bottles of vinegar holding red and orange peppers or vases full of vibrantly colored flowers. The focus of the kitchen should rightly be the food, so keeping pops of color to a minimum would keep the focus where it belongs. However, some personality is necessary, even in the kitchen. If the walls have space for paintings or the counters have room for small appliances covered in vintage-colored covers, then you have pops of color to keep people interested until the food is ready.
If you've decided that a transitional kitchen answers the pictures in your mind, then please contact us. Our designers will work with you until the kitchen of your dreams is a reality.