If you are remodeling or building a new bathroom, you are most likely considering installing a standard size shower. There are many shower sizes to consider. New showers are not something you shop for everyday; in fact, this might be the only time that you ever build one. A shower can be just about anything that sprays water to get you clean, from a multi-head enclosure to a primitive overhead shower.
Showers differ by construction, size, materials used and configuration. If you are working with a generous budget, then the world of options is open to you. Here are a few tips that will guide you when you decide to remodel your bathroom.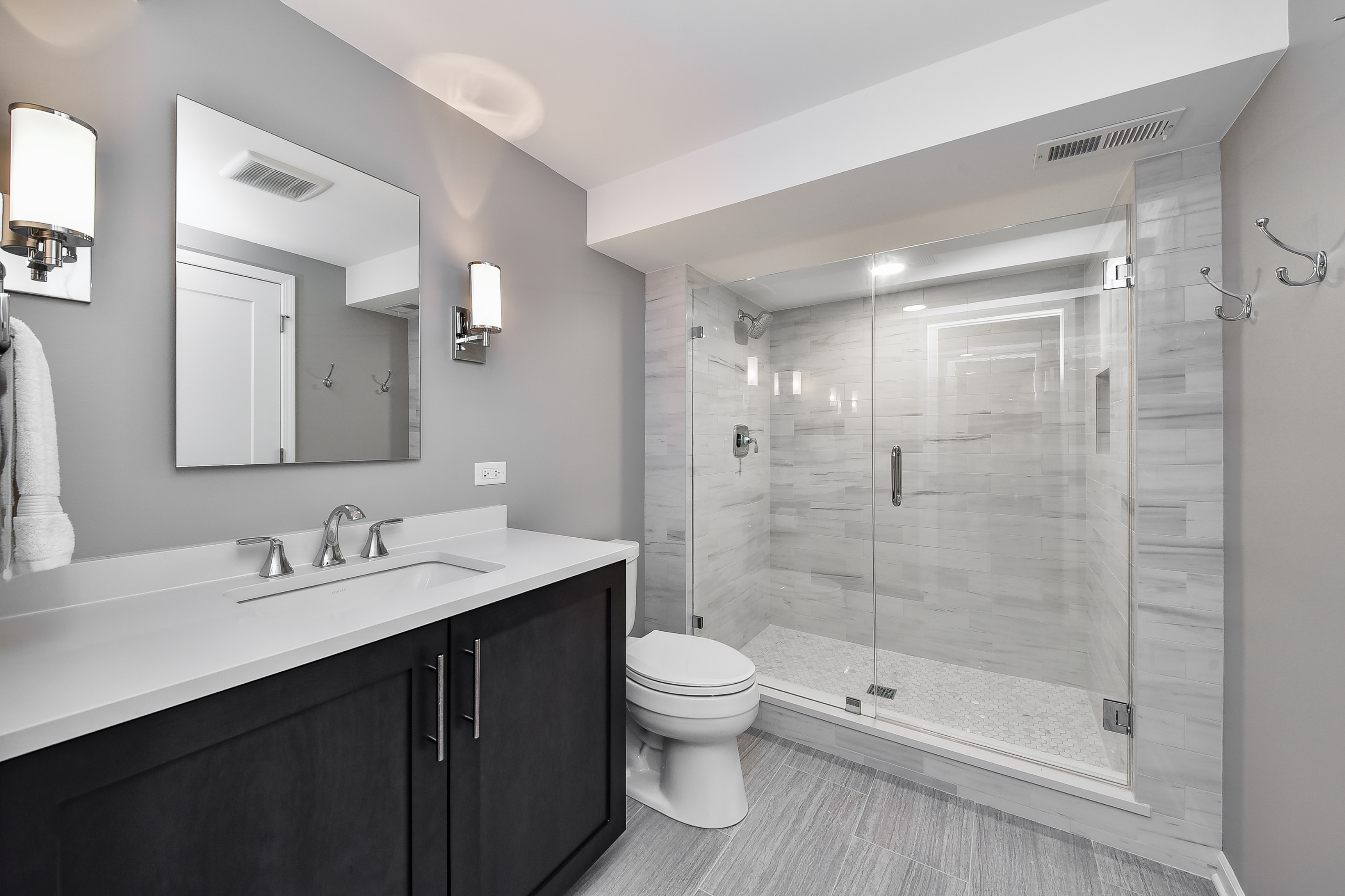 Standard Shower Sizes
When thinking of a new bathroom, the first thing you'll need to take into account is your overall room size and what standard shower sizes are available. Bathrooms that are too small tend to make you feel claustrophobic. During remodeling, it's a good idea to stand with your arms outstretched and then turn in a circle. This should provide a good idea of the size available and if you will be comfortable. Most common widths (in order): 36, 32 and 60. Lengths will vary. While you can see standard shower sizes as small as 32″ x 32″, most people would feel comfortable in a 48″ x 36″ size shower. If your home has a little more space available, a very common recommendation is to have a shower with minimum dimensions of 60'' x 36''. For further reference, here's a list of the most typical shower sizes:
From here, you can decide whether you want the shower to be bigger or if the standard shower sizes are okay for your home. Opt for a larger size shower if you would like your contractor to add things such as a bench or other features. It's best first to decide whether or not you want a regular enclosure, walk-in, wet room, or a shower/bath. Other things to consider:
Is it for an ensuite?
Would it be for a main bathroom or a separate room?
If you want to include steam; maximum ceiling height should be 8 feet. Some common steam shower dimensions (L x W x H) are: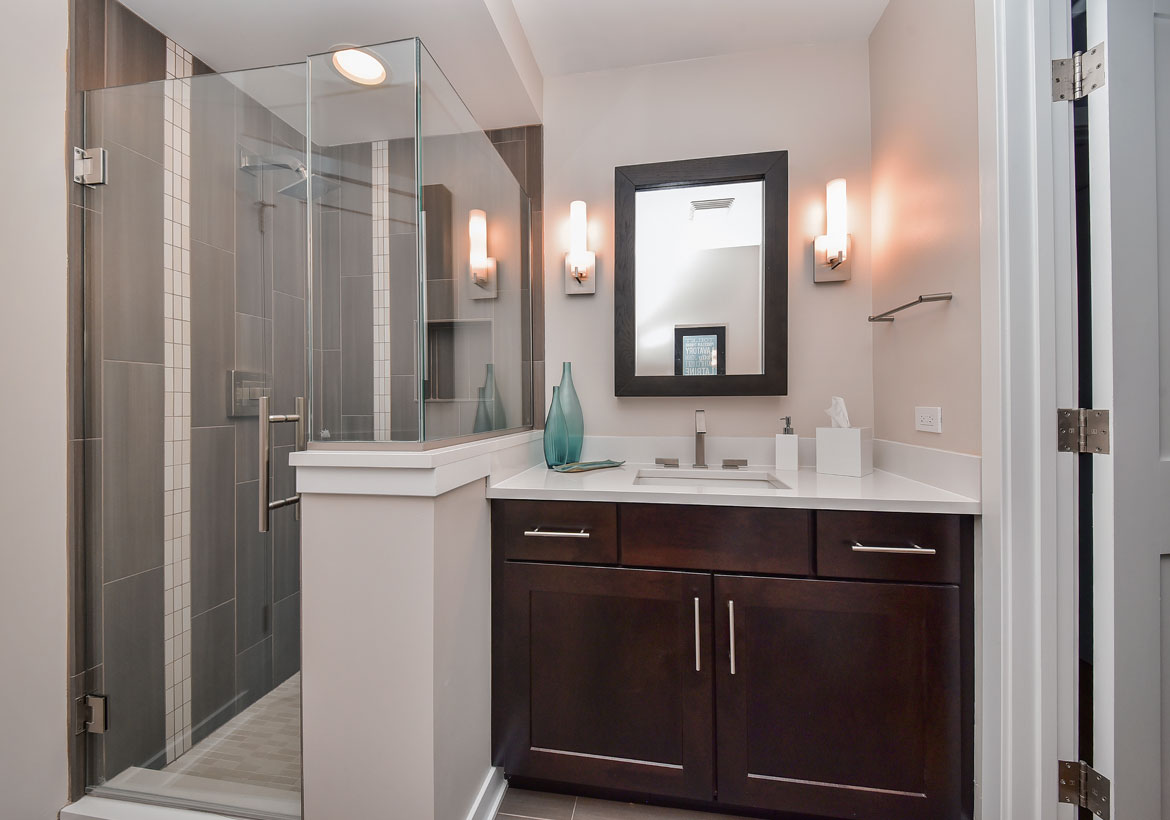 Position
Where would you like it to be placed? Will it be in the corner, center of the room, or in a separate enclosed area? For remodeling, it's best to put your new shower in same position as your old one as this will require less plumbing work.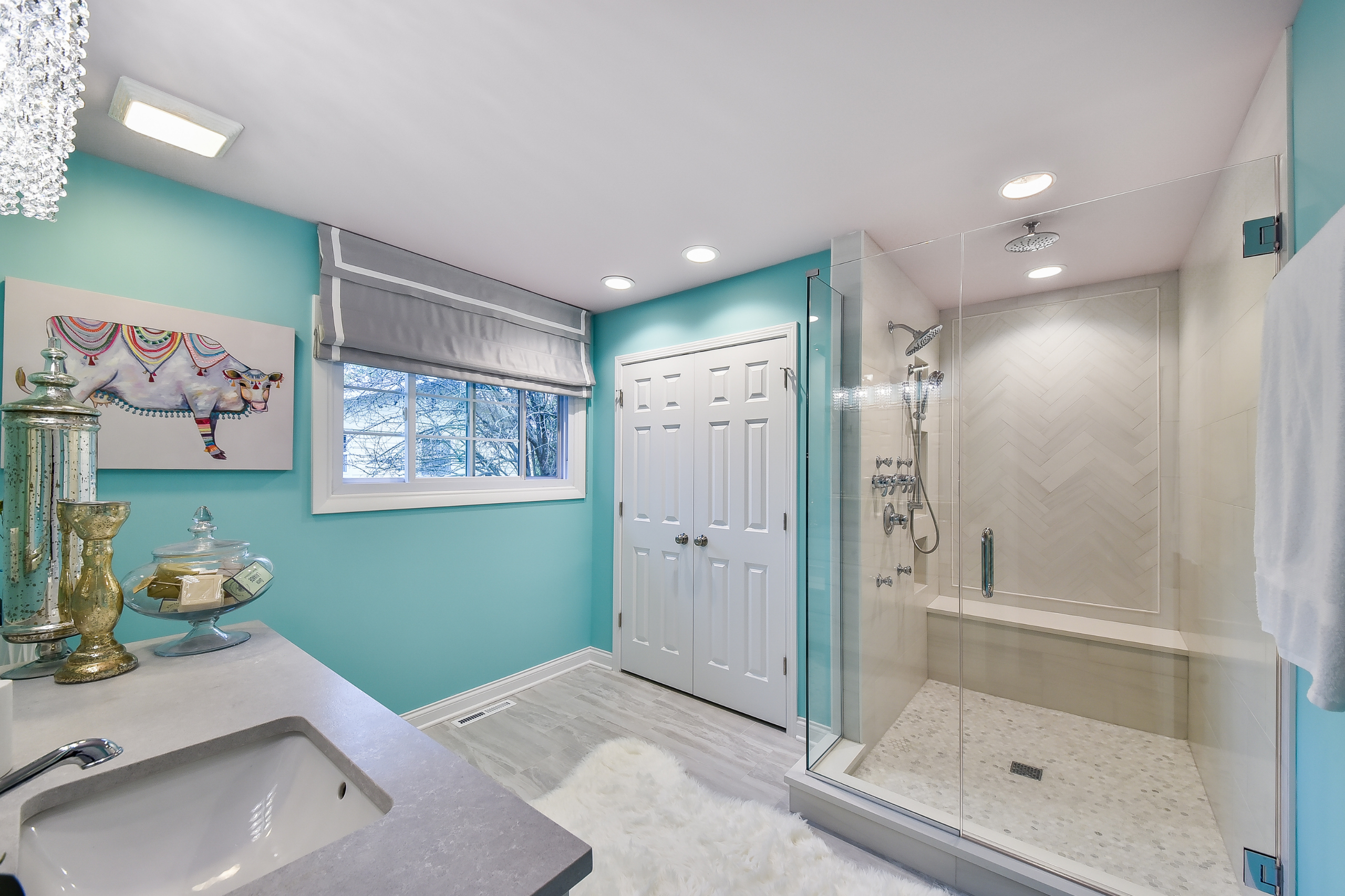 Type of Glass
There are varieties of doors one can select from. Some key things to consider are:
The most common glass type is 3/8″ or 10mm glass. It is durable, safe, long-lasting, and cost-effective.
Usually an upgrade, you may occasionally see 12mm or 1/2″ glass width. The thought is showers with this glass thickness will have a more opulent look. However, it isn't any safer than the 3/8″ or 10mm glass. Plus it will add substantial weight and cost.
Keep in mind that thicker glass needs more support due to the extra weight and could also affect hardware costs.
NOTE: Glass doors without edge protectors on their framing can get chipped and broken. It's best to look out for glass doors with sturdy aluminum framing as this will support glass and keep it well protected.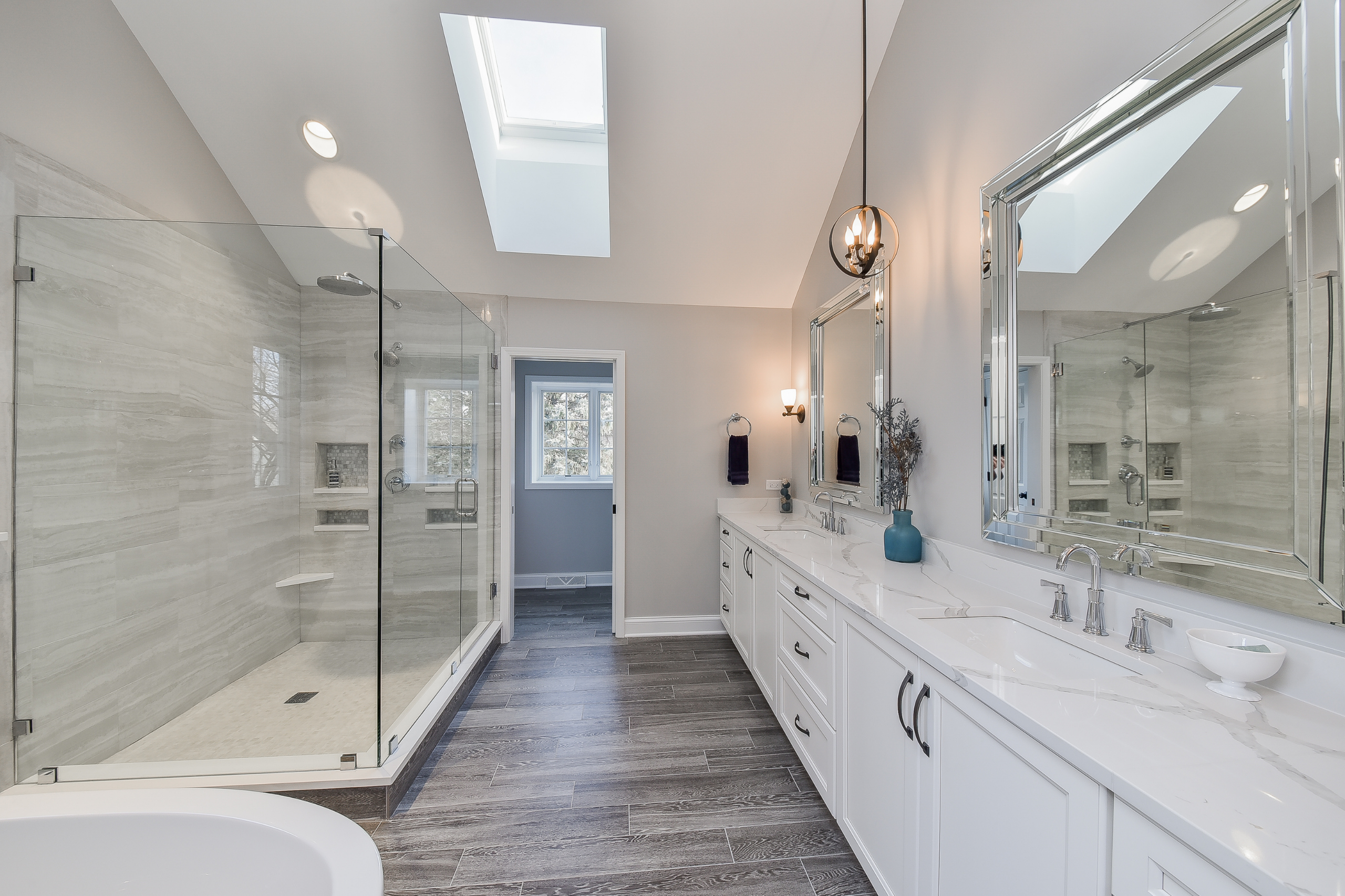 Light
Bathrooms don't have to be dark but if yours is, add some glass block to brighten up space. It's also a good idea to use a glass door so light filters into this area. If your bathroom has no window, ask your contractor whether they can add a skylight.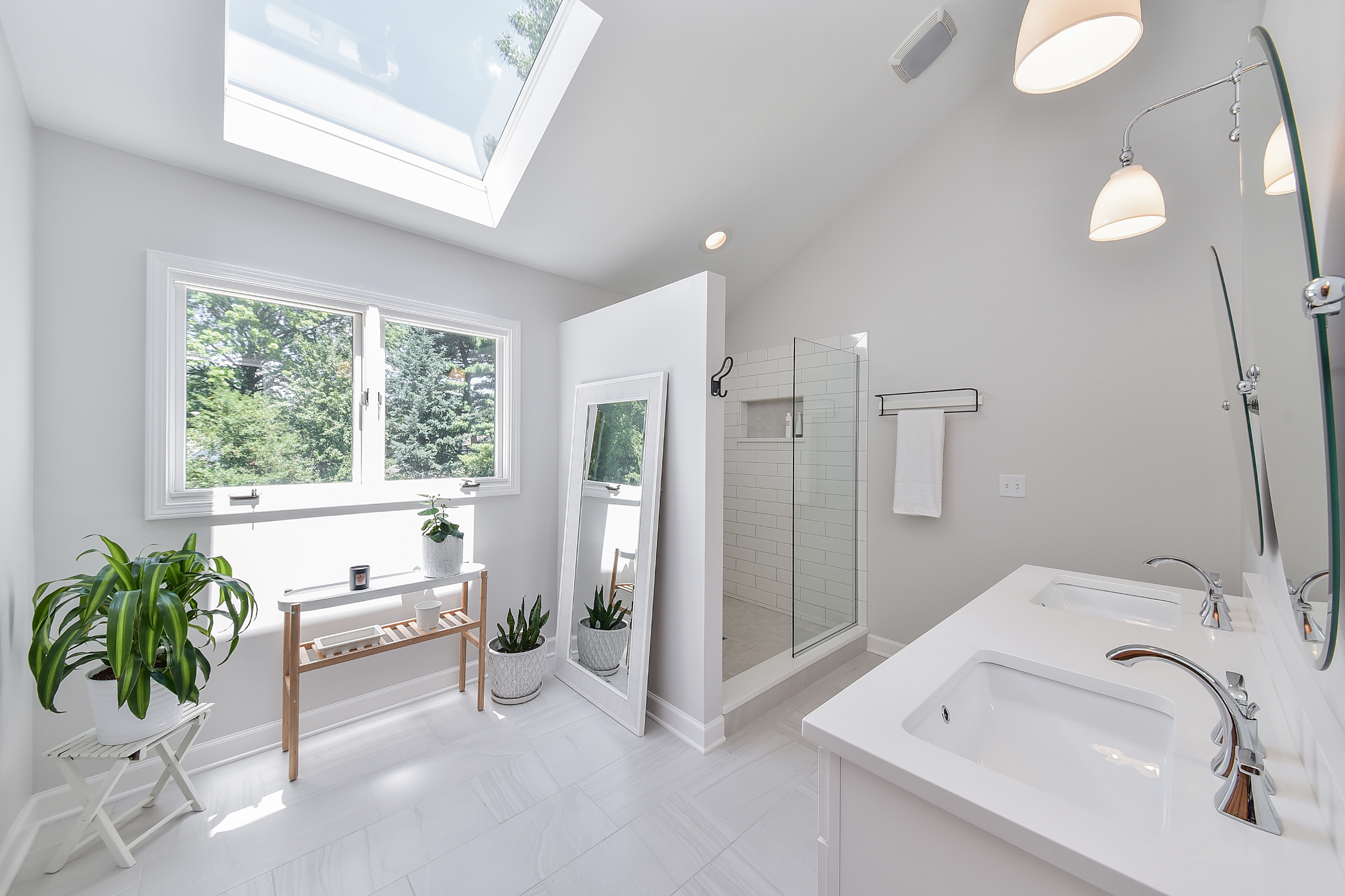 Fixtures
Ever dreamed of having a place to sit and relax as water cascades down your body? Need to shave your legs more easily? Then what your bathroom needs is a bench. If your bathroom is tilted, consider installing a seat where there is least ceiling height – this makes room more usable and enjoyable. Have some fun with your benches – instead of having a long straight bench, why not have a chair-like seat installed? You can also opt to have a seat that can fold up to be out of the way when not in use – options are limitless here.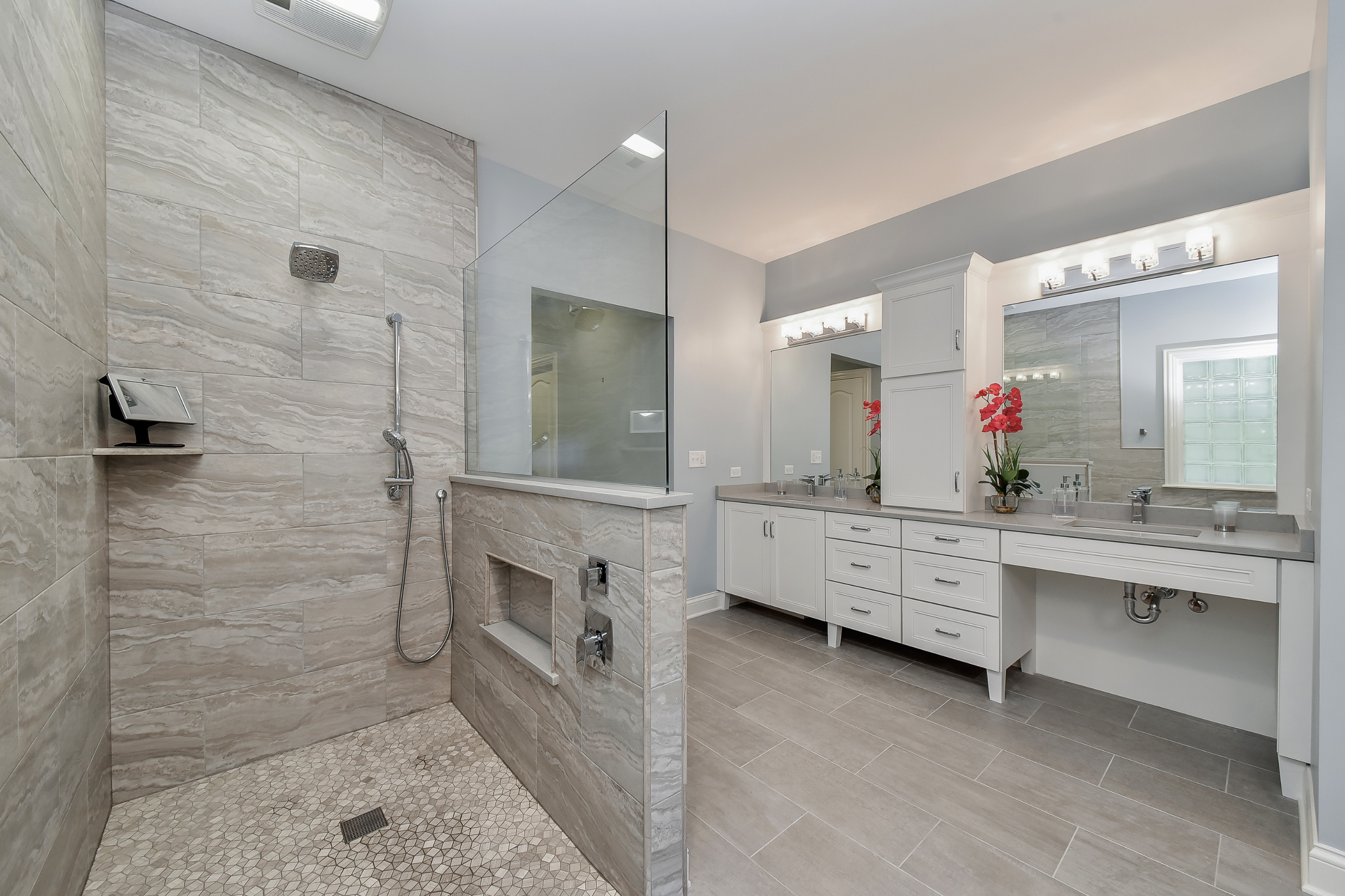 Controls
Where would you prefer your controls to be placed? If you have noticed, most controls are located in a place where you'll have to walk inside to turn water on or off. This means that initial burst of cold water will get you wet. An ideal location is setting controls in a place that can be accessed without having to go under water. Consider setting controls outside your shower area.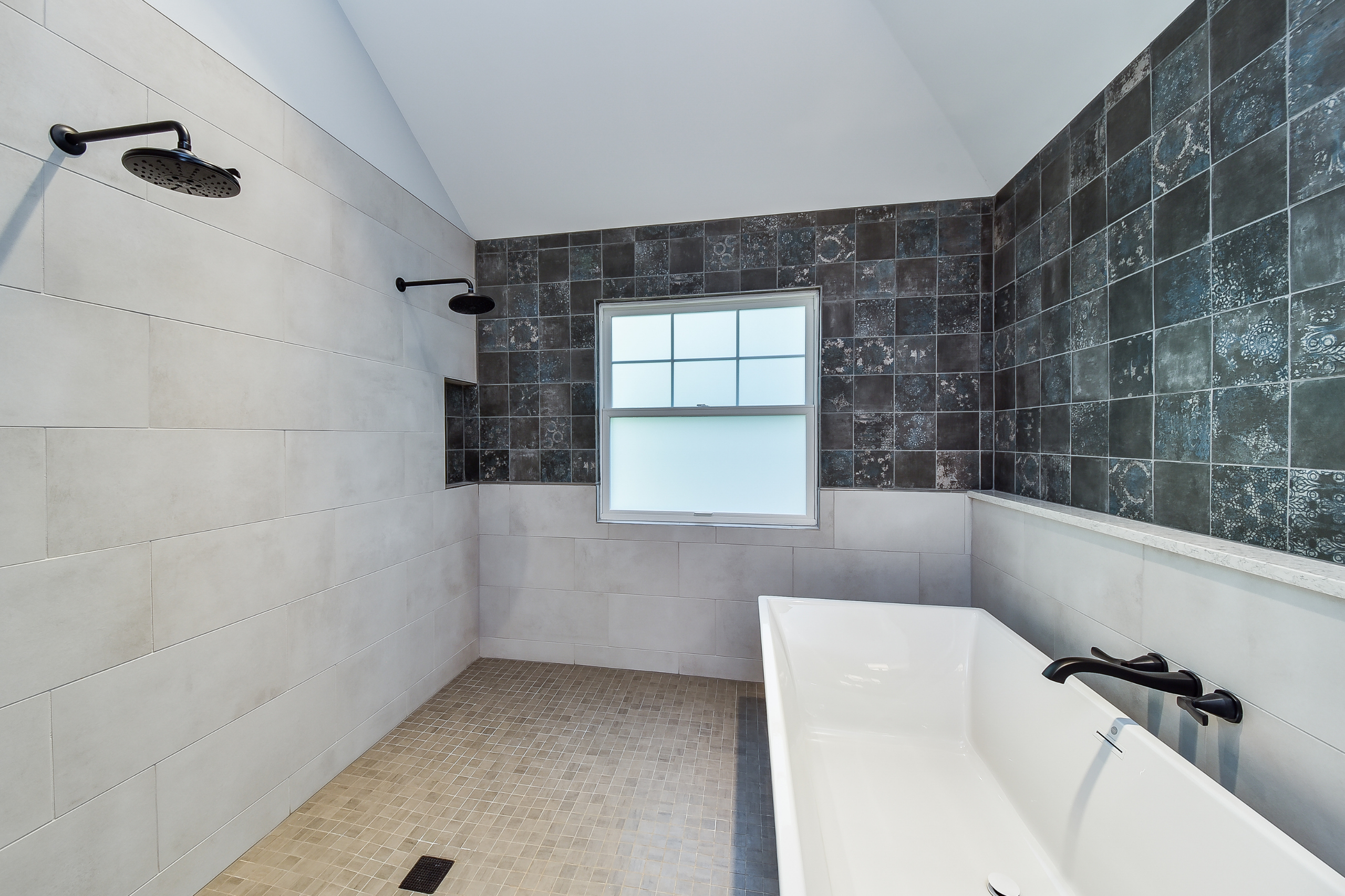 Showerhead
From a handheld showerhead to a standard wall mounted head, there are many showerheads available today. There are a few things one needs to take into consideration when purchasing a showerhead. Some key factors to consider include:
Spray patterns – Different modes allows a user to enjoy various water flow patterns – you'll be able to choose a design that suits you best.
Adjustability – A great thing about a shower that is adjustable is the fact that you can heighten or shorten your showerheads length to suit you. For example, if you are tall, you can adjust it to be higher, and a shorter person can do vice versa.
Shower Flow Rates – Standard shower heads use 2.5 gpm. However, a shower head must use no more than 2 gpm to earn the WaterSense label. Back in 1994, federal regulations limited shower head manufacturers to a maximum flow rate of 2.5 gallons per minute (gpm). California has enacted its own legislation limiting the flow rate to 2.0. This will be reduced even further to 1.8 gpm by July 2018.
Thermostatic – The thermostatic feature ensures that your water temperature remains steady throughout. It helps control heating degree, preventing your unit from switching to cold water when another tap is opened somewhere else in your home.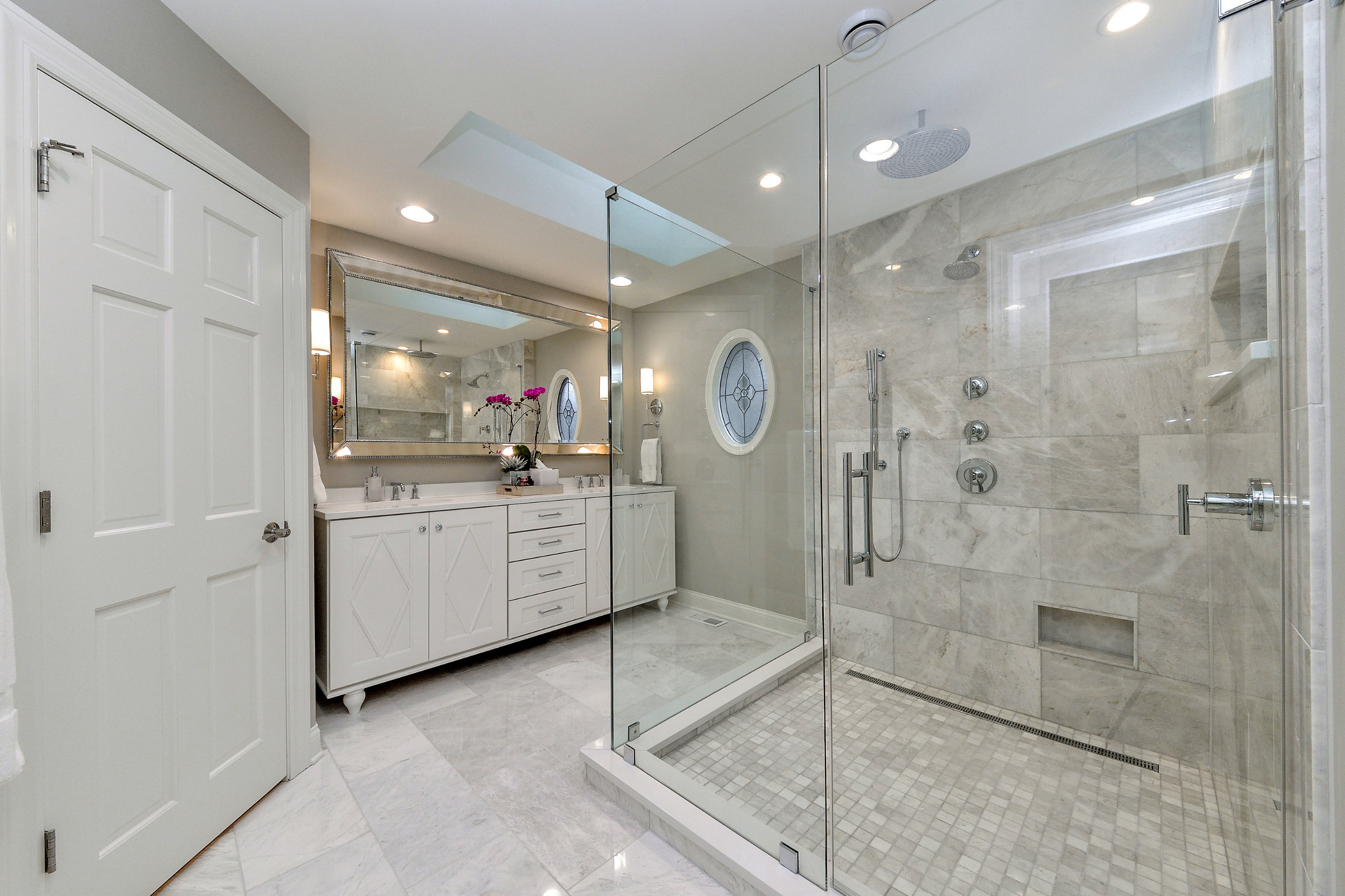 Soap, Shampoo & Bodywash
Ever been in a bathroom that has no shelf for soap or shampoo bottles and you end up just placing everything on floor? A good thing about remodeling is that you'll be able to customize your bathroom to accommodate small and highly functional pieces such as soap holder, a shower dispenser and most importantly a soap shelf. Include a small shelf or two in your walls for placing conditioners, gels, etc. Size these shelves to accommodate the tallest bottles. When your contractor is installing these shelves, ensure they slope them towards the shower to allow for water to shed off quickly.
When it comes remodeling your bathroom, there are many small but vital things you need to take into consideration. The first thing you need to do is determine what kind of shower you wish to install and how much you plan to splurge on that project. From here, select size, location, style, and other features that when combined will mold your dream into a reality.
How To Select The Appropriate Shower Size
Check all of your options before finalizing the ideal shower size for you to make the most excellent decision for your bathroom and lifestyle. Questions to consider include:
Who will be using this shower the most?
What, if any, accommodations are required?
Where will accessories such as lights and storage be installed?
How can I tailor the shower to my specific requirements?
Careful planning can boost your pleasure with the finished outcome, allowing you to spend more time relaxing and less time worrying about your new shower. After you've answered these questions, consider the following suggestions for determining the appropriate shower size.
Consider Shower Placement
The amount of available space will determine the type of shower you choose. A walk-in shower, for example, will provide more positioning freedom due to its configurable size and shape. Consider any accessibility enhancements for people who may use the shower as well.
If you have an angled ceiling in your bathroom, you may use it to create a pleasant shower setting while also preventing moisture buildup. Consider placing a walk-in shower or bathtub/shower combination beneath a staircase to free up additional floor space in the bathroom.
Calculate Your Available Space
Standard shower size specifications only account for the interior shower area; therefore, a shower installation should take into account the whole available space in the bathroom. First, determine the area's height, as some shower choices have a minimum or maximum recommended height. Then, calculate the square footage by first determining the depth of the space, followed by the width.
Measurements must be perfect so that no additional room is left during installation, else mold and mildew will grow. A professional installation can assist in ensuring that the proper measurements are taken before the process begins.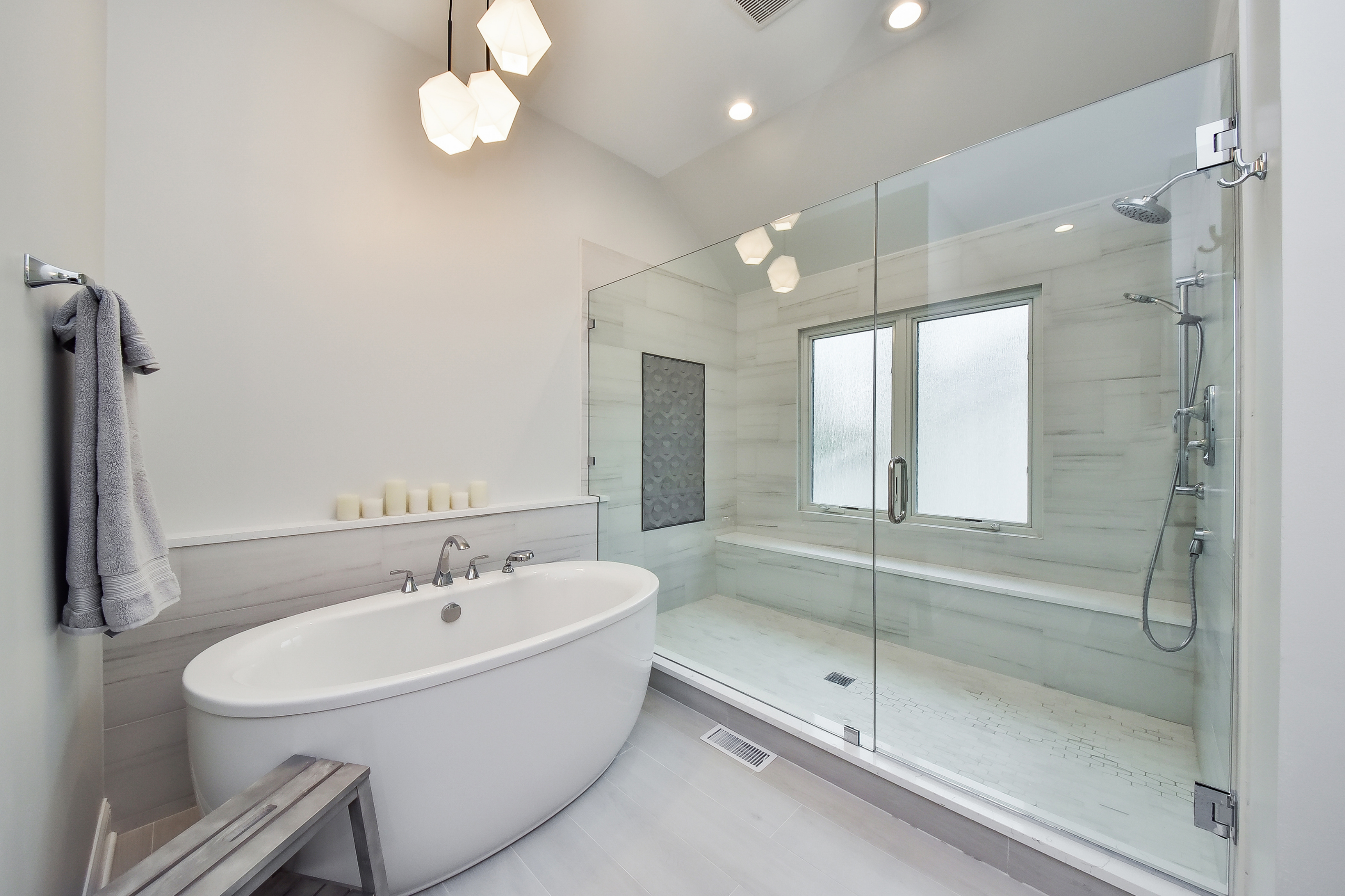 Frequently Asked Questions
How big should a walk-in shower be?
Walk-in showers are versatile and can be installed in a variety of bathroom configurations. Showers that are at least 36 x 36 inches in size will meet ADA accessibility criteria and provide a comfortable shower environment for most homeowners.
What are typical shower pan sizes?
Shower pans are prefabricated bases that can be used for both normal enclosure and walk-in showers. The most frequent sizes are 32 x 32 inches and 36 x 36 inches, with 30 x 30 inches being the smallest conventional shower pan size.
What are the standard shower door sizes?
Most shower doors are between 22 and 36 inches in length, regardless of whether they are hinged or sliding. Sliding doors, which are normally half the length of the bathtub, are most prevalent in shower/bathtub combinations. Standard hinged doors in walk-in and steam showers are 26 inches wide.
What is the typical size of a shower rod?
Shower rods are frequent in shower/bathtub combos and doorless walk-in showers. Because shower rods are customizable in length, measure your shower opening to determine how long your shower rod should be. To avoid snagging your shower rod, place it at a height that allows you to reach it without yanking on your shower curtain.
What size shower curtain do I require?
A shower curtain is required if you require a shower rod to prevent water from splashing out of the shower. A shower curtain that is slightly broader than the opening of your shower can effectively limit water runoff. If you're concerned about water splashing, consider hiring a shower installation professional to add a door to your shower instead.
Is a 30-inch shower too tiny for you?
How small is too small depends totally on who will be using your shower and where it will be located. The International Residential Code specifies a minimum shower size of 30 inches. However, a more significant size may be more pleasant for you if your space allows. 30-inch showers are ideal for tiny bathrooms when a larger shower would be too large to fit.