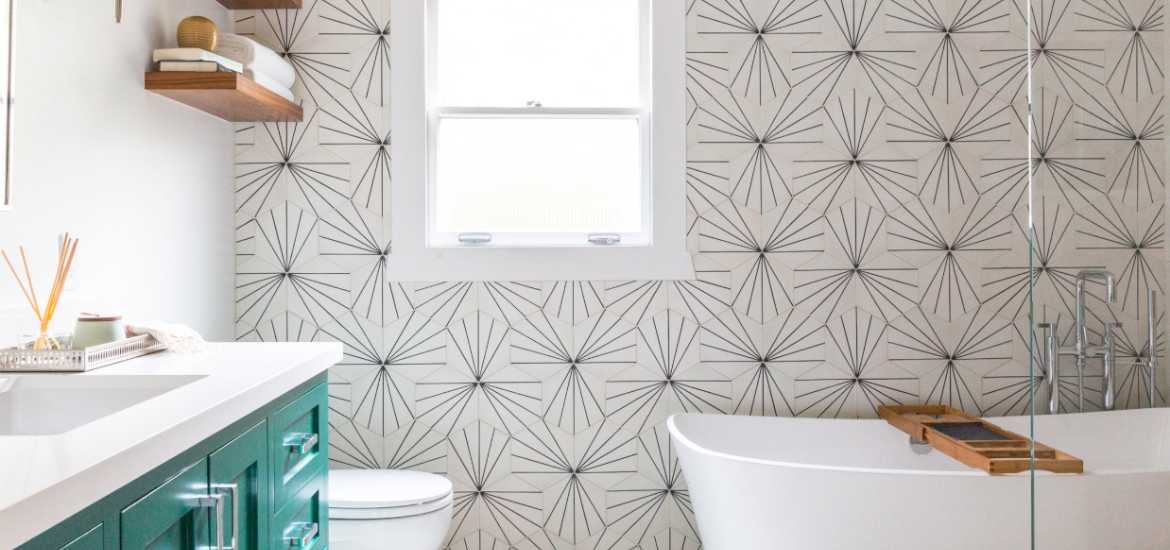 In case you have passed on using hexagonal tiles for remodeling tasks since you believed they look dated or vintage, you are in for a huge surprise.
Designers have revived this particular classic tile into unique brand new styles, which will motivate you to use them out once again. Get ready to be thrilled with large hexagons, subtle wave effects, unique color combinations, and much more.
Check out these 23 hexagonal tile ideas to open your senses on the brand new wonders of hexagonal tiles.
TRADITIONAL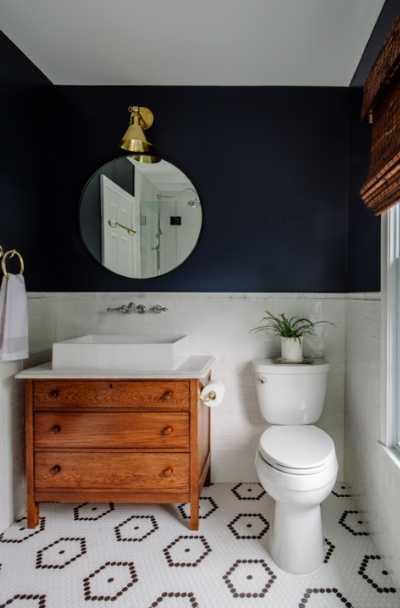 This bathroom design looks so traditional and has a cozy and bright vibe. The hex tiles look great with the antique chest of drawers repurposed as a vanity—such a conventional design by Alison Giese Interiors.
TRANSITIONAL
Everything looks so transitional in this bathroom design and has an elegant vibe. The floor tiles are completely bespoke. They were created using two different tiles. Erica Gelman Design Inc. created such a transitional bathroom design.
BEIGE
Do you desire a traditional bathroom design with a warm and inviting atmosphere? This bathroom design by CG&S Design-Build is amazing. Beige tile with floral pattern, combined with gray cabinets, gray walls, and an under-mount sink.
BLACK & WHITE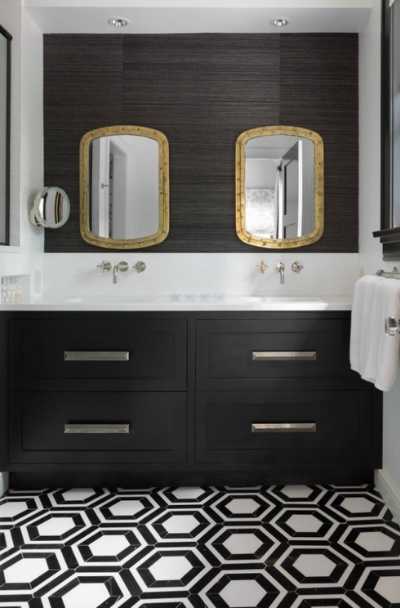 Want an elegant and expensive-looking bathroom design with a modern vibe? This is such an incredible bathroom design by Cabri inc. Black and white floor tiles with black vanity and gold-framed mirrors for this transitional bathroom.
CONTEMPORARY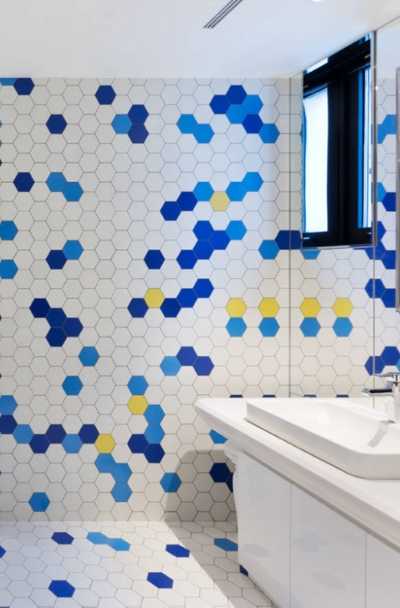 Do you desire a modern, energizing, and contemporary bathroom design? This bathroom design by Dariel Studio is excellent. For this modern Beijing bathroom, hexagonal blue, yellow, and white tiles were used.
FUN PATTERN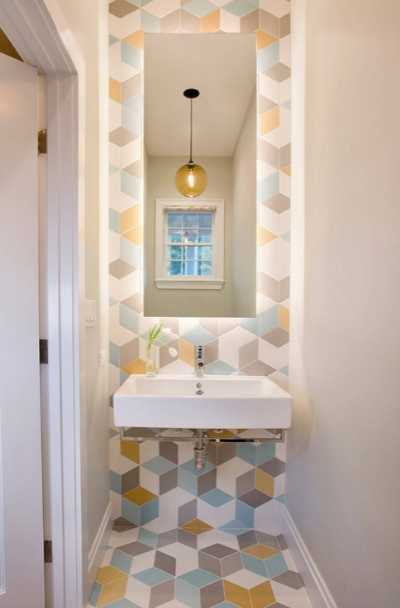 Even though there is little room, everything still looks great. The interesting patterns and colors in this modern Boston bathroom room are striking. Stone Source made the tile. Excellent work, Foley Fiore Architecture.
INTERTWINED
This bathroom design looks clean and natural and has a very bright vibe. This is such a good bathroom design by VORBILD Architecture. You can get the same bright and refreshing floor tiles from Marrakech Design.
Why Go For Hexagon Tiles
Everybody likes a classic metro tile, but often you end up looking for an item with a bit more pop. Geometric patterns are a popular interior trend at this time, so it is not surprising that hexagonal tiles have grown to be a must-have item for a statement wall or even floor.
Hexagon tiles are fantastic for producing an eye-catching wall or floor style in your house without having to devote to bold patterns or even colors. Whether utilized across an entire surface, as being a transitional element or a method to play with colorful shades, honeycomb tiles open up a whole realm of ideas that go beyond the traditional metro.
Hexagonal tiles provide a fantastic scope for playing with styles and patterns. The most conventional method is usually to tile them directly, with the vertical rows neatly balanced out from one another, though you can, in addition, tip them onto their corner in order for rows to run horizontally. This is an especially useful method for a statement wall piece or mirror, as the corner angles provide an additional edge on the shape.
A common approach to utilize hexagon tile patterns is on a transitional floor, in which you can break-up regions of the home by changing up colors and materials. Most transitional floors utilize hardwood as the starting material, and also you can make use of hexagon floor tile to have a gradual change and open up your room.
TRENDY
Do you want a trendy bathroom design with a sleek and detailed pattern? Everything looks so elegant in this bathroom design by Buckenmeyer Architecture. Deep blue hexagon wall tiles for this contemporary bathroom in Portland.
SERENE
Want to unwind and feel renewed after a long, difficult day? This smarterBATHROOMS+ bathroom is so calming and inviting. This modern bathroom's hexagon floor tiles are made by an Australian company called Signorino tiles.
MEDITERRANEAN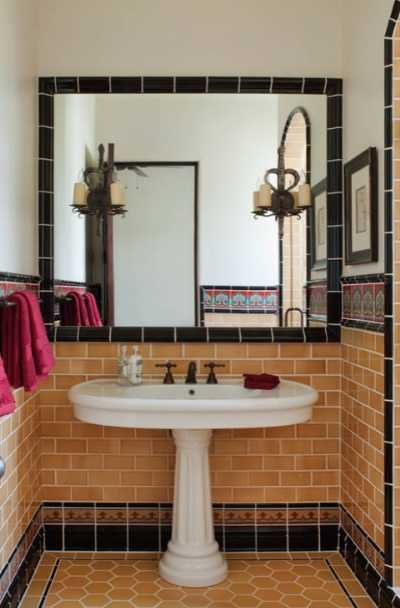 Do you want a classic and rustic bathroom design for your home? This San Francisco bathroom has terra cotta hexagonal tiles on the floor. This rustic bathroom by Michelle Pheasant Design, Inc. is just stunning.
Making A Statement Through Hexagon Tiles
Transitional floor surfaces are a useful method to split sections of an open area with style. Spruce up your hardwood hallway with a statement tile entrance or perhaps seamlessly combine your open-plan spaces by merging hexagonal kitchen tiles with wood floors in your living or dining room.
You can furthermore make more flow by allowing your tiled wall to run onto a tiny portion of the floor, removing the sharp divide between floor and wall. Hexagonal tiles go great for this because you can produce an undulating dividing line, and design by placing accessories like tiny tables, plant life, or chairs on top.
Hexagonal tiles are ideal for producing a feature wall. In essence, the honeycomb design normally attracts the eye, and by using contrasting colors and sharp grouting, you will have the ability to produce a stylish statement that is hard to ignore.
You may also use hexagonal tiles to bring attention to a feature piece inside the space. Simply lay hexagonal tiles within an open design under the part you are attempting to emphasize and voila—a quick showpiece. A must-have in case you have a free-standing bath!
You can also use this method on your wall space to frame a feature, for instance, around a fireplace or perhaps over the back wall structure of a shower.
GEOMETRIC
The geometric patterns in this bathroom design are excellent. Everything about this bathroom design by SH Interiors is gorgeous. The lively and interesting geometric tiling in gray and white gives this bathroom a little more flare.
BOLD BLUE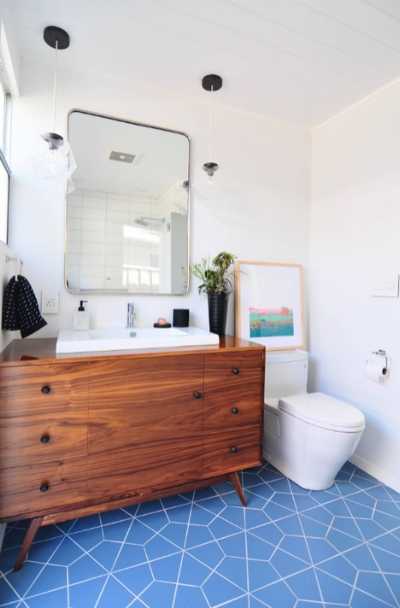 This bathroom design is excellent and exudes a sense of freshness and sophistication. The bathroom design by Fireclay Tile is amazing. In this Midcentury contemporary bathroom, the striking blue tiles stand out.
SUBTLE
In this luxurious-looking bathroom design by Joshua Alan Interiors, everything appears so understated and contemporary. This contemporary Boston bathroom room has hexagonal tiles in a soft gray color with subtle designs.
Popular Hexagon Tile Applications
Hexagon tile can be used on any surface inside or outside your home. Here are a few of our favorite hexagon tile uses:
Hexagonal Tile Flooring
Hexagon tiles are frequently used to cover bathroom floors because they are incredibly durable, water-resistant, and can quickly make a stylish statement.
Hexagon Tile Backsplash
Backsplashes are ideal for hexagon tiles, putting them in the spotlight as you cook or prepare for the day. The most common application for hexagon tiles is on kitchen backsplashes.
Hexagon Tile Accent Wall
A feature wall is another excellent area to display your hexagon tile, transforming it into an actual wall-to-wall work of art.
Fireplace Surround
The fireplace is the focal point of any space, making it the ideal location to make a hexagon tile design statement.
Shower
You don't have to worry about ceramic hexagon tiles being harmed by water so that you can use them in the bathroom and even the shower. This enables the creation of designs such as this stunning white marble-look hexagon tile shower wall.
Hexagon Tile Bar
We meant it when we claimed hexagon tiles would look beautiful anyplace, including places you might not think to tile, like the front of a bar or kitchen island.
MODERN
Do you desire a contemporary bathroom with a sinister theme? Josh Wynne Construction created a bathroom with such a modern aesthetic. The 3D effect on the black hex tiles makes them seem amazing—Basalt Ceramica Magica floor tile.
STYLISH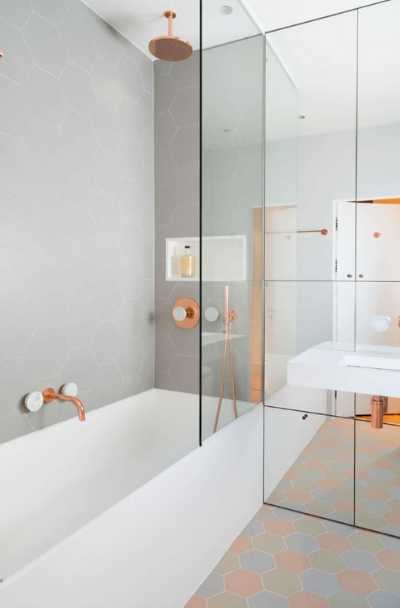 Everything in this white and copper bathroom design by Amberth appears so streamlined and sophisticated. This bathroom looks fashionable and modern thanks to the copper fixtures and pastel hexagonal floor tiles.
Advantages Of Hexagon Tile
Tile is the most exceptional flooring and wall option for the bathroom, since it is waterproof, simple to maintain, and will not mold, scratch, mildew, or stain. The amount of choices for bathroom tiles is astonishing. Tile is packaged in countless shapes, textures, colors, sizes, and supplies. You can get almost any appearance with tile, from rustic to ultra-modern, along with everything in between.
Hexagon tiles are among the most widely used tile options for the bathroom. Below, we look at these striking tiles as well as the various distinctive methods you can make use of them.
Hexagon tiles have six sides and fit together perfectly to produce a cohesive design. These tiles started to be famous in bungalow-style houses in the 1920s and 1930s, and numerous older homes continue to sport their prized pristine tile. Black and white hexagon tile had been the most favored selections for hexagonal tiles back then, and one of the more sought after patterns was the rose design, recognized by solid white hexagon tiles interspersed with dark hexagon circles, resembling flowers. Nowadays, you will find countless ways to make use of hexagonal flooring in the bathroom.
For a classic, retro look, put in white-colored hexagon tiles on the floor or wall space, and also make use of a charcoal gray or dark-gray grout to help make the form of the tiles pop. This mixture works very well in a black and white bathroom. Imagine a contemporary and retro black colored vanity with farmhouse-style white sinks, and hang a few monochromatic art on the wall space for a sharp, appearance that is fresh.
TEXTURED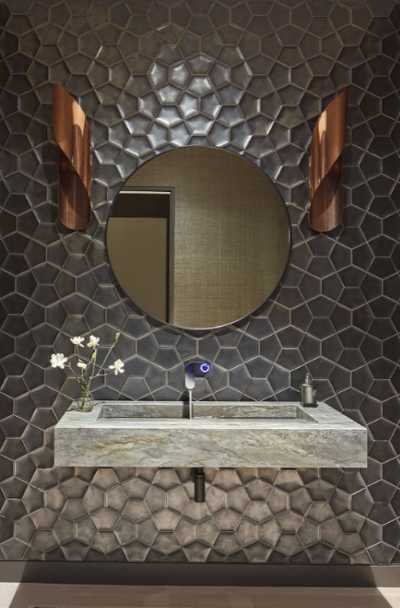 You won't believe it's a bathroom because of how textured and contemporary it is. M.S. Vicas Interiors did a fantastic job with this bathroom. Ann Sacks' wall tiles add a touch of texture to this ultra-modern lavatory.
MOSAIC
Everything appears contemporary, and the vibrant bathroom design exudes a cool atmosphere. Davida's Kitchen & Tiles did an excellent job of detailing this bathroom. The hexagonal blue, white, and yellow tiles make this children's bathroom more interesting and engaging.
Mix & Match Different Colors Of Hexagon Tile
Among the most effective methods to style a hexagon tile design in your kitchen or bathroom is decorating the majority of the home in light, neutral colors and put in a contrasting dark hexagon floor tile. And in case you are feeling very bold, present a bright and clashing color into the mix!
You can actually play with various colors of hexagonal tile for a complex floor or wall pattern. Buy your hexagon tile in an assortment of shades, and fit and mix on your structure for a patchwork vibe.
Do not overlook your grout! Colored grouting is an excellent understated way to have additional character in your design; this works fairly well with white hexagonal flooring along with a contrasting dark grout, or you can also use black hexagonal tiles with white. When you like to go all out, choose a brilliant colored grout together with your gray or marble veined hexagonal tiles.
Those who are searching for smaller-scale hexagonal tile ideas will like a feature kitchen hexagon tile backsplash! Layer a little block of hexagonal tiles above your countertops to produce a contemporary geo backsplash. If you have a neutral kitchen, this is the best chance to expose a pop of color, which is going to give your home a focal point.
Different Ways To Use Hexagon Tiles
Black tiles are starting to be more popular in the bathroom, especially on the floors. A black hexagon mosaic tile flooring with white grout defines the form of the ceramic tiles and also adds a layer of texture to the bathroom. Larger black colored hexagon tiles with white grout on the wall surfaces are beautiful and bold and generate a good style statement.
Trickling patterns are common this year and can work nicely in bigger bathrooms. An eye-catching and interesting trend, trickling patterns involve hexagon tiles, which gradually transition to wood or another flooring type, with the flooring randomly tapering off where the wood starts. You can furthermore produce this particular design with contrasting hexagon tiles. For instance, black tiles might transition slowly to gray or white tiles. Trickling patterns add interest and texture to the bathroom and look fantastic on the wall or even floor.
The classic hexagon tile we are all accustomed to is the one-inch variety. But over the years, hexagon tiles have grown in size. These luscious 3.25-inch hexagon tiles would be a bold statement within the bathroom, whether you install them up on the floors or walls. White with marbled gray accents, these tiles appear spectacular with dark grout and will improve an outdated bathroom right into a luxurious hideaway.
Small or large hexagon floor tile punctuated with a contrasting color make a fluid, bold style that is as playful as it's gorgeous. Combine white hexagon tile with gold, blue hexagon tile, or black tiles, and incorporate different shades of white for a subtly textured monochromatic look.
Other Hexagon Tile Ideas
Another dramatic hexagon tile look will be the half-and-half. Typically utilized with bigger elongated hexagon tile in two or more contrasting shades, this particular style involves cutting each tile in half and mixing halves to produce exciting geometrical patterns within the hex pattern. Although this tiling job might be labor-intensive, the end look is worth the extra task.
Matching and mixing hexagon tiles with tiles of an alternate shape creates visual interest inside your bathroom. For instance, you can have a spectacular appearance by setting up white subway tiles with dark grout on the wall space and black hexagon tiles with white grout over the floor. Or perhaps, you can try large format rectangular flooring tile as well as large hexagon tile on the wall space for pleasing eye contrast.
Tiny, white hexagon tile floor in the bathroom take a classic look, and you can help make it more retro with a black and white tile border. Have a distinctive appearance by producing the border with tiny square tiles inside a checkerboard pattern or Greek key pattern or border your flooring with black hexagon tiles interspersed with white rosettes.
Hexagon tiles are accessible in a wide selection of materials. Ceramic tiles and porcelain are the most affordable solution. They are simple enough to set up whether you are an experienced DIYer, and they do not need very much in terms of maintenance. Natural stone tile, such as soapstone, granite, slate, and marble hexagon tile, is costlier compared to porcelain and ceramic, though the organic colors and textures of these materials make them an eye-catching choice for the bathroom.
This is an image roundup post, curated to showcase and promote other reputable contracting companies' and their amazing work.  To have any of the images removed, please reach out to us and we would be happy to do so.
Other Great Articles to Read: