There are lots of design elements to consider when remodeling a bathroom. In this article, we'll focus on different bathroom faucet styles and functions as well as maintenance and lots of other things you need to consider. As well as being visually appealing, bathroom faucets should be easy to use–fitting effortlessly into the overall aesthetic of your bathroom. From how the faucet functions to the finishes available; this article provides a comprehensive functional overview of selected bathroom faucet options available on the market.
Construction & Valve Type
We all get excited about how the bathroom faucet will look, however, we need to spend a little time to consider how the faucet functions and how long it will last.
The kind of valve affects its reliability and will determine how long the faucet will last or how soon it will need to be repaired.  There are 4  types of valve technology:
Compression – Faucets with compression valves usually consist of individual hot and cold handles.  These valves control the flow of water by means of a screw-like feature in the handle that compresses a seal (rubber washer). A compression valve is considered the simplest form of faucet valve and can require maintenance sooner than other types of valves.
Ball – Ball valves are used with single lever faucets. Ball valves don't use washers like compression valves. The ball valve has slots in it that control the mixture and the amount of hot and cold water that's allowed through the spout. Moving the handle changes the position of these slots within the valve which regulates the flow.
Cartridge – Cartridge valves are considered extremely durable. Cartridge faucets operate with a movable stem cartridge that moves up and down to regulate flow.  You can remove the cartridge and install a new one if it starts to leaks.  Cartridge valves have a hollow sleeve that is attached to the water supply that moves inside another sleeve. Movement of the faucet handle moves these sleeves relative to each other, aligning or blocking holes that control the supply of water. Cartridge valves have fewer moving parts than a ball valve but their seals can wear out and need replacement.
Ceramic Disc – Ceramic disc valves are also considered very durable.  Faucets with this valve type usually consist of a wide cylindrical body and single lever.   They have a wide cartridge housing and two ceramic discs that slide over one another to control water flow and temperature. The motion between the two disks controls the flow of water by opening or restricting the pathway for the water. The hardened ceramic material is a durable and resists corrosion and wear. Ceramic valves and cartridge valves are repaired/replaced using similar methods.   Ceramic disk valves are considered the most durable and longest-lasting type of faucet valve.  With that said, ceramic disc valves will be the most costly.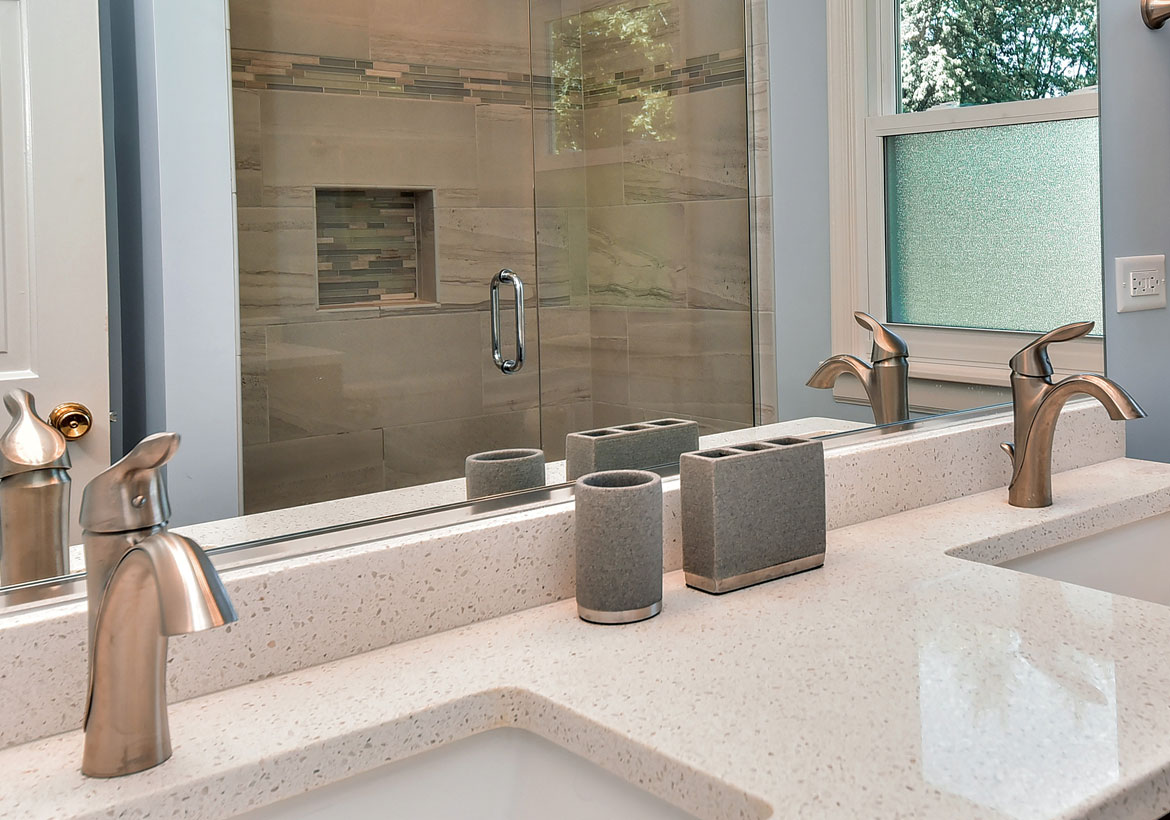 Standard Bathroom Faucet Configurations
Your bathroom faucet should last a lifetime, so make sure you choose a faucet that will be stylish and functional. In this section, we'll discuss the different bathroom faucet styles available.
Single Hole Bathroom Faucets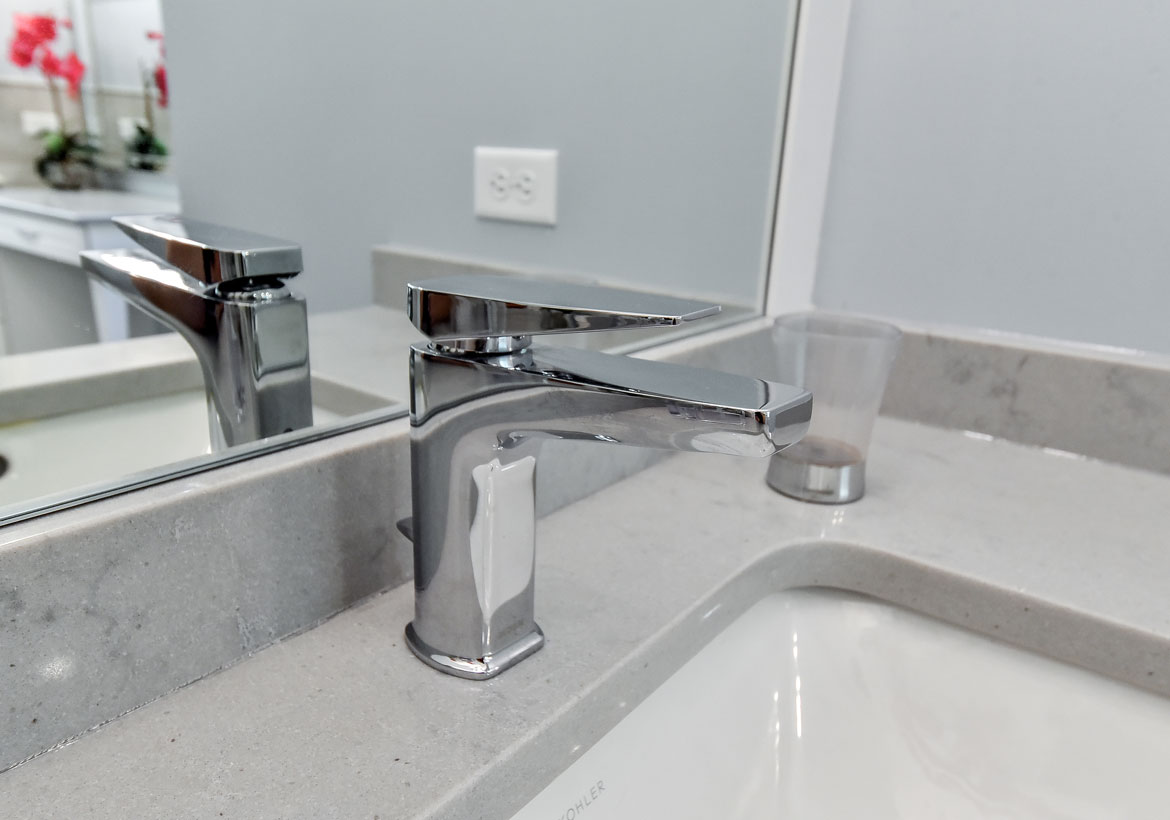 A single handle adjusts the water pressure and temperature.   A single hole faucet can adapt to a sink with three holes if an escutcheon plate is added.
4-inch Centerset Bathroom Faucets
A centerset bathroom faucet is designed to fit sinks with three faucet holes that measure 4" from one side to the other.   This is a great choice for smaller vanities.  The handles and spout are all one piece.
8-inch or Widespread Bathroom Faucets
A widespread bathroom faucet is designed to fit sinks with three faucet holes that measure 8" to 16" from one side to the other.   These faucets consist of three separate pieces.  A more expansive area is needed to accommodate this faucet choice.
Wall Mount
A wall mount faucet is commonly chosen if you have a vessel or under-mount sink.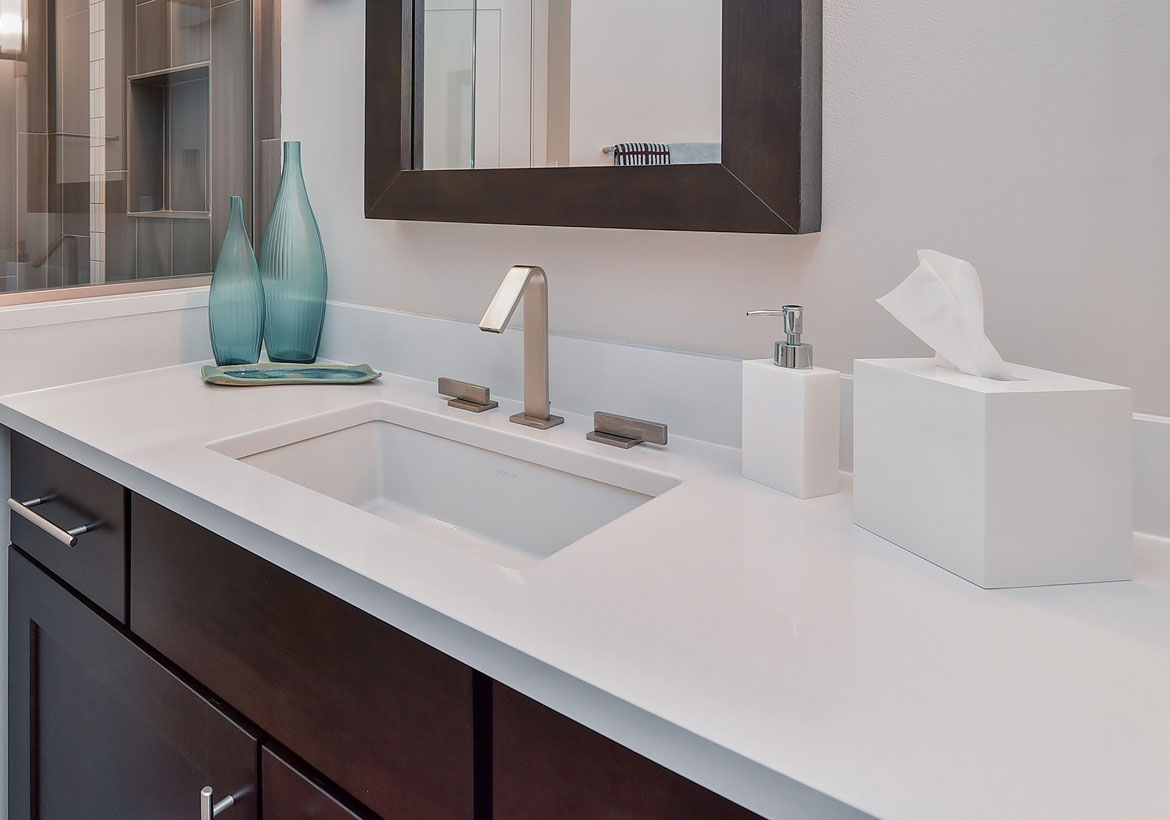 Finishing Touches – Design and Style
The finish (color/metal) is just as important as the design. Here are some common bathroom faucet finish choices:
Chrome is a shiny finish with cool blue tones. They've become more popular over the last 70 to 80 years because they fit well with sleek, minimalist bathroom designs. The best quality chrome faucets will be durable, tarnish resistant and low budget.
Nickel can be polished, brushed or hammered, giving it either a shiny or matte finish. Like chrome, polished nickel is gleaming – but it has a warm golden hue instead of a cool blue. With this color, accessories should be warmer earthy tones of orange, green and brown. Brushed nickel, sometimes called pewter will bring a softer tone to your basins and tubs. Because nickel can be hard to maintain over time, it requires regular polishing to keep it from losing its luster. If you're choosing a nickel finish for your taps, brushed nickel might be a better choice – it's more tarnish resistant than polished.
Stainless Steel is known to have antibacterial properties, so it's a wise choice to consider when thinking about the long-term maintenance of your taps. Like chrome, it too is shiny, but it is a more luxurious alternative, being longer lasting and hard wearing.
Oil Rubbed Bronze is traditional, dark, rich and durable.  Can be a little more expensive than chrome or brushed nickel.
Brass gives a more traditional look, but can be paired with a modern sink for a contemporary look. If your bathroom has a wooden theme, polished, brushed or hammered brass will complete the Victorian, vintage look.
Unique/Custom Bathroom Faucet Finishes
Matte Black is just seeing increased popularity, so finding coordinating accessories may be difficult.  This style definitely leans more modern or eclectic.
Copper is very unique.  Requires a little more maintenance.  Most individuals that choose this special finish let it develop a natural patina as it ages.  You will most likely see in farmhouse or Tuscan designs.
White is another very unique choice but can be a very clean and fresh look.  Easy to clean and won't show water spots and fingerprints like other finishes.  However, if the faucet is porcelain–porcelain can chip. You will most likely see white faucets in modern or farmhouse bathrooms.