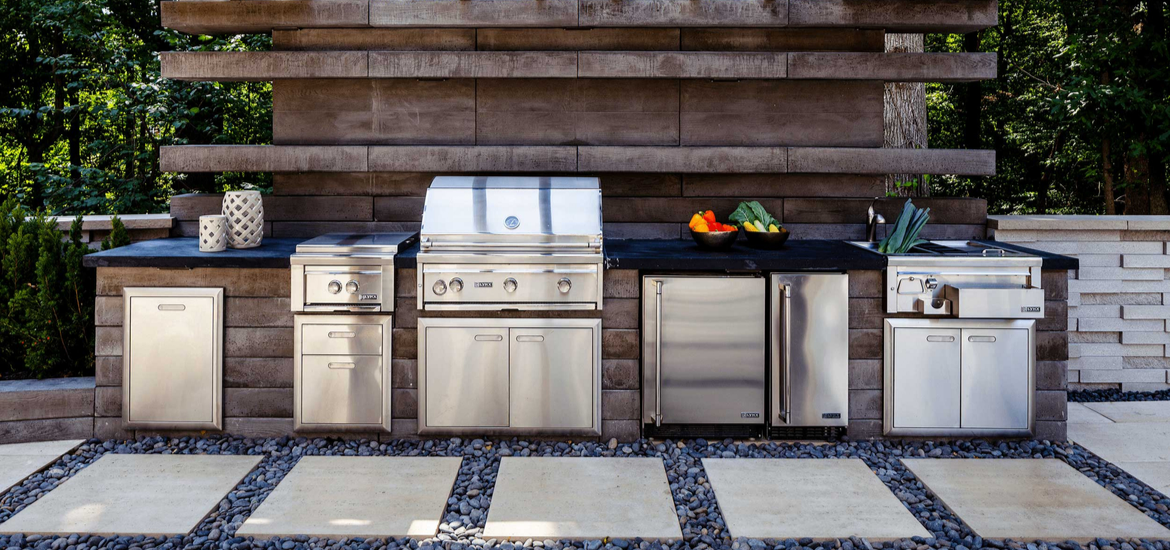 More and more homeowners are escaping the daily routine of cooking indoors by building an outdoor kitchen in the comfort of their backyards. This popular trend allows families to get outdoors, enjoy the serenity of nature, and add new experiences different from the typical lunch or dinner. Building a kitchen in your backyard is not all difficult, especially with the right ideas in mind.
Get away from the mundane habit of cooking inside with little to no windows. Give yourself and your family a breath of fresh air with one of our outdoor kitchen ideas below.
First, let's take a look at some of the possibilities that await with an outdoor kitchen; knowing the do's and don'ts of a backyard bistro can help you narrow down your style selections. After you are confident that it can be built to your liking, you can then choose from one of our stylish designs.
PATIO DINING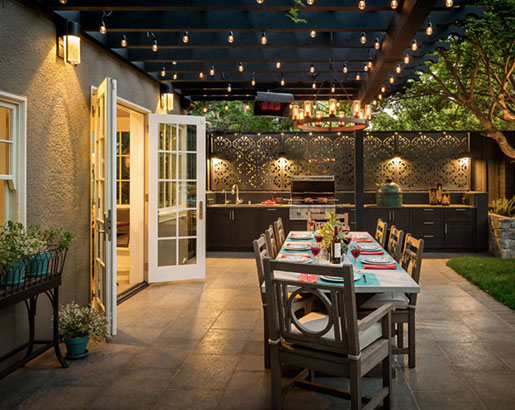 CUMARU DECK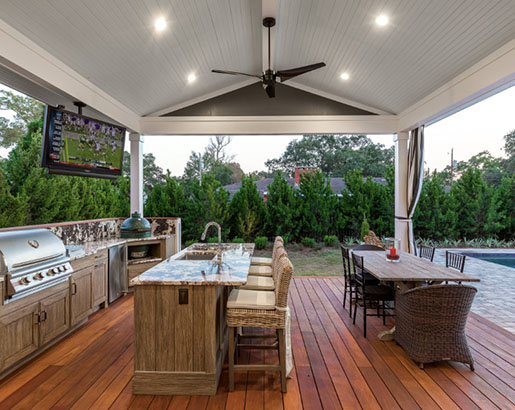 REFRESHING
ROMANTIC
COCKTAILS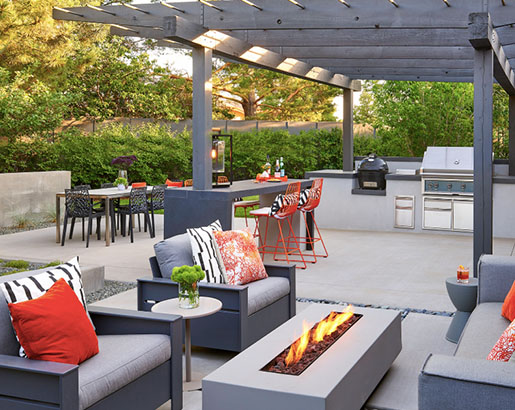 Building Your Outdoor Kitchen
The art of outdoor entertaining can increase both your creativity and your land value. Outdoor kitchens are leisurely, allowing families to enjoy the feeling of a good cookout without having to stay indoors. But there are a few key considerations to understand when embarking on your outdoor kitchen journey. Take a look at some of these DIY outdoor kitchen ideas and tips to help you transform your backyard into the outdoor entertainment center you want it to be.
Take Accurate Measurements
You need to take the space and size of your backyard into account before deciding which outdoor kitchen ideas work best for you. You can get in touch with a professional contractor for help making measurements of your patio and kitchen area. Make sure not to put aside too much backyard space for the kitchen alone, as you still need an area for comfortable seating, tabling, and relaxation.
Think About Framing
Is your outdoor kitchen going to be the main focal point of the backyard? How many components of the outdoor kitchen do you plan on installing? Being able to answer these questions will give you a better idea of the design you're looking for.
Plus, you should make sure that you have a sturdy foundation built up for you to base all of your appliances on. Make sure that whatever you're building is solid enough to hold the backyard kitchen you plan on having.
Know Your Decor And Details
An outdoor kitchen isn't complete without a nearby place to sit down and enjoy the food. Arranging your decor can be another big step in the decision-making process when looking for new outdoor kitchen ideas. And going beyond just form, you need function, too. Make sure you've planned for additional storage space for your cookware and dishes. Make sure you know where your water and gas lines are if you plan on installing a stove or sink. Get all the details before you set the design portion of your plan into motion.
GRILL STATION
BEACHFRONT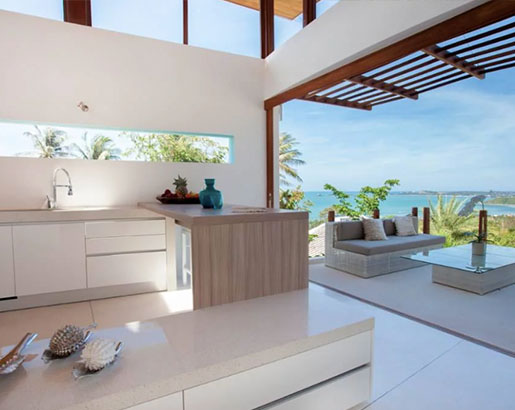 VENT HOOD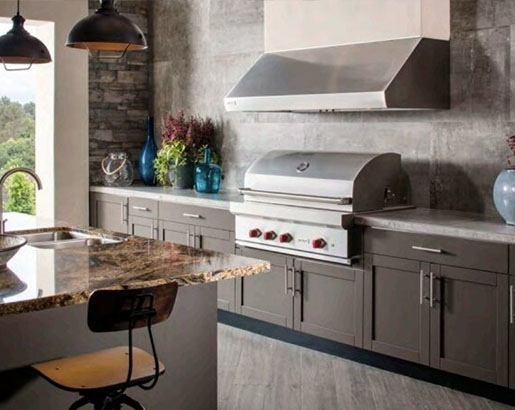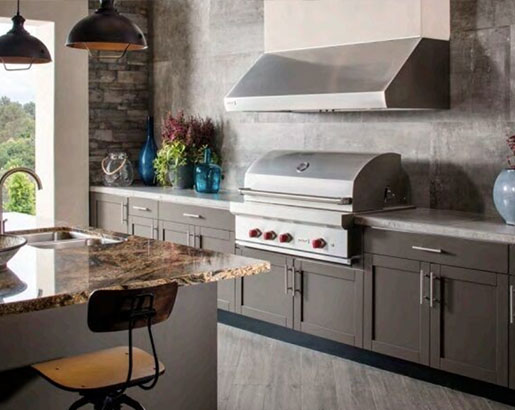 Outdoor Kitchen Ideas For Small Spaces
Just because your backyard is small, doesn't mean there isn't a space for an outdoor kitchen. In fact, some of the best designs can be laid on a budget. The most important thing an outdoor kitchen needs is a functional space, not a large one. In fact, you can even design a kitchen that is closeby to your indoor one; that way, you can quickly run in and grab additional items without having to run all throughout the house. It also allows you to use many of the same gas and water hookups that you use for your regular kitchen. Saving energy and time go hand in hand with saving space.
Make It Separate
When it comes to cooking outdoors, you just need a place for your stove or oven to ventilate. As long as you can build sufficient space for that, the rest of your design can be resized to your liking. One clever idea is to build a small bar or island that can be designated especially for the outdoor kitchen. The rest of yo