When choosing new kitchen cabinet hardware, make sure you take time to think about what you want to accomplish. We spend most of our time opening and closing cabinets, and yet, we put a little thought in the details accompanying the act. Today, we will look at modern cabinet hardware ideas that you can take inspiration from for your next kitchen-remodeling project.
Are you looking for cabinet pulls or cabinet handles? Do you want white kitchen cabinet hardware ideas? You're in luck because we have curated kitchen cabinet hardware ideas for you. Read on to know more!
SOLID COPPER
This kitchen design manages to be both homey and inviting all at once. The solid copper knobs look wonderful with the antique white finish of the cabinets. This Westwood Cabinetry and Millwork design is timeless.
LONG BOLD PULLS
This lovely, light kitchen design is also very pristine and white. With the white cabinets as a stark backdrop, these black cabinet pulls pop. Two Hawks Design and Development did an amazing job with this.
How Do I Choose Kitchen Cabinet Hardware?
Since the majority of kitchen cabinets don't come with hardware, it's up to property owners to decide which knobs and pulls to match their selection. Typically, it's not the easiest decision since there are numerous unique styles and finishes to choose. Here are a few tips to follow to help you on your hunt for the perfect modern kitchen cabinet ideas.
The hardware you select should match your theme in the same way your kitchen cabinets do. Which hardware works best with different themes? Smooth, tubular pulls complement the streamlined look in contemporary and modern kitchens. Conventional cabinets tend to have more detail and benefit from basic, smooth handles. French country can benefit from hardware with an antique style.
Keep cohesive finishes. You'll discover hardware in a run of finishes from brushed nickel to brass. Although blending and coordinating the hardware around your kitchen is okay, you ought to preserve the same finish and keep colors as close as possible. In case you're forced to purchase hardware from more than one store, make sure you keep finishes cohesive.
Should I Use Knobs or Pulls On Kitchen Cabinets?
In conventional and country kitchens, putting a knob on a cabinet is common. In reality, with numerous cabinets, knobs may be a better choice than pulls. How do you know when to use pulls or knobs? When kitchen cabinets are lavish or finely detailed, go with a knob instead of a pull. A knob is more uncomplicated and doesn't take much of attention from the cabinets.
You should also consider the kitchen cabinet color. The color of your cabinets is as critical as the style when deciding on the hardware. With white and painted cabinets, nearly any finish will work, but a few shades of brown are not as adaptable.
Be Mindful of the Kitchen Appliances And Installations
Pulls and knobs are not the only things in the room. Take into consideration the light installations, the finish on appliances, as well as the sink and faucet. While mixing metal finishes can be stylish, make sure not to exaggerate it. In case the colors clash, it might disturb the cohesiveness of your kitchen and take away the magnificence of your new cabinets.
Don't ignore quality. The hardware in your kitchen gets a lot of traffic. Don't put so much significance on the look that you disregard quality. You need hardware to be durable, stable, and simple to hold.
Think outside of the box. Your regular hardware will usually come in finishes like brushed nickel, gunmetal, and bronze. In some cases, it's okay to go with something out of the standard. Glass or mirrored hardware can work similarly as well, and can include an imaginative touch to your kitchen.
What Hardware Looks Best On Shaker Cabinets?
Shaker cabinets provide a basic and conventional design. Versatility may be a massive part of what makes them so immortal. Eventually, you accomplish the vibe you're going for through the finishing touches, one of those being the hardware you select.
Shaker-style cabinet doors are so versatile that they can go either conventional or modern depending on what you combine with them. Embellishing components like lighting, tile, and hardware can genuinely alter the tone and general fashion of a kitchen. Cabinet hardware is frequently alluded to as the jewelry of a kitchen, and just like with an outfit; it can genuinely modify the general look of your kitchen.
Where Should Pulls Be Placed On Kitchen Cabinet?
For 5-piece cabinets, the conventional placement is to place the knob within the corner of the face frame, so that the knob is within the center of both the vertical and horizontal frame pieces.
The same applies to pulls on cabinet doors: the bottom of the pull (for upper) and top of the pull (for lower) is centered on the corner. This arrangement is also the most viable, putting the handles as much within reach as possible.
A more cutting edge, current arrangement puts the knobs or pulls a little higher (for upper cabinet) or lower (for lower cabinets), so that the end of the knob or pull is flush with or somewhat past the edge of the level piece of the frame.
Another choice is to center the knobs or pulls vertically, which is a well-known choice for taller cabinets. Depending on the style of your cabinets and hardware, this may make a more classic, built-in pantry look, which is common in more seasoned homes. It ought to be famous even though this arrangement can be the hardest to reach.
BRUSHED NICKEL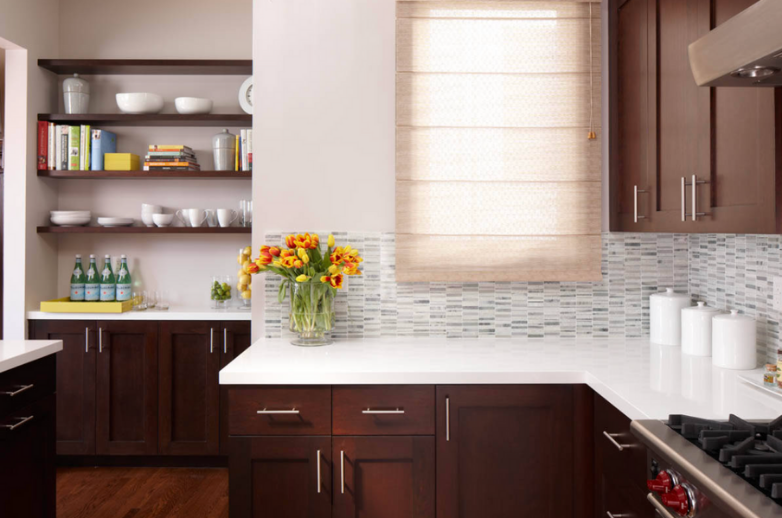 This kitchen is classic and rustic, but everything is bright and pleasant. When the handles on a set of cabinets are thus little, yet so consequential to the whole. Triumphant result! Andre Rothblatt Architecture has created such a stunning building.
FLAT BLACK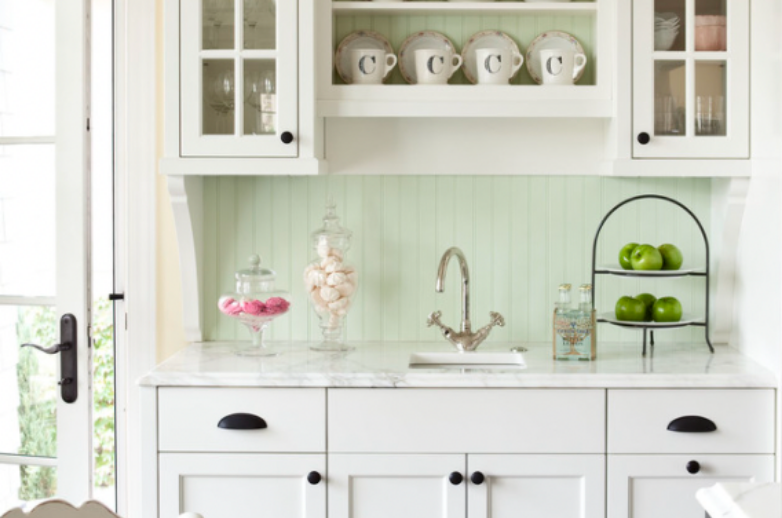 Everything in this kitchen design, which has a natural and bright appearance, seems very revitalizing. Cabinets with a slick paint finish look amazing with flat black handles and knobs! This kitchen by Martha O'Hara Interiors is well-designed and light.
20″ PULLS
In this kitchen design, everything appears to be so bright and attractive. These 36-inch drawers with 20-inch gold knobs and Merillat Classic's Cotton finish are amazing! The Jordan Design-Build Group created a kitchen that is very brilliant and amazing.
SATIN NICKEL
Want to keep it plain and simple? These knobs and pulls are perfect for minimalist kitchens. This monotone kitchen design looks minimal and trendy with a good choice of theme colors—such a pretty kitchen design by Huestic Tucker Architects, LLC.
What Are The Types Of Kitchen Cabinet Hardware?
There are plenty of types of kitchen cabinet hardware out there, just like there are many types of cabinets. But the most popular ones are knobs, pull, and cut-outs. Don't know the difference between these? Read on as we explain the different type of kitchen cabinet hardware and their particular uses. You can also find examples below, which you can draw inspiration from for different kitchen cabinet hardware ideas. This guide will help you as you search for the best cabinet pulls or cabinet handles for your project.
Knobs
Knobs come in a single screw and are most often utilized on cabinets, and are available with a built-in screw. This is known as a one-piece knob, or with an isolated top and fastener, popularly known as a two-piece design. Modern drawer knobs come in an assortment of materials including brass, zinc, stainless steel, bronze, glass, gem, plastic, wood, and other common and human-made materials.
The type of knob that works great in a kitchen will range in size and style based on the color and type of cabinetry you've got. That is why numerous individuals go with basic white cabinets in their kitchens. Knobs also come in different shapes and sizes but are regularly designed for ease of use. Knobs seldom have sharp edges that might harm somebody pulling on it.
Pulls
Another type of kitchen cabinet hardware are pulls or handles that attach to cabinet door fronts with two or more screws.
One well-known subset of modern drawer cabinet pulls are cup pulls, sometimes also known as half-moon pulls because of their half-circle frame. Instead of placing your fingers around a bar, as is the case with most pulls, users slip their fingers within the underside of a cup handle, pulling towards themselves. A more advanced adaptation of this is the finger pull, where a U-shaped pull gets introduced to the interior edge of a drawer, taking off an L-shaped pull that your fingers slide beneath. You can install these two types of cutting edge cabinet pulls by employing a particular mounting strategy. Also, they can only be installed in one direction, facing down.
Cut-outs
At last, another popular way of opening cabinets without the use of conventional pulls or knobs is through cut-outs within the cabinetry. You can usually find these on custom cabinets where a minimalist look is wanted, or where the budget is tight and sparing on hardware is alluring. Cut-outs can come in a range of shapes and are regularly designed to encourage ease of opening.
What Are Most Popular Kitchen Cabinet Pulls?
We understand that there are lots of products out there and searching for modern kitchen cabinet hardware ideas is not an easy task. If you are looking for great cabinet pulls or cabinet handles, you have come to the right place because you're in for a treat! We adore these 32 kitchen cabinet hardware ideas and we hope you can find inspiration from them. For most of the items, we have put where you can buy them to effortlessly steal a certain look.
This is an image roundup post, curated to showcase and promote other reputable contracting companies' and their amazing work.  To have any of the images removed, please reach out to us and we would be happy to do so.
Other Great Articles to Read: