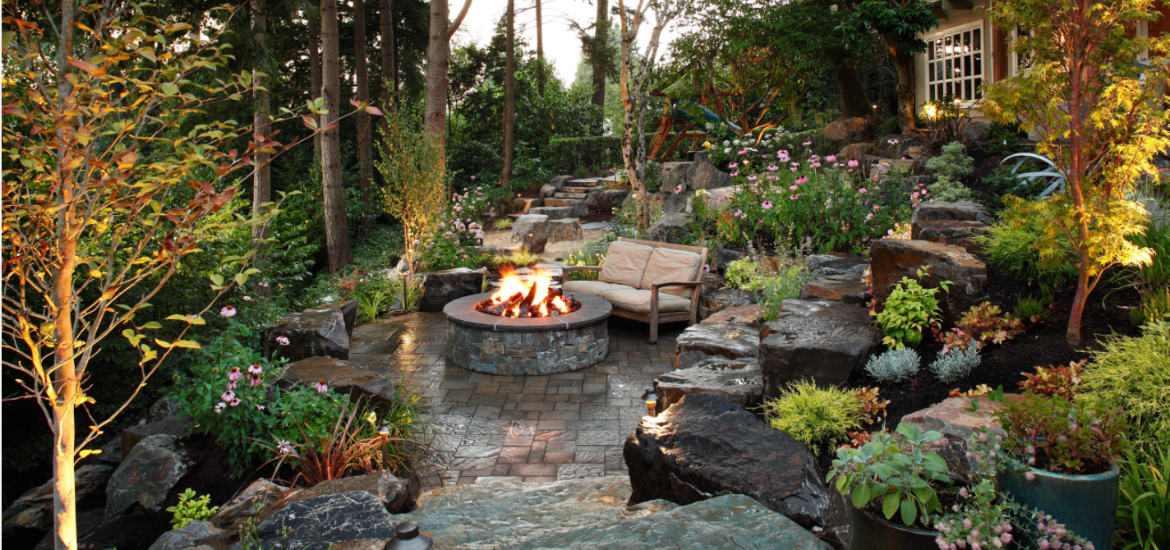 Sitting close to an outdoor fire pit with family, gazing at the bright flames under the starry night sky, will make you realize life is simply lovely and blissful! Introducing the element of fire to the backyard not just adds warmth, but additionally adds a high-end look to the outside space. We have come up with a gallery of the backyard fire pit ideas to inspire you on your next project.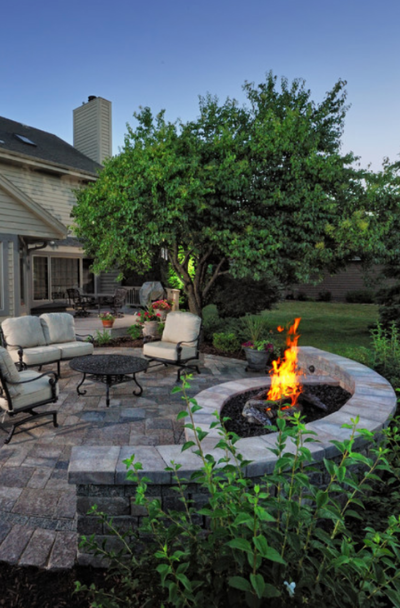 Need a reliable haven to escape to at the end of each day? You couldn't ask for a better backyard to relax in! You may unwind in this outside area, complete with a fire pit and plenty of plants. This classic garden layout was created by LandCrafters, Inc.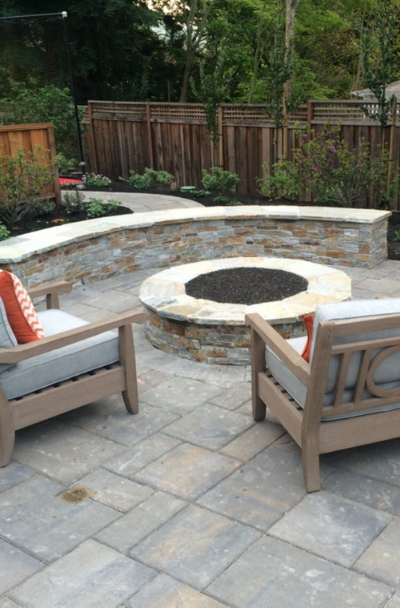 Backyard makeovers do not require a lot of high-priced materials. Stamped concrete patio by Riedel Precision Landscaping, Inc. is a great place to relax and enjoy the outdoors. This spherical gas fire pit will be the focal point of any gathering in your backyard.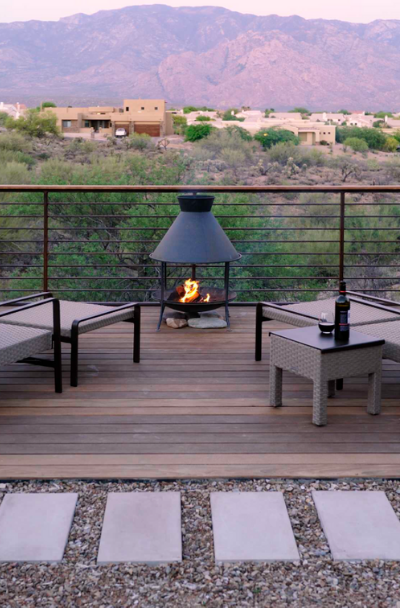 You can't deny that this desert deck is both beautiful and inviting. Enjoy yourself immensely, particularly when night falls. A Crate & Barrel portable fire pit sits on this terrace overlooking the desert—incredible work by Prideaux Design.
CALMING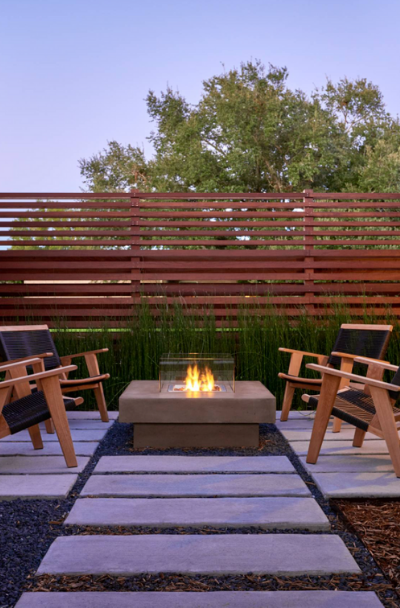 Everyone would agree that this patio design creates a relaxing and pleasant feeling. It even offers a sense like you are at a resort. The wood seats and railing lend a natural comforting aspect to this patio. This patio in the backyard by Bankston May Associates is beautiful.
COASTAL RETREAT
Do you wish you could escape to a beach hideaway? It's hard to pick between a beachy and a country feel while looking at this patio. I love this patio's tropical vibe and its gas-powered, hand-crafted fire pit. Wow, dRichards Interiors outdid itself with this one.
COVERED PATIO
Everyone will agree that this design appears like a patio at a hotel or resort. Because of the roof, this may be used in any climate. If you're looking for the ultimate outdoor experience, go no further than this covered patio, complete with a fire pit. Kikuchi + Kankel Design Group crafted this sheltered outdoor space.
2-STORY ADDITION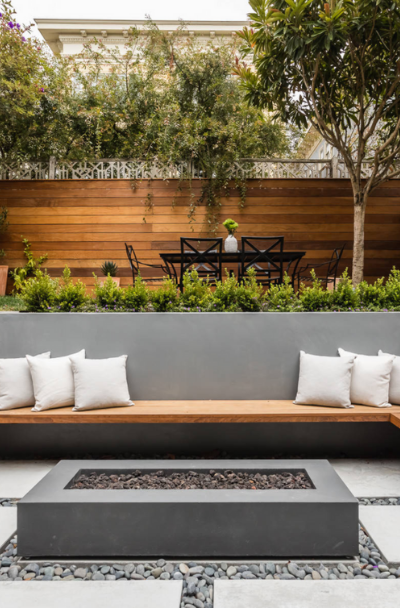 Do you wish you could spend time in your garden while feeling as though you were inside? JMJ Studios has designed a beautiful contemporary patio. A fresh, genuine, and luminous quality permeates the entire scene. Topanga Rectangular Fire Table from Restoration Hardware complements this modern outdoor space.
ALL-YEAR LONG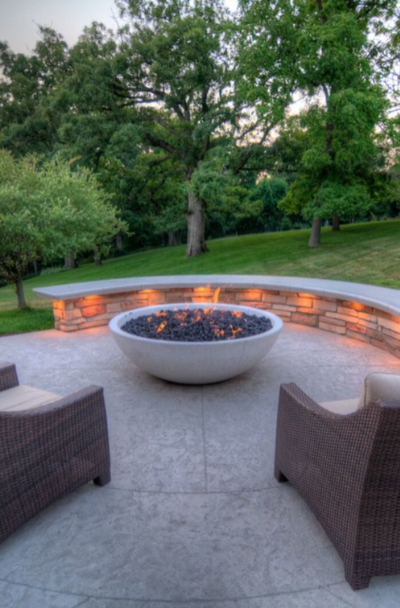 This patio layout is fantastic if your home is situated on a mountain or overlooks a beautiful landscape. Everyone in the family can get toasty by the fire because the basin of the fire pit is so big. Joining our family for a good time is a sure bet. Power Concrete Construction & Design Center has created an earthy and calming design.
Latest Design Trends For Fire Pit Ideas
While several of the designs in our inspiration gallery are customized and costly, creating an outdoor fire pit does not need to be. With a bit of imagination, as well as the usage of upcycled materials like shattered tempered glass, outdoor metal canisters, or stones, setting up a fire pit is able to add an attractive look for your yard, irrespective of finances. Just be sure you take safety into account when executing your outdoor fire pit ideas. Select materials which are durable and fireproof, and verify the region surrounding the fire pit is totally free of fencing, dry brush, and every other flammable material prior to use. You will find numerous kinds of fire pit gas options, including wood logs, propane, gas, gel, and eco briquettes. While gas requires expert installation and permits, the other energy alternatives might not. Wood logs and eco briquettes produce much more smoke and heat. Thus, make a summary of the cons and pros prior to determining what you would like most before building a fire pit to your lawn.
Ice and Fire – The word is coined for fire pit designs which use shattered glass parts as being a gravel alternative. Glass is heat resistant and also gives a fascinating, ice-like design element to the fire pit. Add geometric patterns or colorful glass to the fire pit for an innovative take on the fire & ice concept. Contact a neighborhood glass dealer and get them for any shattered tempered glass discards to work with inside your pit.
Water and Fire – The most recent fire pits combine the style components of water and fire together. Whether the water element is out of a swimming pool or maybe a water fountain which surrounds the flame, the mirror-like impact of water mirrors the fire's glow beautifully.
Stone and Fire – For an earthy & zen look, add stone to the fire pit. Stone is going to absorb the high temperature of the grill and send it after the fire is extinguished. A fashionable method to produce the fire & stone look consists of the number of big, sleek riverbed stones.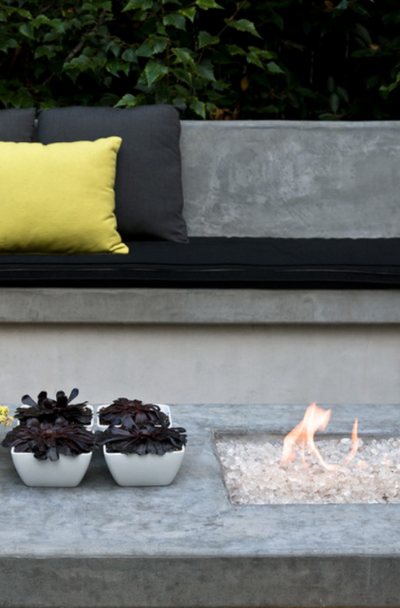 Are you interested in creating a relaxing and contemporary patio in your backyard? Lenkin Design Inc: Landscape and Garden Design guarantees your satisfaction with this patio. This modern landscape, with its soft lines and beautiful hues, is a work of art.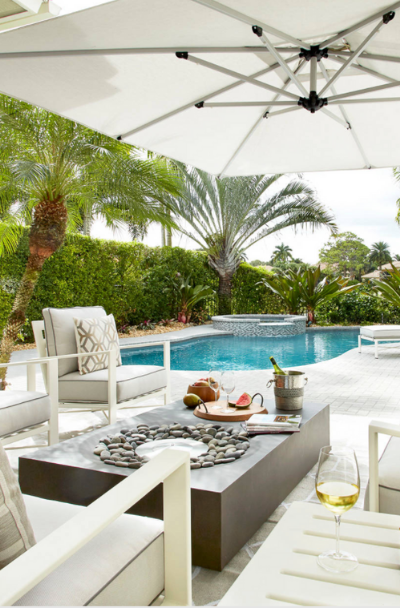 Do you want a relaxing patio next to your pool? After a swim, you may relax comfortably on this bright and airy patio. We love this cozy terrace beside the pool. Incorporated inside the table is a fire pit. This is such an incredible work by Krista + Home.
MODERN RANCH
Do you want a patio that appears both natural and up-to-date, like a ranch? This minimalist yet inviting patio layout is perfect for relaxing in style. This patio has a beautiful gas-fired pit surrounded by huge boulders. Jeffrey Gordon Smith Landscape Architecture is responsible for such a stunning creation.
RUSTIC PATIO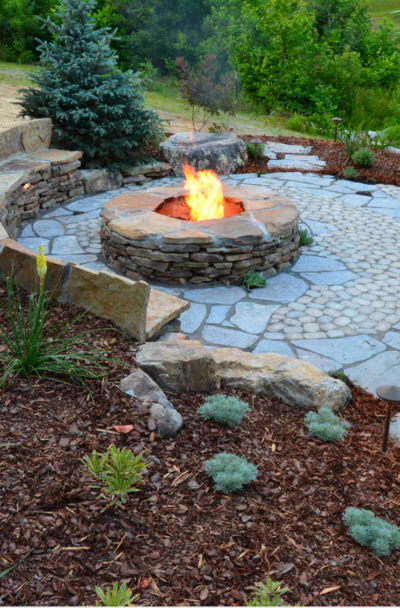 Do you want a patio design that is both robust and grounded in nature? An authentic resort patio, if ever there was one. This outdoor space by Outdoor Dreams is so well thought out you'll never want to leave. Stones have been neatly arranged for the fire pit on this patio's rustic design.
Things To Incorporate In Your Fire Pit
Introduce a social environment around your fire pit. Humans are attracted to the warmth and attractiveness of fire for hundreds of years. A fire pit is usually the most used site in a yard, particularly once the sun sets. Make your fire pit the centerpiece in a spot deserving of relaxing with your company. A number of methods to include class seating for guests include built-in seating, a grouping of ottomans, chairs or sofas, a group of logs or floor pillows, or a group of dangling bubble chairs.
Next, create your fire pit to be multipurpose. By buying a fire pit containing modular features, the fire pit becomes more than an area to loosen up and relax. Several ways a fire pit can turn into a multipurpose piece include: It has an area close to it to function as an impromptu coffee table or maybe a place to bring up feet. It is big enough to be utilized as a dining area, known as being a fire pit table. It can be gorgeous when not lit, because of the option of decorative gravel, glass, or stones. It has built-in lighting to light up the area.
For a new take on the countless fire pit ideas available, develop a sunken fire pit. Sunken pits are usually safer, as the flames aren't as exposed to winds. Additionally, they look smaller than a regular above-ground fire pit, making them a great choice for a smaller sized space. If you are at a low cost or maybe choose never to permanently install a fire pit, upcycle a stone, metal, or concrete boat as a fire pit. Based on the design you decide on, the boat is able to include a customized, contemporary look to the yard.
PARK-LIKE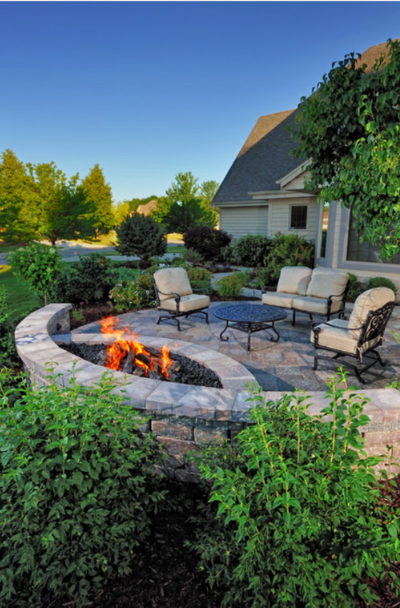 In search of a spot where you and your loved ones may spend quality time together? Wow, LandCrafters, Inc. outdid itself with this patio that evokes a park. This outside area is large and welcoming, with plenty of room to spread out and relax on the comfortable chairs around the fire pit.
MODERN DIGS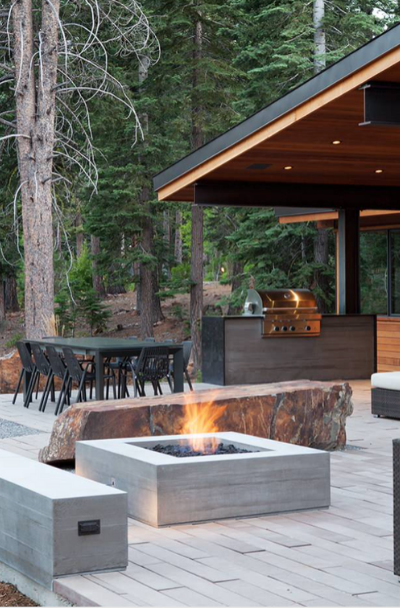 Do you want a contemporary patio layout for your home? I like how neat and mechanized this one appears to be. It's the kind of place where you'll want to host people. Rest assured that your spirit will be revitalized here on this stunning modern terrace overlooking the mountains—an amazing layout by Ward-Young Architecture & Planning of Truckee, CA.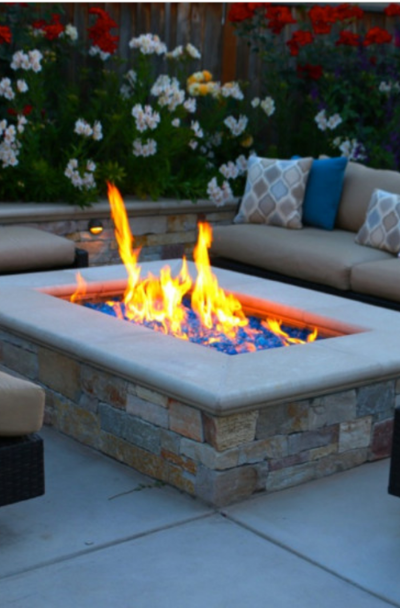 What a lovely spot to be in right now! Everyone will concur that this patio design looks very contemporary and cozy. The fire pit table appears to be made of materials that will last time—what a fantastic layout by Vision Scapes & Associates.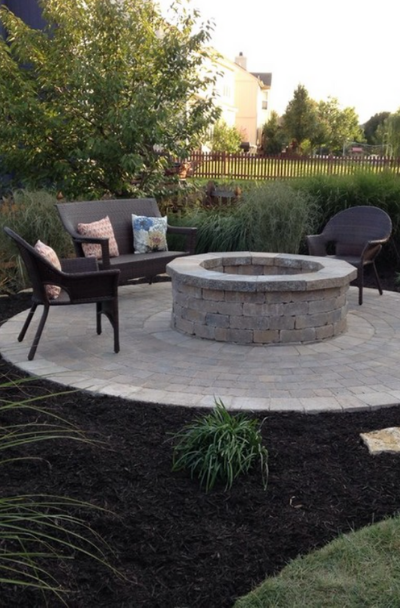 Want a welcoming patio with a custom-looking design? This circular patio design is ideal for entertaining friends and family. Previously a playground, this space has been renovated into a lovely patio. This patio design by Good Earth Water Gardens is excellent.
BRICK PATIO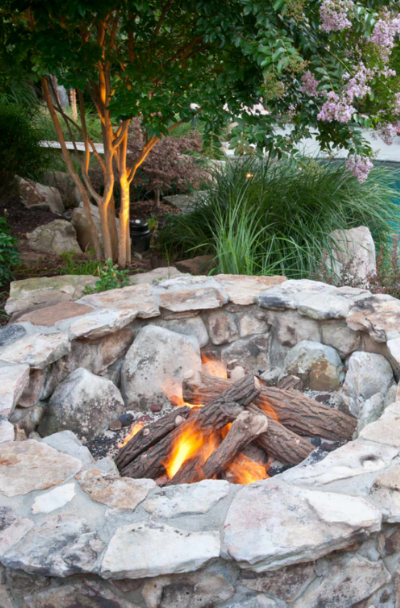 Do you wish to imagine yourself in a remote and freezing environment? This patio layout is both earthy and invigorating in appearance. The logs included with this gas fireplace give the illusion that it is burning wood. Fine Decks Inc. has come up with a nice patio layout.
TIMELESS PATIO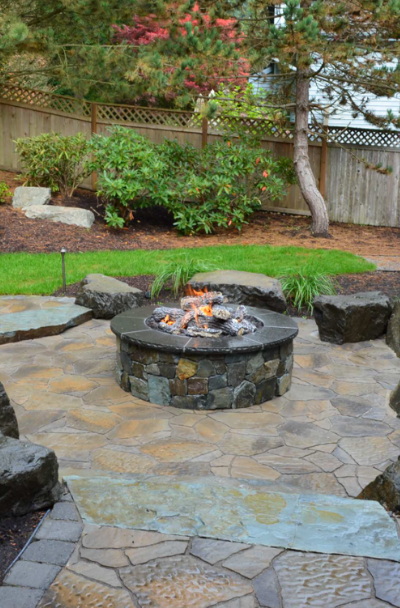 Do you wish there was a part of your home where you could experience the outdoors, like camping? Great patio layout by alderwoodlandscaping. Using pebbles as furniture on a patio evokes images of a rustic campsite. That's the best possible setting for spending time with family.
DIY Fire Pit Ideas
There is something miraculous and different about sitting close to a fire pit with a team of individuals that you like, as well as enjoying each other's company in a cozy atmosphere. Wouldn't it be good to get such a cozy setup in your own personal backyard? How to build a fire pit? You do not often have to remodel the entire space to make that happen. You are able to construct the fire pit yourself, and this is able to be a pleasant project you are capable of doing on a Saturday with a few pals. As it turns out, a DIY fire pit isn't such an expensive or difficult task.
Nothing says comfortable and cozy such as flames crackling in outdoor fire images. Imagine gathering with buddies and also loved ones drinking wine, roasting hot dogs, and also making s'mores around your own fire pit during cooler summer evenings. Relax and also have fun knowing you spent hardly any on the DIY project since you made it using affordable materials. The key to these super-low expenses is the fundamental building materials utilized to develop the fire pits, like bricks, concrete, pavers, and retaining wall blocks. Some other varieties of fire pits could be created utilizing repurposed materials like metal planters, flower pots, as well as glass. Gel canisters created for fireplaces or maybe low-combustion pressed wood logs are able to provide the fire's fuel in many smaller fire pits. Real wood logs or perhaps charcoal could be utilized in the bigger pits. You'll want to check with local air quality restrictions on burning wood outdoors.
In case you are not even certain where precisely you would like your latest DIY fire pit being positioned, you can make one that is simple to remove and transferred to an alternative area. A fire pit does not need to use up a great deal of room and does not be circular. In case you are tight on space, you are able to really pull off an excellent DIY fire pit project. Three rows of 12″ grey pavers arranged in circles constitute a great fire pit frame. They are as well quite cheap, and so the project will not set you back a lot. The number of pavers you will need could vary based on the dimensions of the fire pit. At any rate, creating the pit must be simple and fun. When that's in position, you are able to organize a lot of car seats across the fire pit or even begin planning a DIY outdoor bench project.
PAVESTONE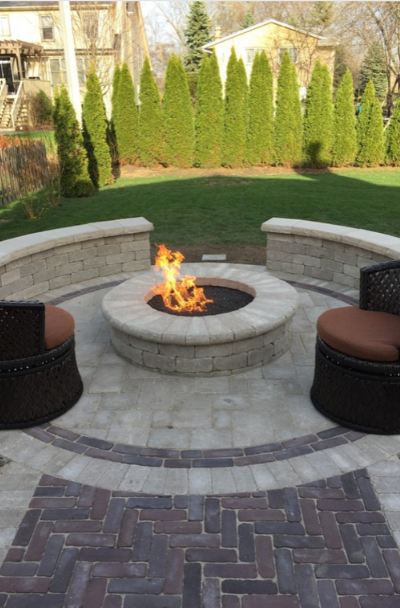 This patio is so well-designed that it might easily be mistaken for the courtyard of a fictional castle. This patio layout will leave you feeling revitalized and optimistic. Artfully crafted, the fire pit is a beautiful addition to any yard. PaveStone Brick Paving Inc. did an amazing job with this patio design.
Dawson Design Group outdid itself with this patio. This contemporary patio layout has an air of warmth and familiarity sure to put you at ease. These cozy ensembles allow you to bring the inside outside without sacrificing comfort.
Benefits Of Having A Fire Pit In Your Backyard
A person together with his family and friends have gathered around the communal fire since time immemorial, so the tradition hasn't lost its appeal, maybe even in our age of every conceivable comfort. We might have left our ancestors in days gone by, but the contemporary delights of a crackling backyard fire over a cool winter night and under a starry summer sky are really worth having and may be accomplished in your own personal backyard no less. An outdoor fire pit welcomes your visitors in a manner that simply exceeds the conventional house. Inlaid or maybe above ground designs, accented with stone or even Pacific wood, & complete with an irresistible seating arrangement, the backyard fire pit promises safety, comfort, & the classic pleasures of hanging out with old friends or even seeing a lover's face aglow in the firelight. Also, since the fire pit is built and fitted with safety as main priority, you are able to relax without the concern of performing possible double duty as a volunteer firefighter.
We are now living in uncertain and chaotic times, but the patio fire pit stands beyond the madness, providing an elemental reassurance which even the most state-of-the-art technical advances neglect to secure. You more than deserve to bask in the steadfast tranquility of human's most triumphant discovery, & these fire pit ideas assure us that regardless of the future holds, the hearth will invariably persist and provide.
What's the greatest foundation for a fire pit? The most effective material that can be used for a base for your backyard fire pit is actually a paver base. It may be poured instead by the bag & tamped down to be stable and hard. It is a far more sound choice compared to sand, and much safer than gravel that will pop and send little bits of rock flying. You will find a variety of items to think about when planning the place for your backyard fire pit. For reasons that are obvious, you do not wish to establish your brick fire pit under or even near any plantlife or tress. You should additionally consider somewhere which has an all-natural windbreak if at all possible. It is likewise a good idea to stay away from installing a fire pit above underground utilities.
This is an image roundup post, curated to showcase and promote other reputable contracting companies' and their amazing work. To have any of the images removed, please reach out to us and we would be happy to do so.
Other Great Articles to Read: