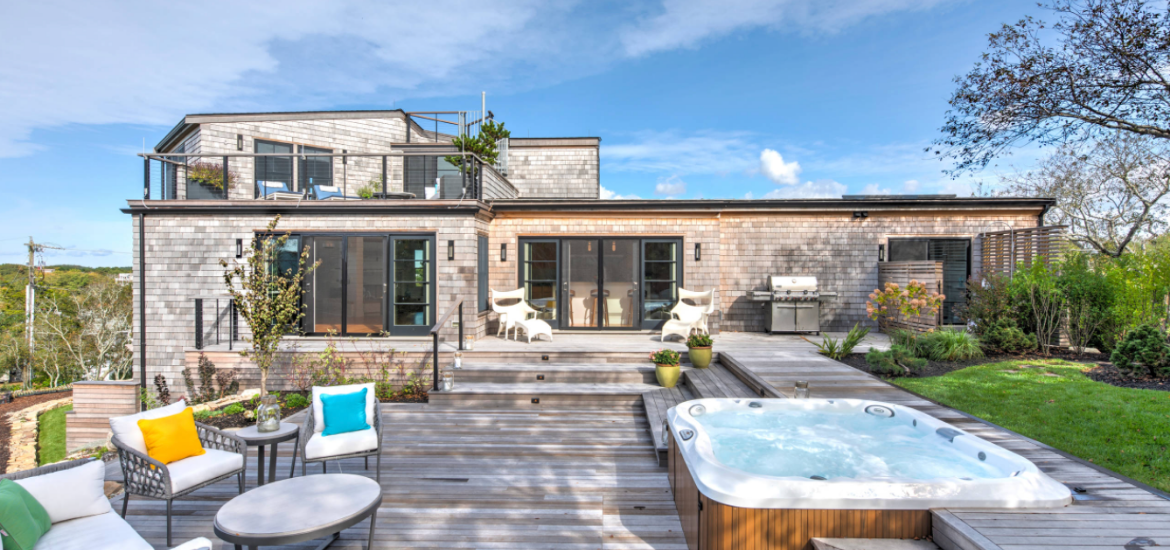 A part of your home that connects your indoors to the outside world is a deck. A deck is a space that allows you to appreciate your backyard comfortably. What used to be just a basic rectangular space located at the back of your home, a deck can now come in unique and attractive designs. If you are looking for deck ideas that will improve the visual appeal of your home, we have tons of them for you. 
POOLSIDE
Having a space to unwind after swimming in the pool is important. Omega Construction and Design, Inc.'s deck design allows you to watch T.V. as you dine and relax. What a lovely hardwood deck made of Cumaru of the highest quality, organically polished with organic Brazilian nut oil.
CEDAR DECK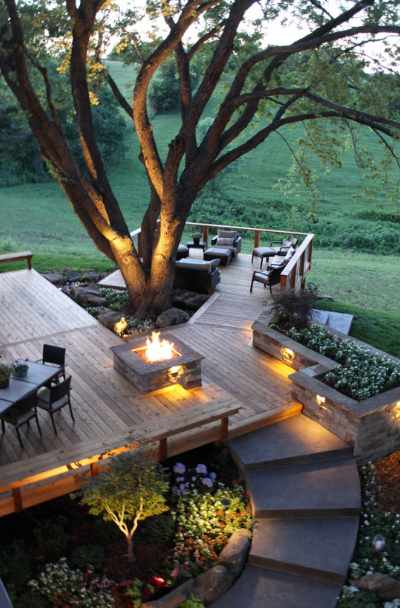 Do you wish you had a tree deck? One such outdoor space is this deck, perfect for those who enjoy spending time outdoors. This is a great idea in Kansas City for a wide, modern deck in the backyard, complete with a fire pit and breathtaking scenery. A stunning deck by Artistic Concrete Surfaces.
BLUE STONE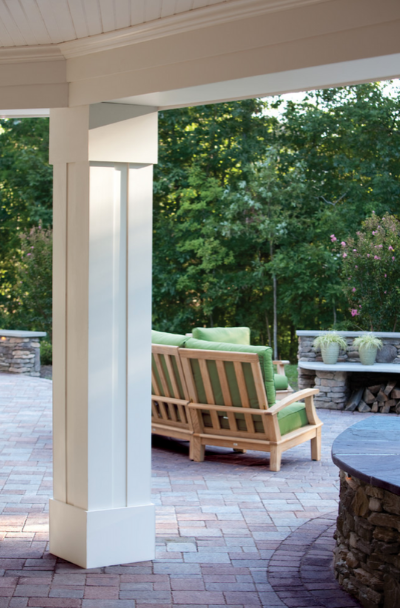 Are you interested in a deck design that incorporates your backyard and the surrounding environment? The greatest mornings may be had here. Enjoy the outdoors on this classic deck, complete with a gas grill and refrigerator from Twin Eagles, each measuring 42 inches in diameter, and a Fire Magic outdoor refrigerator. This is another brilliant creation by Holloway Company, Inc.
FIRE TABLE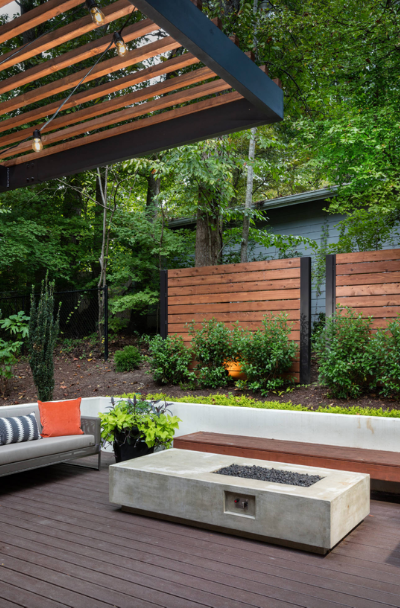 This outdoor deck is hidden from view by a set of custom-made, light-brown wood screen walls. The decking's warm tones are complemented by them well. Boyce Design and Contracting did an incredible job with this outdoor deck by making it seem natural and contemporary.
BARBECUE DECK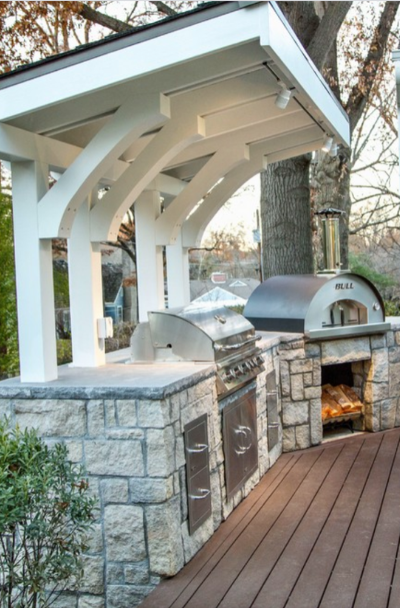 It would be lovely to entertain guests on a terrace outfitted with a fire oven, grill, and even a tiny basin for washing dishes! The deck design by Stumpff HomeWorks, LLC will make you feel like you've stepped onto the shores of a foreign nation in your backyard.
STUNNER
What a stunning New York beach deck! The breathtaking scenery makes it an ideal spot for relaxing. Do you wish you could believe that you have arrived at a place where your life will be revitalized? Taylor Viazzo Architects designed a backyard deck that looks peaceful and inviting.
RAIL LEDGE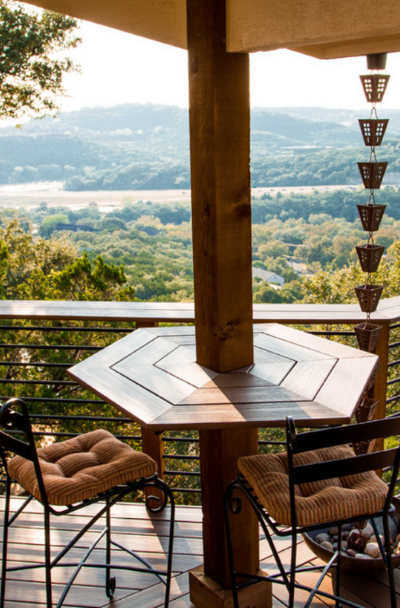 Everyone will agree that this deck is a breath of fresh air. The cedar beams are a part of the bespoke bar tables' design. More room for parties is another benefit. It reminds me of a restaurant's outside seating area. TimberTown outdid itself with this deck plan.
FIRE PIT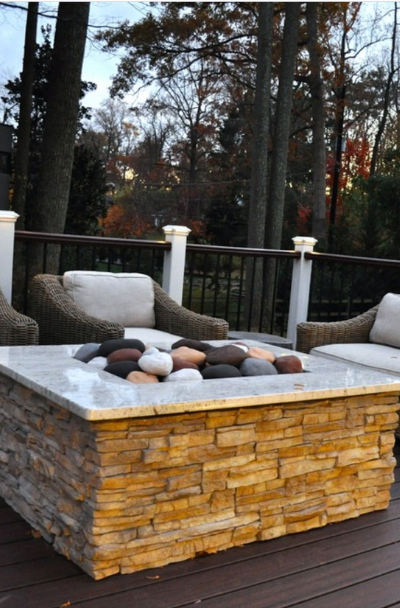 It's universally agreed upon that this is the ideal spot to enjoy a pleasant moment despite the chilly weather outside. This classic deck's fire pit is crafted with Eldorado brand Stacked Stone in Nantucket. That's a well-thought-out deck plan for winter by Hughes Landscaping.
Common Deck Designs
Before we talk about deck ideas, you should first be familiar with some common deck designs if you want to start designing your own deck. Perhaps the most common one is the platform deck, which is recommended for level areas as it sits low to the ground. Higher than a platform deck is a raised deck. As it sits higher, you need to include railings not only for aesthetics but also for safety. You can also have two-story or even multilevel decks if your home's space permits it. In case attachments to your home is not available, you can instead go for a freestanding deck 
Moreover, as a backyard deck bridges your home's interior with the outdoors, one of the first things you should consider is covering the part of the deck adjacent to your house. Then, you can have landscapes around your deck as a subtle reminder of how your home is connected to your backyard. Doing this will make your deck a welcoming space not only for you but also for your guests.
Now that you know the basics of backyard decks, we can discuss more deck ideas.
CLASSIC
Need somewhere outside your home to relax and recharge? A fire pit and a pergola are included on this traditional deck in a Philadelphia backyard. This is a wonderful spot to unwind at any time of the day. American Landscape Structures has created a timeless design for a deck in the backyard.
PAVILION
Do you dream of going home to a deck that is both comfortable and inviting? Pavilion, wood-burning Napoleon fireplace, and Twin Eagles outdoor kitchen are just some of the amenities of this Trex deck. Miles Deck Construction outdid itself with this one.
IPE WOOD
In search of a revitalizing setting for your classic home? Even better, there's a luxurious bathtub for soaking away your worries. Enjoy the outdoors in comfort and style on this ipe deck. Every room in this mansion exudes a timeless elegance—absolutely incredible work by T.R. Builder, Inc.
STONE CABINET
Need a spot to host family barbecues and dinner parties? Eldorado Stacked Stone cabinets in Nantucket give this deck's outdoor kitchen a stunning appearance. Hughes Landscaping truly outdid itself with this incredibly stylish and relaxing deck plan.
Important Considerations
The first thing one must consider when it comes to backyard deck ideas is the material to be used. The four common types of construction materials are pressure-treated lumber, redwood, aluminum, and composite. Each has its pros and cons, so you have to think well before you decide the one you will choose. Pressure-treated lumber can make your deck look classic with its hardwood finish, but it is high-maintenance and prone to warping. Redwood is durable but expensive. Aluminum is probably the best when it comes to durability, but it also comes with a hefty price tag. Composite materials are easy to maintain, but they come in limited designs.
Your deck will most probably be used for entertaining people, be it a casual dinner with your friends or a birthday celebration for a family member. Thus, you have to ensure that it is designed so that you can host event small, simple events. Installing lighting and sound system can make your deck ready for any gathering anytime. Having an outdoor kitchen or a bar will even be better.
You may want your deck to have more than one purpose – as a space to relax alone, a place to entertain guests, or spot to spend time with your family. One way to visually divide parts of your deck is with the use of furniture. For example, place a dining table in one section intended for enjoying your favorite meal. Add a seating set for the area where you can just chill while having a drink. For your children, have small picnic tables where they can munch on snacks.
You should also have covered deck ideas so you can enjoy the outdoors while being safe from different weather elements. 
TROPICAL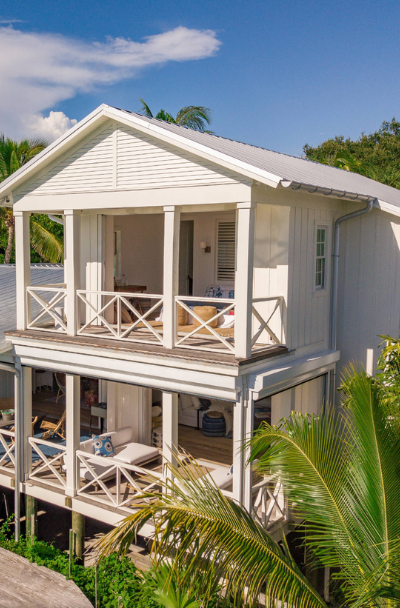 Do you want decks in your cool, relaxing seaside house? Suddenly, this place will feel like a breath of fresh air. This tropical Tampa deck is bright and airy thanks to its white paint and wide planks. Perrone Construction Custom Homes crafted this gorgeous tropical deck.
HIGH RISE VIEW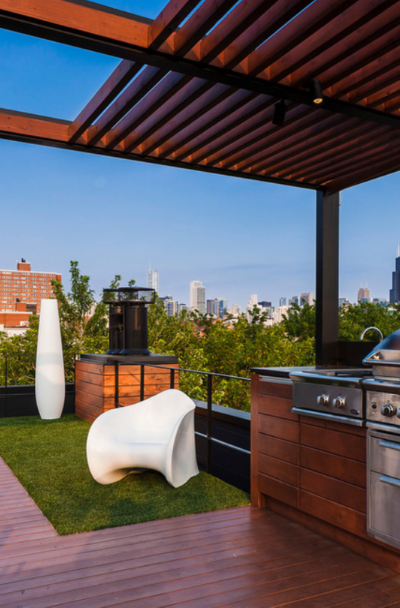 This deck layout is a universal hit for its sleek newness and revitalizing appeal. This elegant Chicago deck has an outdoor kitchen with a pergola for shade. dSPACE Studio Ltd, AIA has designed a deck where you and your loved ones may relax and have fun.
SKYLIGHT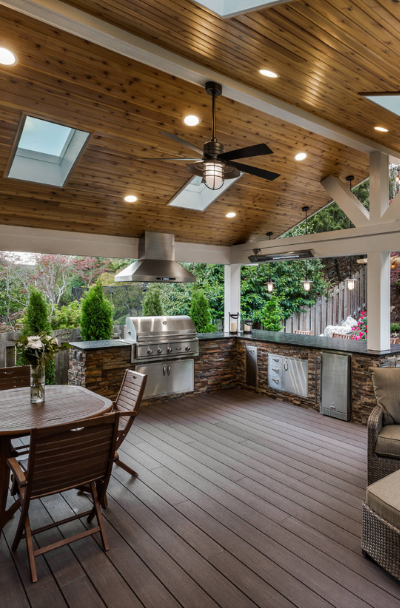 In the eyes of everybody, this restaurant-style deck design is top-notch. You and your loved ones will have a fantastic time here. This is the kind of backyard remodels in Seattle that makes spending time outside a joy. Urban Oasis Design & Construction LLC outdid itself with this deck.
LUSH
Do you wish your hotel had a deck that made you feel like you were in a beautiful and refreshing outside setting? You're going to have a fantastic time here. This gorgeous Chicago backyard is ideal for hosting barbecues and other outdoor gatherings. That deck by Reveal Design LLC is beautiful.
COZY
Do you want to create a warm and inviting atmosphere on your deck? You will imagine that you are on a luxurious and well-designed deck. This stunning beach-style terrace in Minneapolis is the perfect place to relax outdoors. Peters Billiards outdid itself with this one.
MULTI-LEVEL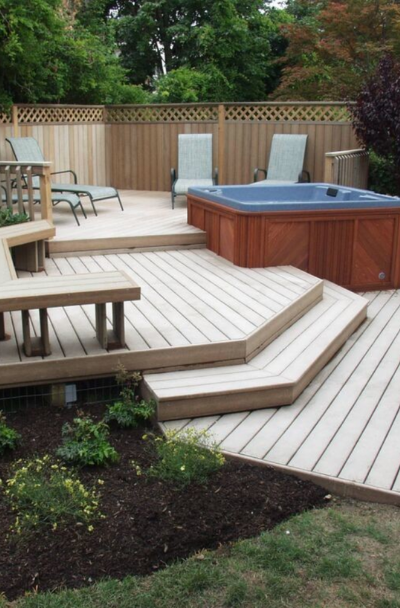 Want an inviting multi-tiered deck in your backyard? This Trex deck has many levels, a hot tub, and lattice-style fencing for seclusion. Deck and Patio Company "Outdoor Living Experts" know how to make a deck useful. You can feel refreshed and welcomed here!
Deck Furniture Ideas
Speaking of furniture, choose one that will go with the current style of your deck. For example, if you have a contemporary deck with geometric patterns and hard angles, look for furniture with curves. Cast-aluminum furniture will work best in this case because it is lightweight and can be easily shaped to have the curves to complement the deck's rigid design. More something more durable, you can have furniture made of wrought iron.
For a more traditional deck, wooden furniture is recommended as it completes the deck's rustic look. You will have more deck decorating ideas when it comes to wood furniture as there are different materials to choose from, like redwood, cedar, and mahogany. For example, a cedar table with three armchairs will be perfect for coffee or tea time. Have vinyl table cloth on the table to protect the wood from spills and cushions of the chairs for comfort. These are great for covered decks as inclement weather may damage the vinyl and make the cushion wet. If you want this in an open deck, go for light, folding chairs and table so you can easily take them into your house if needed.
For something Caribbean-inspired, a set of mahogany and bamboo coffee table and loveseats add elegance to your deck.
Wicker is another design you should not ignore. Modern wicker furniture is designed to be light and weather resistant. Most wicker chairs and sofas have cushions, which you can remove when you need to store them during rain or snow. Color your wicker furniture white for a contemporary appeal.
Deck Railing Ideas
Regardless of how beautiful your deck furniture and accessories are, your deck will only be as stylish as its deck railing design. The railing is what keeps your deck together. You can choose to have railing materials that match your deck's main material, but you can also mix things up.
Outdoor deck ideas are incomplete without wood railings. Because of the different materials and wide price range, you can definitely find a design fit for your style and wallet. You can opt for composite and vinyl railings if you want your deck to be maintenance-free. Some of these railings come in kits that easy to install, making them perfect for DIY projects. They also sell cheap at home improvement centers. For premium-looking deck railings, you can install glass, which provides an unobstructed view of what is beyond your deck has. Go for tempered and shatter-proof glass, and to prevent birds from crashing onto them, go with tinted glass. The downside with glass railings is that they can be quite expensive. If you want your backyard deck to have a rugged appeal, use metal railings. Most metal railings are made of either aluminum or steel. Choose aluminum if you want something rust-proof. For a modern-looking deck, install cable railing systems. They are often composed of stainless steel cables with posts made of wood, composite, or metal materials. 
No matter the design of your deck railings, make sure that you follow your local building codes that set standards for height, grades, and sizes.
Small Deck Ideas
Even if your home does not have a large, you can still have a deck if you really want one. You have to some thins to consider when it comes to small deck ideas.
First, you have to identify what the use of your deck will be based on your lifestyle. For example, if you plan to have a deck for gatherings, then you have to design it to accommodate as many seats as possible. Add additional space for a grill, perhaps. A deck for solitary relaxation would have different furniture requirements. 
Then, you need to maintain a proper scale. Proper scaling means that the size of your deck should proportionate to the size of your home and your yard. A deck bigger than your yard may be overwhelming. Then, ensure that there is a connection between your indoors and your deck. You can connect them by using the same materials you have indoors as materials for your deck. Also, for a natural flow, have your deck outside an existing door. For example, the best spot to have your deck is just right outside it.
Maximize space by utilizing levels and curves. A stepped-down deck, for example, provides additional levels where guests can hang out. It is also functional as it can hide unwanted spots like an awkward slope or a grass area that is difficult to maintain. You can also add a few square feet to your deck by having a curved deck that covers as much space as possible.
Backyard Deck Design Ideas You Can Copy
If your backyard sets the stage for your home's possibilities, the deck is unquestionably the stage.
Whether you're hosting guests or taking a quiet moment to yourself, the deck is where luxury and leisure collide, and the design of your deck reflects your approach toward both.
Grillzebo
You can feed and entertain your guests without having to worry about leaving your barbecue unattended! This "grillzebo" is ideal whether you're seeking outdoor bar ideas or DIY gazebo plans. It's large enough to hold most regular barbecues yet tiny enough to fit on your existing patio. Make your grillzebo unique by adding lighting, wine glass racks, grill accessory storage, or built-in coolers.
Island Deck
This low-maintenance backyard deck, constructed of composite decking and concealed fasteners, is meant to go together quickly and fit in anyplace in the yard without the need for footings or ledger boards.
Movable Planters On A Living Wall
Consider installing a living wall if you have a ground-level deck or patio and want to provide some privacy. It may keep the neighbors at bay, surround you with flowers, and supply fresh herbs steps away from your grill or kitchen. The planter boxes are simple to construct. A drip irrigation system provides automatic watering throughout the summer—no need to worry about missing a watering day or losing all your plants when you are on vacation.
Deck Made Of Wood And Stone
Build a visually appealing cedar deck surrounded by a veneered stone wall that offers both seclusion and sitting. The contrasting appearance of wood and stone will provide a dramatic, distinct appearance for your deck.
Conclusion
Having an outdoor living space is a luxury as you can use it for hosting gatherings or even for relaxing on alone. Designing a deck can be tricky as you have a lot of things up for consideration. Planning is essential to be successful in creating your deck. In this stage, you should answer key questions concerning the size and shape of your deck, the levels you want to have, and other elements that may affect your deck, such as your backyard and even house interiors. Perhaps one of the most critical question to ask is this: "What will be the main function of my deck?" From there, you can come up with visuals for your dream deck. Once you have all the answers, you may prepare for the construction of your deck by looking for the right materials and contractors if you are not building it yourself. Also, before proceeding with the construction, check local buildings codes or guidelines of your homeowners' association to ensure that you will not break any rules and regulations. Then, nothing can stop you from building your dream deck.
This is an image roundup post, curated to showcase and promote other reputable contracting companies' and their amazing work.  To have any of the images removed, please reach out to us and we would be happy to do so.
Other Great Articles to Read: