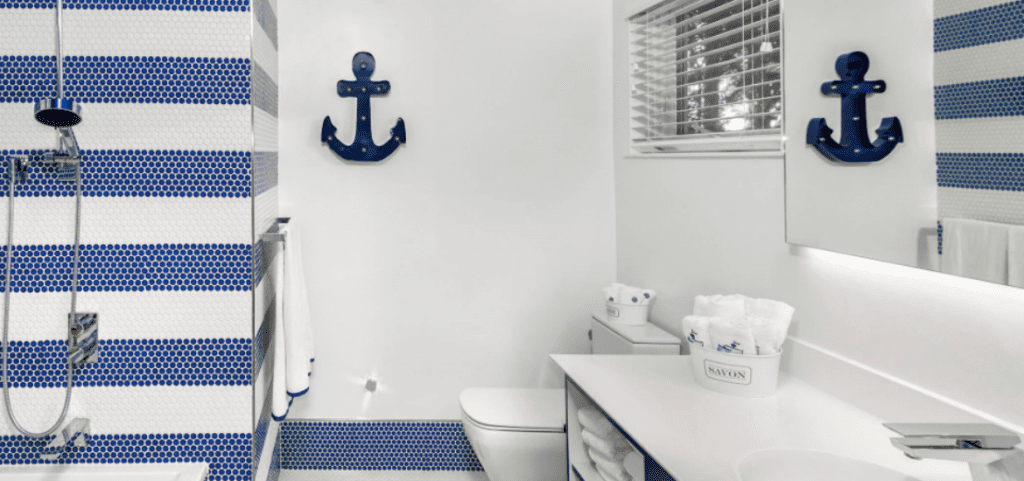 If you love the sand and the sea, these nautical bathroom ideas are for you. In case you like that feeling the ocean offers you—the quiet, relaxed vibe of the nautical life—then why not re-make the look and feel directly in your bathroom? In fact, what better spot to have the appearance of the seashore and everything nautical in the very room that already centers around water?
Indeed, your bathroom is an ideal place to transform into a coastal beach theme. Whether you live near the sea or right in the center of the desert, you don't need another reason for a beach themed bathroom other than you love it. Also, the nautical bathroom decor ideas have various components to work with. For instance, combine fish and different marine life, as well as shells, vessels, mermaids, seagrass, nautical wheels, and so forth. In addition, you can mix and match nautical themed bathroom ideas below and make your very own version of the nautical life in your bathroom. In the event that you need some motivation to get going, check out nautical bathroom decorating ideas below.
PLAYFUL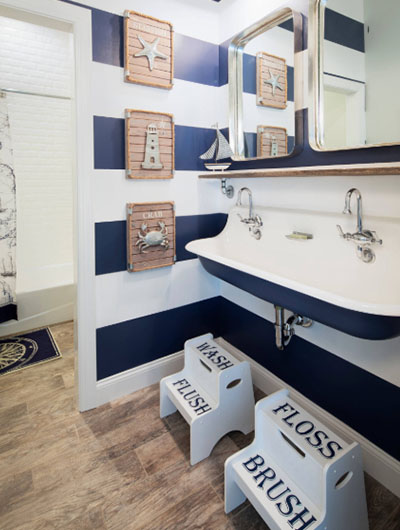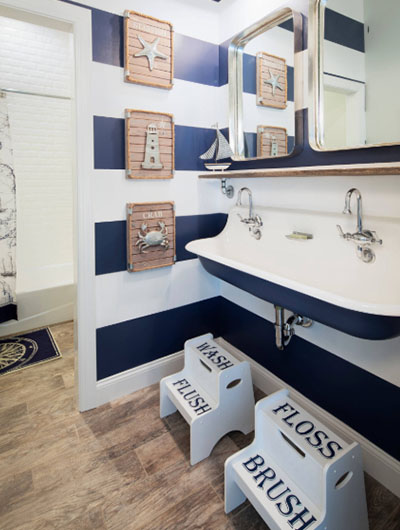 The large sink with two faucets is great if you have two kids sharing a bathroom.
BEACH STYLE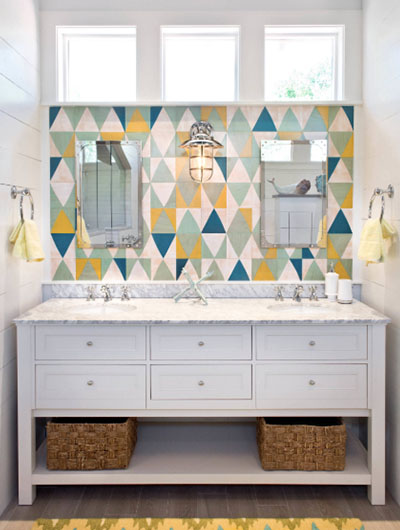 Keep your things organized with these lovely drawers beneath the sink.
GORGEOUS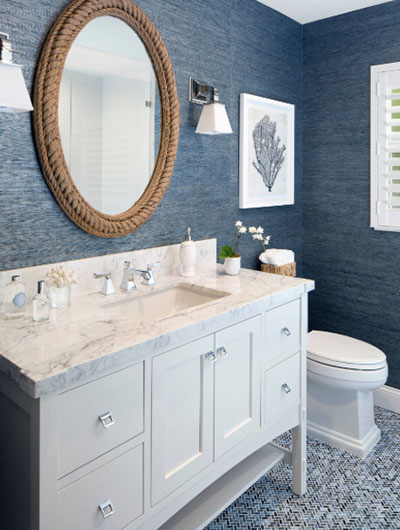 We love the extra fine arrowroot in denim wallpaper by Phillip Jeffries.
BEACH HAVEN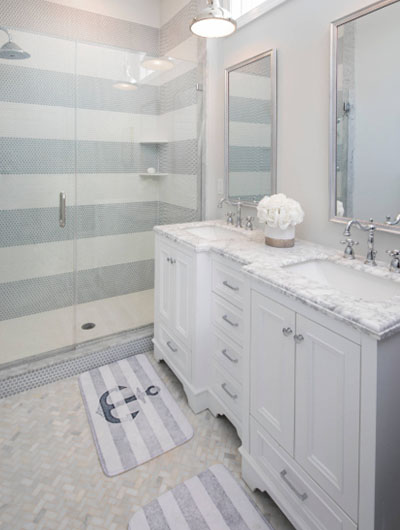 The light color scheme makes this space extremely inviting and bright!
SEASIDE STYLE
If you don't want to go with the navy blue color, this one is an excellent alternative.
TRADITIONAL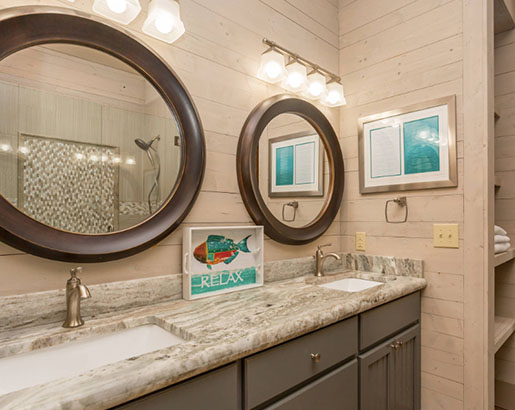 Also, you don't need to change everything to go coastal. Just be creative with the decors.
SEASHELL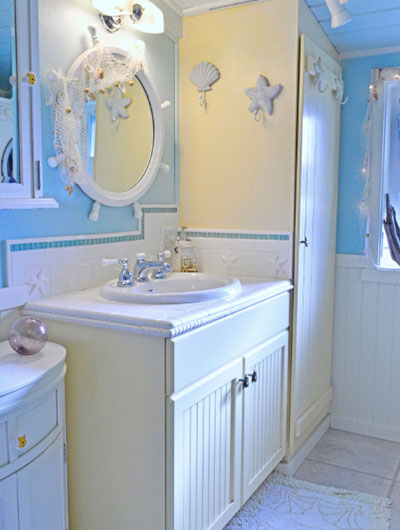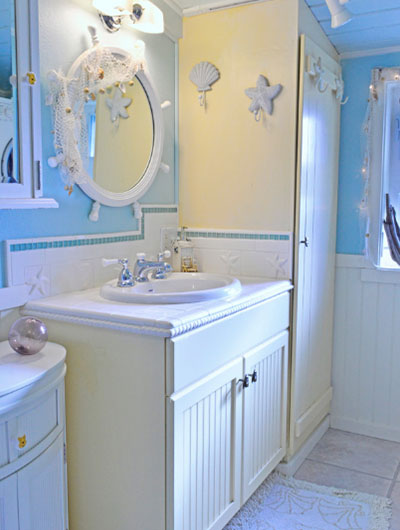 Seashell accents, as well as vintage pieces, to keep the vintage feel of the bathroom.
STUNNING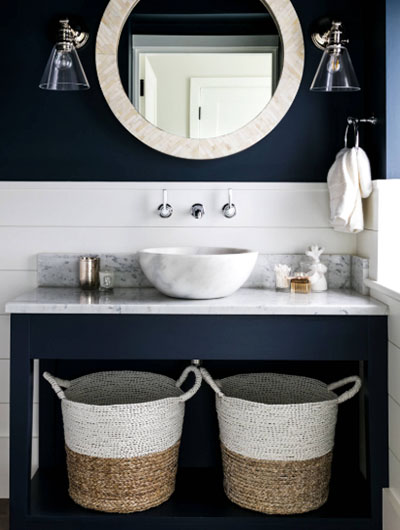 The rich navy walls and the nautical mirror provides deep contrast in this powder room.
STARFISH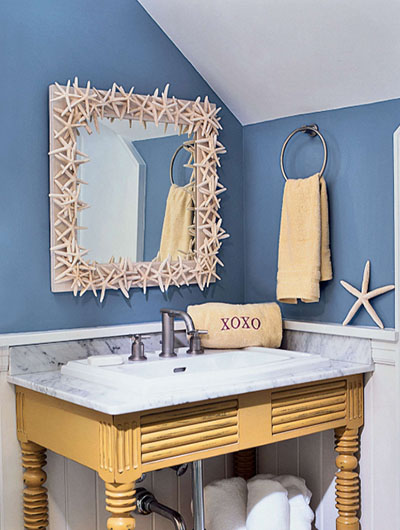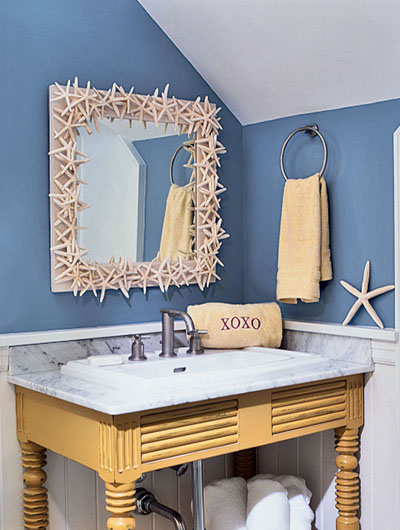 Starfish lovers, this beach bathroom idea is for you!
RETRO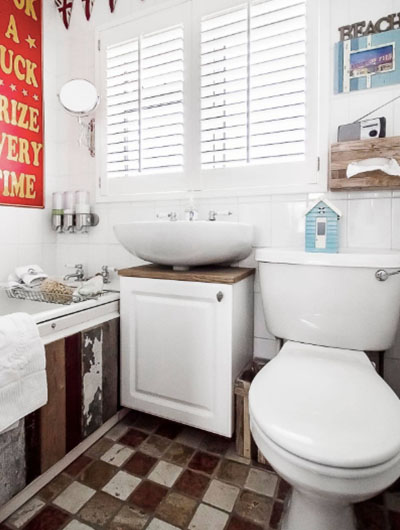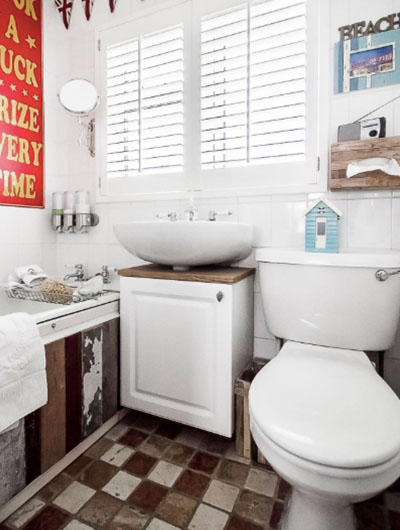 Old school, but neat! We love how the decors are put together in this bathroom.
The calming, laid-back way of life of the ocean side vacation villages summons memories of lazy, sun-drenched days and starry evenings—so why not bring a bit of beachside extravagance into your home decor by means of a beach theme bathroom?
On the other hand, color is frequently a significant part of nautical bathroom decorating ideas. A beach themed bathroom usually features calming, delicate shades with soft blues, light beige, creams, whites, and pinks. Meanwhile, other elements, accents, and accessories may combine with this increasingly stoic execution to provide a more relaxed atmosphere and, therefore lighten the mood.