Wanting to have a fun game in your backyard basketball court sounds like an exciting activity that you can enjoy. However, before you actually do this recreation, you first need to face the problem of how you can have your own backyard court. It might not be as wide as what we see in the NBA stadiums but a half-court basketball dimension for a backyard would just be as perfect.
Installing and deciding to DIY a backyard basketball court will be challenging. There are a lot of things that you need to consider since this is a potential place where a person can get hurt. Knowing the right ground surface, the correct dimensions and even the simple way on how you can prevent your ball from going over your neighbor's fence are just some of the aspects that you need to look into. With the proper knowledge and correct application of it, your outdoor basketball court will give you and your family an excellent space during the weekends.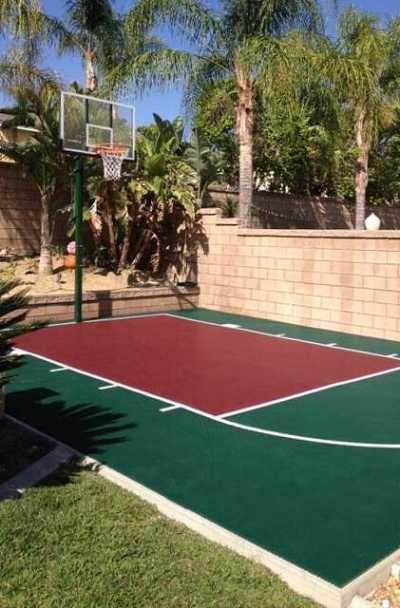 Looking for a way to play basketball at home that feels more like playing at the park? The basketball game will be a blast on this fully equipped backyard court. Dunkstar has come out with a reimagined outdoor basketball court for the house.
The basketball court in your backyard is ideal for your kids to use as a practice space without having to leave the house. Just think of the squeals of delight you'll hear from your children once you've installed this court in the backyard. The ring's low profile makes it ideal for young children. Sam's Club nailed it with their outdoor basketball court layout.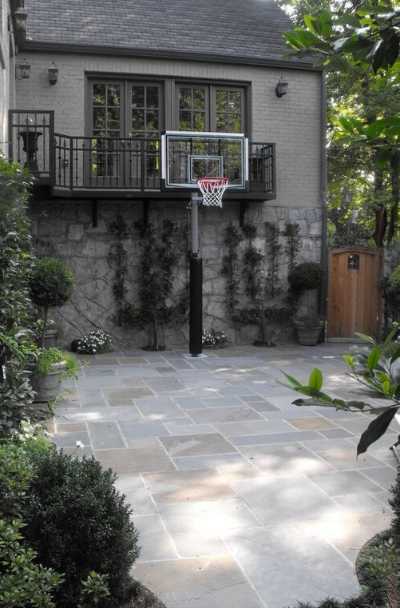 If you don't feel like building everything from scratch, pick a good hoop and get to shooting. Despite its lack of readiness, this one is stunning. Hometalk nailed it with this beautiful outdoor basketball court design that goes well with the rest of the house.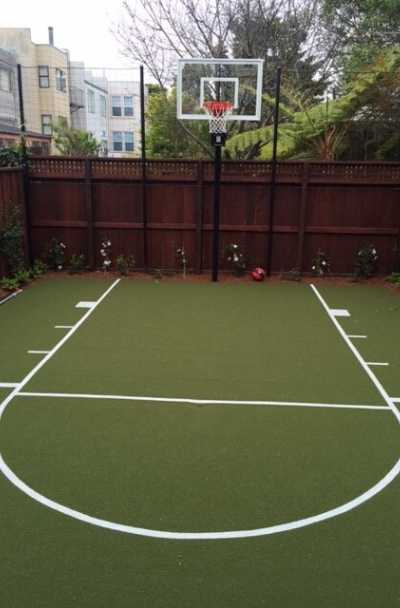 Need a basketball court layout for your house that feels secure even when it's played outside? Your children will love this. You may cut down on injuries by playing on grass instead of concrete in your backyard court. Terra Ferma Landscapes has created a fantastic outdoor basketball court on grass.
Budget-Friendly Backyard Basketball Court Ideas
The thought of having a basketball court in your backyard is exciting.
However, the installation of the tiles and the application of the paint can be expensive and time-consuming.
Making a basketball court doesn't have to be difficult. It might be as simple as mounting a basketball hoop and net to a garden wall.
The hoop is essential in the construction of a basketball court. Even if you have a small backyard and a tight budget, you may still have a good time.
Ideas For A Backyard Concrete Basketball Court
Because of their longevity and sturdiness, concrete and asphalt are the most commonly utilized materials for patio construction.
As a result, you may use them to construct a sturdy backyard basketball court that allows the ball to bounce nicely.
A concrete basketball court, on the other hand, can be dangerous. The rough surface can cause pain in your legs and ankles. All, asphalt has the same disadvantages as concrete. It can rip your shoes, ball, and skin.
Consider surfacing the concrete with a synthetic basketball court, which will be easier on your legs and knees. It will additionally enhance the appearance of your backyard.
Movable Basketball Court
If you don't have time to build a beautiful basketball court with a sub-base, modular plastic tiles, geotextile layer, and court markings, you might consider investing in a portable post.
A basketball post is equipped with casters that allow it to be moved from the garage to the driveway or vice versa. The foundation is lightweight, making it easy to transport.
The post also has an adjustable rod, so your child can continue to utilize it as he grows old.
Those backyard basketball court ideas are jam-packed with fun. You'll no longer be bored if you stay at home all day because you can engage in a variety of sports and games.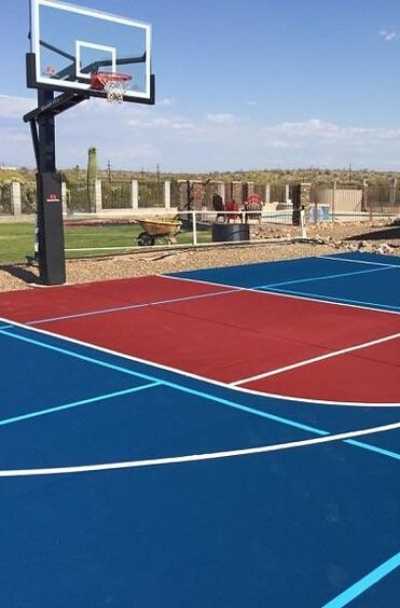 It's universally acknowledged that this is a first-rate outdoor basketball court. Everyone who wants to play basketball will have plenty of room on this expansive court. This extensive court by Sport Master Sport Surfaces is ideal for basketball.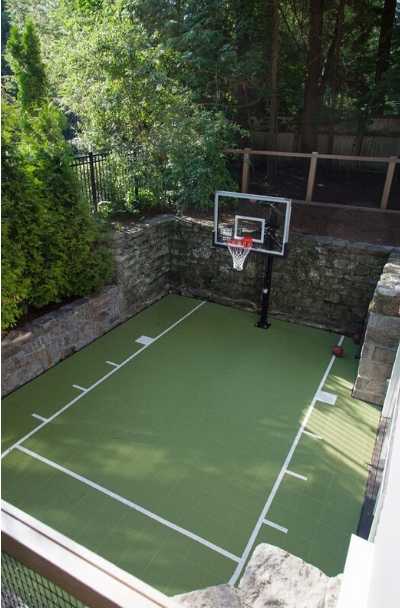 A fence could be erected to keep the ball from leaving the playing area. There is a lot of security around this court, so you can work on your game without worrying about anyone else seeing you. Matthew Cunningham has come up with a fantastic outdoor basketball court.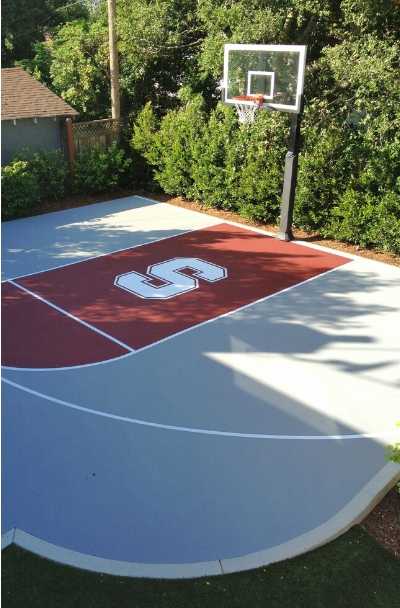 An outdoor basketball court layout where you may cheer on your side! Create a floor that features the team's logo to show your support. Pro Dunk Hoops has made a fantastic design for an outdoor basketball court.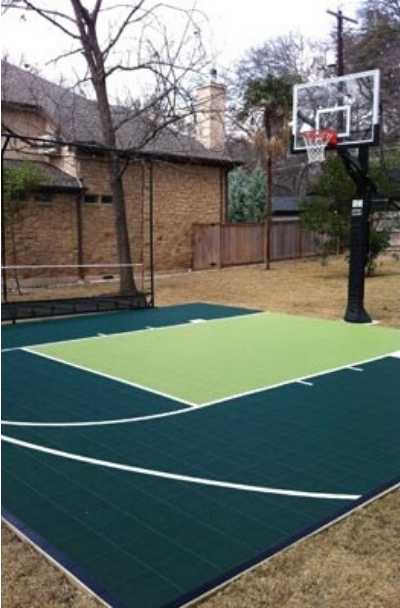 No one can argue that this isn't a top-notch outdoor basketball setup for informal contests. This concept of constructing a small basketball court in the backyard is ideal if you only care about having fun. Sport Court Dallas has created a basketball court that looks adorable and perfect for outdoor use.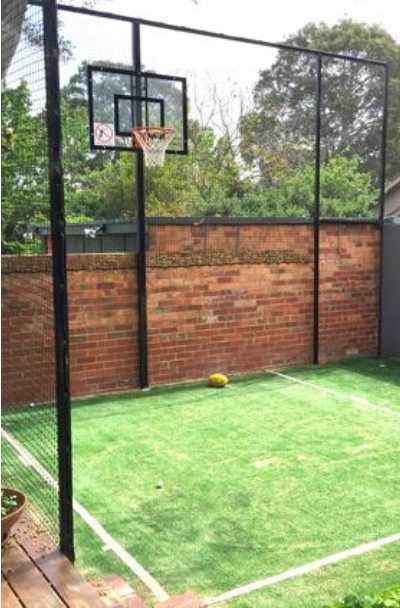 Get your adolescents interested in the game by demonstrating your love for it. Surrey Hills Garden Supplies has come up with a fantastic basketball layout. Playing a game in the great outdoors with your teenagers is a great way to spend some relaxing time in the great outdoors.
Best Basketball Court Flooring Materials
Watching a lot of basketball matches will probably give you an insight as to the kind of flooring materials that will go well with your planned ball court in the backyard. Knowing the fact that your court will be installed outdoors will greatly affect the choices that you have. Most indoor courts use hardwood because of its surface properties, that impressive dunks are actually because of the traction provided by the wood. As it is the perfect ground surface material for indoor use, yet shouldn't something be said about the outside court?
To capture the more functional flooring that you can actually use for indoor courts we made a list of materials that most people can use. Look into these choices and learn the actual pros and cons of most materials for your outdoor and backyard basketball court's flooring.
Hardwood
The most ideal material to be used for basketball court flooring is hardwood. Most indoor courts use this material and especially for the school gym and professional courts. Maplewood is generally the most used type of wood because of its adaptability and strength. When given a good finish once installed, this becomes a flooring that offers great execution of the sport during practice. Aside from that, it also helps prevent the players from getting injured while playing because of its slip resistance.
Concrete
The regular flooring option for open courts is concrete materials. Open-air basketball court needs to have a flooring that will be more than what hardwood can offer because of the elements. Installing concrete flooring needs less labor and requires less preparation. Although it doesn't offer the same floor quality as the hardwood, concrete surface flooring is more resistant to the elements outside. This material can withstand a lot because of its durability besides that, adding the markers and lines on concrete will be quite easy by doing simple paintwork.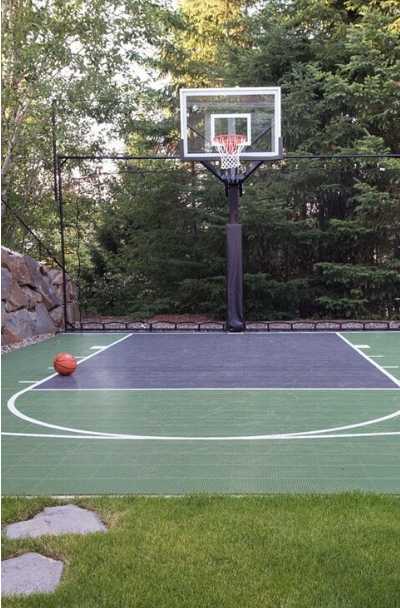 Putting in time and effort will pay off in the end. Put up your outdoor court and use it to hone your talents. Paradise Restored has created a fantastic outdoor basketball court layout. Even the stone walls are enveloped by greenery.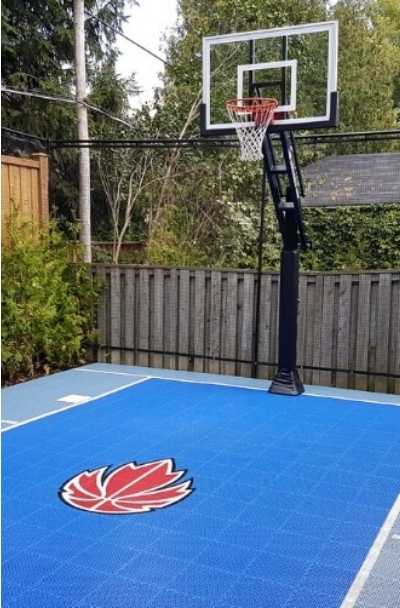 Creating a court for your children to play basketball outside is a great idea. This backyard court is the envy of all your friends and neighbors. Having your favorite team's emblem on the floor is a great way to show your support. Total Sport Solutions outdid themselves with this one.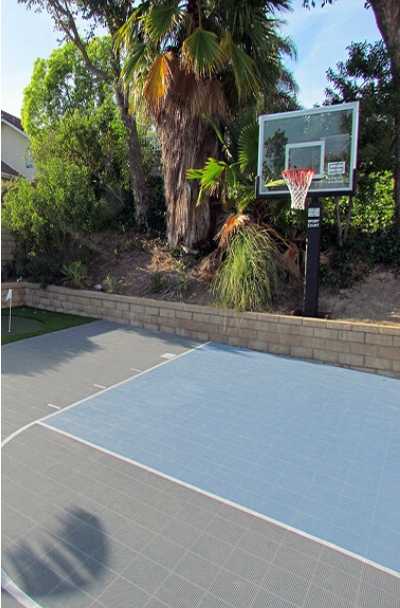 The playground should be repurposed, and a court like this should be built. The court's blue and grey surface is quite soothing and uncomplicated. The park's natural setting makes for a more relaxing gaming experience—what a fantastic layout by Sport Court Massachusetts.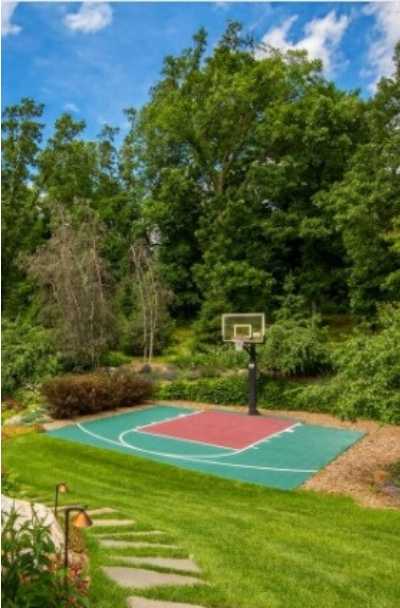 A basketball court like this one isn't limited to the backyard; it can also be constructed in the front. You can practice in peace because the front yard is set up like a real court and is a breath of fresh air. Landscape Renovations created this spectacular basketball court in the front yard.
Asphalt
An alternative for the concrete will be asphalt. If you want for the construction of your basketball court in the backyard to be more simpler, having asphalt as its flooring will be more complicated. You might need professional help for this project when you really want to push for asphalt flooring. Just like concrete, your basketball court markings and lines can also be easily painted over on asphalt surfaces.
Sports Tiles
A newer flooring option that is available in the market right now is sports tiles. This flooring can be installed in almost all flat areas that aren't conducive to basketball games. Most temporary courts nowadays are made with sports tiles as its flooring. The great thing about these tiles is that you can actually remove it anytime. Sports tiles are often used for both indoor and outdoor courts because they are actually in protecting athletes from getting injured.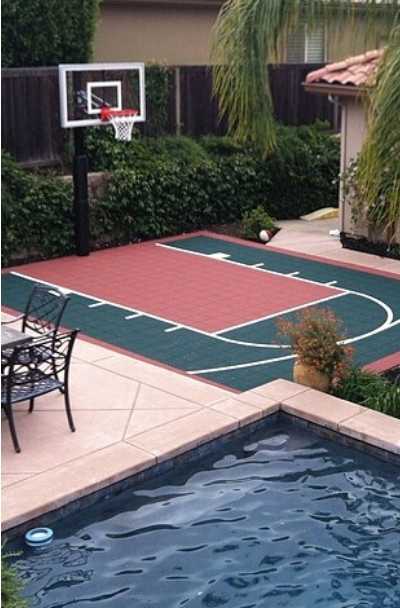 Everyone wishes they had a home furnished with so many comfy options for lounging. This one features a swimming pool and a court right next to it. You can get the whole family into baseball if you install an indoor court in your backyard. I must say Versa Court has done an excellent job with the design of the inner court.
A little court is ideal when teaching your kids how to play basketball. This outdoor basketball court seems like something anybody could put together for their kids. They'll like themselves here. SnapSports® nailed it with their basketball court layout.
Choosing the Perfect Outdoor Basketball Court Surface
Once you decide on the backyard basketball court size construction you will be doing, the next step you need to examine is its surface. Do not get worked up with the cost, this project will not just be about the expenditures but also about the safety and assurance that the court will be safe for players from getting injured. When constructing an open-air ball court, you might need to choose a spot spacious enough for you to do exercises involved with the sport. Aside from that you also need to remember that this space will also be used if you want to have your personal time with your children or even your friends. Backyard basketball court dimensions need not be too wide but enough to entertain everyone who wants to use it. After getting your dimensions measured, the next step is to determine the surface material you will be using.
Since your flooring material is one of the essential things that need to be taken into consideration for your outdoor court, you need to be more detailed before you push through the construction. Knowing the types of materials available, we will now assess them with some properties that they should possess in order to make the perfect flooring for your outdoor court. Listed below are some of the things that you need to look into.
Durability
This is an essential requirement that you need to check. Since you will be installing the court in your backyard or outdoors, you need to be sure that all the materials that you will be using can withstand harsh elements such as strong winds and rainwater. Climate conditions play an integral part in determining how long the materials can be used once they are installed. For you to maximize the money that you will be spending on constructing an outdoor court, it should at least be available for at least 5 to 10 years.
Footing and Traction
Keep in mind that your backyard basketball court ideas should not be the same as with the one indoors, except for the measurements I guess. Much as we want to retain the slip-resistant hardwood we can utilize indoors this won't be possible for outdoor courts. However, we can try looking for materials that will create some footing while playing the sport. In order for us to be safe while playing basketball outside, sports tiles can be installed in your court. This material can provide you with better traction. Aside from lessening the occurrence of injuries or any physical harm, it will also help likewise the players' joints while playing in the court.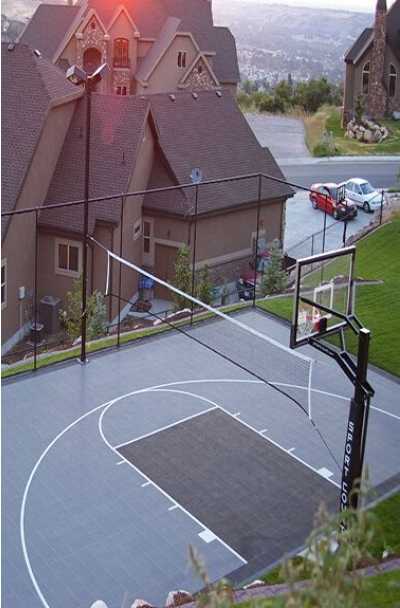 Do you dream of having a safe and stylish outdoor basketball court at your home? Look at the picture above for ideas on how to make your outdoor court more exciting and multipurpose. Sport Court Southern California did an incredible job with this basketball court design.
Surface Perforations
These small holes come in handy when the court surface comes in contact with rainwater or any liquid in general. When the surface is wet, it will be an open invitation for slip and fall accidents. The said perforations in your basketball surface will actually drain the liquid and will help prevent accidents from happening. No matter how small your court is, always keep in mind that safety is a priority.
Installation process
Even if it is considered to be a small backyard basketball court idea, this project needs to function as an equivalent to a convenient basketball court. Installing this court in your backyard will prove to you that small ideas can become a bit of a headache too. If you can't handle professional installation, there are snap-together basketball hoops that can be installed easily. However, if you still want to go full scale with the backyard basketball court, asking for professional help will be more beneficial than doing it on your own.
Final Thoughts:
Creating a fun place for your kids and family is a great starting point for an outdoor court. Just imagine the joy of your kids once you are able to finish this project. Aside from the fact that you are providing them a safe place to play outdoors, you are also giving them a chance to be more physically active. Especially nowadays where kids are glued to the screens of their gadgets, bringing back a certain level of physical activity will encourage them to spend more time away from video games and screen scrolling.
Doing the installation on your backyard basketball court by yourself is possible. As long as you can be patient studying the things that you need to look into, you can always try building it on your own. Seeking the assistance of professional builders might cost you more money, but the security of the finished facility will be ensured. The decision actually will lie upon what is important. Do you want to save dollars on the installation cost and secure the facility yourself or do you want to leave the decision at an expert's hands and spend more? The choice of doing either is up to you.
This is an image roundup post, curated to showcase and promote other reputable contracting companies' and their amazing work. To have any of the images removed, please reach out to us and we would be happy to do so.
Other Great Articles to Read: