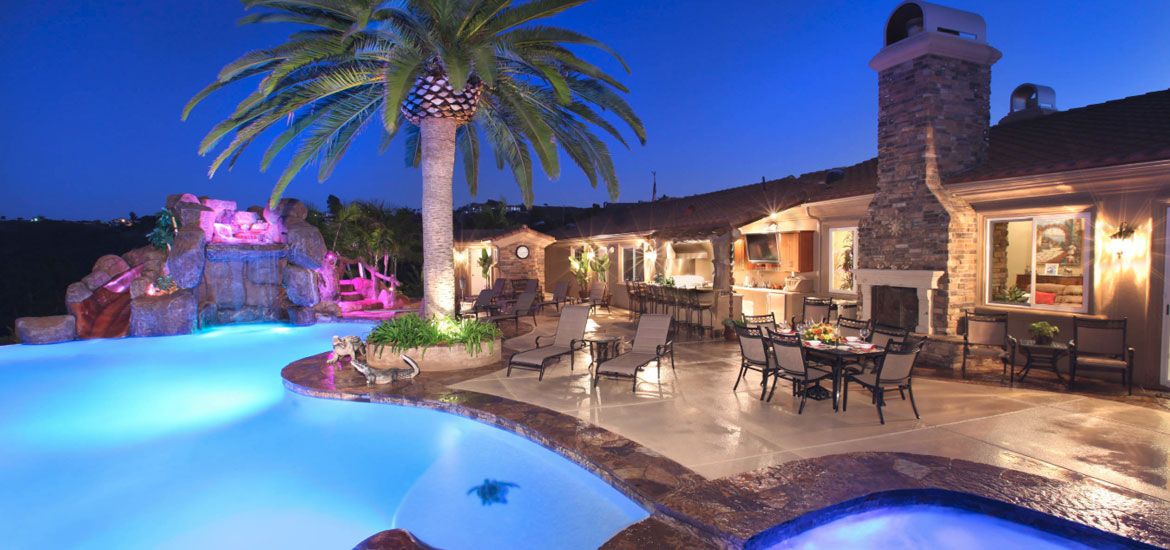 Building a pool in your backyard can be a thrilling experience. It's every homeowner's dream to be able to have a sprawling pool of their own, where they can swim and float in the privacy of their yard. When considering the first steps in your pool-building project, there are many things to take into account. What design should your pool be? How much space do you have available? Should you incorporate a pool waterfall? What about the landscaping design around the pool? How do you make your backyard pool your own?
A short outline of the most popular outdoor pool ideas can give you an idea of what features and styles you might like to incorporate moving forward. Keep in mind that there are many designs and specifications to choose from, and what ultimately matters is that you are satisfied with your pool. Check out these backyard pool ideas for inspiration and see which designs you like the most.
Resort-Inspired
You can transform your backyard into a resort-inspired pool destination with a deck and lawn chairs surrounding the pool. Add lanterns/lighting, tropical plants and a handful of beach towels, and you'll feel like you are living a Caribbean dream in no time. The decorations you include around your pool can help give whatever atmosphere you desire.
Elevated Deck Pool
Sometimes you don't have a lot of space to work with. If your pool is right next to the neighbor's fence or your garage, you might not enjoy having to see something so unsightly every time you swim. You can combat this issue with an elevated deck, which will block the unsavory sights while you're in the pool. That way, when you swim, you'll be looking at a beautiful deck with sprawling lawn chairs.
Backyard Pool Ideas
When it comes to backyard pool designs, there are endless opportunities. Think about the current style and theming of your house. Do you desire a traditional or contemporary feel? Or perhaps you enjoy a rustic Mediterranean look. Depending on your style and space you have to work with, you can develop a backyard pool that's truly your own.
It's not just the decorations around the pool, but the shape of the pool as well that can transform your yard into an elegant beach getaway or a rustic Mediterranean oasis. The way your pool is shaped and designed can help you actualize the vision you've always dreamed of.
Rectangular Pool Designs
Rectangular pools are by far the most popular designs for most outdoor pools. There are plenty of unique pool ideas that can be incorporated into a rectangular pool through the addition of stark geometric shapes and bold corners that define its structure.
Rectangular pools are timeless, classy, and professional. Most sports stadiums and professional locations across the world use large, rectangular-shaped pools to help swimmers achieve their greatest feats. Not to mention it's a great way to expand your backyard and utilize its space most efficiently. A rectangle gives the appearance of a larger space, and it can really work to open up your backyard, inviting in the natural space.
Elevated Borders
When building a rectangular pool, you can incorporate an elevated brick border to make it pop and to add a sense of variety to your backyard. Plus, this will give your pool the nested look, making it very dynamic. This is a great way to make a rectangular pool more exciting by emphasizing its geometric points.
BUILD BRIDGES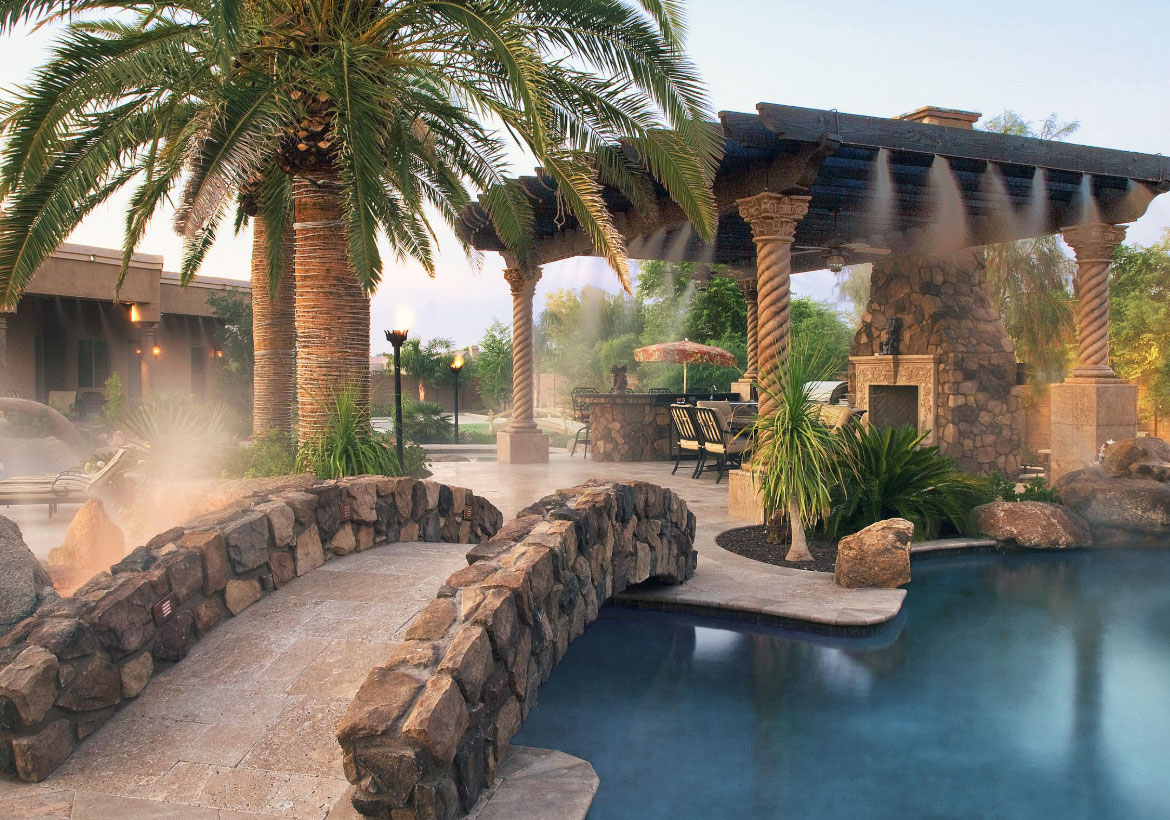 This pool layout is so enchanting and lovely everyone will be jealous of it. If you're looking for a venue for a future big event, like a wedding reception, you can consider this one! Stunning in its beauty is the stone bridge that spans the pool. Coronado Stone Products has created a masterpiece with its design.
MINIMAL MODERN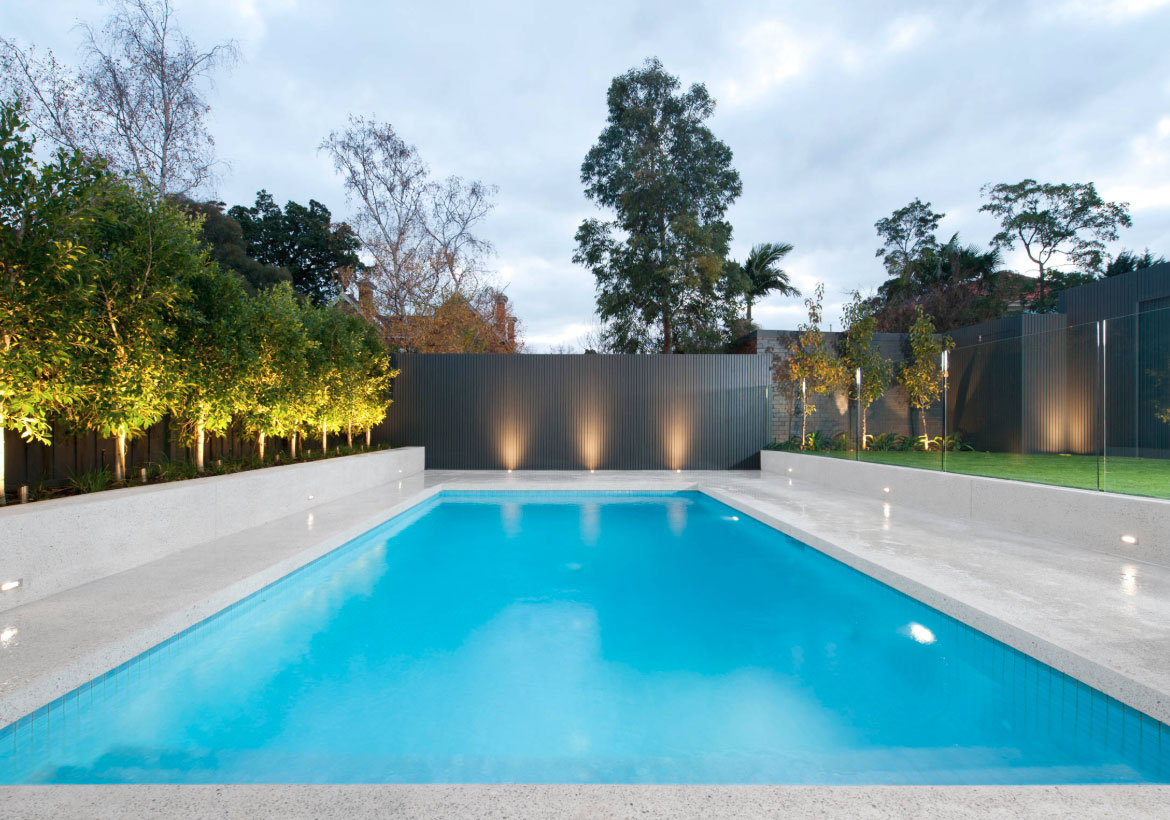 This pool layout is so sleek and contemporary that even your grandma would approve. This elegant and modern pool by Frameless Impressions is perfect for hosting a small gathering. Gorgeous and shiny, this stylish pool is enclosed by glass doors and a glass fence.
SLEEK & MODERN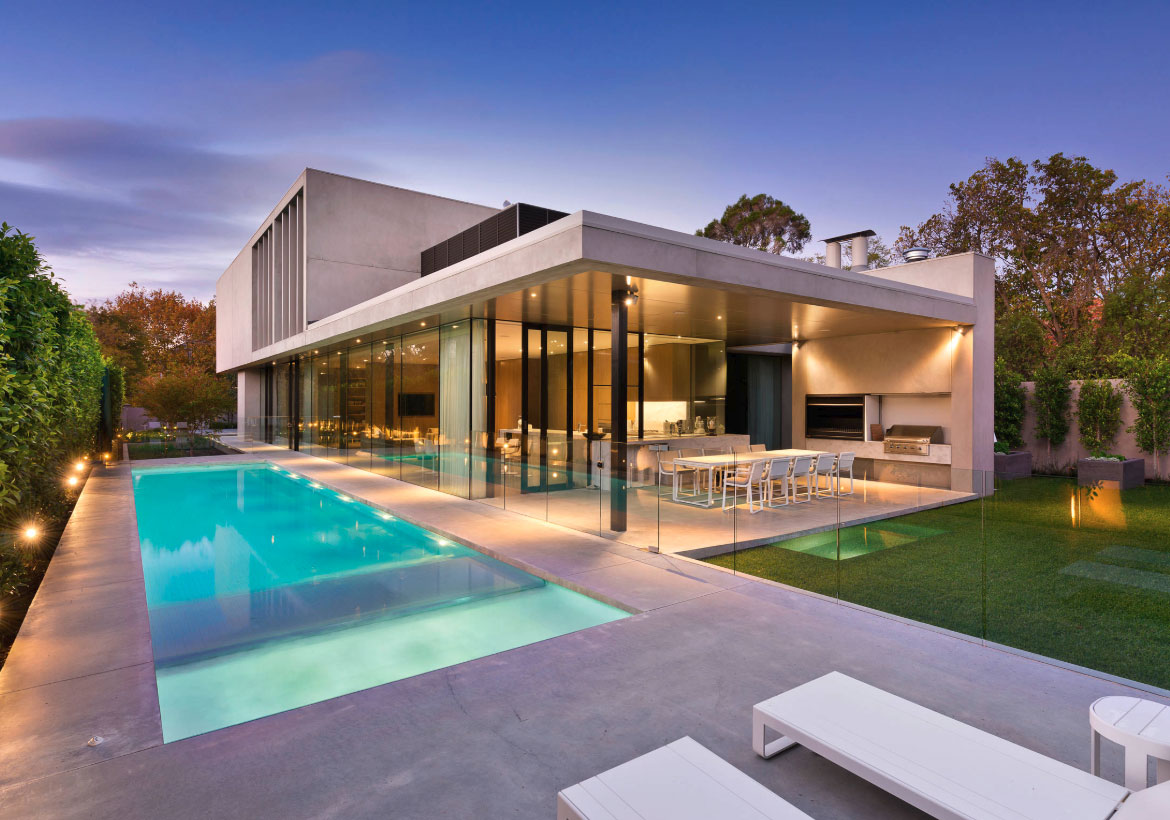 Want a pool area that gives off an air of effortless sophistication? This swimming pool is not over the top, but it complements the contemporary home: yet another state-of-the-art pool complex, this time of world-class quality. Neptune Swimming Pools has come up with a stylish and cutting-edge design.
Descending Stairs
Adding stairs as part of your rectangular pool designs can give guests a safe and easy way to enter and exit the pool. Plus, it will give the appearance of multiple layers of depth, contributing once more to that sense of dynamism. Stairs can take up the entirety of one of the ends of the rectangle, or they can stem out from a corner and expand from there. Be sure to add grip rails or poles for added safety.
Infinity Pool
A rectangle is the perfect shape to use to your advantage when transforming your outdoor pool into an infinity pool. You can recreate the image of a pool that looks over a cliff and spills out into the sea, seemingly connecting as one. This is a beautiful way to make the most out of your beach or lake house as well. The rectangle can stretch forever by installing infinity pool technology at one of the ends.
MULTI-LEVEL POOL
This pool has an automatic pool cover and is 20′ in length by 50′ in width over its several levels. The pool slide is an excellent addition. Such a fan of the wooden beach chairs and the aqua/white umbrellas! Aqua Pools, Inc. has created the ideal pool for your next family reunion with its multi-tiered design.
PERFECT DESIGN
The pinnacle of backyard pool architecture. Everyone will agree that the pool area is stunning and provides all the amenities one may need to unwind. The poolside dining room is a stunning spot to host a special meal for the whole family. Mondo Exclusive Homes really outdid themselves with this one.
Pool Waterfall Ideas
Pool waterfalls have been popular additions to pools large and small for many years. In fact, they are one of the most sought-after pool decorations in the industry today. There are many different ways that you can build a pool waterfall, and it can often become a functional piece that adds new layers of water and fun to your backyard pool.
Infinity Waterfall
An infinity waterfall connects two levels of pool into one. This is a great way to split your pool areas in half, separating the two while still keeping them together with the waterfall. It will look as if the upper layer of the pool is spilling down into the lower layer, which can be lots of fun for guests and friends. Plus, building up instead of out is a great way to make the most out of a smaller space, giving your backyard a lush and full appearance.
Natural Rocky Waterfall
Many homeowners love to build rocky structures around the side of the pool, with water trickling over the spaces and grooves in the rocks to ultimately coalesce into a waterfall that ends in the pool. The rocks can be designed in an assortment of different ways, from natural to geometric. People love the way the water mimics natural rivers and waterfalls, and you can decorate your rocky formations to give your pool the appearance of a tropical hideaway retreat.
Plus, you can use this as an opportunity to amp up your landscaping skills. Planting tropical trees and shrubs around the rocks will make it look like a true island cove, and with a few comfortable chairs stretched around it, you can make it a great space to relax all day and all night long.
Pool Tiling Designs
The art of pool tiling has fascinated homeowners for decades, and there continue to be new trends in pool tiling that can offer a splash of color and geometric design to the inside of a pool. Whether you're looking for ceramic tile or natural rock surfaces, there are plenty of pool tiling designs to suit your fancy.
Square Tiling
Small square tiles have been traditional pool components for many years, and continue to be one of the hottest tiling trends on the market. Small square tiles can be placed in many rows, all sporting the same color or different colors depending on the color scheme. You can line the edges of the pool with a dark color, keeping the rest of it light. Or, you can interchange the colors like puzzle pieces, giving your guests and family members something to look at each time they go for a swim.
Create your own mosaic for something truly unique!
Natural Stone Tiling
You can use natural stones or bricks to make a natural tiling display. This is a great idea for when you have a rounded pool with dark, rich waters. If you want to maintain the natural rocky island look, you can use stone tiles shaped as squares, rectangles, or natural shapes to complete the look of your pool.
The beauty of pool tiling designs is that you can make something spectacular and beautiful out of any pool of any size, no matter your constraints or restrictions.
Contemporary Pools
You can't go wrong with straight lines and a cleaned-up design. If you're into cubic, geometric landscaping, your pool needs to be no different. You can find a place to fit a pool in a rectangular fashion among your natural and manmade pool landscapes designs. Whether you want to surround it with brick tiling, a reclaimed wood fence, or artificial turf, there's nothing wrong with keeping it clean cut.
Small Pool Designs
Small pools can make huge additions to your backyard. If you don't have a lot of space to work with, or if you only want to dedicate a small part of your yard to the construction of a new pool, there is plenty you can do to make it a functional and beautiful piece. Whether you want a natural look, or you want to incorporate your swimming area as part of your heavy landscaping ideas, you can find ways to make it work. Adding a petite pool to your backyard should not be challenging, but will be incredibly rewarding. Remember that one man's trash is another man's treasure, and you by no means need anything large and lavish in order to have the elegant private pool of your dreams.
Curvy is In
If you don't want to go geometric, then you'll find a lot of great ideas in the opposite direction as well. Curving, twisting pools can make a lot out of a little bit of space. You can transform even the most modern or contemporary of backyards into a tropical retreat with a curvy pool and dark waters. Surround it with stone and build a fire pit or a seating area to carve out a little bit of private space for yourself. You'll be amazed at how much you can accomplish!
Whether you like having heavy amounts of landscape, or you want to keep things minimalistic, you can appreciate that the beauty of water is in its flexibility. You'll find a design that works for you no matter what your style and space requirements are.
Build the Outdoor Pool of Your Dreams!
The beauty of outdoor pool ideas is that there are so many ways to make your landscaping dreams come true. Whether you love the classy rectangular pool, or you want a curvy, circular stone island retreat, you'll find that there's way more to work with than you've ever imagined. From small pools to large, sprawling expanses, you can enjoy anything from the exotic to the tame. Build the pool of your dreams with a variety of outdoor ideas at your disposal.
This is an image roundup post, curated to showcase and promote other reputable contracting companies' and their amazing work.  To have any of the images removed, please reach out to us and we would be happy to do so.
Other Great Articles to Read: