Glen Ellyn Kitchen, Bathroom and Basement Remodeling
Chicago Western Suburbs | Dupage County
Glen Ellyn Home Remodeling and Renovations
You know those awesome room reveals that happen toward the end of home renovation shows, the ones with gaping mouths and lots of 'Oh! My! God!'? They do not just happen in TV land–that is the typical response to our completed home improvement projects in real life. And if you are a home owner in Glen Ellyn, IL reading the words on this page, might very well be the first step on a journey to your own euphoric outburst.
Whether you need just a room remodeled, a number of rooms, or your entire home; we offer the most comprehensive range of professional services that will transform your current, dated living space into the fresh, vibrant and sophisticated image you have of it in your mind. You can even build an office design mud. You can check out our designers design showroom or design ideas blog for inspiration.
You can remodel your house to keep current with trends, which is important to understand if you want to renovate. These two phrases are sometimes used interchangeably. However, they vary in terms of cost and the kind of construction needed.
While renovations are generally restoration tasks that do not normally need permits and are less expensive, remodeling projects are larger projects that may change the construction or layout of the property, necessitating permits, and may be more expensive.
Before you begin working on other areas of your renovation project, you must first establish your core goal. A clear vision will provide the groundwork for the renovation process.
Is the makeover required to satisfy the demands of your expanding family or aged loved ones? Is it your goal to build a house with a great return on investment? Are you attempting to make a statement about the appearance of your home?
Remodeling is a substantial financial expenditure. Understanding your objectives can help you prioritize and make sensible choices that will pay off in the long run, both financially and in terms of lifestyle.
Glen Ellyn Home Remodeling Project Pictures
Sugar Grove IL Master, Guest, and Hall Bathroom Remodel Projects
Bryan Sebring
2023-10-23T15:01:23-05:00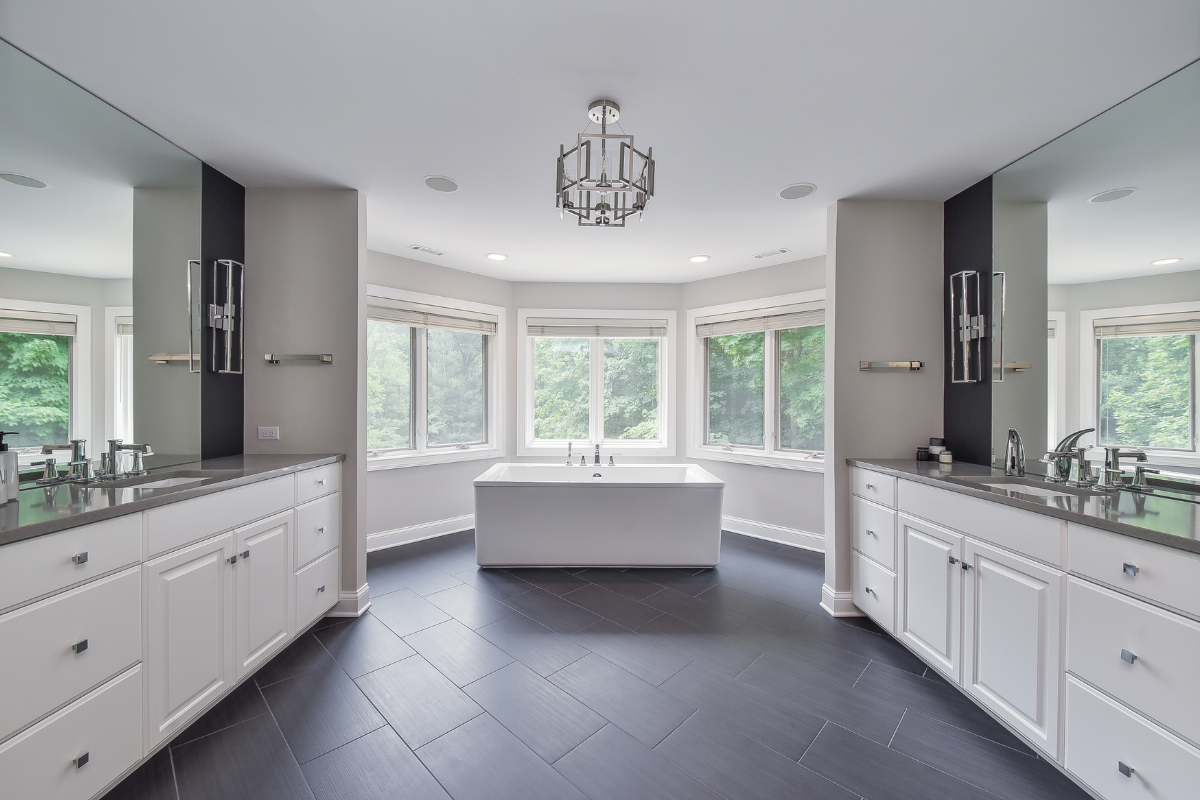 Glen Ellyn Remodeling Reviews
" As soon as I had a meeting with Bryan Sebring and he drew up an initial proposal, I knew I was done shopping for contractors. When you meet someone that you know you can trust implicitly to assist you with major decisions and send you to good suppliers, and whose staff you can trust in your house for 8 weeks without any homeowner supervision, your decision transcends price… "
" I would highly recommend Sebring! All those that were involved in my home remodel were both professional AND nice. Bryan provided all services that were expected and on some occasions went beyond with what was necessary just to make us happy. Thanks Sebring! "
" My experience with Sebring felt right from the start – I felt comfortable and at ease from the first meeting and throughout the entire project. The entire team was extremely friendly and professional and always helpful! They were prompt in answering questions and returning calls and very accommodating. They were clean and courteous and respectful, which I truly appreciated. I would definitely recommend using Sebring!! "
" We used Sebring to remodel our bathroom. They were very professional and the end result is just beautiful! Everyone was prompt, courteous and very skilled. The price was very fair. Justin, in particular, went out of his way to make sure everything was perfect! I highly recommend Sebring! "
Glen Ellyn Kitchen Remodeling Project and Kitchen Design
From sipping tea and watching the rising sun, to sitting around the island with your children; some of the most special moments are created in your kitchen. Because the kitchen is the center of your home and is one of the most active rooms and functional spaces in your home, you deserve a kitchen dining that makes you feel proud every time you step inside. It should be a space in your home that you love.
If you are looking for the perfect space planners, efficiency experts, designers, and master craftsmen for your next Glen Ellyn kitchen design and remodeling project, you have landed in the perfect spot. Sebring Design Build delivers exceptional spaces by taking a holistic approach to meeting your requirements and exceeding your expectations. We'll do our very best to incorporate all of your requirements into the ideal kitchen remodeling design. We can also do your dream mud room design. Check out our showroom or blog for inspiration.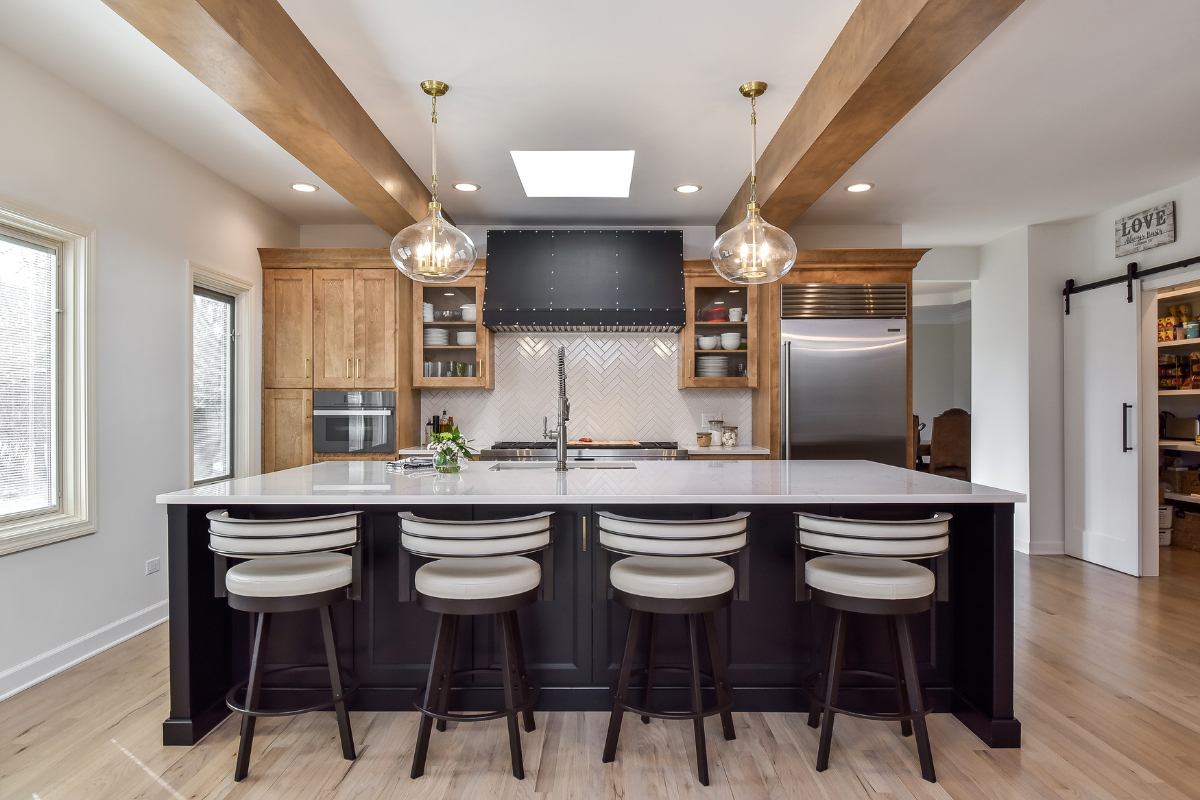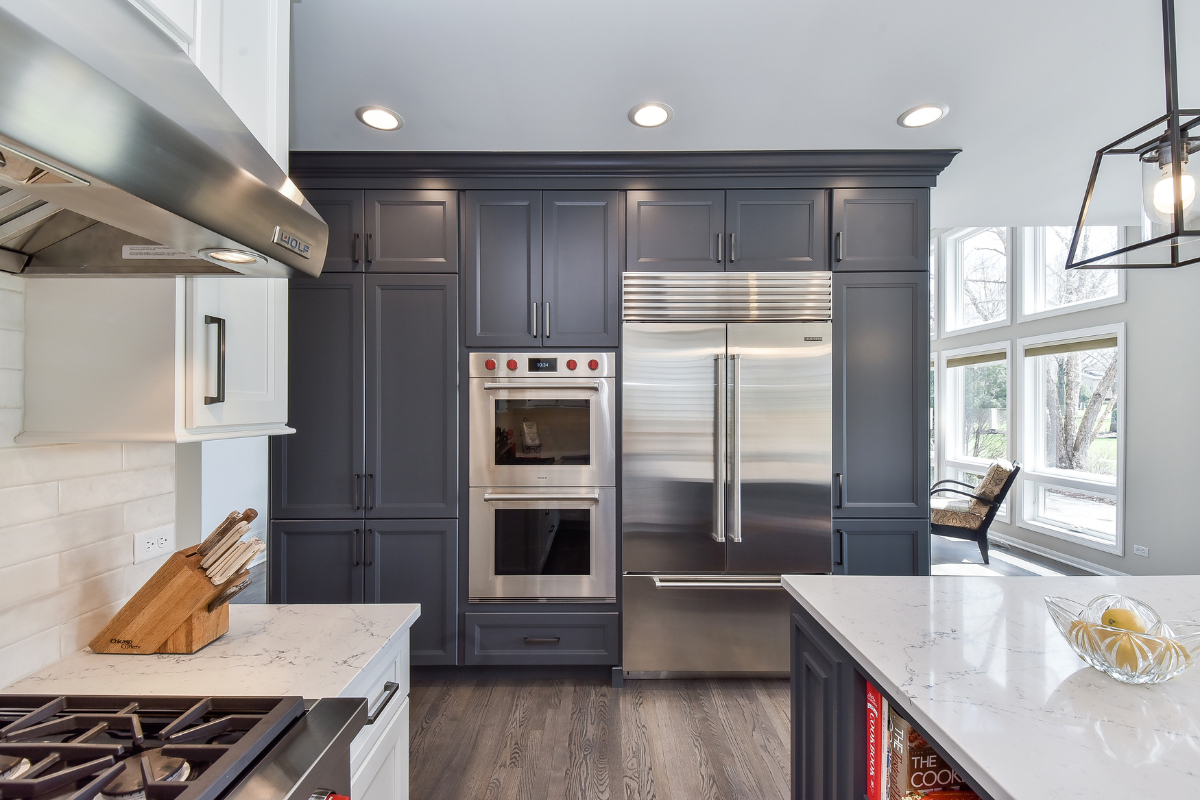 Planning Your Kitchen Renovation in Glen Ellyn
If you would like to remove some of the walls so that you can have a more open design, we can go through the essential steps to determine if this can be done for your kitchen remodel. If you are considering ditching the kitchen table in favor of a large eat-in island, we'll go over the dimensions that are required around an island.
The key is for you to write down all of your wants and needs, and then communicate them to us. We will do our very best to help guide you through the design process so that we can help you come up with the perfect kitchen. We will help you add elegance, style and function to the heart of your Glen Ellyn Illinois home. We are your best choice for Glen Ellyn remodeling!
We have completed many kitchen remodeling projects and that is why you can depend on us to offer you full-service design build kitchen remodeling which will result in sensible functionality and excellent design.
Are you searching for help in remodeling and designing your kitchen? Maybe your kitchen needs more light, lacks adequate storage space, is in need of repair, is too small or is just out of date. Whatever your reason, a Glen Ellyn kitchen remodel will have a huge impact on the value, feel and look of your home and will offer you and your family many years of enjoyment.
Contact Sebring Today About Glen Ellyn Kitchen Remodeling Services
The kitchen is one of the most visited rooms of the home by every member of the family at all hours of the day. The atmosphere in which food is prepared and eaten should be prepared in the brightest, most airy and welcoming space possible.
From food preparation areas and eat-in islands, picture windows for unobstructed light, flooring to recessed ceiling lighting; we can design and create your ideal kitchen from the latest and most trendy templates or according to your exact specifications.
Give us a call. We will discuss various ideas for your kitchen design and help you assess the design ideas which you have for the kitchen remodeling project based on the available space in your home. We always begin with your budget, so check out our project estimate page. This will help us have a good conversation from the beginning. Our highly skilled and experienced kitchen design consultants will work with you every step of the way to help you stay on budget while creating the kitchen you've always wanted. We believe everybody can have a luxury kitchen. A kitchen you will love to come home to, a room that reflects your tastes, fits your budget and your lifestyle, and meets the everyday needs of you and your family.
Glen Ellyn Bathroom Remodeling and Design
Are you tired of walking into your outdated bathroom? Is your bathroom leaking down to the floor below? Is your shower so small that you can hardly move around when showering? Then it is time to remodel your Glen Ellyn bathroom! Sebring will transform your bathroom into an inviting, warm and luxurious spa. Give us a call today and we will help you remodel and design your bathroom to match all your needs.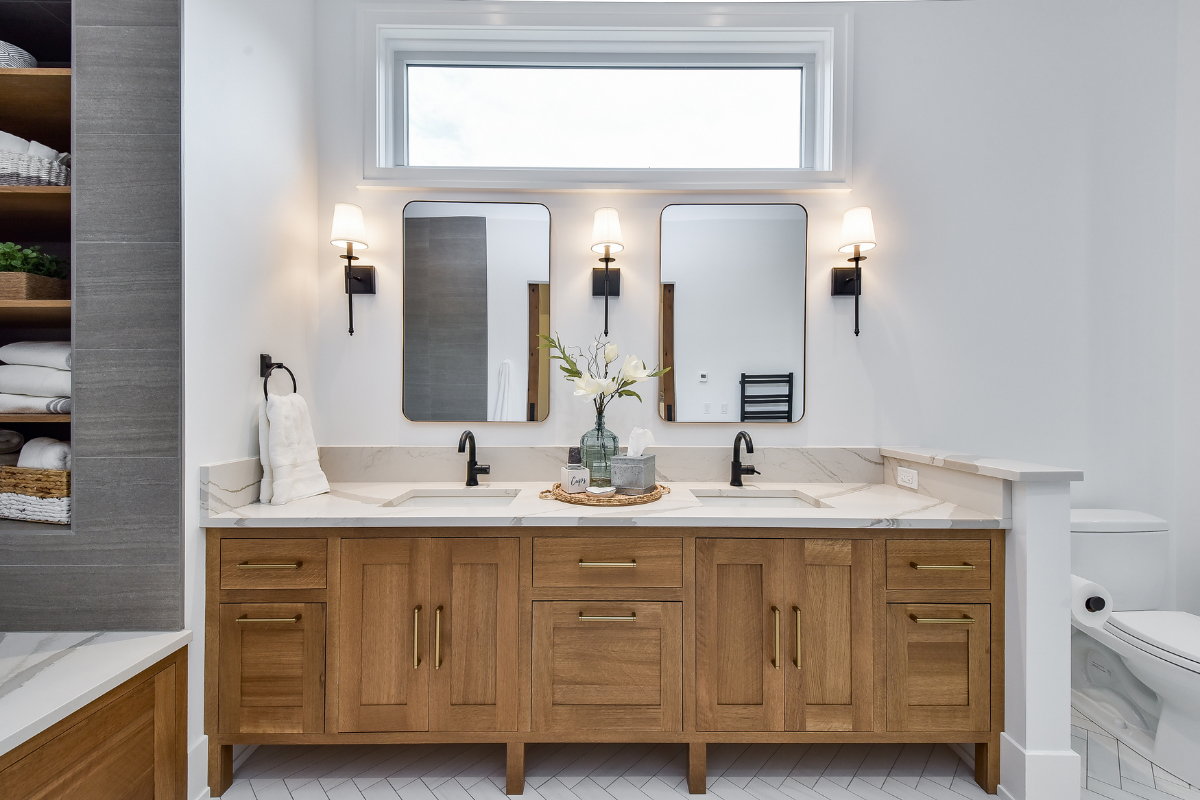 Bathroom remodels, and renovations are an excellent way to update the aesthetic of your house. Bathroom remodels, when done correctly, may provide a good return on investment. Sebring Design Build can assist you with the installation of a new sink, a new glass shower door, or an attractive tile floor.
Sebring Design Build is well-equipped to tackle almost any bathroom remodeling job. This implies you won't need to engage more contractors to finish the job. We're your one-stop shop, and our guarantee backs up all our work.
A bathroom remodel is a major undertaking! One of the most utilized rooms in the home is the bathroom. When you call Sebring Design Build, you can relax knowing that your home is in excellent hands. We'll try our best to keep our work from interfering with your everyday routine. We'll take care to keep dust to a minimum while working, and we'll always leave a clean job site at the end of the day.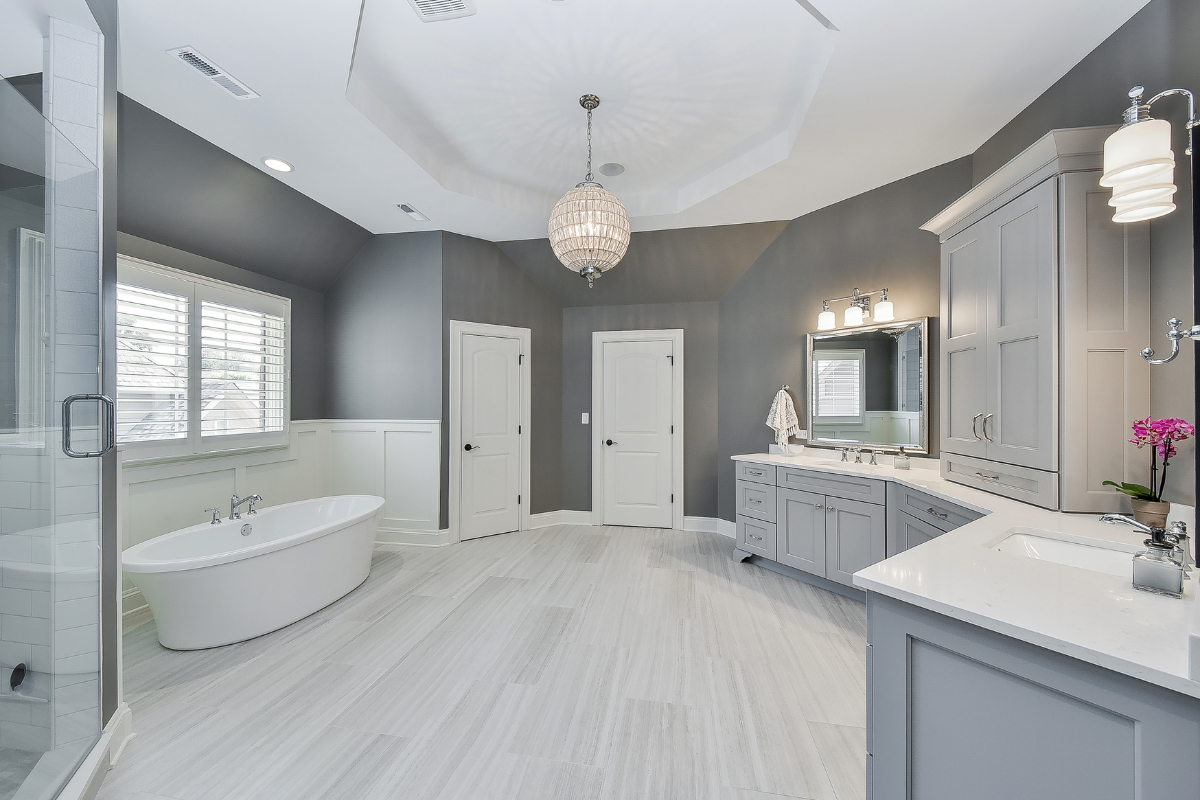 Planning Your Bathroom Remodel in Glen Ellyn
Remember that you begin and end your day in the bathroom, so choose a design that matches your taste. Say yes to adding double sinks and extra cabinetry if you plan to use the bathroom at the same time as your spouse. Also, if you want to make your bathroom larger, you can remove the bathtub to create a larger shower. Shower space is usually more desirable because the master bathtub is rarely used, while the shower is used daily. This will not be your average bathroom.
Bathrooms can offer comfort and solace, so careful planning is necessary when choosing a new bathroom design. We will help you in the planning stages to ensure you only settle for materials that offer a comfortable retreat and suit your home's décor. There are many things that you need to consider when remodeling and designing your bathroom. Here at Sebring, we have successfully installed various bathroom amenities for our clients in Glen Ellyn IL. These amenities include:
Vanity Cabinet Towers
Cambria, Silestone, Granite, Ceasertone and Hanstone Countertops
Custom Glass Shower Enclosures
Handheld Shower Heads
Heated Floors Featuring Programmable Thermostats
Glass, Ceramic, Porcelain and Natural Stone Tiles
Custom Shower Benches
Body Spray Shower Systems
Built-in Shampoo Shelves and Niches
Above Toilet Cabinetry
Custom Linen Hutch Cabinetry
The bathroom is the place where you prepare yourself to meet the world outside your home. A dank, humid, airless or dimly-lit bathroom works against you. Fortunately, bathroom renovations are one of the most common projects that we undertake.
You no longer have to struggle within a claustrophobic shower stall, bang your knee on the awkwardly-positioned bathtub or put up with the ugly wireframe soap and shampoo holder that constantly hangs askew. From simple layout changes to complete redesigns that start from scratch, we can include the most modern and futuristic fittings and accessories into this important home space.
Our revamp can include the perfect shower space and/or tub for your needs, incorporate spacious niches within walls to store your bath accessories and can even include heated floors and innovative shower systems that will turn your bathroom into the perfect spot to start your day.
Why You Should Hire Sebring For Your Bathroom Renovation
Our team will ensure that your new bathroom is spacious enough to make you feel relaxed and refreshed. We have completed many projects in Glen Ellyn IL and DuPage County. We have a great working process that will guarantee you a new bathroom that you will definitely love. Convenience, comfort, perfect amenities and accessibility are just a portion of what you will enjoy when you hire us to remodel your bathroom. With our Glen Ellyn bathroom remodeling services, you will be assured of a bathroom that serves your needs.
You can rely on us to remodel your bathroom. We will reward you with a more spacious and beautiful bathroom made of excellent materials as well sensible functionality within your budget. So, feel free to contact us today to discuss your bathroom renovation project. A bathroom remodeling project, whether large or small, will improve the value of your home and make it a more enjoyable place to live. You can also download and read Remodeling 101, Sebring free E-book. It will help you find the right contractor and designer in Glen Ellyn.
Glen Ellyn Basement Finishing and Remodeling
Are you fed up having your kid's toys all over your family room, colliding everywhere with them? Is having a place where your teenager can hang out with friends one of your desires? Well, one of the most economical projects you can tackle in your home is a finished basement remodel. Transform a damp, cold, dark, dingy basement into a dry, warm, bright and beautiful finished lower level.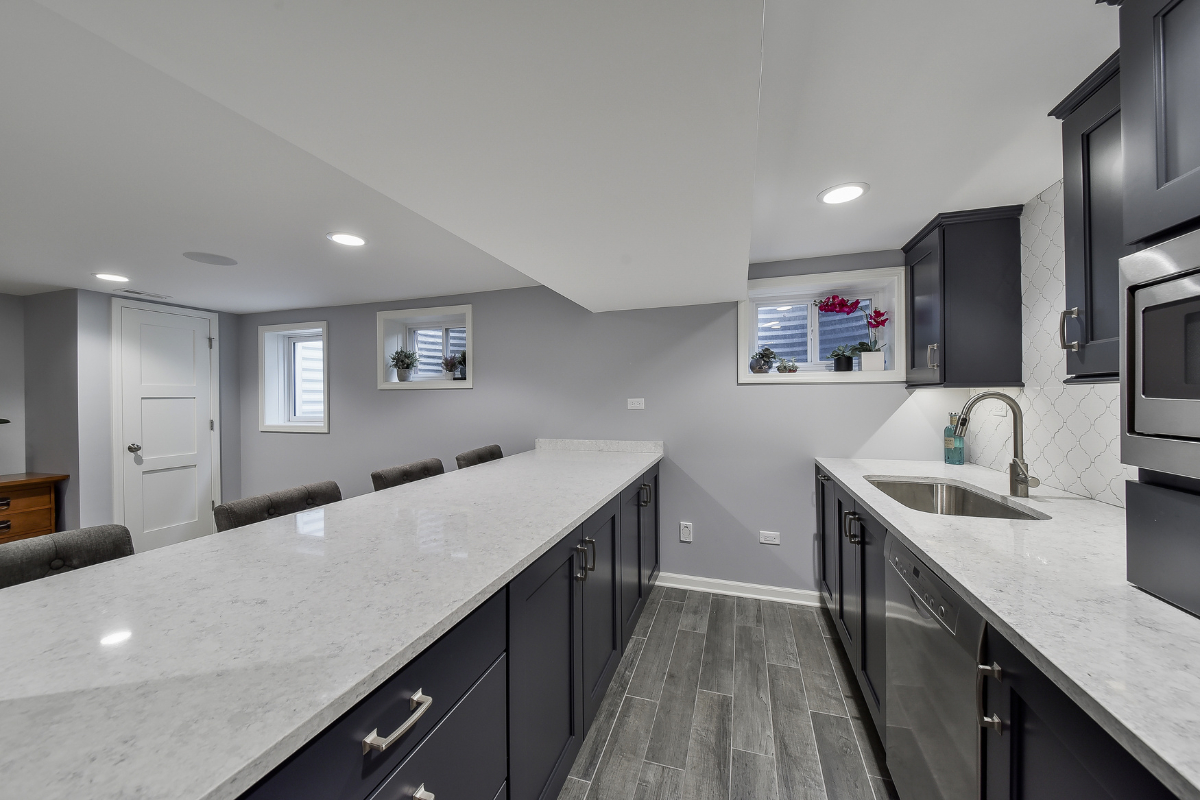 For more than a decade now, Sebring has remodeled more than 400 basements. We have established a high reputation in Glen Ellyn IL and its surrounding suburbs as an excellent choice for finished basement remodeling. Our many years of experience have allowed us to fine-tune a step-by-step process that will make it look easy. Whether you simply require a custom wine cellular to store your collection of wine, or you need an extra living space where you can watch a movie; we are the right people for you, we can design it. We can come up with a custom tailored finished basement remodeling project in Glen Ellyn to suit your needs.
Common Glen Ellyn Basement Design Spaces
Bedrooms: For out of town guests, an in-law suite or your teenager that requires more privacy.
Games Rooms: For Ping Pong Tables, Pool Tables, Foosball, and Old-fashioned Arcade Games.
Specialty Items: Custom Wine Cellars, Fireplaces, Custom Ceilings, Wainscoting, Custom Built-Ins and Crown Molding.
TV Areas: From High-End Theater Rooms to TV Entertainment Areas.
Workout Rooms: From Wall to Wall Mirrors to Rubber Floors and Bright Lighting.
Wet Bars: From Elaborate Custom Designed Home Pubs to Small Beverage Centers.
Bathrooms: From Luxury Spa like Showers and Steam Rooms, Heated Floors to Basic Bathrooms.
Extra Rooms: Home Offices, Craft Rooms, and Children's Playroom.
Whatever your family needs, we can design a space that you will allow you to create lasting memories in your dream Glen Ellyn basement.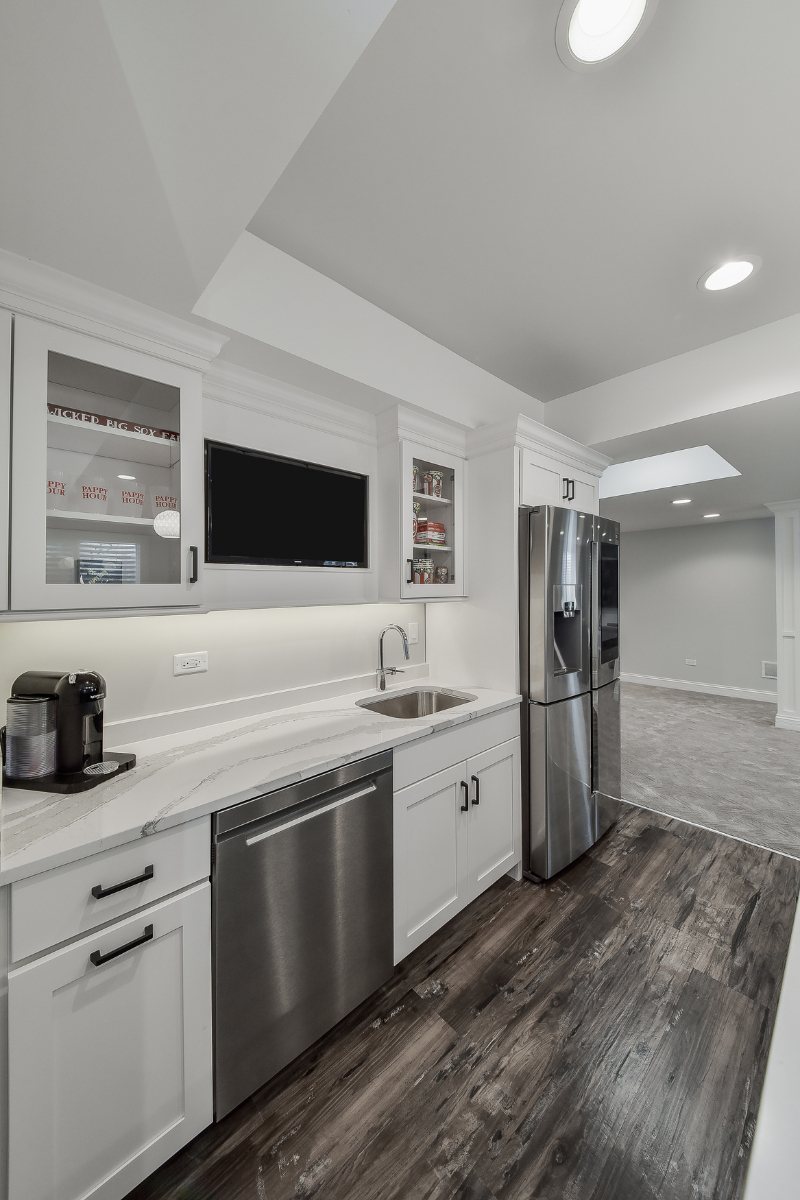 Basements are one of the most underused and under-appreciated sections of the home. In fact, they are the ideal place to situate your home gym, a home office, an entertainment room for the kids or as another bedroom or auxiliary living space. Homeowners whose basements we remodel are constantly amazed at the increase in space and utility they get for the relatively low investment required.
Games rooms with arcade games and pool tables, a teenager's bedroom, a combination bar and wine cellar, and a home entertainment room are some of the most common basement redesign ideas we work on, but the possibilities are limited only by your imagination.
Choose Sebring for Your Finished Basement Project in Glen Ellyn
We have a strong project management team that will take care of coordinating all project materials, contractors, and inspections to ensure the entire basement remodeling process runs smoothly from beginning to end. You can also communicate with our production team through our online project management program, approve selections and stay in the loop with the schedule of your project 24/7.
We have received great customer reviews and created happy clients over the years and you can have a look at our online reviews on reputable websites such as: Houzz, Google review, Yelp and Angi. According to the number of basements that we have successfully finished, we know just how to turn the ideas you have into your new dream basement.
So, contact us now to discuss your project on basement finishing or if you require some help finding the right contractor, you can download our free E-Book: Remodeling 101.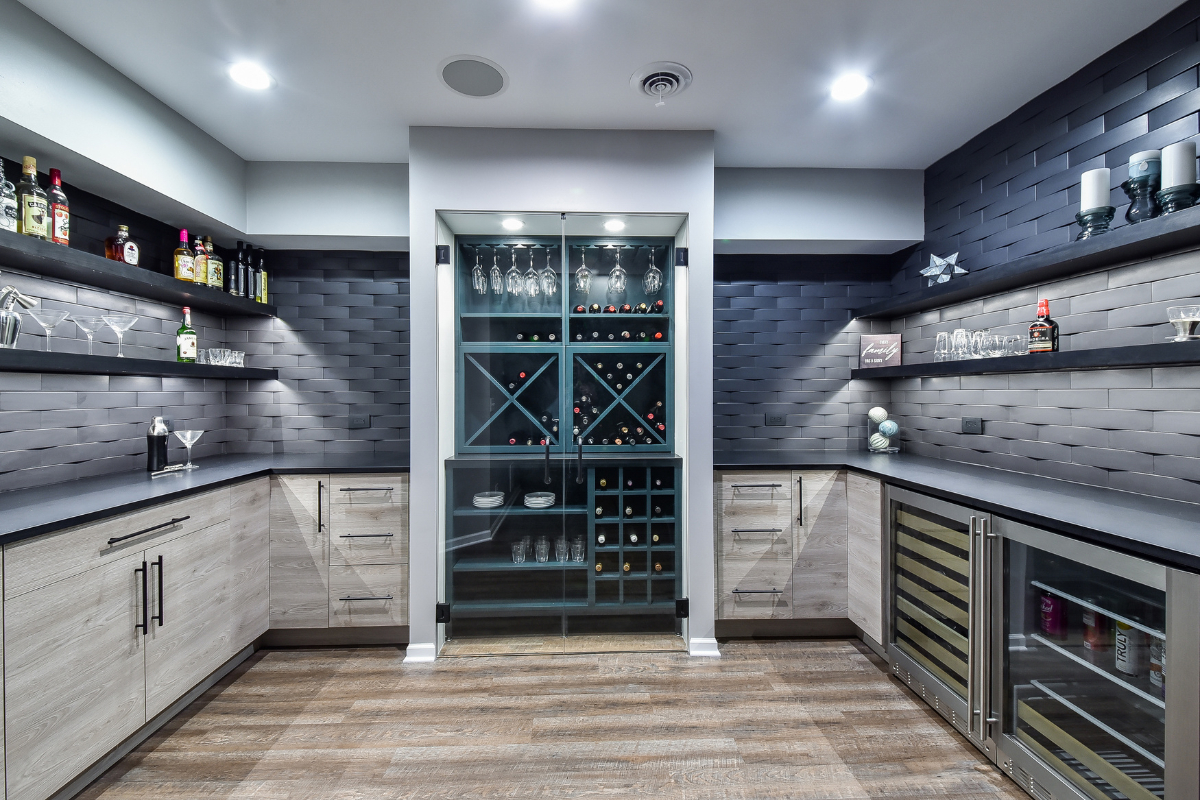 It is important that each room is not just perfect as a space on its own, but that the individual areas of the home complement each other in a way that enhances their individual character. Also make sure each room blends seamlessly into the flow of the areas around it and the home as a whole. Walk through the house and visualize how you would like it to appear, and then contact us so we can turn those visions into beautiful reality for you.
From attics to basements, from kitchens to bathrooms and everything in between, your home is a treasure waiting to be unveiled.
If you are looking to remodel any part of the interior of your home then look no further than Sebring Design Build, we will have you recreating those TV renovation show scenes for your home.