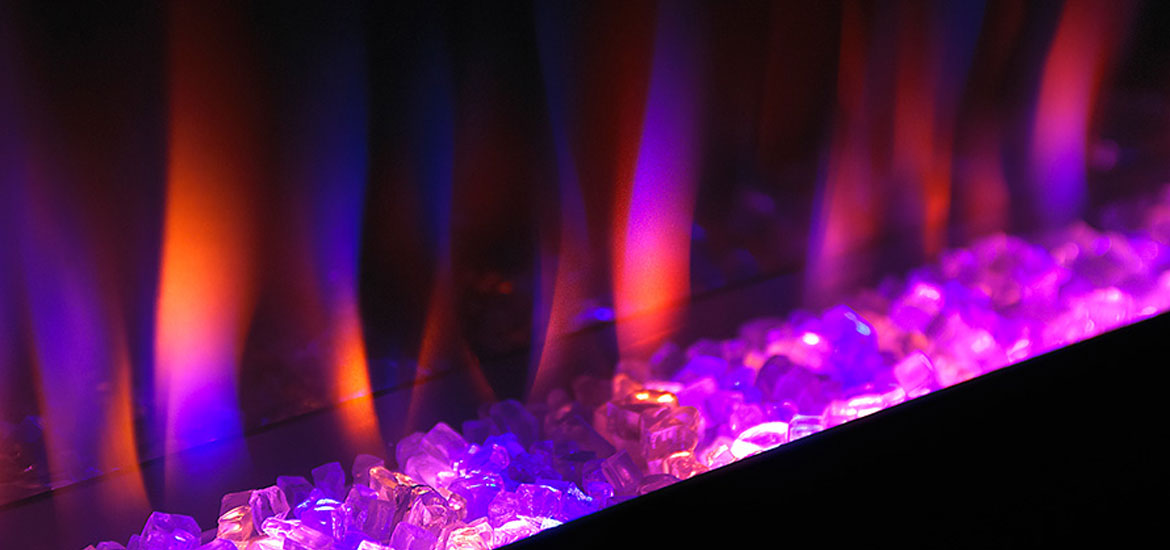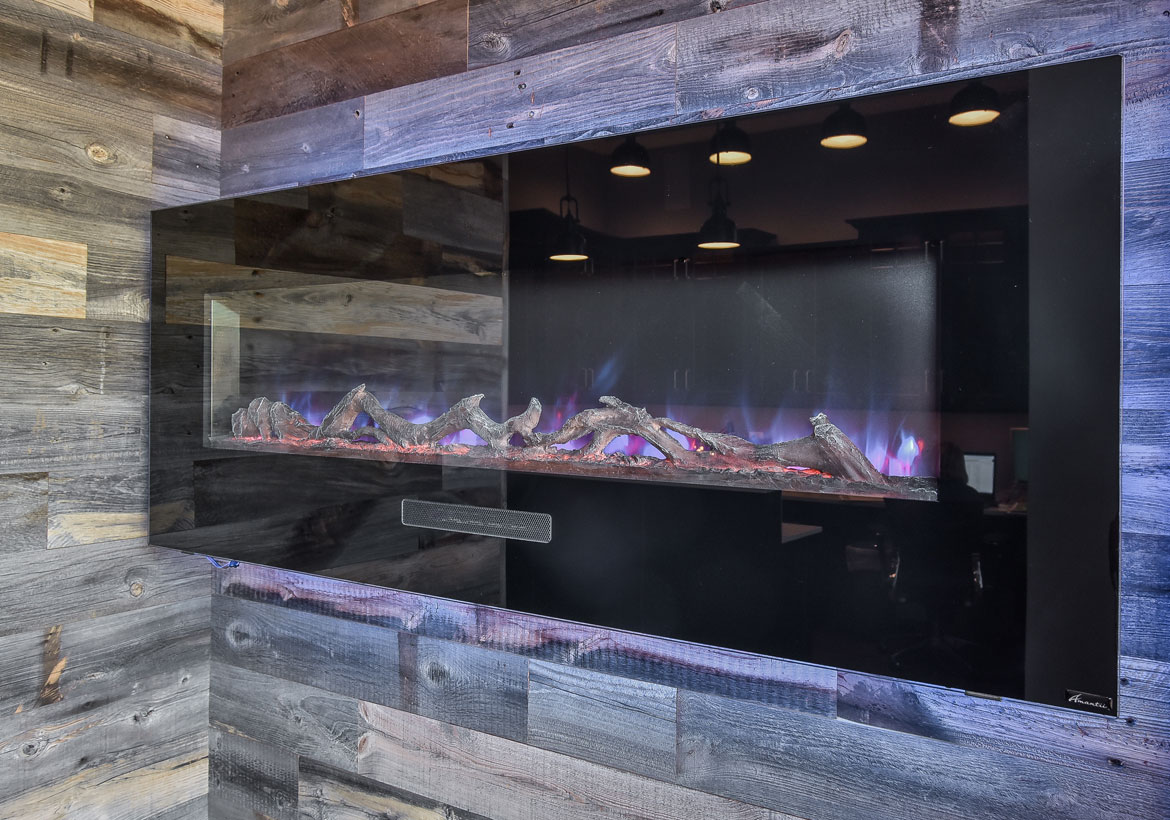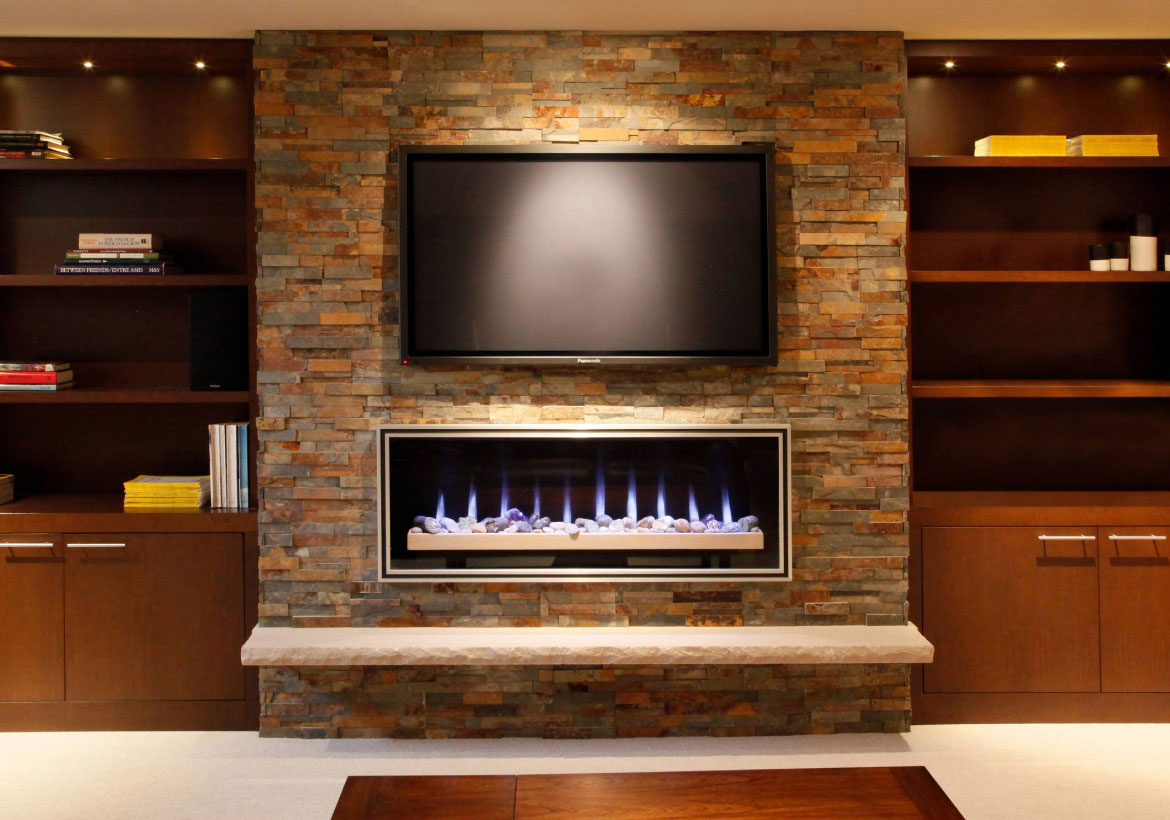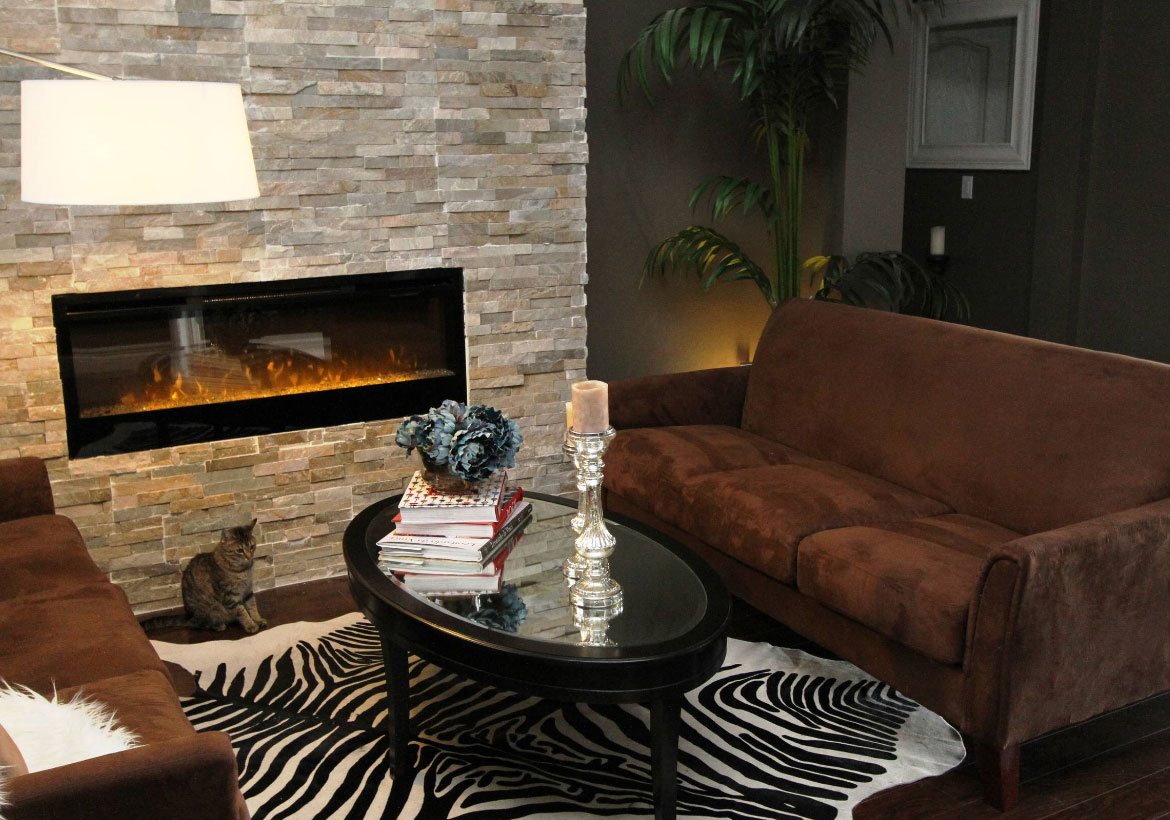 This lovely contemporary seating area features a Dimplex Synergy electric fireplace.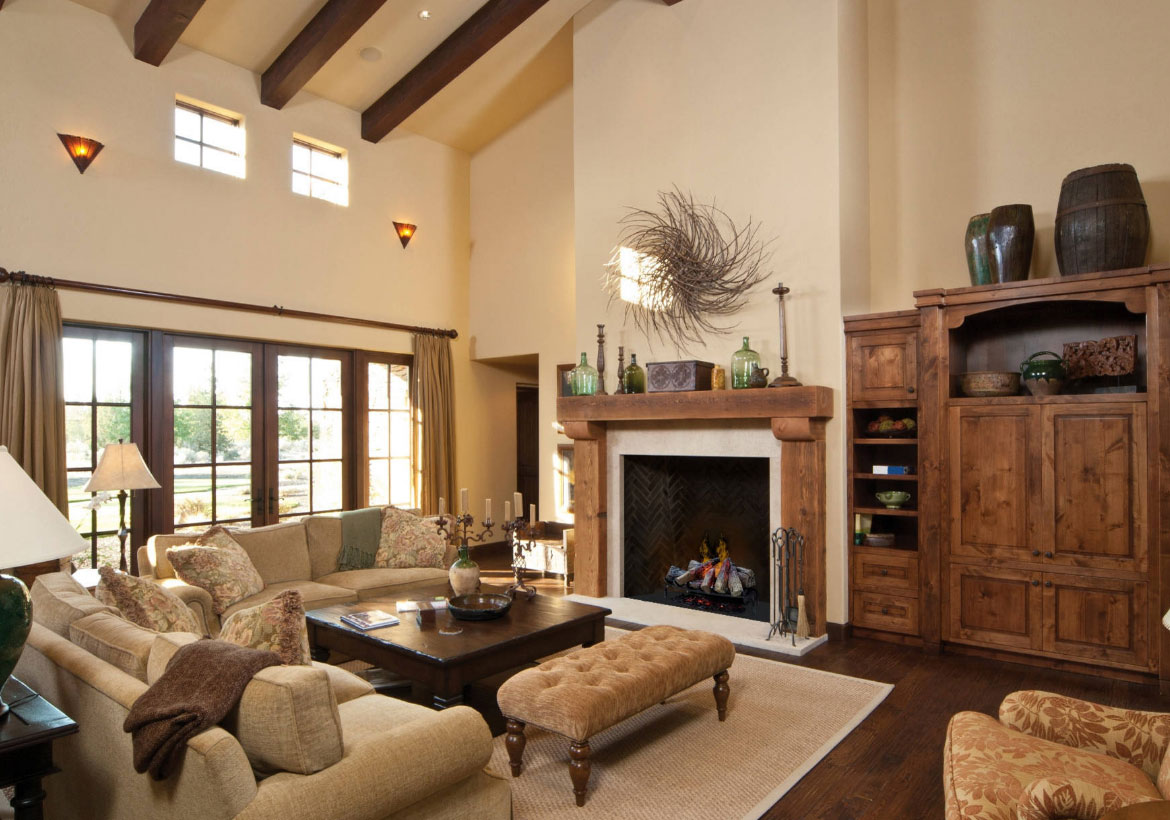 Featured in this rustic warm & cozy family room is the Dimplex DLGM29 Vapor Fireplace Insert which features revolutionary ultrasonic technology that creates a realistic flame and smoke effect.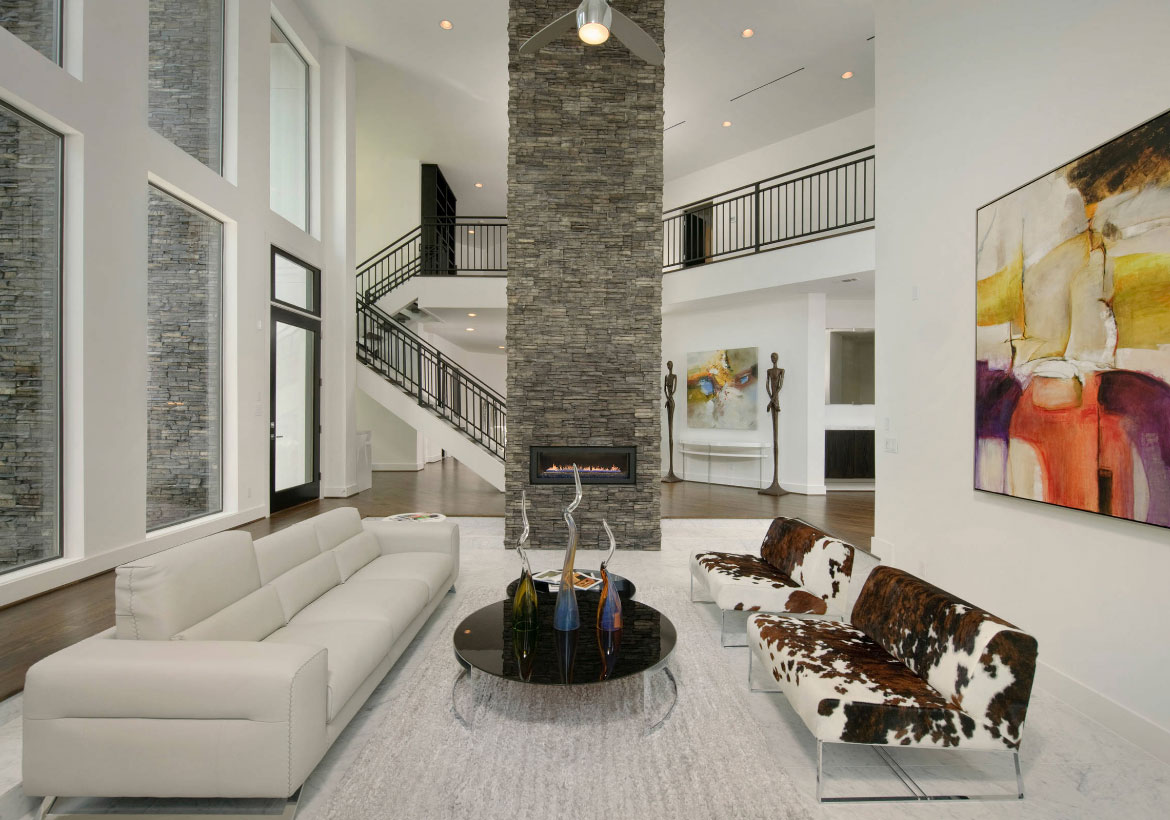 What Types of Electric Fireplaces Can Be Installed?
Consider the style and design elements that decorate the room of your desired fireplace. Is it modern, contemporary, or traditional? Does your home reflect the rustic and woodsy style of a mountain cabin? Or perhaps you are looking for something sleek yet functional?
There is an endless array of electric fireplaces to choose from. Modern electric fireplaces are built to resemble real, traditional, and grand fireplaces, and can accommodate any style. You can have one built from stone, marble, and more. The most common types of electric fireplaces: recessed or wall mounted–can give you an idea of what might work best in your home.
Recessed Electric Fireplaces
Also known as flush mount electric fireplaces, recessed electric fireplaces are built into the wall, making it look like an original part of the home's architecture. Many homeowners love the "built-in" look, as it can easily become a natural part of any room.  Plus, having a recessed fireplace can retain floor space and keep the room looking nice and open. It's a great way to add a sense of style to your den without needing to spare the additional space. You can easily incorporate this functional piece into any room.
As with any renovation project, there are some associated pros and cons with having a recessed or flush mount electric fireplace. They are often favored due to the modern, professional, and built-in look; but can also be slow to install. If you are willing to sacrifice time for the look you want, this may be the right fireplace for you. But if you want something that is faster and often cheaper, you might want to seek out a wall mounted electric fireplace. These types of fireplaces can add a lot of dimension, sleekness, and functionality to a room as well.
Wall Mounted Electric Fireplaces
Wall mounted electric fireplaces are trendy, affordable, and incredibly creative. Depending on the size and dimensions of the unit, you can install it at an eye-level height just as you would with a television or painting. Or, you can keep it on the hearth to resemble a traditional gas fireplace. You can surround it with veneer stone or tile panels to match the design of your home, without it costing you an arm and a leg.
Vertical electric fireplaces are another type of mounted wall fireplace that you can invest in if you are looking for something of a unique size. There are quite a few benefits with an electric fireplace when it comes to creativity, giving you the flexibility to determine the size, style, and placement of your fireplace. However, they can be cheaper, and it may be harder to get them to blend with the rest of the room in the same way that a recessed electric fireplace can.
Add a Flame of Flair to Your Home
Modern electric fireplaces are always a popular market choice when it comes to home remodeling and home renovation. Professionals love designing and installing electric fireplaces of all shapes and sizes. It's magical to see how the installation of a single fireplace unit can really bring a room to life and can join together all of the home's existing elements.
Fireplaces have always been popular places for people to gather, share stories, and enjoy warmth together. That tradition can be continued just as easily with electric fireplaces as they can with gas fireplaces, and it's easy to see why. Whether you are leaning towards a mounted electric fireplace or a recessed unit, there is an abundance of creative opportunities to enjoy that will bring depth, dimension, and heat to your home.
Stay warm with supplemental heat and build the fireplace of your dreams!
This is an image roundup post, curated to showcase and promote other reputable contracting companies' and their amazing work.  To have any of the images removed, please reach out to us and we would be happy to do so.
Other Great Articles to Read:
8 Brilliant Ways to Make the Most Out of a Small Living Room
Expand Your Home by Finishing Your Basement