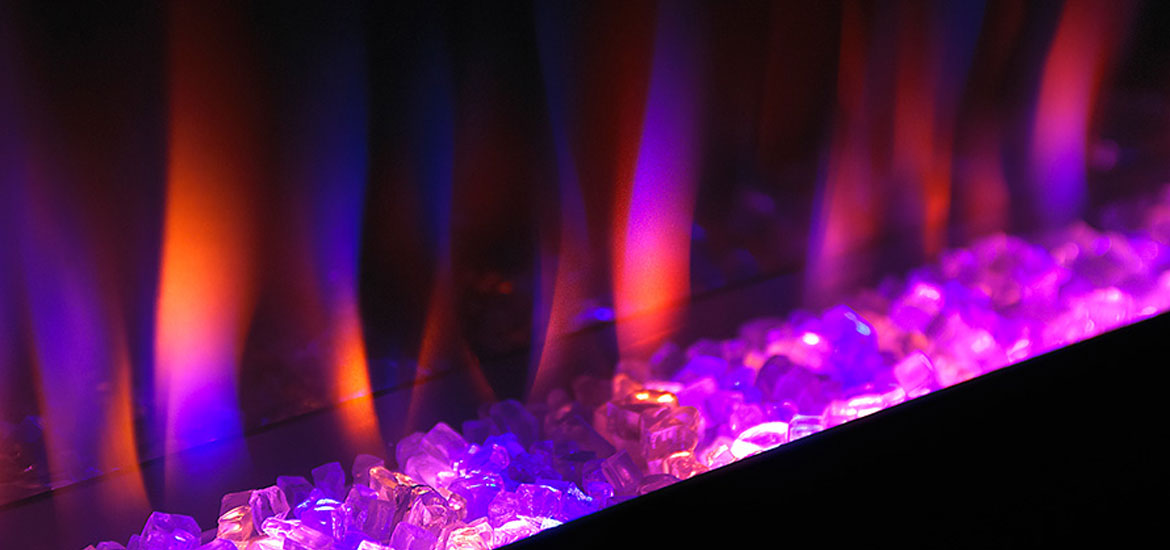 Modern electric fireplaces are an excellent and popular alternative if you are looking to add that special cozy touch to your home when you are not ready to take on the task of hauling firewood and cleaning a traditional fireplace.
A fireplace serves as the grand centerpiece of any den or living room, bringing the design of the room together in a truly welcoming way. For centuries, the hearth has symbolized the coming together of family and the welcoming of strangers and neighbors.  A fireplace brings warmth and comfort into the home. Fireplaces are great additions to a home, and they come in a variety of shapes and styles.
While traditional fireplaces can sometimes be laborious and expensive to maintain, modern electric fireplaces may be the perfect solution to warm up any room.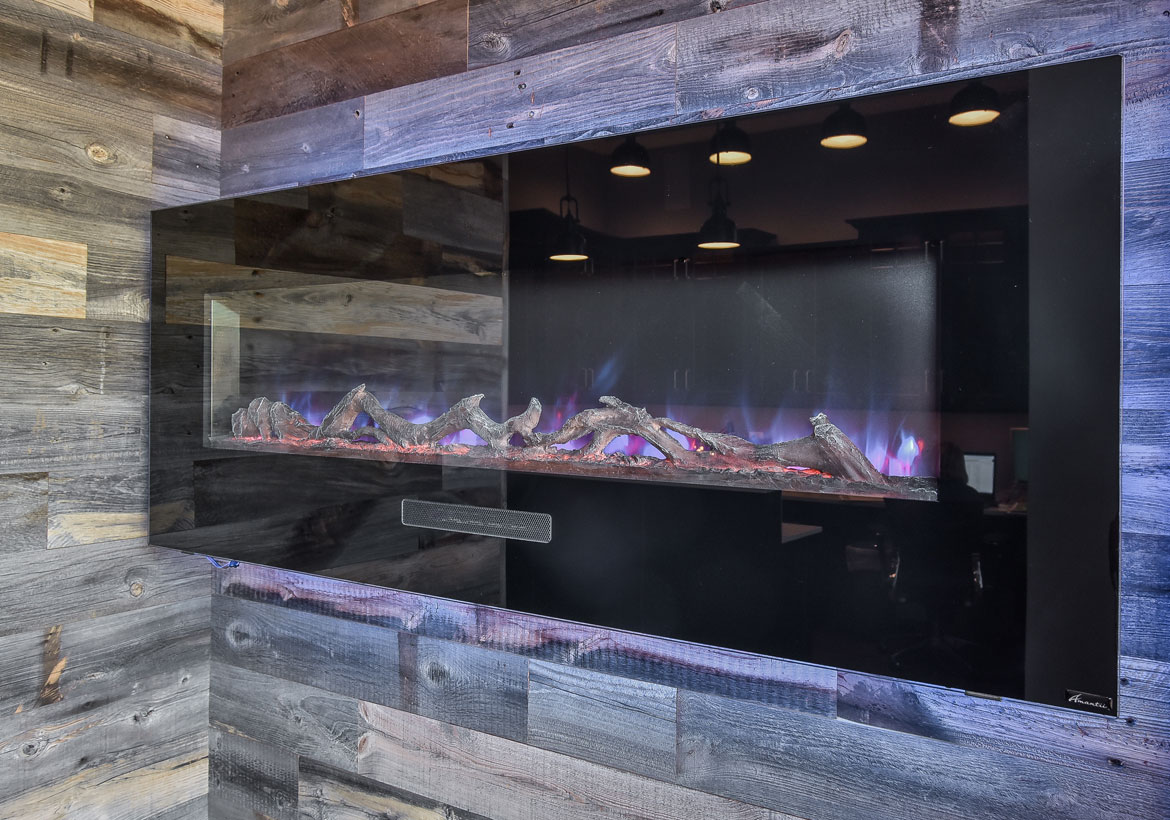 Modern Electric Fireplaces
Modern electric fireplaces have been a popular topic of discussion. Electric fireplaces can provide the best design and style options for all types of clients. Professionals & experts in the remodeling and renovation industry know how impactful a fireplace can feel in the right room. After years of contending with traditional fireplaces, modern electric fireplaces have earned a special place on our list of recommendations.
If you're wondering about the cost of running an electric fireplace, as well as any associated maintenance and cleanup factors, you will find the answers in this guide. We also want to introduce you to the different types of modern electric fireplaces available. Recessed or wall mount electric fireplaces are both popular choices that can greatly complement the existing style of your home. You may also find it interesting to learn about the way electric fireplaces function.
The associated images will bring some of the best modern electric fireplace designs to light–no pun intended! This can serve as inspiration for your next home remodeling project. Whether you are looking to install a fireplace in your den, bedroom, basement or living room; or even if you would like to replace your traditional fireplaces with modern electric fireplaces, you can review our tips and style ideas below to see which path you'd like to follow.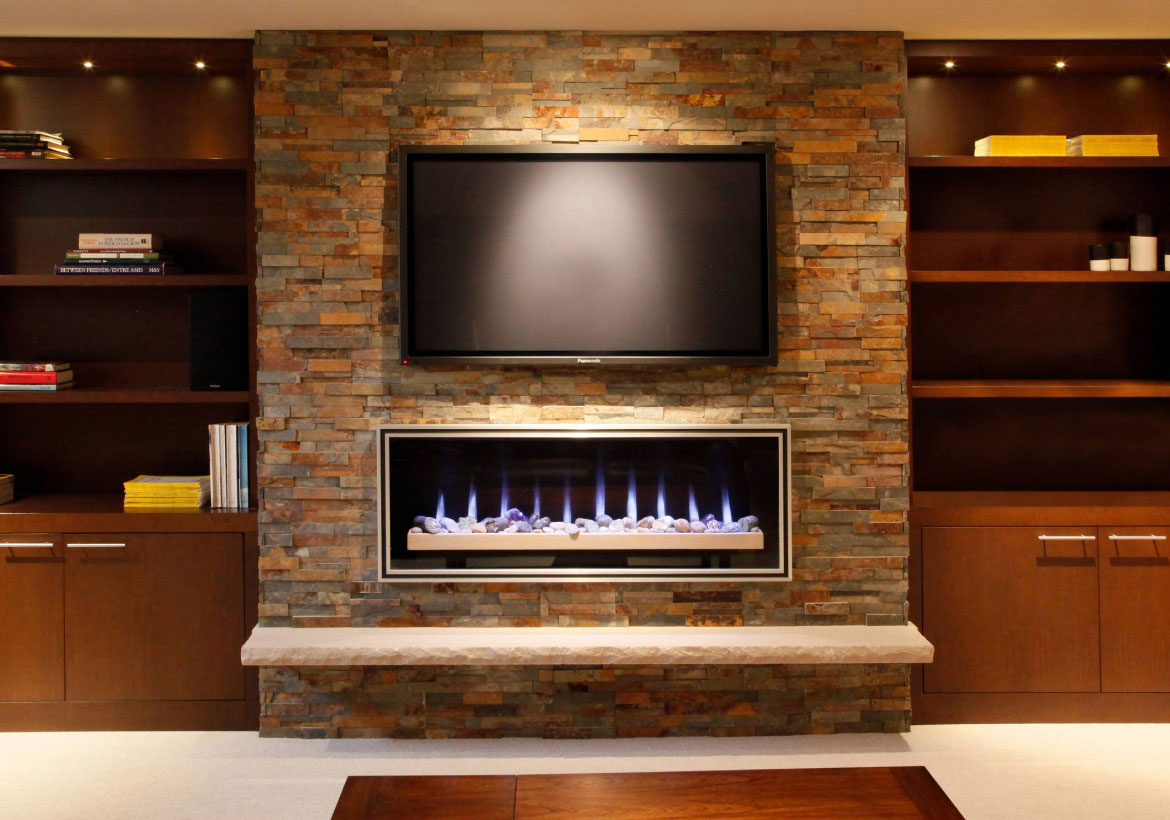 How Do Electric Fireplaces Work?
An elegant, well-made electric fireplace will be almost indistinguishable from the real thing.  Its ability to produce realistic-looking flames that emit a nice heat will surely be a welcomed touch to your living room. But how exactly is this accomplished?
It's all about the technology. Modern electric fireplaces use heating coils and silent fans, which have the capability to produce very real heat that pushes warmth through the room. A refractor is installed above, which reflect light from the LED bulbs to create a realistic flicker and flame. The LED lights replace real fire, but look just as good. Some electric fireplaces even have a device installed to emit a fire crackling sound, enhancing the realistic effect even further.
Do Electric Fireplaces Use a Lot of Electricity?
You may worry that an electric fireplace will just eat away at your electricity bill and consume far more power than a traditional fireplace would. While these sophisticated installations do run solely on electricity, their affordability and efficiency might surprise you.
When comparing traditional gas fireplaces to electric fireplaces, it may seem like the running costs are not worth it. But consider the cost of installation for both of these items, as well as the cost of maintaining them daily, monthly, or yearly. It all adds up, and an electric fireplace can be the clear winner if you aren't prepared to keep up with what it takes to have a well-functioning gas fireplace.
Electric Fireplace Costs
An electric fireplace costs between 8 -23 cents per hour to run while in heating mode.
This is true for all types of electric heaters, and the running costs of your electric fireplace may differ depending on the type you have installed as well as the frequency of its use. If you run the fireplace for 5 hours a day, it would only cost you a little over $1 per day to run.
One of the most popular types of electric fireplaces, both for the affordability and the energy usage, is infrared electric fireplaces. These units are highly effective, and can sometimes cut running costs by several cents. On average, it can cost between 12 and 14 cents to run an infrared electric fireplace. They are easy to use and maintain, as they leave behind no mess at all.
And following are just a few more notable fireplace design ideas to inspire you!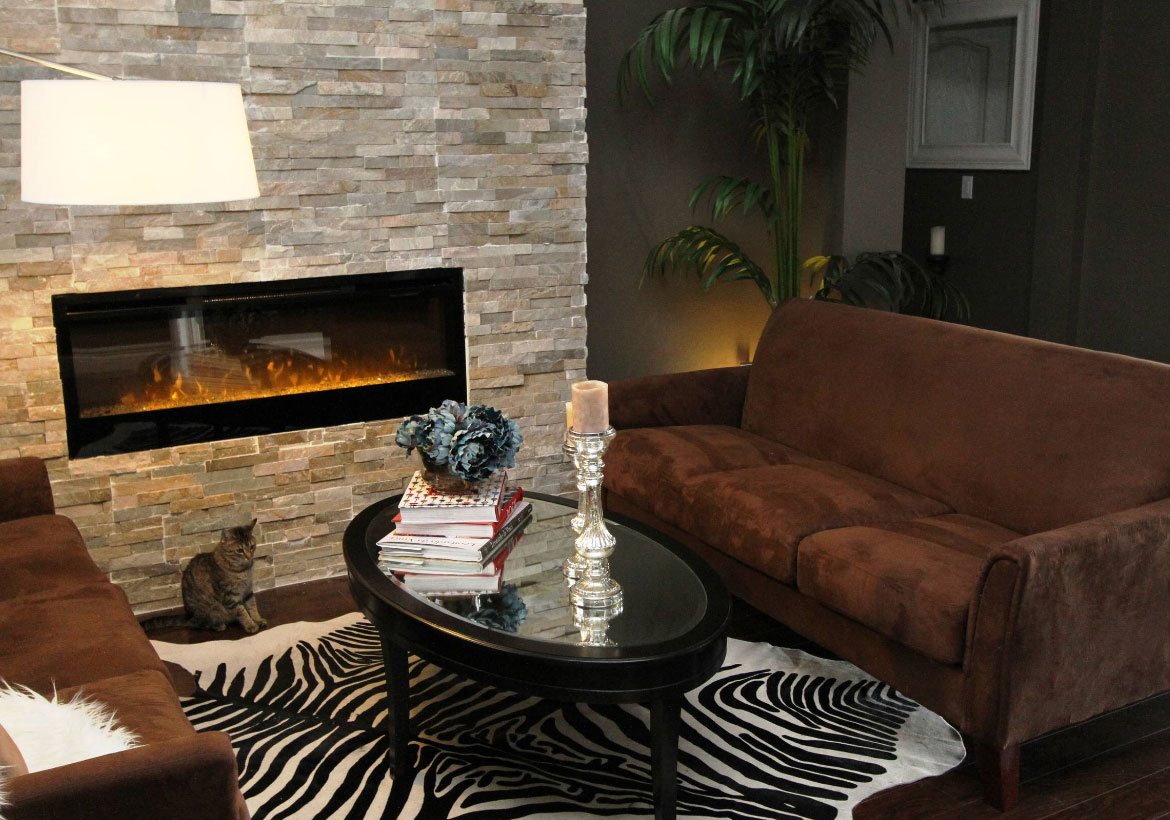 This lovely contemporary seating area features a Dimplex Synergy electric fireplace.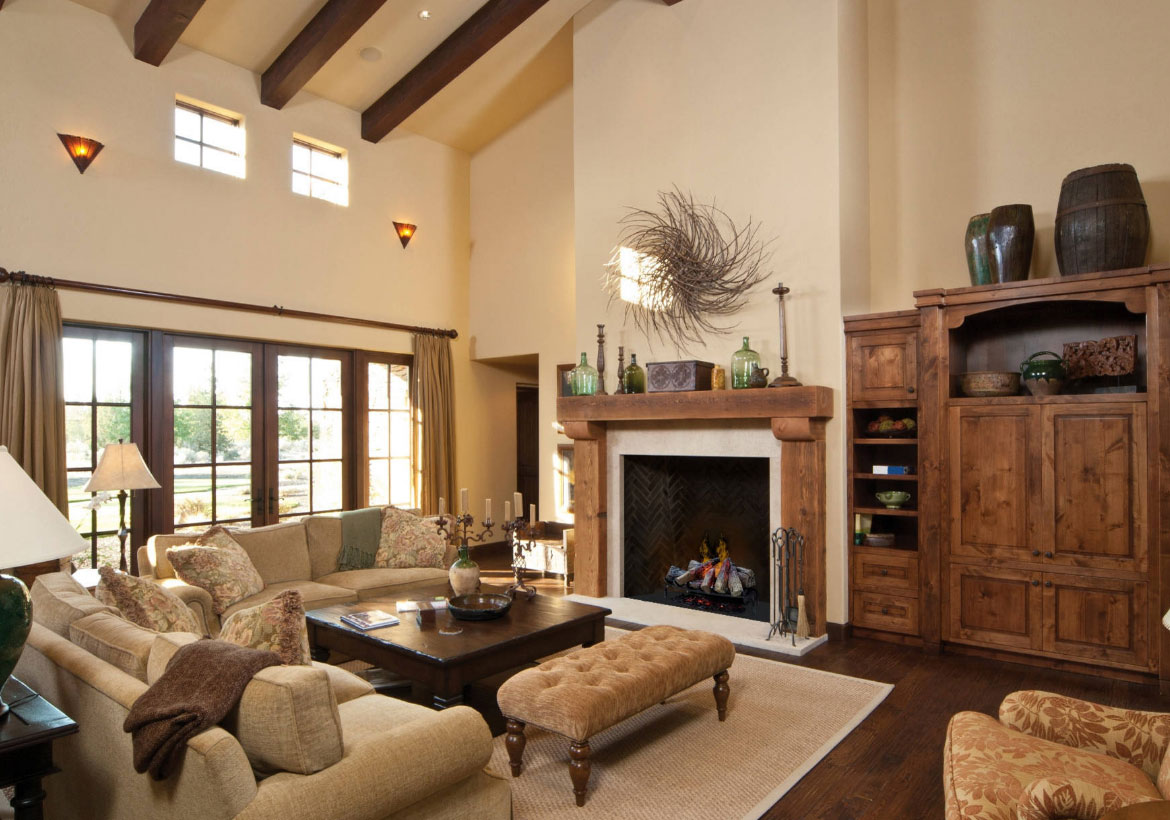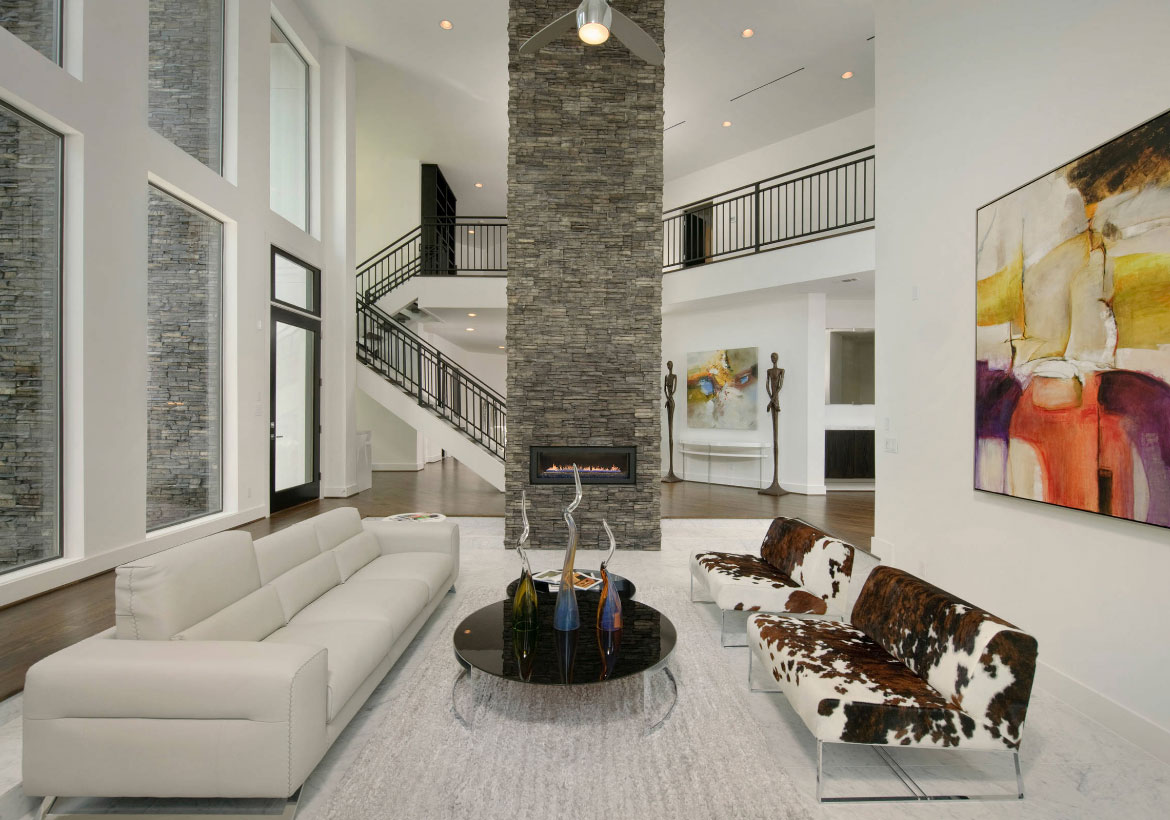 What Types of Electric Fireplaces Can Be Installed?
Consider the style and design elements that decorate the room of your desired fireplace. Is it modern, contemporary, or traditional? Does your home reflect the rustic and woodsy style of a mountain cabin? Or perhaps you are looking for something sleek yet functional?
There is an endless array of electric fireplaces to choose from. Modern electric fireplaces are built to resemble real, traditional, and grand fireplaces, and can accommodate any style. You can have one built from stone, marble, and more. The most common types of electric fireplaces: recessed or wall mounted–can give you an idea of what might work best in your home.
Recessed Electric Fireplaces
Also known as flush mount electric fireplaces, recessed electric fireplaces are built into the wall, making it look like an original part of the home's architecture. Many homeowners love the "built-in" look, as it can easily become a natural part of any room.  Plus, having a recessed fireplace can retain floor space and keep the room looking nice and open. It's a great way to add a sense of style to your den without needing to spare the additional space. You can easily incorporate this functional piece into any room.
As with any renovation project, there are some associated pros and cons with having a recessed or flush mount electric fireplace. They are often favored due to the modern, professional, and built-in look; but can also be slow to install. If you are willing to sacrifice time for the look you want, this may be the right fireplace for you. But if you want something that is faster and often cheaper, you might want to seek out a wall mounted electric fireplace. These types of fireplaces can add a lot of dimension, sleekness, and functionality to a room as well.
Wall Mounted Electric Fireplaces
Wall mounted electric fireplaces are trendy, affordable, and incredibly creative. Depending on the size and dimensions of the unit, you can install it at an eye-level height just as you would with a television or painting. Or, you can keep it on the hearth to resemble a traditional gas fireplace. You can surround it with veneer stone or tile panels to match the design of your home, without it costing you an arm and a leg.
Vertical electric fireplaces are another type of mounted wall fireplace that you can invest in if you are looking for something of a unique size. There are quite a few benefits with an electric fireplace when it comes to creativity, giving you the flexibility to determine the size, style, and placement of your fireplace. However, they can be cheaper, and it may be harder to get them to blend with the rest of the room in the same way that a recessed electric fireplace can.
Add a Flame of Flair to Your Home
Modern electric fireplaces are always a popular market choice when it comes to home remodeling and home renovation. Professionals love designing and installing electric fireplaces of all shapes and sizes. It's magical to see how the installation of a single fireplace unit can really bring a room to life and can join together all of the home's existing elements.
Fireplaces have always been popular places for people to gather, share stories, and enjoy warmth together. That tradition can be continued just as easily with electric fireplaces as they can with gas fireplaces, and it's easy to see why. Whether you are leaning towards a mounted electric fireplace or a recessed unit, there is an abundance of creative opportunities to enjoy that will bring depth, dimension, and heat to your home.
Stay warm with supplemental heat and build the fireplace of your dreams!
This is an image roundup post, curated to showcase and promote other reputable contracting companies' and their amazing work.  To have any of the images removed, please reach out to us and we would be happy to do so.
Other Great Articles to Read:
Featured Image Source:  Napoleon