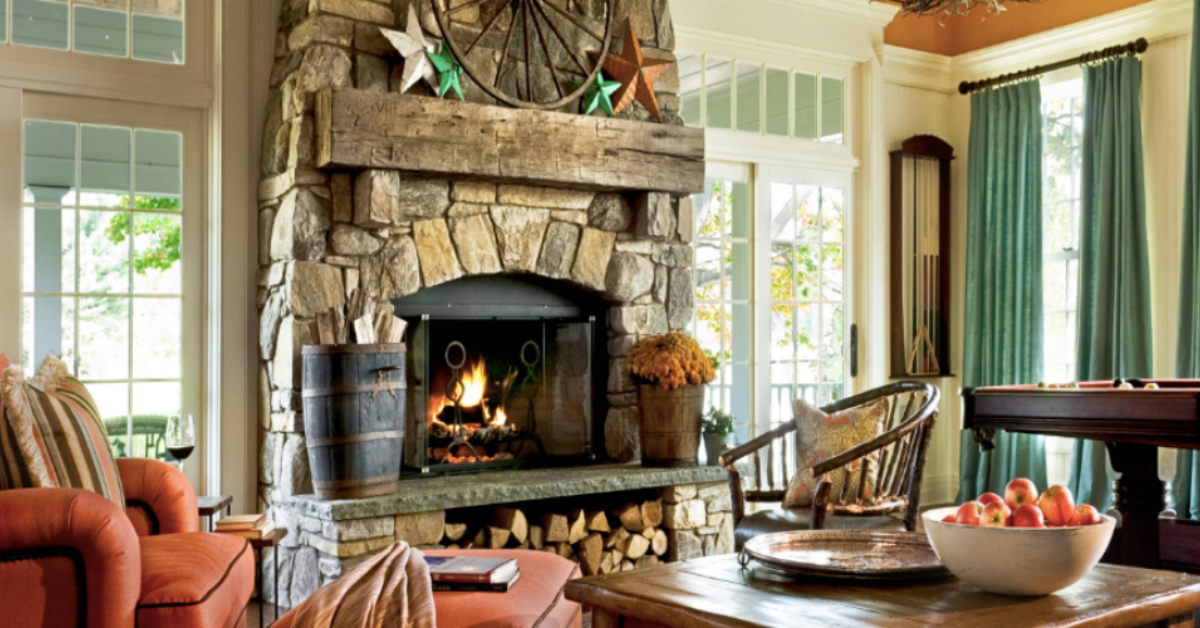 Linear fireplaces are popular additions to both residential and commercial buildings. They can add a variety of new styles and designs, while providing that same familiar warmth and comfort that all humans crave. There's something satisfying about a linear fireplace providing a beautiful and cozying fire to complete the look of any living room or office building lobby.
This trending fireplace addition has been making headway in many different forms of interior design and decor. But, what exactly is a linear fireplace? What different types of linear fireplaces are there? Can they come in both gas and electric styles? This roundup will give you a clear idea of the different types of linear fireplaces available, as well as the specific features that compose this linear style. Check out the guide below and find a style that works best for you!
BASEMENT BEAUTY
The linear gas fireplace by Adeas Interior Design LLC creates a sleek and modern look with its long and narrow design. Stunning built-in modern electric fireplace with flames changing from orange to blue.
SEASIDE LIVING
This electric fireplace by Mendota Hearth is mounted into the wall, creating a flush and seamless appearance. You will love making memories in this warm contemporary living room.
ARIZONA AESTHETICS
A bold brown and black linear fireplace by Heat N' Sweep with a metallic accent on the hearth makes for a striking focal point in the room. Stay warm and be cozy indoors with this gorgeous fireplace.
MOUNTAIN DENVER DEW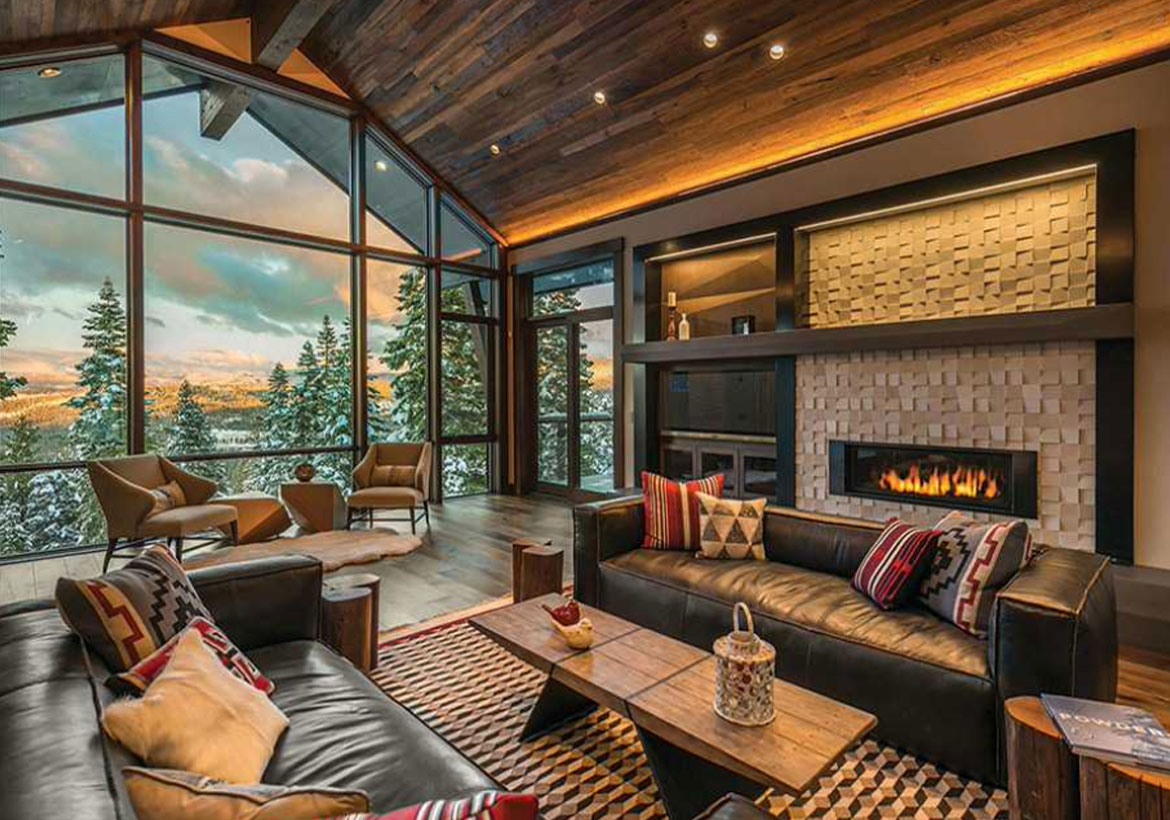 This linear gas fireplace boasts a sleek and rustic design, complementing the contemporary decor. A rustic contemporary ski lodge by Aspen Leaf Interiors with glorious views.
SIMPLY SUSTAINABLE
The linear gas fireplace by Phoenix Fires with a stone surround and wooden mantle exudes a rustic charm. Keeping simple, minimal, and sustainable with this gray living room.
FIRE & ICE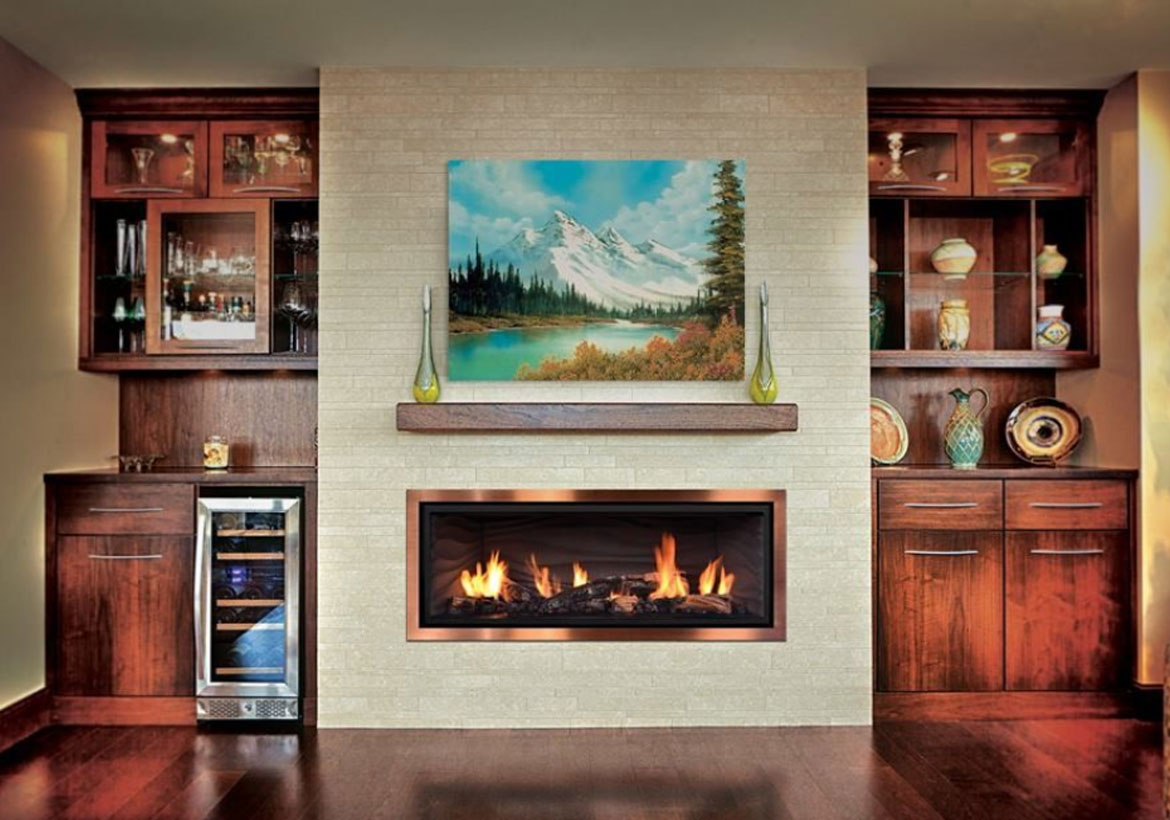 The modern and sleek design of this linear gas fireplace by Heat N' Sweep is enhanced by the chic metallic surround. A beautifully decorated living room will elevate your mood.
IS THAT GOT?
The black linear gas fireplace by Charles Cunniffe Architects Aspen is beautifully framed by a white mantel and bookshelves, creating a dramatic focal point in the room. Enjoy watching your favorite TV series in this contemporary family room with a home bar.
What is a Linear Gas Fireplace or Electric Fireplace?
Also known as contemporary fireplaces or rectangular fireplaces, linear fireplaces are a specific style of fireplace that can be installed in almost any kind of space. They are typically long and rectangular, giving them their nickname. This allows them to be installed flush with any kind of wall or building material, such as a living room wall or even the wall of a commercial building.
People tend to enjoy installing linear fireplaces inside of the walls, making them flush with the rest of the decor. That way, they don't stick out unnecessarily or cause any kind of asymmetry with the room's design. They aren't bound by the traditional fireplace requirement – they can go anywhere, at any height.
A huge contributing factor to the popularity of linear fireplaces is the fact that they are almost endless in their opportunity for design. They can be long, short, tall, thin, modern, contemporary, or seemingly infinite.
GREIGE GALORE
The modern design of this linear electric fireplace by Single Point Design Build Inc. makes it the perfect addition to any modern home. We love this modern fireplace wall with a herringbone tile pattern and attached floating shelves.
DOG WHISPERER
The linear electric fireplace by Wyckoff Heating Cooling with a mirrored background offers a chic and glamorous touch to the living room. We adore the laidback feel of this living room with dim lights and warm colors.
SURREAL STONE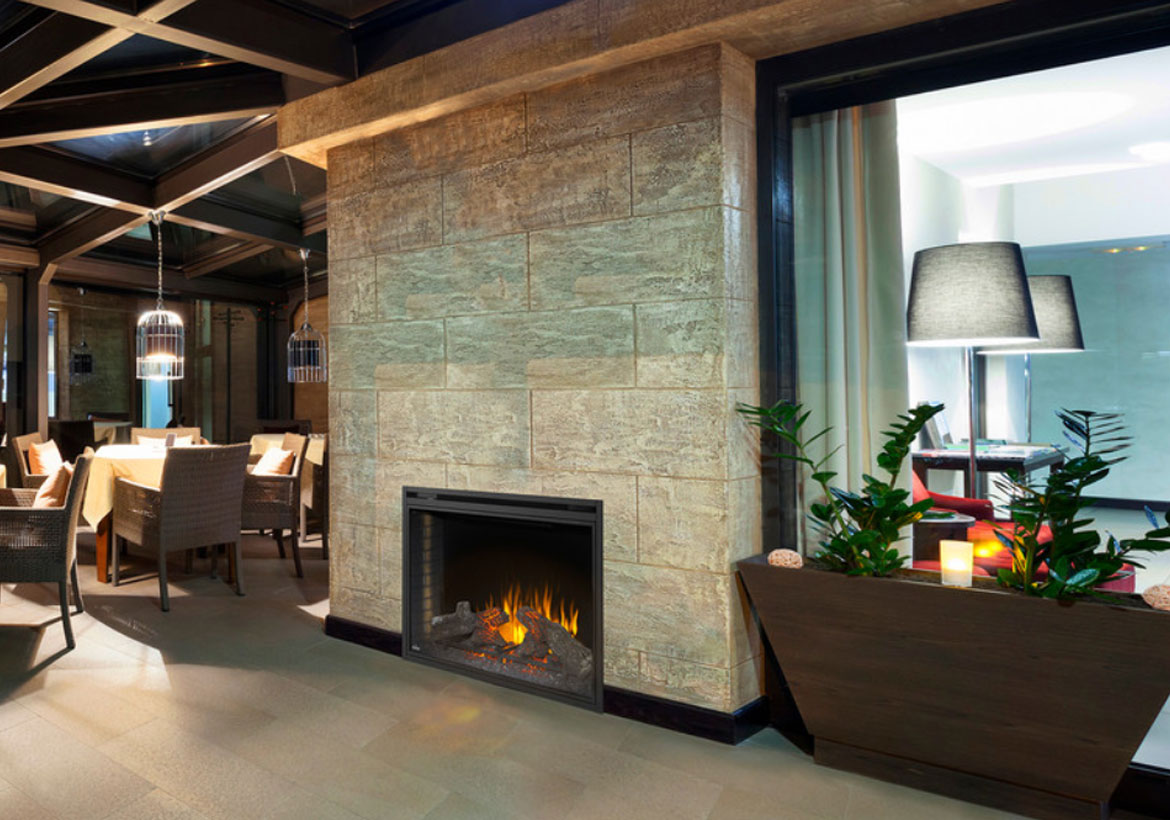 The sleek and simple design by Wyckoff Heating Cooling of this linear gas fireplace allows it to blend seamlessly into any room decor. A sensational fireplace wall with natural stone makes this home extra welcoming.
Typical Linear Fireplace Features
While they are unlimited in scope, the most common and popular styles of linear fireplace design include:
A length of 3' all the way up to 21'
Direct venting for the fireplace
See through glass, which is great for connecting two rooms
A glass that is safe to the touch, and does not conduct heat
Heating capacity of up to 14,500 BTUs per foot
Zero clearance to all surfaces, even up against combustible building material
Customization options for decoration
Depending on the style and design specifications you choose, you can find a variety of reliable brands and builds to suit your needs. Take advantage of the popularity of linear fireplaces as you browse the hundreds of selections through popular manufacturers and hardware suppliers. Below is a list of the most popular types of gas, electric, and propane fireplaces that you can find on the market today. Check them out!
MOSAIC MATTERS
This electric fireplace by Heat N' Sweep with a wooden mantel and stone surround creates a cozy and inviting atmosphere in the room. Level up your fireplace surrounds with some elegant mosaic tiles.
TIMELESS TEAL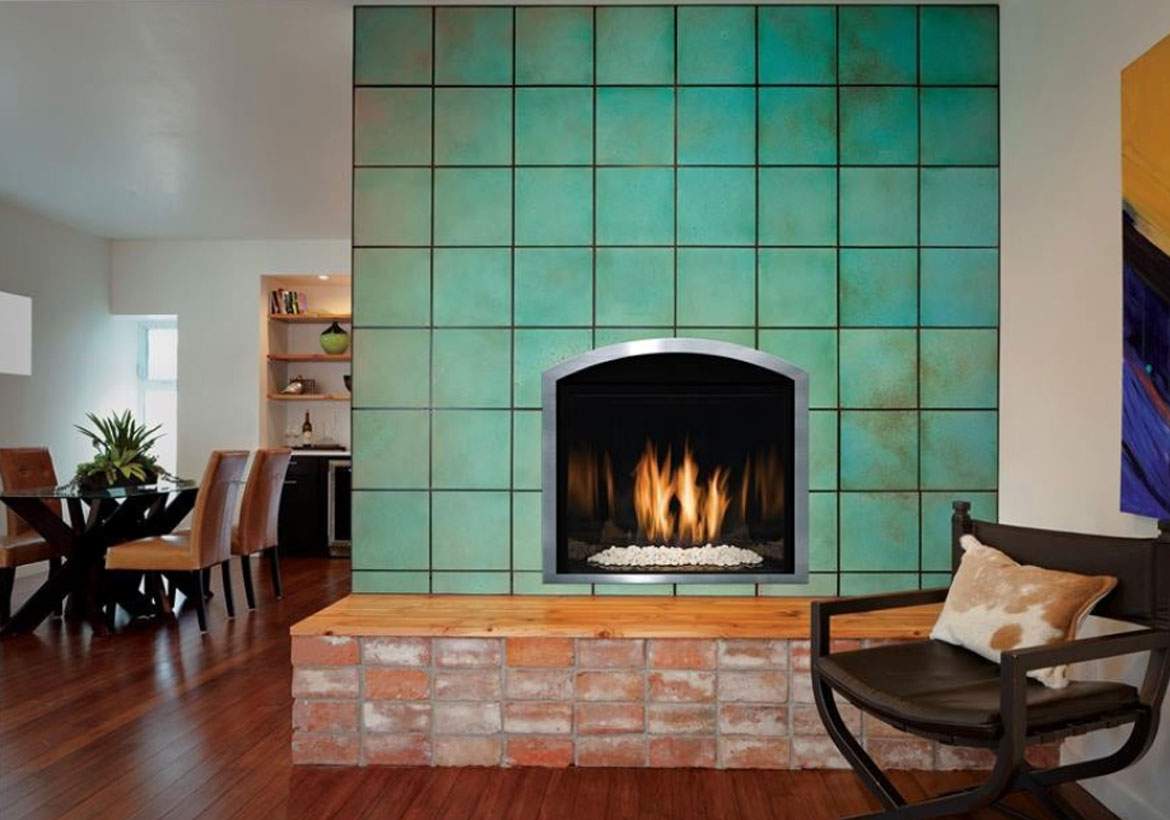 The modern and sleek design by Heat N' Sweep of this linear gas fireplace adds a touch of sophistication to the living room. The distressed teal tiles blend well with the bricks for this fireplace wall.
ORANGE GLOW
The minimalist electric fireplace by Heat N' Sweep with a sleek metal frame provides a warm and cozy ambiance to the space. High-gloss large format tiles for this stunning modern fireplace.
MODERN SPICE
The linear gas fireplace by Wyckoff Heating Cooling with a marble surround and wooden mantel creates an elegant and classic look. The natural stone fireplace wall provides texture and a dramatic impact on this room.
Gas fireplaces are the most popular types of fireplaces to invest in for both indoor and outdoor heating options. Whether you are looking for a new linear fireplace for your patio, or you need to heat your indoor cabin with something consistent and reliable, there are many gas fireplaces available. Linear gas fireplaces can vary in price, size, style, and design, making them easy options to pick up for any kind of job or occasion.
Natural Gas Fireplaces
Linear fireplaces that are fueled by natural gas can provide plenty of benefits to you due to their warming capabilities and environmental friendliness. Natural gas fireplaces provide constant heat, unlike a traditional wooden log fireplace, which needs replacement every so often.
These types of fireplaces are also less costly to keep going. Natural gas is cheap and efficient. Replacing your wood fireplace with a gas linear fireplace could save you up to 25% on your energy bill, giving you the chance to save the environment and your bank.
Gas linear fireplaces can be turned on and off with the flip of a switch, making them a solid choice for when you want to easily and safely control the heating of your fireplace. Plus, there are no extra fumes being released by the natural gas, making it easy to breathe while you are enjoying the heat in the comfort of your own home.
With a natural gas fireplace, there is no chimney required. The built-in venting systems that are available in most linear fireplace styles will allow you to install them anywhere without having to worry about the buildup of smoke or heat.
LP Linear Fireplace
LP fireplaces, or liquid propane fireplaces, are also viable options for a variety of linear fireplace styles. This is an especially good option for an outdoor fireplace, as propane provides a high level of heat and an opportunity to remain outside all night long. There are a range of propane types to choose from, and each comes with its own set of benefits.
Propane fireplaces have been easily incorporated into the linear fireplace style, as they are best known for their ease of use and ease of access to the fuel, which in this case is propane. Propane comes in a cylinder container, and directly dispenses the gas into the fireplace itself. All you need to do is turn the propane on or off when you want to use your linear fireplace.
You don't have to worry about the fire ever burning out, as the gas is very easy to control and can come in as a constant flow. Plus, it's very easy to acquire propane, as you can find it at most hardware and even some grocery store locations. One of the major advantages that this kind of fireplace has over a natural gas fireplace is that propane is much easier to acquire than natural gas. However, propane fireplaces are typically only for outside use.
Types of Electric Fireplaces
There are many types of electric fireplace designs to choose from. When you're looking to install a new linear fireplace from scratch, and you don't already have an existing fireplace in your home, you can use an electric fireplace design to add to your remodeling efforts.
An electric fireplace uses electric heater components to create the same look of a natural fireplace, but without any real fire or gas. Most electric fireplaces run on 120-volt power, which can be incorporated with a linear fireplace depending on the size and length you prefer.
There are many types of electric fireplaces that are available in a linear design. Whether you are looking for something silent or freestanding, you can browse current trends to find out what type of electric fireplace would work best for this style.
Infrared Quartz Heater
Some fireplaces come with infrared quartz technology, which delivers heat through an invisible yet powerful infrared light. This type of heating mechanism warms everything that is directly in front of it, rather than warming the air itself. It's great for warming bodies and furniture in a relaxing room. Guests love being able to feel warm and cozy from any distance, without having to get up close and personal with the fireplace if they don't want to.
Freestanding Electric Fireplaces
Freestanding electric heaters are popular, not just for fireplaces but for other heating components as well. They are made for being installed flush against a wall or within the architecture of the home; naturally, this makes them go hand in hand with linear fireplaces. They are available in more traditional styles as well as modern designs, which correlate more closely with the types of rectangular fireplaces that you'll find in stores or online.
Forced Fan Heater
A forced fan electric fireplace is one that uses a quiet fan to blow over coils, sending heat out into the room. The fan is typically silent, meaning you won't have to worry about an annoying buzzing or whirling sound every time you want to use your fireplace. This can produce a good amount of heat that serves as an alternative to infrared heaters.
Modern Fireplace Design
A modern gas fireplace is one that can accurately describe the common look and feel of linear fireplaces, which are almost always built as part of existing structures or walls. They are flush with the wall, or they even sink into the wall in the same way a shelf or television stand would. This ode to modernity implies a simplistic, efficient, and symmetrical look.
Modern linear fireplaces don't stick out of the wall, don't require a chimney, and typically don't have mantels or stoops. They can be above or below pieces of furniture, they can serve as the backdrop of an executive office space, or they can be made with transparent glass to separate two rooms while keeping up with the modern style of openness. There are a lot of unique options to play around with when incorporating a modern fireplace design into your room.
Contemporary Fireplace Design
Contemporary fireplaces go hand in hand with a modern style. Most contemporary fireplaces are nested, and they may or may not come with a more traditional fireplace look. They can have a mantel if they are situated closer to the ground, and they often blend in as part of the contemporary decor of the room.
Design Your Linear Fireplace for a Stylish Way to Get Warm
Whether you are interested in a contemporary fireplace, a modern fireplace, or a more traditional style fireplace, you can customize and personalize your new linear fireplace to meet your specifications. It's important to keep in mind that it's not just the size and length of linear fireplaces that can be adjusted, but the design as well. You can add a variety of facades and finishes that best match the look you are going for. Rock walls, wooden panels, or even brick trim can line your linear fireplace in a way that stands out and pulls the whole room together.
This is an image roundup post, curated to showcase and promote other reputable contracting companies' and their amazing work. To have any of the images removed, please reach out to us and we would be happy to do so.
Other Great Articles to Read: