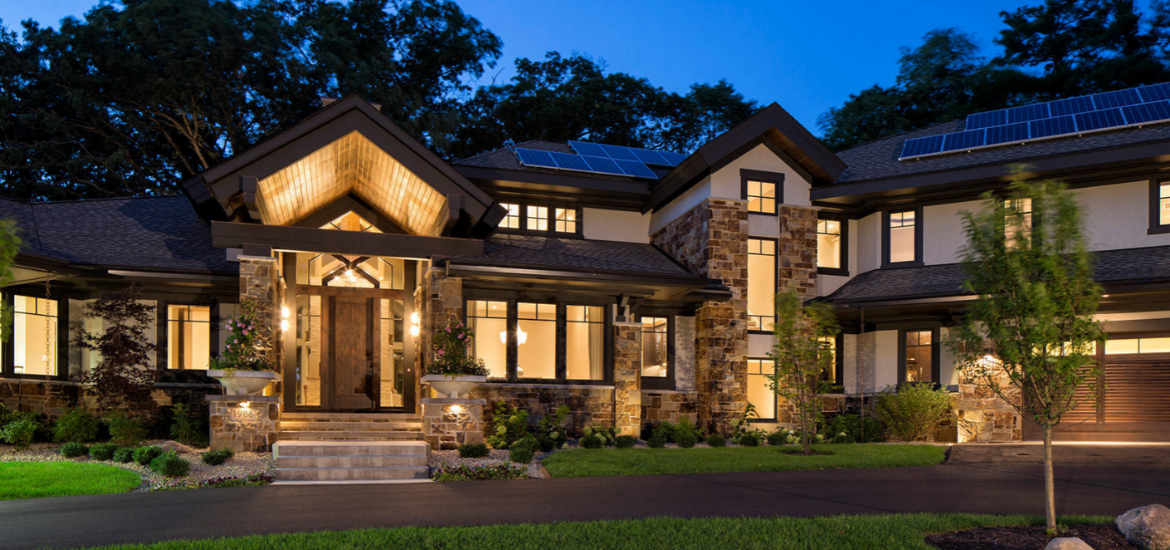 When designing our dream home, we often spend most of our energies in designing the interior and neglect the external renderings. Remember, it's the façade that the friends, neighbors, and strangers see when visiting you or merely passing through it. A spectacular exterior will definitely stand out and reflects the general style of the house. It's likewise an introduction of your respective aesthetic style to the entire world. Have a glimpse at these 21 modern house exterior designs for ideas and inspiration.
ORGANIC MODERN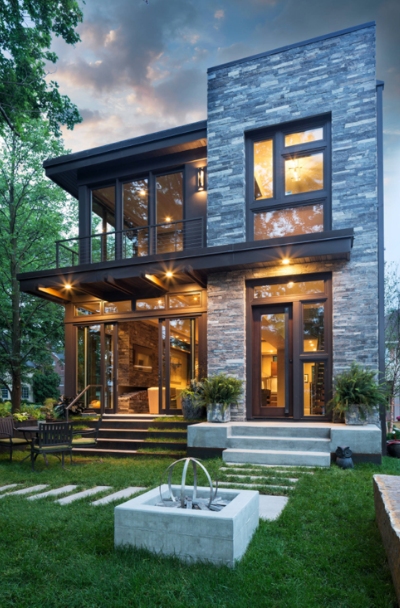 Everyone will concur that this exterior is stunningly modern, with lovely masonry & dramatic lighting. Everything seems very contemporary and natural! Additionally, the exterior garden is very realistic, and the interior's dim lighting blends in well with everything—amazing work by John Kraemer & Sons.
HARDSCAPE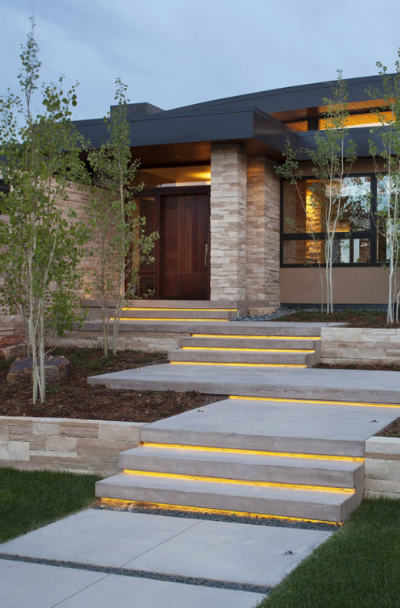 Do you desire a contemporary home design that makes it appear as though you are standing on a floor of magic? This is a fantastic illustration! The hardscape stairs in this one have a ton of great embellishments and concealed lights. 186 Lighting Design Group – Gregg Mackell created this very stunning design.
Awesome details on the hardscape steps with hidden lighting.
ISOLATED
Want a contemporary, minimalist exterior home design that appears both safe and stylish at the same time? Without a doubt, you could situate this home in a forest. In the woods, this home surely stands out as a modern home David Matero Architecture has created.
RETREAT
Do you long for a contemporary home design that exudes tranquility and is ideal for frequent weekend escapes? When the sun rises or sets, this is ideal. The sunny deck, welcoming outdoor lighting, and cheerful exterior hues all contribute to the positive vibes of this dwelling. Hauck Architecture has created a masterpiece with this plan.
CONTRAST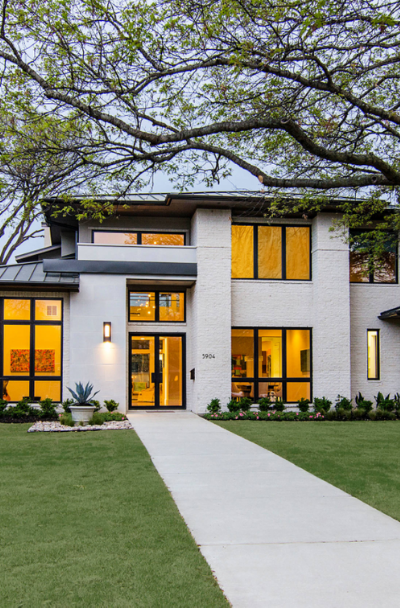 Having your home painted white is a safe bet regarding cost. However, the lighting makes this one appear lavish. Re-painting the masonry white is a smart way to give the building a more contemporary look. Architectural firm John Lively & Associates is responsible for the design of this stunning home.
PAINTED BRICK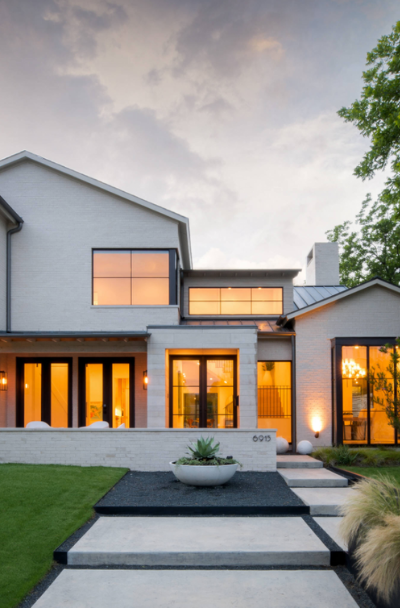 Do you want a home that is both striking in its originality and comfortable in its reassuring familiarity? This is the one that works at any time of day. The white walls look great with the light fixtures. Coats Homes also came up with painting bricks a bespoke color.
INVENTIVE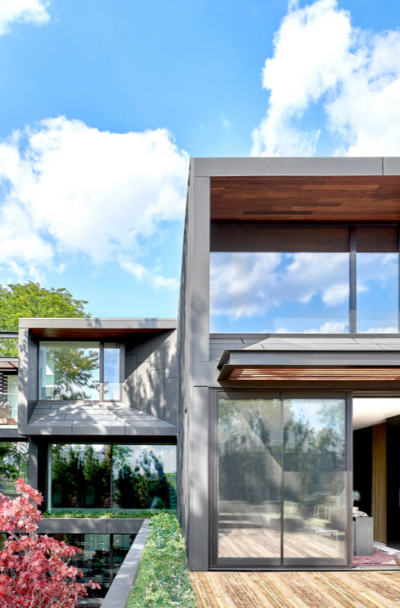 This ultra-contemporary home design is sure to wow anybody who sees it. I love how contemporary everything is and how many glasses there are. The floor-to-ceiling windows provide bright vistas and privacy. This home by dSPACE Studio Ltd, AIA, is very modern and lovely.
PANORAMIC VIEW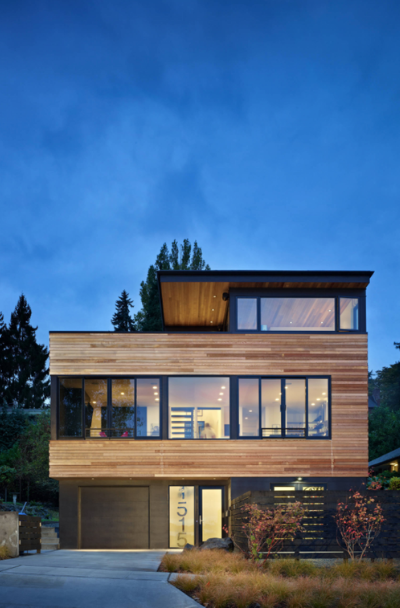 This home appears like it was built for a star; it's that gorgeous and luxurious. Eagle-brand aluminum-clad wood windows are installed. The lighting is perfect for dark browns and blacks. This stunning home by chadbourne + doss architects defines modern elegance.
CUSTOM BLEND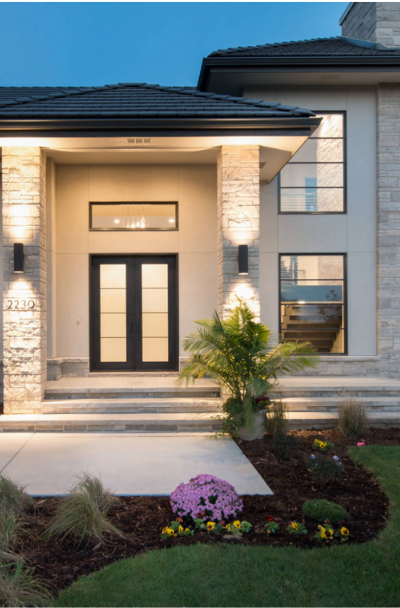 In search of a modern home design that is uniquely yours? There is even a nice garden out back that is uncomplicated yet effective. This is such a gorgeous and attractive home using St Genevieve Dimensional Stone. This is such a beautiful and personalized house design by Nies Homes.
Modern Style Is Not Just For The Interior
We've seen plenty of homeowners emphasize their fashionable home design and take full advantage of their living room. Effectively, to separate the typical assumption, the contemporary design is really beginning from the outside. It's quite wrong to assume that it is just a thing from the inside. If your house features a contemporary appearance on the interior, but not on the exterior, consequently, there is no continuity. Your residence is only going to look like a hot mess. You are able to see examples of luxury stylish contemporary appearance on our list for ideas. In case you are creating a brand new house from scratch, or even when you will be going by way of a renovation, take inspiration from these examples. Next, from the exterior, you can gradually work your way with the interior also.
The idea of the modern house exterior is viewed as a contemporary design in architectural focuses. This uses the trendiest concepts, though it is feasible to incorporate older elements as long as they're ideal for all times. The key factor would be that the design should be depending on the purpose. Next, the classic and modern elements can also be blended together smoothly. Merely since it is a contemporary home, it does not imply it is going to go out of style in no time. When you are seeking to attain a luxury stylish and contemporary look on the outside of your home, then think about setting up high-quality exterior lights. In general, the hue that you need to be leaning towards is definitely the bright yellows. This will give that extra touch of elegance and a traditional vibe to your house structure.
Having exterior lights is able to add extra functionality to the exterior area around your house, providing you with the chance to spend more time outdoors, even at night later in the day or whenever the sun sets. More than simply allowing you to find your way to the car out of your front door, exterior lights are able to transform your property grounds right into a socializing area or simply a space in which you can have a quiet read during the night. Whether you are just with your family or perhaps visitors, your outside barbeque or dinners now are made even cozier. The yellow lights can immediately make your outside space even homier.
Because of the assortment in exterior lights designs that are currently available, lighting could add an additional touch of elegance and offer your property a contemporary feel. Whether you choose a traditional lantern style lighting solution or choose a small for something more modern, is up to you. With environmentally friendly lighting choices like LEDs and outdoor solar lighting, becoming more and more economical, you are able to pick something which fits the appearance you wish to achieve while keeping the energy costs low.
LIMESTONE
You can't go wrong with a warm and inviting home, modern and streamlined, and wholly in tune with its surroundings like this one. The architecture of your new home will make you look like a celebrity. Amazing how well the metal panels and the charcoal limestone go together. Materials Marketing has hit the mark with this one.
ACHROMATIC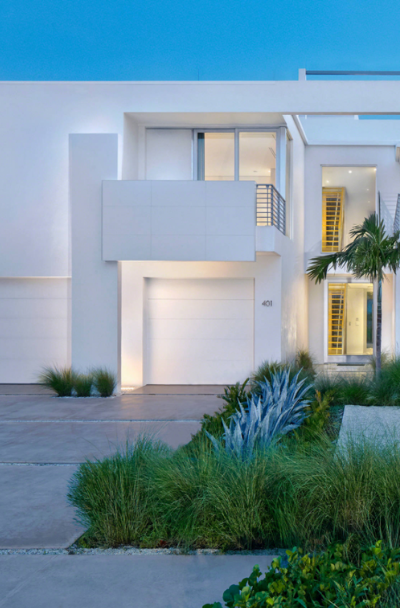 Want a home that seems like it was built yesterday yet has the sleek simplicity of today? For those who prefer a minimalist aesthetic, this white home is ideal. We like how the house's white façade helps create a sense of order and perfection—what a beautiful home plan by Mitchell O'Neil, A.I.A., P.A., Architect.
HIP ROOF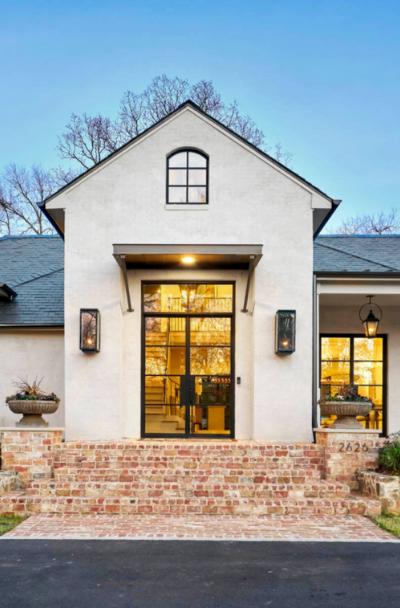 Do you desire a well-designed home that combines a rustic and modern aesthetic? You'll have the impression that you're in a country bar when you see this house design! The FireRock Building Materials exterior design's details, material combination, and texture complement one another well.
MOUNTAINSIDE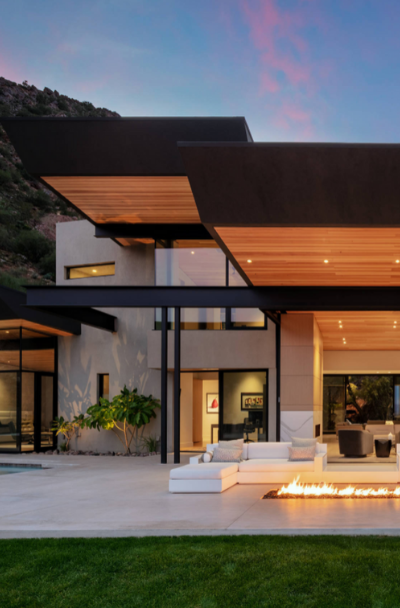 Who says a contemporary home has to be located in a metropolitan area? Upon the slope of this mountain, it is picture-perfect. This outdoor space is so plush, and it even has a sofa and a fireplace so you can relax in the great outdoors. True North Builders, Inc. knows how to make a beautiful and functional structure.
Modern House Exterior Is Not New
If you're looking for contemporary home plans, you will find a broad range of plans you are able to think about. The contemporary design must be specific for your own needs, but they'll be vastly different than customary home highlights. Modern homes were renowned since the mid-1900s and therefore are impacted by neo eclectic and postmodern design components. You can usually distinguish modern designs and contemporary homes by taller windows, unique shapes, along with other building highlights. When you're looking at the highlights of modern engineering design to integrate into your modern home designs, you will find a number of items to look for. As it's already been proven, the modern house exterior design is regarded as the most popular for new homeowners and those that intend to become owners of a contemporary house. Although it's among the most favorite design models available, the contemporary design is becoming more popular day by day.
For that reason, we've developed this impressive modern and contemporary house exterior designs for you, so you are able to get inspiration from this particular collection to create your very own design. We hope to enable you to develop fantastic ideas for modern house exterior designs. This particular collection is a good way to update your own personal library, which is in your mind, with great new designs of contemporary homes. You can usually identify these homes with contemporary highlights by looking for stone or maybe wood exterior materials, insignificant ornamentation, and molded taller windows. The outside design of these houses adopts a modern approach, and arranging is generally used to create the control intrigue of the house since the look is very moderate. Having the perfect highlights for your house will get entering in on these diverse design pieces and making a good sense of which ones will certainly provide you with the look that you need to have for your modern-day house design.
Certainly, the contemporary design that you choose for your modern house is going to rely upon your unique tastes, but these are the types of components you are able to find out in many home plans which are ordered under contemporary and modern house design. The goal here is style and capacity irrespective of everything else, and also the customary highlights and kitschy designs are lacking in these houses by any stretch of the creativity. Clean lines and typical hues are also contemporary design additions that will most likely stay in your modern-day home plans. Creating a contemporary, modern house is a longing of numerous people because the style is extremely mainstream. It provides something else from customary house types and also allows people to get an even more attractive and structurally unique home for their desires.
DUPLEX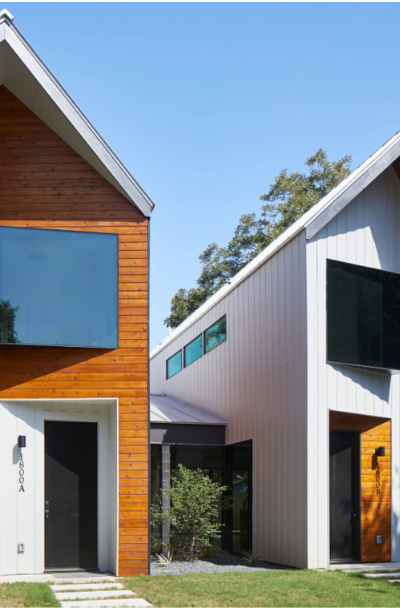 Do you and your best friend/sibling want to live in identical mansions? The layout and hues of this one are superb. The house's two-tone paint job makes it look modern and creative. This amazing duplex by Pavonetti Architecture is a work of beauty.
RANCH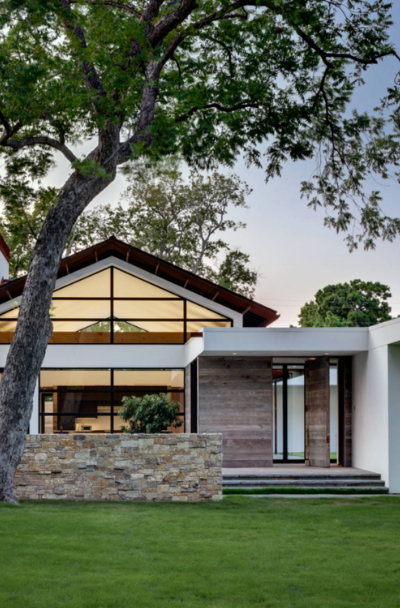 Do you want a ranch-style home that blends modern and rural aesthetics? The ranch style of this house is extremely fresh and stylish looking. The ranch house has been given a sleek new facelift to bring it up to date. Western Window Systems outdid itself with this one.
STONE CLADDING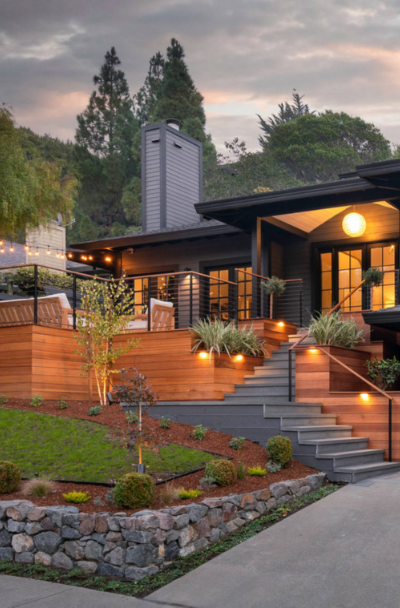 Want to have a distinctive and contemporary home design that nevertheless seems warm and inviting? This outside has just been painted, and the entry steps are made of bluestone with Batu cladding. SINGLEPOINT DESIGN BUILD INC. created this stone-clad home design.
SOLAR PANELS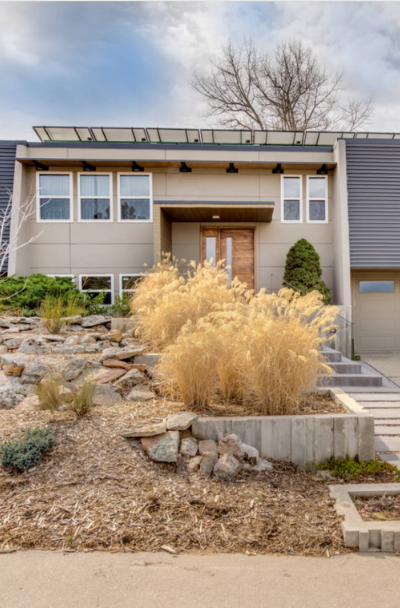 Want a residence that exudes warmth and welcome? The white and light brown hues provide a stunning contrast. With its metal roof, beige façade, and integrated solar panels, this house is a model of environmental friendliness—incredibly impressive work here by Caddis, PC.
GLASS HOUSE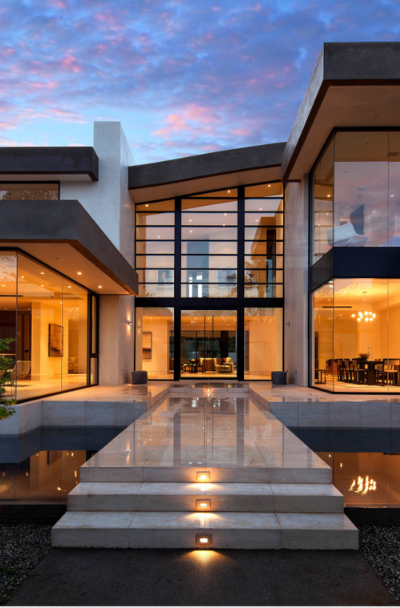 Do you want a contemporary home design that gives the impression that it is filled with costly and lovely glasses? This glasshouse by Corr Contemporary Homes is sure to win over the hearts of everyone who see it. You will like this property if you have an unhealthy preoccupation with window glass.
Clever Additions To Your Modern House Exterior
Gorgeous house exterior layout could be complimented and also amplified with great architectural characteristics, special details, and yard gardening ideas. Beautiful exterior color combinations, architectural details, outdoor lighting, charming fences, & flowerbeds improve the magnificence of home exterior design and enhance its curb appeal. Yard landscape plus backyard designs, innovative home extensions, and outdoor lighting add to appealing house exterior design and curb appeal. Home improvement ideas, even if for marketing your property for greater value, or perhaps for staging and renovation of your house for confident lifestyle, help produce a gorgeous home exterior design that is appealing, stylish, and inviting.
Distinctive architectural features and charming details, innovative paint color combinations, and also enhancing your front door appeal are only several of the house improving and backyard home decorating ideas that boost your home curb appeal. Colorful metal roof designs and stylish roof shingles, big windows and porches, front door hardware and gutters, outside lights, and yard landscape come together producing gorgeous modern house exterior design. Your house curb appeal later in the day is vitally important. Producing secure, as well as appealing backyard living areas, increase the appeal of your home design, creating a welcoming and alluring environment for visitors while protecting your property from intruders. Yard landscaping can look extremely spectacular with strategically placed outside lights.
Enhance your house exterior design with unique architectural features. Your outside home decor must be as appealing as interior decorating. Unique architectural details and contemporary colorful materials, enticing landscaping and fences ideas, modern outdoor home, and lights improving additions create gorgeous homes and emphasize your home design style. New door hardware and a stylish mailbox, fresh address numbers, along with a seat on a porch that will highlight your home design style add final touches to backyard home decor and make amazing curb appeal that switch your house into a desirable and attractive property.
Do Not Neglect The Roof
If you have a house design with a conventional roof of pitched and gable roofs, you have two options. The easiest option (although definitely the very least effective) is keeping the standard roof profile and see if there are some other methods to modernize the appearance of your home exterior. The alternative option is usually to re-design the roof, so it's a far more modern roof design. This is actually a more involved process and could lead to reworking the entire floor plan, but in case you are seriously interested in creating a contemporary home, this needs to be considered. When you are retaining a pitched roof, what else could you do to modernize the exterior? It will be difficult, but it's attainable. The very best method is usually to simplify as many roof details as you possibly can, including the eaves, gutter profiles, color, roof material, and roof edges.
Would you want the roof to expand outside of the experience of the structure or perhaps could it be flush, that will get rid of the fascia and also soffit board? Would you have to utilize the standard K-style gutter or would a half-round or A-style gutter profile work? Think about how can you streamline the style of the roof venting at the eaves? Also, work to simplify the home exterior, like window trim, as much as you can.
For more creative ideas, check out the bunch of images above and let us know what you think!
This is an image roundup post, curated to showcase and promote other reputable contracting companies' and their amazing work. To have any of the images removed, please reach out to us and we would be happy to do so.
Other Great Articles to Read: