Decorating or designing a bedroom for a teenage girl can be challenging. Because they are growing up rapidly, it isn't easy to design an area that may cater to all of the growing needs. You don't need to worry, however. We have curated teen girl bedroom ideas and inspirations that can help you. Explore all of the great ideas, tricks, and tips you need to start decorating the ideal bedroom for your teenage girl.
BLUE WALLS
This cozy bedroom by Homes by Chris features a muted color palette of gray, white, and pale pink, with a soft upholstered headboard and fluffy area rug that create a comfortable and inviting atmosphere.
TEEN-GIRL
This modern and sophisticated bedroom is by Nisha Tailor Interior Design. LLC features a green and white color scheme with pops of gold accents that add a touch of glamour to the space.
CONTEMPORARY
This minimalist bedroom by Adelene Keeler Smith Interior Design features a sleek platform bed, crisp white bedding, and a simple gallery wall of green and white prints that create a clean and streamlined aesthetic.
TRANSITIONAL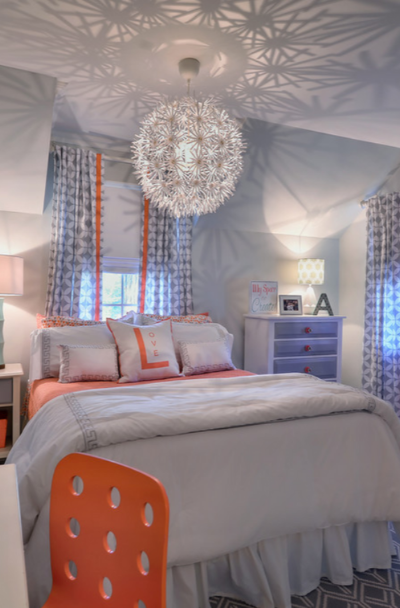 This vibrant and eclectic bedroom by Lisa Loesch Interiors features a mix of bold patterns and textures, from the geometric wallpaper to the colorful throw pillows and bohemian-inspired bedding.
BEDROOM LOUNGE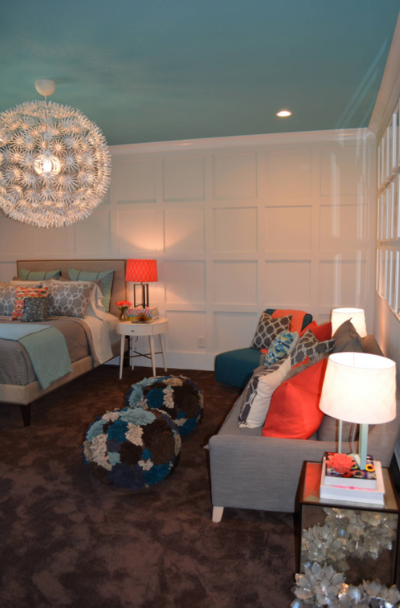 This bright and cheerful bedroom by M. Crisler Designs features a bright green accent wall, a crisp white bed with patterned bedding, and a playful design.
MUTED COLOR
This cozy and rustic bedroom by Erica Peale Design features a natural wood accent wall, cozy plaid bedding, and a vintage-inspired gallery wall of botanical prints.
SMALL & TRENDY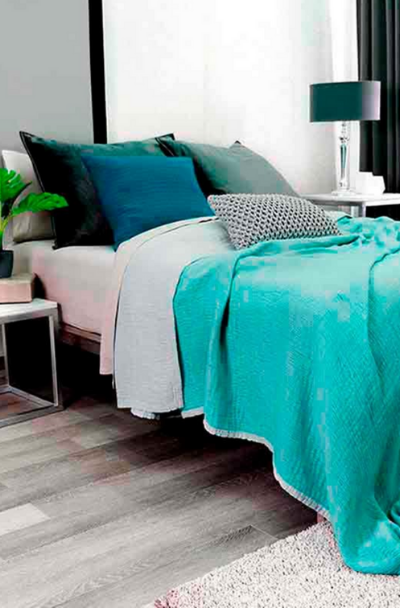 This feminine and romantic bedroom by Vianney home decor features a soft color scheme, a tufted upholstered headboard, and a delicate chandelier that add a touch of elegance to the space.
DARK WOOD
This bohemian-inspired bedroom by Susan Feffer Interiors features a mix of bold colors and patterns, from the vibrant blue accent wall to the colorful Moroccan-inspired bedding and patterned rug.
PAINT & GLITTER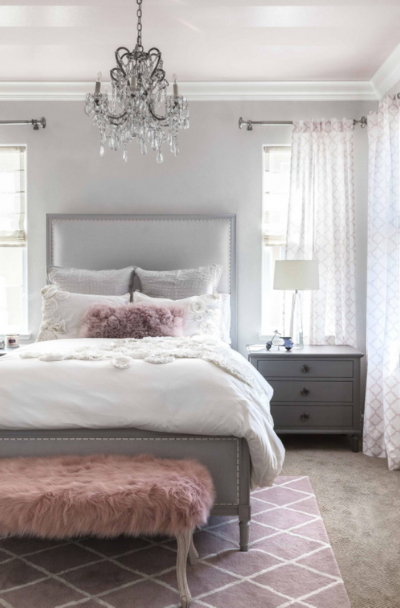 This chic and modern bedroom by Juxtaposed Interiors features a mix of black and white with pops of pink and gold accents, from the striped bedding to the stylish pendant light.
Decor For Teen Girl Bedroom Ideas
Teenage girls' bedroom decor needs to be completely different from a little girl's bedroom. Designs for teenage girls' bedrooms should reflect her maturing style and tastes with a youthful feel but much more advanced look and need to be really classy, contemporary, vibrant, and fashionable with energy. In case it's possible, you can also get your teenager active in the decorating process. Your teenager's bedroom is going to be her sanctuary and must be fashioned with her greatest interests in mind. In this post, you will get great inspirations for your reference!
Transitioning from a small girl to a young teenage girl is never a simple phase. A great deal of things can change. Your desires, needs, and likes, even your personality, change as time passes. As you grow to maturity, your perspective and style will mature also. The room that you've got when you were six might not meet up with the requirements of your teenage lifestyle any longer. Consequently, changes come into place.
A trendy room with the functionality which is going to allow you to relax, go around, organize your clutter, and entertain friends is the one you might need. In case you're a parent searching for unique bedroom design for your daughter, or maybe a teenage girl who's looking for inspiration in developing your own personal bedroom, fret not. Sebring Design Build is here to help you with tips and images that you are able to get versatile and excellent ideas to be inspired with. If you would like a female bedroom, which is chic and minimal, then these two colors should be your go-to colors. Peach and gold go great together and therefore are really cool. These bedroom designs are minimal, plus don't overpower the vibe of the teenager's bedroom so that their ideas are able to flow with no constraints.
CONVERTED ATTIC
This minimalist and serene bedroom by Hopkins Designs features a muted color palette of gray and white, with a simple gallery wall of black and white photographs and a cozy faux fur throw.
POLAROID WALL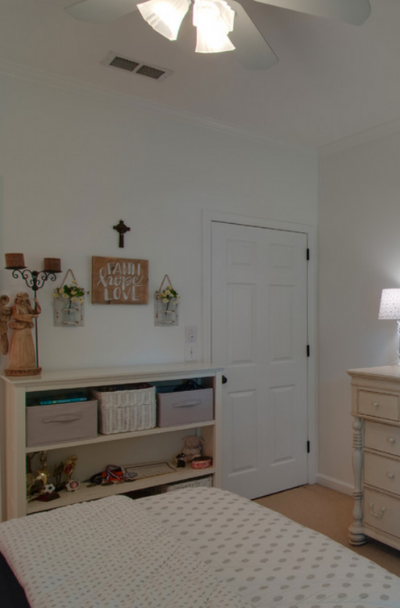 This cozy and rustic bedroom by Usable Space Interiors, LLC features a natural wood accent wall, cozy plaid bedding, and a vintage-inspired gallery wall of botanical prints.
SMALL & MODERN
This cute and bright bedroom by Vianney home decor features a simple upholstered bed with tufted detailing, a refreshing vibe, and a mix of cute accents that add a touch of vibrance to the space.
Teen Girl Bedroom Ideas For Small Space
You are able to still produce a fabulous retreat for your teen, no matter the size of their room. These teenage bedroom strategies for little areas will match both you and your teenager—and also make their small space feel huge on style! Just because your teenage girl has a little bedroom does not imply that she cannot get the frilly canopy bed of her dreams. Many teenagers favor a contemporary appearance that works really effectively in a tiny space. If, however, your teen likes an eclectic or a more traditional look, that could work also.
The key to making the most with a tiny room is keeping proportion in mind. In case your teenager likes curvy lines and also a lot of fluff, let her have the canopy bed frame, but keep additional furniture completely clean and straightforward. Go for softer colors and also smaller sized prints to balance the quantity of frill. In case your teenager likes contemporary, permit them to have several bold patterns and colors to bring life to modern lines that are clean. There is nothing bad with a little bit of bling.
Home furniture that will work in even more ways than one is invaluable in small teenage bedrooms. In case your teenager has a TV in her bedroom, hang it on the wall rather than putting it on a dresser or stand. In case your girl has a sizable closet, she may be able to perhaps do without a dresser or wardrobe. Stash seasonal clothes in under bed storage, and also work with a wall-mounted shelving rather than stand-alone bookcases. Sofa and day beds could work nicely in teenage girls bedroom ideas. No, your teenage girl likely will not fold the bed away each day, but the seating is going to be there whenever she needs it. It doesn't matter what they rest on, be certain you give your teen's developing body with lots of nighttime support.
SHABBY-CHIC
This cozy and inviting bedroom Usable Space Interiors, LLC features a plush upholstered headboard, a warm color palette and a mix of eclectic decor, from the woven wall hanging to the colorful throw pillows.
ORGANIZED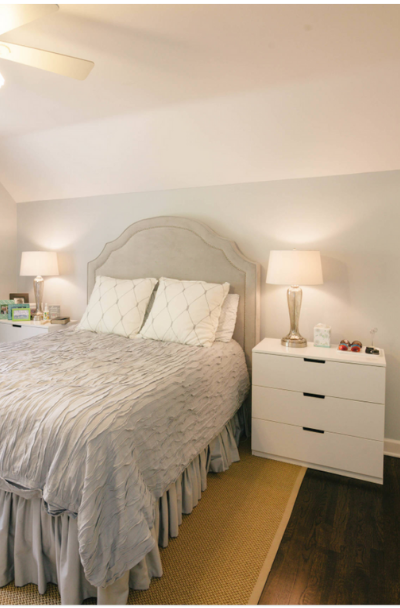 This minimal and chic bedroom by Neatsmart features a mix of warm accents, from the mirrored nightstand to the beige-toned bedding and stylish pendant light.
BEIGE FLOOR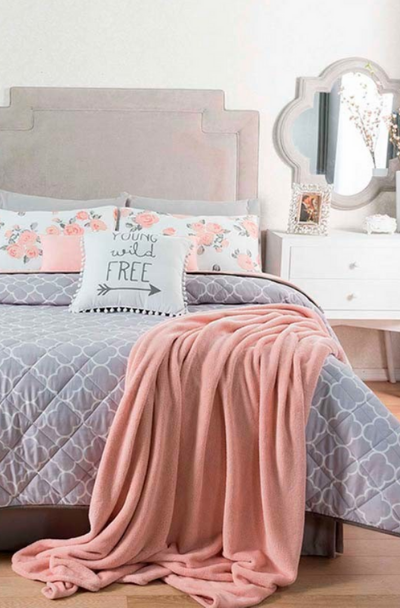 This simple and cozy bedroom by Vianney home decor features a bright wood accent wall, cozy plaid bedding, and an adorable-inspired gallery wall of botanical prints.
Making The Most Of The Decor
Because we know it is not simple for many parents to search for the perfect teen girl bedroom ideas making all parties satisfied, to help you started out on producing the ideal, inspiring bedroom for your young adults, we are contemplating decorator cues to bring a feeling of style and living in their daily lives. The easiest way to start brainstorming cute bedroom ideas is by thinking of the items your teenager really loves. Place yourself inside your beautiful teen's shoes and check out their world and bedroom through their perspective. A young teenage girl has a tendency to have many various ideas than adults; therefore, you should not count on them to instantly love the bedroom strategies that you have in mind, so check out choices with them in a manner that can get them started on approaching decor at a young age. You have to always remember your kid's bedroom is more than just an area to sleep. It is a location just where they analyze and relax after a rigorous day at school. For inspiration in decorating your teenage girl's bedroom, take note of these interesting teen girl bedroom ideas we have here.
An ocean theme evokes the best relaxing feeling, which makes it a practical choice when contemplating probably the very best cute room ideas to get from for your teenager's bedroom. This is additionally ideal for teenagers who like going to the beach frequently. Begin by painting the structure in the shades of turquoise, powder blue, along with white to evoke beachside recreation. Accessorize with ornamental shells, surfboards, along with various other coastal themed decors. There are also beach inspired wall coverings when your kid does not want neutral-hued wall space for their bedroom. Many teens like the bohemian lifestyle and would want to stay within the very same style for their room. In reality, the bohemian design is just about the most popular teen room ideas we are frequently asked to do. And since boho themes are loaded with color, we recommend bringing in bright colored and patterned linens, rugs, curtains, along with brilliant pillows. The furnishings in a boho bedroom typically consist of troubled pieces and rattan ottomans for room decoration ideas that are layered and luxurious.
Yet another sensible method of decorating your teen's bedroom is considering their preferred colors. If your kid likes a shade of yellow, then a cherry yellow might be an excellent lead to check out, and though gender-neutral, additionally, it works for girl room ideas. Nevertheless, we recommend utilizing care when working for over-saturated tones for your child's bedroom. In case you overdo the usage of yellow or maybe a bright hue, this may damper the general ambiance of the area, and so they might tire of it faster. Tone down colors that are vivid by painting the reduced third part of the wall space in gray for the striking contrast and take in extra accent colors through curtains, linens, and decoration.
Other Tips And Tricks
Almost all teens favor colors that are bold, and there's absolutely no reason you cannot celebrate your teen's love of color, maybe even in a little room. However, a lot of a great thing is able to feel overwhelming in a tiny space. Consider using a bold color on an accent wall structure and repeat coordinating colors across the home in tiny amounts. The floor is a great spot to add color. A darkly colored rug is able to help "ground" a little bedroom. Consider using a boldly printed accent rug—perhaps a camouflage or maybe zebra print—to then add structure to the teen's tiny bedroom. Naturally, do not forget about your fifth wall! Including a style or perhaps mural on the ceiling is able to add an unexpected element to a tiny room, and also gives your teen something beautiful to look at before they drift off into sweet dreams.
Most teens believe they require a table, but these could be clutter catchers that are not constantly used. Numerous teens secretly prefer studying on their beds or maybe the floor, so do not feel you have to make a desk. A little sliding computer desk that could be used as a bedside table could work fine, or maybe you might find your teenager does not require one at all. Just because you have a little space does not mean you have to choose a twin-sized bed. Nevertheless, headboards are able to drive a bed much more than a foot from the wall, so think about using a wall-mounted headboard—or maybe none at all. Platform beds usually work nicely in a tiny bedroom as do raise beds, which enable work, storage, or even relaxing space underneath.
Storage is something that the majority of teenage girls desperately need, particularly in areas that are small. Contain the clutter with storage, which may be hidden out of sight once the items are not required. Select furniture which maximizes storage, like end tables with shelves or drawers, or maybe beds that have integrated storage beneath. Search for places to put in additional storage space, like along the tops of door frames, with the rear of the foundation, or even hanging from the ceiling.
This is an image roundup post, curated to showcase and promote other reputable contracting companies' and their amazing work. To have any of the images removed, please reach out to us and we would be happy to do so.
Other Great Articles to Read: