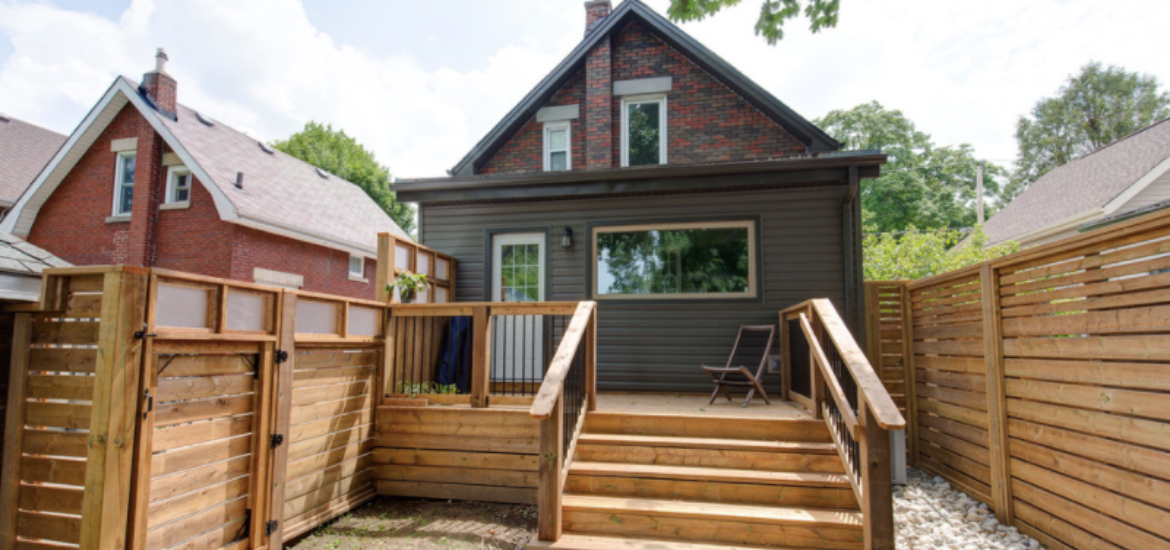 Fences are able to make or break your curb appeal. They're not merely for securing an area and marking boundaries; fence walls are commonly used today as the edging to block your yard, the highlight to the landscape design, or perhaps as the focal point of your frontage. Picking out the best one amongst a huge selection of fence ideas and styles is essential. A great fence complements the homeowner's design, as well as its surroundings, and offers a solution to privacy needs. Check out our privacy fence design ideas and be inspired!
Make use of your outside patio by installing a shower enclosure made of stealthy black wood. The height of the dark wood is sufficient to conceal your body while allowing for the passage of cool air from the outdoors. What a wonderful, cutting-edge addition to your outdoor space. This shower is from Hill Construction Company.
MERANTI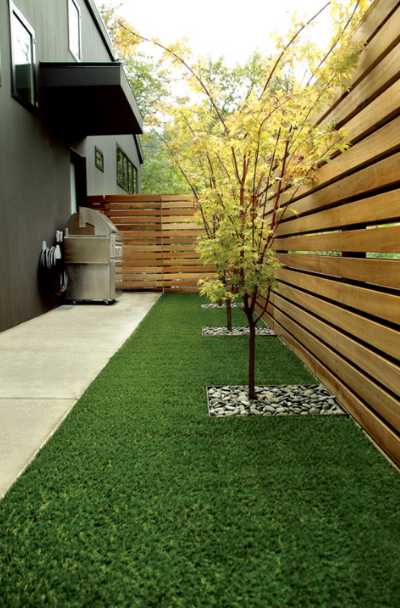 Meranti wood allows for many refined and tidy fence features. What a great blend of contemporary and organic elements in your home! The home is both natural and cutting-edge in its design. Impressive work by the architects at Giulietti Schouten Architects.
LIVELY
Have you ever wished you could spend some quiet time away from home curled up on your favorite couch with a good book? Spend more time outside now that you have privacy fences and lamps. Brooklinteriors LLC hit the nail on the head with this one.
TRADITIONAL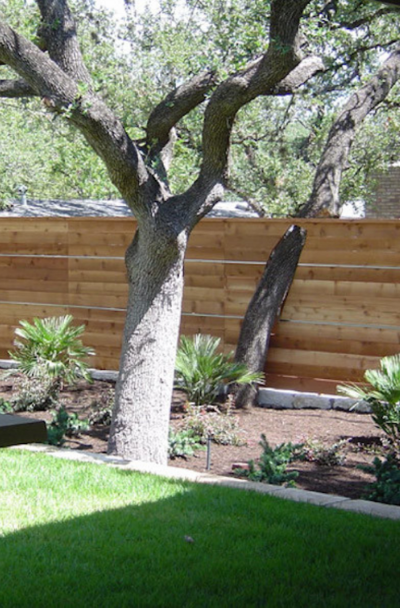 Get any shade from the trees in your yard? Keeping them whole is OK. Wow, have a look at that beautiful layout. The decor is quite homey and classic. Excellent work, VIKING FENCE CO. What a cheerful and modern design!
TRANSITIONAL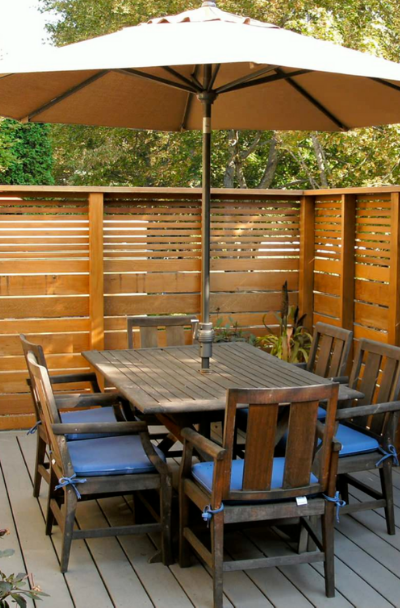 Do you wish you had a place to take your family out for dinner in the fresh air? This is a great example of a modern and energizing take on the style. This wooden-fenced transitional terrace is perfect for outdoor dinners in the summer—such an incredible plan by Korbich Architects LLC.
WOOD PANELS
Do you long for an eating space outside of your home that is both inviting and invigorating? This one is swimmingly attractive after a dip in the pool. Enjoy a drink with your loved ones while chilling out on this fence. Wow, that's a clever layout by Fresh Start Contracting Company.
STEEL GRID
Want a fence that appears casual but is rather elegant? We've never seen a patio design so invigorating and well-executed. The steel grid mesh adds a unique touch of style to this garden. This is another brilliant creation by TERRABELLA, inc.
DEER FENCE
Want a deer fence that feels and looks so good to the eye? Feel like you've been transported to the countryside with this one. This deer barrier protects a beautiful vegetable garden from hungry wildlife. Rock Spring Design Group LLC (David Verespy, ASLA) has created a fantastic fence design.
Why You Need A Privacy Fence
To turn a garden or even patio in your personal haven starts with creating the proper area from the walls in. Whether you want to deal with nosy neighbors or maybe an escape artist pup, a fence will keep animals in and snoops out—while not sacrificing on style. Stone, vinyl, wire, or wood—these choices offer safety measures, privacy, and lovely appearance in your backyard, which means you are able to concentrate on all of the backyard fun you planned this summer and spring. Next on your agenda must be soaking up all of the sunshine.
Privacy fences have numerous functions. Architecturally, they're used as a decoration and also to boost a home's exterior 'face,' and might do a great job of masking the unsightly exterior of your neighbor's house. They're able to help define your space, plus they will help break it up with the addition of powerful visual components—you will find a lot of diverse privacy fence ideas available. They beautify your outdoor spaces, as it is usually visually pleasing to view vine-covered trellises or maybe the assembled parallel lines associated with a horizontal fence.
Though their primary task, by definition, is adding privacy. Technically, a privacy fencing is extremely like a typical one, but it is ordinarily viewed as being relatively more lightweight, and it is usually a minimum of four to six foot high. When selecting the best privacy fencing for you, you will wish to look at things like longevity, durability, ease of maintenance, in addition to your general design, as well as your budget.
STACKED STONE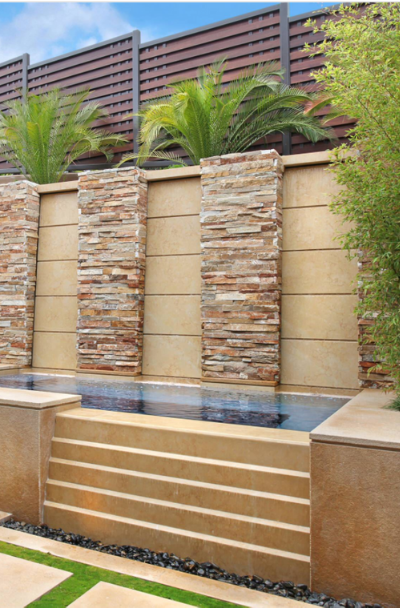 Would you want a nice, rustic patio pool outside your home? This design is rustic and energizing! A pair of chairs and an aboveground pool are made to order for enjoyable outdoor living. Jeri Koegel Photography took the photo of this one.
METAL POST
I have never seen a fence with such an elegant design. Want a home that appears to be so sturdy and secure? Just about everything about this scene is refreshing. The horizontal boards and metal poles give this wooden fence a sense of strength. VIKING FENCE CO. has created a design that is both timeless and modern.
Things To Consider When Planning Out A Privacy Fence
There are plenty of fence types that it can be difficult to discover exactly where to start. When choosing the ideal solution, think about some fundamental questions first, such as: How tall would you want your fence to be? Would you need complete privacy or would you want it to become a little see-through? Must it be vertical or horizontal? What privacy fencing materials are appropriate—timber, reclaimed materials, vinyl, metal, bamboo, or stone? Will the materials be natural, painted, or stained? What colors are going to be best? Will be there any things that come with the surface to take into account, like sloping land? How much is your budget? Even though some tasks are naturally going to be more expensive than others, consider just how much a better quality fence will, in fact, add value to the house, which makes it a fantastic investment decision. Lastly, could you truly DIY, and would it be better in case you have a hand out of a fencing specialist?
With that being said, let's start with simple privacy ideas that don't need much planning and woodwork. These ideas mostly use plants as a shield. Among the simplest methods of building a cheap privacy fence is using screening plant life to develop a living wall. Whether you choose a row of planters with ornamental grasses, a mobile vine wall, or maybe a lovely hedgerow, plants are an attractive and very simple natural barrier. Several of the most favored plants for privacy screening normally include horsetail grass grown in planters, and that helps make an excellent architectural statement of the back garden, growing between 60cm to 120cm tall. Ivy, also, is an excellent natural privacy screen. You are able to also enhance your fence with artificial plants like faux ivy leaves that are maintenance-free and work efficiently.
Consider a floral wall or perhaps a fruit tree wall. You may also contemplate setting up a floral wall or even growing an edible wall of fruit trees in planters. A good option for pleaching and color is a bougainvillea tree that has an eye-catching and vibrant pink flower. Just be careful with the thorns! Bamboo screening is also among the simplest DIY solutions for privacy. You are able to purchase a roll of bamboo reed fence and connect it to your existing railing or fence, or maybe buy pre-formed metal fence frames along with bamboo privacy fence panels to create yourself. You might additionally easily install bamboo poles for a simple, cheap solution.
FARMHOUSE
We love how this 6-foot shadowbox grid top fence complements our farm's aesthetic. Its pristine appearance makes it ideal for use with plants and other greenery. Dakota Unlimited constructed this wooden fence for a country home.
PRESTIGE
This Seattle house with a courtyard has a stylish and modern fence. This farmhouse has a sleek, contemporary style because of its high-quality architectural plan. DeForest Architects have created a stunningly modern and posh design.
LATTICE
Want a natural-looking fence for your backyard? Anyone interested in gardening would benefit greatly from this. Those climbing hydrangeas and Japanese forest grass on the lattice fence are beautiful. LaMond Design outdid themselves with this one.
FROSTED GLASS
Do you wish your outdoor space included a blend of modernity and nature? That's what this one is an illustration of! These beautiful outdoor areas are enhanced by the tempered and frosted glass barrier. The atmosphere is like that of a shopping mall. This Tim Cuppett Architects sure did come up with a nice plan.
CUSTOM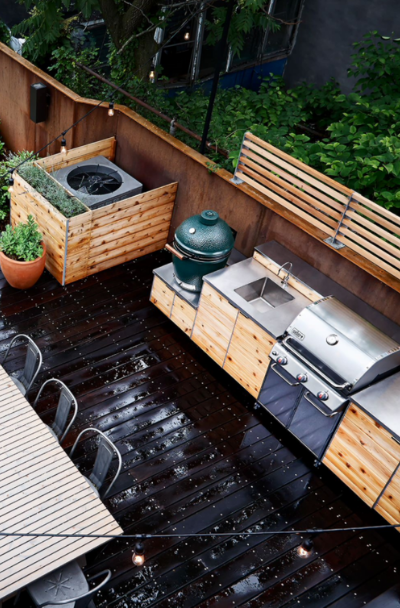 Do you wish there was a location outside your home where you and your loved ones could gather to enjoy some time together while cooking on the grill? The modern deck is complete with an outdoor kitchen and lounge. New Eco Landscapes did an amazing job with this particular design.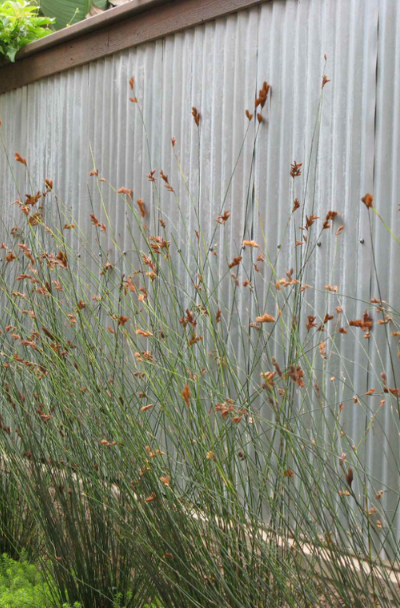 A fence constructed from galvanized metal. Chondropetalum is the name of the plant in question. The addition of plants improves the aesthetics of the space significantly. Wow, debora carl landscape design nailed it with this one.
Ideas For Timber Privacy Fences
Consider the complete range of potential fence materials. Rather than restricting your ideas to timber slats, you will discover numerous more fencing choices in other various materials like recycled plastics, steel, aluminum, vinyl, concrete, and wrought metal. The newest composite materials are generally an excellent answer, offering longevity and low-maintenance. You might also like to contemplate masonry work. It might not be the least expensive solution, but consider if a stonemason may build a gorgeous stone structure for you. Modern-day gabion walls are an alternative too—a sturdy fence design which is in existence since medieval times. Other choices normally include pre-formed etched metal privacy screens, which are available in a selection of designs and patterns, and in solid wood instead of planks, for instance, white birch trunks seem to be impressive. Lastly, think about frosted glass panels that offer privacy but naturally allow the light through.
Next, designs. You've got herringbone backsplash tiles and herringbone timber floors, and we don't see any reason why you can't have a herringbone privacy wall! You may feel this is a simple DIY idea, but those accurate angle cuts might need a helping hand in case you are not really a pro. Wide horizontal natural planks are a great option too. This is a significantly easier DIY project in case you would like to do this fence idea. All that you have to do is go for a drive to your local hardware store and subsequently put aside a weekend to accomplish it. You can also have a shot with vertical timber paneling. Possibly the most "on trend" type of fencing at the moment is vertical timber paneling which could often have a gap in between or even be stacked together. It looks truly great when a stain is applied or even using a number of shades of timber to make a far more dramatic effect. Horizontal pine slats can also be a great option. Give your patio an intimate feeling with a few horizontal screening which utilizes pieces of leftover pine from some other jobs.
Weaved fence, on the other hand, is something challenging but very worth it! More and more homeowners are constructing privacy fences featuring much more unusual designs compared to regular planks. Lattice privacy screens are extremely inexpensive from gardening and construction supply shops, and also you are able to easily spruce it up with a layer of paint. The great thing about a lattice is it provides privacy but lets in a lot of light. Fill up your lattice with beautiful greenery, like jasmine. You may additionally look at fast-growing vines, such as trumpet vine, but remember their busy growth means more maintenance is going to be required.
How To Build A Privacy Fence
With the number of fence styles you can pick from, you need to consider numerous factors. Bear in mind your own personal level of skill and also tools that are available. Also, a simple wood privacy fence could be beautiful and functional, but more complex tasks, which include complex angular cuts or even recycled architectural elements, are possible in case you have the know-how and also the correct tools. You should additionally consider your neighborhood and climate.
In certain states, a wooden fence might deteriorate quickly, and a metal fence or maybe block wall might be a more sensible choice. Some county building codes or even home owner's associations might also determine what type of fence you are able to build. Lastly, your project choice might count on how tall your fence needs to be and the budget for materials. In case your finances are tight, items that are free like pallets can be recycled into a stylish wooden fence. A really basic and extremely affordable choice, the pallet fence is an easy and quick project. You will only need a few hours to set it up.
The construction is really simple: pallets are put in place one by one, with T-posts placed in the area in between the pallet boards and pushed into the soil to maintain the fence upright and stable. As pallets are included, they're anchored together with screws. The finished product is a good and strong looking fence that does not look hobbled together as various other pallet fence builds. Slap a layer of paint on there, making it appear much nicer. Or even think about growing plants or herbs for an outstanding vertical garden idea.
This is an image roundup post, curated to showcase and promote other reputable contracting companies' and their amazing work. To have any of the images removed, please reach out to us and we would be happy to do so.
Other Great Articles to Read: