Whether you love to read, enjoy a drink, or perhaps doze off by the swimming pool, a covered patio is able to make your backyard experience a lot more pleasant. Covering the deck is going to protect your space from the environmental components and keep things cool so you can hang out as long as you would like. Not only do wood patio covers produce shade, they likewise provide a chance to do something creative overhead like florals, lighting effects, and much more for the patio roof. Go ahead and check out these covered patio ideas to make your outdoor space more fun and relaxing.
METAL EXTERIOR
Want an uncomplicated yet inviting metal patio design for your home's exterior? You couldn't have picked a better spot to host your morning guests. The basic and reliable corrugated metal roof serves its purpose well. The architect responsible for this stunning design is Nick Deaver Architect.
FOR ALL-SEASON
Playing a game of ping pong under the protection of the patio's roof is a great idea for a good time with friends and family. This patio layout is perfect for visualizing a fun get-together with loved ones. Ami Saunders, MLA, designed this warm and functional patio that can be used year-round.
MOVEABLE SHADE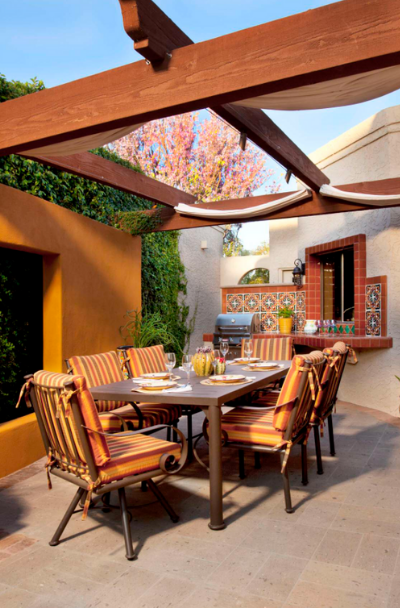 Is it your goal to create an outdoor patio that transports you to another era and location? Earth Art Landscape did an amazing job with this patio, making it feel homey and rustic. The shade on this Mediterranean patio can be easily moved, giving the space more options.
VISTA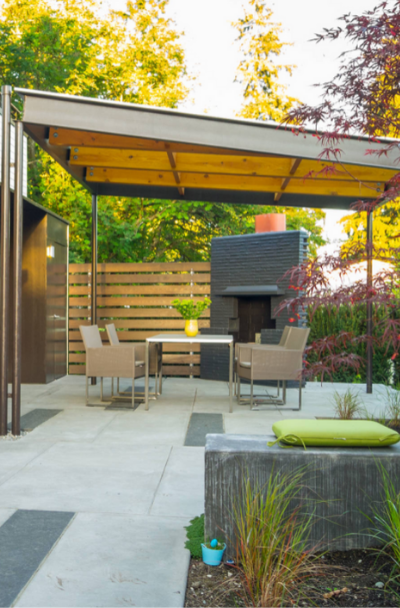 Do you desire a patio design that exudes a sense of freshness and nature? This patio is a fantastic illustration that would be ideal for your daily meal. Polygal, a transparent acrylic material for outdoor use, serves as the patio cover. Lane Williams Architects are the designers of this vista patio concept.
Benefits Of Covered Patio
You will find many advantages to developing an excellent backyard porch cover, and lots of individuals decide to produce an outdoor covering, so they are able to comfortably spend some time outside. In case you are planning a covered patio project, you may have to talk to a professional, though some choices are less involved. Continue reading for a number of amazing ideas to help with your backyard DIY patio cover project, and look for the one that works for your house style, finances, and area. As warmer nights and sunny days approach, it is the best moment to focus on the deck you have been neglecting. Although it is outdoors, it is nonetheless a part of your property and must really feel connected to the rest of your house, so provide it with some love. Allow it to be a favorable spot for a quick day retreat or perhaps an amiable dinner under the stars. Whether you would like your patio to act like a dining area, a fireside lounge, or maybe a full-on family room, we have here covered patio ideas to bring the comfort outside of your home.
As the weather condition gets warmer, we begin spending much more of our time outdoors—our focus shifts from interior design projects to our outside spaces. Warmer months imply the opportunity to sit down in the sunshine and enjoy eating and making meals with friends and family outside in the fresh air. However, will your backyard be able to keep up with entertaining? In case your yard looks like it is looking for a bit of tender loving care—or perhaps an injection of some wow factor—then you are on the right page. This particular patio design collection presents beautiful ideas on how to skillfully present your open-air lounge and al fresco dining areas.
Today is the best time to begin thinking about how you would like your patio to look so you are able to stay away from scrambling once the weather changes once again the following year. Having said that, one of the greatest methods to make the most of your patio is having a covered design. Some individuals might not see the benefits of creating free standing patio covers, but it will really come in handy for all those days when the sun's rays are unbearable. Creating a lovely covered patio enables you to have a shaded spot to relax while still experiencing the fresh air. Individuals that like entertaining guests outdoors will certainly like creating a lovely covered patio to spend time under it. No matter the dimensions of your yard, there's nonetheless a covered patio that may be an excellent match for your space. In case you're currently thinking about patio ideas, these amazing designs will help you see several top-covered patio options.
CABANA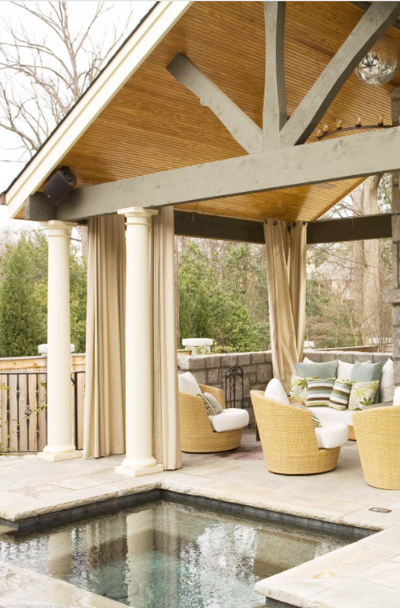 Want to experience being on a beach or at a resort close to a beach? With its beach style and its predominant hues of brown and white, this patio design looks fantastic. The backyard patio is made of stone and has a small pool, a fireplace, and comfortable seating. Brian Watford Interiors did a great job with the design.
COASTAL
Would you want a patio with a seaside theme? This one will undoubtedly wow you because it is so comfortable and perfectly replicates a living room. With a screened patio like this, you can shield your deck from the elements and insects. What an inviting patio layout created by Clayton&Little Architects.
RUSTIC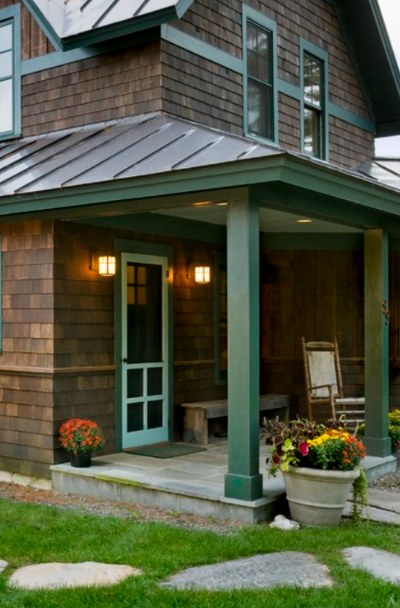 Want a rustic home design with special characteristics that appears old? This is such a great rustic patio design for everyone who adores a patio in the traditional style! The roof is made of metal with a Medium Bronze Englert Kynar Ultra-Cool Low Gloss finish. The patio design by Smith & Vansant Architects PC is excellent.
Covered Patio Ideas To Make The Most Of Your Outdoor Space
Your patio does not have to endure rain and other problems all of the time. It is practical to possess covered patio ideas and utilize them the simplest you are able to. The main priority must be on quality and also you have to adjust and fit with your own ideas. After you let that happen, nothing is going to stand in your way, and so try to consider that. Regardless of the season, covered patios are sure to be beneficial all year round and also are certain to increase the potential resale value of your room. All things considered, they make for the desired semi-living room like area which can quickly function as an extension of your living area while guarding you against weather conditions that are bad, as well as the sunshine overhead.
Regardless of your design choice or maybe the amount of area you've to work with, it is just sensible to have a full charge in developing a luxurious outside location while experiencing the warm weather, as well as the idyllic experience of the exterior and the gardens. From minimalist dining feel to vibrant designs to ultra-modern takes on doing the most effective use of the area you've to work with, the possibilities with regards to patio cover ideas are limitless.
In case you would like a cozy covered patio which is going to inspire you to boost the quantity of time spent outdoors plus you have a proper budget to work with, think about employing an experienced architect and contractors that know landscaping and structural engineering. This can make you guarantee your erected patio does not violate some city codes, so you are able to appreciate this covered patio for decades to come. Better still is the fact that they will take with them more than likely innovative methods and contemporary backyard patio ideas, which will look amazing long after you have created your covered patio. And also, naturally, it ought to go without saying that in case you produce an appropriately outfitted patio by getting an experienced staff to make it, it is going to be even more magnificent and structurally sound.
Do you desire a well-designed Mediterranean patio where you can enjoy the sunset and sunrise to the fullest? With the help of this cozy Mediterranean patio, you may enjoy the evening and the refreshing sea wind. This design by JAUREGUI Architecture Interiors Construction is amazing.
MULTIFACETED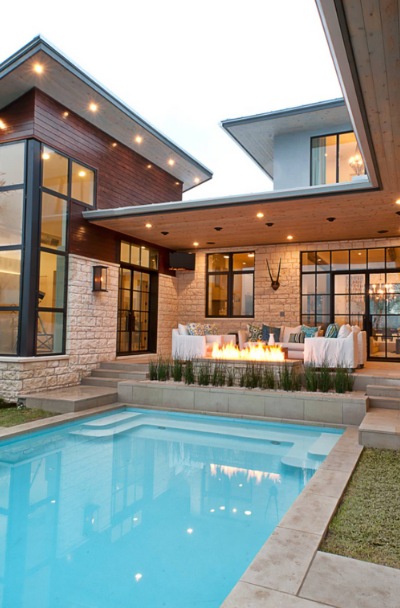 Want a patio by your pool so that you have a place to relax after a revitalizing swim? You and your family will undoubtedly enjoy yourself here! This Cornerstone Architects patio design looks very cozy! The house offers vistas from several rooms and outdoor living spaces.
ELEGANT
Would you like to improve your home's curb appeal by installing a beautiful patio? Everyone will agree that this one looks lovely! Dark brown paint and an industrial metal roof with a modest slope make for a rather conventional deck—such a fantastic design by King Landscaping.
TROPICAL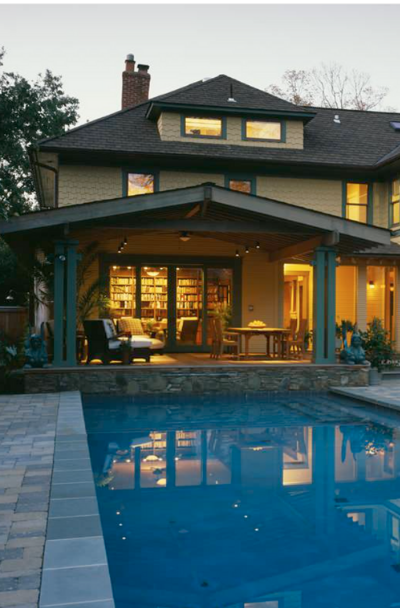 This patio layout by the pool screams tropical and summery to everyone's eyes. There's a library right here in the house, too! Make the most of the outdoors with a pool and deck partially covered for comfort and relaxation—what a stunning home plan by Gardner Architects LLC.
FARMHOSUE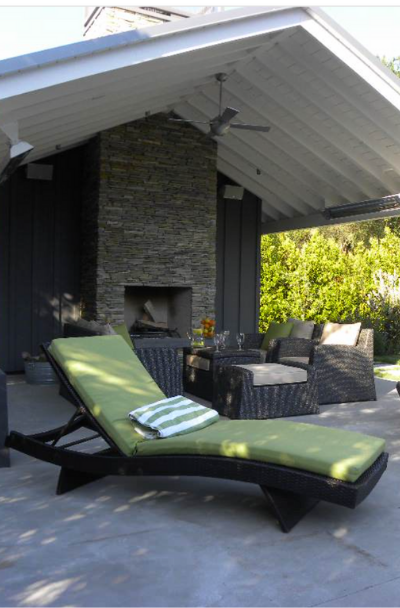 Do you want your patio to seem like it belongs in a farmhouse? This is a wonderful illustration of a patio that also has a contemporary feel to it. A patio in the style of a rustic farm, complete with a stone hearth and a lovely white wood ceiling. Fergus Garber Architects has created a deck that is just breathtaking.
Choosing The Covered Patio Material
Deciding on the best components and materials for your patio cover plans is essential before you start the building on your patio. To know the proper materials to use between is essential, and they are able to vary from tempered glass to aluminum to wood. We are specifically inspired by glass-topped enclosed patio ideas since the appearance is minimal and subtly elegant. By doing this, you will make sure that your covered patio is personalized for you and that it is going to serve as a customized and well-judged addition to your house.
Just because it is an outdoor patio, that does not imply that you need to toss in any unstylish furnishings and options to elevate it. Every decorating decision you are making regarding your covered patio can help add in developing a charming space while having a hint of your style and individuality.
Consider pieces that will help put definitive character within the area while elevating it like on-trend pillows, throws, and printed textiles, which could be quickly switched out for a fast refresh. And do make the most of attractive layered light fixtures which will help jazz up your living area in a covered patio. In reality, you will find that it is not hard to feel ultra comfortable under a covered patio when your outdoor style reflects your taste and personality. Think about having lightweight furniture that matches the scale of your respective covered space.
Elements You Can Add In Your Patio
Your covered patio will be your hangout. In case you have not installed a covered patio fan yet, that is a necessity. It provides an interior, comfortable feel while simultaneously offering much-needed airflow during those warm afternoons, as well as early evenings. Additionally, get a couple of ferns, and also check out little hanging chairs, swings, and hammocks. Pick whatever works for your patio! Most of these floating elements can give your backyard getaway some fluidity. Beyond lighting fixtures and draping lengthy string lights across your pergola, you are able to choose to line your covered patio ceiling with neat rows of rope or any lights of your choice. This will give you clean lines and more of the proper type of elegance. Also, setting up an outdoor kitchen area will be the supreme covered patio move. This lets you hang out with your guests or maybe relatives while you are preparing meals. Mix drinks for your pals and also entertain them as you showcase your culinary genius.
Select a color or two, and run with it! Bring in pops of vibrancy with lighting, throws, cushions, rugs, pillows, flowers, etc. This can give your covered patio a finished, homey vibe. Your guests will go out of speaking about your decorating sense and also fun taste! Use cedarwood to make floating benches for a party-friendly dining area. A number of cushions and several pillows help make this particular sectional style seating ideal during nights of cocktails and grilled delights. Plus, in case you did not know, cedar is wonderful for repelling insects and also at resisting decay and rot.
Perhaps you have several seats and a table on your patio but include a sitting area to provide a lot more relaxation. After dinner, head to the lounge area and continue sipping on those blended drinks. Have a bit of dessert, and talk together. Choose couches, rugs, coffee tables, along with vibrant pillows and cushions. In case you only have patio seating, now reverse this advice: choose the dining set! Start brainstorming ideas about just how you are able to get your covered patio floor to the subsequent fitness level. Brick pavers, mosaic tile, or maybe rock slabs can work on your area. You may think about a multi-textured patio floor. A mix of stones, wood, and even slate might look beautiful and inviting.
This is an image roundup post, curated to showcase and promote other reputable contracting companies' and their amazing work. To have any of the images removed, please reach out to us and we would be happy to do so.
Other Great Articles to Read: