Looking for your next home is an exciting adventure. You may have an idea of where you want your home to be – its proximity to work or establishments you may want to visit frequently or the weather in the place all through the year. You may also be choosing your home based on the budget that you have. The bigger your budget, the more options you have, right? Depending on your resources, you can either build your own home from scratch or buy one that is already built. Whatever you decide on, one thing you also have to consider is the style – interior and exterior-wise – of the house you want to have.
Modern architecture has provided us with many options for house styles – from classic, simple home designs, to grand, futuristic ones. The choice of style would depend on your taste, and with a lot of choices, picking the right one for you may be confusing. You may limit your options to those whose style will never lose its appeal. After all, you will be living in it for a very long time. One house style comes to mind when talking about standing the test of time, one that has been around for around two centuries. That is Victorian. If you are looking for a home and have not made up your mind yet as far as style is concerned, a Victorian-style house is something we recommend.
STAY TRUE
Do you yearn for a home that feels like home? Visit this beautiful home and fall in love with it. The design aesthetic of this home is just lovely. The pathway leading up to the house and the front yard are picturesque. The interior design work done by lisa furey interiors is fantastic.
COTTAGE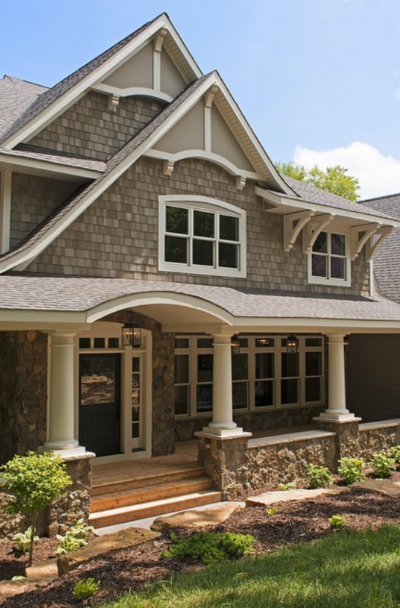 Interested in a charming cottage-style home? No one can deny that this one offers a welcome change of pace with its refreshing and rustic appearance. This beautiful two-story Victorian home is painted a classy shade of gray and topped with Driftwood-colored CertainTeed Landmark shingles. Amazingly charming cottage-style home by Divine Custom Homes.
IN THE CITY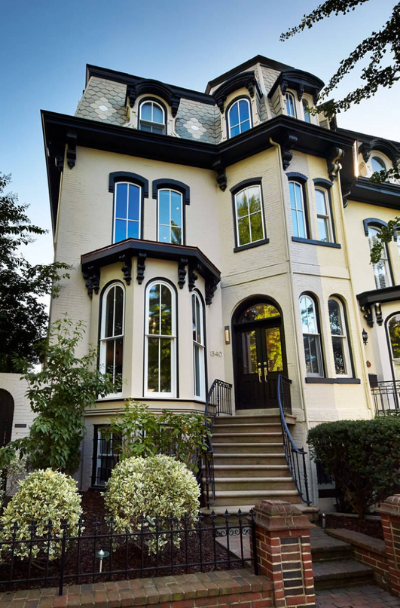 Do you want an opulent and spacious Victorian mansion? The facade of this magnificent Victorian home is painted in shades of off-white and black. This KUBE architecture home design has been built to make its inhabitants feel like they are living in the city's heart.
RUSTIC
Do you wish you could travel back to Victorian England's medieval era? This one appears to have been lifted from an old film! Such a historic Victorian home, full of stories still to be told. The neatly trimmed swimming pool is a nice touch as well. Eldorado Stone has done an excellent job with this rustic home plan.
GREEN PALLET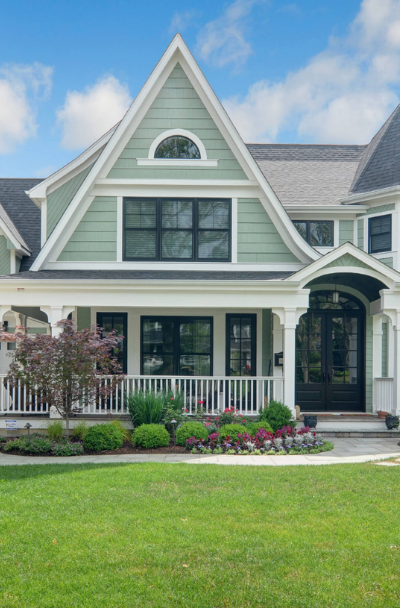 Those who are partial to the color green will be taken aback by this home's layout—a breath of fresh air between the lush green lawn and the pale green walls. The decor is lovely and warm. Built by Rite Way Custom Homes, this home features an eco-friendly design.
RACOON HOLLOW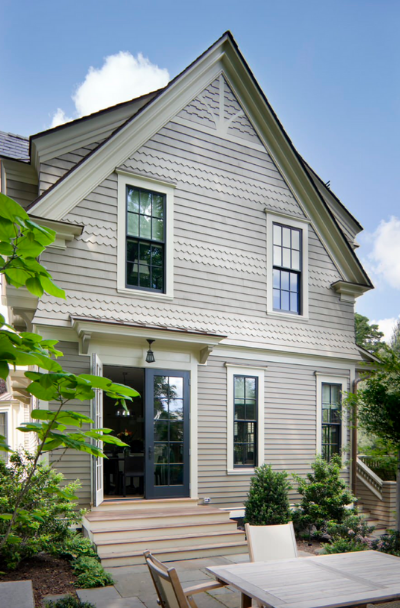 How nice would it be to have a house in a clean, simple style? Racoon Hollow, by Benjamin Moore, is used outside and is a very understated yet attractive color. LDa Architecture & Interiors has done a fantastic job with this home's design.
LAKEFRONT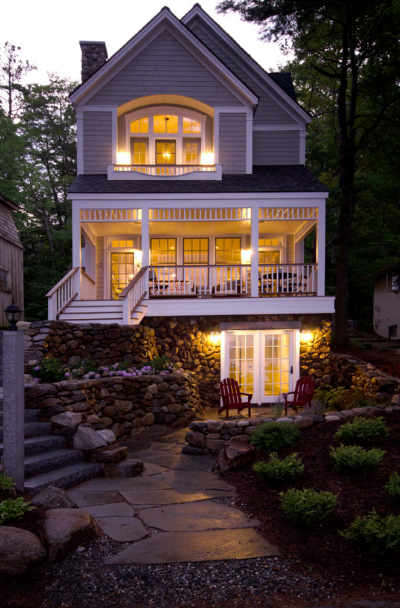 Taking a dip in the nearby lake will help you picture yourself living in this place. Beautiful stonework decorates this relaxing retreat on the shore of a lake. This lakeside home is a sight to see when the sun goes down. The home design by Bonin Architects & Associates is fantastic.
PAVEMENT
Do you wish your home had a more sophisticated and up-to-date appearance? Richness and hospitality practically ooze from this one. In San Francisco, we find this breathtaking Victorian house with a white exterior. David Eichler Photography successfully documented a beautiful residence design.
CUSTOM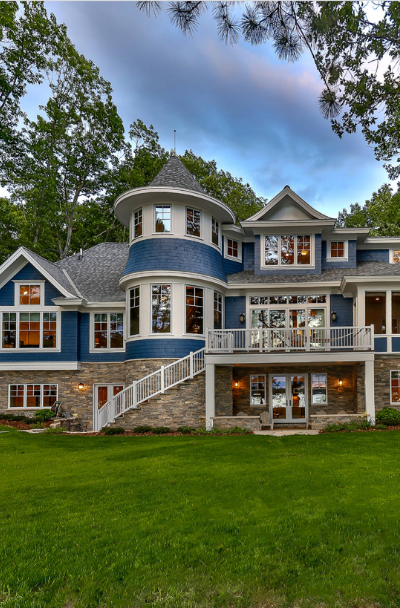 Like a mansion, or maybe even an apartment building, this one! This unique home plan makes the most of the available space. Superb blue Victorian mansion guaranteed to leave you speechless. This Widing Custom Homes house design is a work of art.
TIMELESS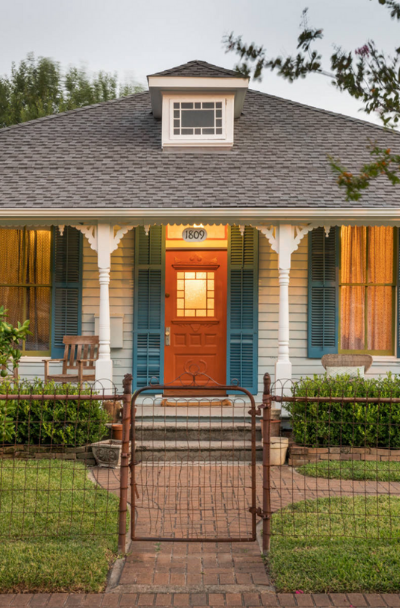 There's no need that your home must mirror the latest in high-end design trends. This is an excellent home for anyone looking to settle down in a place where they can make many happy memories. This sweet, simple house by Janusz Design will bring back fond childhood memories.
What Is A Victorian-Style House?
When thinking of a Victorian-style house, two different designs may come to your mind. One may visualize a dollhouse-like home, while another may imagine a haunted house. Both are true. That is because a Victorian house does not fall under a specific style but rather refers to the era when it became popular, and that era was from 1837 to 1901, when Great Britain was under the rule of Queen Victoria, hence the name. Though the term "Victorian" may evoke different images for different people, a common thing with Victorian houses is verticality. That is, Victorian homes are usually two or three-story high.
Victorian Homes have a lot of subcategories, but in the United States, two of the most popular styles are Italianate and Queen Anne styles. Italiante style is so named because they follow the design of villas during the Italian Renaissance, those whose roofs are low and whose eaves are wide. They are usually just two-story high. Queen Anne Victorian homes, one the other hand, have gabled roofs, rounded towers, tall windows, and exuberant ornamentation. They usually have three stories.
Gothic Victorian house and Victorian farmhouse are also subcategories of this style. Gothic Victorian house is what people often described as creepy and haunted-looking, especially if it is an old Victorian house. However, its design is actually inspired by European churches in the medieval period. Victorian farm house, meanwhile, is a style where a Victorian home is toned down by the simple elements of a farmhouse. Victorian elements are present but with fewer details. Spindles on porches, for example, are not as intricate.
If the next home you are looking for is a Gothic Victorian house, Italiante, Queen Anne, or any of the subcategories of Victorian houses, here are other things you need to know about it.
RIVERFRONT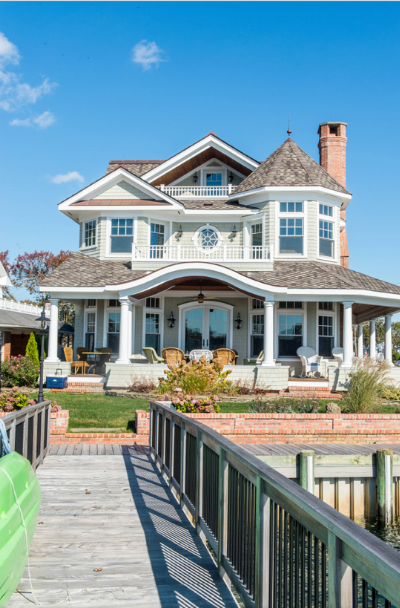 Have you ever wished for a large home that exudes an air of pleasant renewal and welcome? You may use the bridge as a landmark when strolling over the water—inspiring green wood gable roof renovation in New York. CMM Custom Homes is responsible for the design of this riverside residence.
SHINGLES
You want a design that is natural and energizing, right? Everyone will love how this home incorporates the outdoors so well! Cedar shingle roofs and natural stone walls make for a very lovely home. Wow, Gelotte Hommas Drivdahl Architecture nailed it with this one.
NEWHALL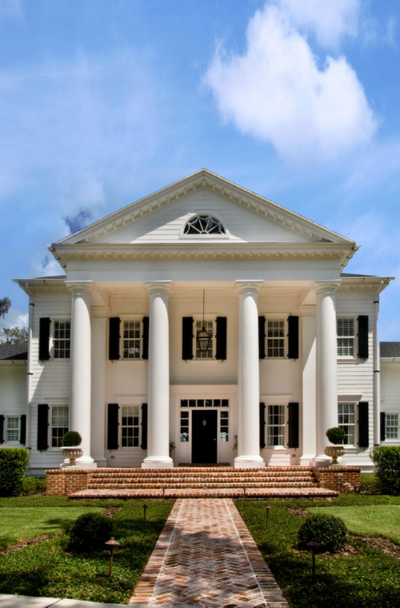 Do you wish you were in a more stately home? A government official may live in this one! The white exterior and four massive columns are traditional design elements for a home. Geoffrey Mouen Architect, LLC has created a home that will make you feel popular.
CHARMER
This one has a unique fusion of hues and fabrics. The siding is Sherwin-Williams' Khaki Shade, while the trim is Sherwin-Williams' Summer White. New Old, LLC has done it again with this beautiful, lavish house plan.
Victorian House Exterior
You may quickly identify whether a house is Victorian or not, as certain elements are almost always present in these types of homes.
Unusual paint combinations are typical for a Victorian house. It is typically painted in at least three colors, some reminiscent of cotton candies, while others are more subdued.
Another noticeable element is the elaborate woodwork, which comes in different shapes, sizes, and orientations, giving the facade one-of-a-kind patterns.
Wraparound porches are also common. It is probably not a Victorian house without porches, which serve as extended living spaces. What makes these porches different from the porches of other homes are their intricate columns and railings.
Another distinct Victorian house exterior element is the windows. The windows in the first story are often different from those in the second story in terms of shapes and size. You may see a mix of bay windows, eyebrow windows, arch windows, and traditional windows. They may have decorative panels and made of leaded glass or stained glass.
Asymmetry is also an element of Victorian house exterior. Turrets and towers, which are used bedrooms, parlors, or studies, extend up to multiple floors, giving the house an asymmetrical look from outside.
Victorian houses have other features that make them distinct. The porch railings, spindles, columns, gingerbread trims, wall surfaces, and Mansard roofs are characterized by intricacy. Though they look like they were hand-carved because of the superb detailing, they are, surprisingly, mass-produced, which is typical for home styles in the Victorian era.
TRADITIONAL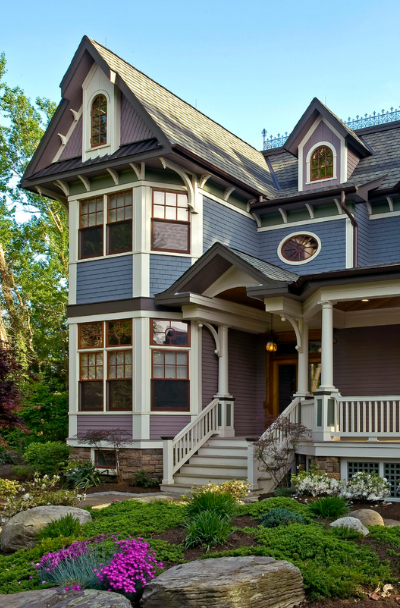 This home's aesthetic is very classic and lovely. The use of standard design components and a color palette is quite attractive. This New York Victorian features a beautiful design and color scheme. This is a classic layout by Degnan Design Build + Degnan Design Group's standards.
CARRIAGE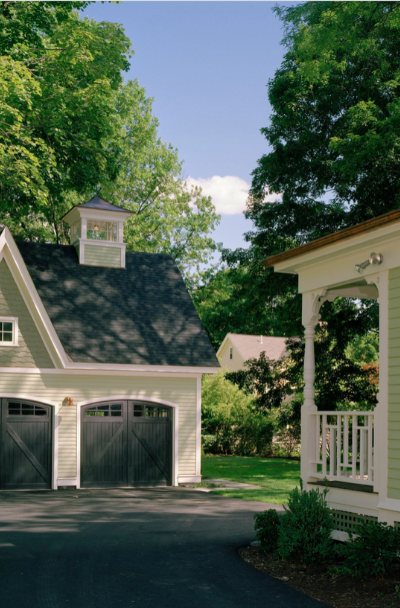 Wow, that's a well-designed carriage house. This new take on residential architecture is sure to please. This carriage home is very eco-friendly because of its cupola roof. This home, created by Jacob Lilley Architects, is stunning.
MID COUNTRY
Have you ever wished that your house might seem like something from an old Hollywood film? Mornings are the best since everything is so fresh and new looking. This home's brick exterior, natural stone fireplace, and asphalt shingle roof are all traditional touches. JBMP Architecture and Interior Design did an amazing job on this luxurious home.
COLONIAL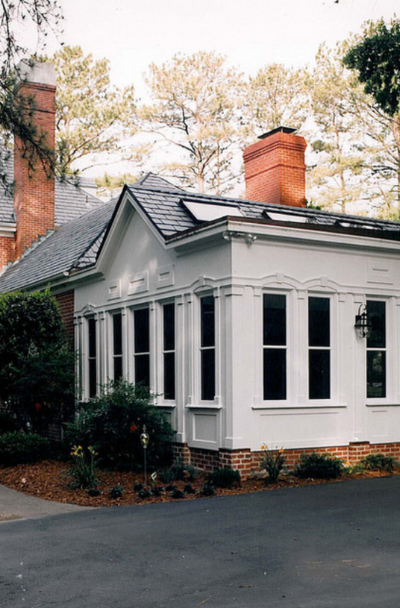 Much thought went into making this home's layout easy to follow. You won't believe the 1930 construction date for this mansion that combines elements of the Georgian and Victorian styles—what a fantastic replica of a colonial home by JRML Associates, Inc.
RIDGE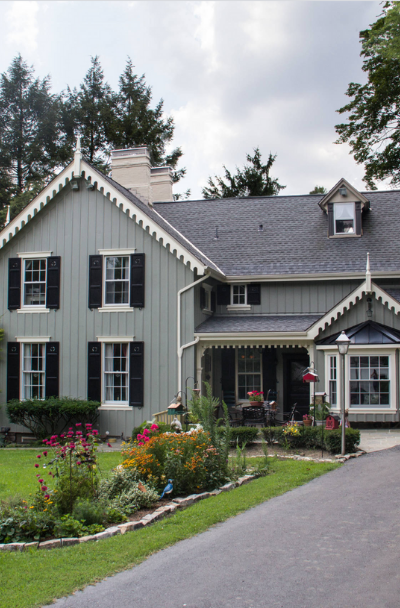 This home's decor has gray tones and floral accents and is lovely and spare. The greenish undertones of the gray paint make it an excellent choice for use in outdoor settings. While the home's classic architecture remains unchanged, the modern addition of plants and flowers modernizes the overall aesthetic. The Healey Company outdid themselves with this one.
PAINTED LADY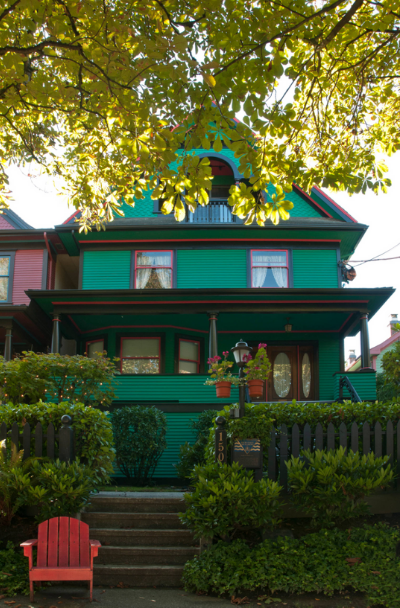 Looking for a classic, reasonably priced house plan? This house is especially pretty with its green trim and red doors and windows. This painted home design makes everything look lovely and natural—an excellent and uncomplicated home design by Warline Painting Ltd.
Modern Victorian House
A modern Victorian house may sound ironic, as Victorian is often associated with being classic. However, an old Victorian house can actually be given an updated look without looking like a mishmash, as long as done carefully. There are two types of modern Victorian homes – one is a Victorian home with a modern interior, and the other is a modern home with a Victorian interior.
If you have a Victorian house that you want to modernize, one way to do it is by giving a calm interior with lights since Traditional Victorian homes are dark and a bit gloomy. White and neural lights are recommended. Another way to add natural light is by placing mirrors strategically. Though a Victorian home usually has large windows for light to enter, the light usually does not reach back bedrooms and hallways. Mirrors can help reflect light in these rooms.
Space is always good, but if you have an old Victorian house, it may have very high ceilings and big rooms that are hard to fill. Give them a modern look with large furniture or other items, which you can even set away from walls if the rooms are particularly spacious. An example of this is placing roll-top baths a few meters away from the wall if your bathroom has more than enough space.
Playing with furniture can also give an Old Victorian house a modern feel. For example, an antique wooden table can be paired with steel or acrylic chairs. You can also reupholster the chair cushions of a Victorian dining room set to have modern graphic prints.
A Modern Home With A Victorian Feel
If you decide to go with a modern house but still want to have that Victorian ambiance, you can have it through paintwork, furniture, and other decors and ornaments.
Green, navy, and plum are shades you need to have in your interiors if you want it to have a Victorian feel since Victorian houses are usually dark. You may have these colors on feature walls or even whole rooms. You may also use them as accent colors if you don't want your home to be too dark.
For furniture and accessories, go with carved wooden pieces – chairs lamps, mirror frames, and lamps, for example. Also go with lace, fringes, pleats, and tufts. Like for shower drapes, use one made of heavy, high fabric with fringes. For curtains, go with lace. Marble statues and antique porcelain collection can also add a Victorian feel to your modern home.
For flooring, tiles are more common than wood in a Victorian house, particularly in the hallways, kitchen, and bathroom. Go with bold patterns or geometric designs for a contemporary yet still Victorian look.
If your home has high ceilings as traditional Victorian homes do, then statement lighting is a must. They can be multi-light features or single pendants, depending on your liking. You can be as bold as you want. High ceilings also mean high walls, which you can have as the main feature of your home with decorative finishes.
Finally Going Victorian
Once you have decided that a Victorian house is right for you, you may encounter some limitations. Space is one, especially if cost is a factor. However, you do not have to be limited by space and cost when thinking of Victorian houses. Though often known for being big and grand, there is such a thing as a Victorian tiny home. One small Victorian house in Maine, for example, has no more than 430 square feet space, but it is complete with gables, turrets, and scalloped siding that make it sight to behold. The gorgeous Victorian tiny house, sitting on a meadow with orchards and wildflowers, was being sold for only $125,000.
How you would like your Victorian house to look like will depend on your style. Whether you go with a classic style or modern style, small Victorian home, or huge Victorian home, do not let go of certain features that will still make you home Victorian.
Victorian homes come in different designs, which may make it challenging to find the best one for you. Regardless of your choice, you are surely a winner because a Victorian home's character makes living in it a dream.
This is an image roundup post, curated to showcase and promote other reputable contracting companies' and their amazing work.  To have any of the images removed, please reach out to us and we would be happy to do so.
Other Great Articles to Read: