A mudroom acts as a transition between the outdoors and the indoors, mainly functioning as a hold for things that would clutter up the house. These include footwear, wet clothes and sports gear. Mudrooms have been around for several decades now but have become increasingly popular as American homes have become bigger. So much so that they have transitioned from their initial entryway design into dedicated storage rooms.
In this blog round up, we present a collection of mudroom images to help you get started on your own mudroom ideas. We also provide a brief guide to help you decide on the location and design of your mudroom. But first, why do you even need a mudroom?
CUBBIE CUTE
A mudroom is a lovely place for youngsters to store their bags and shoes. Everyone will concur that this mudroom is vibrant, fun, inventive, and engaging. Excellent work, Bluestem Remodeling.
OUT OF THE BLUE
This cheerful blue color on the cupboards is perfect for an uplifting mood. This bright and sunny mudroom design gives the impression that it was taken straight from an aquatic setting. Wow, Colordrunk Designs nailed it with this one.
PURPLE PROSE
I adore the color of the walls in this mudroom concept! Seeking a mudroom design for your home that is both stylish and straightforward? It's incredibly big and cheerful in this purple laundry room from Precision Cabinets!
SMART STORAGE
Everyone will agree that this mudroom design is excellent, with plenty of storage and a place to store things. That mudroom design by Sebring Design Build is superior. No excuses — everything should be in its place!
STORAGE GALORE
The Custom Home Finish design for this mudroom is pristine, with everything white and bright. Although this isn't a mudroom per se, the concept is easily transferable to any room in the house.
CRISP & CLEAN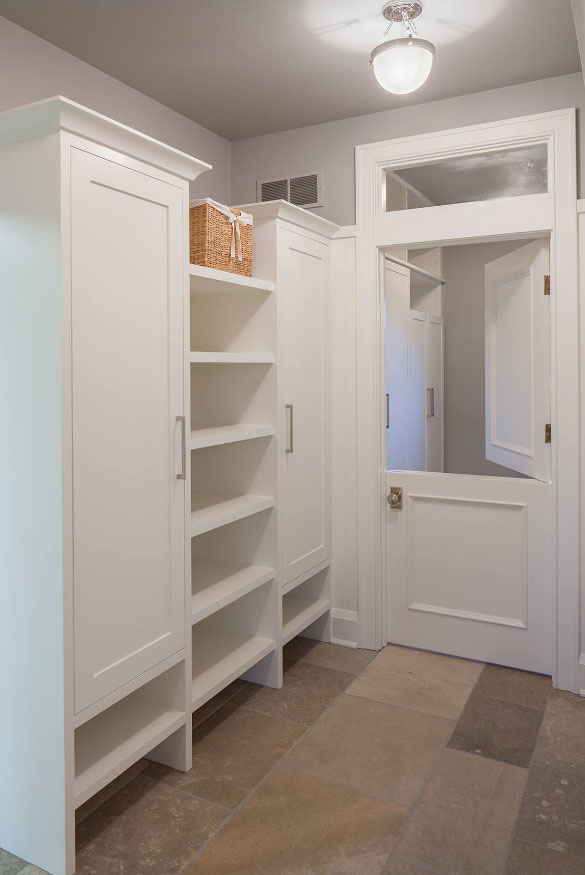 In this excellent mudroom design by Scott Christopher Homes, everything seems functional despite the small area—a perfect, spotless space. The floor and the door are beautiful. Also, the air is fresh and pure.
SOFT & SERENE
This mudroom design makes the mint green storage and cabinets look soft and clean. Everything is efficient and convenient in this design by Colordrunk Designs. What a gorgeous pale color on these laundry room cabinets.
Benefits of a Mudroom
While modern mudrooms boast of great aesthetics, their purpose is still very much functional. If you are considering whether investing in a mudroom is worth it, consider its many benefits.
Provides extra storage space. "Storage, storage, storage" is the mantra for a neat and sane home. You can never have too much of it. A mudroom expands your current storage area, providing extra space to keep your things. Not only is it an extra storage space, it is a convenient one too. Instead of opening closets and shelves inside the house to place things in, you simply hang them on low hooks or place them on an open shelf even before you enter the house. This is especially handy when you have kids who might be too lazy to go open a closet and hang a coat.
Better organization and neatness. Without all that stuff coming into the main living area, your home looks neater and more organized. You no longer have to go on a breathless rush to collect things lying around when a guest suddenly shows up. With the improved organization, it becomes easier to find things quickly without wasting time checking under the couches and behind furniture.
Less maintenance. It can be tiring to have to clean the house every time people and pets come in, dragging dirt with them. A mudroom provides a place for people to take off dirty shoes and even pets can get a wash before they come into the house.
ENTRY SAVER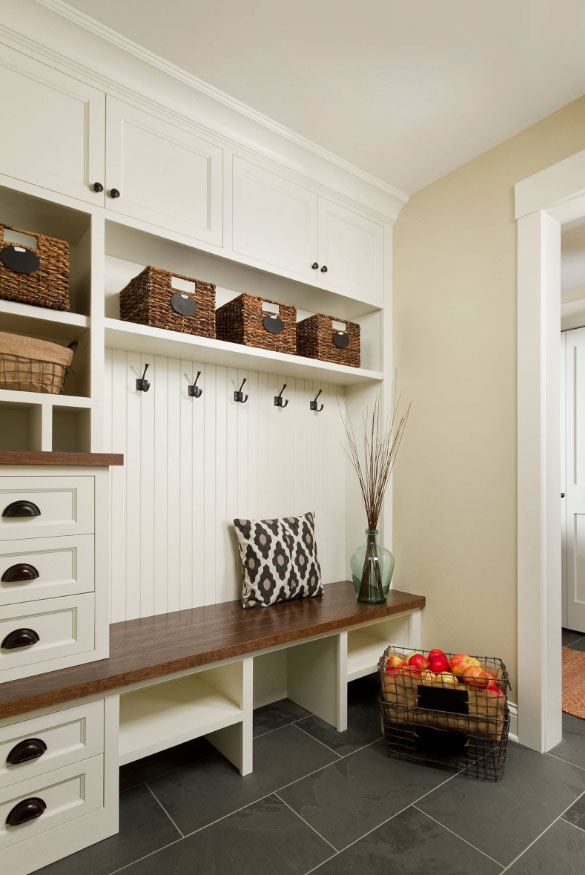 Do you wish your home's mudroom was decorated in shades of brown and white? There's something very ingenious about Fluidesign Studio's mudroom design. It's great to have such a pleasant area inside the door, like the drawers and the big tiles on the floor.
SUNSHINE BRIGHT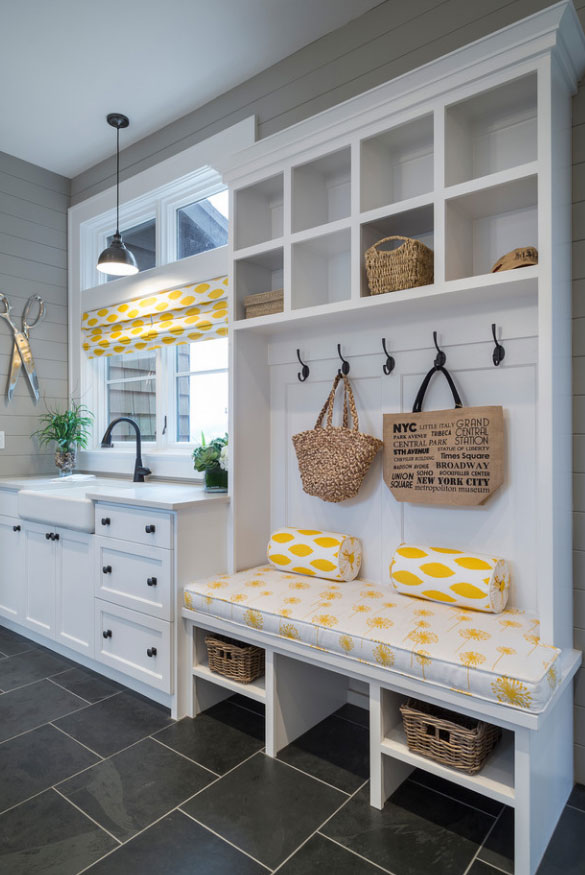 The use of white and yellow in this mudroom decor is crisp and uplifting. Alan Mascord Design Associates Inc. did a beautiful job with this mudroom. The beautiful floor in this mudroom is complemented nicely by the yellow fabric.
WARM & COMFY
Sebring Design Build's mudroom has a cozy and inviting vibe about it. The brown and white color scheme is gorgeous! As many items as you like can be stored in the cabinets. This mudroom radiates warmth, and I adore the baskets.
WHITE & BRIGHT
This mudroom design by Barlow Reid Design features abundant white and natural light throughout the space. This laundry area receives fantastic sunshine—an excellent place for hanging things above the washer and dryer.
Larger homes with bigger families are likely to benefit more from a mudroom. But even smaller homes can take advantage of the organizational and storage benefits that come with this space. In our image round up, we have plenty of small mudroom ideas that can work perfectly for smaller families that may have space limitations or don't need something big.
In addition to mudroom ideas for small spaces, we have suggestions for storage, organization and decor.
BOTH WORLDS
This mudroom design is perfect for homes with limited space and apartments. You have a laundry room and a mudroom, giving you the best of all worlds. Beautiful floor. What a functional mudroom layout by MainStreet Design Build.
DESIGNATED SPACES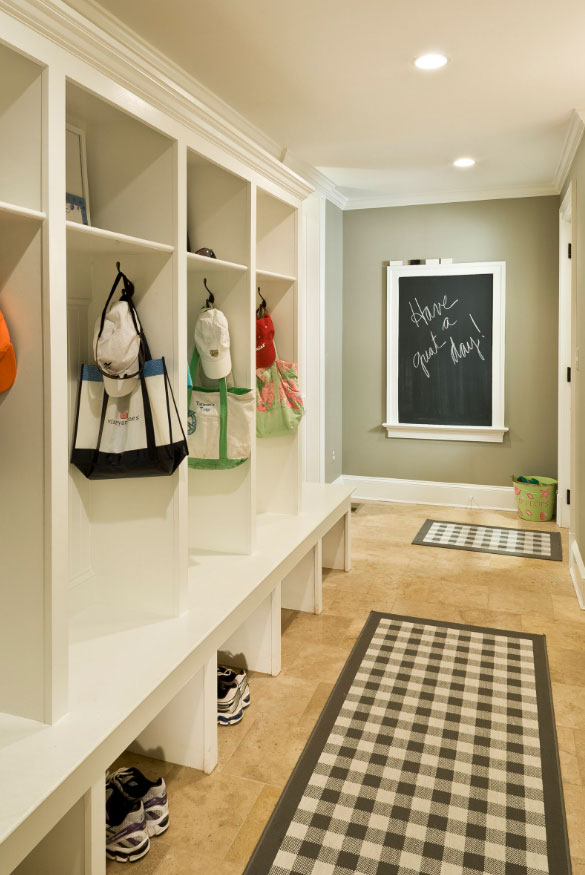 Want your family's mudroom to be designed in an ordered way? You may use a lot of the space and storage in this one for your family. Excellent work, Finecraft Contractors, Inc. Just lovely, clearly delineated areas for the family.
Ideal Location for a Mudroom
You have seen the benefits of a mudroom and have decided that you would like one. You even have a few design ideas after looking through the pictures. But there is still a lot left to decide. One of the most important decisions you need to make is regarding location.
When they were introduced, mudrooms were designed as second entryways to a home. You have the main double-door entry with beautiful art on the walls, high ceilings and a sweeping staircase ahead of you. Then on the side or back of the house, a second fairly wide entryway serves as the mudroom. Today, mudrooms still act as secondary entryways but they are often entire rooms rather than a hallway.
As with traditional mudrooms, a place away from the main entrance is best. It can be on the side of the house or at the back. When it comes to the actual location, you have several options:
The kitchen. If you have a big kitchen, you can easily convert part of it into a mudroom. The kitchen is a convenient location since it already has a secondary entryway into the house. Use the area immediately after the entry door. Find a way to partition it from the rest of the kitchen to avoid a cluttered look. If you are building a new home, you can include a more permanent mudroom that adjoins the kitchen.
The garage. As with the kitchen, the garage also has a secondary entryway into the house, making it a convenient location for a mudroom. Choose the area just before the connecting entry door into the house. One advantage with a garage is that you don't have to partition the mudroom. Just have enough mudroom cabinets and shelves to ensure organization.
An unused utility or storage room. If the room has an outside entrance and a door connecting it to the house, it can also be converted into a mudroom.
The ideal location for a mudroom is one that works best for you. Look at the options above and compare them to the situation in your home. Is the garage big enough? Can you use the kitchen? Is an addition the best option?
CONTEMPORARY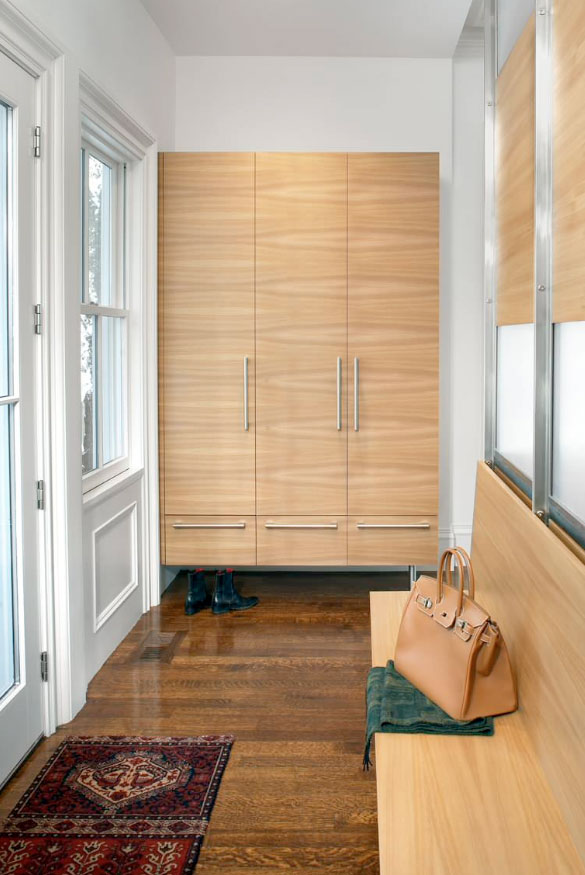 Do you want a functional mudroom design for your modern house? This one has the perfect balance of sleekness and brightness. The mudroom design by LDa Architecture & Interiors is amazing. Very vibrant, light, and stylish!
BLACKBOARD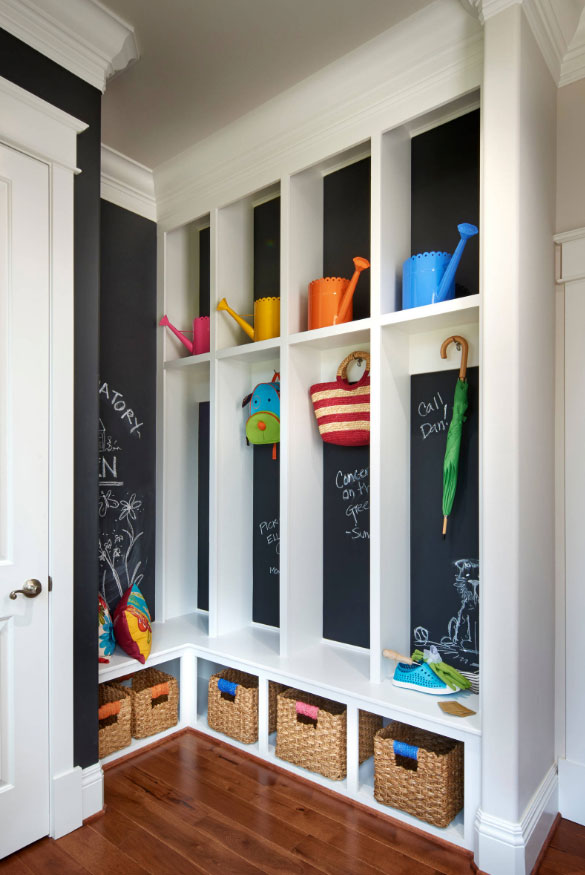 Do you want a lovely mudroom design with many accessories and bright furnishings for your home? Parkwood Homes did such a great job with this mudroom design. This a wonderful concept – you may post amusing messages here!
Storage Options
A mudroom is essentially one big storage area. But for it to work as intended, it needs its own mini-storages inside. When it comes to mudroom storage, the options are many and varied from simple boxes to hooks and many more.
It is a good idea to have a mixture of storage so as to accommodate different items from heavy coats to sports gear. Here are a few mudroom organization ideas to consider.
Cabinets – cabinets come in handy for things like sports equipment, books and other items that cannot be hanged. If you have enough space, you can assign each person in the family their own cabinet. This improves organization and ensures everyone is responsible for the neatness of their own space. One option is to install wall cabinets, making sure they are low enough for accessibility. Alternatively, get floor cabinets so that you can use the top surface as extra storage. Or you can have a combination of wall and floor cabinets.
Lockers – mudroom lockers can be used to store items like balls and bags as well as hang coats and hats. Assigned lockers are a good idea for large families.
Bench – this is something many homeowners overlook but can have a lot of benefits. A built in mudroom bench provides a place for people to sit down as they take of their shoes. You can also place your handbag or backpack on it as you enter the house.
Shelving – open shelves provide multi-functional storage for items like shoes, smartphones, keys and hats.
Hooks and pegs – here you can place things like key chains, dog leashes, coats, hats, scarves and anything else that can be hanged. If you have kids, place some hooks low enough for them to easily hang something and take it down on their own.
These ideas are in no way exhaustive. You can have cubbies for mudroom storage, baskets and bins for laundry and even a large table to place things on. The most important thing is to choose storage that works for your needs and your budget.
Additional Tips
Here are a few more things to keep in mind as you plan your mudroom.
Make it multi-functional. It does not have to be for storage only. For instance, there are plenty of laundry mudroom ideas you can integrate into your mudroom space. If it is off the kitchen, it can also function as a pantry room. If you have a dog that loves the outdoors, set up a washing area where you can clean him up before he goes inside the house. As long as space allows it, think of the different ways you can make use of the mudroom.
Have the right flooring. Select a floor that is easy to clean and maintain. Stone, tile, vinyl and concrete are some of the best flooring materials for a mudroom. Consider adding a rug or mat at the entry door for people to scrap dirt off their feet.
Add a mirror. You will appreciate being able to get a last look at yourself before getting out of the door.
Add a message board where you can write down tasks, important phone numbers and other important messages for the family.
Protect the walls. For exposed walls, consider adding beadboard wainscoting to protect the walls from scrapes and dirt.
Ventilation is important to keep the room cool and comfortable. It also prevents mildew from forming due to too much humidity. Consider adding a fan.
Don't forget the aesthetics. Make sure the color of the walls, floor and cabinets coordinate properly. Add a rustic white mudroom bench, some art on the walls and a potted plant or two.
Each home will have its own unique storage and organization needs. Hopefully, this guide will help you design a mudroom that works perfectly for your family's needs.
This is an image roundup post, curated to showcase and promote other reputable contracting companies' and their amazing work. To have any of the images removed, please reach out to us and we would be happy to do so.
Other Great Articles to Read: