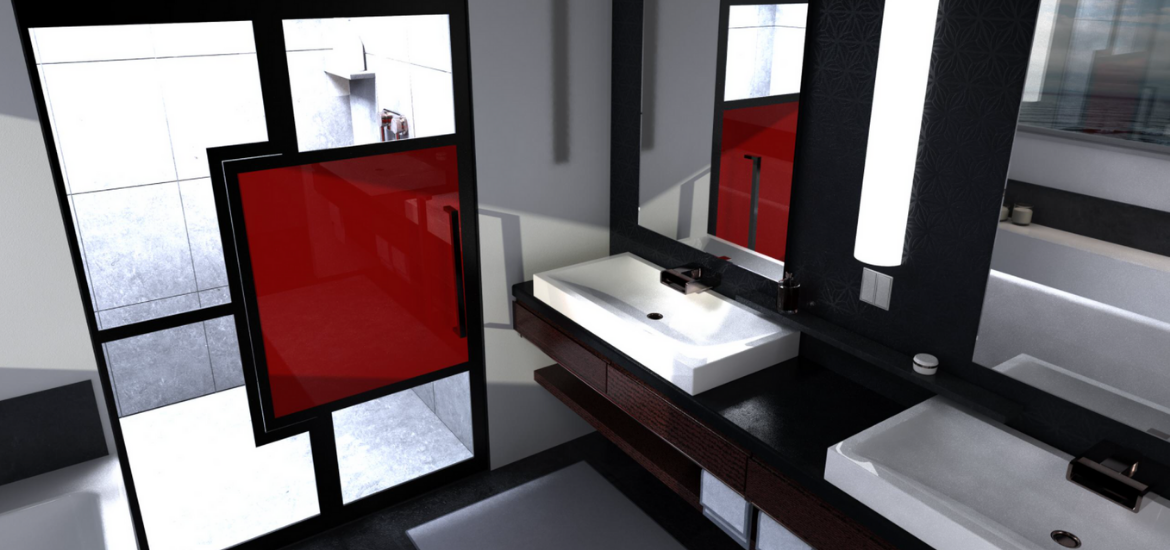 Regardless if you are adding a brand new bathroom or updating a current one, you will be making all kinds of important decisions. One of which is your shower door. Some people focus too much on the tiles but neglect their shower doors. But shower doors are equally important! If you like to update your bathroom's look, check out these black framed coastal shower door ideas and images.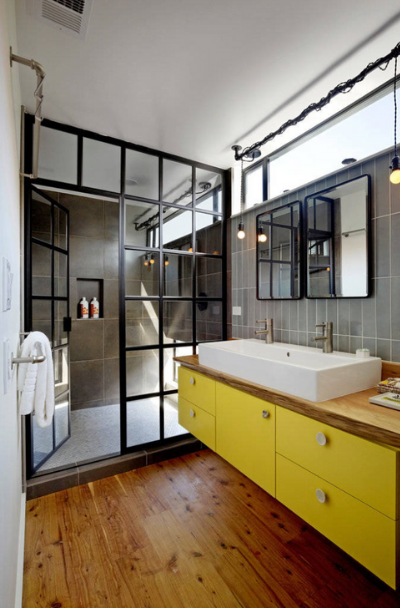 This bathroom will make your home seem ultra-contemporary and spacious. This shower enclosure is one-of-a-kind, and the basic pendant lighting adds a touch of nostalgia to the room's otherwise industrial aesthetic—what a stunning industrial bathroom design by Robert Nebolon Architects.
HINGED
So, you want a bathroom that looks and feels just like yours at home, right? The white walls and traditional hinged shower doors keep everything light and elegant. Due to the minimalism and purity of the space, you will experience a sense of peace. Marianne Simon Design sure knows how to make a nice bathroom.
WEST COAST
If you were to invite someone inside this room, they might mistake it for your living room rather than a bathroom. The bathroom design is simple and roomy, with a clean and fresh aspect typical of farmhouses. Norman Design Group, Inc. outdid itself with this surprisingly roomy and uncluttered bathroom.
GRID
Find yourself craving more black-and-white imagery. This contemporary farmhouse has a bathroom with a unique and eye-catching design thanks to the usage of black and white. This Coastal Shower Doors-designed bathroom is a model of modern elegance and attention to detail.
COSMOPOLITAN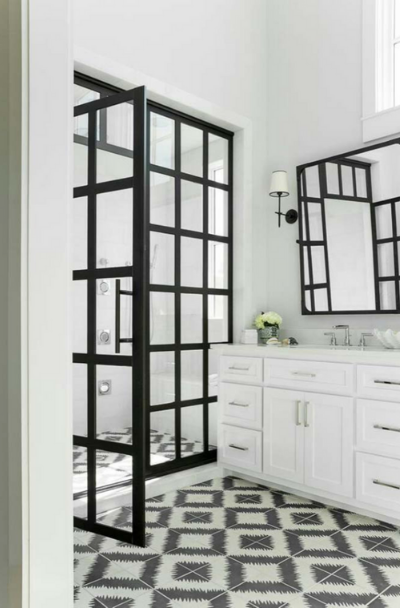 Do you want a simple and contemporary bathroom? This shower enclosure's striking black frame and simple design provide a sleek, modern aesthetic. The bathroom renovation by Coastal Shower Doors is quite prim and nice looking.
RETREAT
This bathroom is stunning; it combines modern style with luxury and cleanliness. Seattle's modern bathroom features gray cabinetry and some flora for a touch of elegance. Board & Vellum nailed it with this one.
CLASSIC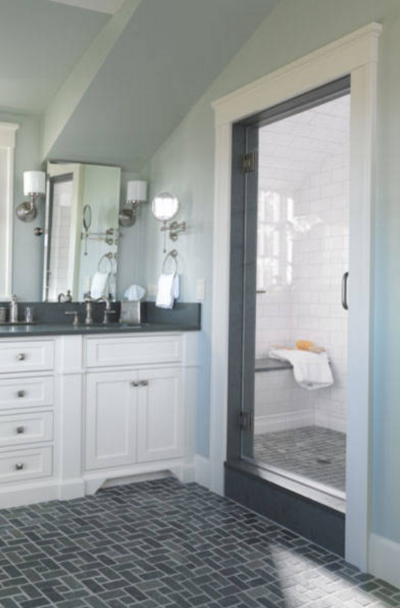 This bathroom, designed by Woodmeister Master Builders, features a color scheme of light blue, white, and gray, universally agreed upon as evoking a soothing and classic atmosphere. The tranquil atmosphere of this classic traditional bathroom was achieved by combining several new color schemes.
ILLUSION
There's no denying that this bathroom appears both cozy and high-end. Coastal Shower Doors spares its bathroom designs of any extraneous elements. This elegant classic bathroom is brightened up with a pink paint job.
RUSTIC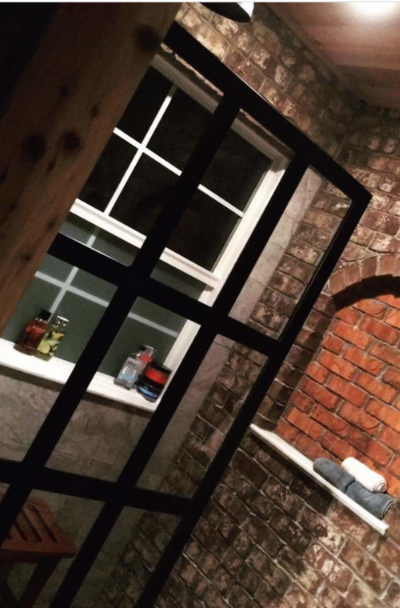 This cabin-style washroom is stunning in its authenticity. This modern take on a farmhouse bathroom features a stone pattern that works well with the overall aesthetic. In this bathroom, Coastal Shower Doors created a look that is both timeless and earthy.
BLACK & WHITE
Wow, the shower door is very clean and simple. White walls and black metal door frames are a classic and modern combination. It's a perfect match for contemporary bathrooms and even more so for more industrial settings—what a fantastic job done by Coastal Shower Doors.
Types Of Coastal Shower Doors
How your coastal shower doors open depends on your bathroom layout and style preferences. Pivoting coastal shower doors, also known as hinge or swinging doors, open like a standard door. They can produce a sophisticated statement in a cottage-style or traditional bathroom. Also often known as bypass doors, sliding is a useful option for narrow bathrooms and tub enclosures with closely spaced fixtures. If you plan to purchase a swing-out door, it is a good idea to get a professional that will help you measure your room. You want to ensure enough space between the fully-opened door and surrounding bathroom fixtures before the installation.
Did you know that your bathroom is similar to your private oasis? Your shower is a refreshing cold escape after a long, intense workout, and it is a relaxing wake-up call to start the day. And we all know that showers have the best acoustics for belting out the tunes. But there is just something about maneuvering around a thin, flimsy shower curtain that can destroy the whole oasis vibe. Shower curtains are floppy, clumsy, and are difficult to keep clean. And they are only your average, run-of-the-mill pain in the neck. But no worries because there is an excellent alternative for those stressful curtains, shower glass panel enclosures. Say goodbye to the worn-out and dingy shower curtain. And say hello to a brand new show glass panel enclosure.
The following are some reasons why many people recommend a shower glass panel enclosure. Glass coastal shower doors eliminate chilly, breezy drafts typical in shower curtains. They allow for more light in the shower; thus, it gives the illusion of a larger bathroom space. It also helps you show off your beautiful shower tiles. Glass coastal shower doors also increase your home's value.
CRISP & CLEAN
Do you covet a farmhouse bathroom's clean, attractive aesthetic but can't afford to hire a professional designer? The walls of this farmhouse bathroom are tiled with bright white subway tile in a vertical offset design. Angie Schwab Interiors LLC did a wonderful job modernizing this bathroom.
COASTAL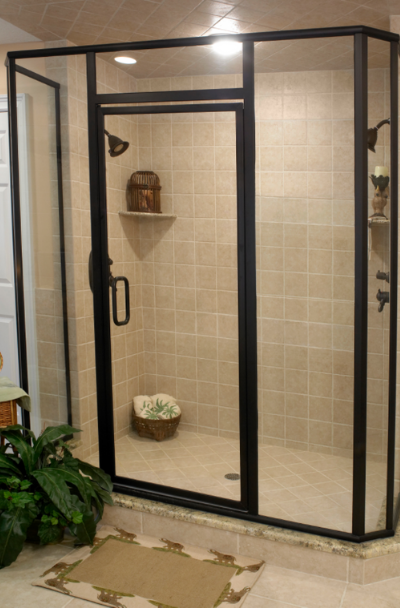 This bathroom layout is universally admired for its inviting atmosphere. It's hard to beat the classic beauty of a white-walled bathroom with black-framed shower doors. Even your plant may find a home there! This bathroom remodel by Coastal Shower Doors is so inviting and calming.
TRADITIONAL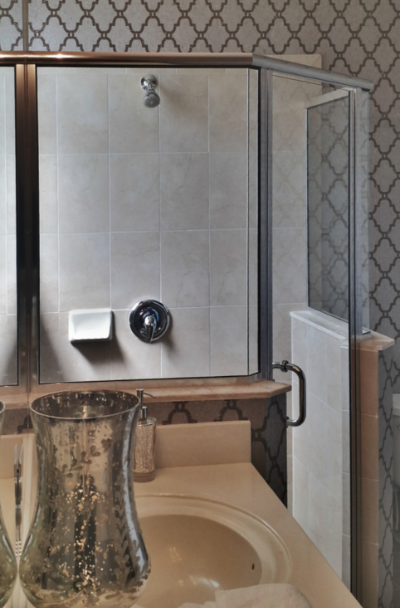 Although this bathroom does not have much room, the design is beautiful. Having a framed shower enclosure is a lifesaver when you're short on square footage. The whole Coastal Shower Doors bathroom design has a classic, elegant feel.
UK INDUSTRIAL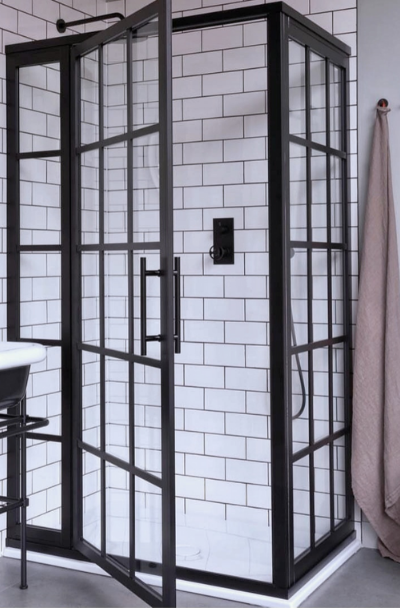 The shower area of this bathroom is so futuristic you'll feel like you've stepped into another universe. This chic and functional bathroom space features a compact black framed shower cubicle and a white vintage-style basin. The Shower Lab has created a very attractive industrial bathroom design.
Shopping For The Best Coastal Shower Doors
For years, French doors have been very popular with designers and homeowners alike. They are functional, elegant looking, and provide lots of natural light. Therefore, it is not surprising that they have become a country home staple. But now, French doors are making their way to the bathroom. French-door-inspired shower enclosures are available in various sizes and styles; they bring a timeless look to your home's smallest room. French shower doors look beautiful alongside all farmhouse decor staples, such as reclaimed wood, shiplap, and white subway tile. They can be styled to look rustic, more contemporary, and industrial, depending on the other materials and finishes in your bathroom. Unlike different kinds of shower enclosures, French shower doors have a sleek look that can make any bathroom feel more spacious, and because of their simple, clean style, you will not need to be worried about the look feeling dated in ten years.
Glass half wall can make a small room larger by improving lines of sight and letting more light into the room. Glass half walls can be employed in an assortment of ways, from room dividers to a shower glass panel half wall. Bathrooms are ideal places for half walls of every style. What is a glass wall? The most common glass half wall is one built of standard construction materials, such as wood framing and drywall. The traditional portion of the wall is generally 3-4 feet tall. From the 3-4 foot mark, the division continues with a shower glass panel that may extend to any height up to the ceiling. These glass half walls are usually utilized to create shower enclosures.
Glass half walls might also be built as a literal half wall structure made from a pane of glass. These kinds of glass half walls are more widely used as room dividers or, in some instances, bathtub enclosures. Why should you choose a shower glass panel half wall enclosure? One way to produce a spa appeal in your bathroom is by giving the bathroom a brighter and lighter look. Shower glass panel half wall is a favorite option for steam showers. A shower glass panel half wall gets rid of the hassle of maintaining the shower curtains, which frequently collect mold and moisture. Additionally, a brand new shower glass panel half wall enclosure is more affordable than adding a full glass shower enclosure or renovating an entire bathroom.
ELEGANT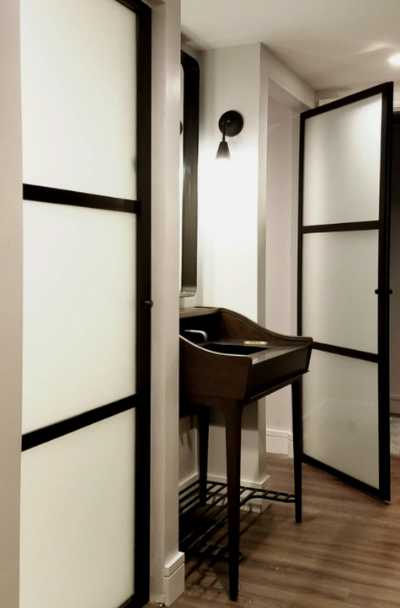 Coastal Shower Doors created a bathroom so luxurious it would be easy to forget you were even in one. The white walls and the black shower door frame create a sophisticated atmosphere in any lighting. You may even feel like you're in an old-fashioned music room.
ECO-FRIENDLY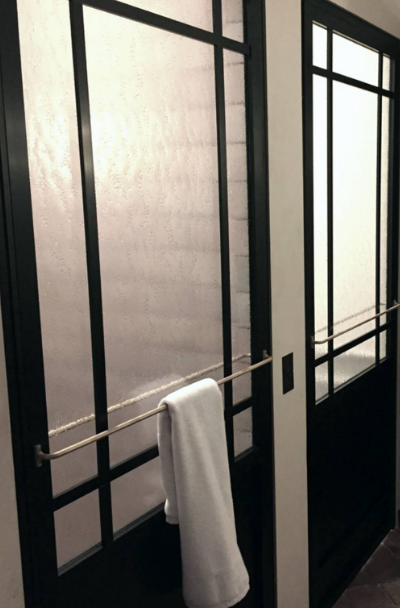 Do you want a bathroom layout that can help you save plenty of area and money? This traditional black framed quadrant enclosure might be just what you're looking for if you're short on room. Coastal Shower Doors went green with this one.
SOPHISTICATED
Elegant and refined, the bedroom's shower enclosure is framed in black and fitted with brass fittings. The royal blue shower curtain enhances the luxurious atmosphere. Coastal Shower Doors outdid themselves with this ultra-luxurious bathroom remodel.
MODERN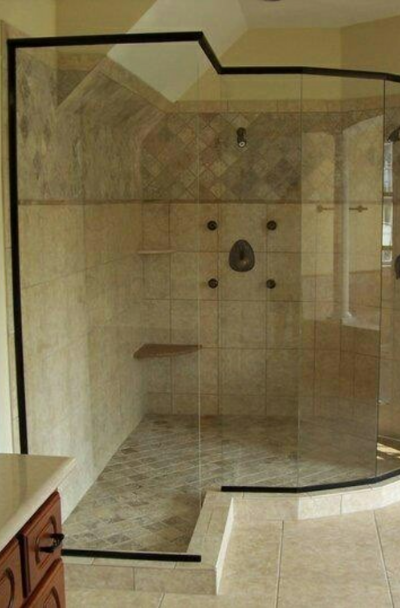 Again by Coastal Shower Doors, this bathroom design will make you feel like you are in a royal palace. Thanks to the modern glass door and sunny mosaic tiles, this shower feels like a relaxing retreat. The storage cabinet beside the shower area exudes a contemporary yet welcoming style.
COTTAGE CHIC
Coastal Shower Doors created an ultra-contemporary and luxurious effect for this bathroom. Black and gold predominate, lending an air of luxury to the otherwise utilitarian space. New York's Shabby-chic bathroom, complete with a one-of-a-kind black-framed shower door.
MINIMALIST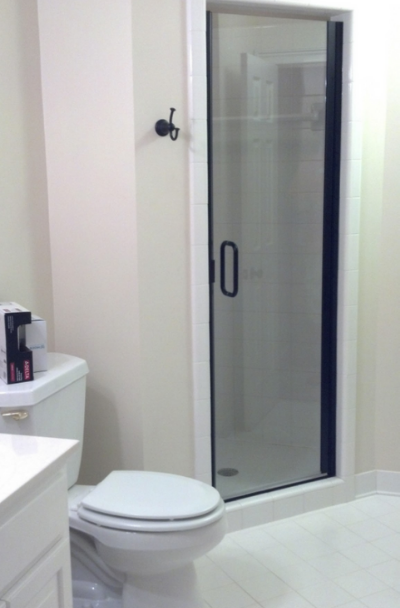 You can create a stunning, cutting-edge bathroom on a shoestring budget. This shower's sleek black frame screams "contemporary." The overall feeling of the bathroom is cool due to its simplicity and commonplace appearance. Coastal Shower Doors has done it again with another excellent bathroom remodel.
Advantages And Disadvantages Of Framed Shower Door
A framed shower door has a heavy-duty aluminum frame around its interior edges. If you are upgrading from a shower curtain to a glass shower door, a framed shower door is an excellent option. Framed glass doors are nicer and cleaner looking than shower curtains. They are a perfect update on your bathroom design because they provide much more stability. Shower glass panel doors are made from tempered glass, which breaks off into small circles instead of shards for less injury risk. The aluminum frame around a shower glass panel door steadies the door and, further decreasing the risk of shattering. It is easy to install. To install a framed shower door, all you need to do is to hang up the frame.
Meanwhile, frameless shower doors need proper placement of hardware and hinges. It keeps in more water, meaning a framed shower door is less likely to leak. The waterproof design of a framed shower door keeps the shower spray inside the shower. Framed shower doors also come in various frame design options. For a contemporary look, you can pick from an assortment of various metal frames. You can choose a sliding glass door rather than a pivot door for much more space. Custom framed shower doors are made in different styles to fit your decor theme. They are cost-effective. You pay ten to fifteen percent less with a framed shower door than a frameless.
Several disadvantages come with a framed shower door that you should look out for. It provides a limited range of motion. They open outward, which could be limiting. If your door can open outward and inward, you have less chance of injury. It is harder to maintain. The metal around a framed shower door can rust over time because of excessive water. Soap scum and liquid droplets might also result in mildew buildup around the shower frame. They can also appear dated when they are installed in bathrooms with more contemporary finishes. While you can choose various designs, homeowners favor the frameless shower door design.
Black Framed Coastal Shower Doors
Remodeling your bathroom is now a lot more interesting, thanks to the black framed shower doors gaining popularity. They are aesthetically pleasing. Black framed shower doors will steal the show in your remodeled bathroom. Have your contractor add an aluminum frame and brass fixtures for an entirely mesmerizing aesthetic. They can be utilized to merge the interior and exterior styles. If you have steel-framed fixtures outside, then a black framed shower door can blend the inside with the outside. They can help you unite the interior styles. Several stylistic choices are available for you when remodeling your bathroom. These include a farmhouse, industrial, and modern style. Selecting one specific style can be challenging, but having a black framed shower door can help with this dilemma. The door can help incorporate the various styles in the bathroom in a seamless blend. You don't need to settle on one specific style.
Black framed shower doors are perfect for an industrial look. If you choose an industrial-chic look in your bathroom, then these doors can help you achieve it. The black metal frames are reminiscent of the industrial era. They are also perfect for more spacious bathrooms. Many retro homeowners like the black framed shower doors since they can help develop a spa-like effect in large bathrooms. Incorporate a couple of teak benches in the shower, and your home spa is complete. They provide the perfect contrast to white; having a lot of white in the bathroom might be somewhat monotonous and dull. Contrast is crucial; it enhances the allure and drama of the room. The black framed shower door can help create some contrast in a bathroom that is mostly white. Yet another excellent idea is incorporating black tile on the shower floor. This helps provide additional contrast in the bathroom.
We do not usually think of black as the best shade for bathrooms since it shrinks an already small space. Black can sometimes feel a bit claustrophobic, but if you are after a timeless, classic look that can make you feel like you're entering a secret cave, black can be the best choice. It is challenging to pull off an all-black bathroom unless it is large or has plenty of natural light. With white and bright colors, black can be used in all sorts of exciting ways to showcase your designing skills. Black will never go out of style, so utilizing it guarantees that your decor does not go stale. With a couple of decor tweaks once in a while, you can refresh a black shower at a low price.
This is an image roundup post, curated to showcase and promote other reputable contracting companies' and their amazing work. To have any of the images removed, please reach out to us and we would be happy to do so.
Other Great Articles to Read: