When you are building a new home or investing in a remodeling project, there are a multitude of factors to consider before getting your hands on any materials. In addition, picking out a door shape, color, and design can be quite a task, especially when you have a certain style in mind. 
But with all of the things that you need to consider for your new residential door, there may be one more thing you may not have thought about yet:
The standard interior door sizes.
It's imperative to know standard interior door sizes in order to pick out a door that works for your home. After you decide what color and shape you want, you need to measure the area where the door will be installed.
Many homeowners have a difficult time measuring a door and its frame when they aren't already aware of standard interior door sizes. Thus, we created this guide to show you some of the standard interior door sizes that you will likely be working with. 
How to Properly Measure Your Interior Door
First, let's take a look at the proper way to measure your common interior door sizes. An interior door is typically in the bedroom or bathroom. In some cases, you can install an interior door between rooms or at the top of a staircase.
There are some universal standards that will always be followed when measuring an interior door:
Standard inside doors must always be at least 80" tall, if not taller.
Standard width can range from 24" to 36" depending on the size of the doorway and the materials you want to use.
If you need to build an accessible doorway, the minimum width should be 36".
The thickness of the door can vary depending on the material you choose to build it with. Most interior doors measure 1 ⅜ inches, but others can be thicker if the height and width of the door are abnormally large.
Additional Considerations Before Starting Your Measurements
If you're planning on replacing a door in an already-existing doorway, you need to take extra precautions to ensure that all parts of the door are being measured.
A good rule of thumb is to start from top to bottom, making sure to measure everything along the way. This includes the height, width, thickness, door jamb width, and the size of the frame you are going to replace.
When purchasing a new door from a vendor or manufacturer, you will likely be asked to provide the measurements ahead of time. You need to be sure that these are the exact measurements, as the newly created door will have to fit in the already existing doorway. You wouldn't want the vendor to send you the wrong size!
Standard Interior Door Sizes
Most interior door sizes can be compared to exterior doors (the front door of your house, for example). That being said, most inside doors adhere to the standard interior door sizes mentioned above.
If your door is over 36" wide and over 90" in height, it is considered larger than the standard. In that case, a thicker door is also recommended - around 1 ¾ inches. In most cases, when you are investing in a remodeling project, you have a bit of freedom when it comes to adding door heights to the rooms in your home.
The sizes are broken down into three categories:
Width measures the horizontal space of your doorway. Most manufacturers make interior doors with a 32" width, but the sizes can vary.
Height is the most serious standard that should be followed. The top-to-bottom length almost always measures 80". This translates to 6 feet and 5 inches, which is why standard interior doors are often called 6/8 doors. 6/6 doors exist as well, for smaller spaces such as closets.
Thickness should especially be taken into account when you are looking to install new hinges and doorknobs. The thinnest door you can find will measure 1 ⅜", as mentioned above - but some doors can be made to be 1 ½", 1 ⅝", or 1 ¾" thick.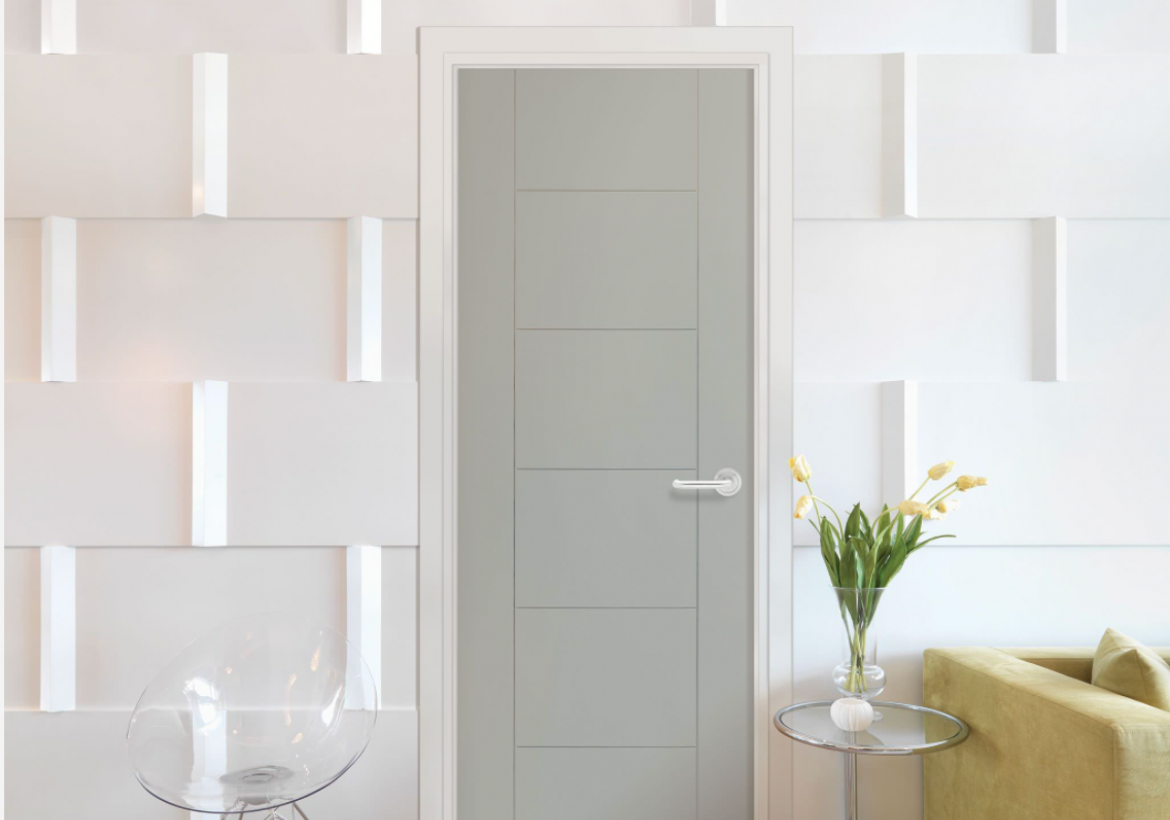 Interior Double Door Sizes
Interior double doors can be an elegant addition to your master bedroom, dining room, or living space. Moreover, double doors are always equal to each other in width, height, thickness, and design. You must be extra careful when measuring a double door, taking into account that everything must be measured twice.
The frame will also measure differently. Frames for double interior doors must have two sides as well as a space in the middle to separate the doors. All of this additional hardware must fit into the doorway in your wall. It's important to realize that your measurements are as accurate as possible so these kinds of doors can be properly installed.
There is no standard width for double doors. However, the most common widths for interior double doors measure at:
This is keeping in line with the standard indoor height at 80".
Interior Bedroom Door Sizes
Bedroom doors are slightly more interesting than other standard interior doors as they really do not have a particularly fixed size. There aren't any strict standards to adhere to when it comes to building a unique bedroom door. Instead of focusing on common measurements, in this case, you should focus on the architectural direction of the house.
But, there are regulated sizes that you can choose from if you decide to find a manufacturer with doors already available. You can find stock items that measure anywhere from 24" to 36". And while 80" is the universal height, you can easily install a bedroom door that measures more or less.
Many homeowners have interior bedroom doors that measure 79", 81", and so on.
Interior French Door Sizes
Classic country-style homes always covet the French doors. These are double doors that mirror each other perfectly, opening in opposite directions of each other and often serving as a partition between rooms or between the kitchen and backyard. Most French doors are designed so that one of the doors has the handle and lock, while the other has moving hardware pieces to control the opening and closing.
Standard French doors measure 80" tall by 36" wide per door, especially for French doors that lead to an exterior area.
Many door manufacturers produce stock doors that measure up to 8' in height and can be anywhere from 24" to 42" wide. The standard thickness measures at 1 ¾ for interior French double doors. If you are buying directly from a retail store, your French doors will likely be 6'8" tall.
Interior Door - Rough Opening Sizes
Before you can start to install your newly-measured, custom-built interior door, you need to make sure you get the size of your rough opening right. This is the part of the door installation process that often frustrates homeowners and DIY enthusiasts. Measuring the rough opening to properly prepare it for the door frame can be tricky if you aren't aware of which measurements you should be looking for.
There's actually a simple formula to remembering how to frame your rough opening. All you need to do is add 2" to the width of the door and 2 ½" to the height. After you've measured the width of the actual door, an additional 2" for width and 2 ½" for height will give you the measurement you need to properly set up your rough opening.
Below is a simple rough opening chart to help you access quick measurements:
| | |
| --- | --- |
| Size of Door | Size of Rough Opening |
| 24" x 80" | 26" x 82 ½" |
| 28" x 80" | 30" x 82 ½" |
| 30" x 80" | 32" x 82 ½" |
| 32" x 80" | 34" x 82 ½" |
| 34" x 80" | 36" x 82 ½" |
| 36" x 80" | 38" x 82 ½" |
You should also think about how to measure smaller or more irregular doorways. For example, doors for closets and utility shelves are often much smaller and thinner than other interior doors. Modern utility doors are about 30" wide, but if you have an interior door older than 30 years, it may be as thin as 18".
The standard height for closet doors is 96".
Things To Consider Before Choosing Your Ideal Interior Door
Like many aspects of your remodeling process, you will need to understand your priorities and desires before moving forward with a new interior door. Below is a breakdown at the biggest factors to consider when deciding what kind of new interior door you want to invest in.
Functionality
What concerns you more, form or function? Some doors are designed to be beautiful decor pieces in the home. Others are purely functional with nothing fancy about them. Some doors use standard hinges, while others may be sliding or pivoting doors.
Swinging doors are rising in popularity and offer an alternative to traditional doors. Plus, they are very easy to install and offer a more dynamic way to enter and exit a room. Or, a sliding door may be your best option if you do not have a lot of space to work with. This will prevent you from having to move out of the way when the door swings wide open.
Materials
What do you want your door to be made out of? Homeowners invest in a multitude of different products for their doors that range from natural hardwood, to glass, to stainless steel. Take a look at the modern interior door market to see what kinds of high-quality materials you prefer for your home.  
You are also likely looking for something that will match your home's style. If you are going for a rustic or industrial theme, perhaps a studded pocket door will add a touch of flair to your room. If you like things super traditional or country-inspired, a beautiful barn door made of reclaimed hardwood can be just the thing you need to boost the value of your home.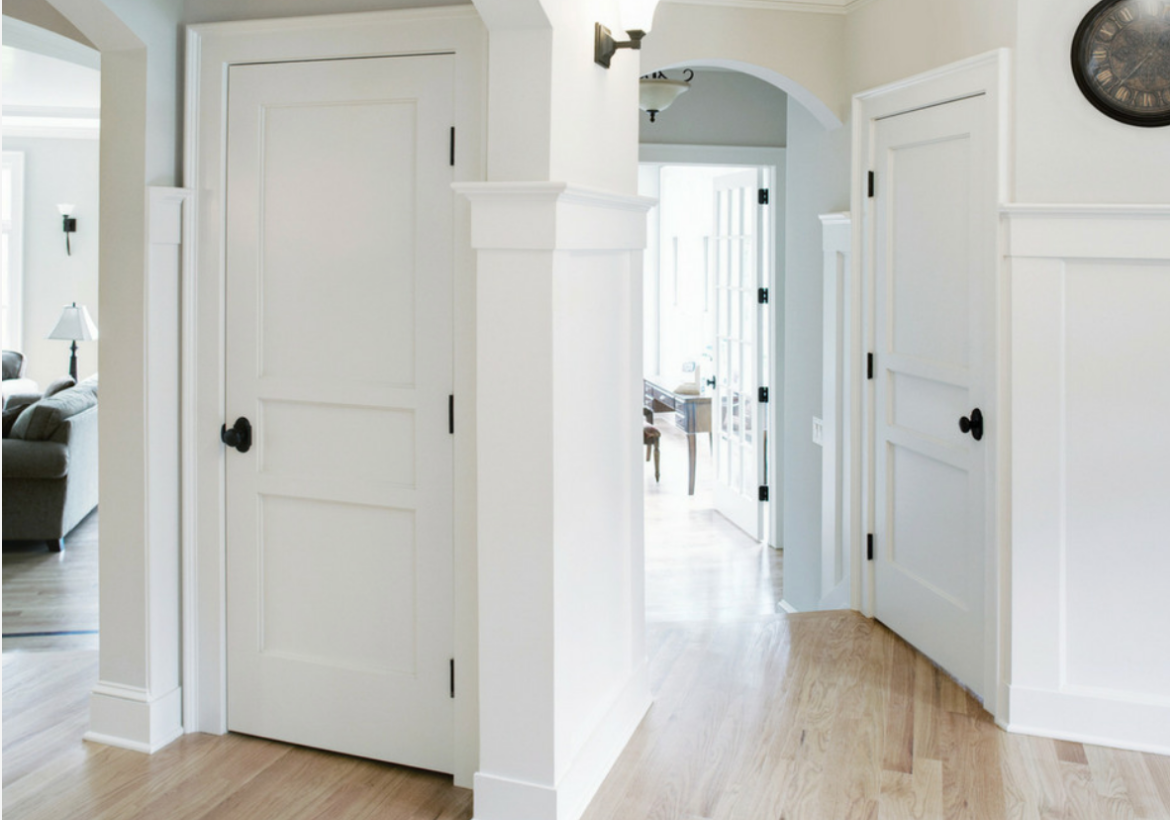 B
udgetary Restraints & Design
Budget is one of the first things you need to think about before embarking on a remodeling project. Plan out your budget so you know exactly how much you are willing to spend on a new door. It's also worthwhile to take a look at your local hardware store and get in touch with door manufacturers to understand what products are reflected at which prices.
You should compare local and online vendors to make sure you are getting the best deal for the money you're willing to spend. Professional design teams can help you determine what kind of door material would not only satisfy your budget, but become a dynamic addition to your interior rooms.
There are countless designs to think about. Again, it all depends on the grand scheme you have in mind. Do you want a door that separates two rooms, but you don't want to sacrifice any natural light? Opt for a sliding glass door. This can maintain a sense of separation and privacy between rooms, but both rooms will equally benefit when the sun is out.
Measuring these kinds of doors follows the same standards and procedures as all other interior doors. Just remember to keep in mind whether or not you need to add additional width to your doors for accessibility reasons.
Select Your Door and Transform Your Interior Space
Now that you understand the basics of measuring interior doors, you can start to plan out the specifics of your interior remodeling project. When it comes to interior door measurements, there are certain standards that you can adhere to. While you are measuring existing frames or creating space for a rough opening, remember these important highlights:
The standard height for interior doors is 80".
Standard widths can range anywhere from 1 ⅝" to 1 ¾".
Add an extra 2" for width and 2 ½" for height when planning out a rough opening.
You can customize these sizes for unique doors that fit the architectural structure of your home.
Choosing a new door for the first time can feel like a daunting part of the process. But understanding standard measurements can give you a better feel for how doors are made. That way, you'll know what to expect when you browse at your local or online door manufacturer.
If there is anything else you need to know before starting your next big project, you can take a look at this online book of tips: Remodeling 101: A Free Homeowner's Guide. There, you'll find more information about measuring doors, door frames, doorways, rough openings, and more.
Other Great Articles to Read: