Floating vanity, vessel sink vanity, cabinet vanity–choosing a bathroom vanity can be a thrilling affair. It can also be overwhelming–especially when trying to factor in the size and style of the bathroom. If you're about to start a bathroom remodeling project, there are a few essential concepts that you'll want to keep in mind when choosing a great vanity for your bathroom. There are a number of excellent options to choose from. It all depends on the shape and design aspects of your room. With just a bit of information, you are well on your way to making the vanity decision process a smooth and exciting one.
If you're stuck trying to decide between a standard or a floating vanity, this guide can nudge you in the right direction. Some of these bathroom vanity options may not be functional to the shape and dimensions of your bathroom. Others may be the magic touch to make your remodeling project truly pop. Regardless of your ultimate choice, you should ensure that the vanity is, above all, a functional piece.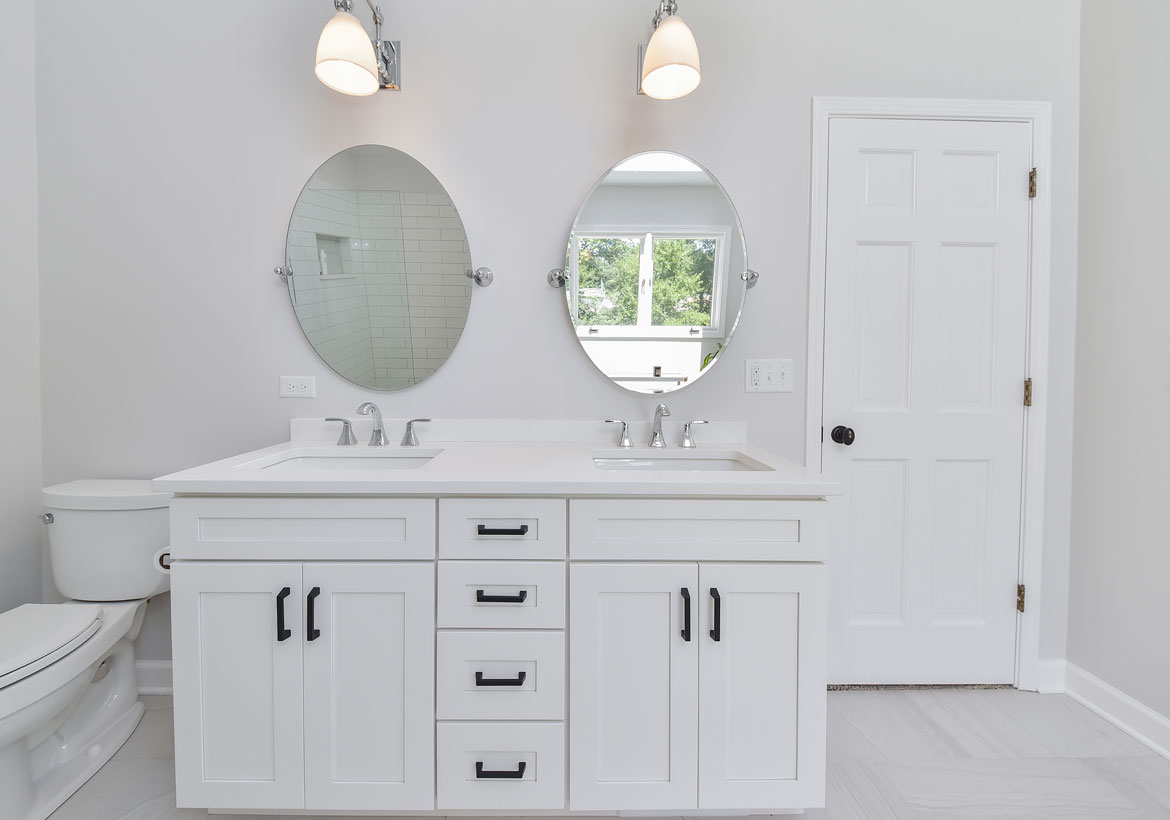 How to Determine the Type of Vanity for Your Bathroom
A bathroom vanity should cater to your needs in every way. If you are in need of something that can easily accommodate your daily bathroom functions, there are a variety of options to choose from. Do not skimp out on utility, as your new bathroom vanity is something that will be an integral part of your home for years to come.
There are numerous bathroom vanity types to suit all sorts of needs. Each vanity type typically comes with different size specifications as well. From large to small vanities, there is a lot to consider.
Here's a list of some of the things to think about before diving in:
Size – Consider floor plan and overall square footage available.
Clearance – Check clearance of elements like: doors, mirrors and medicine cabinets when considering height, width and depth of the cabinet.  Plus do you have enough room to walk and move around comfortably?
Plumbing – Make a note of existing plumbing and it's placement.   Also consider the opening in the back of the cabinet for access to plumbing.
Number of Sinks – The size available in the room and the final size of the vanity will help determine this.  As a guide–48″ is the average size that will accommodate two sinks.
Type of Sink – Undermount, Integrated, Vessel or Drop-In
Mounting Method – Freestanding/Wallmount etc.
Style – Traditional, Modern, Rustic, Coastal, Farmhouse etc.
Countertop – Type, Material and Thickness
Backsplash – Will you have a backsplash and what material will you opt for?
Faucet/Faucet Setup – Centerset, Widespread etc.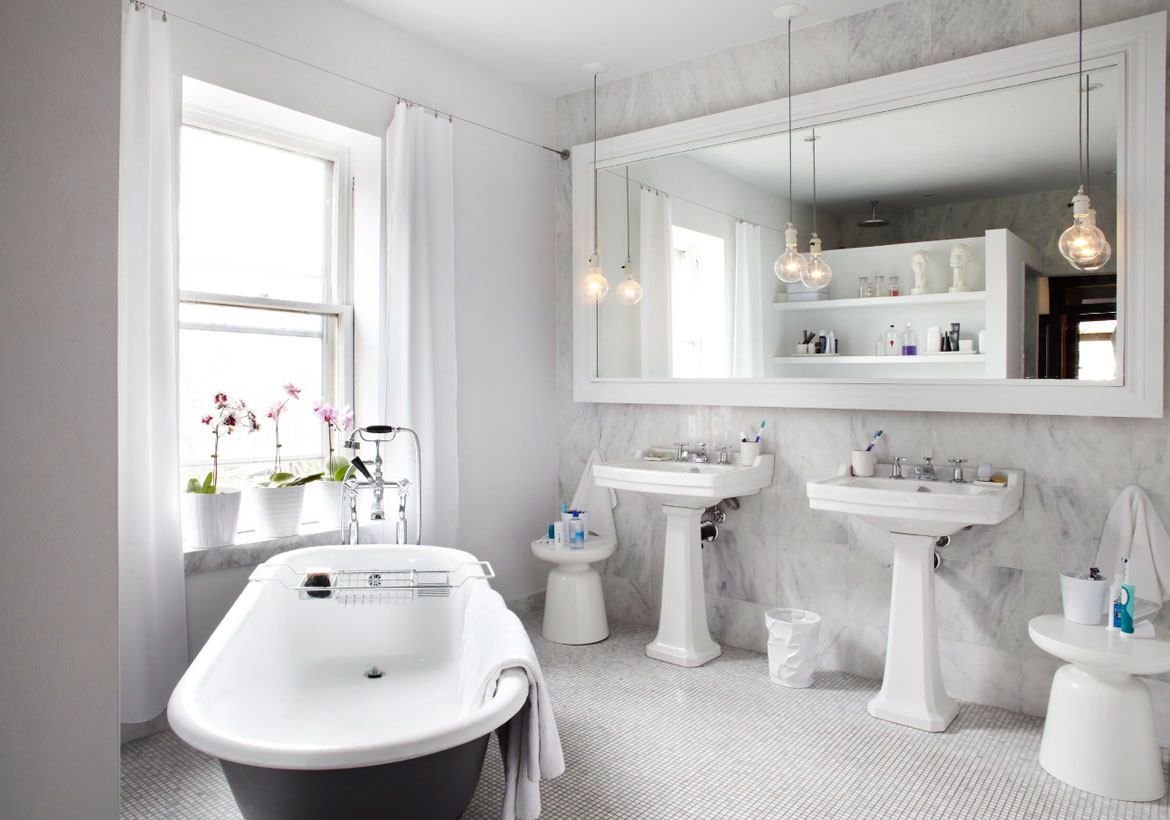 Pedestal Sink
A pedestal sink, while not a vanity, could also be considered and can often simplify the bathroom remodeling process. A pedestal sink is a two-piece sink, the sink (top) attaches to the wall. The bottom or base is a small column that sits under the sink. Pedestal sinks are great choices for small or uniquely-sized spaces.
One drawback of a pedestal sink is that there isn't storage for important bathroom items.  A creative way to make use of a pedestal sink is to incorporate it with the already-existing style of your bathroom–or, you can use it as the centerpiece for a new bathroom design entirely. Pedestal sinks are flexible, easy to use, and small enough to be convenient.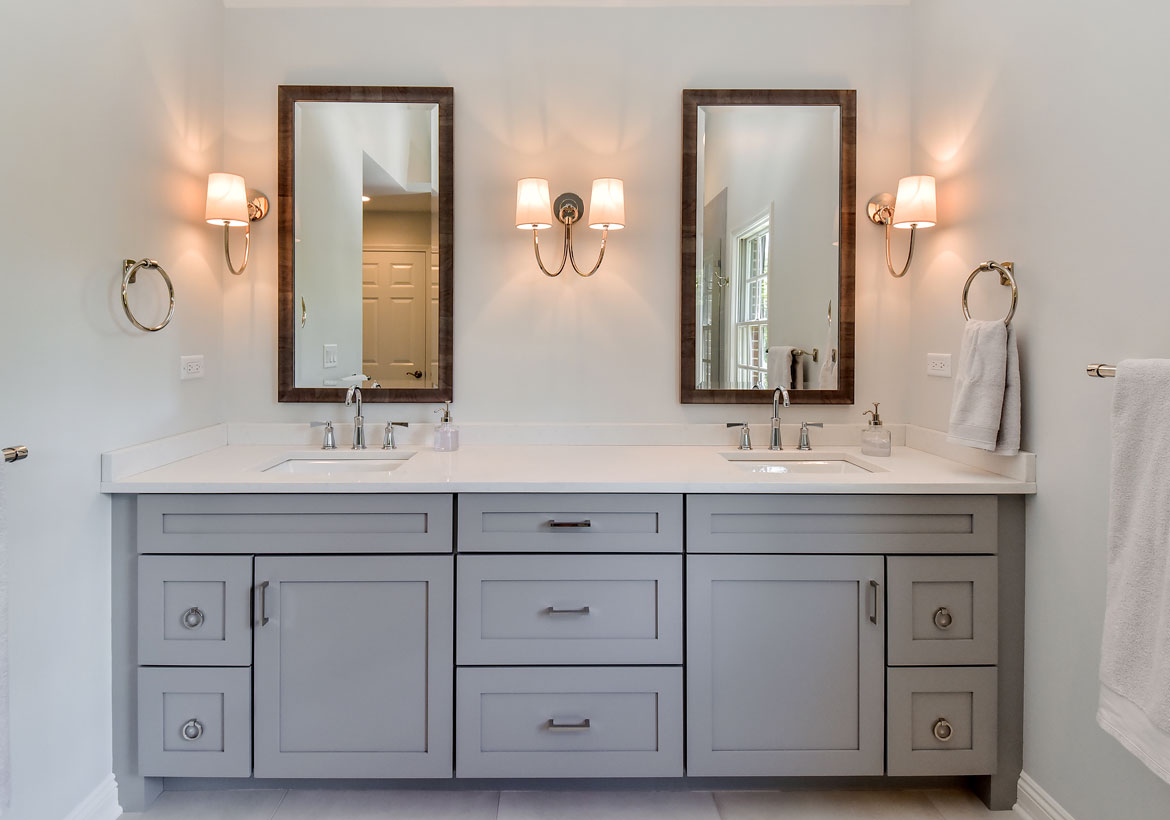 Cabinet-Style Vanities
A cabinet-style or "traditional" vanity is the most common style of vanity and what most of us are used to seeing.  These vanities have the most amount of concealed storage space than other vanities. This type of vanity comes in endless styles and sizes and can accommodate most types of sinks with the exception of the pedestal which is freestanding.
Make sure to consider the quality of materials that the vanity of made of.  Bathrooms will have more moisture, so processed wood and/or MDF may not be a great option.   You want to be confident that your new vanity will be durable and last for years to come.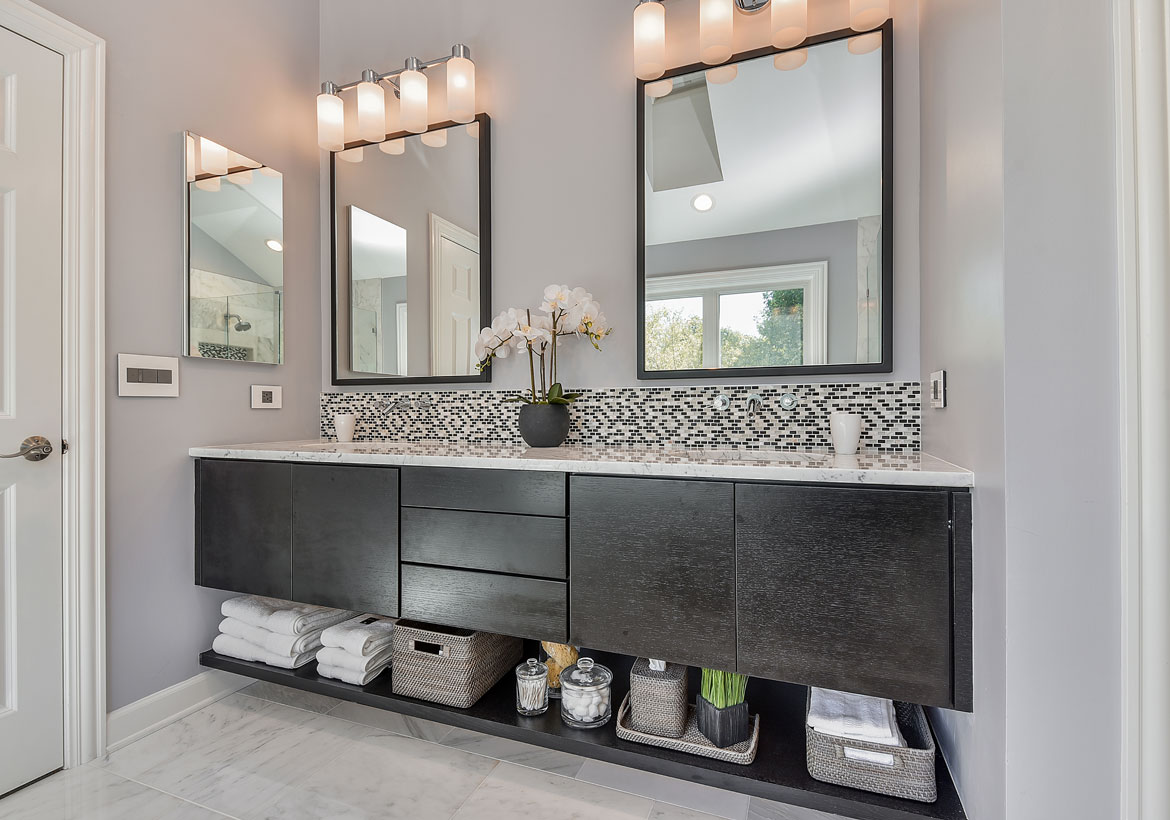 Floating Vanity
A floating vanity is a bathroom vanity that requires attachment to a wall creating that "floating" appearance.  A floating vanity may not have as much concealed storage space than other vanities.  These vanities are often recommended for those who don't have or want a lot of clutter. This type of vanity can provide some of the most unique styles options, but they may not be a perfect fit for every bathroom. If you have a lot of space to work with, a floating vanity can become a much more viable option for you.  A floating vanity often accompanies a free-standing tub and other utilitarian structures that are positioned in the bathroom rather than attached to it.
If you're running on limited space or a tight budget, a floating vanity option may be out of your reach. However, nothing is impossible!  If a floating vanity calls to you, reach out to a professional contractor to see how you can make it happen.