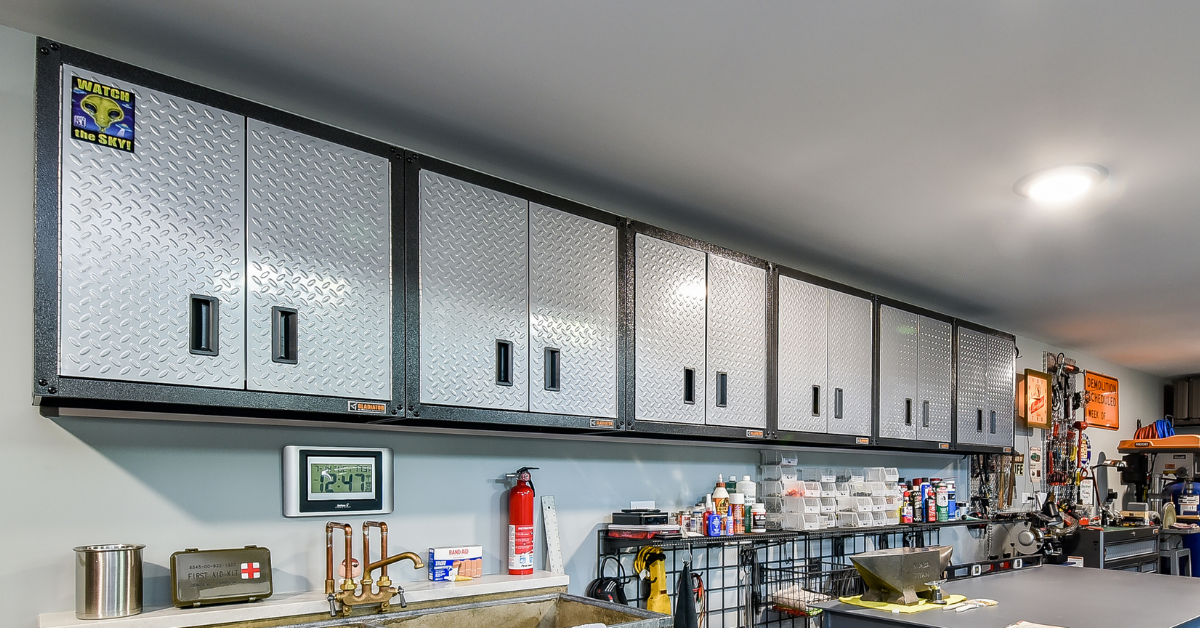 If you are struggling with tool storage ideas, this post is for you.
The majority of us see our storage spaces with a mixture of fear and guilt. Above all, we all know that we need to store and sort out our tools and supplies properly, yet most of the time, such things join the omnipresent mess we usually avoid to address.
Luckily, today's houses consider the need for appropriate utility units. In addition, they look to incorporate storage system into the general feel of the home and the greater landscape.
From rolling toolboxes to more DIY alternatives, there is no deficiency of garage tool storage ideas by which you can spare yourself time, stress, and space with minimal innovative and creative effort. Moreover, hook-and-nail hangings, tower racks, wall-mounted mason jars, and wooden crate shelves are readily available and easy to install. Indeed, you can even execute trimmed cupboards and magnetic toolbars without any difficulty at relatively low cost. Notably, they provide long periods of use and full storage capacity.
Let's be honest, it's hard to romanticize a home's requirement for ample storage capacity, particularly with regards to tools and garage equipment. However, garage tool storage ideas nowadays are innovative and surprisingly functional. While there are absolutely progressively attractive spaces to focus on, we can't deny that the transformative impact from these great workshop tool storage ideas and arrangement structures. Therefore, your garage or workspace shouldn't be an erratic spot of deserted projects and a long rundown of chores you've been putting off. With the garage tool storage ideas in place, you can handle these tasks with renewed zeal and inspiration.
GARAGE STORAGE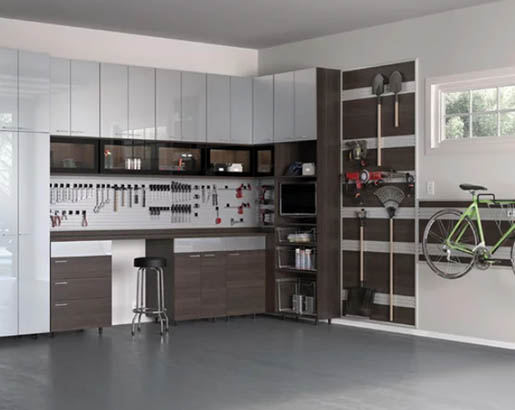 In this garage workshop by California Closets Studio City, California, a sturdy workbench with built-in tool storage drawers and cabinets provides ample space to keep tools organized and within reach. The overhead storage racks maximize vertical space, keeping the floor clear for easy movement.
CRAFTSMAN GARAGE
This tool storage idea by Organization & Relocation showcases a portable tool chest with multiple compartments and drawers, making it easy to transport and store various tools. The durable construction and lockable design ensure secure storage and quick access whenever needed.
HUGE STORAGE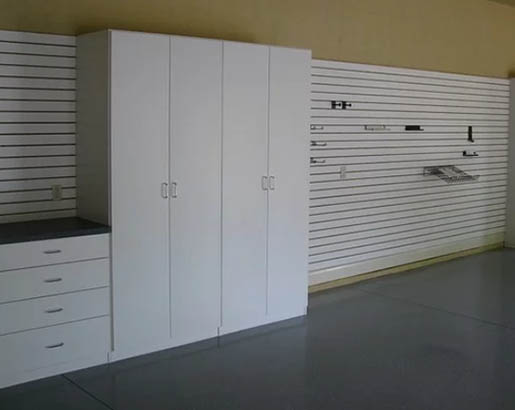 In this professional workshop by Top Shelf Storage Solutions, a modular tool cabinet system with customizable drawers and compartments offers a tailored storage solution for different tools and equipment. The labeled drawers and clear dividers make it easy to locate and organize tools efficiently.
GARDEN TOOL STASH
In this automotive garage by Teracottage-Limited Edition Artisan Sheds & Such, a wall-mounted tool cabinet with multiple drawers and compartments offers efficient storage for automotive tools and equipment. The labeled drawers and dedicated compartments ensure quick and easy access to specific tools when needed.
Different Tool Storage Ideas For Your Home
First, you can assemble a tool cabinet with pegboard backing for your power tool storage ideas. Meanwhile, the most ideal approach for power tool storage ideas is to modify storage pieces to fit the area. For example, buying a workbench isn't so compelling as creating one with explicit storage spots for the devices you presently own.
Making your own tool cabinet is a smart way to maximize any vertical space you already have. In addition, you can use pegboard on the cabinet doors and as a backing for you to have lots of surfaces to hang your tools.
Another great option is to store all your tools in a lock up storage.
Next is, you create zones for different tools. The initial step to arranging tools is to do an intensive inventory of the current tools that you have. When you have a general idea of the tools you have, sort them into like classifications. Secondly, gather all the power tools together, separate the small hand tools, etc. Next, make zones and use cabinets to keep similar things together. Certainly, this is perfect for garden tool storage ideas.
For example, one of the DIY tool storage ideas you can implement is to have a DIY storage cabinet assigned for table saw device. When arranging a workshop design, this cabinet would be hung near the table saw. Subtleties like this may appear to be minor from the outset, but they will improve the ergonomics in a space where it's frequently ignored.
On the other hand, you can also customize a wall panel with baskets and containers. As a matter of fact, one popular trend you'll find in workshops and basements is the move toward open-concept storage system. Similarly, rather than putting away tools and supplies inside cupboards, some homeowners are choosing to keep these things out in the open.
ADJUSTABLE STORAGE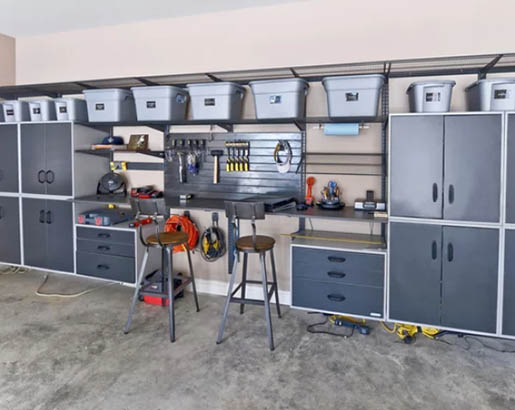 In this gardening shed by Organized Living, a combination of wall-mounted racks, hanging baskets, and labeled bins provides a practical and functional storage solution for gardening tools and supplies. The well-organized storage ensures easy access to tools for gardening tasks.
WORKSHOP
This tool storage solution by Sebring Design Build showcases a tool cabinet with a foldable workbench, offering a versatile and space-saving option for both storage and work surfaces. The cabinet's multiple drawers and shelves keep tools neatly organized and easily accessible.
STORAGE SHED
In this craft room by Backyard Buildings, a pegboard wall with colorful hooks and baskets provides a creative and functional tool storage solution. The pegboard allows for easy customization and rearrangement of tools, making it a practical and visually appealing option.
Some Cool Stuff To Have In Your Storage Space
To work securely and proficiently, it's critical to keep your tools sorted out and accessible. However, that is usually more difficult than one might expect, but here are hand tool storage ideas that can take care of incessant messy tool issues.
Firstly, you can set up a battery recharging station. Cordless power tools are great as long as you don't forget about your batteries and chargers. Further, create a custom charging station for your most utilized power tools and ensure you include an outlet, so the extra storage space is functional.
Likewise, you can keep nuts and bolts in transparent mason jars. For instance, a few craftsmen like to save each extra screw, and some don't. In case you are one of the former, ensure you have a set up for dealing with all these various things.
Clear containers function well for sorting out small parts, but you should have the option to put those containers some place that won't mess up counter space. Further, you can create open racks for them to sit on. Also, you can even screw the lids on the underside of a shelf and screw the containers in that manner.
Finally, you can create a portable workbench. Besides, numerous individuals battle with how to sort out power tools that they regularly use, particularly when they do a major task. In case you are redesigning a home and end up struggling to maintain your tools in control, consider including a portable or mobile workbench into the mix.
WORKBENCH
In this garage workshop by Tailored Living / Premier Garage of Naperville, a wall-mounted tool pegboard combined with a wall cabinet offers a comprehensive storage solution for various tools. The pegboard provides flexibility for hanging tools, while the cabinet with shelves and drawers keeps smaller items organized and hidden.
LARGE CABINETS
This tool storage setup by Store with Style features a rolling tool chest with a top compartment and multiple drawers, providing a portable and compact solution for tool organization. The sturdy construction and lockable design ensure safe storage and easy transportation.
TIDY UP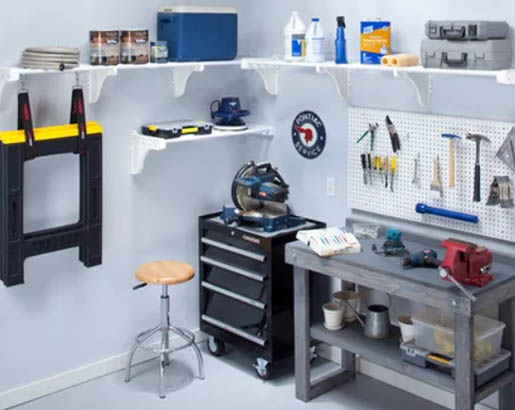 In this woodworking studio by EZ SHELF, a combination of open shelving and labeled bins offers a practical tool storage solution. The shelves accommodate larger tools, while the labeled bins keep smaller items organized and easily accessible for woodworking projects.
RUSTIC SHED
In this automotive garage by Twin Peaks Contracting, LLC, a wall-mounted tool pegboard combined with a dedicated tool cabinet provides a comprehensive storage solution for automotive tools. The pegboard allows for easy access and display of frequently used tools, while the cabinet offers additional storage for less frequently used items.
ACTIVITY ORGANIZER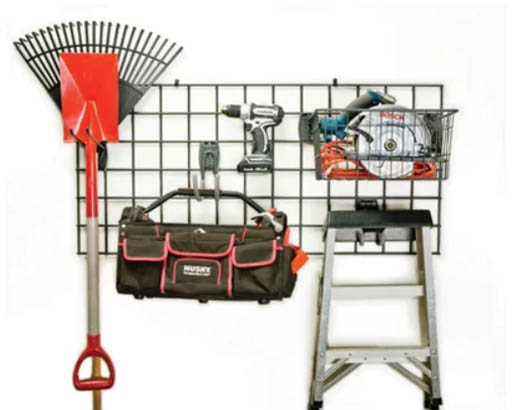 This tool storage setup by Organized Living features a wall-mounted tool hanger system with sliding hooks, offering a convenient and space-efficient solution for hanging tools of various sizes. The sliding hooks allow for easy adjustment and customization to accommodate different tool types.
DIY Tool Storage Ideas For The Budget-Conscious
One of our DIY tool storage ideas is to hang wrenches on a tie/belt rack.
Do you put all your wrenches in a plastic bucket? Meanwhile, a better idea is to screw a tie/belt rack to an uncovered spot on the wall over your workbench and hang the wrenches.
Similarly, you can also fabricate a PVC pipe tool rack. Assemble this PVC rack to store your tools on the wall. Utilize a jigsaw to cut a 1-1/4-inch wide indent down the length of a 2-inch diameter PVC pipe. Next, cut a few 3-1/2-inch long sections with a miter saw or hacksaw, and drill two 1/8-inch openings behind the score. Finally, utilize 1-1/4-inch drywall screws to append these pieces to a 2×4 screwed to the wall.
Next, you can manufacture a tabletop or wall mount drill bit rack. To construct one, lay your bits on a table with 1/2-inch spacing. Cut two 3/4-inch x 3/4-inch segments of hardwood. Subsequently, clamp and drill as indicated by the bit spacing you marked. Place two 2-3/4-inch blocks between the strips and screw them together. Also, utilize the bits you spread out to drill openings in a piece of 1/4-inch plywood for the sizing index. Lastly, screw it to the rectangle and get those bits all together!
Moreover, you can also mount a magnetic tool holder for bits. Mount an 18-inch magnetic tool holder to your drill press' pulley cowl for brisk change bit storage. In addition, the tool holder is trimmed with ground-breaking magnetic strips that firmly hold all sizes of bits, as well as it's anything but difficult to mount. Mark and drill a few 1/4-inch openings through the cowl of your drill press. Finally, utilize two 1-1/4 inch x 1/8-inch diameter bolts with washers and nuts to connect the holder.
How To Protect Your Tools From Rust
High-quality tools are not cheap. Indeed, they are an investment. In other words, you not just need to ensure that you use them appropriately, but you also need to store them appropriately in between uses. You can check out yard tool storage ideas below for inspiration.
Whichever storage option you pick, the most significant thing is to protect your valuable tools from rust. Certainly, rust will decimate tools and make them either hard to utilize or totally unusable. Keep devices in a dry spot with low humidity – away from garment dryers, laundries, and so forth. Similarly, store power tools in their unique boxes or cases, and hang garden tools off the floor. Finally, in case you utilize a tool kit or drawers, use silica gel packs to get rid of moisture, or buy anti-rust cabinet liners.
You should also clean your devices after you have utilized them. Moreover, clean hand tools like screw extraction pliers and shears by wiping them with a cloth, or washing with cleanser and water in case they are full of dirt. In addition, make a point to dry them totally, and make sure to delicately oil hinges. Likewise, empty and wipe out tool kits every now and then.
Each time you utilize your devices, inspect them for possible damage. Ultimately, a piece of damaged equipment should be fixed or replaced. Next, search for splintered, cracked, or loose handles, rust, corrosion, loose hinges, damaged heads, broke housing, and frayed or exposed wires if utilizing power tools.
Lastly, when you buy tools, pick top quality tools from a legitimate brand. Moreover, use only the devices just for their industry-specified. When you take care of your devices, maintaining, cleaning, and storing them away correctly, they should last for a long time.
This is an image roundup post, curated to showcase and promote other reputable contracting companies' and their amazing work. To have any of the images removed, please reach out to us and we would be happy to do so.