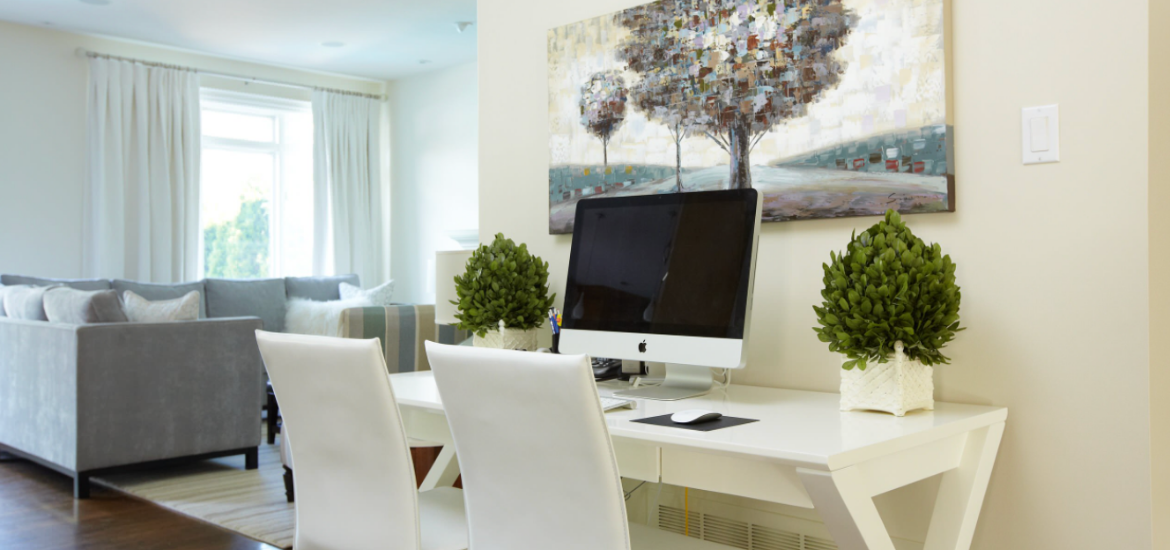 Today, we bring you DIY computer desk ideas that will give you inspiration on your next DIY project.
With the advancement of computer and the Web, more and more individuals spend lots of time at the keyboard. Having an appropriate computer desk is essential.
Ready-made computer desks range from simple tabletop surfaces to huge pieces of furniture that incorporate storage and shelves for computer accessories. They can be exceptionally costly if made from quality wood, having storage units, or being flexible and ergonomic. If you're looking for a budget and quality computer desk for your home office, these 29 DIY computer desk ideas can be a great way to spare cash while building the desk that's fit for your needs. With some carpentry skills, some pieces of wood, and old furniture you already own, you'll be able to construct a quality computer desk to fit your requirements.
TINY DESK SPACE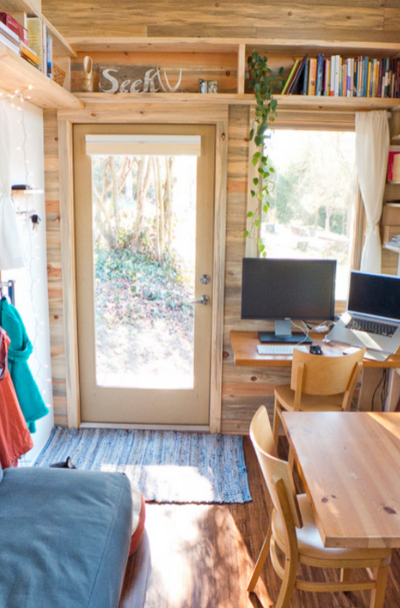 You only need a piece of wood to do this space-saving computer desk. If you have a small space in your house, this DIY computer desk is perfect for you. This amazing design idea by The Tiny Project will give you flexibility and simplicity in having your work from home.
CLOSET OFFICE
This is a genius bathroom design by Lowe's Home Improvement! This is it if you need a space to be alone when working. You only need a few pieces of wood to make the desk and the shelves. The curtain will help you get in the zone when working or keep your area covered when not working. We also love that this DIY computer desk idea has plenty of storage space to organize your stuff.
WALK-IN OFFICE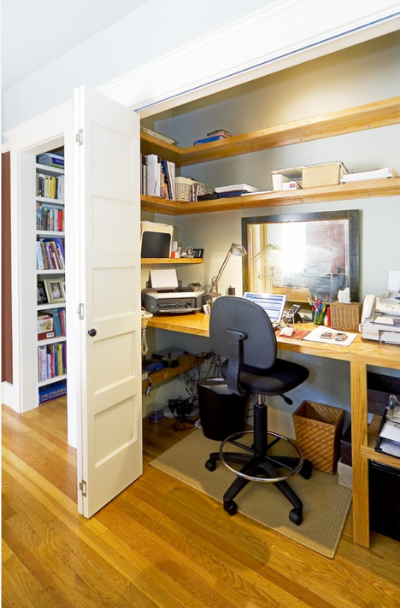 Turn your walk-in closet into a mini office by using one of the shelves as a desk. This can be your secret "cave" when you want to forget the world and focus on creative work. This mini-office will eliminate unnecessary distractions and help you put your essential files in one place—what a good design by Rossington Architecture.
WORK & PLAY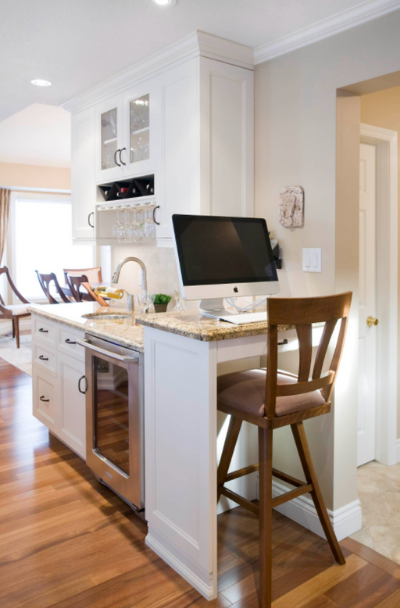 Work hard, "drink" hard with this built-in office beside the drink station. What's the best way to reward yourself after a hard work day? Grabbing your favorite wine as you finish work will motivate you to get things done more quickly. This design by Paragon Kitchens screams the vibe of it.
DRESSER DESK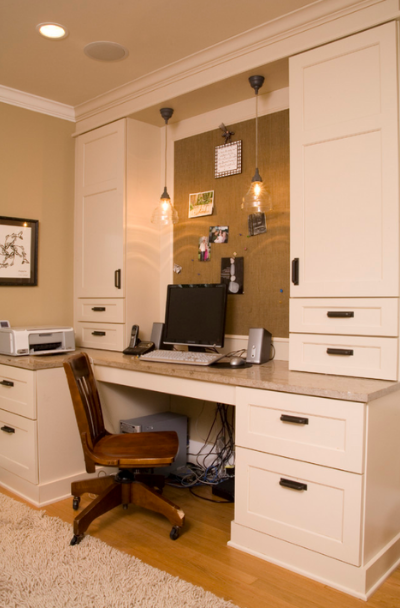 Fun and ingenious use of the vanity area in your room like this design by Kayron Brewer, CMKBD / Studio K B! We love that this area has plenty of storage space to keep your files organized. The lamps are stylish, and the corkboard adds a personalized touch to the overall look. The desk is perfect for bigger computers too!
KITCHEN DESK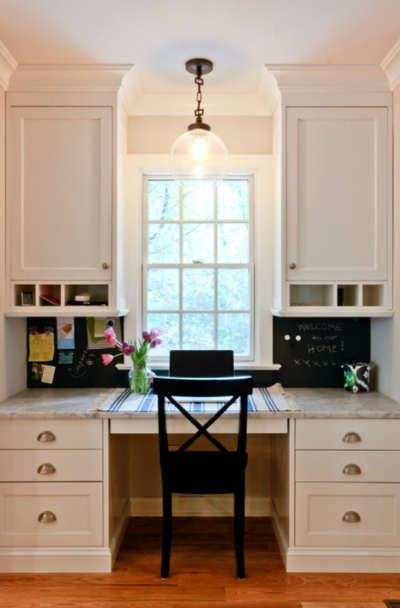 The countertop as a computer desk? Why not! Since the kitchen also gets a significant footprint in the house, this desk area is also a perfect spot to leave important messages and reminders. It's also helpful to have coffee breaks here. The best part is you don't need to go far when preparing a cup. What a very functional kitchen desk by Michael Robert Construction.
PLAYROOM DESK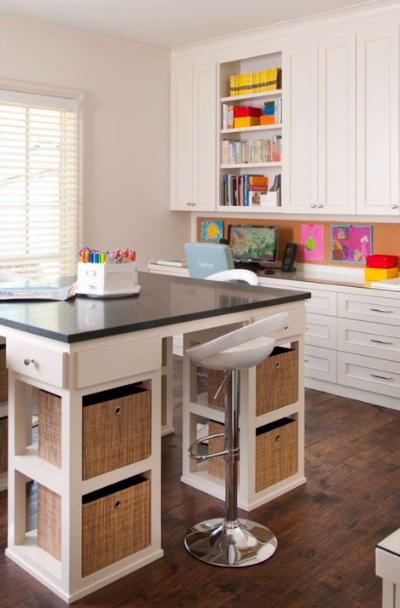 Turn the playroom design by Ellen Grasso & Sons, LLC into a creative space when your kids outgrow it. We love that this area is not just for computers. You can do artwork here or do other hobbies. It's a creative space where you can freely express yourself. Hanging around this room also gives an excellent bonding with your family.
BIRCH PLYWOOD
If you love working and getting inspiration near an open window, this design by Pause Designs is perfect. Unlike buying a ready-made desk, this DIY computer desk idea lets you fit the wood in your desired space or area—no need to find a table that would fit in your corner.
WALL DESK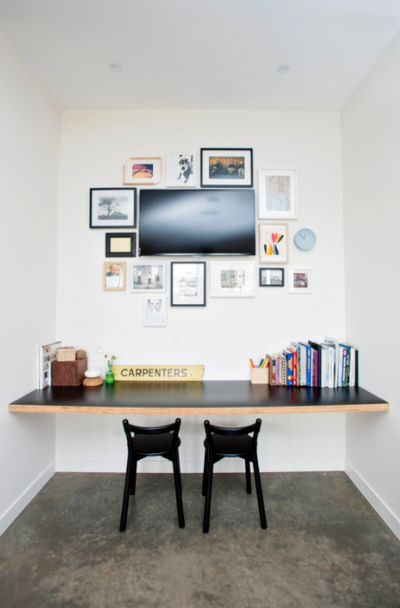 Turn any wall space into a computer desk by installing thick plywood on it. We love that this DIY computer desk is functional and straightforward. The top surface gives a lot of space and can hold your laptop, bags, and books. What a masterpiece by Howden Homes.
In case you work from home or spend a lot of time on your computer, your work area is seemingly your most vital piece of furniture.
There are different choices when it comes to a workspace. Do you want to go for a sitting desk? How about a standing desk? Or maybe a sitting and standing with a movable desk? What kind of workstation you choose is up to you, but rather than buying one, have you thought of making your own? These DIY computer desk ideas are less complicated than you think, and might save you cash. These DIY computer desk ideas will motivate you to get imaginative with your workspace.
SPACE SAVER DESK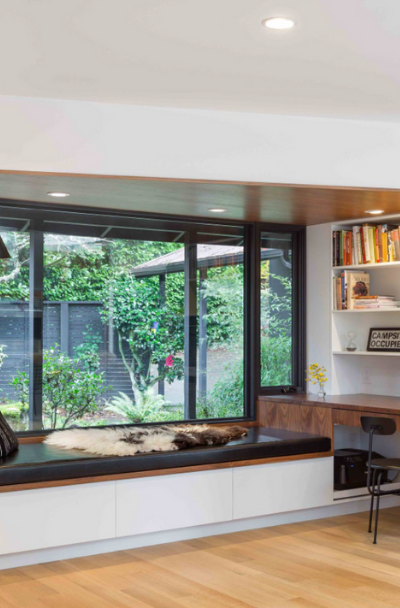 Make the most of your space by turning it into a lounge and computer area. This is an excellent working space where you can take breaks, rest, and look outside. They say looking at greens every 20 minutes is good for your eyes. This is such a good design by James Frank Construction Inc.
Things To Consider For Your DIY Computer Desk Plans
First, you need to figure out the size. Is it going to be large? Or do you have a tiny space to fit it? How about the gadgets that you are putting in there? Is it for a DIY gaming computer desk? The size of your computer desk is the first thing you need to determine because this will help you decide what materials you will use and what accessories you will need.
Second, you need to set a budget for your DIY computer desk plans. If you have a working budget at hand, it is easier to weed out what's manageable and what isn't. Most people venture on DIYs to save some money. If you are one of those people, list down what you want to achieve and the possible cost for it to see if the plan is viable.
Third, you need to consider the tools and skills required to build the computer desk. The difficulty level should match your know-how and available tools at hand. It doesn't matter how gorgeous that DIY pipe computer desk is. If you can't properly build it, everything will go to waste.
Lastly, you have to consider the ergonomics of your DIY computer desk plans. If you want a DIY corner computer desk, make sure that it's not hard to move around and there's enough space for the chair and the desk. The same goes for DIY L shaped computer desk. Ensure that the length and height fit your requirements.
MULTIPURPOSE SPACE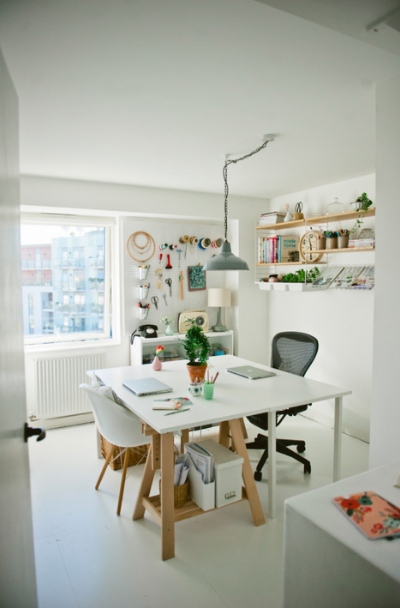 The table is best for computer work, crafts, or other hobbies. It's also nice that you have the entire room to store your art materials, files, or books. We love that the place is well-lit and has a large window where natural light shines. This multipurpose space is by Apartment Apothecary.
REUSE & RECYCLE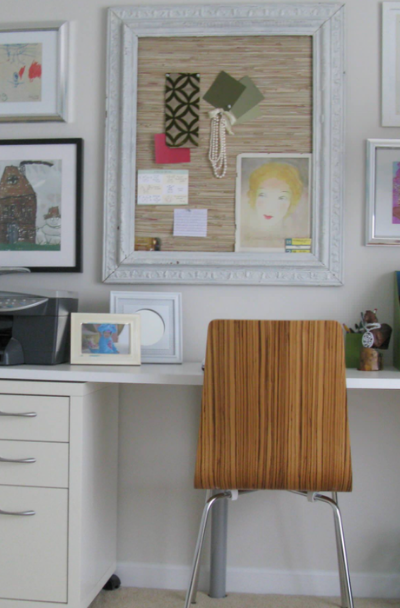 This work area by Love Your Room LLC features DIY projects and recycled materials. The white end table and artwork are recycled. The designer used things she already had for the board and the frames.
HOME OFFICE
This is one of those closets turned into a working station designed by Modern Craft Construction, LLC. This is perfect when you need some privacy or shut down any distractions from outside. This "walk-in" computer desk has enough space for two computers, printers, and books.
L-SHAPED CORNER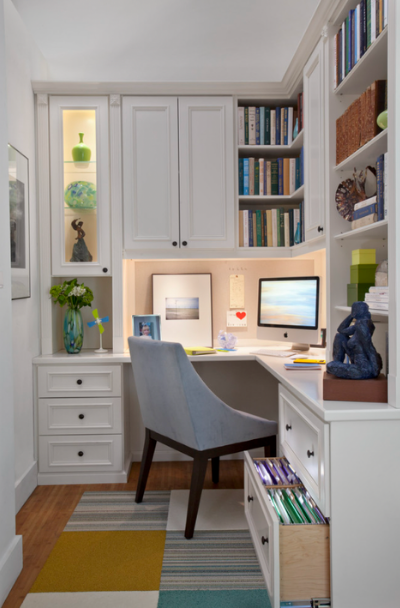 Bored of the usual long desk? Maximize your space by creating an L-shaped working area design by transFORM Home. Keep your things organized by adding drawers below and above the DIY computer desk.
THRICE THE FUN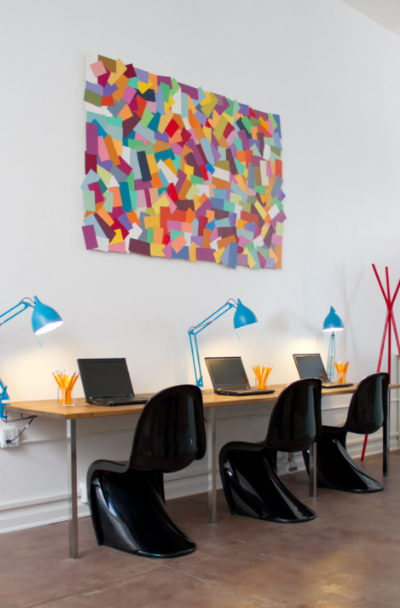 If you have teens in your house, try this computer desk to accommodate them all. We love this contemporary modern DIY computer desk. This pretty and organized office design is captured by Erika Bierman Photography.
Why A DIY Desk Is Preferred
The first advantage of a DIY computer desk is it saves you money. With just a piece of wood, you can already build your DIY computer desk. If you will buy a ready-made computer desk or have it custom made, chances are it will be expensive. Save money when you build your computer desk.
Next is, you can have something that exactly fits your space. If you have a little spare space for your work area, it is easier to install a DIY computer desk than buy a ready-made one.
Finally, there are lots of creative options when you go for DIY computer desk ideas. You can have a desk that matches your preferences and work requirements. Below are DIY computer desk ideas that you can get inspiration.
This is an image roundup post, curated to showcase and promote other reputable contracting companies' and their amazing work.  To have any of the images removed, please reach out to us and we would be happy to do so.
Other Great Articles to Read: