Creating these beautiful bedroom ideas for women in your own house will mean having to customize your private space to accommodate a more feminine appeal. But turning your bedroom into something girly does not necessarily mean filling it with a lot of pink elements. The female gender is not just about the color, pink frills, lace, and flowers are just some aspects of design that suggest femininity. Your personal space will be transformed into a cute women's bedroom through the use of interesting textures, cute bedroom colors, and accents, which will also showcase your own personality.
While masculine bedrooms come with rigid, straight lines, typically stoic hues such as gray, black and brown, and decor that does away with the unnecessary frills, feminine bedrooms take the opposite approach. With soft pastel backdrops, rich accent shades, floral patterns, and plush textures, room ideas for women personify elegance and a sense of gentleness.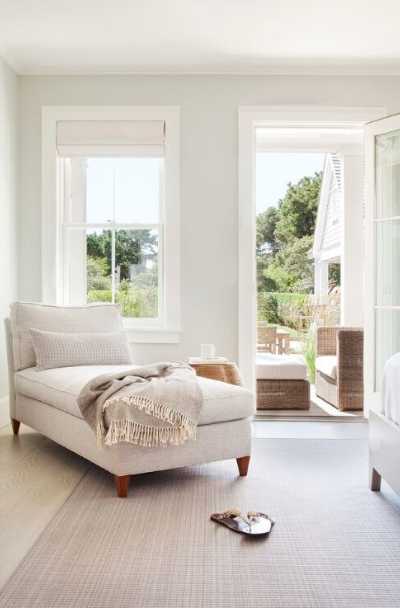 A chic and glamorous bedroom by Cynthia Hayes with a bold black and gold color scheme, featuring a tufted velvet headboard, mirrored nightstands, and a chandelier. Neutral is always hot! a transitional chaise positioned perfectly in front of windows and a porch.
TRANSITIONAL
A vintage-inspired bedroom by Wayne Windham Architect with a mix of refreshing features, featuring, vintage accents, and a cozy reading nook. White bedding, large lantern ceiling light, wicker style bench, and curtains to the ceiling.
TRADITIONAL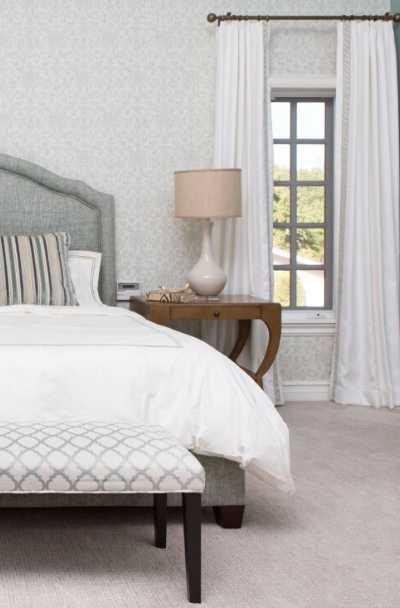 A warm and simple bedroom by Rande Leaman Interior Design with a plush tufted headboard, mirrored furniture, and a refreshing window. Simple white curtains with a wood side table and grey headboard tie in with the accent pillows.
SYMMETRY
A cozy and inviting bedroom by Martha O'Hara Interiors with a neutral color scheme, featuring white appliances, and a woven rug. Who would love to wake up to the symmetry of this bedroom? That custom dresser!
LADDER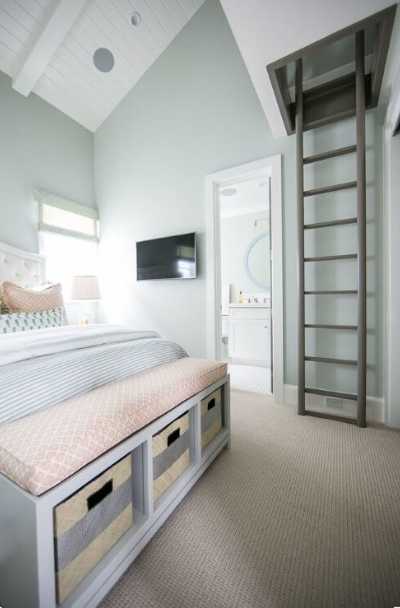 A refreshing and modern bedroom by Williams Wood Works with a white and pastel color scheme, featuring a graphic wallpaper accent wall, a statement light fixture, and sleek minimalist furniture. Incorporating a custom ladder that leads to an upstairs space adds character to this room.
Looking For Best Bedroom Ideas For Women
There are many variables which affect the quality of your sleep, even though this particular post is directly associated with the decorative aspect, it is likewise essential to note the benefits of making a bed in which you feel you are able to get an excellent night's sleep. To produce feminine and soft vibe, choose soft bedding textures. For instance, a down comforter with a duvet cover, layered over sheets, and a quilt will be perfect to cozy up and slumber. Accent pillows are an excellent addition to provide some bright colors or texture. Your choice of linens, blankets, and pillows must reflect your personality and don't be afraid to have fun! Beddings are one of those cute bedroom decor ideas that you can simply replace, mix, or match.
Soft, creamy colors offer a delicate, feminine appearance in a female's bedroom. Mint green, heather blue, light grey, crisp white, rosy pink, barely beige, and soft yellow provide a tranquil, womanly feel. Ramp up the girly color pattern with modest bursts of deep coral, bold fuchsia, hot pink, or maybe lipstick red to put in a contemporary twist. For instance, inject a touch of deep coral right into a bedroom color palette of crisp white and light grey to put in a touch of brilliant femininity. Additionally, use black sparingly. It is able to overwhelm an area rapidly with a masculine feel. All white bedroom ideas are usually the safest option for women's bedrooms.
Deciding on the best wall color is essential with regards to creating your personal oasis. It is not simply the walls, though. It is everything in your bedroom. Each and every decor product that is shown throughout your room plays a job in the complete appearance. Even in case you have one particular bright red blanket thrown over a chair or even a bright neon picture frame hanging, that single thing won't merely be an eyesore, but will also take away from the whole ambiance of the area. You will wish to think in terms of light hues—something in the gray, white, beige, and gentle blue/teal color schemes is on the right track.
Incorporating furniture produced with beautiful, curvaceous lines right into an interior design bed room communicates a womanly feel, instead of basic, straight lines. Furniture pieces with curved sides & legs, like an ornamental, four-poster bed in distressed white, imparts a unique feminine ambiance to a space. A traditional armchair with delicately rolled arms or maybe a French-inspired Louis XV chair with good curves and cabriole legs offers seats that are cozy with a womanly look. Dressers, chests, mirrors, and nightstands made up of softly curving lines, painted in colors that are light and embellished with ornamental hardware add to the feminine appearance.
YELLOW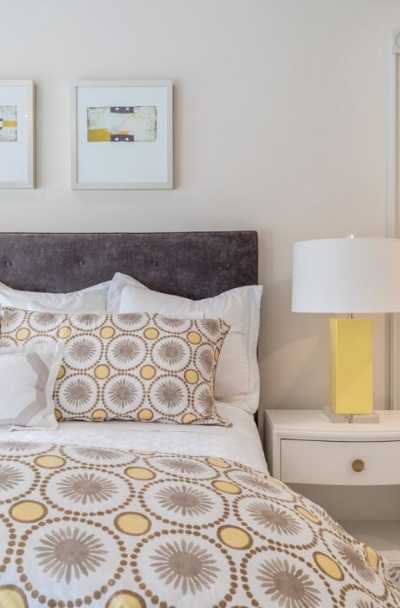 Yellow, the color of sunshine, will make waking up in this room ready to start your day. A cozy and eclectic bedroom by Georgio Home with a mix of patterns and textures, featuring yellow patterns.
OVERSIZED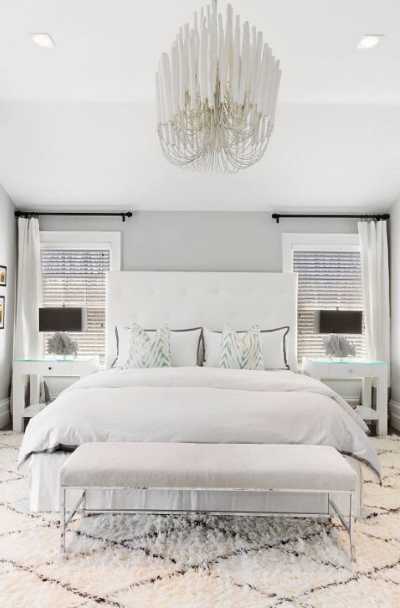 A glamorous and feminine bedroom by Blue Ocean Design with a mix of silver and expensive accents, featuring a tufted headboard, mirrored nightstands, and a crystal chandelier. Sometimes, the best way to make an accent stand out is by providing oversized lighting.
CURVES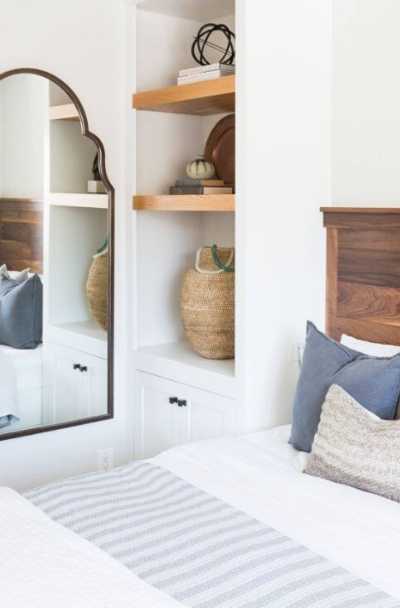 A cozy bedroom by Jula Cole Design with a mix of warm wood tones and natural textures, featuring a wooden headboard, a plaid blanket, and a woven rug. The natural wood shelves paired with the curvature of the arched mirror are the perfect combination.
ANTIQUES
Add in vintage pieces to give the space character and personality to fit the homeowner. A natural and vintage bedroom by Lori Henle Interiors with a warm color scheme, featuring a canopy bed, sheer curtains, and delicate vintage accents.
How To Decorate A Woman's Bedroom
With regards to furnishing your room, you will most likely prefer to shy away from dark bedroom furniture in case you are looking for a feminine and soft bedroom. The best part is whether you have black furniture, you are able to quickly paint it rather than buying a totally brand new set. Check out some of the white furniture bedroom ideas here. You will likewise need to be certain about the bed's headboard. What texture type can it be? Partial fabric headboards and fabric enjoy a softer and much more feminine vibe compared to non. That is not saying you cannot make a feminine and soft bedroom with an all-wood headboard; you simply have to be selective about the type and style of the wood.
Feminine and soft touches could be added in your room by accenting with other furnishings, particularly antique ones. Think antique mirror or even an antique chair. Once again, the color of the mirror, chair, or maybe some additional portion of furniture will be involved in the room's final appearance—so stick with light hues when selecting accent pieces. Plush fabrics improve the opulent ambiance found in feminine style bedrooms. Layer your bed with a bed skirt, sheets, blankets, along with a magnificent comforter for a luxurious feel. You cannot fail with a plush, white-colored comforter on your bed, topped with toss pillows in various shapes, sizes, and fabrics. Include a luxurious furniture throw across the feet of your bed or perhaps with the rear of any chair. Draperies that pool upon the floor in a silky fabric give a lavish feel. An oversize, curvaceous headboard in a rich fabric communicates the appearance of a brilliant bed created for a queen.
Make smart storage for your electronics. Appliances may well be very bulky and are likely to get a far more masculine feel to them. Nothing throws off the softness of an area than to getting an enormous TV, giant speakers, an excessively big alarm clock, a desktop PC, along with a docking station on your iPhone and iPad, and everything crammed in a single room. You most likely own the majority of those items. The key element to restricting these things isn't to truly reduce the number of appliances you have but to locate an intelligent hideaway storage solution for when they are not being used. Use different sources of lighting. To have several sources of lighting helps make your space feel warm and alluring. When you are relaxing and do not desire your overhead lights shining in your face, choose a lamp. Keeping many candles nearby is additionally a good choice. When you would like to be very snazzy, install a dimmer light switch so that you are able to optimally manage the quantity of lighting in your room.
OLD TOUCH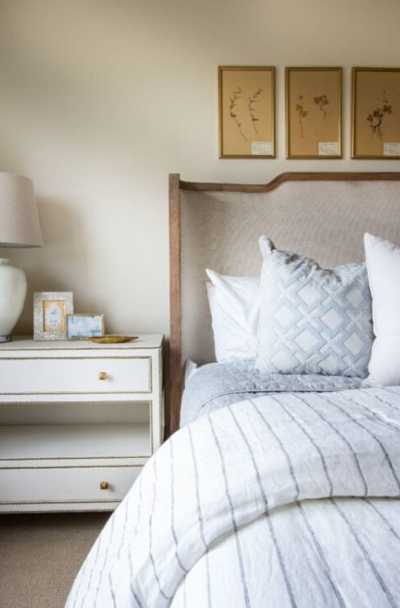 An inviting bedroom by Jorgenson Builders with a mix of warm wood tones and soft textiles, featuring a wooden headboard, a woven rug, and a knit throw blanket. A mix of wood and fabric with slight curves on this headboard paired with vintage artwork.
CANOPY BED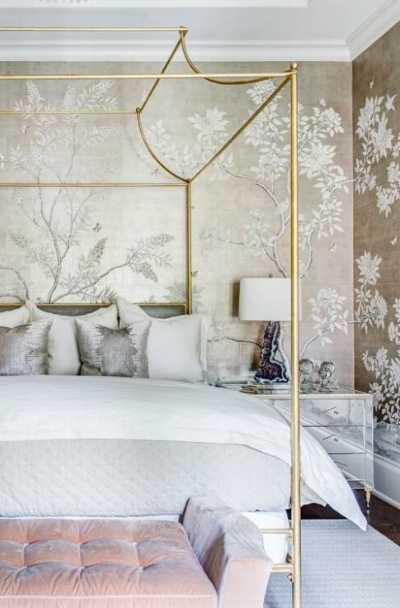 Who doesn't love a canopy bed? The curves of the frame give this space a feminine look. A feminine bedroom by EJ Interiors with a mix of floral and gold textures, featuring a golden headboard, a plaid blanket, and a woven rug.
MIDCENTURY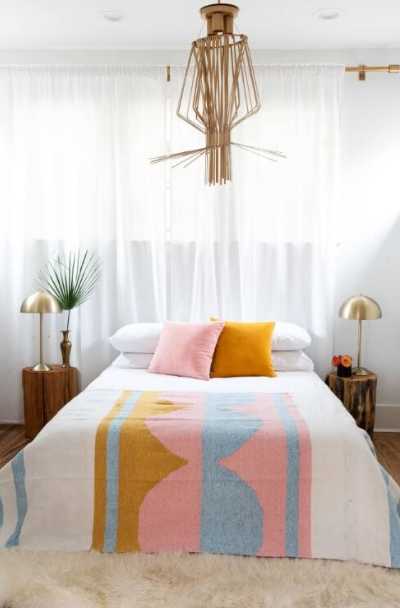 A chic and rustic bedroom by Nicole Mlakar with a bohemian and modern scheme, featuring a white curtain, gold nightstands, and a chandelier. This bedroom has bits of midcentury modern, and bohemian, making it a cheery space.
Tips For Rocking Bedroom Ideas For Women
Try keeping it clean. Clear out unnecessary things that you do not use. Yes, it's good to have a storage area, but nothing beats a truly minimalist lifestyle. Take away everything that you do not use, put them into yard sale, or even donate to charity. Do your very best to keep your master retreat clean. You will feel even more at ease in a fresh room compared to a dirty one.
Include layered window treatments. To get a layered window treatment, you will have to get two sections on every side of your respective window. It is going to cost you a little more to have four panels per window rather than two, but the outcome is actually very gorgeous. If you want, you can have a large window panel behind each typical panel. You can keep the capability to close only the large panels and let in a few lights instead of having just the capacity for all or even nothing. Additionally, you are able to create a feminine and soft look with long window panels. With regards to developing a flowing look, length matters. You can let it rest on the floor. This particular detail is easy but makes quite a positive change.
Accentuate the feminine vibe in your bedroom with beautiful modern bedroom accessories. Lamps with crystal, silver, or maybe ceramic bases add visual interest to a feminine bedroom. Top the lamps with ornamental lampshades adorned with a touch of trim, tassels, beadwork, fringe, or maybe additional embellishment. Produce an accent wall with patterned wallpaper, an artistic mural, or maybe beautiful decals. A sparkly chandelier is able to add glitzy glam to some feminine bedroom. A vase of new flowers, potted greenery, a decorative tray loaded with perfumes, ornamental mirrors, as well as vases, help to complete a feminine appearance inside your room. Flowers scream feminine and gentle. Also, they are the best finishing touch to the bedroom retreat.
SOFT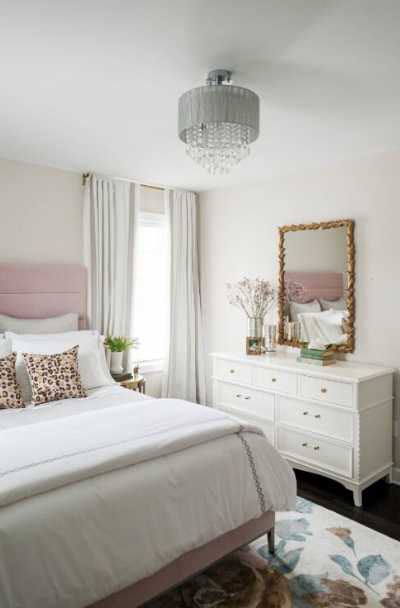 A romantic and dreamy bedroom by Callahan Interiors with a soft pink color scheme, featuring a canopy bed, sheer curtains, and plush bedding. This pink and gray bedroom looks cozy, soft, and inviting.
BRIGHT & AIRY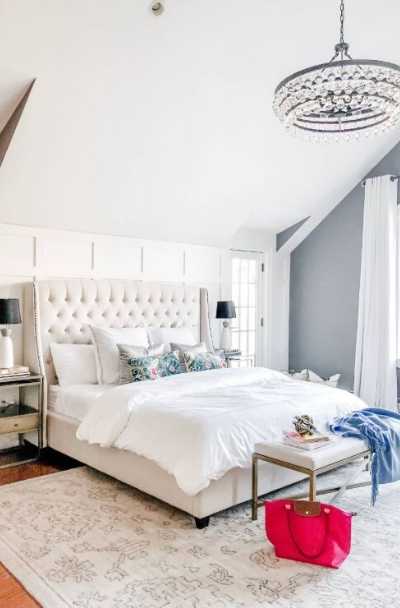 A cozy and charming bedroom by Curated Nest Interiors with a mix of vintage and modern elements, featuring a white wallpaper accent wall, a modern headboard, and a simple throw. A large bright and airy bedroom that you will enjoy after a long day at work.
Final Thoughts
The bedroom strategies for females is one particular region of the home in which you are able to really express your design style and decorating taste with no inhibitions. It's an individual sanctuary in which your preferred shades, patterns, & styles come together to make a tranquil still trendy hub. The concept of producing a feminine bedroom has much less to do with its occupants, and it is much more about the color scheme, decor, and also the general ambiance of the home. We hope that you enjoy these several beautiful women bedroom ideas as much as we do!
This is an image roundup post, curated to showcase and promote other reputable contracting companies' and their amazing work. To have any of the images removed, please reach out to us and we would be happy to do so.
Other Great Articles to Read: