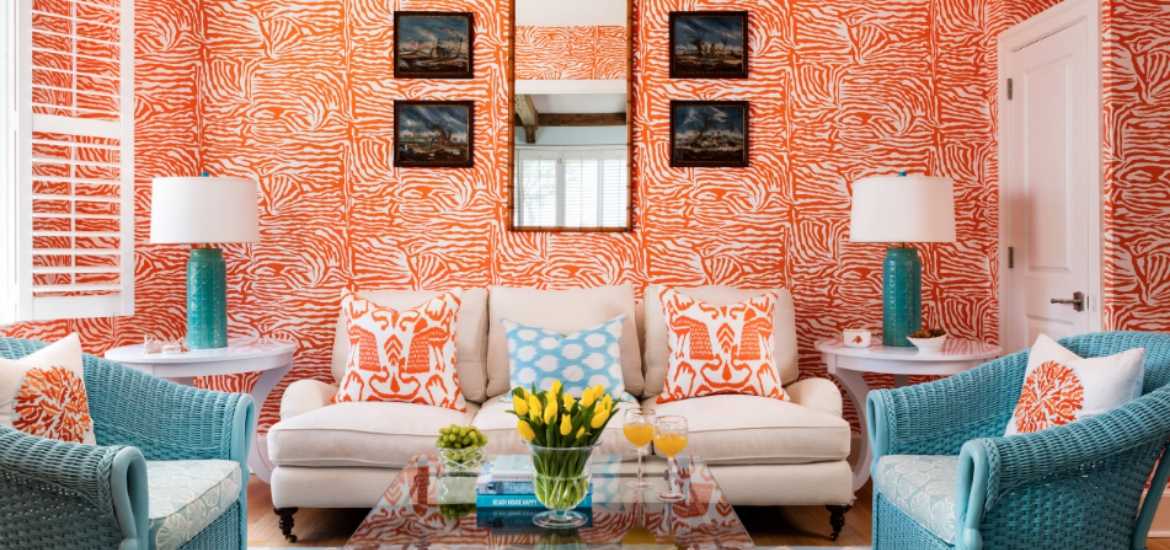 An orange living room will always be considered warm and inviting for everyone. As a combination of the colors red and yellow, orange creates a harmony of the qualities that these two different colors possess. It has a less imposing effect and a toned-down brightness. Its warm attributes from the color red were created to be less striking by the yellow shades. Once used as a color scheme for a room, it has the capability of reflecting a sociable vibe especially when establishing a much needed extroverted quality.
Orange living room set has energizing qualities. It usually invokes the feeling of excitement and encourages the flow of energy. Some might not be a fan of this color, but there are a lot of things that you can actually do when you learn how to effectively manage a perfect color scheme that involves a lot of dynamic nature. One design tip that I have always learned from creating interior inspirations for most clients that do not want to go all out with their "main" color scheme, is that they try to find a complementary color that will add more aesthetic value without ruining its primary effect.
PHOENIX SUNSET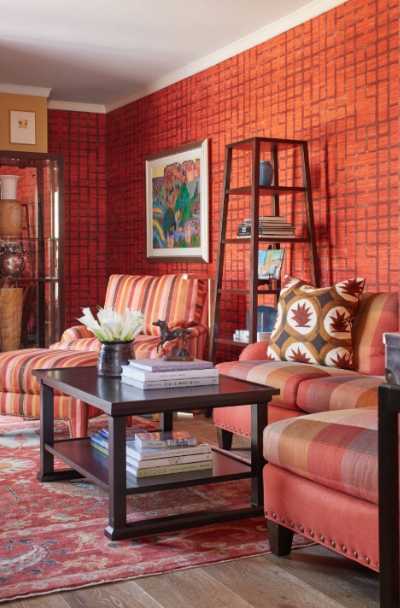 No breathtaking views? No need to worry, this haven is a relaxing getaway to bask in the sunset glow of color.
MOROCCAN AIMED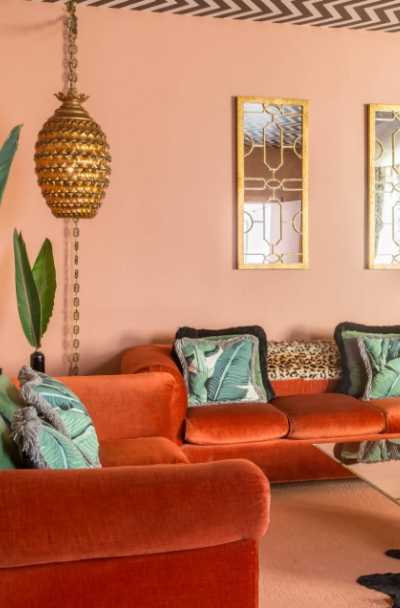 Adding this low plush seating blended with intricate metalwork truly accented the theme of this style.
BOLD TRADITIONS
The classic architectural details of this interior inspiration are only enhanced by the daring wall color.
SPRING MELODY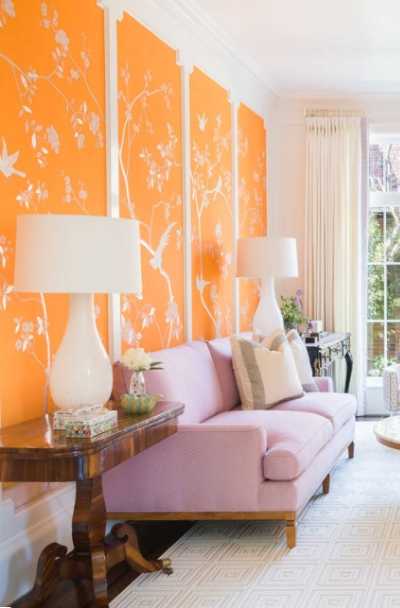 Eternal spring flourishes in this space between the light-colored hues, natural light, and floral accents.
CITRUS PEEL
Unique burnished orange leather textured wall dripping in gold resin accents ooze vintage artistry.
A STAR IS BORN
The vertical stripes of orange naturally leads the eye up to a dazzling light display on the ceiling.
GOOD CONTRASTS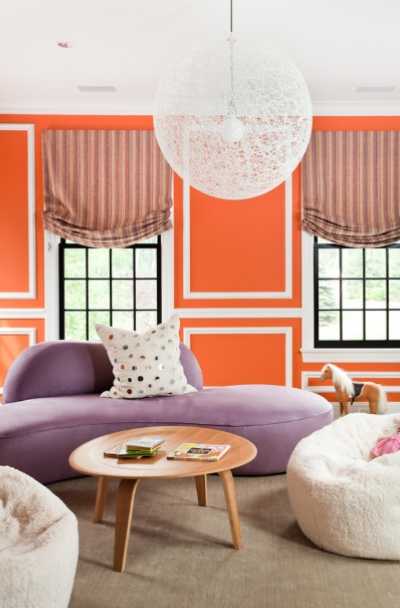 What two things don't belong? One would think, but the differing styles compliment one another.
A LOOK BACK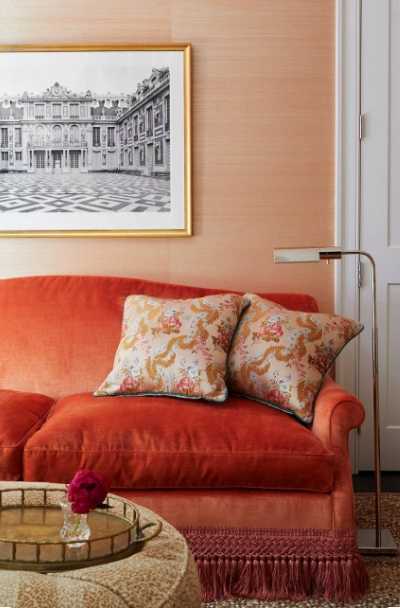 Rich with history. This Chicago home with the classic living space takes a nod back to a time more elegant.
COLLECTORS DREAM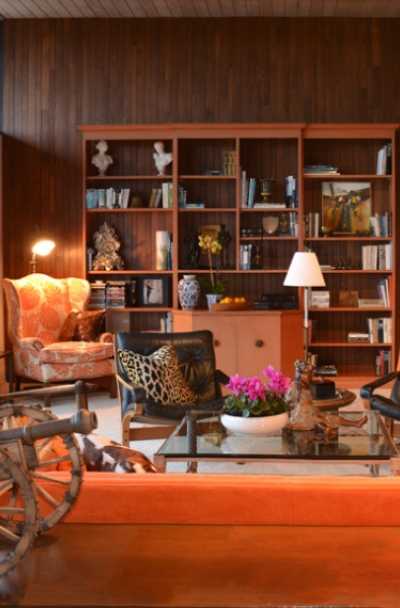 Deep warm wood tones on the walls perfectly set the scene for the personal treasures on display.
TIME HONORED MANOR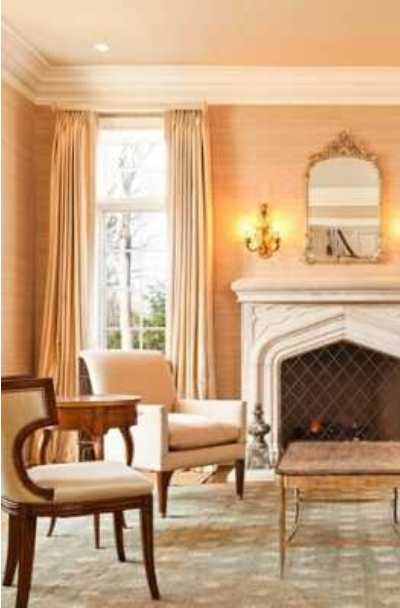 The centerpiece is a stately stone fireplace surround symmetrically placed between the windows.
Great Color Choices that Goes Well with Orange
Before you entirely decline these orange living room ideas, you need to look into other different combinations of color schemes that might change your mind. There are plenty of color combinations that will make your living room more exciting and vibrant. Using the color wheel as a guide, you can surely find the perfect complementary color for that orange shade that you must not give up on. If you do not need the help of the traditional color wheel, here are some color combinations that other people have successfully tried in their own living rooms.
Pale Blue
Yes, that fun twist provided by the vibrant orange creamsicle sherbet in a minimalist aesthetic of pale blues and whites is worth the try. When you want to transform a conventional room into having some fun elements, the most that you can do is to introduce an element that will create an energy flow. The formal existing tone of your room will be less restricting when you try to introduce the creamy orange tone. Infusing the living room's pale color scheme with an inviting creamy tone of orange will most likely transform it to possess a livelier atmosphere for you and your family.
Dark Brown
Creating a spicy orange and brown living room will be a color combination that is expected to look as delicious as it sounds. It is a concoction that most interior designers would imagine as a great mixture of colors because the contrasting effects will make the orange color not too overwhelming for your senses. Painting the walls in a dark chocolate brown color will give your cayenne colored furniture and accents an opportunity to pop better without overpowering other design fixtures you installed in the room. The overall effect of this color combination is a welcomed change that you can always try to spice the room up with great taste.
CUSTOM COLLECTION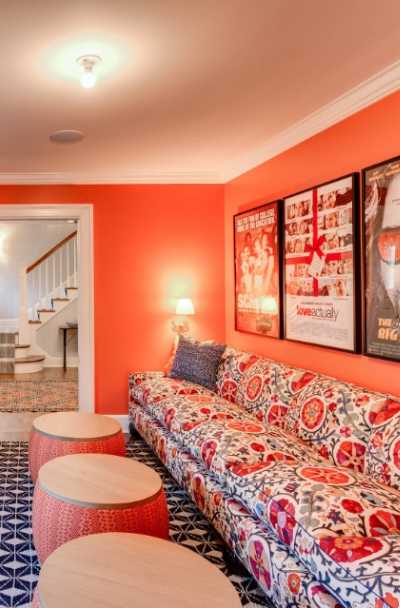 Custom made sofa that spans the length of the room encourages a movie night every night.
ASTONISHING HEIGHTS
Antique gold Sputnik chandelier sparkles amongst the dark walls; perfect orange and grey living room.
FOXY LADY
Orange and white color combinations contrast one another uncovering clever moments.
SOUTHWEST SPIRIT
Fresh twist on an American classic with bold colors, patterns, and hand forged metals.
Turquoise
This color is lively and bold, which is probably the best reason why it can easily be used to pair up with a warm orange shade. Turquoise and a warm orange combination will be phenomenal especially in Chinese inspired interiors. Asian themes are usually vibrant, so mixing these two shades will be perfect for the mood that you need to set. Aside from walls and pieces of furniture that are of turquoise shade, there is also a wide array of choices for decors of the same shade. When you have decided to use this color combination, there won't be a shortage of art pieces that you can use for your renovation project. Just imagining how the orange walls will serve as a great background for timeless looking wall decors and other fixtures will be enough to give this plan a full go.
Wood and Gray
Cottages have a certain homey vibe in them that you can almost not find in any other house. Their interiors are most likely to be made of wood and other materials that will exude the vibe that always feels warm and welcoming. Adding another color that you can add to the whole wood equation is the color grey. A combination of wood, orange, and grey living room will be a good design plan that will recreate your favorite cottage interior. This renovation plan will not just bring warmth but will also add sophistication to space where everyone in the family enjoys to kill time. The initial result might appear too masculine, adding flower centerpieces to the tables and other decorative pieces will fix this issue. Working on this cozy orange living room will surely become a successful renovation.
TRANSITIONAL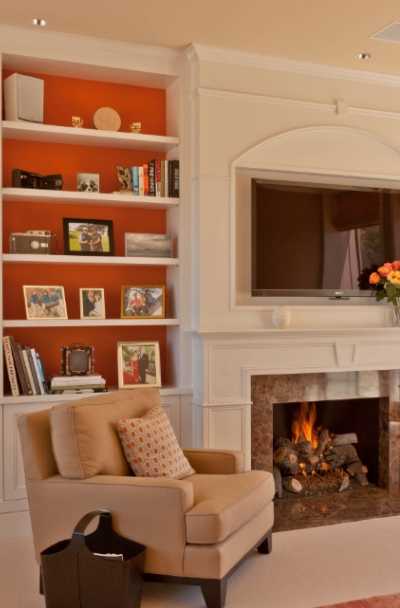 Traditional wainscot details of the fireplace mixed with clean lines elsewhere make the ideal refuge.
LOFT LIVING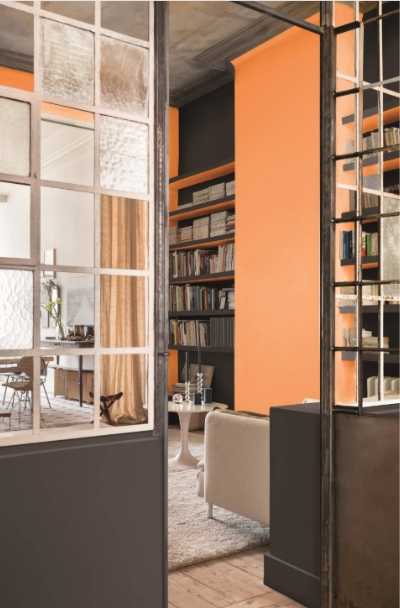 Urban living room with a library feel. The orange walls accentuate the lofty ceiling height.
Beige
Imagining a room with a soft beige interior and a loose bouquet of pink tulips, orange ranunculus, and roses will make you wonder how drastically it will change if you add more hints of orange into the room's interior plan. Gathering the shades of orange which will get along well with the monotonous beige will be an easy task. There are a variety of ways to introduce this shade to your existing grey and beige living room interior. Installing curtains or getting an orange couch for your living room are just some of the simplest ways to initiate your plan. Having another shade will definitely provide depth to the seemingly monochromatic existing color scheme. Adding softer orange tones to your decors and other fixtures will create a more dramatic effect.
Green
That burnt orange living room will look better with green highlights. You can also throw in some browns since this color is the result when you mix orange and green. The total effect will be so earthly that you would want to add more design elements that will enhance its overall appeal. Unifying these three tones for your own renovation project will also be possible when you add some white highlights especially in your furniture and decor. The total effect of the combination will blow you away and you will really find a very relaxing living room once everything is done.
Fuschia
The combination of orange and Fuschia is a great opportunity for contemporary stylists to showcase a fun and edgy design plan. These two colors will be great if you want a breath of freshness and energy to a monochromatic living room. Keep the color dose in check to make sure that you're in control and will not overwhelm your senses with too many bright colors. If you already have orange walls in the living room you can spare a little space for your Fuschia fixtures and furniture. If you have a grey and beige living room this tone combination will serve as great highlights for curtains and even throw pillows. Let the positive energy flow in your living space with these lively shades.
Pastels
Pastel shades of pink and blue will most likely get along well with some peachy orange tone. It might not be as warm as its original orange counterpart but it will still create a harmonious effect when combined with other pastel colors. If you want added texture into your interior plan, having floral patterns will surely be an option that you can go to. Florals should always go well with pastels so there won't be any issue in unifying the whole theme of the interior design.
FINAL THOUGHTS
The drawback that you need to look into when trying to use a warm tone for your living room is the overwhelming feeling it produces when the tone is very rich. Incorporating grey living room decors into your orange living room plan will not be a problem as long as you know how to arrange the elements with thorough consideration for details. Experimenting on a color combination not listed in this article will also be possible as long as you study it properly.
The list consists of the most common combinations that interior designers go for when they are to plan an orange interior. Although there are a lot of possible shades and tones that you can use, always keep in mind that going too experimental might ruin the whole plan. Study the area that you need to renovate. Check the lacking elements and make sure that you are able to make up for it when the new design is put into motion.
Other Great Articles to Read: