Featured Image: Pixabay
You're one of those people who can't seem to get enough socket drives. It started with one set of socket drives that you bought for yourself, and then another set was given to you as a gift by your spouse or your friend. Then you had to buy another one because your older sets didn't have the right size of socket drives or you lost one or two when you brought your socket drives out of your garage to a friend's home. Your socket drive drawer or toolbox is a complete mess, and you want to get rid of the clutter so you decided to buy a socket organizer.
Go to your favorite e-commerce website and you're going to find a lot of socket storage ranging from simple socket trays to magnetic socket holders. Choosing the best socket organizer can be overwhelming especially if you are presented with a vast array of choices and you don't exactly know the features you should consider.
Well, don't fret because we have a simple buyer's guide to help you get started. You can also read our socket organizer reviews to help you find the best socket organizers online.
Best Socket Organizers Buyer's Guide
SAE Vs Metric Socket Organizers
Socket organizers are available in two measurement scales: SAE and metric. SAE, which stands for Society of Automotive Engineers, is the measurement standard used in the United States. The measurement, which uses inches and fractions, is based on the imperial system.
The metric system is the measurement standard commonly used outside the United States. Sockets and socket organizers that use the metric system are measured based on millimeters.
You can tell that you're holding an SAE socket organizer when you see that the majority of the clips or holders are labeled in fractions.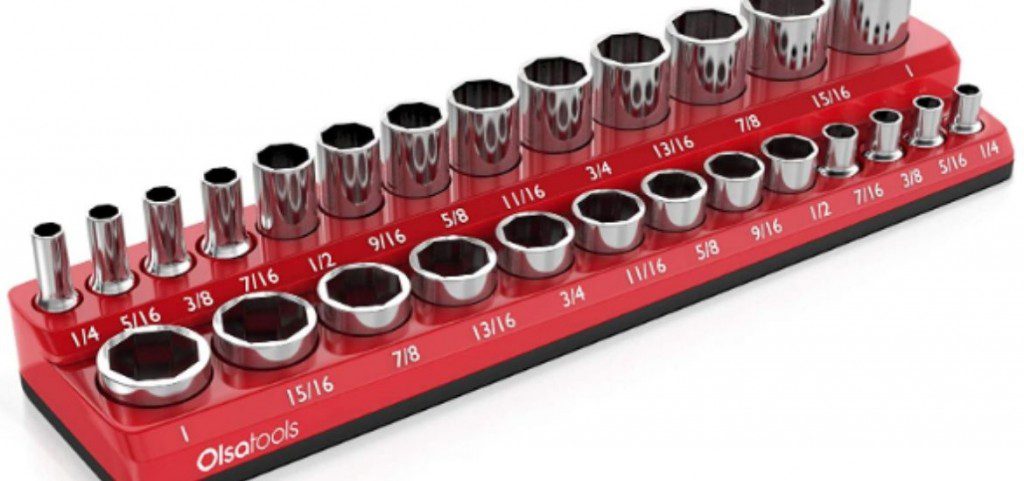 Metric socket organizers, on the other hand, are labeled with whole numbers and decimals.
Socket Organizer Capacity
The number of sockets an organizer can hold is the most important feature buyers should consider. If you are an average DIYer who has occasional projects now and then and you don't own a lot of socket drives, then there's no sense in buying a high-capacity socket organizer with as much as 80 holders or clips.
But if you're a professional mechanic or you're a DIYer who does extensive projects, then it's best to have a lot of extra space for the sockets that you own. It's better to have extra space for your socket drives rather than buy another organizer in case you run out of clips or posts. It is also better to splurge on a high-capacity socket organizer if you're planning on buying additional socket drives in the future.
Type of Socket Organizer Material
Unlike other tools in your garage, socket organizers are not subject to heavy use or exposed to the elements. But that doesn't mean they are not subject to regular wear and tear. Socket organizers are used to hold the combined weight of your socket drives at once, that is why it's important to choose the most durable socket organizer material available.
Socket organizers with heavy-duty plastic trays, posts, holders, and clips are great if you are going to store only a few socket drives. If you have a lot of socket drives up for storage and you want to invest in something that won't buckle under the weight of the socket drives, then metal socket organizers are the way to go.
Pure metal socket organizers are less prone to breaking, thereby lessening the chances of damaging your sockets when dropped. You can also purchase a socket organizer with a metal tray and plastic clips if you want to strike a balance between high-quality material and affordability.
Portability
Some socket organizers are ideal for storage in the garage only, such as this magnetic socket holder and this socket organizer with rods. Because the socket drives can be dislodged if you put them inside a bag and bring them somewhere else, these socket organizers are best suited for mechanics and DIYers who do most of their work in the garage and are not planning on transporting them to another workshop.
Socket organizers with clips, on the other hand, are more versatile and portable. Socket drives fit more snugly into the clips that are equipped with spring-loaded ball bearing or have a Twist Lock design. The fit is so snug in some models that you can hold the socket tray upside down or hang the socket rail on a pegboard without dislodging the socket drives. Clips are also the choice of mechanics who want something more portable as these socket organizers can be stored inside your tool bag and transported without the socket coming loose.
Remodeling your home is difficult, but it doesn't have to be. Check out the Sebring Design Build website for remodeling ideas, pricing guides, tool reviews, and more.
Conclusion:
All of the socket organizers we reviewed are the best their brands could offer. But, of course, there can only be one, and that is the Olsa Tools 1082 Socket Organizer. Here are some of the features that make this particular socket storage the best in class.
One of the Olsa Tools 1082 Socket Organizer's best features is its capacity. One socket tray can accommodate up to 48 socket drives. You'll get 30 clips for 3/8″ and 1/2″ drives each, as well as 20 clips for 1/4″ drives. If you're an average DIYer or a professional mechanic who doesn't use a lot of socket drives, then that should be enough space.
The type and quality of materials used to build this socket storage are outstanding. The socket clips are made of heavy-duty ABS plastic that can hold the weight of each socket drive. Each clip has a spring-loaded ball bearing, ensuring that the socket drives fit snugly and won't fall off when held upside down or when you transport them to another location.
The rails and the tray are made of steel for added durability. Moreover, the handle at the side is a nice addition. This allows you to carry it at it is without storing it in a tool bag or toolbox or hang it on a pegboard for easier access.
This socket organizer strikes the perfect balance between price and quality. It is made of heavy-duty materials and can hold a lot of socket drives, but the price you have to pay is pretty reasonable considering its quality. Overall, the Olsa Tools 1082 Socket Organizer is a good investment whether you're a DIYer or a professional mechanic.
Other Great Articles to Read:
To view our Amazon Associates Disclaimer, please click here.