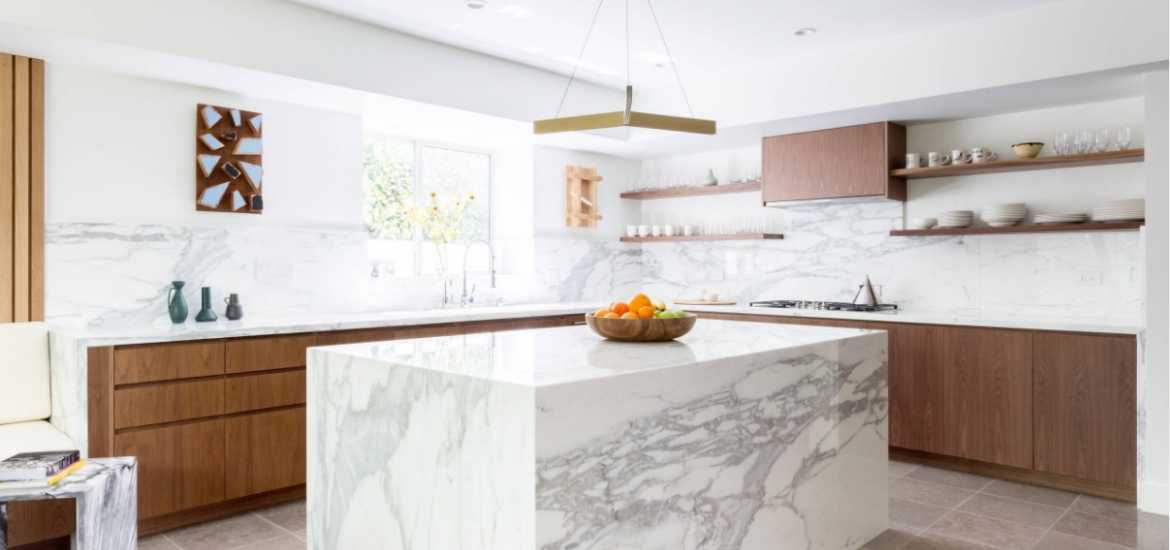 The color of your kitchen cabinetry is among the most crucial decor elements to think about when you're refinishing your cabinets or perhaps updating your kitchen cabinets. Cabinets cover considerable amounts of surface in your kitchen and have great influence over the way your kitchen's aesthetic and energy impacts the remainder of your house. Invariably, you should think about the material and style of your cabinet, but the color is usually what attracts the most attention whenever you get into your kitchen area. Today, we will feature 27 brown kitchen cabinet ideas and images that will help you transform your kitchen with this outstanding color.
FLAT PANEL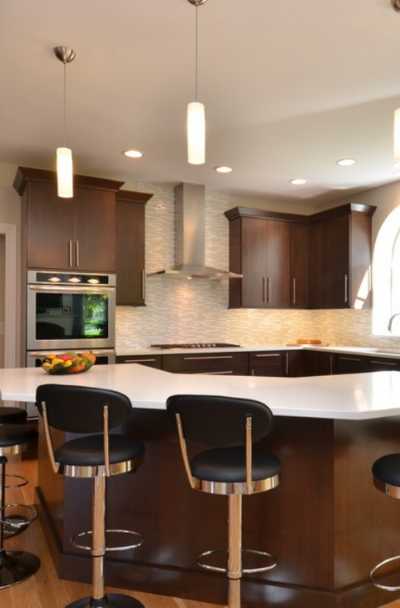 Everyone will concur that this brown kitchen design appears incredibly contemporary and posh. Excellent kitchen design by Plain & Posh that exudes class. The big hardware and stools complement the stainless steel hood beautifully.
LIGHT BROWN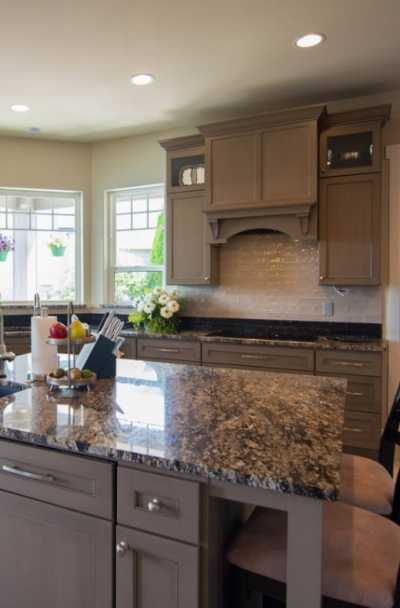 This kitchen's light brown color scheme appears warm and contemporary. The minimalist kitchen design by Deep Water Home & Electronics is excellent. The beige backsplash and countertops go perfectly with the light brown recessed-panel cabinets.
GRAIN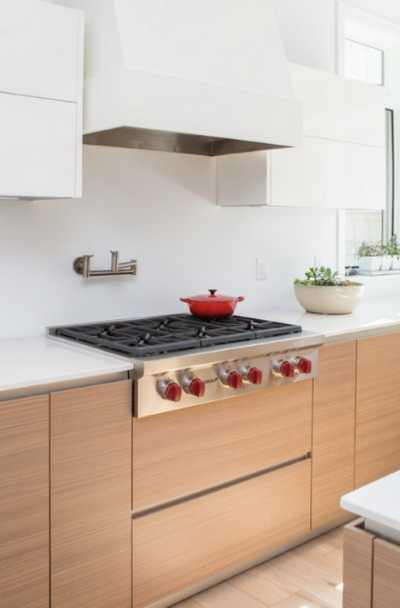 This kitchen design's white and light brown color scheme looks incredibly complementary. Natural light enters through the windows. The upper white cabinets and the light brown cabinets complement each other. What a stunningly contemporary kitchen Pedini Seattle created.
FLOOR TO CEILING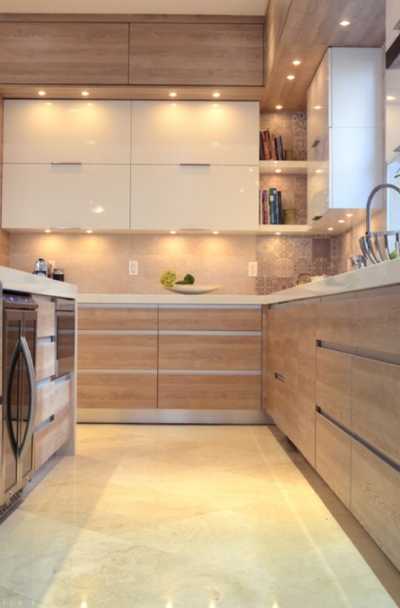 The lighting in this kitchen design matches the kitchen's brown accents on everything. The floor-to-ceiling cabinet is a light brown color. White cabinetry and the backsplash serve as highlights—excellent kitchen layout by KabCo Kitchens.
SLEEK
Everything in this modern kitchen design is so neat. The brightness blends beautifully with the SLR Architecture kitchen's sophisticated aesthetic. The white quartz countertops contrast beautifully with the simple lines of the cabinets.
SHAKER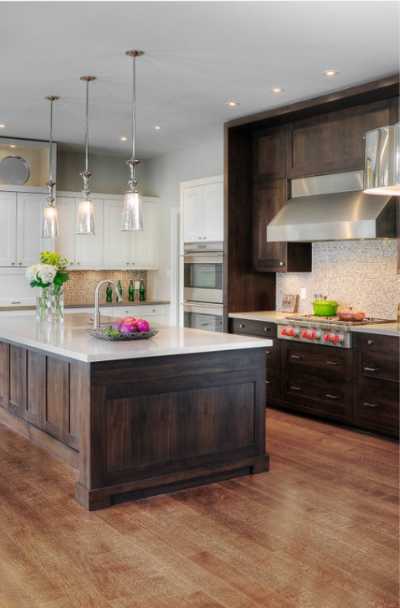 Everything in this kitchen design, which has many brown features that look great, seems contemporary and rustic. The white cabinets and light-brown floors complement the walnut shaker cabinets wonderfully. Braam's Custom Cabinets created a kitchen with such a modern look.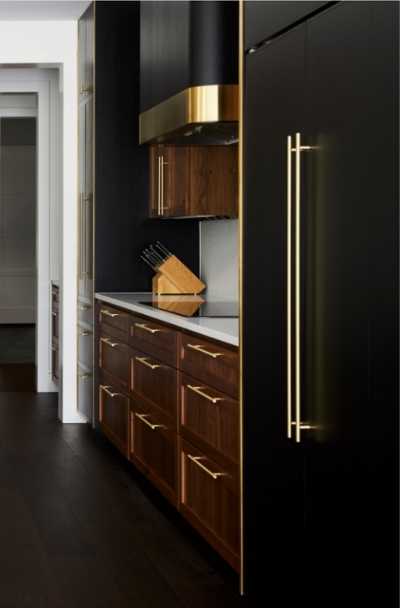 Everything in this kitchen seems very classy and exquisite, thanks to the dark theme colors! With the brass fixtures and hardware, the combination of dark wood and dark brown cabinetry looks fantastic. The kitchen design by Allison Lind Interiors is incredibly modern.
The Psychology Of Color Brown
Brown is frequently generalized to nature and considered solid. It's the color of the earth and soil. Many different shades of brown might invoke many feelings or emotions in an individual: a warmer brown could cause an individual to feel warmth, dependability, security, protection, and resilience. On the other hand, a duller shade could invoke negative emotions like loneliness, sadness, and isolation. When in a big stretch, brown can frequently look like a never-ending desert and cause persistent negative emotions.
If brown is among your favorite colors, you're more than likely to be an extremely down-to-earth individual. People who take pleasure in the color brown are usually gentle, cautious, responsible, approachable, friendly, nature-loving, practical, and thoughtful. A brown lover is usually reserved without aiming to attract attention to himself. This particular person values the fundamental necessities in life rather than luxury and expensive belongings. Since brown has a deep link with nature, being outside might be an extremely fulfilling experience.
Brown has several shades, and your own preference for all of these shades might tell lots about your character. The two main kinds of brown (light brown and dark brown) encompass many shades, including mocha, tawny, cinnamon, caramel, and others. Here's a brief listing of character traits connected with a shade in either of these regions: light brown is equal to stability and honesty, while deep brown means mature, predictable, and dull. Brown is among the most typical end results of mixing styles on a palette; we are able to blend the secondary and primary colors on the color wheel to make a brown color. The colors combined to produce brown have a major effect on the significance of the color for the person. For example, colors with positive connotations, for instance, green or yellow, could invoke positive personality traits when combined with various other similarly connotated colors.
Brown Kitchen Cabinets For A Small Kitchen
Most individuals have heard the phrase that the kitchen is the heart of the house. No matter how inviting the majority of your house might be, people are likely to gather where they are able to benefit from the comforts of the kitchen. The color of your cabinet will influence how your kitchen area looks and feels, therefore making the decision between dark or light cabinets plays a tremendous role in producing the environment you would like inside your kitchen. Ultimately, no homeowner wants their kitchen to feel like the interior of a dark, cramped closet. In case you're planning to renovate a small kitchen, you've got a valid concern. Dark colors are able to dominate an area and make it seem to be smaller. You will find many very good reasons to use brown cabinetry though. Dark shades of brown put in a touch of elegance to a home and also function as a pleasant background color. The easy answer to this issue is yes; you are able to use dark brown cabinets in a tiny kitchen. The caveat? It would help if you discovered ways to balance the deep color with various colors plus kitchen elements to stop it from looking overpowering.
Make brown cabinets much less intrusive in a tiny kitchen by making use of it just along lower wall sections. Placing light colored cabinets at eye level, and dark brown kitchen cabinets below naturally draws your eyes far from the dark on the light areas that seem more expansive. Next, use a brown kitchen cabinet as an accent. For instance, in case you've got a small island or maybe transportable cart, reface its cabinet frame in brown and then work with colors that are light elsewhere. The kitchen is going to feel much larger, and also the single brown cabinet will make the island into the kitchen's focal point. Use light to brighten the dark kitchen and distract from the deep color and also produce the impression of additional space. Physical lighting, like LED under-cabinet lighting or overhead lighting, can produce a distraction. Glass, mirrors, along with a light-colored, diamond-patterned backsplash, is able to reflect light or even trick the eyes. If you want brown upper and lower cabinets, soften the sharp contrast between the brown cabinets along with other aspects by utilizing light colors for your walls, countertops, and ceiling.
For instance, in case you want dark wood kitchen cabinets, try an ivory ceiling, a darker shade of tan or cream for the wall space, and bursts of colors by the wall space & cabinets in all-natural stone or maybe Corian countertops. Furthermore, use tall & narrow, vertical brown upper cabinets to produce the impression of a very high ceiling. Appliances and decor which have reflective or light-colored metal surfaces likewise help. In addition to your personal sense of physical style and space, these ideas make it easy for you to use dark wood cabinets to create a balanced small kitchen space you are able to enjoy for a long time.
WHITE OAK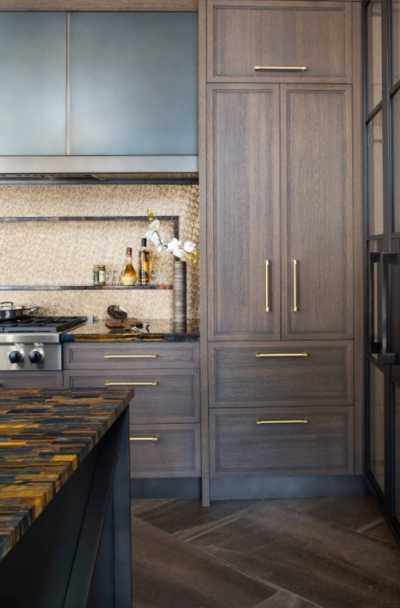 This kitchen design is so cutting-edge and expensive-looking that it exudes elegance and sophistication. This white oak cabinet's dark brown stain complements the gold backsplash. Exquisite Kitchen Design created such a fantastic kitchen.
TWO TONED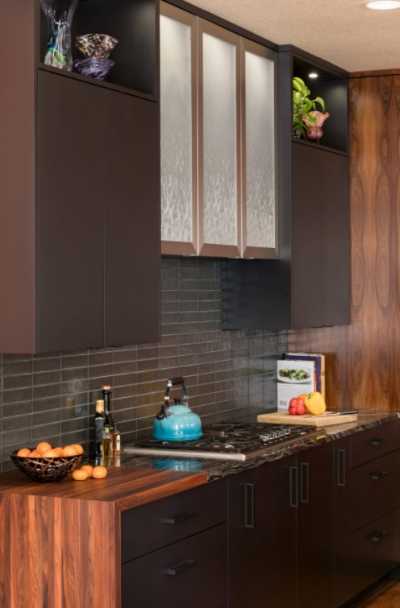 The glass mosaic backsplash and marble counters are highlighted by flat-panel, dark-brown upper cabinets. Everything is both traditional and modern in this kitchen design. Kitchen design by Exquisite Kitchen Design with a dark brown tone.
MINIMALIST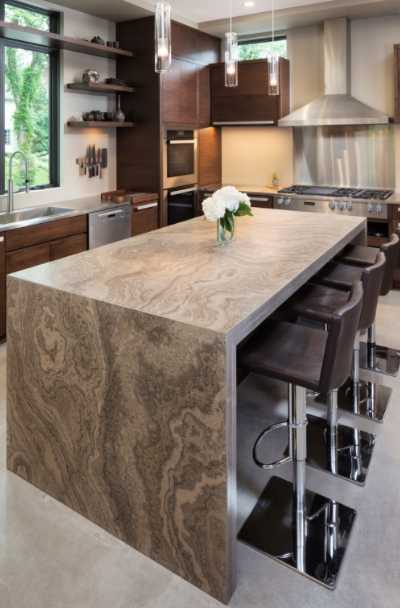 You'll acknowledge that this kitchen has a wonderful dining area in the center and is basic in style. John Kraemer & Sons' kitchen design is simply amazing. Medium-toned brown cabinetry, cement floor, limestone countertops & stainless steel appliances.
MAPLE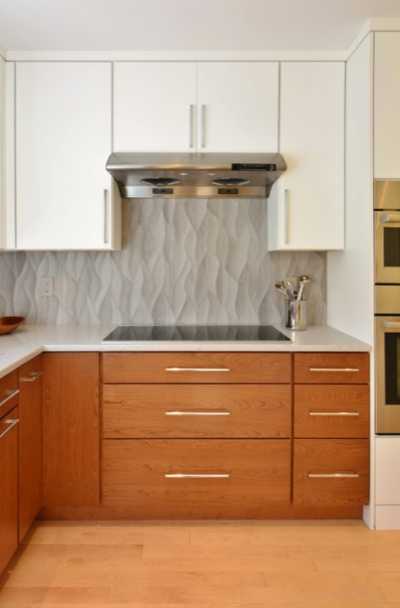 Need help with the small space in your kitchen? The Wiese Company designed this maple kitchen theme. Looks so cozy and modern. The maple lower cabinets paired beautifully with the white uppers and textured backsplash.
This kitchen's layout appears very well-organized, organic, and airy. The gorgeous wood combines with the golden fixtures. White cabinets are paired with white quartz. This kitchen design by Kitchen Design Concepts is incredibly contemporary and light-filled.
HICKORY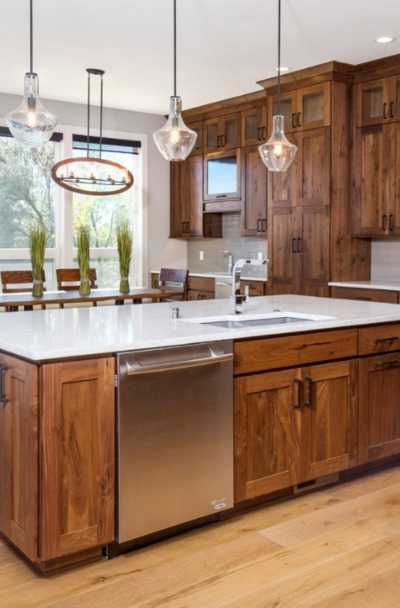 This kitchen design is very sleek and modern while still seeming rustic. The cabinet is made of hickory and finished in dark brown. White quartz countertop and lovely fittings. What a stunning modern kitchen cabinet design from Crown cabinets.
Tips In Using Brown In Your Kitchen
As contemporary decor trends start to be increasingly more common, brown kitchen cabinets were on the rise. Even though many are fast to ignore dark cabinets kitchen to stay away from a dark ambiance, colors that are dark have a lot of practical finishes that pair well with any design you are able to imagine. Dark brown cabinets are able to turn some kitchen space into a stylish, sophisticated veneer. It should be mentioned that prior to renovating your kitchen area, dark themes require much more care and expertise to pull off. When you're not confident in selecting what finishes or colors will work best for the kitchen, do not hesitate to talk to a trusted interior design or decorating expert. When you find the best brown shade in your kitchen, nobody can help but be encapsulated by your brand new kitchen.
In case you're trying to be inspired, we've come up with numerous selections of brown cabinets, which could be ideal for you! We are also going to include some tips and info which will help direct you when selecting a brown shade, which will provide you with the very best appearance on your kitchen cabinets. Deciding on the best brown shade could be the most complex process when renovating your kitchen area. Most cabinet suppliers are going to feature a huge selection of brown shade. I know this could be frustrating, but with very careful consideration, you are going to find the best brown shade quickly!
The initial step of your decision is deciding what your ideal brown varieties that a vendor offers. Remember that brown color for your kitchen area doesn't need to be dark brown. When you would like to take additional zest to the home, you are able to pick from different strengths of brown. A crucial detail in identifying the shade of your cabinet is contemplating what will enhance the other characteristics of your kitchen and also the general style you're looking to accomplish. In case you're looking to make a magnificent, modern theme, darker brown shades must be your top priority. When your kitchen area has dark brown floors, light brown must be in consideration. In case you want to make a unique appearance in your kitchen, take an innovative approach with a deep shade of brown. Do not forget that you can always think about mixing bright, exciting styles with the tranquility of rich and deep brown colors.
ACRYLIC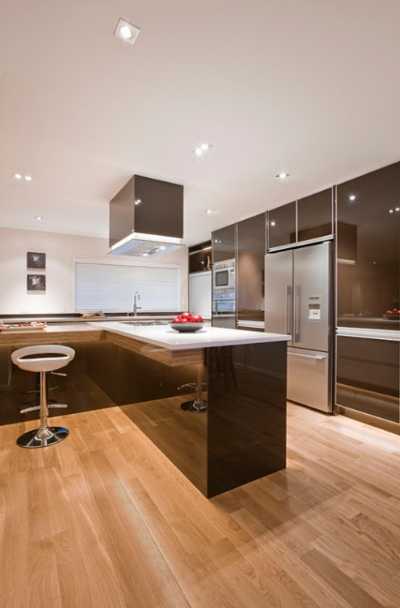 In this kitchen and dining design, everything seems incredibly spacious and modern. With this kitchen from Mal Corboy Design, you may formally invite your friends over. The cabinets' high gloss acrylic reflects light to make the area appear larger.
VENEER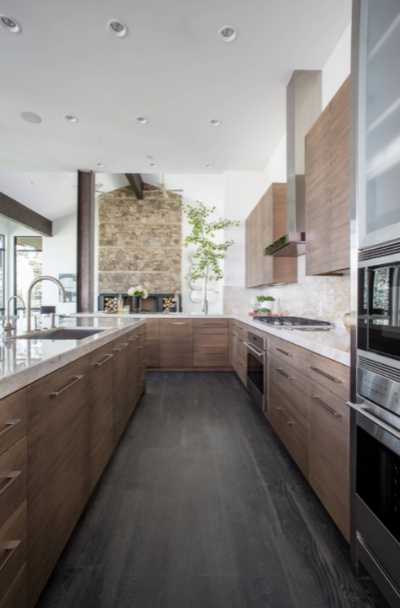 With this modern, well-organized kitchen design, you will spend a lot of time in the kitchen is very productive. The black floorboards contrast with the white oak veneer. The hardware and stainless steel appliances are complementary by Jeffa Froup Design Build, a truly excellent kitchen design.
Choosing The Perfect Shade Of Brown Kitchen Cabinets
Do not hesitate to commit a great deal of your time and effort in deliberating over what color is going to emulate your vision. Your kitchen is definitely the heart of the house, and also you wish to make one thing you're proud to call yours. Many approach brown shades with apprehension since they are able to take in light and also give off a dramatic and intense appearance. This is the reason it is typical to blend and match colors to develop a far more neutral color for kitchen cabinets. Blending bold color accents, or maybe muted tones of camel, taupe, and cream with basic brown colors, will deliver an attractive, homey dark shade. Nevertheless, before choosing a shade, you have to think about the lighting your kitchen space provides. You might need to increase the lighting source of the kitchen, by using lamps, using windows for natural light, or perhaps consider less heavy shades of brown color.
Try matching your brown shade with various other dark components in your home. Brown kitchen cabinets are going to look fantastic with light walls, particularly in case you incorporate dark flooring to actually improve the colors of your kitchen. This can additionally enable the cabinet to become a prominent function in your space while being complemented by various other components of your home.
We would like to reiterate it's very common to feel uneasy or hesitant about choosing brown cabinets for your kitchen area. But do not allow it to stop you! When you're not at ease with identifying the perfect shade for your kitchen area, meet a specialist—a little professional guidance is going to make the procedure a lot more manageable. Also, make sure to check out our 27 brown kitchen cabinet ideas to motivate you with your kitchen renovating process.
This is an image roundup post, curated to showcase and promote other reputable contracting companies' and their amazing work. To have any of the images removed, please reach out to us and we would be happy to do so.
Other Great Articles to Read: