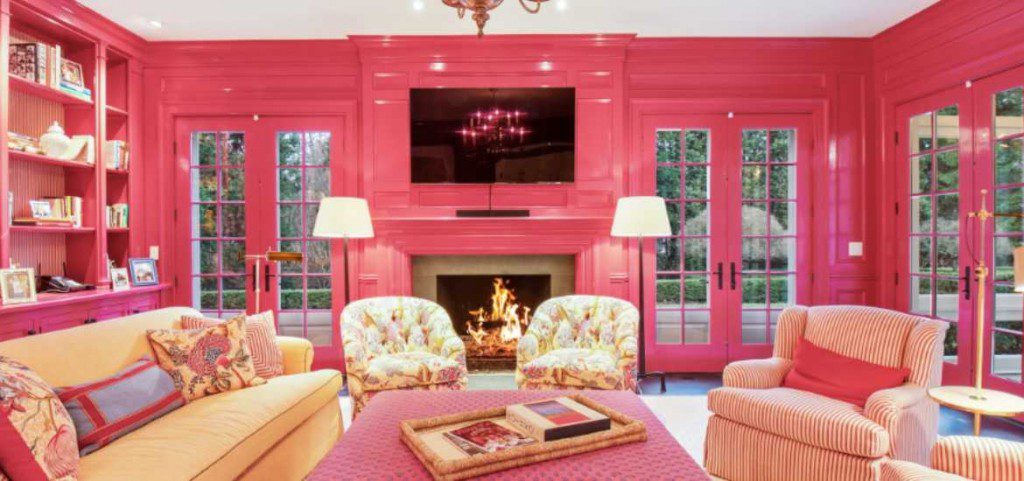 Pink is a color that is perpetually connected with femininity, just like how blue has a tendency to be the color of all things masculine in the field of interior design. Others think this stereotyping is simply one big advertising gimmick, but others point to growing scientific proof that states females are naturally programmed to appreciate redder shades of pink while males like those in the green-blue spectrum. Regardless of which approach you are taking on the issue, pink is frequently connected with all things dainty and fantastic. However, it's not merely a color for the feminine bedroom or maybe a baby girls' nursery. Today, let's take a look at 17 pink living room decor ideas and images.
WHIMSICAL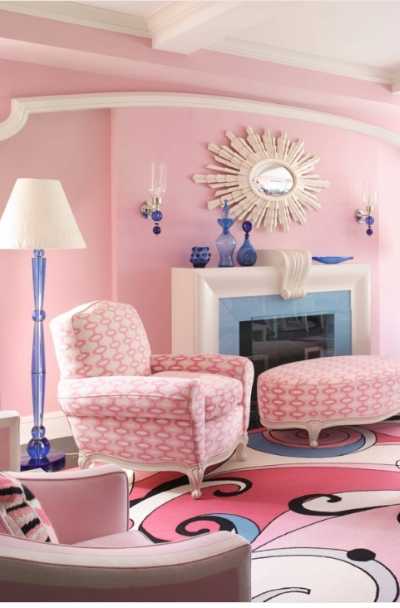 This pink living room by Anthony Baratta LLC appears as if a child designed it. The area goes from stuffy to whimsical with the help of rounded accents placed strategically around it.
Do you want a living room in a beautiful shade of pink that is both inviting and inviting? Let your mind wander in this serene and beautiful setting—stunning decorative work by Heidi Holzer Design.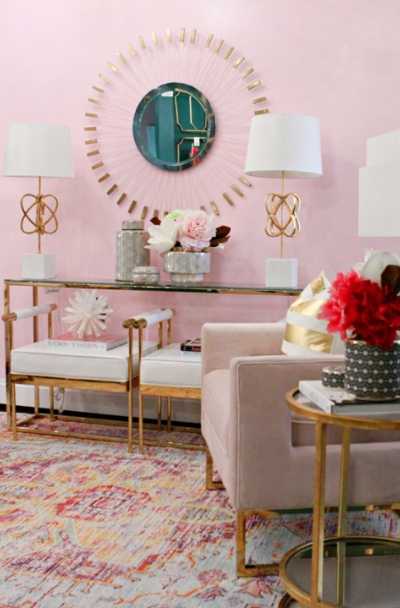 The light pink decor in this space is sophisticated; we can all agree on that. Southfork Lighting brought out the best in this space. The use of gold-tone metals elevates every detail of this pink castle.
VIVID
Rich, vibrant deep pinks stand out against the highlights in dazzling white, enticing everyone inside to remain for a while. Everyone would agree that the pink living room design by K. Brant Interiors shouts luxury and wealth.
VIBRANT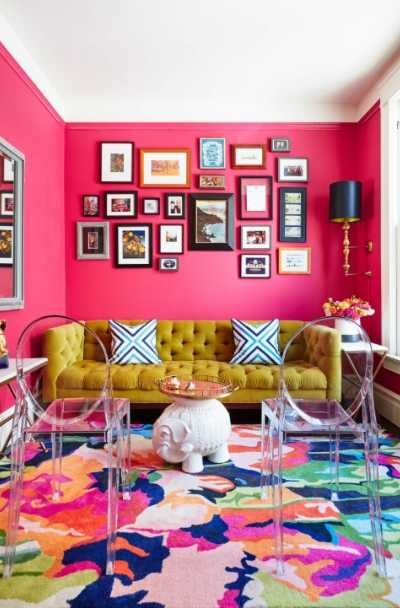 Do you want to feel so magnificent in your home's brilliant pink living room design? What a superb method by Noz Design. The tint of the walls wonderfully grounds the area within the color spectrum.
BACK TO BASIC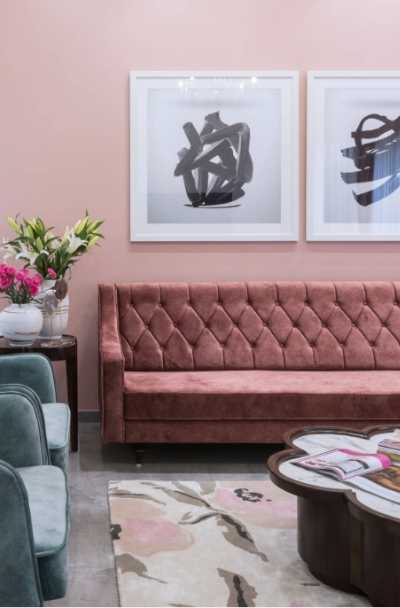 Everyone would agree that an interior design with a basic but beautiful style makes everything seem attractive and worthwhile, like this one—balance, simplicity, purity. The pink living room design by P & D Associates is extremely understated but sophisticated.
Everyone would agree that this living room screams elegance and pleasure at the same time. The living room design by Cherokee Construction is fantastic. Through the large windows, you can completely immerse yourself in nature.
You can have a pink living room straight out of a design magazine. That pink living room by Just Jill! Interiors is something to die for. Stylish customs that exude grace and relaxation.
Pink For The Living Room
Although pink is not a neutral color, it has marvelous versatility with regards to merging with various other colors ranging from green and blue to yellow and red. The countless shades of pink also make this a lot simpler and let you make use of it in living areas of mixed themes and styles. Perpetually well known but usually constrained to bedrooms, it's time to bring pink into the living room.
From shades of pink that move more towards the purple end of the color spectrum to those which are light enough to merge in with a few yellowish hues, pink is packaged in a wide variety of variations. It actually leaves you spellbound. Even though the popular packaging in media is about shades that are close to a single hue, explore the numerous options thoroughly before you settle on one. The likes of pastel pink and Coral crush is able to change white in the living room and develop a backdrop which is completely neutral but engaging & attractive. Hotter hues like Pink Corsage should be utilized in small amounts with a dash of class!
Paint is certainly not the sole option with regards to giving your family room a colorful makeover. Decorations in pink, like pink curtains, for the family room are able to give your house an enjoyable and unforeseen twist while maintaining the backdrop distinctly neutral. Plush carpets and scatter rugs are usually the easiest way to start this pinkish makeover since they are inclined to produce the largest visible impact. Stick to this up with accent pillows in matching shades of yellow, a number of beautiful throws elegantly placed close to the living room along with artwork with hints of pink brilliance to finish the look.
CONTEMPORARY
Do you want a modern, vibrant living room design for your home? You'll benefit from purple and pink together! The work of Charles Rabinovitch Architects is quite impressive. Enjoy the modern look and bring a variety of hues.
ECLECTIC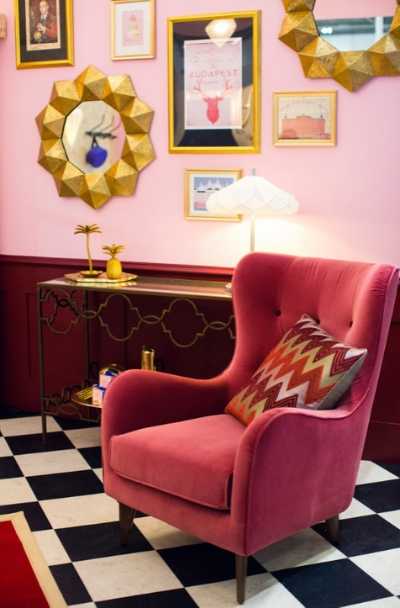 Various forms, sizes, metal finishes, and colors were masterfully combined to create the ideal sitting space. This living room layout is excellent and has an eclectic feel to it. That design by Amanda Neilson Interiors is fantastic.
How To Decorate With Pink
What makes pink so appealing? Pink has an allurement, and most people are able to tolerate it because it is significantly less audacious as red. Pink provides subtleness, and that helps make it very attractive. Furthermore, it provides that tint of red without needing to outright use the other color. In terms of home decor, red takes far more skill to be used than pink.
If you do not wish to go all out when working with pink inside your home decor, utilize accents, such as pillows, wall art, a vase, throw rugs, or maybe a blanket with a pattern of blush pink textures and intensities. A pink living room can be created of all of these items, in case you recognize the way to blend them harmonically.
Light pink will be the type of shade you can quickly see in nature. Blend your pink home decor idea with natural tones & textures in materials like wood or stone. Much like you can create the pink room in your home with big lots of accent chairs. It is quite pretty and elegant, and your guests will certainly love it, also!
What about the pink walls? This may be a fine home decorating option and must receive careful consideration before snapping any type of pink hues. Nevertheless, it is able to work! It all depends on what size the wall is, the wall texture, and the room. If you have a family and also do not wish your house to appear like a pink palace, a bathroom, or maybe a kitchen wall is a great starting point.
Decorating Ideas For Pink Living Room
Pink is a compulsive stereotype color which is usually deemed as gender exclusive. It is an unfortunate thing to know that such a sophisticated and chic color is referred amateurish for mainstream interior design. This particular transcends to the degree that individuals are suspicious of selecting this sexy and soft shade as the main overall tone for a purposeful living room. Happily, you will find loads of millennial interior designers and also homeowners who have shattered the glass ceiling and then acquired the effervescent pink as the key color for their living areas and allow it to bask in its full glory. In this post, we have curated an admirable assortment of design ideas for a pink living room. Have a look!
First, allow the wall space to echo "pink" design. Provide the walls of your living an innovative hint of pink paint. Sober it down by going for a slight shade of a single pale rose. It'll surely serve as a glamorous backdrop to the home decor. In order to balance it up, aim for an earthy floor layout and basic furnishings. Go for a pink focal point. Create a classic look by having something, which stands out of all the others. And of course, be sure that it's pink. A coral upholstery right in the center of the area is able to catch the eye anytime. What about a pink framed mirror in the middle wall? A huge pink sofa may also function as the attention-stealing focal point of your family room.
You can also go for a Bohemian family room layout in pink. If perhaps you're a maximalist, then bare out your true personality inside your pink living room. Try giving the biggest room in your home a Boho chic makeover. A unique blush pink sofa could be teamed up with a vibrant pink coffee table. Pull in a few bold pieces of souvenirs purchased out of your travel destinations. Set up a prominent bookshelf lined with your favorite books. For something different, ditch small potted plants and toss a little life in your family room by putting a huge potted tree that could remain in its splendor in that space.
Next, string in an enchanting pink chandelier. We love chandeliers! A living room may be lit with a beautiful chandelier in a tainted pink glass. It's unquestionably likely to be eye candy for each visitor. A queen-sized chandelier is able to work like magic for the dreariest area. It is going to be the ideal addition for basic room design with white-washed wall space and stylish frontroom furnishings.
Finally, coral is usually the very best contrast for white. In case you like all things minimal and also wish to enliven a tiny living room, then you are able to incorporate a fantastic interior design by choosing coral and white as the primary theme of your room. Coral paint colors for living room could be the shade for the walls, which may stand bold against pink and white painted furniture ideas.
Getting Creative With Pink Living Room
If you like to get the best out of a pink living room, pink blossoms really are a must. How can we forget pink flowers if we would style a pink living room? Put in pink roses in your preferred vases and place them right in the center table. Also, a huge floating lotus in a bowl is able to pull in subtle energy, which could merge well with any contemporary interior decor design.
Pink wallpapers design could also be a fabulous choice. Wallpapers can't ever fade out of style. You are able to refurbish your family room with pink tone wallpapers along with a huge bunch of choices, and I'm certain you're likely to be spoilt for choice. You can go overboard by choosing a glazy pink shade or maybe, in case you like things neutral, then paste coral or powder pink patterned wallpapers to bind the general decor of your living room together. Textured wallpapers are the trend in the decor world right now, which means you can consider them too.
Meanwhile, you can also take pink as an accent tone. When you would like to add your favorite pink shade in a subtle but still visible way, then aim for some lovely inside decor accents, which can amplify your living room design. A rose gold table or maybe a pink wall art could be a smart choice to curate the whole look of the area. A yellow area rug, black and white area rugs on the floor or maybe pink throw pillows on the couch could be similarly an eclectic choice to select.
It is also worthwhile to go for pink and marble since they go hand in hand. Millennial pink, along with classic white marble, is a stylish combination that can never ever fail you. Go for a half pink half marble wall against pink and white interior set-up, plus you're certainly set for a heavenly statement in decor design.
Lastly, combine pink along with other striking colors. Have a hard-hitting interior decor on your living room by going for a bold revolution. Pink is able to merge perfectly with intrepid shades like metal, gold, electric pink, and purple. Your wall space may be done in metallic with a bubblegum pink sofa right in the middle. You are able to choose blue velvet seats with a rose gold table for a statement look. Green plants are able to work like a magnifier because of this scenic living room layout.
Pulling Off A Pink Living Room
Pink wall space is a hot new color trend for living areas, but while it is a versatile color, it is likewise an unusual one. To discover if your living room is able to manage it or perhaps find out if it is the color type you could possibly love to add to your house, make sure to check out our 17 pink living room decor ideas and images.
Significantly less is more, so consider petal pinks as an accent and use no over three tonal shades into your palette. Make use of white paint as the base. It is the color that sets off any pink to its greatest advantage, along with other colors that are difficult to combine with petal tones without looking garish. Above all, do not forget to have fun and a great time with your choice.
If you love pink, don't hesitate to use it for your living room. With the tips and guidelines outlined here, we are sure you are going to pull off a pink living room that will be the envy of your friends and guests.
This is an image roundup post, curated to showcase and promote other reputable contracting companies' and their amazing work. To have any of the images removed, please reach out to us and we would be happy to do so.
Other Great Articles to Read: