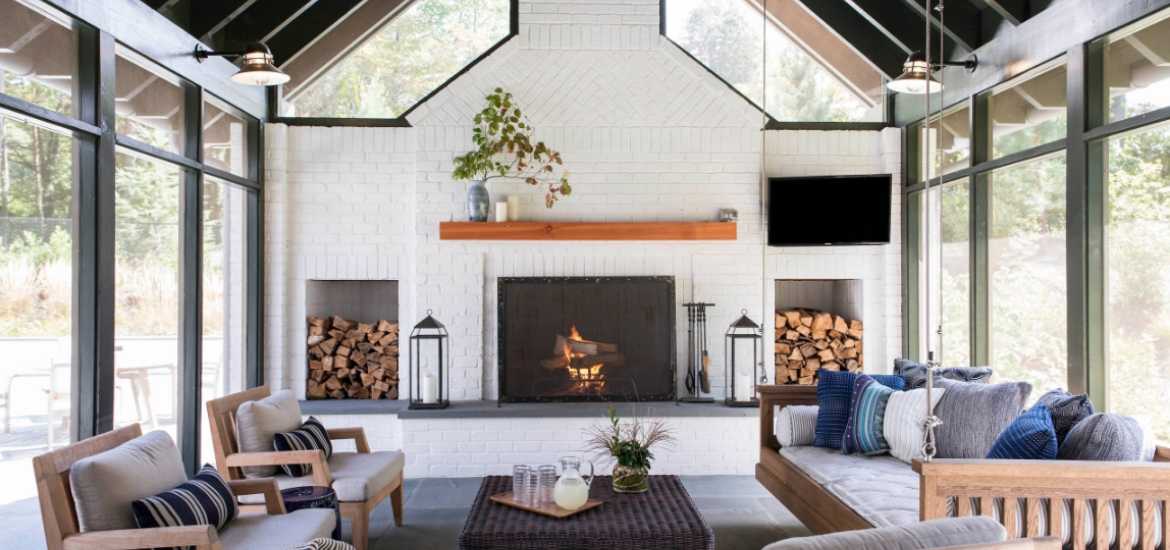 A love for farmhouse style shows absolutely no signs of waning. There is far more to this particular traditional decorating style than shiplap & barn doors. The brand new, updated vibe consists of components that make a room cool and inviting. Do not all of us wish to cozy up in an airy and light living room with comfy sofas, eclectic decor, and unique textures? Refresh your house with inspiration from these modern farmhouse living room ideas.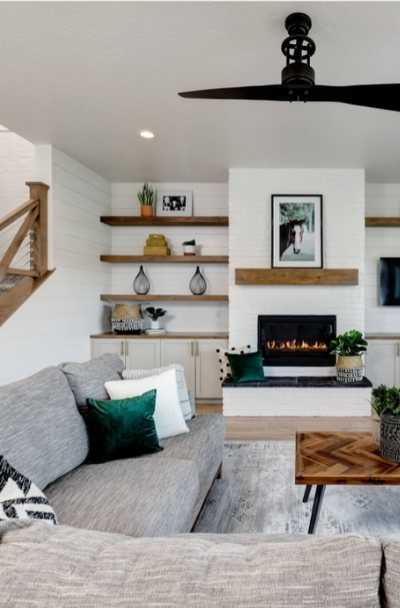 A charming and cozy living room by Solitude Homes with a modern farmhouse style, featuring a mix of warm wood tones, a shiplap accent wall, and rustic decor accents. Shiplap walls and rough-cut beam mantel with matching stained floating shelves bring needed warmth.
A bright and airy living room by Habitations Residential Design Group with a neutral color scheme and a modern farmhouse aesthetic, featuring a mix of plush textiles, natural wood accents, and greenery. Medium tone wood flooring accentuates the leather chairs and wood beam mantelpiece.
A chic and minimalist living room by CJC Interiors with a black and white color scheme, featuring a graphic gallery wall, sleek furniture, and natural wood accents. A custom fireplace decked out in a chevron pattern shiplap design is the highlight of this living room.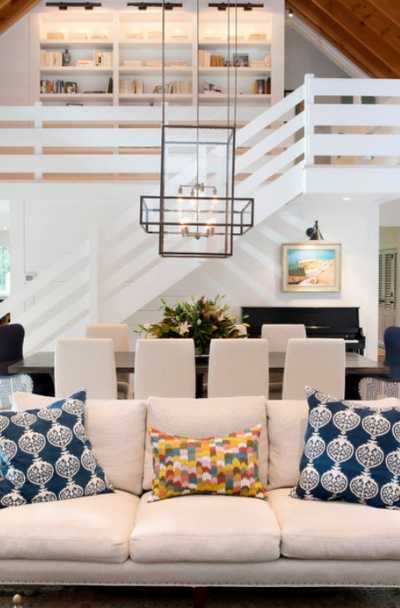 A cozy and inviting living room by Acanthus Architecture with a mix of warm wood tones and neutral textiles, featuring a brick accent wall, a cozy sectional sofa, and a rustic coffee table. Beautiful rafter ceilings in a light wood tone stain are highlighted against the white walls.
TRANSITIONAL
This room could be one accent away from another style, but the core elements of the room stay true. A bright and airy living room by Joseph Farrell Architecture with a neutral color scheme and a modern farmhouse aesthetic, featuring a mix of natural textures, black accents, and greenery.
RECLAIMED
A cozy and inviting living room by Noble Classic Homes with a mix of warm wood tones and neutral textiles, featuring a shiplap accent wall, a plush sectional sofa, and a rustic coffee table. The natural stone fireplace leaps off the reclaimed wood wall emphasizing the rustic feel.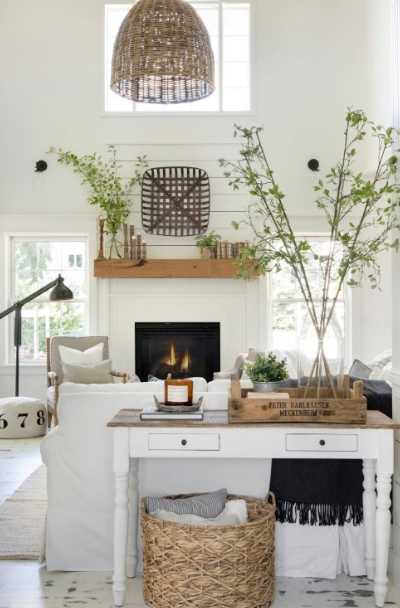 The wood floors are brought back to life after being painted white and spot-sanded for vintage appeal. A bright and airy living room by Beautiful Chaos Interior Design with a neutral color scheme and a modern farmhouse aesthetic.
CLEAN & CLASSY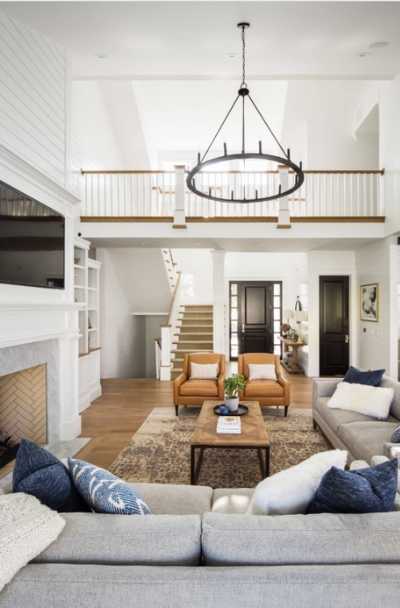 Just the right amount of each element makes this space shine. A charming and cozy living room by The Fox Group with a modern farmhouse style, featuring a mix of warm wood tones, a shiplap accent wall, and rustic decor accents.
How To Decorate A Farmhouse Living Room
We will never get tired of stunning farmhouse living room decor. Having this style in your home means you do not need to live way out in the city to enjoy the advantages of this ultra-chic design sensibility, nor would you need to have a barn or maybe an outdoor chicken coop. You only need to appreciate modern rustic decor ideas! Below, we are assisting you to take your love of farmhouse design to the next level with decorating ideas for your industrial living room. From farmhouse accessories to room decorating ideas, we have expert tricks and tips that will keep you inspired and will have your guests jaw-dropping. All things considered, can there be something more thought-provoking compared to a reclaimed wood coffee table, vintage gingham curtains, or maybe a comfortable chair which seems as it had been plucked directly out of a Western film?
Naturally, what we like most is the fact that every single idea here takes a hint from a real-life house or room. We have got stylish home trends from a Mississippi barn, living room suggestions from an 18th-century farmhouse, as well as vintage cabinet ideas straight from the walls of a brand new York farmhouse. Whether you have plans to renovate your home in the future or maybe you simply imagine your dream house, this wonderful collection of farmhouse decor will serve you effectively.
One of several secrets to producing the ideal farmhouse style living room is finding the best furniture. Comfortable and casual couches, rough-hewn barn-wood coffee tables, along with organic decor elements, typify the appearance. Since buying a complete brand new furniture might be outside of your spending limit, using naturally colored cotton or maybe linen slipcovers, a couple of French country-inspired pillows, and thrift store finds are able to go quite a distance towards changing your living room's look. But even in case you presently reside in a metropolitan apartment, you are able to still produce a comfortable country farmhouse feel in your own personal home by including rustic antiques along with a color palette. If you'd love to then add country charm to your house, the decor examples here include easy to replicate design ideas for your living room.
INNOVATIVE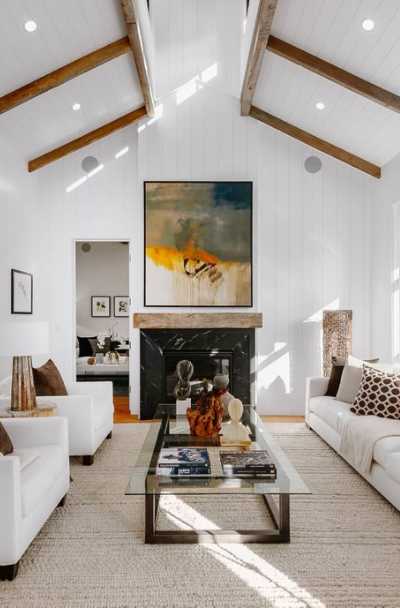 An operable glass wall system along one wall provides an open feeling within an intimate space. A bright and airy living room by LRWoehler & Associates with a neutral color scheme and a modern farmhouse aesthetic.
DIVINE INTENTION
Remodel done right, with a stunning black fireplace surround flanked with built-in white cabinetry. A chic living room by House of Brazier with a black and white color scheme, featuring a graphic gallery wall, sleek furniture, and natural wood accents.
Modern Decorating Ideas For Farmhouse Living Room
Would you like a contemporary farmhouse interior? This style clearly combines the magnificence of the use of contemporary interior and wooden features to attain a farmhouse design. With the marriage of the two styles, you are able to achieve a lovely living room. The modern farmhouse decor design is all of the rages at the moment. It makes a rustic ambiance in the room, which harks to times gone by. It will make individuals feel nostalgic for the past when life was easier and lived at a much less frenetic pace. The vintage feel of farmhouse decor lends itself to a room that seems cozy and authentic. The feeling of familial bonding strengthens in a farmhouse decor setting. It speaks to family dinners, long conversations, along with game nights. The farmhouse decor style causes a feeling of security and safety. Its strong principles lend themselves to stability.
Carefully selected accents and also pieces are able to produce a country farmhouse atmosphere. The neutrality of the shades used in this specific decor style is extremely appealing to lots of individuals. The organic, earthy tones are soothing and make a feeling of serenity. One more reason that numerous individuals look for a rustic farmhouse living decor approach is its focus on comfort. The whole reason for the design is to make you "feel at home," and this is accomplished by developing a comfy room. The heat of the farmhouse decor style radiates from the rough-hewn wood, which forms the center of the look.
Use an old wooden window frame to produce country living room ideas. Paint it with white color. Hang it above your flat-screen TV. Then put in a rustic accent piece like a boxwood wreath. The emphasis is going to be on balance between the existing and also the new, which is good to the eye. On the other hand, a coffee table is a stylish accent, and a simple way to develop a farmhouse feel inside your modern rustic living room. Watch out for DIY coffee table flat packs. Pick one which blends together with the majority of the wood color in the area. The antique round coffee table gives a rustic effect. Also, if you are fortunate enough to use a mantlepiece, you are well on your way to set up a farmhouse feel. The farmhouse fireplace is definitely the middle of the living room. Its mantle could be decorated with various accents to draw interest to it. Fill vases with dried out flowers and put some candlesticks on the mantle.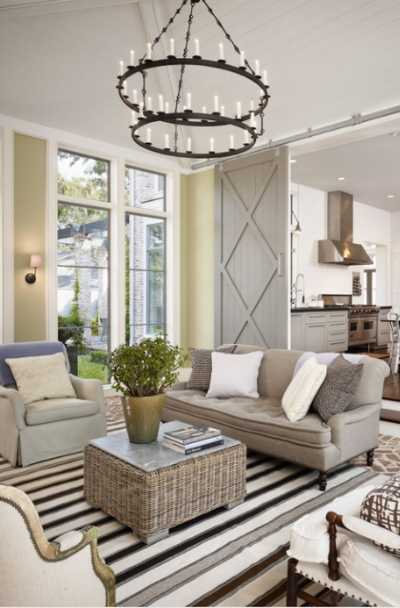 An elegant living room by Dillon Kyle Architects with a mix of warm wood tones and neutral textiles, featuring a brick accent wall, a cozy sectional sofa, and a rustic coffee table. Oversized barn doors, in a diamond pattern, define the space and allow for quiet conversation.
PERSONAL STYLE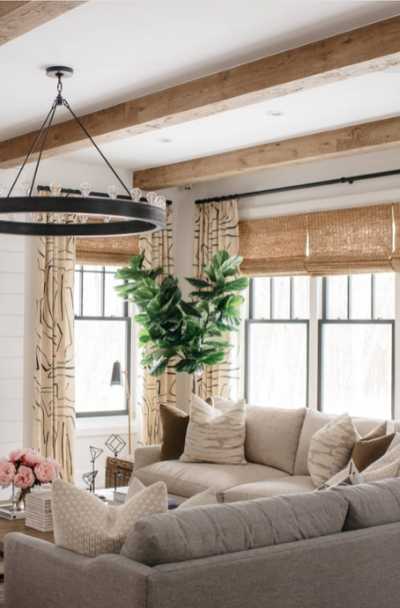 A charming and cozy living room with a modern farmhouse style by Leighanne LaMarre Interiors. Farmhouse living room with a special twist. The draperies tie in room colors and individual styles.
THRU THE WOODS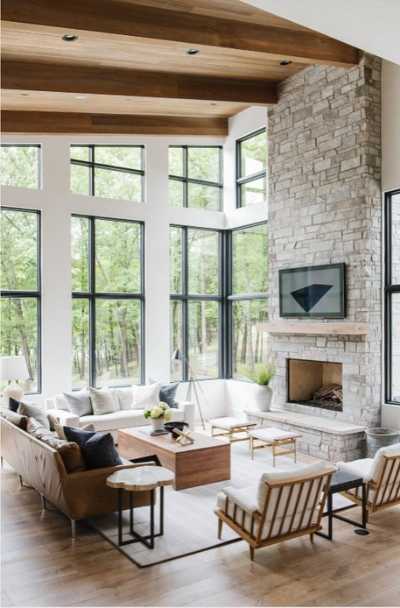 A warm living room by Studio McGee with a warm color scheme, featuring a graphic gallery wall, sleek furniture, and natural wood accents. So many distinctive details make this room stunning, but the wood ceilings & beams shine above.
Remarkable timber trusses adorn the ceiling so beautifully it's hard to take your eyes off them. A chic and minimalist living room by Mayne Construction.
How To Transform Your Living Room
Cool and warm, comfortable and contemporary, there is a brand new style that everybody is obsessing over—modern farmhouse interior! When you have not heard about it before, there is a good chance you have seen it. From Instagram to Pinterest, to interior magazines, the contemporary farmhouse look is everywhere. And also for a very good reason! Contemporary farmhouse effortlessly blends the very best parts of several of the most favored fashion from the past few years—you have got a dash of rustic, a sprinkle of industrial farmhouse decor, and only the correct amount of Mid Century Modern. It immediately provides a casual character to the interior, which is going to make your house the envy of your social media feed. We cannot think of a much better method to bring such a livable and stylish effortlessly look to life!
Also, since the appearance is oh-so-popular with our clients, we are breaking down the design to teach you the way to develop the look inside your area. If you would like to get the contemporary farmhouse style, here is everything you need to find out! First, you have to remain neutral. If you think "farmhouse," your mind may conjure up images of yellowish buttermilk brick or maybe kitchen with reddish barns. In reality, simple farmhouse plans feature neutral paints.
While there's absolutely no single "right way" to deliver the contemporary farmhouse look to life, the main principle all these interiors play by is a basic color palette. Begin with a neutral coat of layer and paint in basic pieces in the same household. Think whites, neutrals, beiges, or even grays in shades that are different. Play with contrast, since contemporary farmhouse does not imply all white at all times. Do not hesitate to put in a dark grey accent wall or maybe a blue statement sofa. And do not only think the contrast in terms of color. Combining various design styles, materials, and finishes collectively provide dimension and depth to the room. Playing with contrast is a vital element of obtaining the contemporary farmhouse look right.
Choose natural materials. Part of the reason why this design is so awesome is it's completely livable. This means you are able to get the appearance but still allow your children, pets, and good friend that has a tendency to spill her wine roam free with no worry. How's that practical? We are happy you asked. Naturally, opting for child and pet-friendly materials is generally a great option, but the contemporary farmhouse look additionally incorporates materials that are more durable, which makes it fantastic for everyday homes. Think linen slipcovered sofas, which you are able to simply pop in the laundry if needed, or maybe a leather armchair designed to conceal scratches and also repel fur. Natural fiber rugs are additionally a staple of the style, that are really durable and a wonderful choice for high-traffic rooms.
INDUSTRIAL TOUCH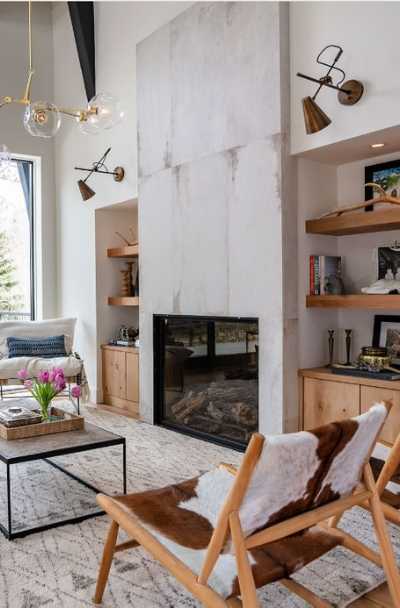 An industrial-looking living room by Kasia Karska Design with an industrial color scheme and a modern farmhouse aesthetic. Large format tiles designed to look like warm cement add an industrial vibe to this abode.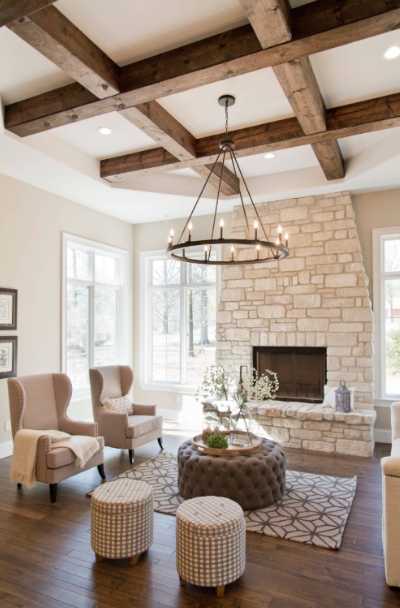 A cozy living room by Wilson Lighting with a mix of warm wood tones and neutral textiles. Dark wood beams, inset in a tray ceiling, add much-needed drama to this sparsely adorned room.
Mixing The Old With The New
Another tenet of contemporary farmhouse decor is juxtaposing various styles in a single space. Imagine a traditional, linen slipcovered sofa paired with an industrial farmhouse coffee table, along with a natural leather mid-century modern-day armchair. The lesson? Do not shy away from mixing traditional and comfortable foundation pieces with contemporary accents. This can help you strike the ideal balance of more comfortable and trendy that's very crucial to the contemporary farmhouse look.
The modern, smooth lines associated with a flat-screen TV may be countered by a rustic TV console to produce a farmhouse feel. Pick a great wood piece. Mount your TV on the structure together with the console below it. Look for an article with wood that looks weathered and worn. It makes a far more authentic appearance. Use pallets to cover the wall behind your TV. The rough surface of the wood which pallets are produced from makes a rustic feel to fight the contemporary lines of the TV. Mount your TV on a shelf connected to the pallet wall. Do not mount it straight to the pallet pieces.
The yellows, golds, and browns of fall are ideal for adding several country charms to your rustic living room ideas. A very simple wreath put into the wall decor creates a charming focal point of the space. Center the wreath above your couch for a balanced appearance that's good to the eye.
This is an image roundup post, curated to showcase and promote other reputable contracting companies' and their amazing work. To have any of the images removed, please reach out to us and we would be happy to do so.
Other Great Articles to Read: