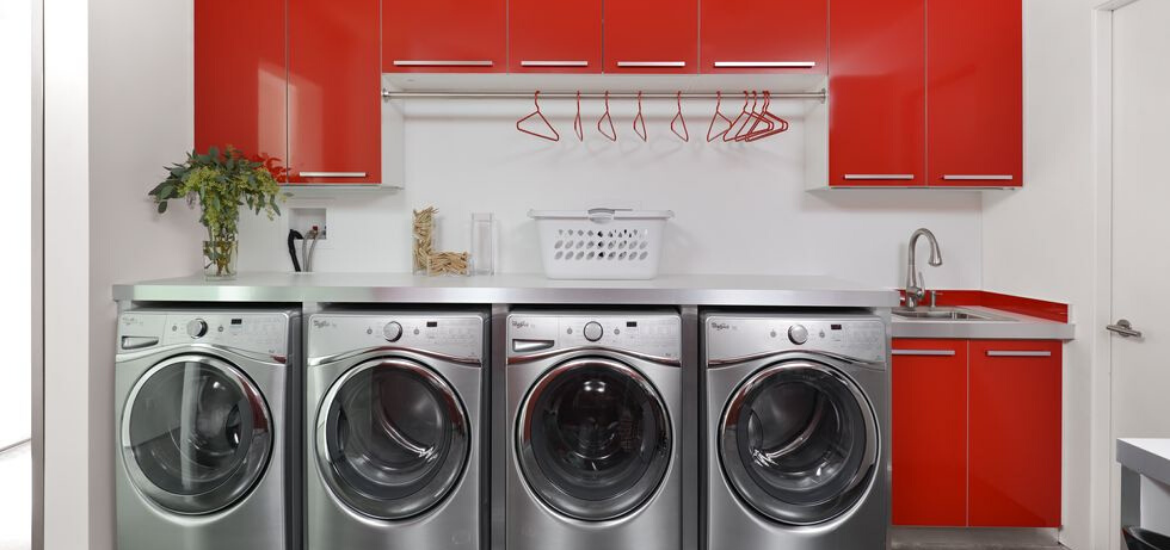 Frequently, we don't really put much effort into thinking about the paint colors for laundry rooms when painting or renovating our homes. In any case, the laundry room is one area that we have to spend a lot of time. Also, a refreshing and well-organized laundry room can help lighten the entire chore.
In case you are like most individuals, you probably hate doing the laundry. Obviously, you are also mindful of how important it is. Thus, by investing some time in the best laundry room paint color ideas, one can impressively light up this space and lighten the laborious chore. Therefore, allow us to give you a couple of tips and ideas for picking the best laundry room paint colors for your house.
Make the laundry room brilliant and energetic with a crisp layer of paint. Indeed, paint is a simple DIY approach to overhaul your laundry on a budget. First, pick a color theme that is splendid and elevates your overall mood. For instance, popular laundry room paint colors liven up your laundry area incorporate dynamic citrus tones like lime green, yellow, or orange. On the other hand, a fresh, brilliant white is another clean alternative that makes the room and your disposition feel amazing. Do not stop with the walls, also consider adding colors to your laundry cabinets!
A fresh, beautiful laundry room can help turn the chores of washing garments and folding clothes into a more wonderful task—maybe even a relaxing one. Since the vast majority of us do not have enormous laundry rooms, I propose picking colors that make a little space look bigger. Additionally, in a sufficiently bright space, white and softer hues spread the light around, helping us notice stains better.
OLIVE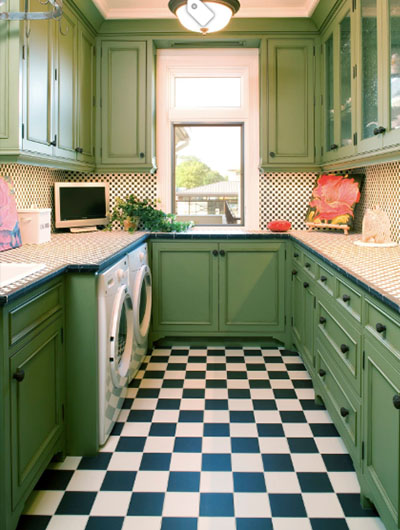 This Mediterranean laundry room looks timeless and classic with the olive green cabinets.
REVERE PEWTER
Revere Pewter is a gray color with a strong beige background or "greige" from Benjamin Moore.
WATERSCAPE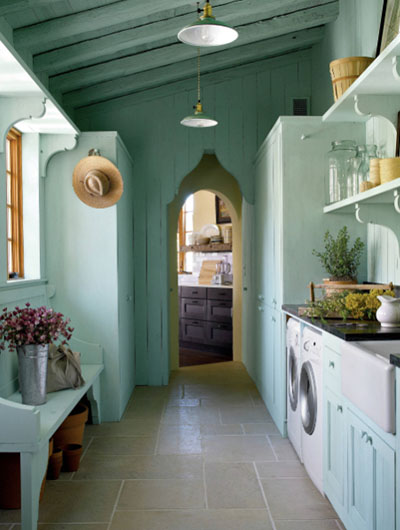 The wall and cabinet paint is Waterscape from Sherwin-Williams.
ELLIE GRAY
Dog wash and laundry room features Ellie Gray for the cabinets and Big Chill for the wall. Both from Sherwin-Williams.
ETERNITY
Wall paint color is Eternity by Benjamin Moore.
WARM CREAM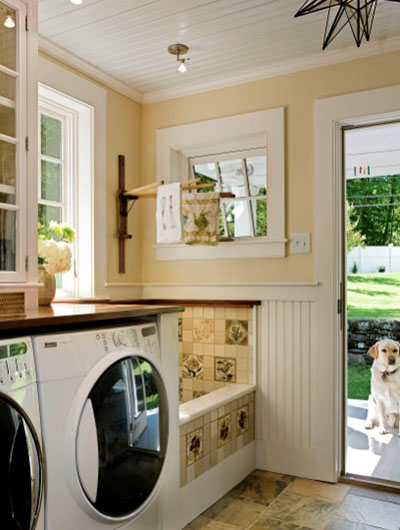 DKC-02 from Donald Kaufman Color collection.
FALCON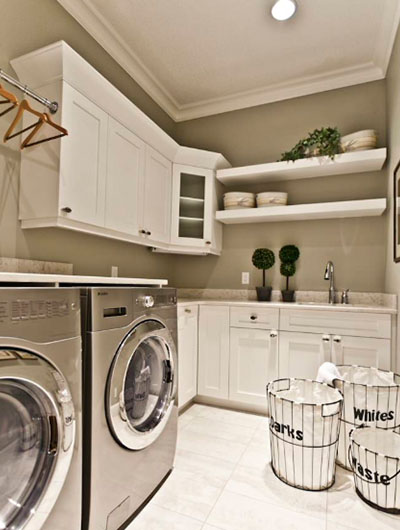 Wall paint is Falcon from General Paint, one of the most respected paint manufacturers in Canada.
THUNDERBIRD
Thunderbird paint by Benjamin Moore is a combination of green, blue, and a hint of red.
MOSS
The cabinets on this traditional laundry room are color Moss and from Diamond Cabinetry.
LILAC
White and gray paints, with unexpected high-gloss lilac on the ceiling.
Choosing A Spot For Your Laundry Room
Laundry rooms are hot areas for home improvement nowadays. Regardless of whether your laundry room is in the kitchen, basement, garage, or closet—or you're fortunate enough to have a devoted laundry room—our best laundry room paint color ideas will help make a space that is exceptional, organized, and gorgeous enough you'll anticipate doing the laundry.
Where's the best spot to include a laundry room? First, think about convenience. For example, set up your laundry room near where dirty clothing collects, or close to the places where clean clothing goes. Moreover, other most loved laundry areas include close to the back door, the kitchen, in the mudroom, closet, bathroom, or dressing area.
However, remember that unwanted flooding could occur in your laundry room. Waterproof flooring beneath the washing machine is basic, particularly if you have your laundry room on the second floor. Furthermore, great approaches to waterproof your floor include putting plastic sheeting over the subfloor, creating a shallow pan for washing machines to sit on, or utilizing tile or waterproof vinyl beneath your washer and dryer.
You need to also consider the noise from the washing machine's vibrations when choosing a laundry room area. In particular, you need to put vibration pads on washing machines on the second floor to lessen the noise that happens when the machine is in operation.
Albeit a couple of our images below are big laundry rooms, these best laundry room paint color ideas also function well for small laundry rooms. With a bit of planning and creativeness, a valuable, productive laundry is feasible.
DOVE WHITE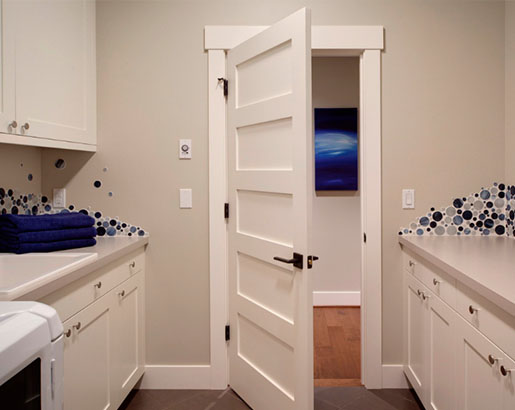 Trim is Benjamin Moore's Dove White, and the walls are Benjamin Moore's Stingray in a flat finish.
BEACON HILL DAMASK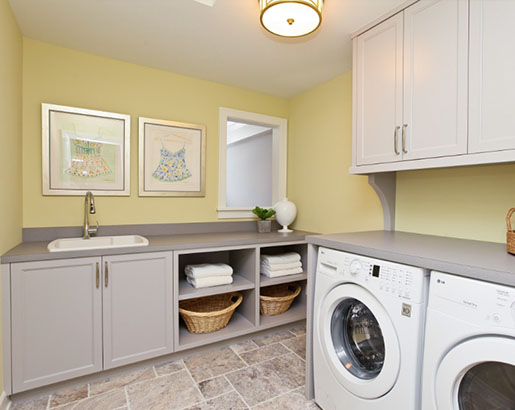 Benjamin Moore's Beacon Hill Damask is a buttery yellow color from its Historic Color collection.
BLACK + WHITE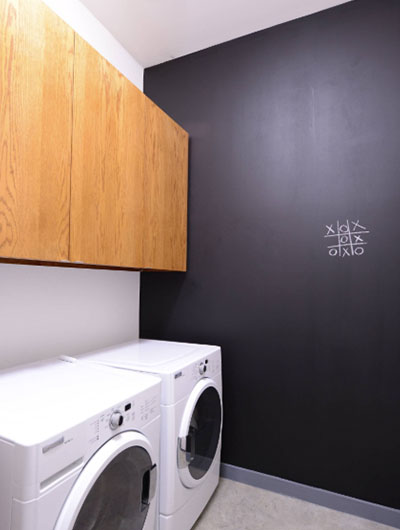 Black and white wall colors for that minimalistic edge.
NOVEMBER SKIES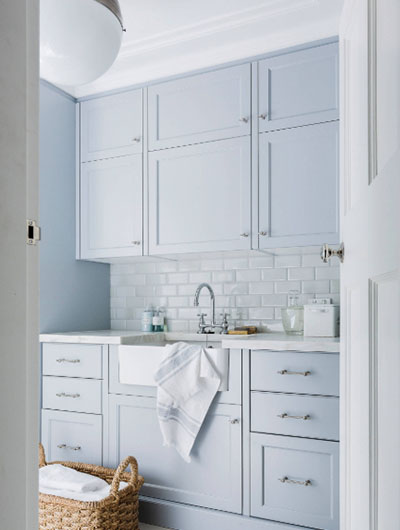 Transitional laundry room with Benjamin Moore's November Skies paint for the cabinets and white color for the wall.
BLACK ACCENT
The black door makes a statement in this laundry room.
WHITE ON WOOD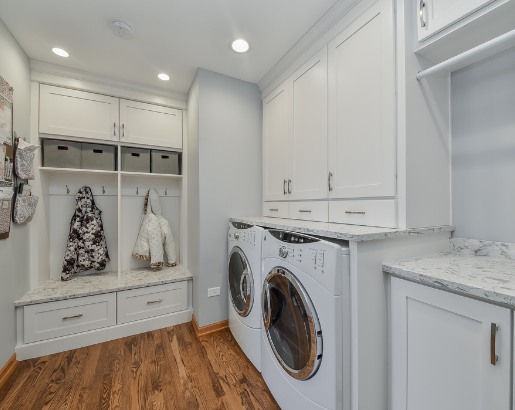 The white colors of cabinet and walls blend well with the wood flooring.
Preparing Your Laundry Room For Best Laundry Paint Color Ideas
Your laundry area does not need to be a fearful space that is as unappealing as blurred whites. Since it is a part of the house which you use for important purpose, why not give it a grand makeover with paint, so you appreciate doing mundane chores here? Paint, alongside matching beautiful decors, could transform the laundry room; and you could likewise concentrate on making the most out of it.
Before having the best paint colors for laundry room, start by making sense of better approaches to utilize the space. Also, managing all parts of the laundry could save a great deal of time and dissatisfaction. Would it be useful to include more shelving, a folding table or fold-out ironing board, or a rack for hangers? Besides, there is explicit eye appeal when a little space shows components of an amazing organization. Furthermore, when all that you require for doing the laundry is convenient and kept in a lovely area, it makes your life simpler.
Consider adding extra features to your laundry room that will make doing the laundry considerably easier. Is there a little space that you could use as a built-in table or desk? Additionally, you can build a charging station for mobile phones, or include a radio or small TV to enjoy while you do the laundry. The desk could also be where a kid does schoolwork as you wash, dry, hang, and fold clothes.
There is a ton of potential in your laundry room but probably none as extraordinary as the mood and vibe you establish with paint. The conceivable outcomes are boundless. Start by choosing how you need the space to make you feel. Finally, remember that accomplishing a monochromatic look where the floor and walls meet will offer the room a bigger appearance.
WHITE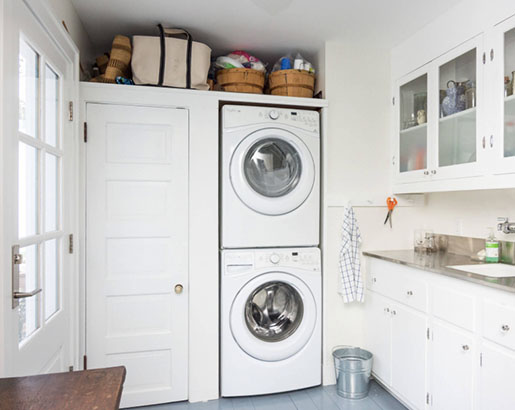 Keep it simple by having an all-white laundry room.
GREEN + WHITE
Traditional laundry room with white and green colors and wood cabinets.
SPA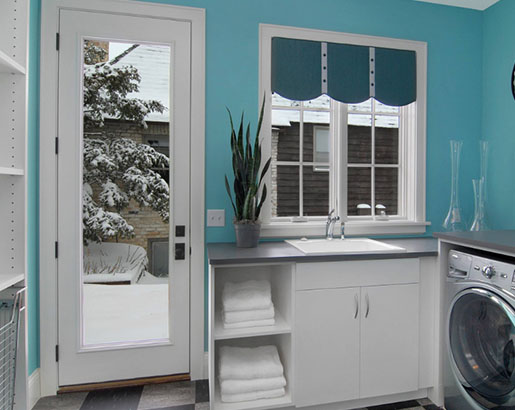 Sherwin-Williams' Spa fits perfectly in this contemporary laundry room.
SWISS COFFEE
The wall and cabinet paint colors are Swiss Coffee by Benjamin Moore.
Best Laundry Room Paint Color Ideas
Laundry rooms are commonly small and dull spots. Use lighter paint colors for laundry room and include a burst of color utilizing dynamic tones for the doors. For instance, one of the best paint colors for laundry rooms includes bright red doors paired with muted gray walls inside the room. In addition, the ceiling trims and the laminate or finish selected for the laundry cabinets can likewise be used in a creative way to help breathe life into the dark and small area.
Other popular laundry room paint colors comprise of blending and coordinating warm and cool tones. For example, earthy clay hues can be utilized on the laundry room door, cream or beige tones can be utilized on the ceiling while blue-green paint hues for walls can help include a refreshing vibe to the overall ambience.
For small laundry room paint colors, one can utilize dark purple and silver gray theme. Hence, the doors can be dark purple or royal blue. Moreover, paint colors for laundry room walls can be silver-gray, alongside gray ceilings and trims to make small areas look bigger.
One of the best laundry room paint color ideas incorporates painting murals on the walls. First, you can paint the walls with an intense base color and include murals as words or sceneries. In particular, property owners with a religious outlook can even utilize Bible verses or inspirational quotes. In the event that the laundry room doesn't have windows, you can also paint murals as windows to cause the area to appear more joyful and bright.
LEMON DROP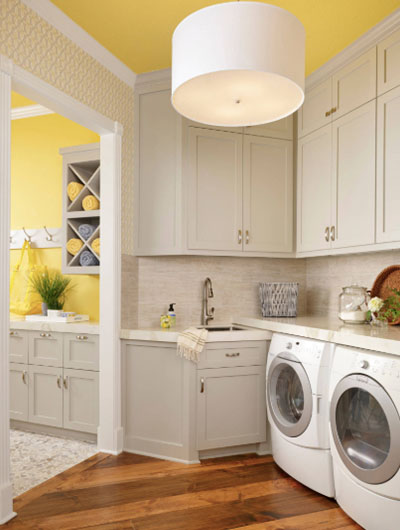 Sherwin-Williams' Lemon Drop on the walls and ceilings and Modern Gray for the cabinets.
GOSSAMER BLUE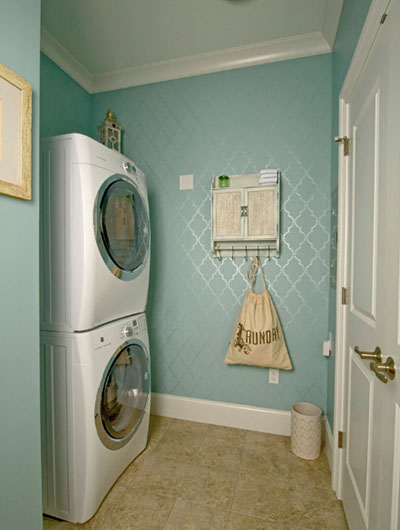 Paint color for this laundry room is Benjamin Moore's Gossamer Blue with trellis design hand-painted in metallic pearl white.
LIGHTHOUSE SHADOWS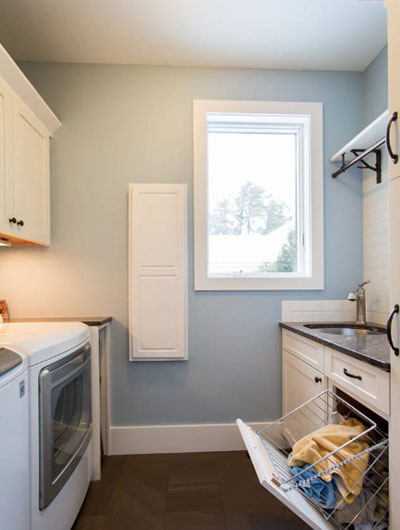 Lighthouse Shadows from Valspar Paint is soft and lovely in this laundry room.
APPLE GREEN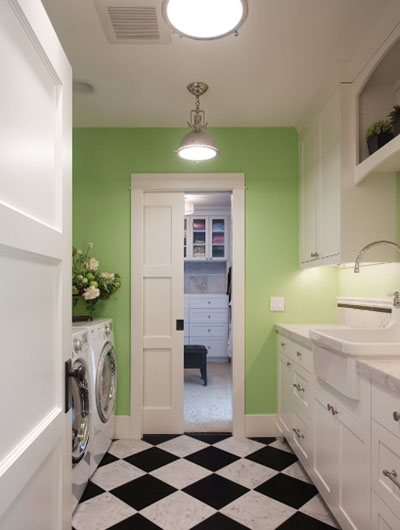 The green shade on the wall is Martha Stewart's Apple Green.
Tips On Choosing Laundry Room Paint Colors
Here are some additional tips that can assist you with picking the correct laundry room paint colors:
First, consider the character of the individual utilizing the laundry when selecting the best paint colors for laundry room. For instance, white and neutral tones are perfect for individuals with a straightforward style. These hues additionally pass on neatness and order and are the best laundry room paint colors for small and swarmed laundry area.
Next, you should consider the amount of light going into the room when choosing the best laundry room paint color ideas.
For those with stressful lifestyles, hues like blue, green, dark brown, and so forth can have a quieting impact. Pick these laundry room paint colors, particularly in the event that you detest the task of doing the laundry.
The temperature of colors is another factor to think about when evaluating diverse small laundry room paint colors. Blue and green are cool hues that relieve and unwind while orange and yellow are energetic hues that can invigorate and excite.
When evaluating best laundry room paint color ideas, try to give them a shot under various lights and at various times of the day to get an idea into how the hues really show up.
Ideas For Adding Color and Decorating Your Laundry Room
First, be bold and intense. Remember this isn't your bedroom or living room. Thus, you likely won't be spending a long time in the area. I'm also assuming it's not where you do the main part of your entertaining, so don't be hesitant to go for an energetic and vibrant color in case you happen to be a fanatic of serious tones. An immersed, succulent orange is a breathtaking decision for brightening up the room.
Next, you can go wild with wall coverings. A hot-pink backsplash probably won't fit in your kitchen, but why not infuse this unordinary color into your laundry room? Disregard what's popular and feel free to choose hues or designs that speak to you, paying little heed to how striking they may be.
Let's talk about the ceiling. Remember the frequently disregarded "fifth wall" when overhauling your laundry room. Besides, the ceiling can be an excellent canvas for a fun and exciting color. For instance, a yellow ceiling indeed raises the eye upward and highlights the attractive pendant light you have.
Also, think about bright cabinetry. Intense red cabinetry may be an outwardly overpowering decision for your kitchen, but in a laundry room, it infuses necessary vitality and character. The hues we surround ourselves with can influence our temperament and inspiration level, so in case you have to get fired up to do the laundry, hot tints like red can get your engine running.
Lastly, you can include a work of art. Notwithstanding utilizing an attractive wall color, consider introducing fine art and other decorative components like lovely window treatments. In fact, there is absolutely no reason why the laundry must be an exhausting, utilitarian area. If you will spend time and energy in there, make it as visually appealing and comfortable as you can.
This is an image roundup post, curated to showcase and promote other reputable contracting companies' and their amazing work. To have any of the images removed, please reach out to us and we would be happy to do so.