Shades of green evoke growth, renewal, and life—and what's the best message to send in the heart of your home? In this post, we put green kitchen cabinets in the spotlight, and we hope this will give you inspiration for your next kitchen project.
We know that an all-white kitchen has been trending immaculately. Those who want to play safe usually go with white. We have absolutely nothing against that! But if you want to be a little bit adventurous and have a pop of color in your kitchen, why not start by painting your cabinets green? Green is a very versatile color, and with many shades, variants, and paint styles to choose from, it will unleash your creativity and open doors for new ideas.
In addition, green ultimately goes with different types of hardware and finishes. If you are worried that your choices will be limited when having green painted kitchen cabinets, think again. We have put more than 20 green kitchen cabinets below that you can replicate in your home. We hope you love them as much as we do!
PALE AVOCADO
Everyone would concur that as soon as you go into and view this kitchen designed by Studio Sarah Willmer Architecture, you can practically smell avocado. With the avocado's many colors of green, everything is so lovely. The lower cabinets get their paint from Benjamin Moore, Pale Avocado (2146-40).
OREGANO
If you have a small kitchen yet want a well-organized and roomy layout, read on. Greg Natale did a fantastic job with this kitchen. You can replicate these oregano kitchen cabinets by getting Pittsburgh Paints 310-6 OREGANO.
HOLLINGSWORTH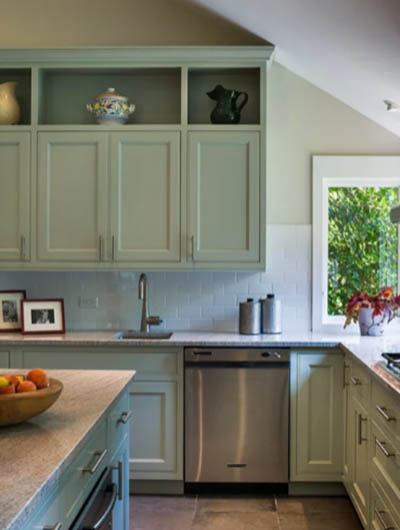 Want a kitchen that feels and looks completely natural? Designed by Kate Cleveland Architect, this kitchen exudes warmth and comfort. You can get the same color as this kitchen design from Benjamin Moore.
The Psychology Of The Color Green
According to color psychology, different colors can bring out psychological responses. For instance, color is frequently thought to have an effect on temperaments and feelings. In some cases, these responses are related to the intensity of a color, whereas in other cases, they are the product of encounter and social influences.
How does the color green affect your feelings? For many individuals, it has solid affiliations with nature and instantly brings to mind the lavish green of the grass, trees, and timberlands. Perhaps since green intensely relate to nature, it is frequently portrayed as a reviving and peaceful color.
In color psychology, green can mean nature and money. Growth, fertility, wellbeing, and generosity are a few of the positive color meanings for green. This is the reason why you will find most health and wellness stores carry the green color in their logo or stores.
RETRO KITCHEN
Want a good kitchen design that looks like a kitchen from the old times? This retro 1950s kitchen features green custom-colored cabinets with pullout drawers, glass door mounts, and under-cabinet lighting—an incredible design by Chi Renovation & Design.
MINT GREEN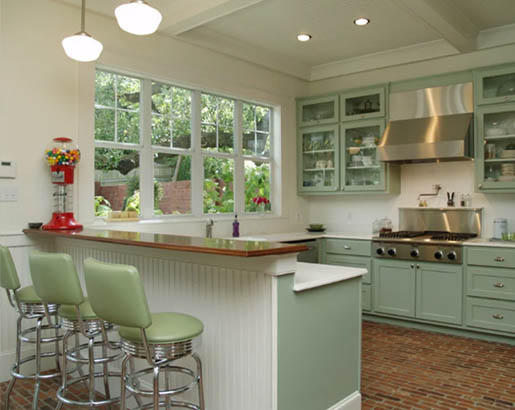 This kitchen has a white and green color scheme, which is very natural and pleasant. Everything appears modern and sleek in this kitchen layout by RisherMartin Fine Homes. Sherwin Williams is the source of this mint green color for kitchen cabinets.
Green is a fresh color that represents nature and the outside world. Green further evokes tranquility, great luck, wellbeing, and envy. Researchers have moreover found that green can progress reading capacity. A few students may discover that laying a transparent sheet of green paper over reading material increases reading speed and comprehension.
Green has long been an image of fertility and was once the preferred color choice for wedding outfits within the 15th-century. Even nowadays, green M & M's (the chocolate candy) are said to send a sexual message. Most people use green in decorating for its calming impact. For instance, visitors waiting to be seen on tv programs regularly wait in a "green room" to relax.
Green is thought to calm stress and offer assistance to recuperate. Those who have a green work environment encounter less stomachache.
Consider how green appears in language: green thumb, green with envy, greenhorn.
BRIGHT GREEN
Do you want a green kitchen that is both welcoming and upbeat? This Benson Interiors, Inc.-designed kitchen is the definition of warmth and comfort. If you want a refreshing look for your kitchen, go for this shade of green!
LIME GREEN
McKinney Photography captured this lovely kitchen design, which features a lime green color scheme that makes the space feel fresh and inviting. A pop of color will bring a good mood to your kitchen area.
CLASSIC SAGE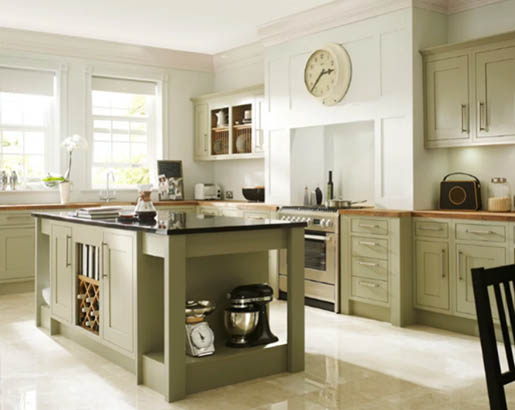 This kitchen has a fresh, classic aesthetic thanks to its use of greenery. The kitchen is given a homey, welcoming atmosphere thanks to the sage green cabinetry that is a contemporary take on a classic. That was some very brilliant design work by Set Visions Ltd.
WARM GREEN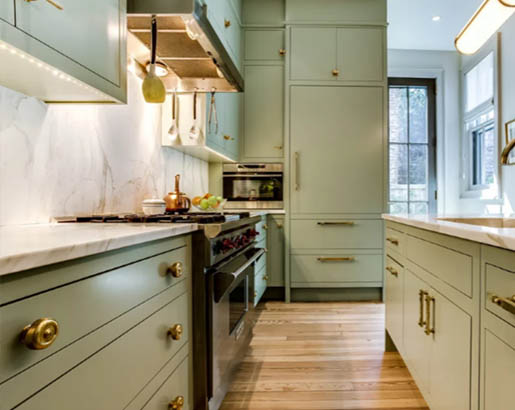 Want a kitchen that's both pricey and bright? Try this warm and stylish design. Christian Zapatka, Architect, PLLC, has done an excellent job with this kitchen. This soft green hue and the shiny gold hardware are lovely and endearing.
Why Green Kitchen Cabinets Are The Way To Go
The color green has a calming effect. If you need to concentrate or focus on getting something done, consider having something green nearby.
Dark greens are soothing. I remember whenever I was feeling anxious or extremely nervous, I would go to my dark green office, and that made me feel more relaxed. Perhaps this is the reason why they have green rooms in entertainment production—to help actors relax and compose themselves before a show.
While others see green as a relaxing color, some say it provides them with a feeling of excitement. This might be particularly true with bright shades of green. A vibrant green appears to be energetic and motivating. In some cases, it can give you an endorphin rush.
Green Radiates Compassion
When you see someone that wears green, it is automatic to feel that the person is helpful, kind, sympathetic, and caring. It is a color that reflects compassion.
Green, which is highly associated with nature, can evoke new beginnings. Just imagine green grass sprouting on the yard. It suddenly gives you the motivation to have a new goal or start over on something important. It helps you to be positive and hopeful.
CANDY APPLE
Interested in a kitchen remodel with a candy apple color scheme that turns heads? Finch London did an excellent job with this kitchen's design, making it seem homey and welcoming. It's so simple and elegant; it's perfect for us!
CUSTOM MIX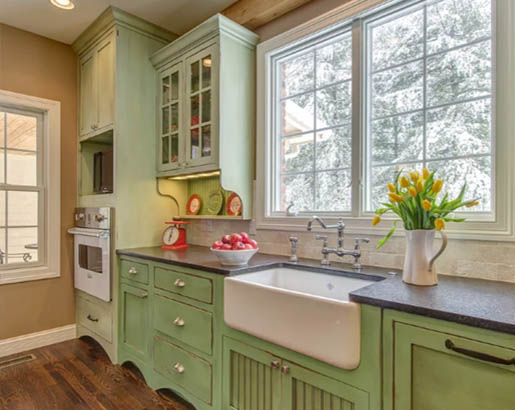 This light and airy kitchen design make everything appear natural and revitalizing. Lorrien Homes & Remodeling did an amazing job with this light, and airy kitchen remodel. Using a base stain and two coats of paint, you can get this same shade of green and effect.
GLOSSY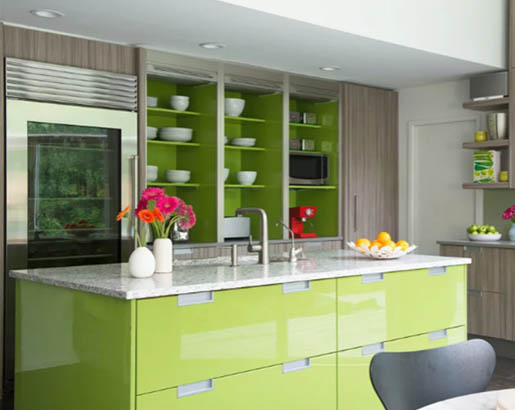 Everyone will concur that this kitchen design by DEANE Inc | Distinctive Design & Cabinetry is very contemporary and bright, with a shiny appearance that makes everything look so welcoming. Downsview Kitchens make these particular cabinets, and the material is textured laminate.
How To Decorate With Green Color In The Kitchen
Many see a decor palette focusing on green to be one of the most relaxing color schemes since it brings in shades of nature. There are more shades of green than you can ever imagine. This will make decorating with green basic, but the color can overpower a space immediately. If your kitchen's primary color scheme is green, there are lots of ways to beautify it with it while still incorporating other colors.
For your kitchen counters, choose a shade of green that either includes other colors as highlights or has an undertone of another color. This could mean employing a granite that has shades of yellow and blue or applying a laminate with tones of salmon and red. These undertones can be utilized as highlight colors within the kitchen as well; pull them for wall craftsmanship, hand towels, toss mats, and backsplash accent tiles.
LIGHT GREEN
These light green kitchen cabinets are soothing and relaxing to the eyes. The addition of little white knobs makes the cabinets dainty and unique. Imagine what small details can do! Wow, Unique Home Stays outdid itself with this kitchen.
Having green to paint the kitchen walls immediately makes it the main color. Keep the tone one to two shades lighter than the darkest shades of green within the room, such as a counter top's color. To ensure the green wall color doesn't rule the space, keep the cabinet color exceptionally light. White or cream cabinets will look very fresh against a green wall and will help keep the room light. For contrast, include a dark wood island within the center of the room away from the green walls.
Aside from pulling accents from a secondary source, such as a counter, you'll be able to choose an accent color from the shade of green you employ. Since green could be a secondary color made by combining blue and yellow, most shades contain marginally more of one of these two colors as an undertone. Utilize this to decide your highlight colors. For instance, olive green encompasses a yellow undertone. Incorporate a gold-toned wood table within the room and utilize placemats of sunny yellow on it to drag out the lighter tones of the olive green.
Working With Green Kitchen Cabinets
A great way to make green the primary color of the kitchen is to put it not on the counters or walls, but on the cabinets. You'll do this utilizing a few strategies. Use a light yellow-green on the main cabinets and a more deep green on the kitchen island, or use a mint green on all the cabinets within the room. In case you are doing this, keep the wall in a light color. White, cream, and taupe go well on walls against green cabinets. Select either a darker green counter in a tone that matches the cabinets, or do something exciting on the counters instead, such as light marble.
Green could be a very fresh and stimulating color, and these properties apply to pretty much all the different subtleties derived from it. Green is a color well-suited for the kitchen for lots of reasons, the most vital one of all being that it makes sense and it looks great. Typically, there are numerous distinctive design methodologies which can spin around green kitchen cabinets, counters, walls, etc. The cool part is that green look pleasant when matched, with pretty much any other color, particularly those commonly found in nature.
Utilize green in combination with warm woods for a look explicitly inspired by nature. For example, the fronts of the cabinets can be green while the rest of their bodies contains a wooden finish.A lighter shade of green can be well-suited for a beach-style kitchen. Go for mint green kitchen cabinets combined with wooden or white countertops and a subway tile backsplash for a retro-chic feel.
In the event of an open floor plan where the kitchen and living or dining room are directly associated, there needs to be a wonderful and consistent transition between them, and that's where the kitchen island comes into play. A green island which matches the color of the kitchen cabinets can be combined with a green ceiling or highlight divider within the kitchen or with other coordinating design components such as the curtains or the area carpet.
It's also imperative to discover the proper shade of green, the one which goes best with the style that you have in mind. Bright and bold colors often go well with more modern or contemporary stylistic layouts whereas muted and more neutral tones are well-suited for conventional or retro designs.
This is an image roundup post, curated to showcase and promote other reputable contracting companies' and their amazing work. To have any of the images removed, please reach out to us and we would be happy to do so.
Other Great Articles to Read: