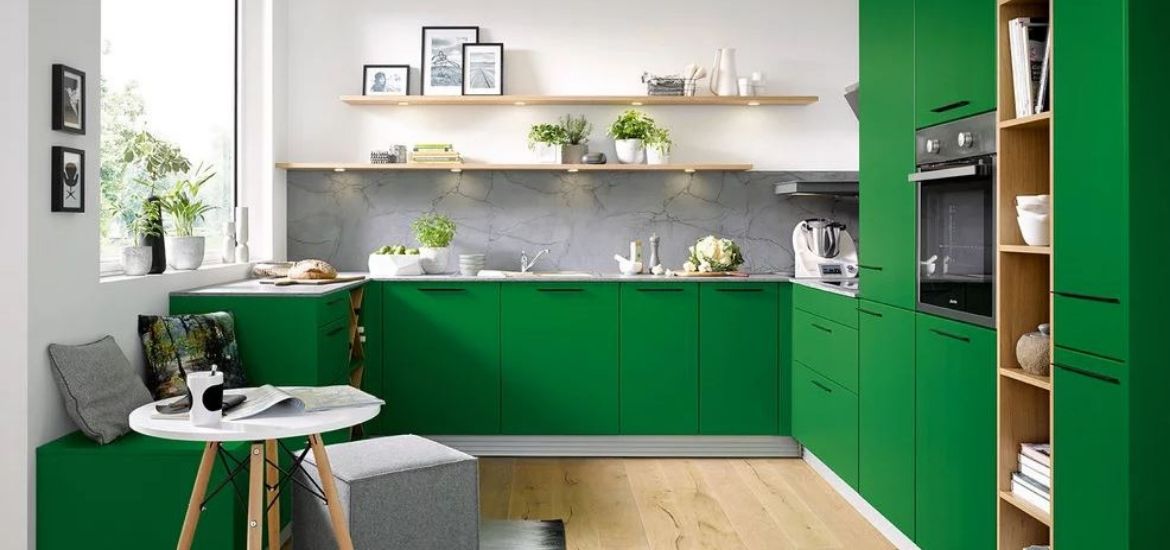 Shades of green evoke growth, renewal, and life—and what's the best message to send in the heart of your home? In this post, we put green kitchen cabinets on the spotlight, and we hope this will give you inspiration for your next kitchen project.
We know that an all-white kitchen has been trending immaculately. Those who want to play safe usually go with white. We have absolutely nothing against that! But if you want to be a little bit adventurous and have a pop of color in your kitchen, why not start with painting your cabinets with green? Green is a very versatile color, and with many shades, variants, and paint styles to choose from, it will unleash your creativity and open doors for new ideas.
In addition, green ultimately goes with different types of hardware and finishes. If you are worried that your choices will be limited when having green painted kitchen cabinets, think again. We have put more than 30 green kitchen cabinets below that you can replicate on your home. We hope you love them as much as we do!
PALE AVOCADO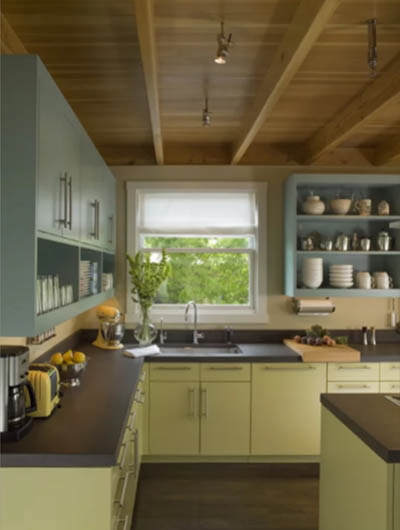 The lower cabinets get its paint from Benjamin Moore, Pale Avocado (2146-40).
GREEN & WHITE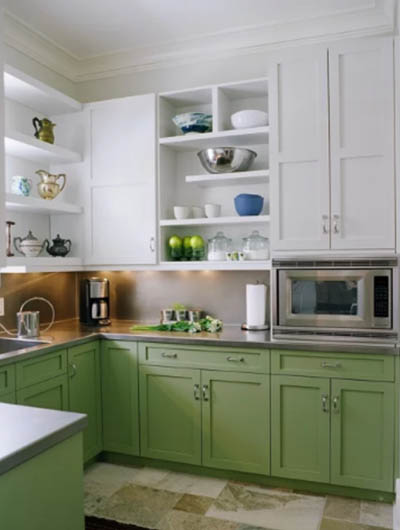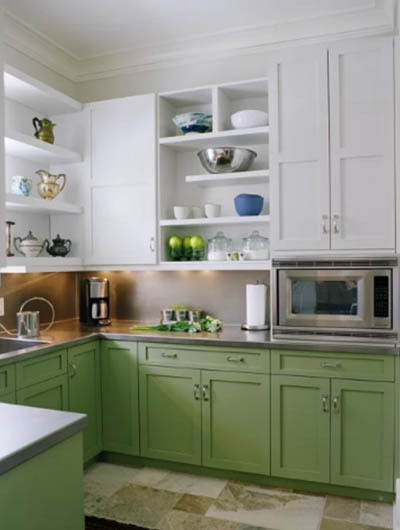 You can never go wrong with white and green! Look how relaxing this kitchen is.
OREGANO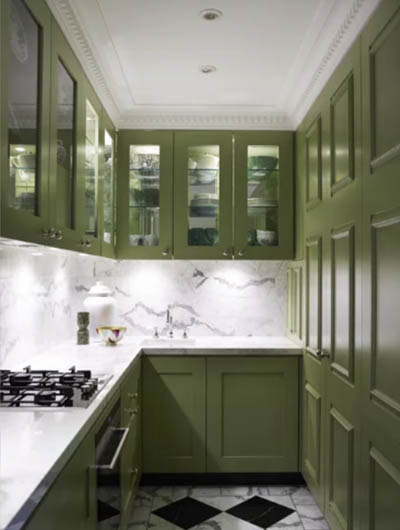 You can replicate these oregano kitchen cabinets by getting Pittsburgh Paints 310-6 OREGANO.
HOLLINGSWORTH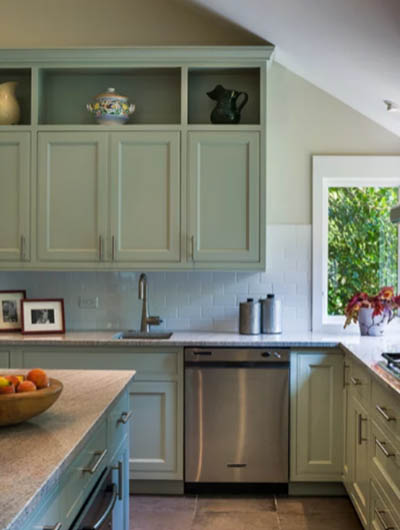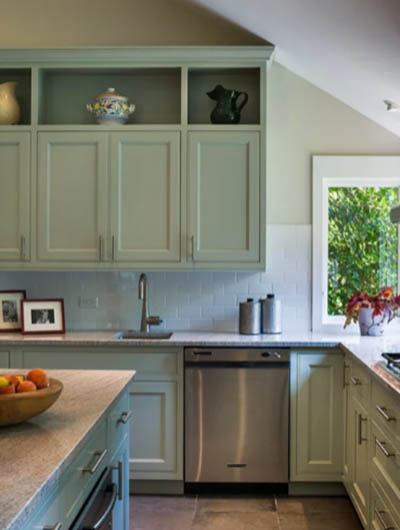 You can get the same color from Benjamin Moore.
FERN GREEN
Dark wood on the lower cabinets and fern green on the upper kitchen cabinets are like having trees inside your home.
DARK & LIGHT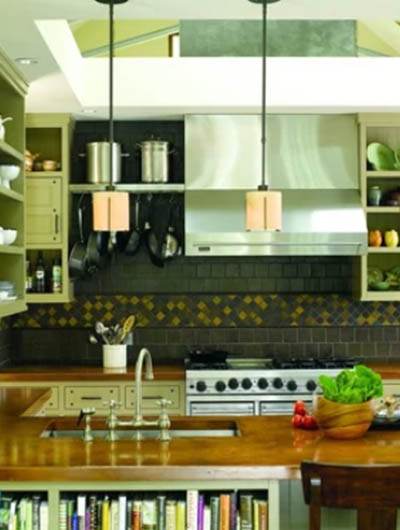 The combination of dark and light green colors for this kitchen look elegant and lovely!
The Psychology Of The Color Green
According to color psychology, different colors can bring out psychological responses. For instance, color is frequently thought to have an effect on temperaments and feelings. In some cases, these responses are related to the intensity of a color, whereas in other cases, they are the product of encounter and social influences.
How does the color green affect your feelings? For many individuals, it has solid affiliations with nature and instantly brings to mind the lavish green of the grass, trees, and timberlands. Perhaps since green intensely relate to nature, it is frequently portrayed as a reviving and peaceful color.
In color psychology, green can mean nature and money. Growth, fertility, wellbeing, and generosity are a few of the positive color meanings for green. This is the reason why you will find most health and wellness stores carry the green color in their logo or stores.
RETRO KITCHEN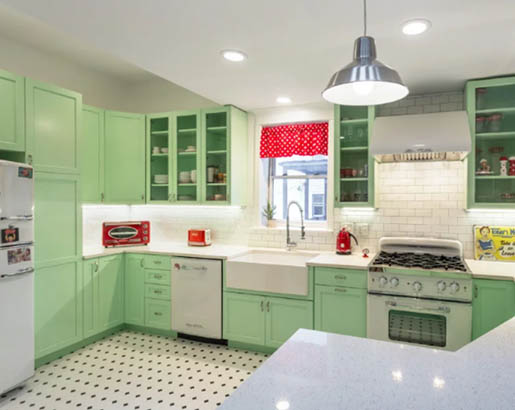 This retro 1950's kitchen features green custom colored cabinets with pullout drawers, glass door mounts, and under-cabinet lighting.
PASTEL GREEN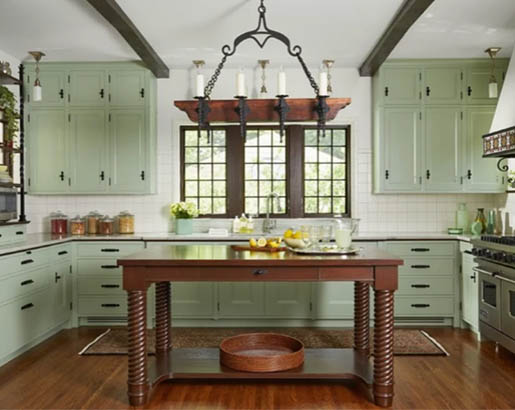 This beautiful pastel green color, in addition to kitchen accessories, gives the kitchen a Mediterranean feel.
MINT GREEN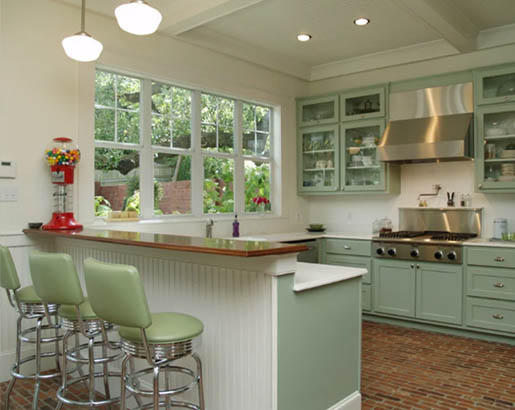 This mint green hue for kitchen cabinets is from Sherwin Williams.
OLIVE GREEN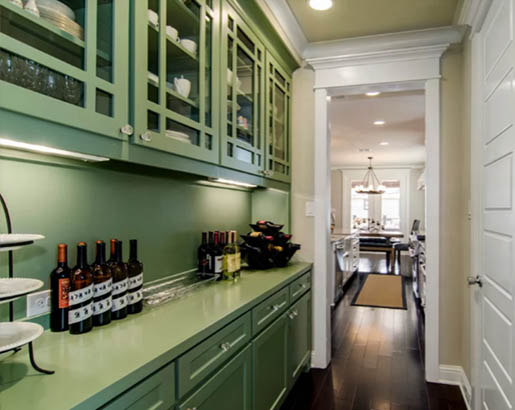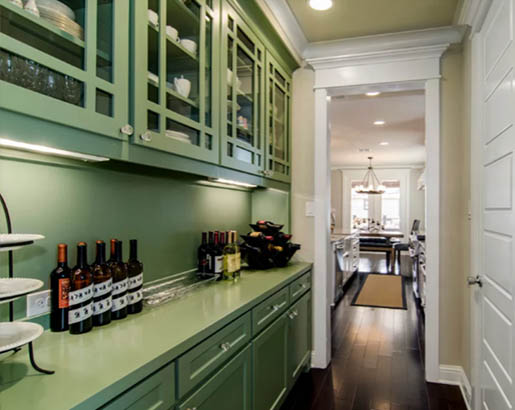 Green is a fresh color that represents nature and the outside world. Green further evokes tranquility, great luck, wellbeing, and envy. Researchers have moreover found that green can progress reading capacity. A few students may discover that laying a transparent sheet of green paper over reading material increas